I'm showing you how to bake sweet potatoes to tender, fluffy perfection! This step by step guide has photos and tips so you know how to prep them, store them, and when they're ready to come out of the oven.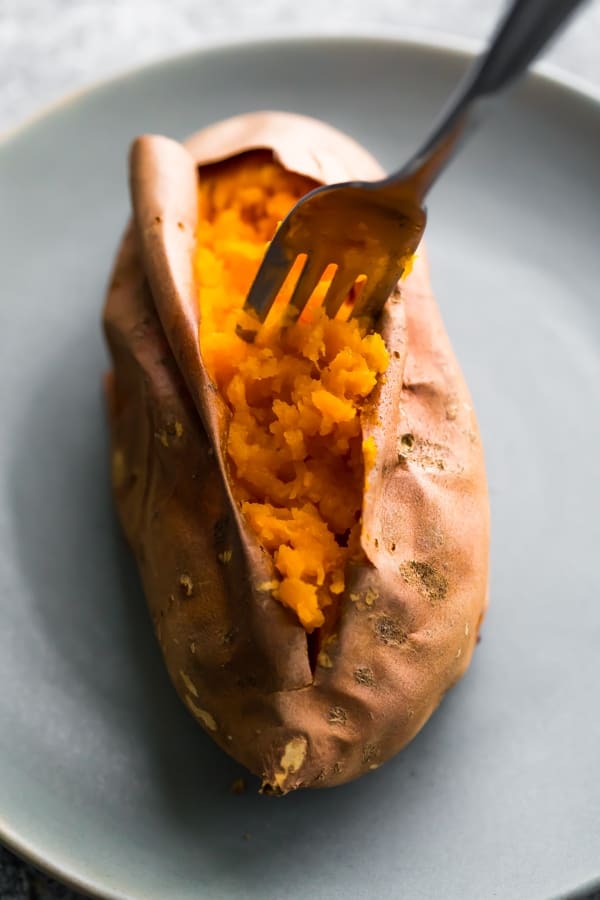 Today we're talking sweet potatoes, specifically: how to bake them!
There are many ways to cook sweet potatoes, but baking them whole might just be my favorite way to do it.
Psst! Check out these posts if you're looking to cook whole sweet potatoes in the Instant Pot or slow cooker!
Reasons you'll love this baked sweet potato recipe
they do not require wasteful foil
it's pretty hard to over-bake them and screw them up
it works for a range of sweet potato sizes
you can use this baked sweet potato recipe as a base for a number of different recipes!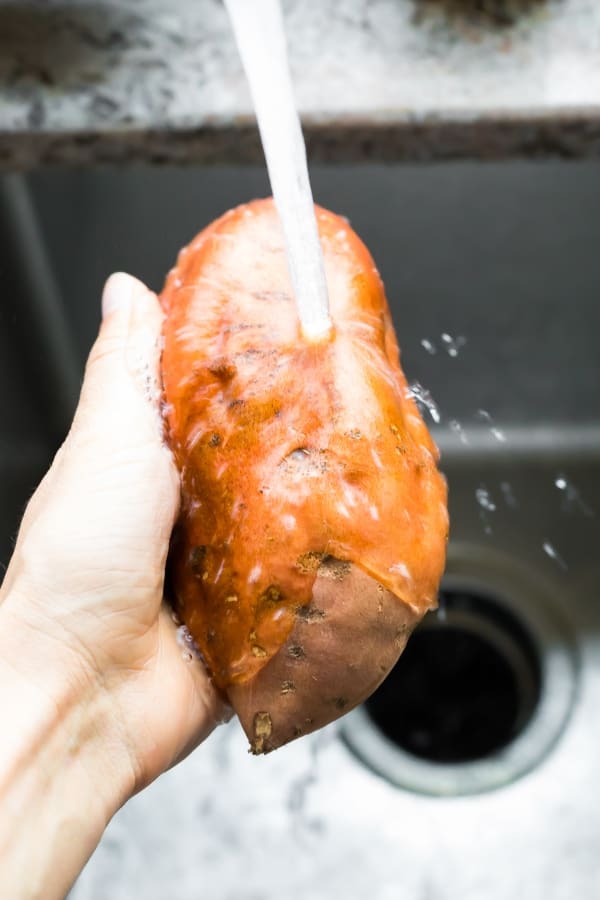 How to do it
You are going to love this 'recipe' for it's simplicity: all you need is an oven, a baking sheet, and a sweet potato!
Scrub your sweet potatoes and pat them dry.
Poke holes all over the sweet potatoes using a fork.
Bake them on a baking sheet at 400°F for 45 minutes to 1h 30 minutes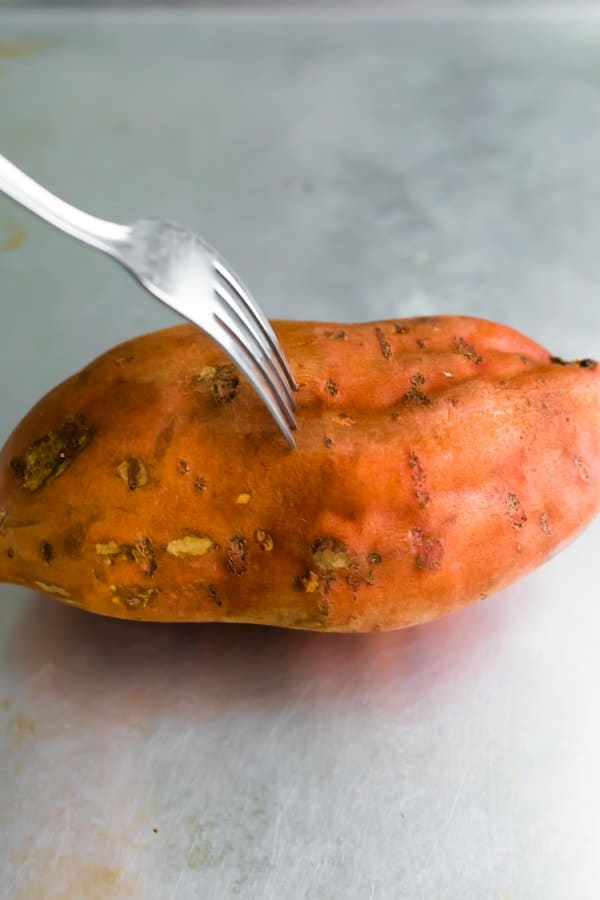 How long to bake sweet potatoes
Now how long to bake sweet potatoes is going to differ by each sweet potato, but I promise, this recipe is still really hard to screw up!
The potatoes below were different in size but were still ready within 15 minutes of each other. If your sweet potatoes are quite small, you may want to even start checking them after 30 minutes.
Here's a rough guideline of how long to bake sweet potatoes at 400°F:
very small (under 2 inches wide)- check after 30 minutes
medium (2-3 inches wide)- 6-9 oz or 200 g- 1 hour
large (3 inches + wide)- 1 lb or 450 g - 1 hour 15 minutes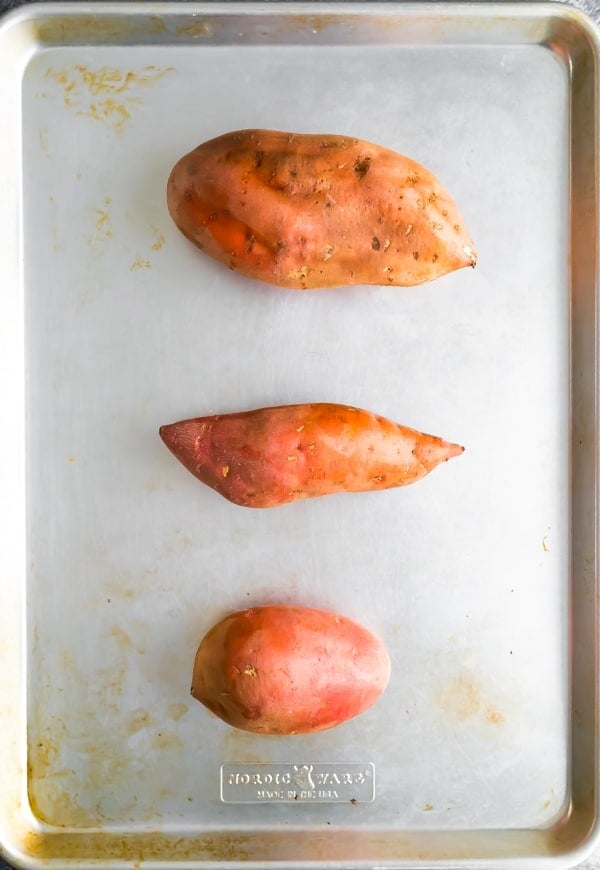 How to tell when they're done
I like to call this the 'squeeze test'. When you are wondering if your baked sweet potato recipe is done, give the sweet potato a little squeeze (with an oven mitt on!).
If your baked sweet potato feels tender, it is likely ready. If it still feels firm, I'd put it back in the oven for another 15 minutes.
Expert tip! Drop your baked sweet potato from about 10 inches above onto a cutting board or the baking pan. I learned this tip from Natalie at Tastes Lovely in her Steakhouse Style Baked Potatoes post, and it works great with baked sweet potatoes, too!
Dropping your baked sweet potatoes after baking loosens the insides up and makes it so light and fluffy!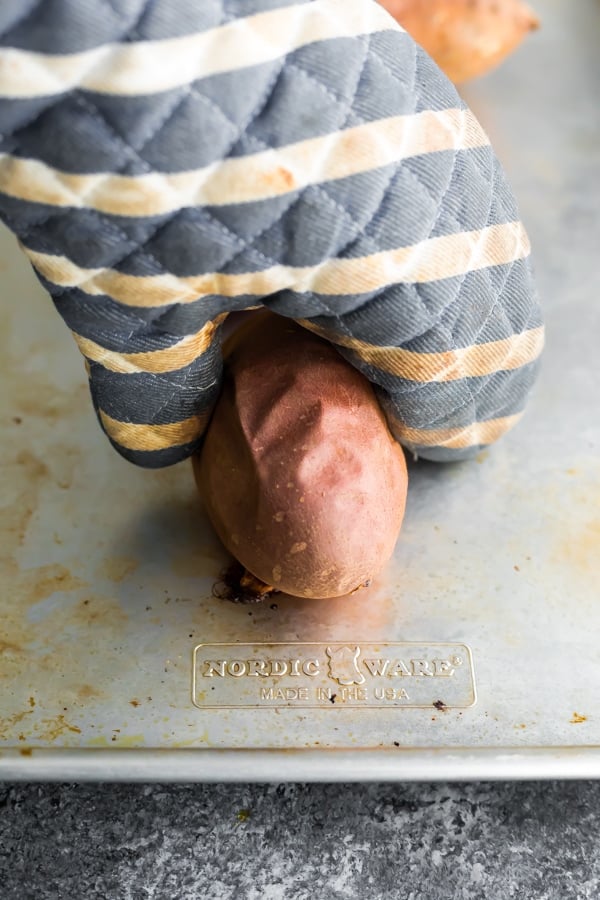 FAQ
Are baked sweet potatoes good for you? 
Sweet potatoes are a great source of fibre and vitamins A & C. They are low in fat and contain an array of minerals, other vitamins and antioxidants. Sweet potatoes have been found to promote immunity, brain function and stabilize your blood sugars. All in all, I'd say that's a pretty great list of health benefits! Ref
Can baked sweet potatoes be frozen?
YES! One of my favorite freezer meal prep recipes are these Enchilada Stuffed Sweet Potatoes. Not only can they be frozen, but they can be baked in the oven without thawing! How convenient is that?!
Do they need to be refrigerated after baking?
YES. I always store in an airtight container in the fridge. They keep for about 7 days if stored properly.
Do you eat the skin of baked sweet potatoes?
Absolutely! We enjoy the sweet potato skin, but some people prefer to peel it off. As you can see from the photo below, this baked sweet potato recipe is extremely easy to peel once baked.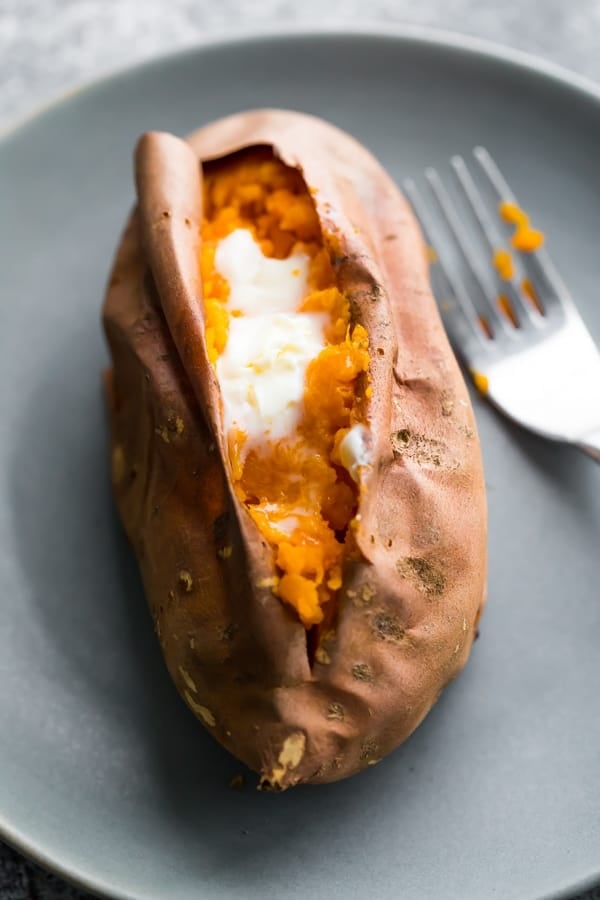 How to serve it
You can serve it as a simple side dish, or stuff it with some protein and turn it into a full meal!
top with butter and sprinkle with some coconut sugar and cinnamon for a sweeter flavor
drizzle with sriracha and top with avocado or guacamole for a spicy version
stuff it with taco meat, corn, avocado and cheese for a taco stuffed sweet potato
mash the sweet potato filling with cooked and shredded chicken breast, a drizzle of barbecue sauce, and cheese
mash the sweet potato filling with enchilada sauce, cheese, corn and black beans for an enchilada stuffed sweet potato
You could also use the filling in one of these recipes:
Recipe tips
make sure to use a large, good quality sheet pan (I use these ones!)
weigh your sweet potatoes on a kitchen scale for the most accurate cook time...or you can wing it and check on them every 15 minutes
you can also cook your sweet potatoes in a slow cooker or in the Instant Pot!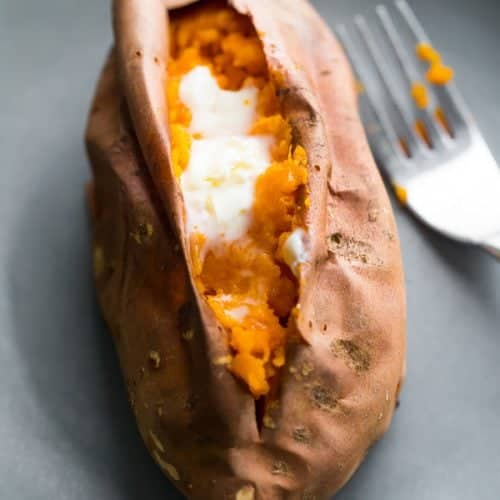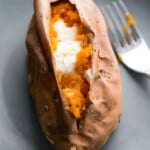 Print Recipe
How to Bake Sweet Potatoes
How to bake sweet potatoes- a step by step guide to getting perfectly tender baked sweet potatoes! Eat them for dinner, stuff them with delicious fillings, or use them in your meal preps.
Instructions
Scrub your sweet potato and pat dry with a towel. Prick sweet potato with a fork 10 or so times.

Place sweet potato on a baking sheet and bake for 30 minutes- 1h 15 minutes, depending on the size of your potato:

-small- check after 30 minutes

-medium (200g/6-9 oz)- 1 hour

-large (1 lb/ 450 g)- 1 hour 15 minutes

*all ovens are different and this is a rough guideline

Test if your sweet potatoes are cooked through by gently squeezing with an oven mitt. If they are tender, they are ready to serve. If they are firm, return to the oven for another 10-15 minutes.

Before serving, drop the sweet potato from around 10 inches above a cutting board or the baking dish.
Storage
Store baked sweet potatoes in the fridge for up to 1 week or the freezer for up to 3 months (wrap cooled sweet potatoes in plastic wrap and place in an airtight container)
Nutrition
Calories:
111
kcal
|
Carbohydrates:
26
g
|
Protein:
2
g
|
Fat:
0
g
|
Saturated Fat:
0
g
|
Cholesterol:
0
mg
|
Sodium:
71
mg
|
Potassium:
438
mg
|
Fiber:
3
g
|
Sugar:
5
g
|
Vitamin A:
18445
IU
|
Vitamin C:
3.1
mg
|
Calcium:
39
mg
|
Iron:
0.8
mg