Herbed sweet potato stacks are a great holiday side dish that are impressive to look at but simple to prepare. With fresh herbs and coconut oil.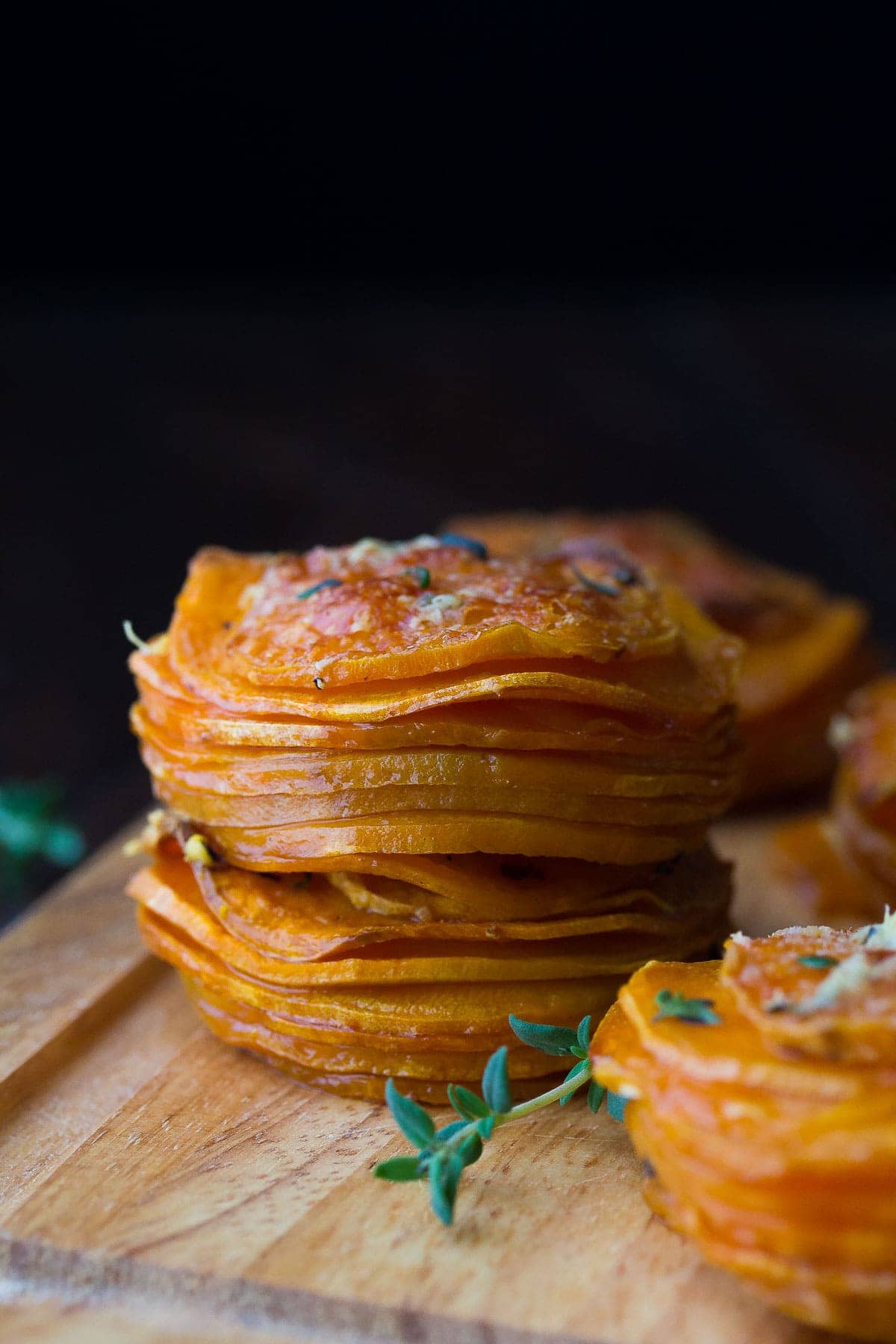 Hiiiiiiii.
It has been well over a week since you've heard from me, and WHAT A WEEK!
After six years, I have finally finished my PhD. This Monday I defended. It was not as pleasant as I thought it would be…not that I thought a defence would be pleasant. But I was really uncomfortable. The examiners push you on your questions to the point that you don't know the answer, and that just drives me nuts because let's face it, I'm a huge know-it-all 😉
So I've kind of been recovering from it all the past few days. Translation: yoga pants. Netflix. Wine. Repeat.
I'm ready to crawl back out into the light, cook some stuff and take photos and share it with you because that just makes me happy. And these sweet potatoes just had to be shared because, well, look at them!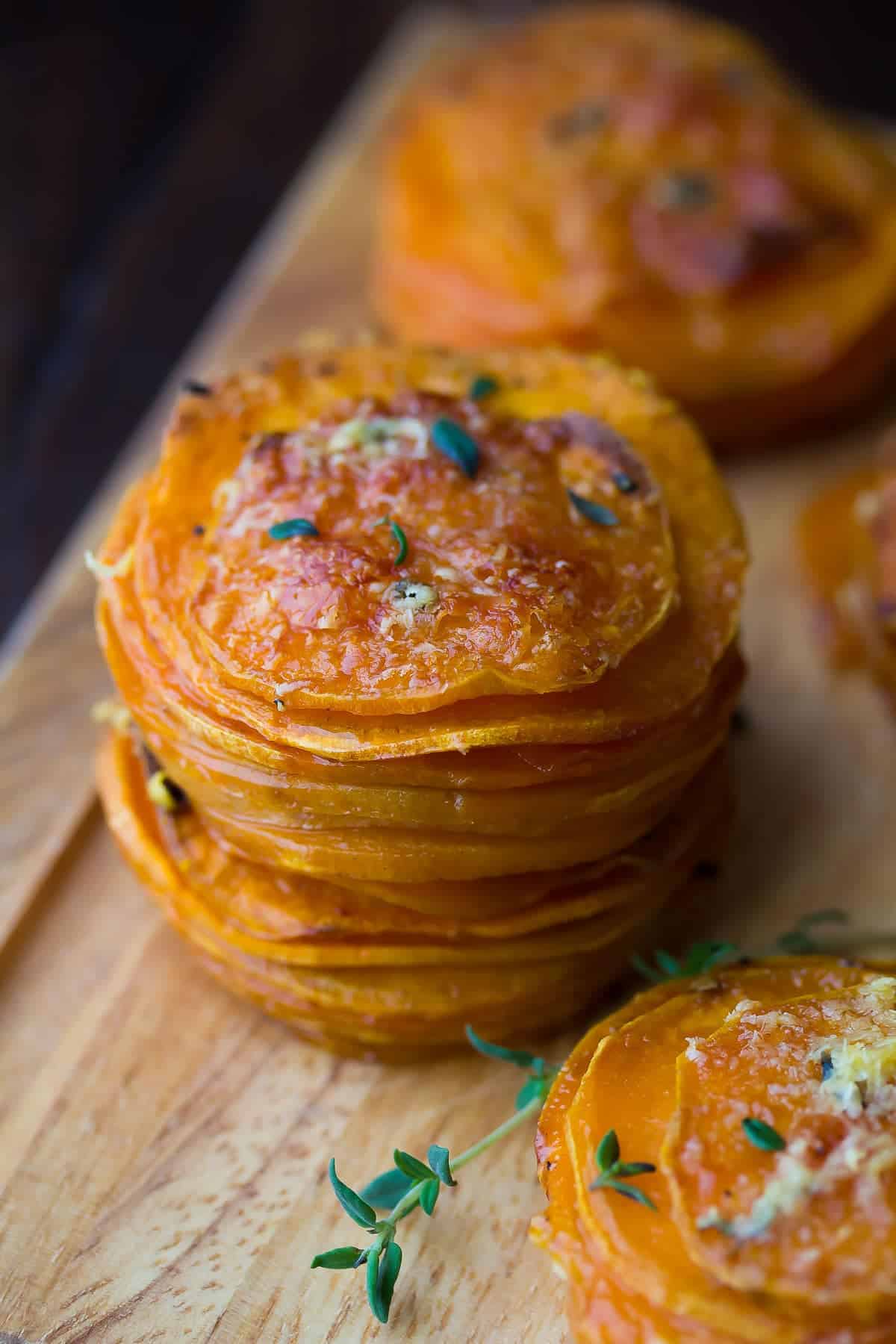 As usual, I have no idea which recipe will resonate with people and which ones will not. But hello! These Parmesan & Rosemary Potato Stacks really resonated with you all, and I thought it would be a great concept to revisit.
This time I made healthified sweet potato stacks and subbed coconut oil for the butter. I'm going to be honest, I have had coconut oil in my cupboard for a LONG time and I didn't really know what to do with it. I like healthy food but I'm not so good with these healthy food trends. Anyway, feel free to use regular (unsalted) butter in place of the coconut oil if you don't feel like paying $15 for a jar.
I also used fresh thyme in this recipe, but feel free to use pretty much any fresh herb you have on hand. Here's a few more ideas: rosemary, sage, tarragon, oregano.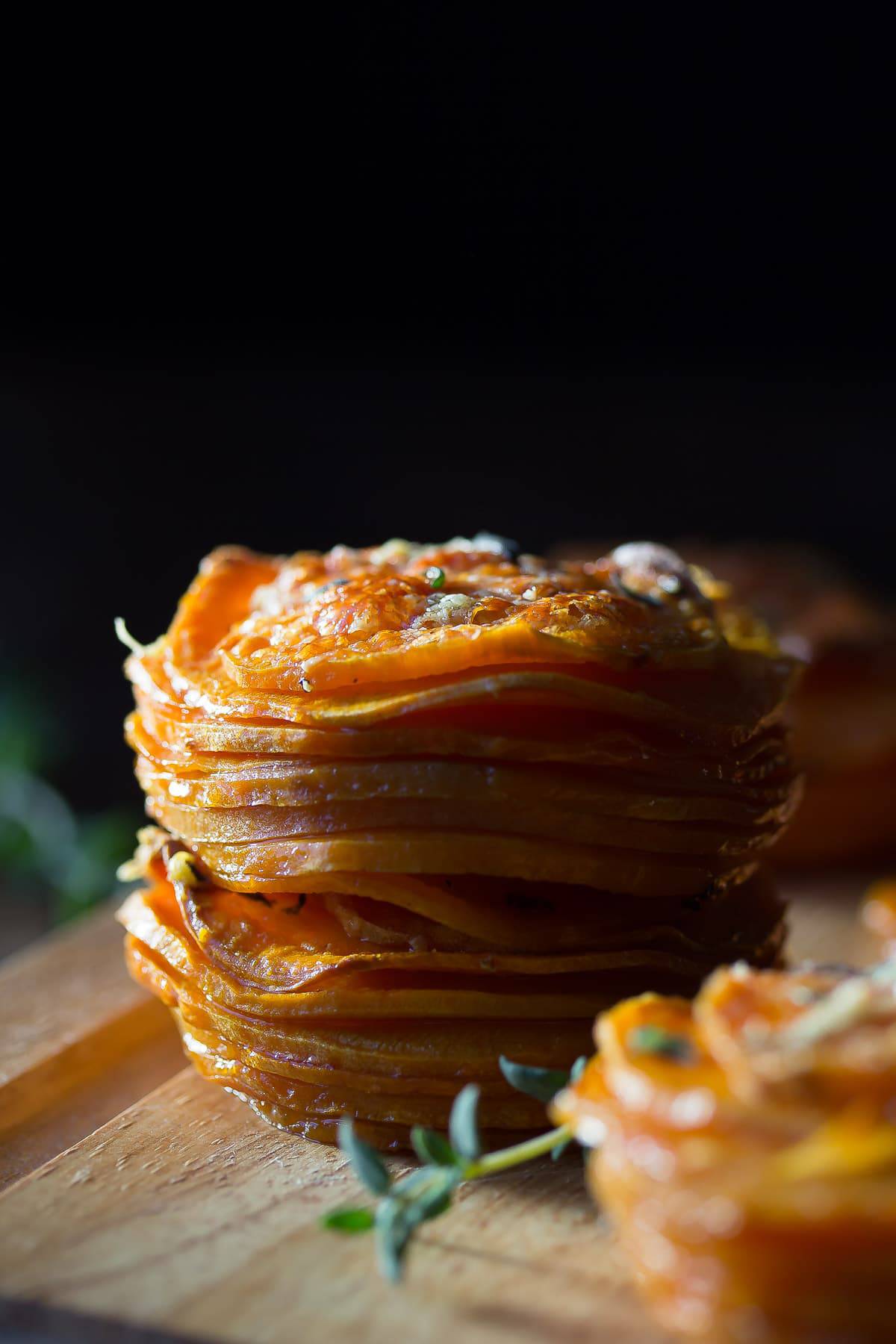 Just like the potato stacks, you are going to want to use a mandoline
to get perfect slices. I held off on buying one forever and I'm SO glad I bought mine, we use it all the time now!
The sweet potatoes need to be sliced a bit thicker than the regular potatoes did, since they tend to shrink more in the oven. I cut mine about 3-4mm thick and it was perfect. They were crispy on the outside and soft on the inside.
THE KEY to having these sweet potato stacks taste great is to season them well. I put a sprinkle of salt between each layer, and they really needed it.
I think these guys would make a great side dish for the holidays! And the best part is that they are super easy, but they look like a lot of effort 😉
Happy Saturday! SATUR-YAY!
Herbed Sweet Potato Stacks
A simple but impressive side dish: sweet potatoes are sliced, brushed with coconut oil, and sprinkled with herbs, salt and pepper, then baked up until the outsides are crispy and the insides are soft.
Ingredients
2

sweet potatoes

sliced into 3-4mm slices (I recommend using a mandoline)

1/4

cup

coconut oil

melted

2-3

tablespoons

fresh herbs

thyme, rosemary, oregano, sage, tarragon; chopped

salt and pepper

generous on the salt; approx 1 teaspoon kosher salt total

1/2

cup

parmesan cheese
Instructions
Pre-heat oven to 375°F.

Melt coconut oil in the microwave.

Slice potatoes around 3-4mm thick (mandoline works best for this)

Layer potatoes in the bottom of a muffin tin, brushing with coconut oil, and sprinkling with herbs, salt and pepper between each layer.

Sprinkle the tops of each stack with freshly-grated Parmesan cheese.

Bake for 45-60 minutes, until potatoes are cooked through.
Notes
Unsalted butter works as a great coconut oil substitute!
If you want to go all out, sprinkle the Parmesan between each layer ?
Nutrition
Serving:
1
/4 batch
|
Calories:
216
kcal
|
Carbohydrates:
14
g
|
Protein:
5
g
|
Fat:
16
g
|
Saturated Fat:
14
g
|
Cholesterol:
7
mg
|
Sodium:
279
mg
|
Fiber:
2
g
|
Sugar:
3
g
 Products used in this recipe: