These parmesan rosemary potato stacks will wow your guests! With thin layers of potatoes brushed with melted butter, sprinkled with parmesan and fresh rosemary, these potato stacks are pretty and delicious.
Potatoes are so versatile, aren't they? We can mash them, grill them, and even turn them into accordions! These parmesan rosemary potato stacks are another fun way we can enjoy potatoes.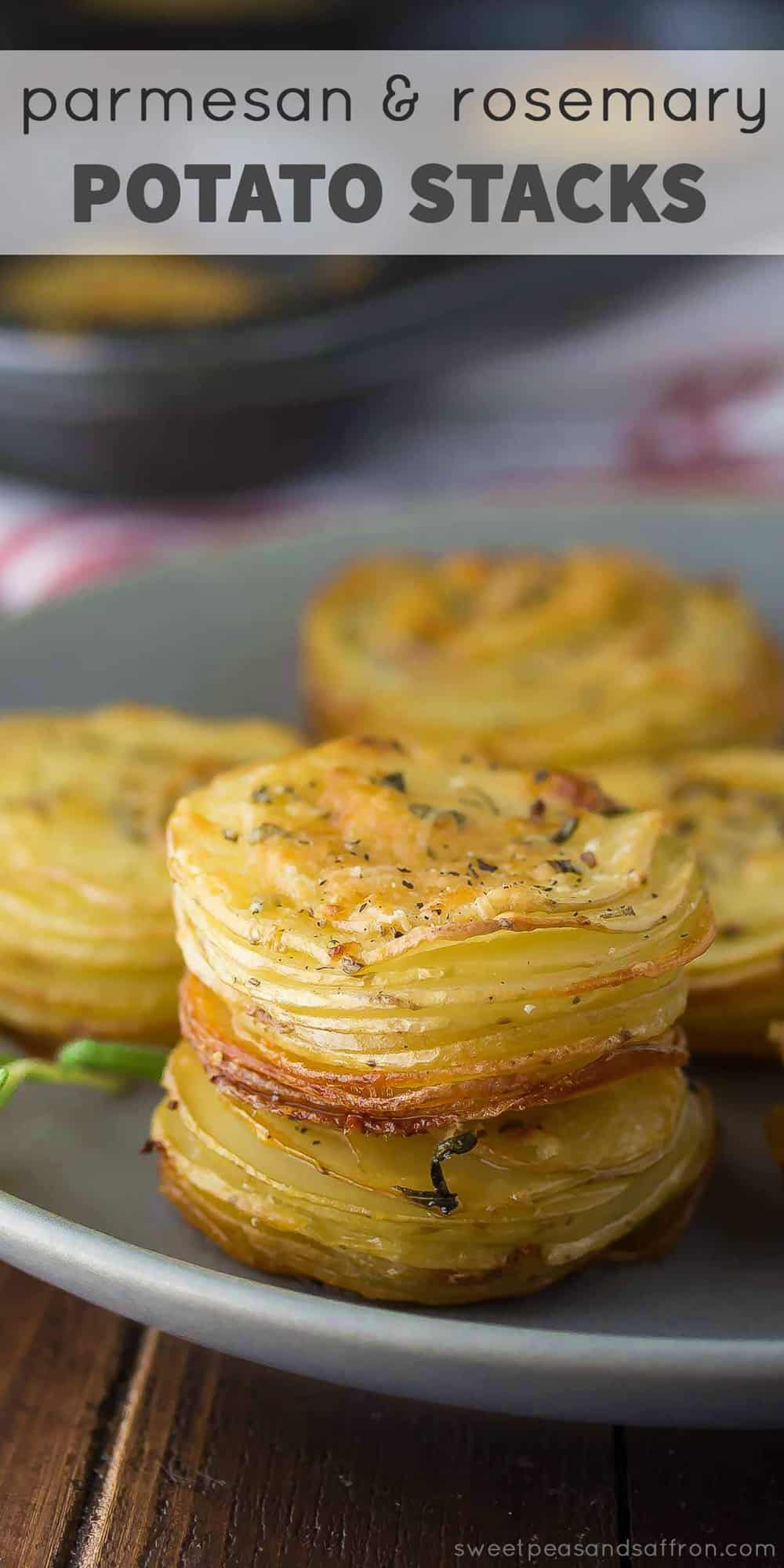 The full recipe for this post is on the Real Housemoms website, where I was a contributor. Find the recipe here or keep reading this post to see all my recipe tips.
These potato stacks are deceptively easy to prepare, but look like you slaved for hours. They are impressive looking, and more exciting than regular old roasted or mashed potatoes.
Serve them with herb crusted broiled salmon and balsamic winter kale salad for my version of the perfect dinner!
Reasons you'll ♡ these rosemary potato stacks
they are pretty and impressive looking
they are actually pretty simple to prepare
they have a texture similar to scalloped potatoes and are sinfully delicious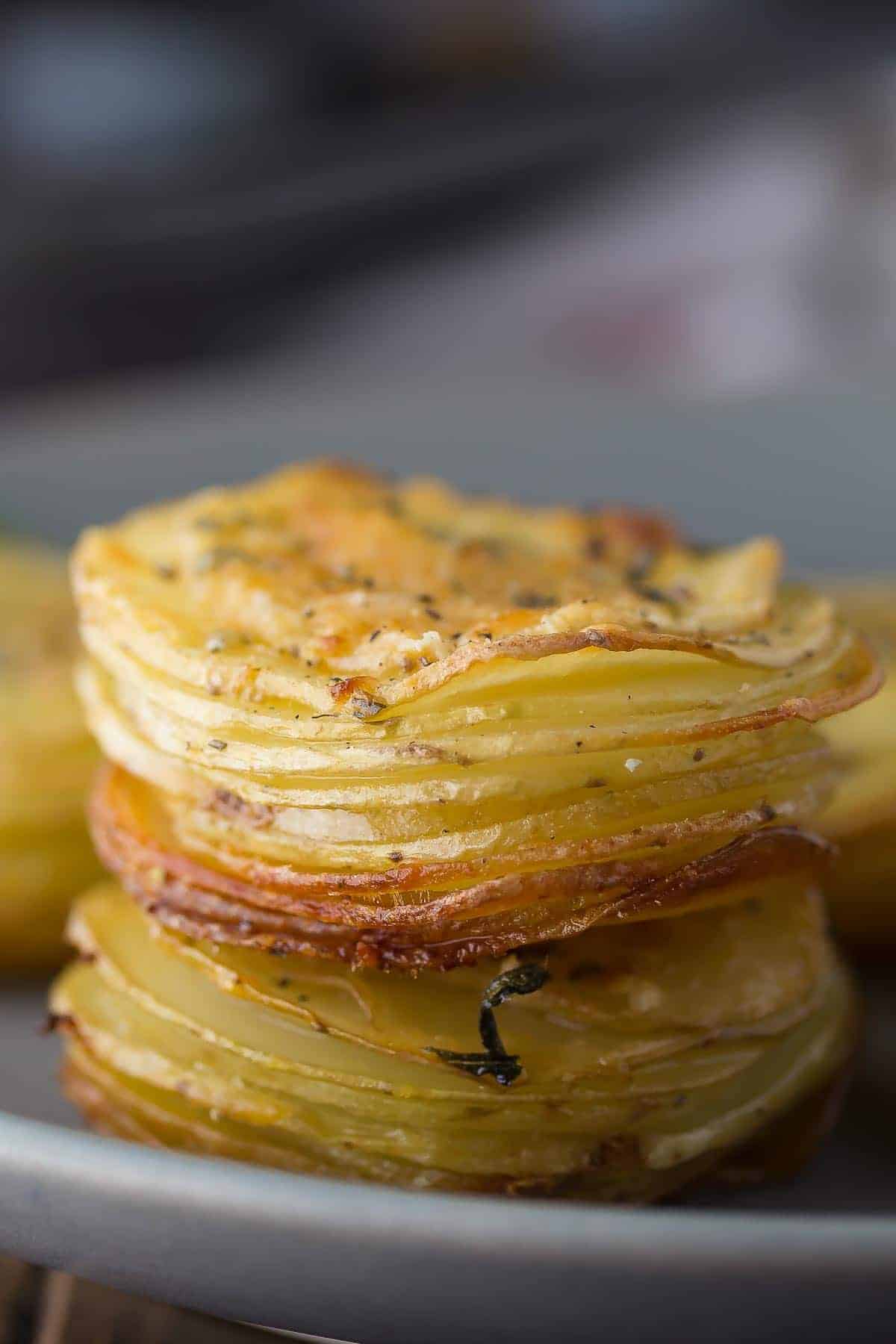 Slice potatoes evenly
The most important thing you need to know about this recipe is that you will need to slice your potatoes as evenly as possible. This ensures that the potatoes cook through evenly. I recommend using a mandoline (I have this really basic one).
When using a mandoline, it's very important to pay close attention so you don't cut your finger or hand. Some mandolines may come with a safefty guard, but if not, you can purchase a safety glove to protect your hand while using it.
Set your mandoline to cut 2 mm slices of potatoes.
Bake stacks in a muffin tray
After slicing the potatoes thinly, we arrange them in a muffin tray. Having the potato stacks surrounded by the muffin tray helps to keep them from drying out, and also helps conduct the heat around them, cooking them through. I do not recommend using a sheet pan as your potatoes may not cook through the same and may dry out.
When selecting potatoes for this recipe, be sure to keep in mind that they must fit into the muffin tray. Large or wide potatoes will not be suitable for this recipe.
Variations
Think of this recipe as a great base option that you can play around with. Here are some options for you:
potatoes– this recipe calls for white or yukon gold potatoes, however you can also swap for sweet potatoes; check out our sweet potato stacks!
butter– you may swap the butter for coconut oil or olive oil but you'll want to add in some extra salt to enhance the flavors
herbs– go wild here and use your favorites. Some ideas: thyme, rosemary, oregano, sage, tarragon
parmesan– swap for mozzarella, gouda, havarti, or your favorite cheese. Make sure to finely grate it so it melts evenly between the layers.
More Tasty Potato Recipes!
Click here to head over to Real Housemoms, where I'm sharing the full recipe!