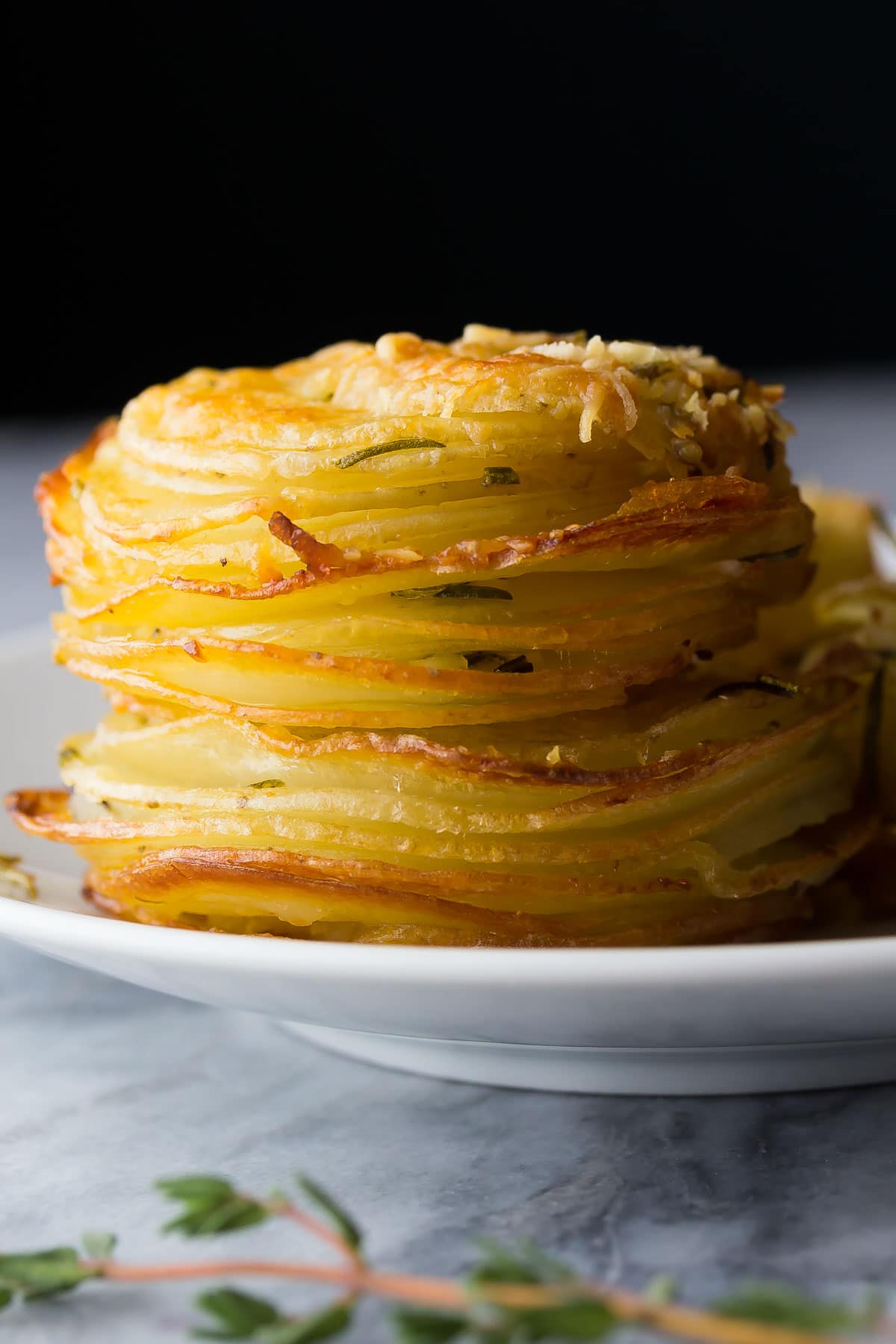 Impress your guests with these herb and garlic potato stacks!  They are deceptively simple and SO incredibly tasty.
It's the time of year again where you can't help but think about the holidays.
And what's the best part about the holidays?  Well, family of course, but the second best part is absolutely, most definitely the food!!
I absolutely love the food traditions that happen during the holidays.  We always do turkey, even though I don't really think it's anyone's favorite.  It's just tradition, you know?
And every year I am in charge of the cranberry sauce.  It's my gig and it always has been 😉
One dish that I wouldn't mind changing up is that boring old bowl of mashed potatoes.  They've never really done much for me.  So I thought it would be fun to make some fancy potatoes…stacked, slathered with herb and garlic butter, and sprinkled with parmesan.
Presenting: herb and garlic potato stacks!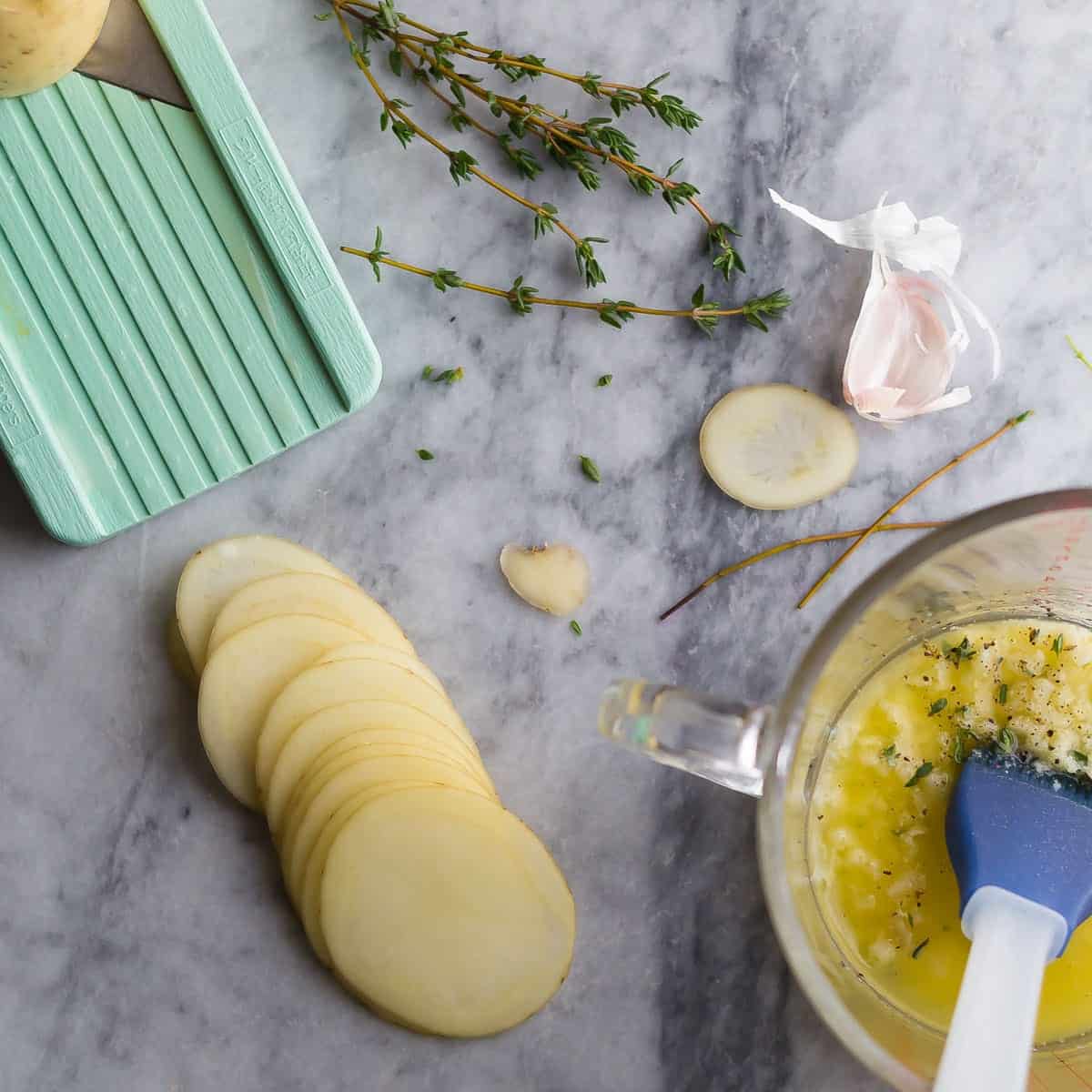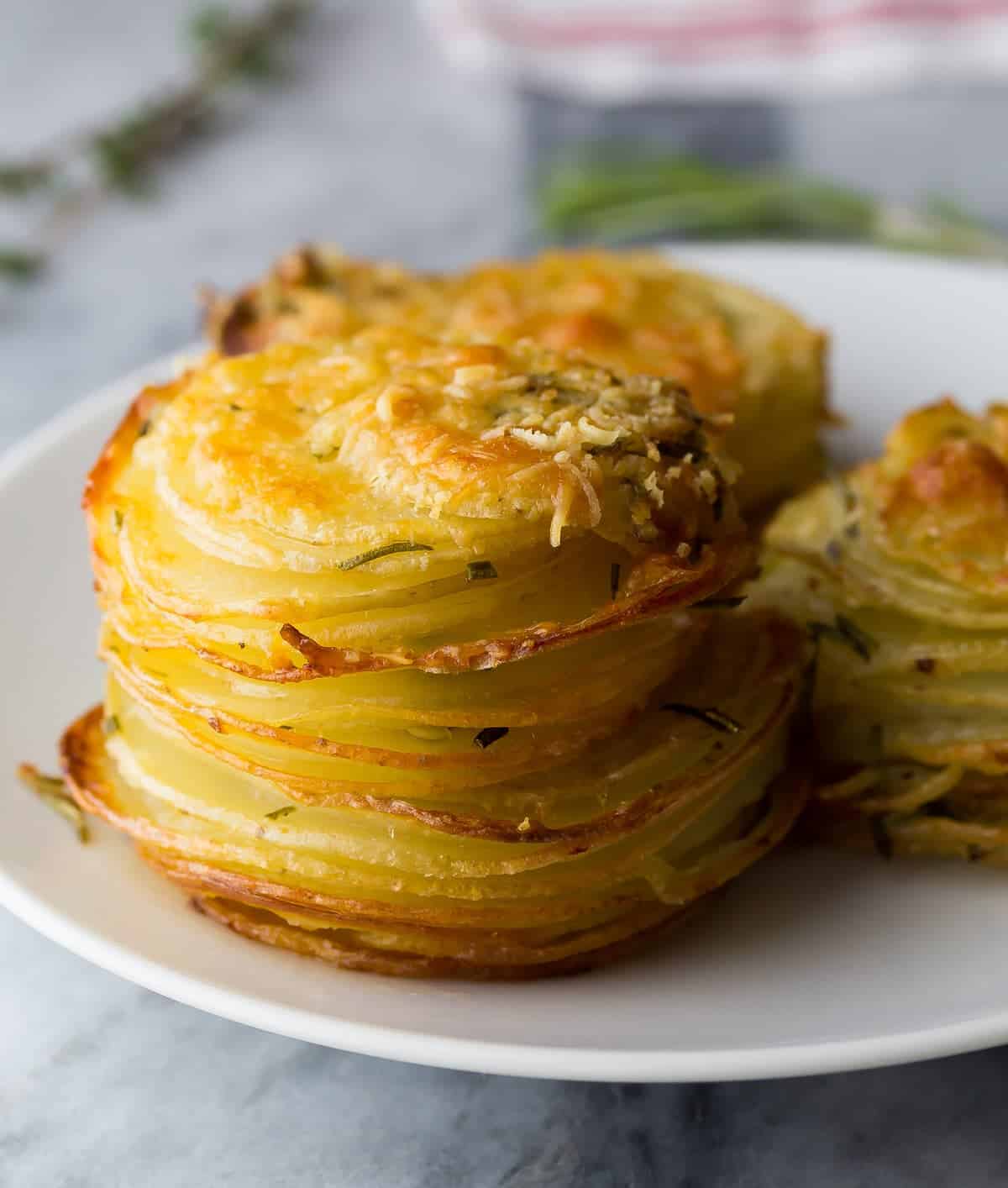 If these guys look familiar, it's probably because you remember these Parmesan & Rosemary Potato Stacks from last year.  Or maybe these healthier Herb & Coconut Oil Potato Stacks?
Well I thought it was a fun concept worth revisiting for a third time.  This time I decided to add some garlic and thyme to the mix, and boy was it a great idea!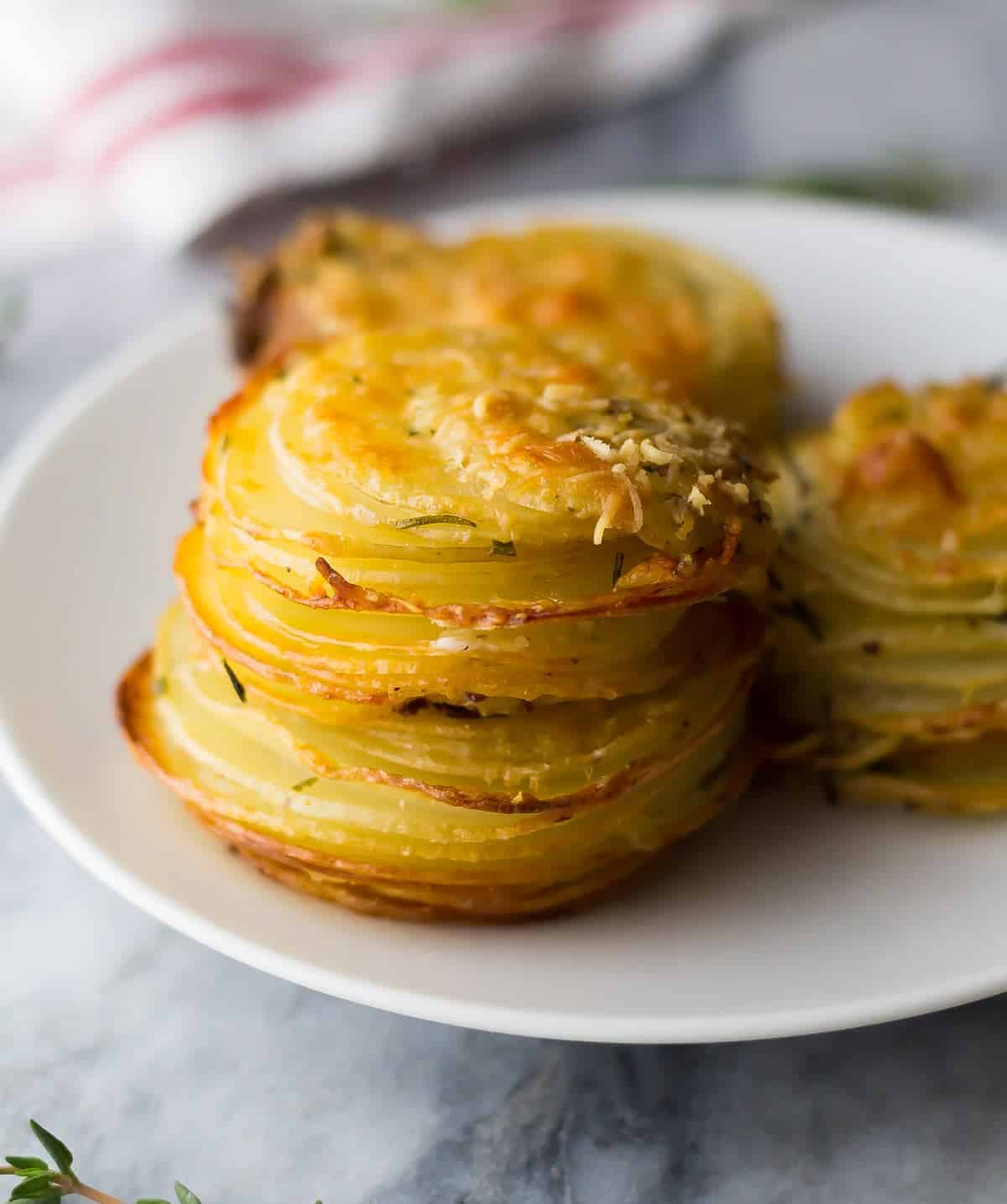 Not only are these herb and garlic potato stacks SUPER tasty, but they are way easier then you'd expect.
How easy?  Well let's check out this video!
So the thing with these herb and garlic potato stacks is that you absolutely need them to all be the same thickness in order to cook properly.  I have this
 really basic mandolin, and it works like a charm.  Make sure to use the finger guard when your potato starts to get short, we don't want anyone to slice themselves!
Herb and Garlic Potato Stacks (Video)
4
adjust servings
Ingredients
1/4

cup unsalted butter, melted

1

tablespoon fresh rosemary, finely chopped

1

tablespoon fresh thyme leaves

3

cloves garlic, minced

3/4

teaspoon kosher salt

4

small white or Yukon gold potatoes

1/4

cup shredded Parmesan cheese
Instructions
Pre heat oven to 375°F.
Melt butter in a glass measuring dish. Stir in the rosemary, thyme, garlic and salt.
Slice potatoes to a 2mm thickness using a mandolin.
Brush the bottom of a standard-sized muffin tin with the butter mixture.
Layer 2-3 potato slices, then brush again with butter.
Repeat until the muffin tins are filled to the top. Brush the tops with the butter mixture and sprinkle with cheese.
Bake for 45 minutes, or until tops are golden brown.
Recipe Notes
Makes around 12 stacks.