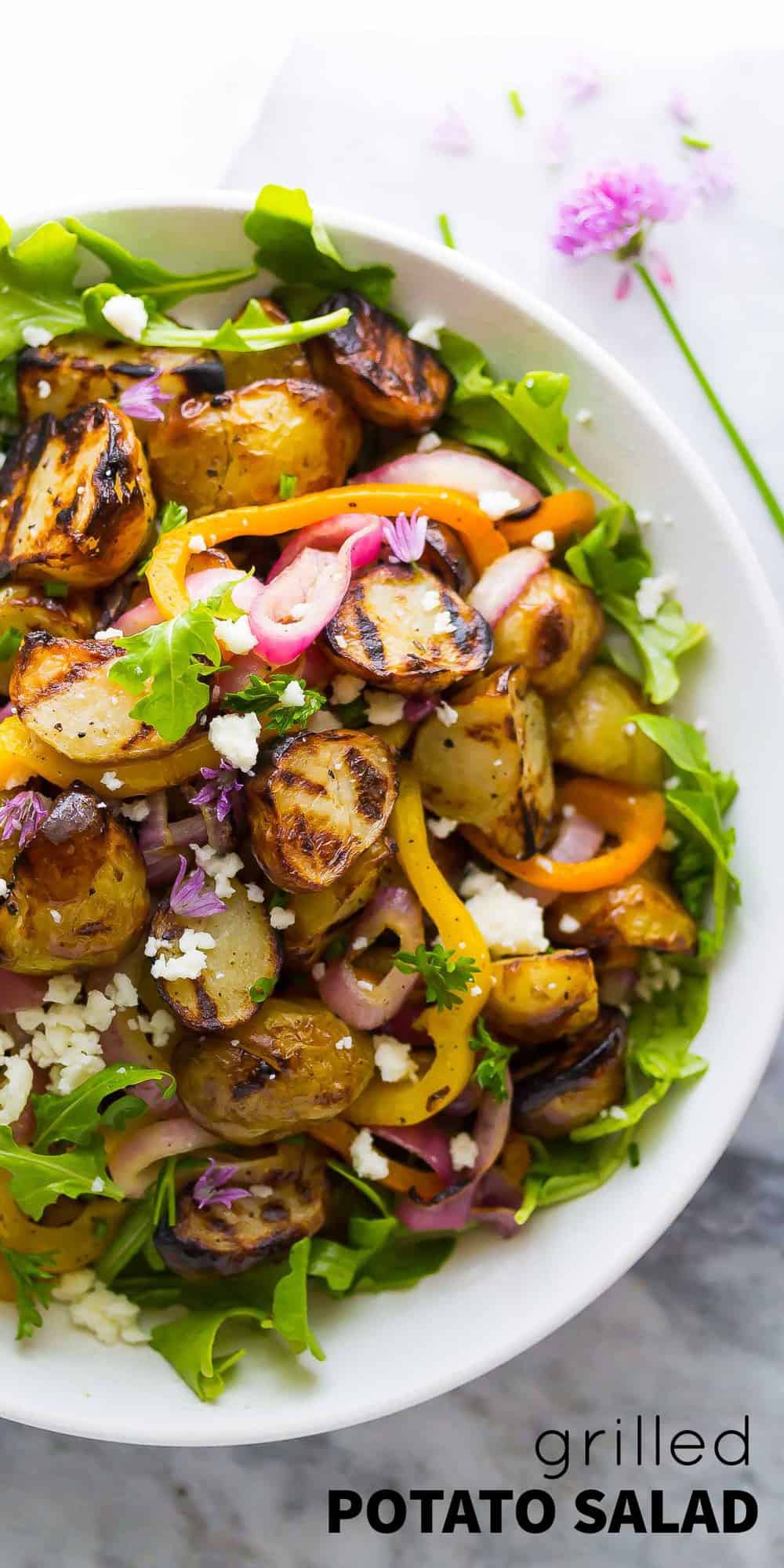 The best grilled potato salad you'll find (and there's no mayo involved)!  Grilled Warba New Nugget Potatoes are tossed with grilled onions and peppers, arugula and feta in a parsley and lemon vinaigrette.
This is my week of conquering my pre-conceived notions about food.
On Monday, I proved to myself just how delicious broccoli can be by incorporating it into a creamy and dreamy almond broccoli pesto.
And today, I am sharing with you my rendition of potato salad.  And there's not a drop of mayo in sight, because can I be honest?  Potato salad that is drowning in a creamy mayo dressing with hardboiled eggs scares the pants off me.  I just can't do it!
So today, I have an alternate to the heavy, creamy potato salad recipes out there: this easy, fresh grilled potato salad, which is tossed in a lighter parsley and lemon vinaigrette.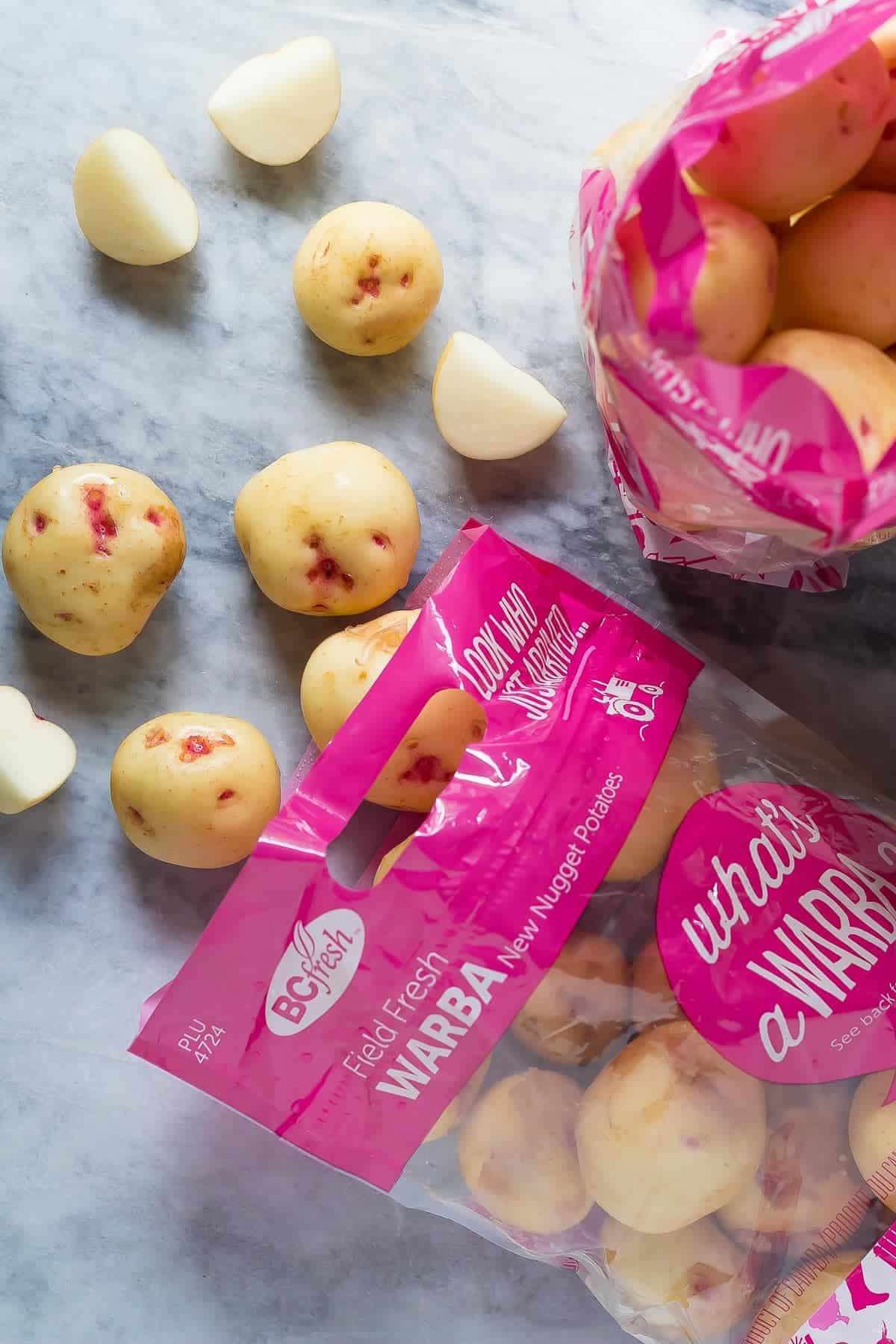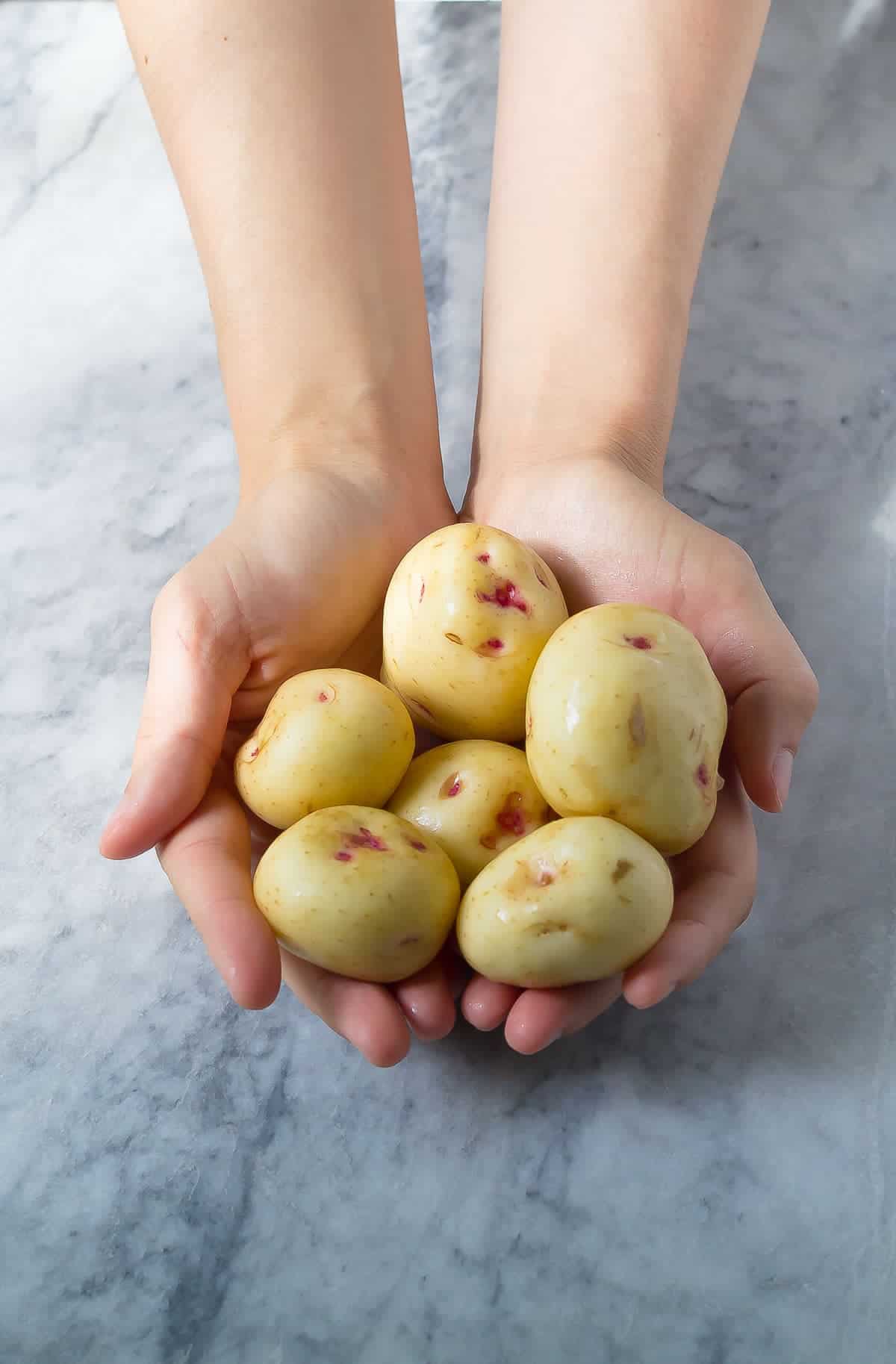 Today's post is in partnership with BC Fresh Vegetables.  Remember when we teamed up for these Sea Salt and Oregano Domino Potatoes?  We're back with another deee-licious potato collaboration today, and I couldn't be happier!
And these aren't just any potatoes.  These beauties up there?  They are the freshly dug Warba New Nugget Potatoes, and they have a distinctly fresh and almost sweet flavor that becomes intensified after grilling them.
Not only is the flavor of these potatoes unmatched, but they are buttery soft and creamy…basically the perfect potato texture if you ask me!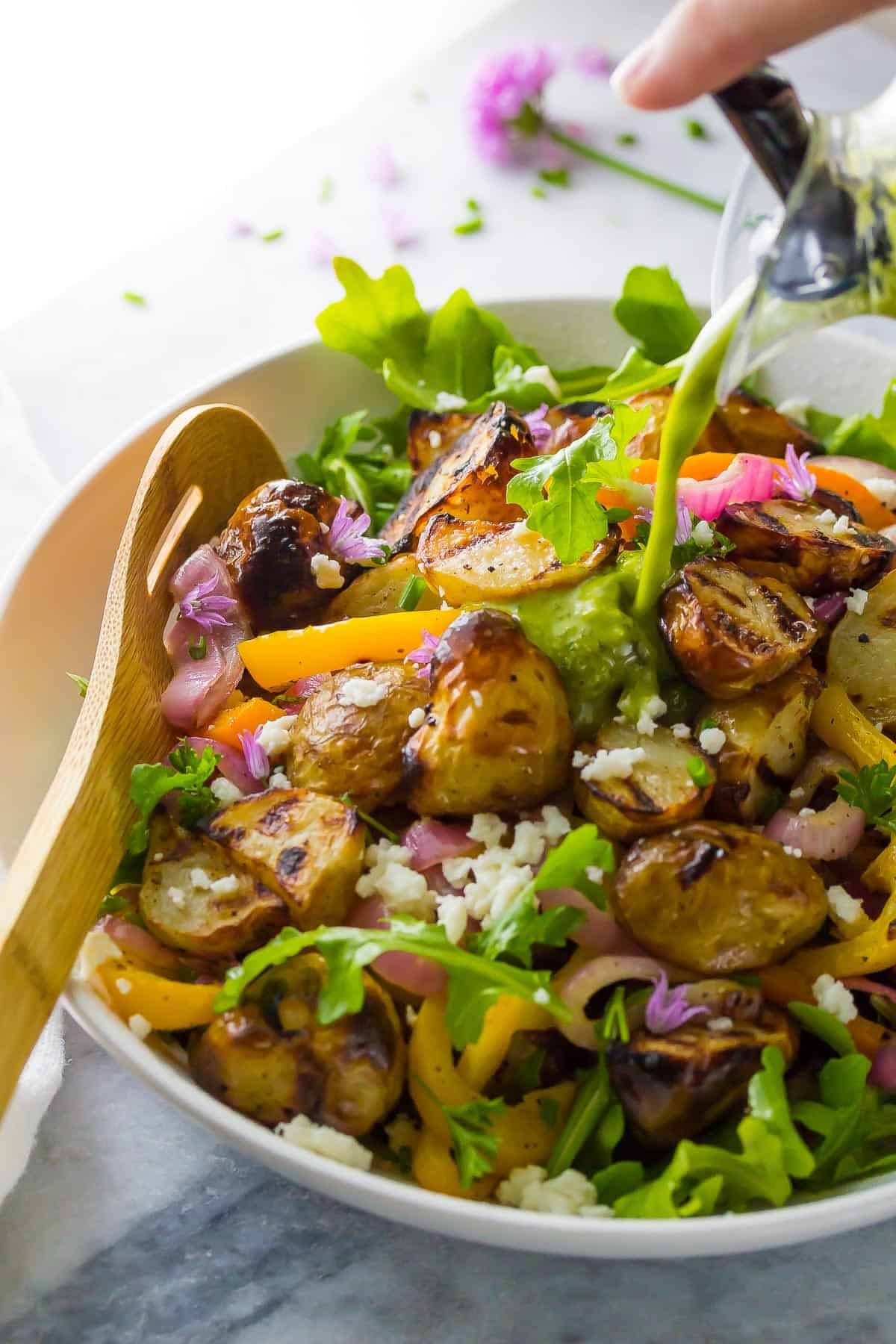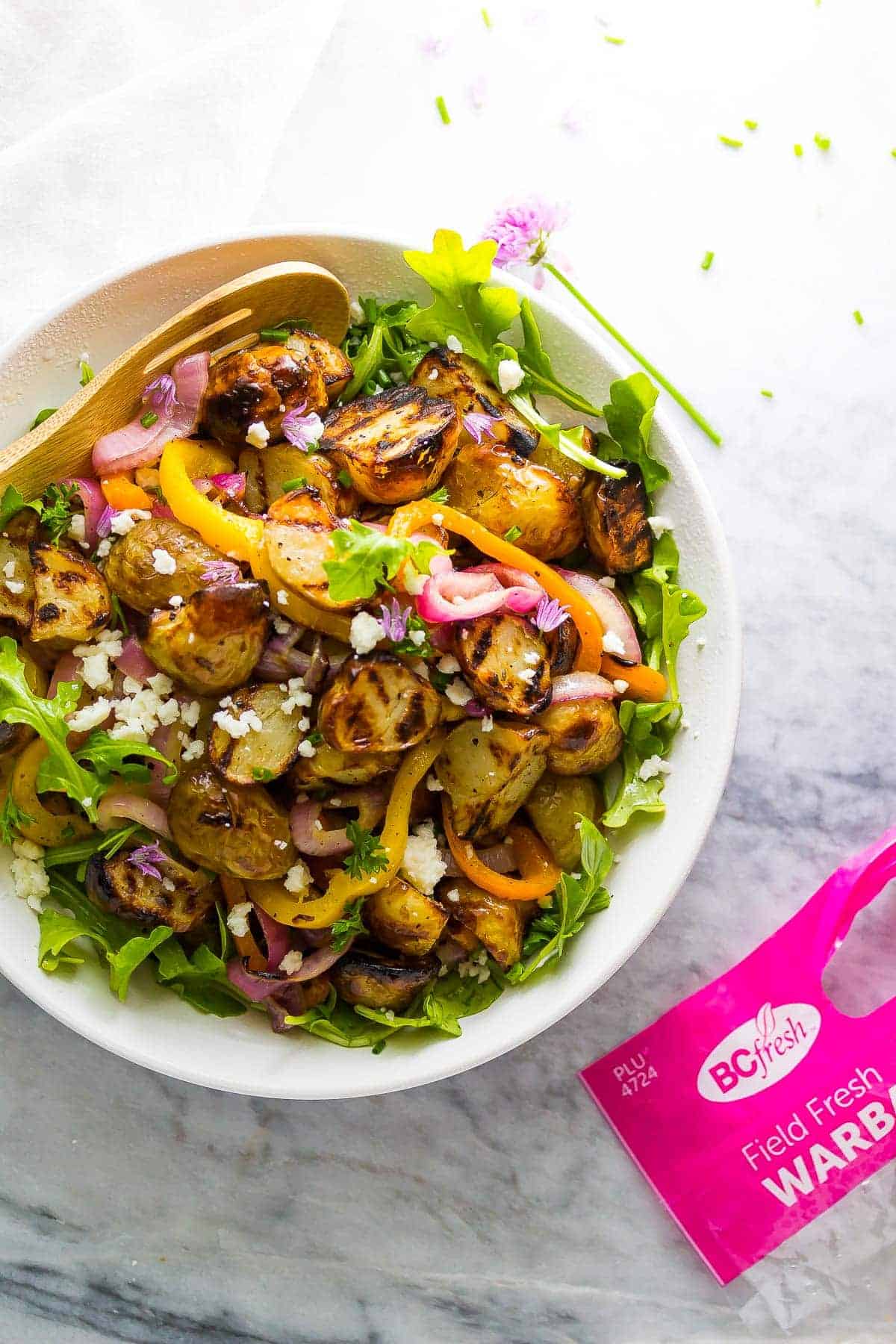 I'm on a huge grilling kick at the moment, and with our temperatures nearing the 30's (celsius!), I am finding every excuse to keep the oven off.
So grilling it was when it came to this salad.  And since I was grilling the potatoes, I thought why not?  Let's throw in some red onion and bell peppers.
After grilling, the potatoes, onions and peppers are tossed with arugula and feta cheese in a fresh parsley and lemon vinaigrette.  All together you get a great variety of textures and flavors that balance each other out, yet the potato flavors still shine through.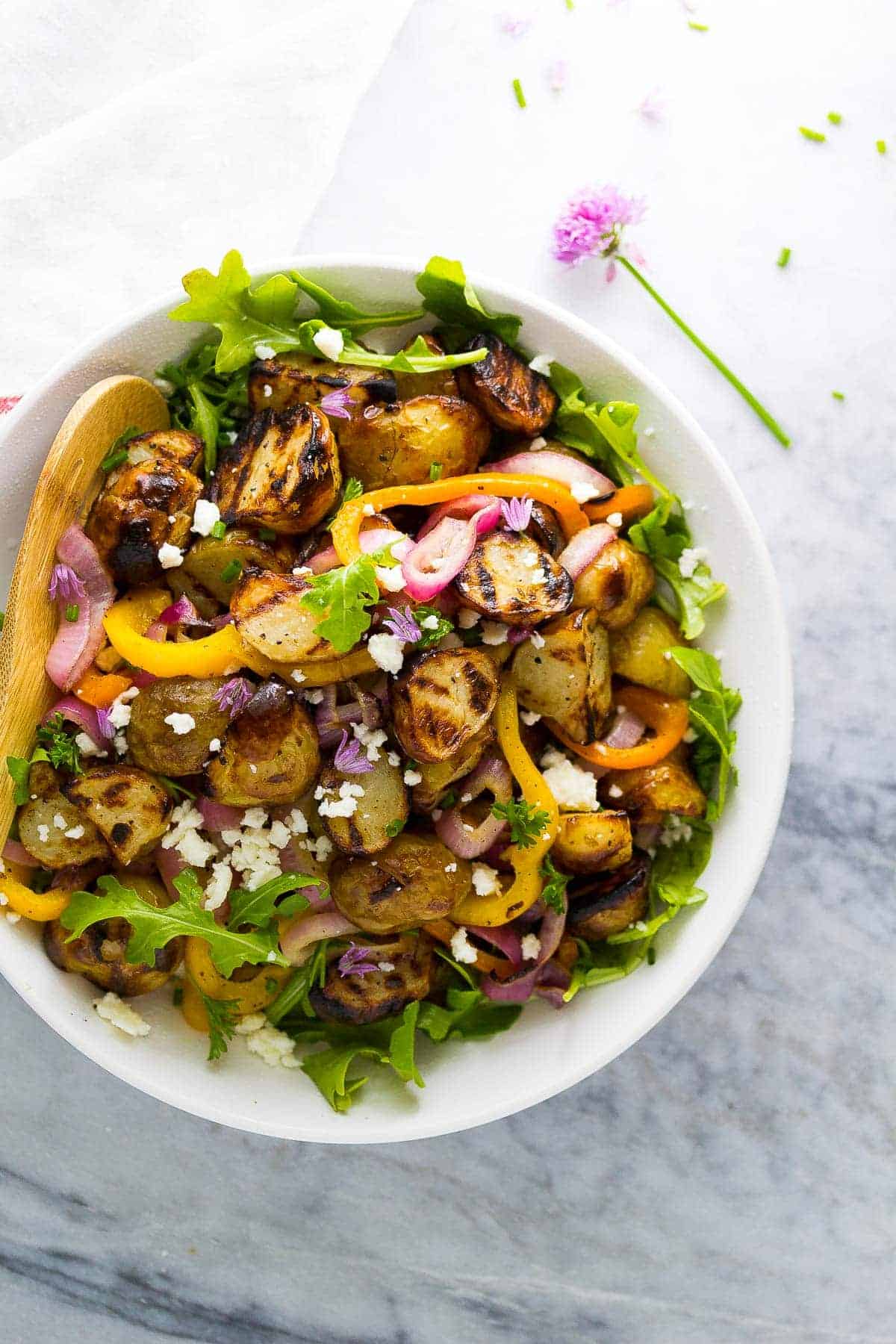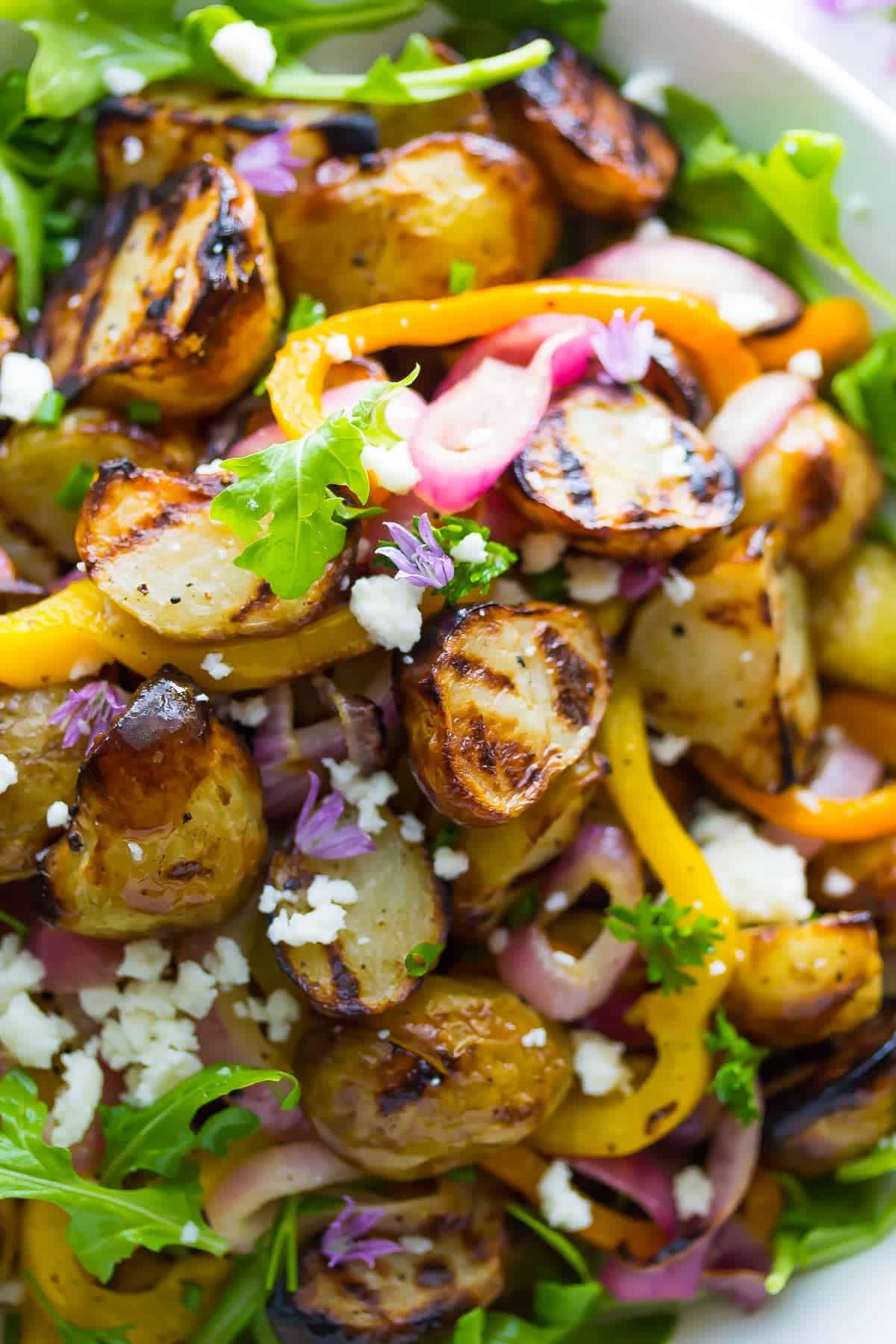 To get those perfect creamy potatoes, I boil them for 12 or so minutes first, then toss them in some olive oil with a generous sprinkling of sea salt, then finish them off on the grill.  This ensures that all potatoes are cooked through in the middle, but they still get a nice texture and flavor from the grill.
While this grilled potato salad is best served immediately, Ben and I enjoyed ours the next day as well (although you'll want to keep the arugula separate if this is your plan).  It would be great for a barbecue or picnic!
So, now that I've conquered my broccoli issues, and finally found a potato salad recipe that I can get on board with, what should I conquer next?
Check out the BC Fresh Vegetables website for more information on Warba New Nugget Potatoes, and be sure to keep in touch with BC Fresh Vegetables on Twitter, Facebook, and Instagram!
Disclaimer: Thank you to BC Fresh Vegetables for sponsoring this post!  As always, all opinions are my own.  Thanks so much for supporting the brands I love and who support Sweet Peas & Saffron!
Grilled Potato Salad with Onions, Peppers and Arugula
6
adjust servings
Ingredients
1

bag BC Fresh Warba New Nugget Potatoes (roughly 1 kg/2.5 lbs)

2

tablespoons olive oil

1

tablespoon coarse sea salt

2

cloves garlic, minced

freshly ground black pepper

1

red onion, sliced into 1/4 inch rings

2

bell peppers, sliced into 1/4 inch rings

1/2

cup feta cheese

4

cups arugula

2

tablespoons fresh parsley, chopped

2

tablespoons chives, chopped
Lemon Parsley Vinaigrette
2

tablespoons olive oil

2

tablespoons white wine vinegar

1

tablespoon honey

1

tablespoon fresh lemon juice (1/2 a small lemon)

1/4

teaspoon dijon

2

tablespoons water

1/4

teaspoon salt

3/4

cup loosely packed parsley
Instructions
Add potatoes to a large pot, cover with water and bring to a boil.
Cook for 12-15 minutes, or until a fork can easily go into the potatoes (but not overly soft).
Drain potatoes and set aside.
Heat grill to medium high heat. While grill is heating, cut the potatoes in half (for smaller 1 inch potatoes) or quarters (for larger 2 inch potatoes). Toss in a large bowl with 2 tablespoons of olive oil, 1 tablespoon of sea salt, garlic and black pepper.
In a separate large bowl, combine the onion slices and bell peppers with 1 tablespoon of olive oil, and salt and pepper to taste.
Place the potatoes (cut side down) over direct heat on the barbecue, and arrange the onion slices and bell peppers over indirect heat.
Cover and cook for 5 minutes. Check the potatoes and turn if necessary. Check the bell peppers and onions frequently after this. Peppers and onions will need only 3 or so more minutes on the grill (8 min total).
Continue checking the potatoes every 2 or so minutes, turning frequently until golden and slightly charred. Mine took a total of 8-15 minutes.
Blend together all vinaigrette ingredients using an immersion blender, and toss with remaining salad ingredients.
Serve immediately.
Recipe Notes
All barbecues are different, so cook times may vary.
To prevent bell peppers from sliding through the grates, I found it easier to slice them as rings rather than strips.