14 creative spiralizer recipes that will take you beyond zucchini noodles! Check out these delicious, healthier recipes using cucumber noodles, sweet potato noodles, butternut squash noodles and more.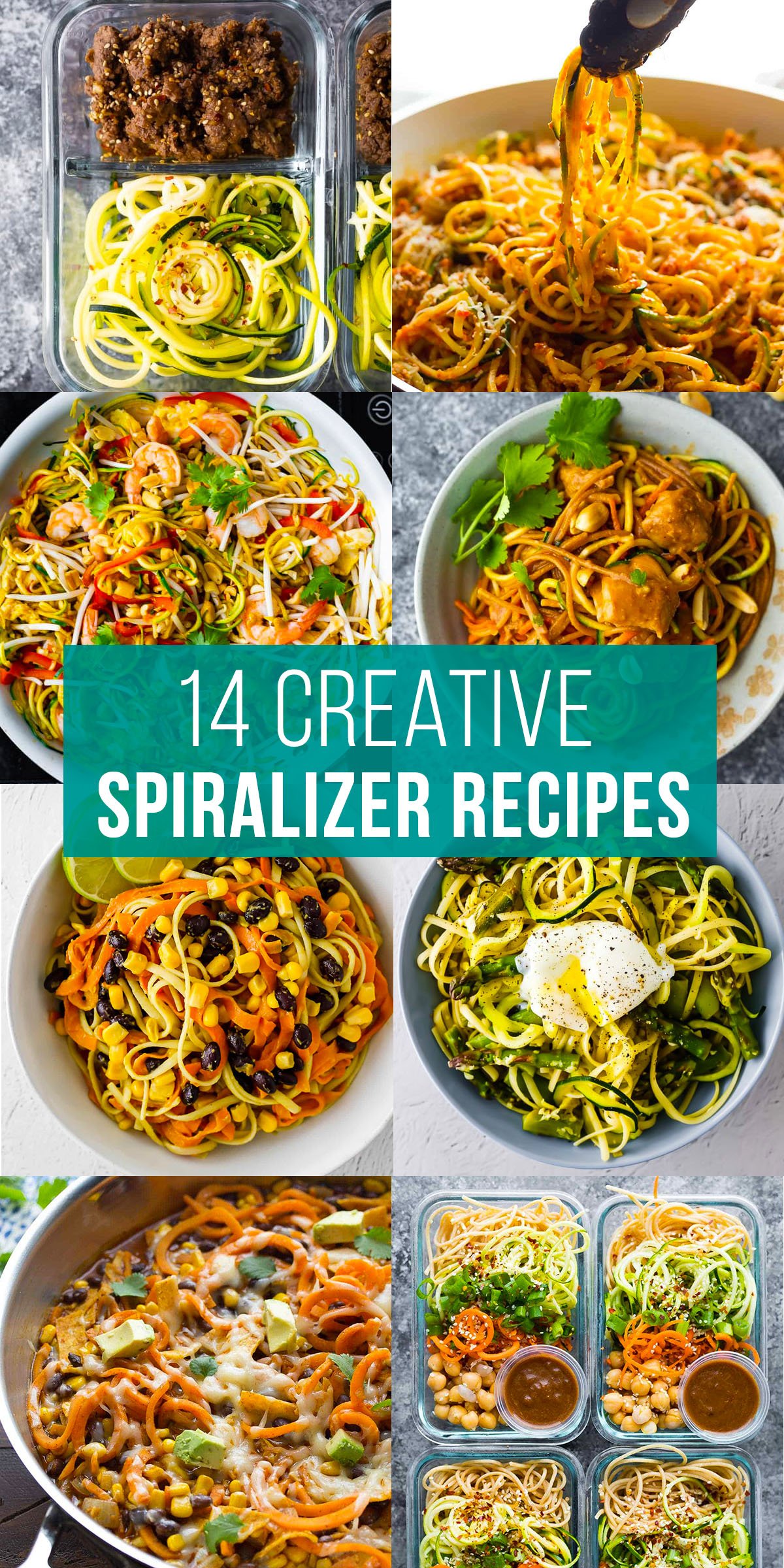 If you are looking to add more veggies to your dinner without much effort, I highly recommend using a spiralizer!
Don't forget to pin this post to save it for later!
Reasons you'll love using a spiralizer
it creates new textures to add to your salads, curries and stir fries
they can help to limit your carb intake without feeling like you're missing out- you can mix them with pasta and barely notice them there!
they help you squeeze more vegetables into your diet
they're fun to make and to eat!
How to use a spiralizer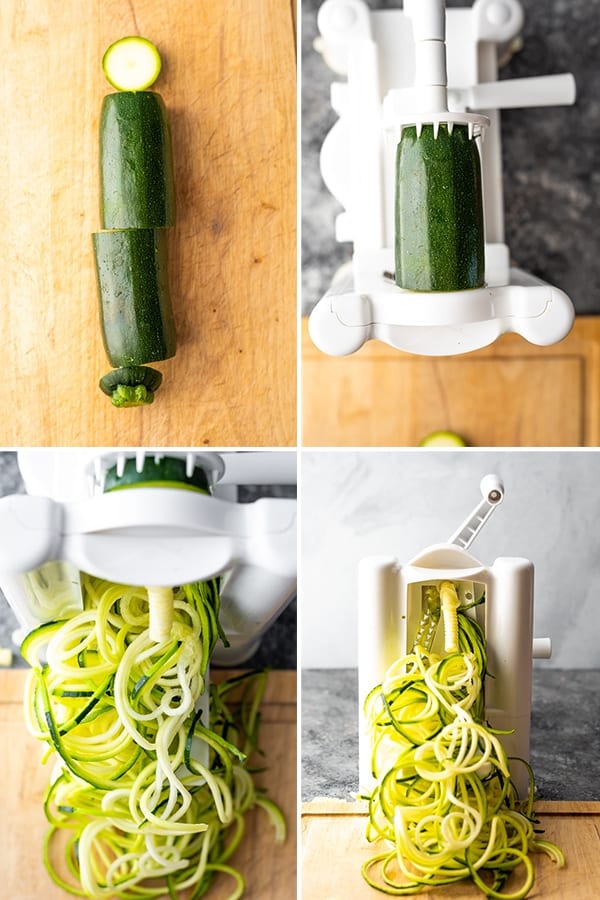 Select the appropriate blade for the vegetable you are spiralizing- for zucchini noodles, we use the small (⅛ inch) spaced blade on your spiralizer, whereas for sweet potato noodles, we use the larger (¼ inch) spaced blade. You can also create ribbons.
Pick a large, straight vegetable, wash, dry, and trim the ends (slice them off evenly). Try to avoid curved veggies as they are difficult to spiralize.
Depending on the vegetable, you may wish to cut them in half as well.
Place one end of the vegetable in the middle of the spiky paddle on the spiralizer, and the other end in the middle of the coring circle.
Rotate the handle, applying gentle pressure to create vegetable noodles.
What kind of vegetables can you spiralize?
zucchini
carrots (particularly jumbo carrots are good to spiralize)
sweet potatoes
butternut squash
daikon
bell peppers
beets
cabbage
red onion
cucumber
parsnip
apple
And more!
Spiralizer recipes
Spiralized Sweet Potato Enchilada Skillet
This enchilada sweet potato noodles skillet is a delicious vegetarian recipe that gets dinner on the table quickly and makes clean up a breeze.
Check out this recipe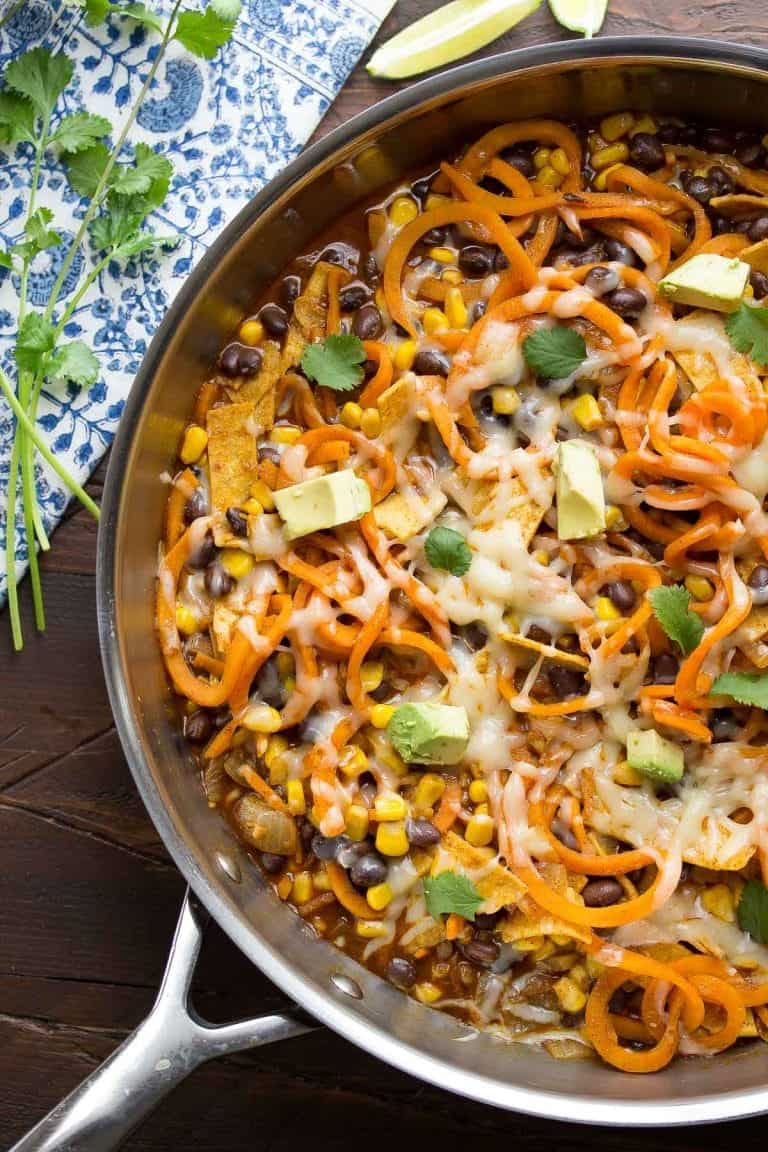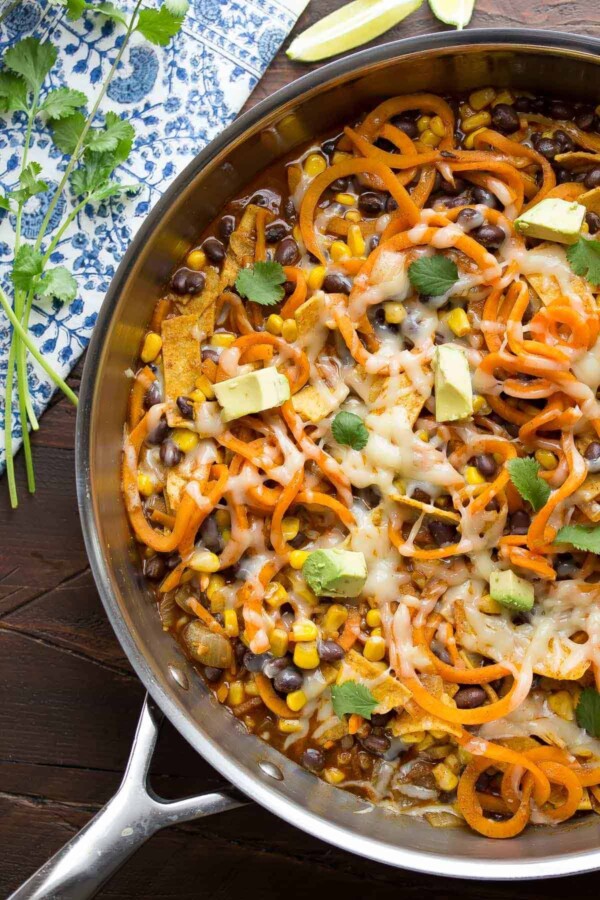 Spiralized Pasta with Egg and Asparagus
Spiralized pasta with egg and asparagus is a simple, veggie-packed dinner that gets dinner on the table quickly. Top with a perfectly poached egg to complete the meal!
Check out this recipe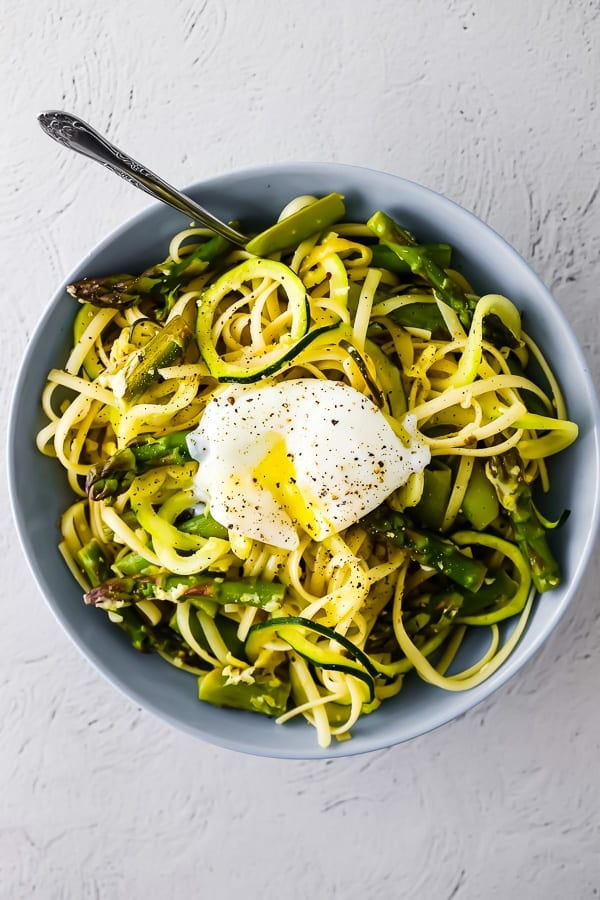 Ground Turkey Pasta in Romesco Sauce
This easy ground turkey pasta recipe is ready in under 30 minutes and tossed in a Spanish roasted red pepper sauce (romesco sauce)! 
Check out this recipe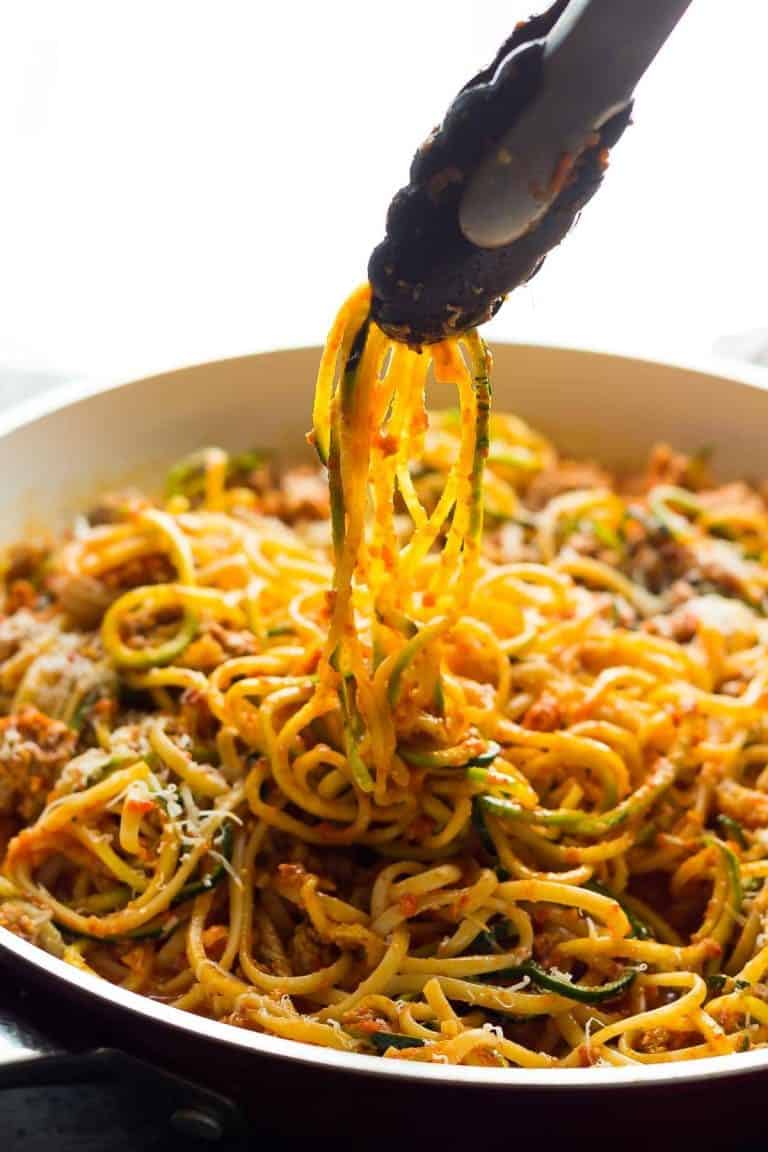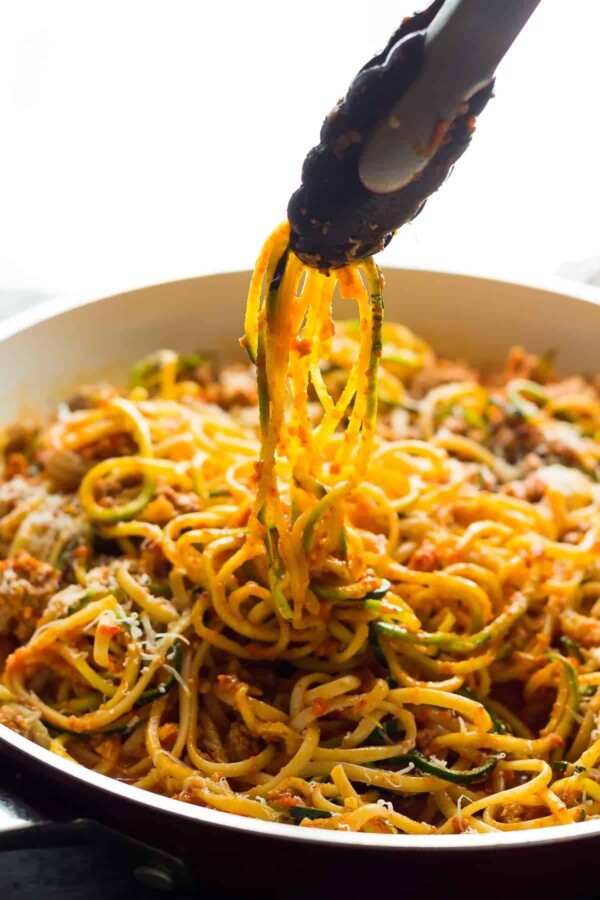 Cold Sesame Noodles with Spiralized Vegetables
These cold sesame noodle meal prep bowls are the perfect vegan prep ahead lunch: spiralized vegetables tossed with chickpeas and whole wheat spaghetti in a spicy almond butter sauce. 
Check out this recipe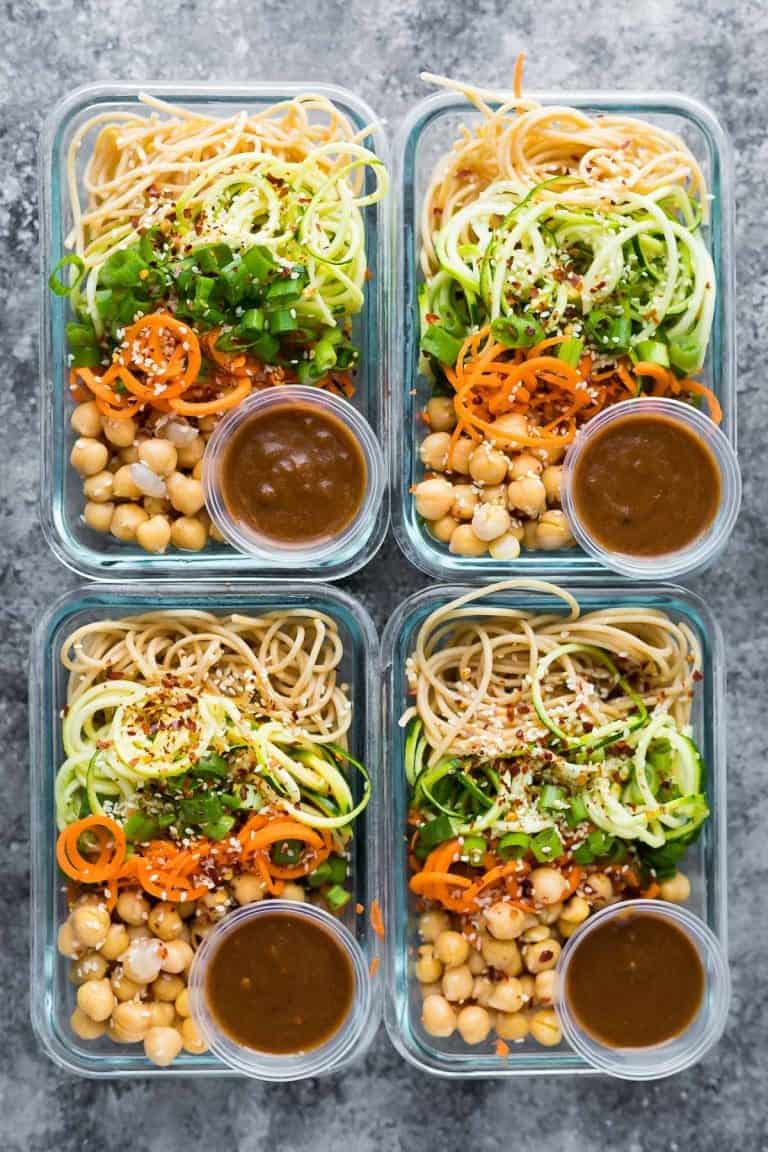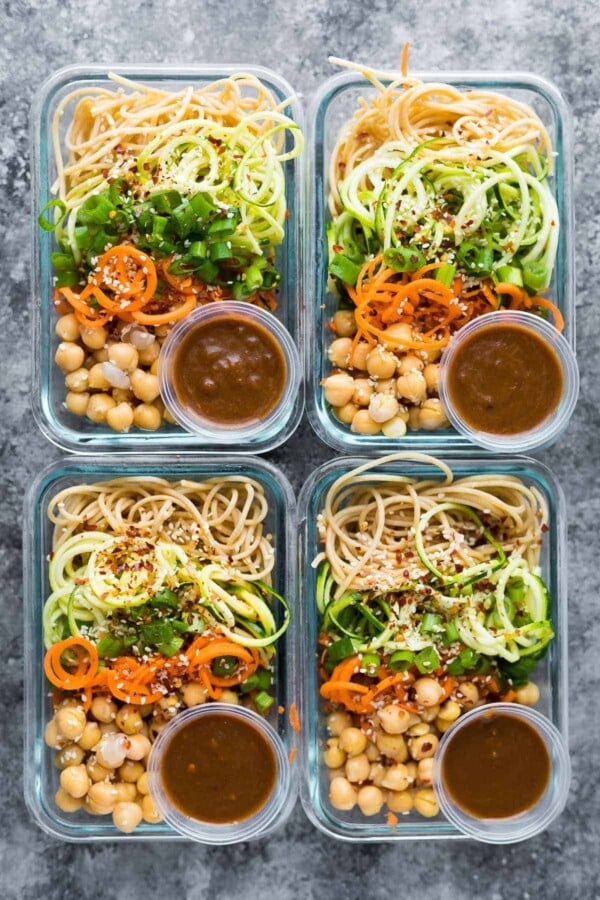 Zucchini Noodle Pad Thai
Zucchini noodle pad thai is a low carb veggie-packed meal that comes together in just 30 minutes. Made with shrimp, eggs, bell pepper and a sweet and tangy pad Thai sauce!
Check out this recipe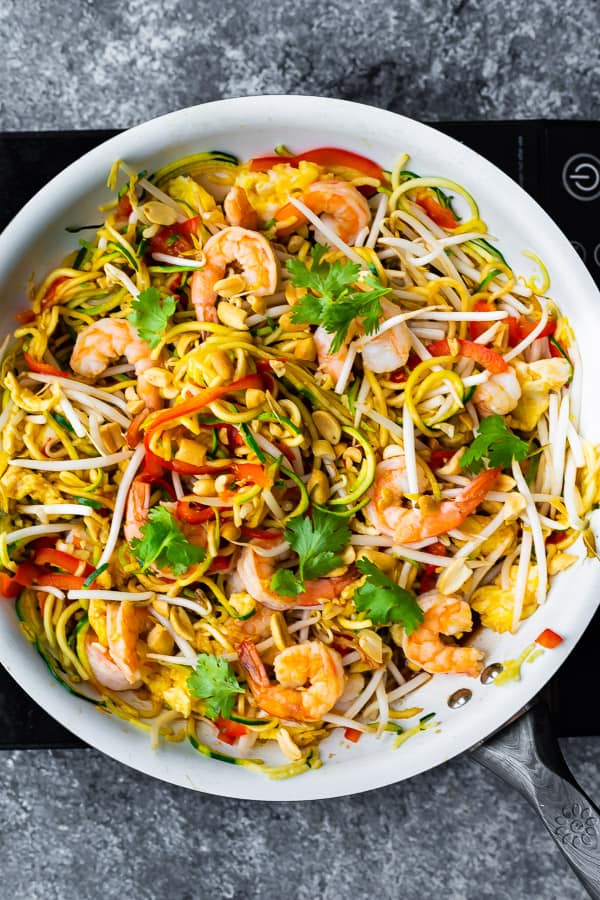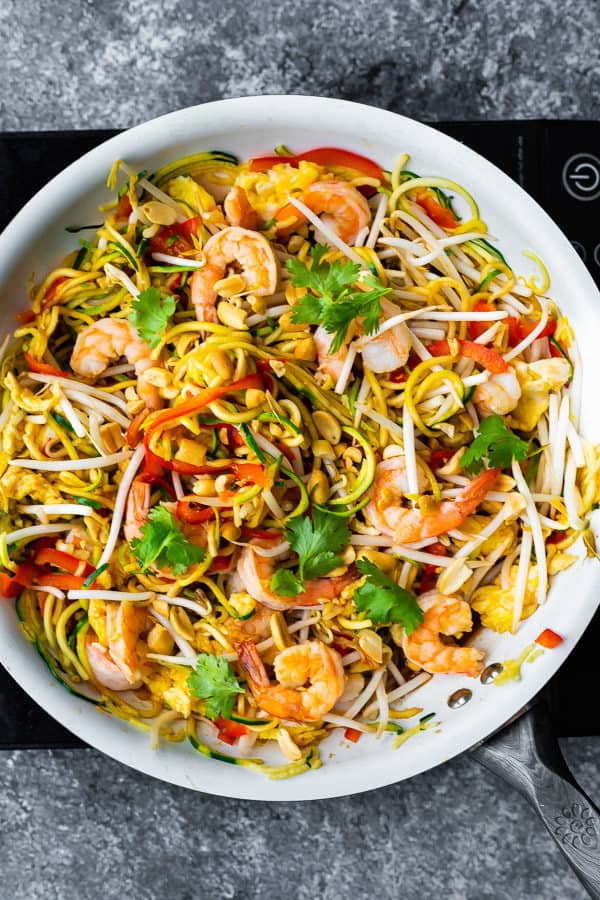 Sweet Potato Noodles with Black Beans and Creamy Avocado Sauce
These easy vegan sweet potato noodles are tossed in a creamy garlic avocado sauce with linguine, corn and black beans. Ready for your table in 30 minutes!
Check out this recipe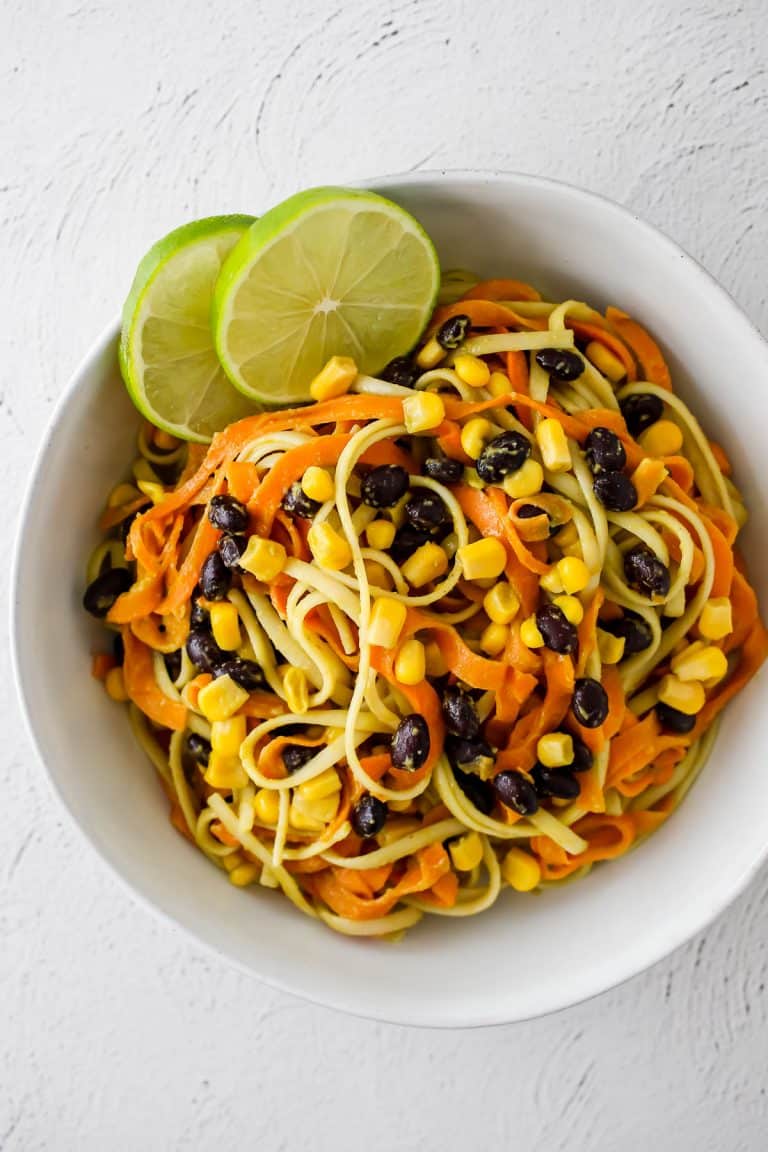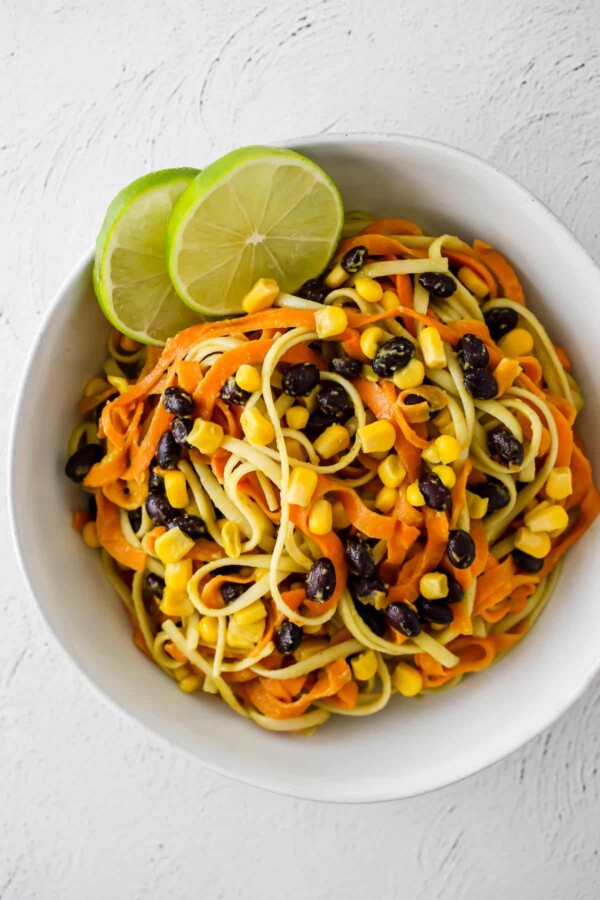 10-minute Spiralized Cucumber Salad with Feta and Mint
Cool and crunchy, this spiralized cucumber salad comes together in under 10 minutes! Cucumber noodles are tossed with feta and mint in a lemon vinaigrette. Low carb and gluten-free.
Check out this recipe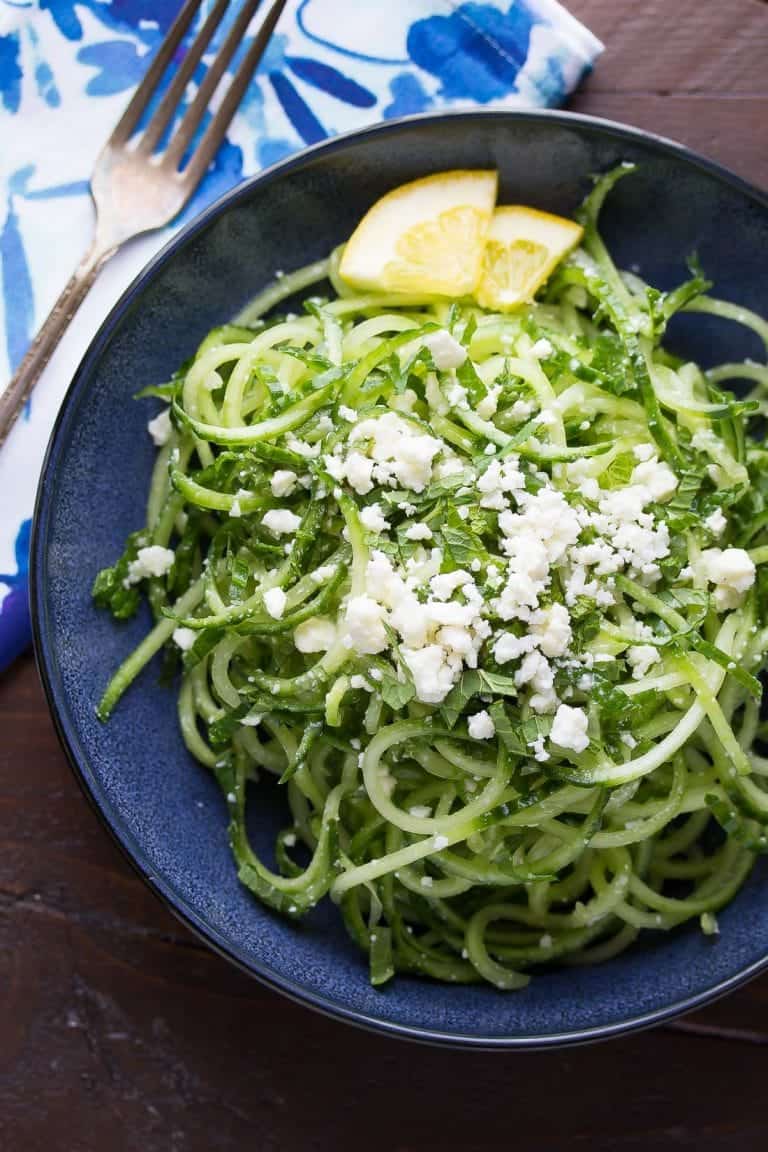 Butternut Squash Noodles with Sage and Brown Butter
These sauteed butternut squash noodles are tossed in a brown butter sauce with parmesan cheese and nutmeg, then topped with crispy sage leaves. Lighter, vegetarian, and so simple to prep!
Check out this recipe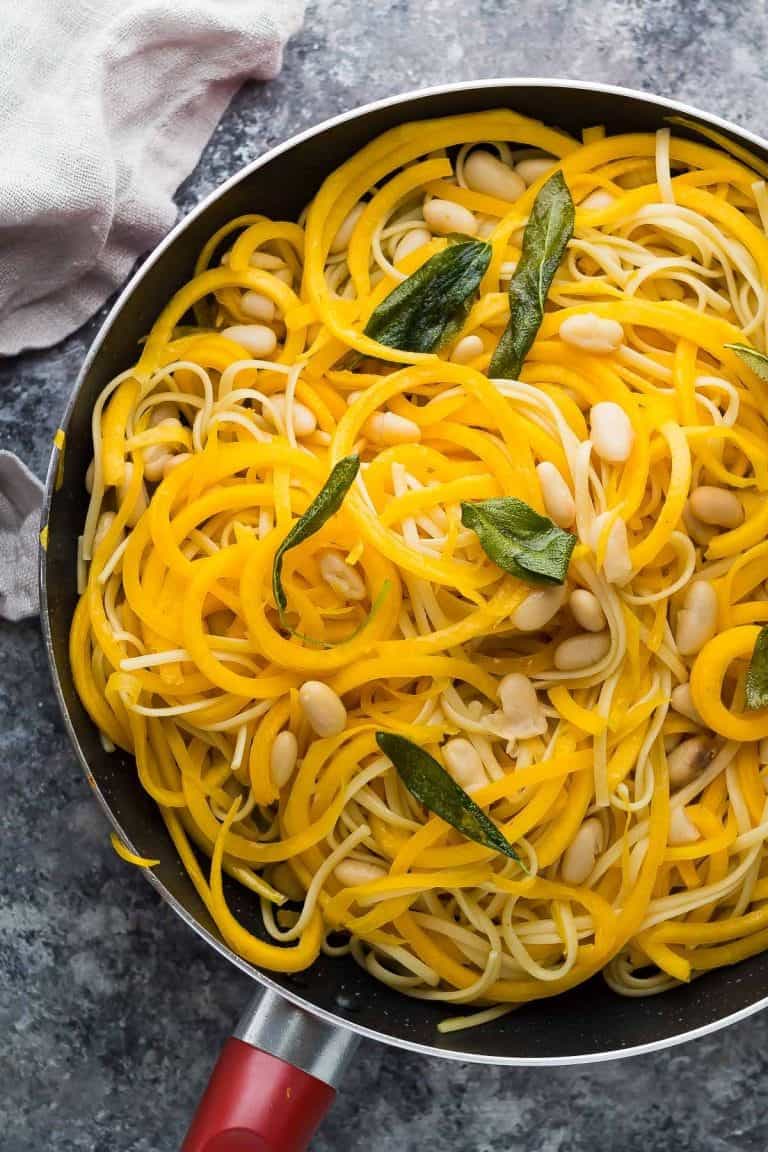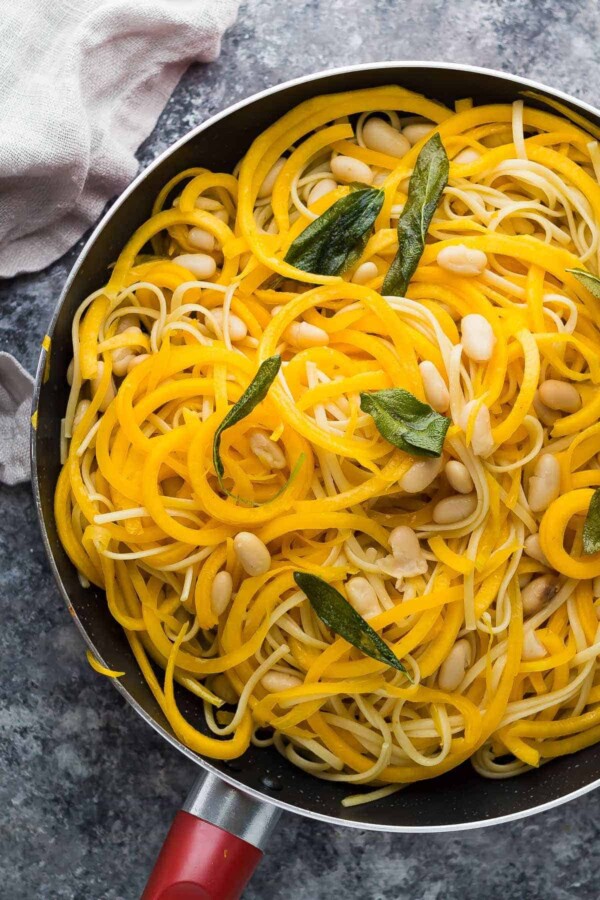 Spicy Instant Pot Peanut Noodles
Spicy Instant Pot peanut noodles are an easy veggie-loaded recipe that is ready in under 30 minutes! Works great as a meal prep recipe.
Check out this recipe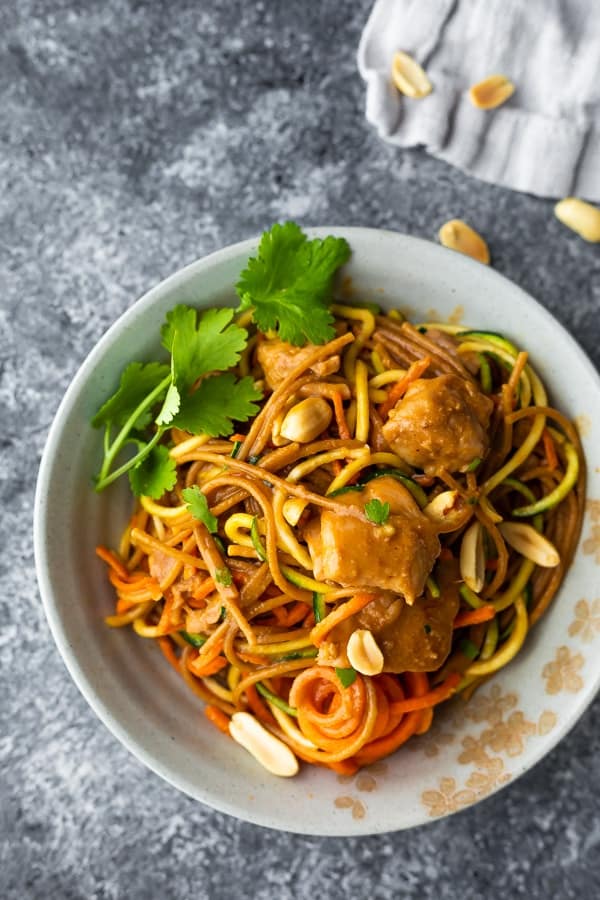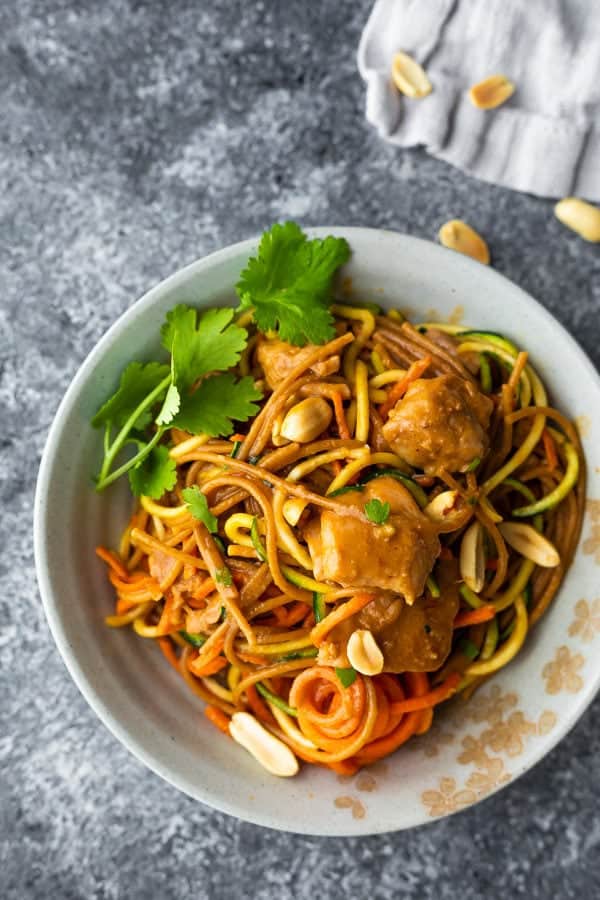 Sesame Ginger Beef + Zucchini Noodles
Sesame ginger beef and zucchini noodles is a delicious lower carb lunch option that is perfect for meal prep! Not only is it fast to make, but tastes delicious and only 4 g net carbs.

Check out this recipe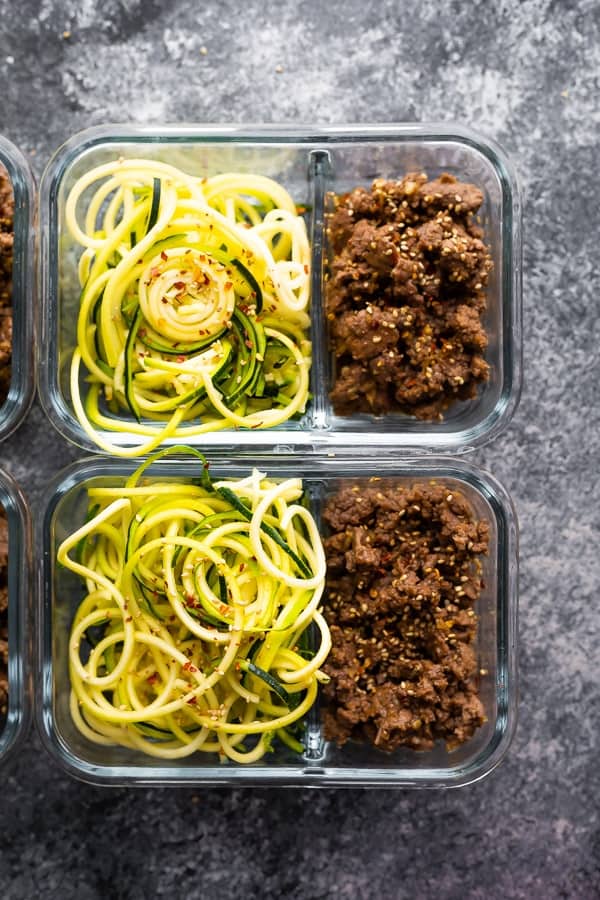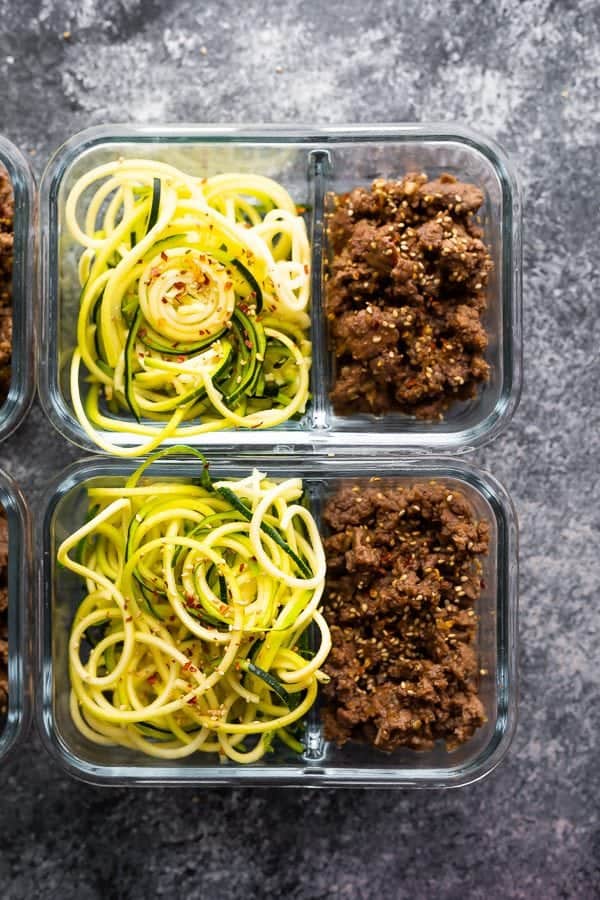 Spicy Tofu Noodles Meal Prep
These spicy tofu noodle meal prep bowls are made with a sweet, savory and spicy sauce, whole-wheat spaghetti, zucchini noodles, and tofu! Make it ahead and enjoy for lunch through the week.
Check out this recipe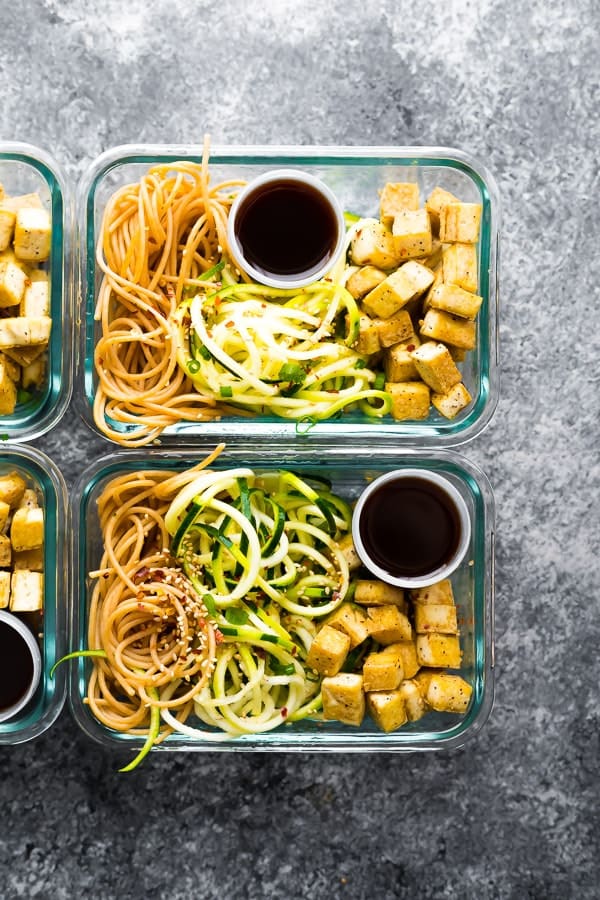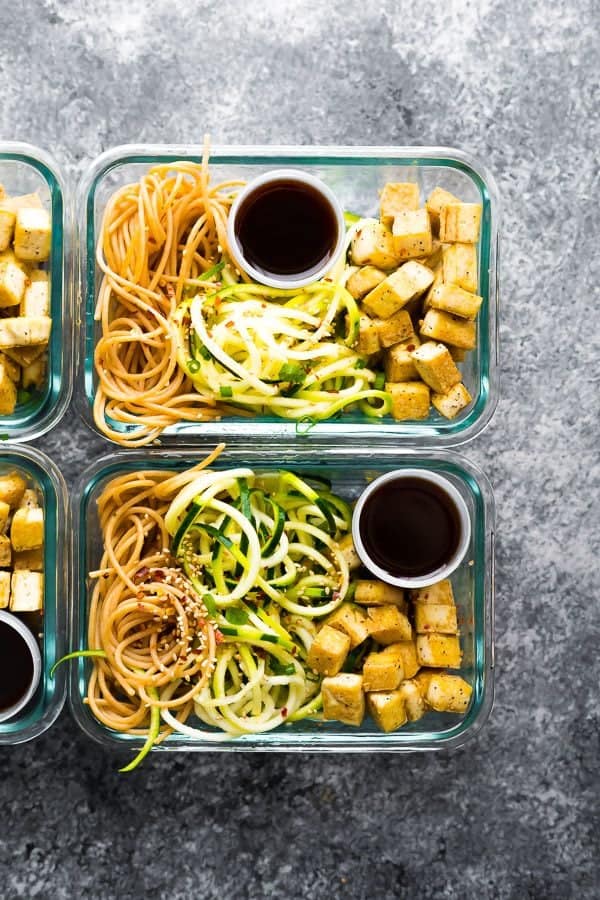 Thai Chickpea Mason Jar Salad
Thai chickpea mason jar salad has a tangy peanut dressing, quinoa, zucchini, carrots and cabbage and is topped with honey roasted peanuts! Ready in under 25 minutes.
Check out this recipe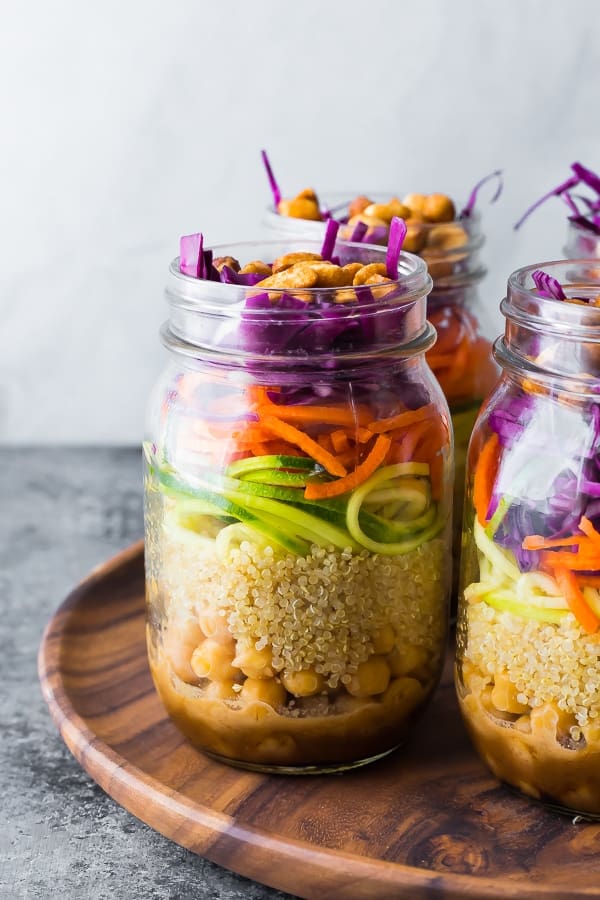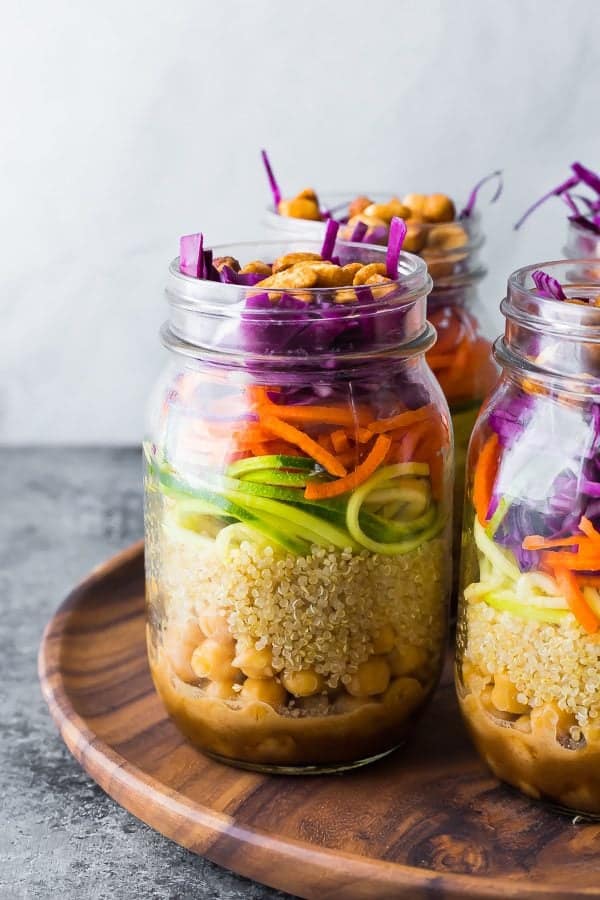 Healthier Firecracker Chicken Meal Prep Bowls
Healthier firecracker chicken meal prep bowls are sweet and spicy! Lightened up compared to classic recipes, but still super flavorful. Gluten-free and ready in 35 minutes.
Check out this recipe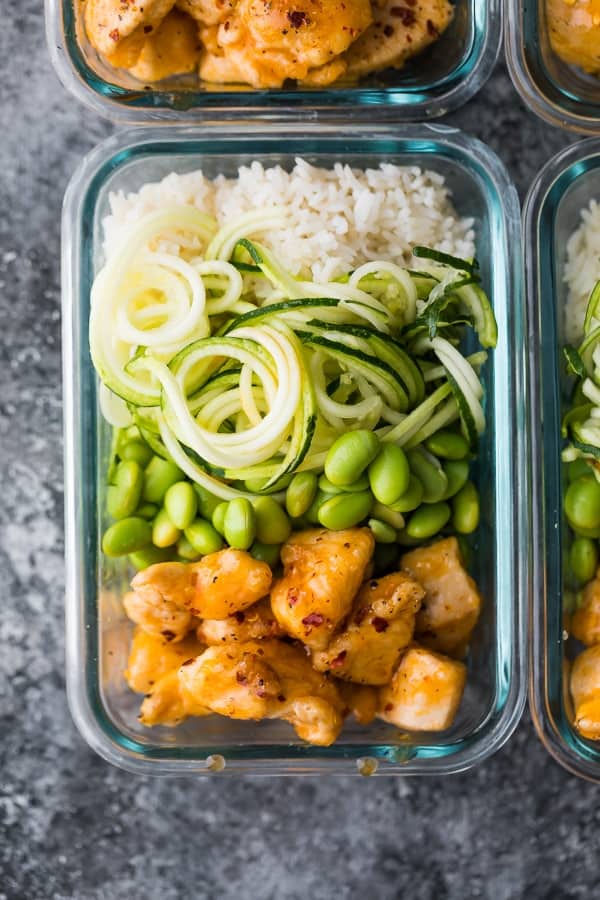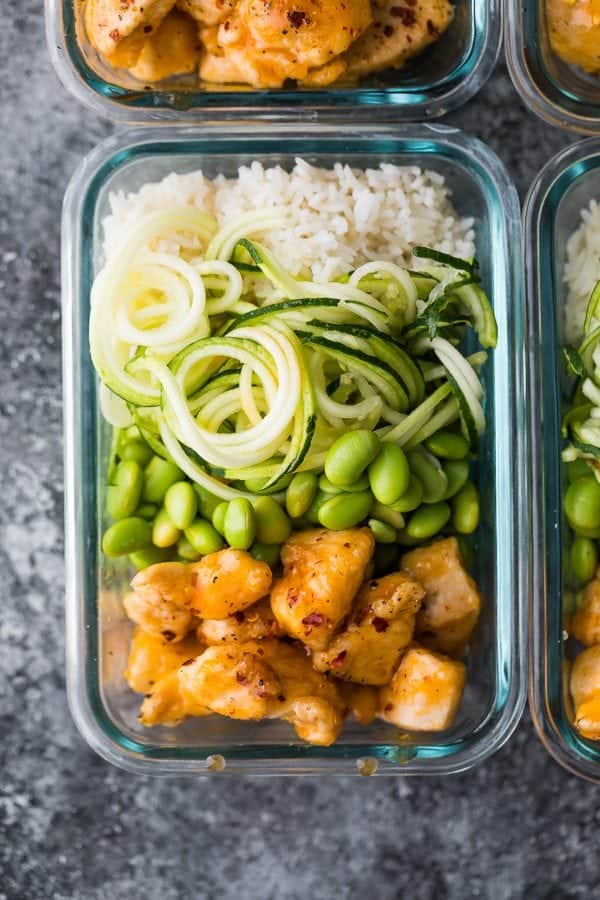 Turkey Zucchini Lasagna (Freezer-Friendly)
 This freezer turkey zucchini lasagna is the perfect gluten-free and low carb meal prep lunch or dinner!  Make it ahead and freeze for when those lasagna cravings hit you.  Turkey and vegetarian recipe options included.
Check out this recipe