A rustic Tuscan chicken skillet that is full of flavor and ready in under 30 minutes. Don't forget to serve with a chunk of bread to sop up the sauce!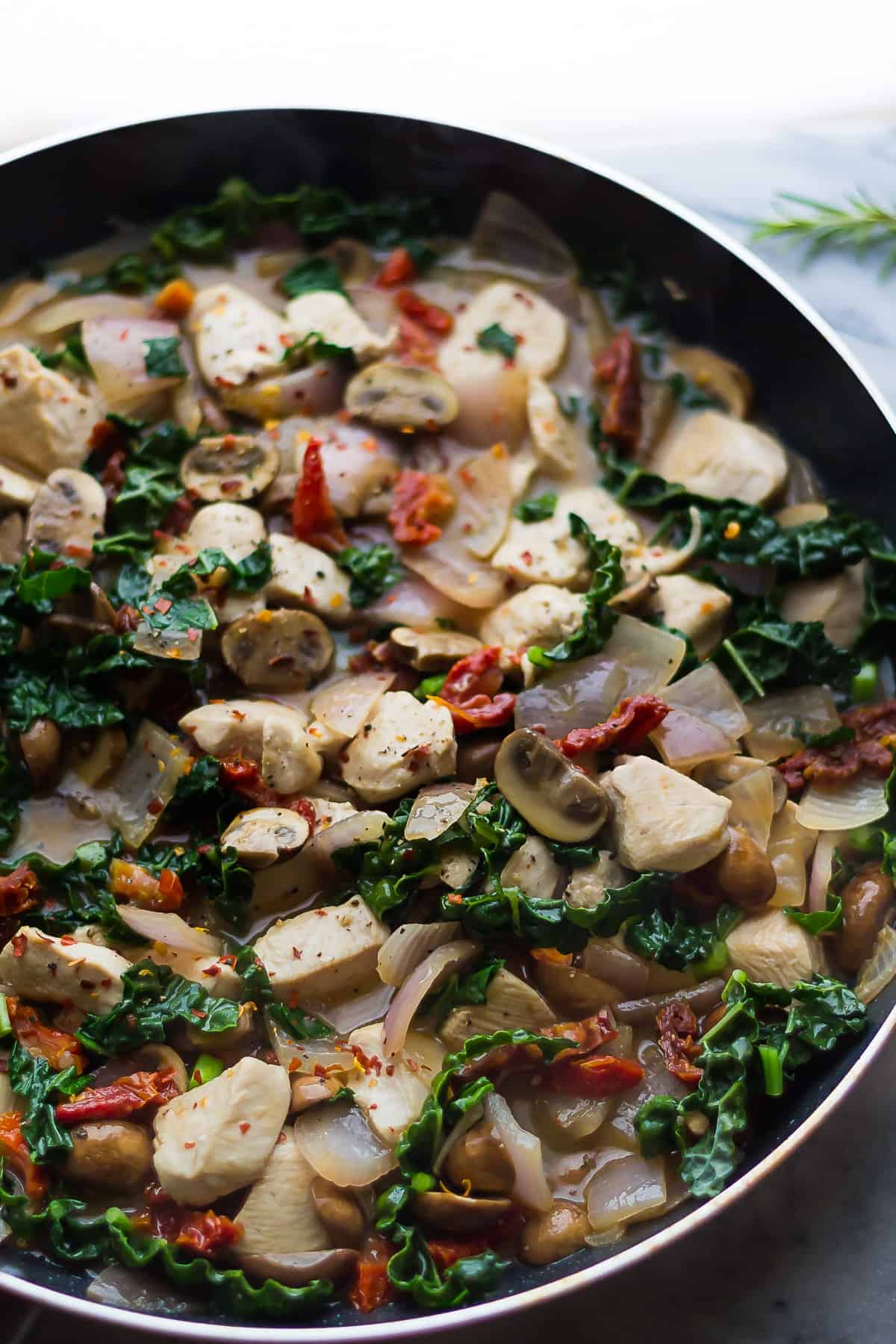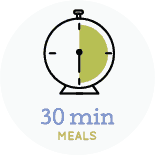 How was everyone's Halloween? We took Kai trick-or-treating for the first time ever and let's just say…he's a natural.
It was SO cute to watch him enthusiastically running up the steps to ring the door bell and skipping back down. He wasn't even worried about eating the candy, he was just 100% preoccupied with collecting it.
But eventually we came home and he lined up all of his treats and picked the one he wanted to try: Smarties. Only problem? He can't pronounce 'sm' yet. It comes out as 'f'. So Kai politely asked if he could eat the 'farties'.
Then he looked at Mom and Dad and wondered why we were laughing so hard that tears were running down our faces.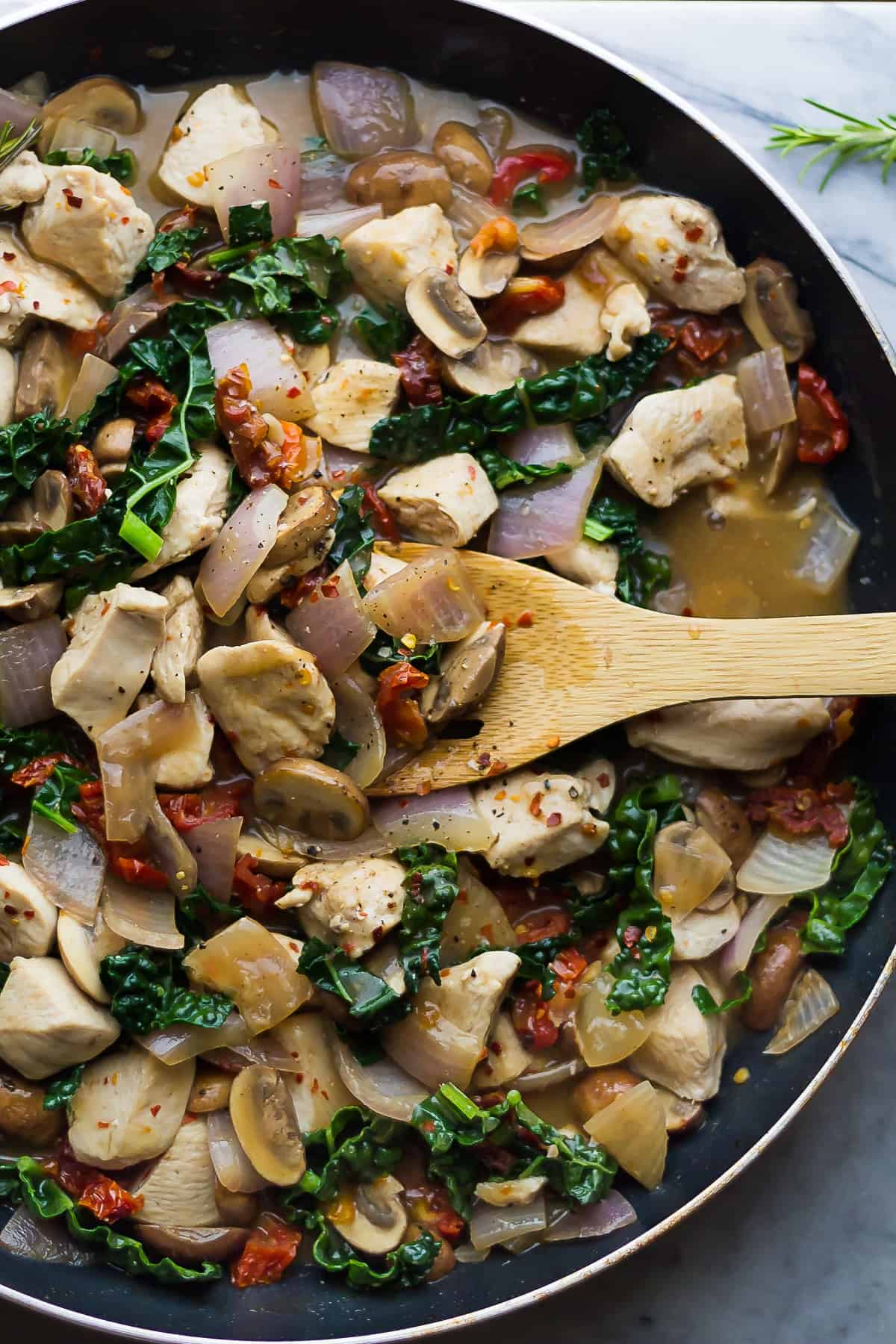 Guess what day it is today? It's 30 Minute Thursday, HURRAY!
For today's recipe, I set out to recreate the flavors of this Slow Cooker Tuscan Chicken Stew in skillet form…but the carrots and celery remained tough and the flavors didn't develop well in just 30 minutes. So for round 2 it kind of morphed into a recipe similar to this One Pan Gnocchi with Sun Dried Tomatoes & White Beans.
Although today's chicken skillet is definitely saucier. Bread dunkers, rejoice!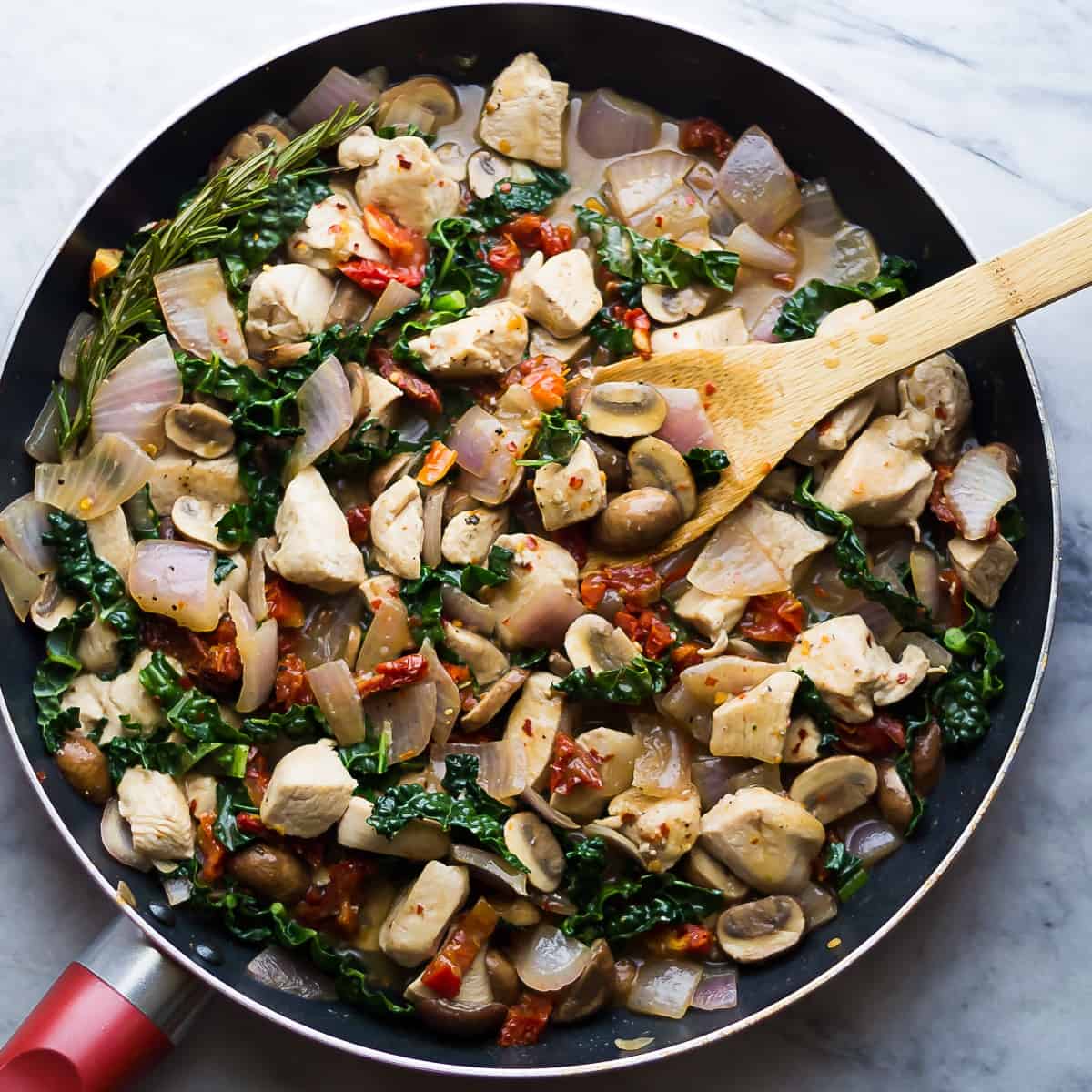 I love recipes like this because it's so rustic. You don't have to worry about perfect chopping technique, you just coarsely chop everything up and it all gets cooked through.
That plus you get an amazing amount of flavor considering how simple it is. I like to thank some white wine (you cook it down so the alcohol should be no problem), some fresh rosemary, and the sun dried tomatoes for that.
And despite this Tuscan chicken skillet being what I classify as 'comfort food', there are a lot of veggies hiding in here: at least 5 cups worth!
Perfect cold weather food. Happy 30 Minute Thursday, friends! Don't forget to check out these amazing looking 30 Minute Recipes from my blogging amigos:
Garlic Parmesan Pasta with Spinach and Mushrooms from Pumpkin 'N Spice
Creamy Avocado Vegetable Burritos from Kristine's Kitchen
Creamy White Bean Pasta with Sweet Potato & Kale from She Likes Food
30 Minute Chicken Noodle Soup from Bake.Eat.Repeat.
30 Minute Tuscan Chicken Skillet from Sweet Peas & Saffron
Chestnut, Mushroom and Butternut Squash Baked Risotto from Floating Kitchen
Maple Apple Pork Chops Skillet from Savory Nothings
Healthier Skillet Chicken Parmesan from The Recipe Rebel
30 Minute Tuscan Chicken Skillet
A rustic Tuscan chicken skillet that is full of flavor and ready in under 30 minutes. Don't forget to serve with a chunk of bread to sop up the sauce!
Ingredients
1

tablespoon

olive oil

1

red onion

cut into chunks

7

oz/200g cremini mushrooms

sliced

1

tablespoon

flour

1/4

teaspoon

salt

2

large chicken breasts

cut into cubes

salt & pepper

1/8

teaspoon

red pepper flakes

1/4

cup

white wine

1

sprig of rosemary

1

cup

chicken stock

1/2

cup

sun dried tomatoes

drained and rinsed thoroughly, and sliced thinly

2

cups

loosely packed tuscan kale

chopped
Instructions
Heat oil in a large non-stick pan over medium heat.

Add the onion and cook for 2-3 minutes, until softened slightly.

Add the mushrooms and cook for 3 more minutes. Remove the onions and mushrooms from heat and place them in a large bowl. Add 1 tablespoon flour and ¼ teaspoon salt, and toss to coat.

Add additional oil to the pan if necessary. Add the chicken breasts and season with salt & pepper and red pepper flakes. Cook for 5-7 minutes, until there is no pink when you cut into one.

Add the white wine and rosemary, and cook for 1 minute. Add the chicken stock, sun dried tomatoes, and return the mushrooms and onions to the pan.

Cook, stirring for 3-4 more minutes, until sauce is slightly thickened.

Stir in the kale and stir until wilted.
Notes
Serve with a chunk of bread to sop up extra sauce.
Nutrition
Serving:
1
/4 batch
|
Calories:
244
kcal
|
Carbohydrates:
12
g
|
Protein:
30
g
|
Fat:
8
g
|
Saturated Fat:
1
g
|
Cholesterol:
70
mg
|
Sodium:
358
mg
|
Fiber:
3
g
|
Sugar:
5
g
Products used in this recipe: