Simple, delicious, and easy to prep, this one pan orecchiette with ground turkey has summery zucchini, lemon zest, parmesan cheese and sliced almonds. Get dinner on the table quickly and make clean up a breeze!
There are so many reasons to love one pot pasta: less dishes to wash, simpler to cook, and the pasta absorbs so much flavor while it cooks. My family loves one pot black bean fajita pasta, and sun dried tomato chickpea pasta, but when summer rolls around? This one pan orecchiette with ground turkey is on repeat.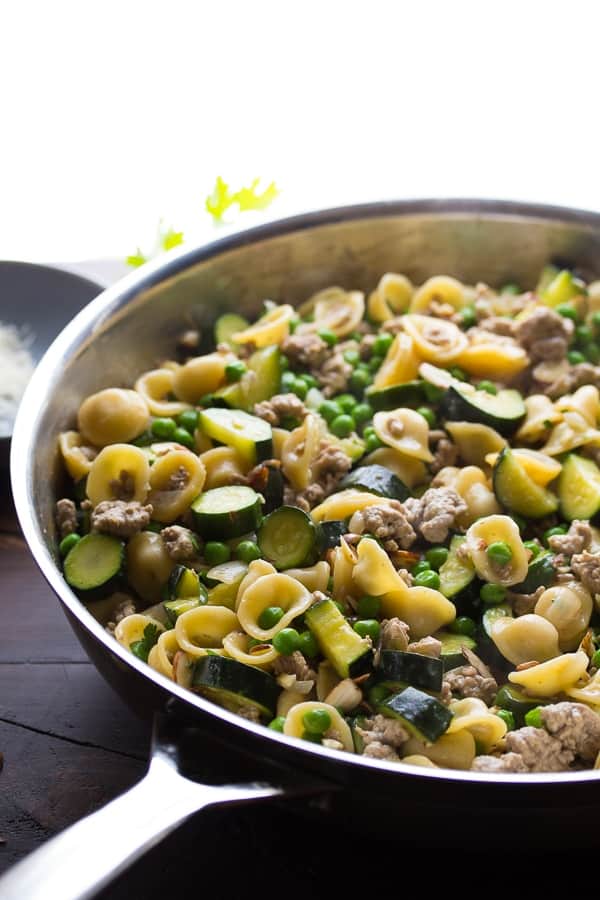 While typically we use a pot for one pot pasta, this orecchiette cooks up in a large skillet. And this skillet? It's loaded up with fresh, summery flavors: zucchini, lemon zest and peas.
It's a nice change from tomato sauce-based pasta, and a well-rounded meal.
Reasons you'll ♡ one pan orecchiette
it's a fresh, summery meal
it all cooks up in a single pan
leftovers keep well for easy reheat meals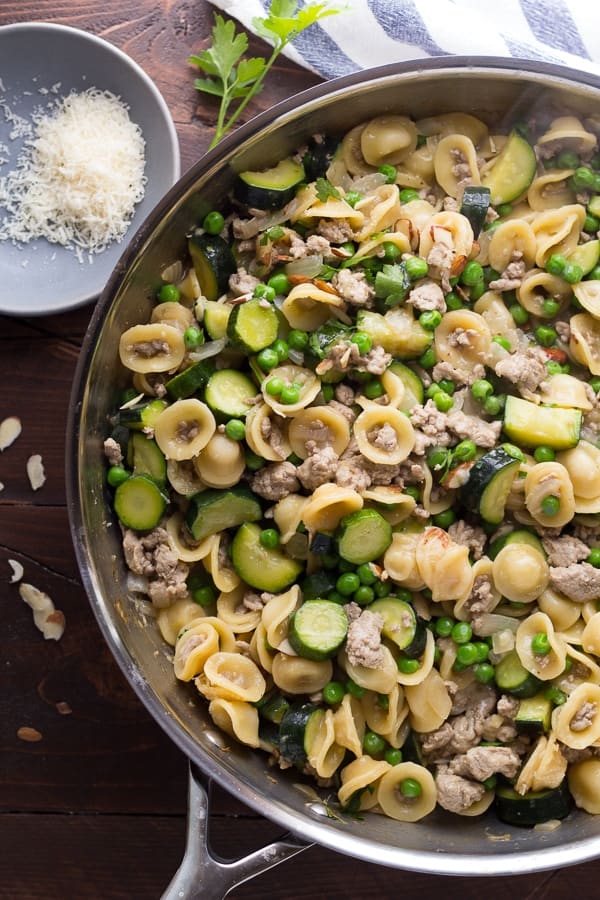 Sauté ground turkey first
We start this recipe off by sautéing the ground turkey. This adds extra flavor and improves the texture of the ground turkey. It also gives us the chance to discard any liquid that seeps out while cooking. After cooking through, transfer the ground turkey to a clean plate.
The flavor base
Next, we start building the flavor base of our sauce. First, we sauté onions until soft and translucent, around 7 minutes. Next we add garlic, and sauté for 1 minute only. This ensures that the garlic does not burn. Sauteeing onions and garlic transforms their flavors from sharp to mellow and slightly sweet, and this provides a great base of flavor for our sauce.
After cooking the onions and garlic, we deglaze the pan with white wine. Add the wine to the pan and scrape all the brown bits off the bottom of the pan. Simmer the wine until reduced by half, as this ensures the alcohol evaporates off.
Finally, we add the chicken stock, pasta, salt and cooked turkey. As it simmers, the pasta absorbs the flavorful cooking liquid, while also releasing starches that help thicken the sauce.
The vegetables
After ten minutes, we add the zucchini to the pan. This ensures that our zucchini does not overcook. Adding the zucchini at the start would leave you with mushy, texture-less zucchini that is not appetizing.
After ten more minutes, we add the peas and lemon zest. Simmer until the liquid is absorbed and pasta is cooked through.
The final touches
To serve, sprinkle with generous amounts of parmesan cheese and a few sliced almonds. I do not recommend skipping the parmesan as it generously seasons the pasta, however feel free to skip the sliced almonds if you wish.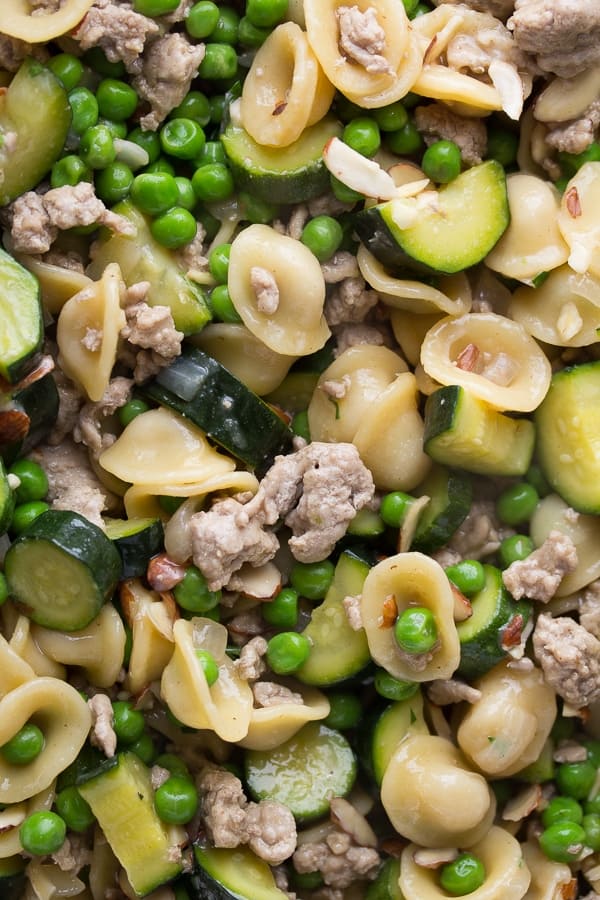 Other types of pasta
This recipe has only been tested with orecchiette pasta, small 'hat-shaped' noodles, so I can't guarantee that other shapes will work. With that being said, I've found small pasta shapes cook similarly in one pot pasta recipes.
If you do swap another pasta shape, here is some advice:
swap for similar-shaped pasta: penne, shells and macaroni may work
do not use lentil, chickpea or other alternative pastas: they have different cooking and water requirements and may not work in this recipe
stay away from large pasta shapes: lasagna noodles, rigatoni, etc
Meal prep tips
This recipe keeps really well for meal prep. Here are some tips to help you meal prep with it:
reheat- reheat single serve portions in the microwave until steaming hot
freezing- I have not tried, but I do believe it would freeze/thaw alright. Thaw completely in the fridge before heating in the microwave
chop ahead- you can pre-chop the onion, garlic and zucchini up to 4 days ahead to cut down on your dinner prep time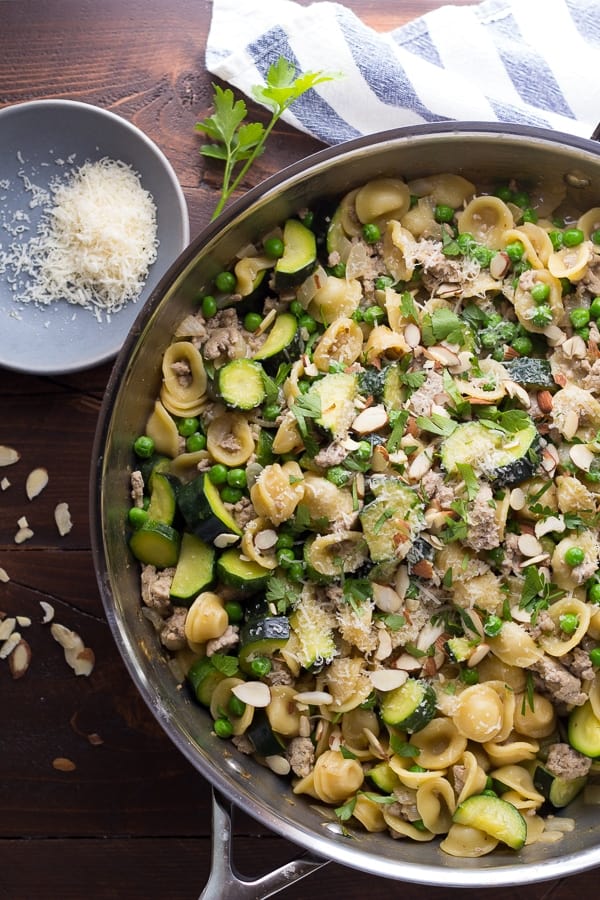 More pasta recipes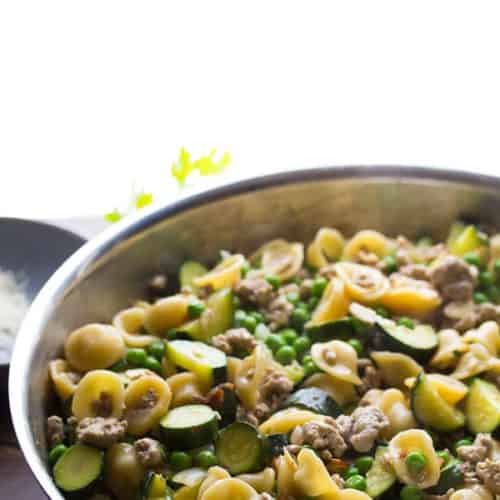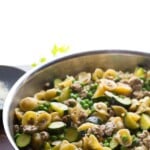 Print Recipe
One Pan Orecchiette with Ground Turkey and Zucchini
Simple, delicious, and easy to prep, this one pan orecchiette with ground turkey has summery zucchini, lemon zest, parmesan cheese and sliced almonds. Get dinner on the table quickly and make clean up a breeze!
Ingredients
1

lb/500g ground turkey

1

onion

diced

3

cloves

garlic

minced

¼

cup

white wine

4 ½

cups

chicken stock

3

cups

orecchiette

¼

teaspoon

salt

3

cups

zucchini

2

cups

frozen peas

zest of 1 lemon

roughly 1.5 tbsp

¼

cup

sliced almonds

½

cup

shredded parmesan cheese
Instructions
In a large skillet, cook the turkey until no pink remains. Set aside on a paper towel lined plate.

Add onion and cook for 5 or so minutes until translucent. Add the garlic and stir for one minute.

Add the white wine and scrape up all of the brown bits from the bottom of the pan. Cook until reduced by half, around 2 minutes.

Add the chicken stock, orecchiette and salt, and add back the turkey. Simmer for 10 minutes, stirring frequently, then add the zucchini and cook for another 10 minutes (stirring frequently), or until pasta is cooked through and sauce has thickened.

Stir in the lemon zest and frozen peas. Cook for 3 minutes.

Serve with almonds and parmesan cheese.
Notes
Storage
Store cooked pasta in the fridge for up to 4 days.
reheat- reheat single serve portions in the microwave until steaming hot
freezing- I have not tried, but I do believe it would freeze/thaw alright. Thaw completely in the fridge before heating in the microwave
chop ahead- you can pre-chop the onion, garlic and zucchini up to 4 days ahead to cut down on your dinner prep time
Recipe tips
this recipe has only been tested with orecchiette and I cannot guarantee it will cook the same way with other pasta shapes
Nutrition
Serving:
1
/6 of batch
|
Calories:
406
kcal
|
Carbohydrates:
41
g
|
Protein:
36
g
|
Fat:
11
g
|
Saturated Fat:
3
g
|
Cholesterol:
75
mg
|
Sodium:
770
mg
|
Fiber:
5
g
|
Sugar:
4
g