This Crock Pot Beer Chicken Taco Salad With Cilantro Vinaigrette is an easy, fresh and delicious dinner!  Perfect for those days when you don't want to turn on your oven.
If you love slow cooker recipes, be sure to check out my Slow Cooker Pinterest board!
I guess it's 'unofficially' summer now, is it?
I'm definitely feeling more and more in a summer mindset: the flip flops and shorts are out, my 'throne' aka: deck lounger is in place, we even went for a bike ride the other day!
The garden isn't planted, (I'm not sure if I have the time for a garden this year) but the war on the dandelions is definitely on.  I'm trying not to care that we have by far the worst looking lawn on the block…I refuse to use chemicals, and I guess grass just isn't that high on my list of priorities.  It needs to be mowed, a good de-thatching, it needs nutrients, there are a thousand dandelions, and it probably needs water.  Why did someone decide grass was the best thing to put in our yards?  It doesn't seem terribly low-maintenance to me!
OK, boring lawn rant aside, I have a salad for you.  A crock pot beer chicken taco salad, to be exact.  Aren't you surprised?  I hardly ever make/eat salad 😉
This salad.  Where to start?!
It all starts with some chicken breasts, a can of beer, and a slow cooker.  Why does this sound like the start of a bad joke?  Toss together in the slow cooker, and let it do it's thing.  After 4-6 hours, you will be welcomed with a) a delicious-smelling kitchen and b) the most tender and delicious shredded crock pot beer chicken to top your salad with.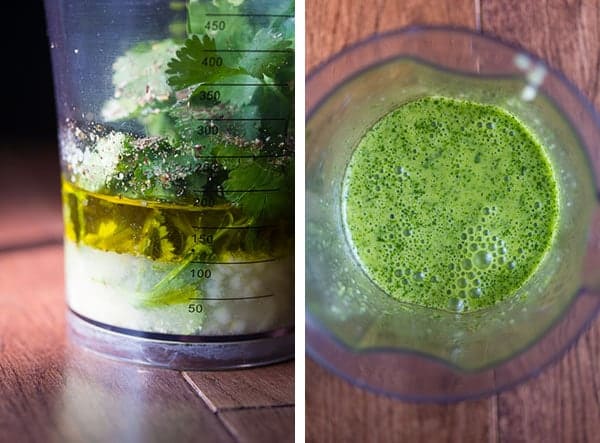 Next.  Cilantro vinaigrette!
This vinaigrette is just heaven.  Cilantro leaves, garlic, honey, lime, white wine vinegar for some serious tang.  Blend it all up and you get this beautiful vibrant green vinaigrette.
Chop up your salad fixin's, toss 'em with the cilantro vinaigrette, add to a bowl with some nachos, top with the chicken, some sour cream (or greek yogurt), salsa, guacamole (not photographed but highly highly HIGHLY recommended).  And go to town!
Normally dinner time is filled with conversation…but this crock pot beer chicken taco salad put a temporary hold on any sort of conversation.  There was no conversation other than 'crunch, crunch, crunch'.  We were very focused on eating, and we couldn't stop until we were done.
This salad is SO good.  Not like your normal taco salad with heavy beef and cheese…just the tangy vinaigrette, crunchy fresh veggies, crispy tortilla chips, and the delicious beer chicken.  Yum yum YUM!
Happy Tuesday…I just realized: taco salad on taco Tuesday!  Happy accident 😉
You may also like: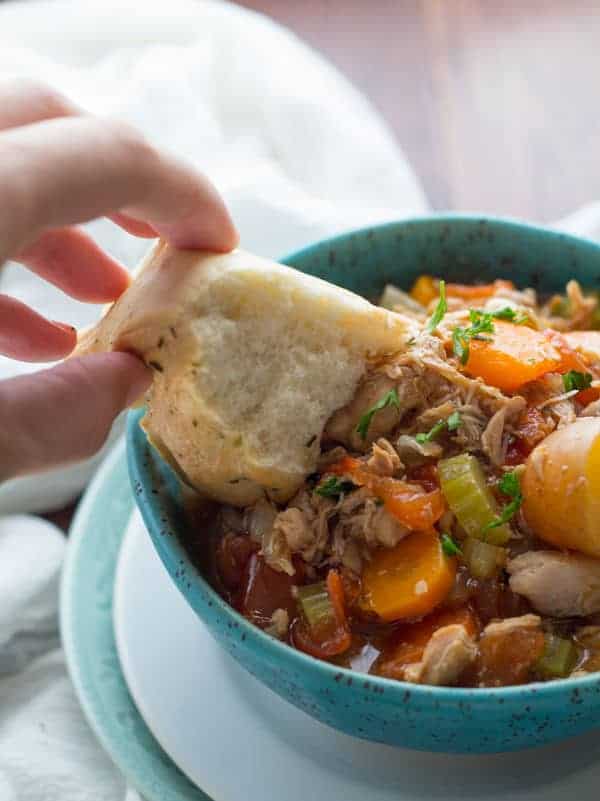 Slow Cooker Tuscan Chicken Stew
Slow Cooker Chicken & Sweet Potato Korma
Slow Cooker Korean Beef Lettuce Wraps with Sesame Cucumber Salad
Crock Pot Beer Chicken Taco Salad With Cilantro Vinaigrette
4
adjust servings
A fresh and summery meal that is so easy to make and packed with flavor and texture!
Ingredients
Slow Cooker Beer Chicken (serves 4-6)
4

chicken breasts

1

can of beer (12 oz)

1/2

teaspoon chili powder

1

can of green chiles (114mL/3.8 oz)

1/2

teaspoon salt

1/2

teaspoon black pepper
Cilantro Vinaigrette (serves 4)
1/2

cup cilantro leaves, loosely packed

1/4

cup white wine vinegar

1/4

cup olive oil

1

clove garlic, minced

2

teaspoons lime juice

3

tablespoons honey (2 tablespoons of maple syrup makes a nice substitute)

1/2

teaspoon dijon mustard

1/4

teaspoon salt
Taco Salad (per bowl)
1

handful of nacho chips

1/2

cup cucumber, cubed

1/2

cup cherry tomatoes, halved

1/2

bell pepper, cut into small pieces

1

tablespoon red onion, diced

jalapeno slices (optional)

sour cream or greek yogurt (optional)

guacamole (optional)

salsa (optional)
Instructions
Slow Cooker Beer Chicken
Place all ingredients in the base of a slow cooker.
Cook on low for 8 hours or high for 4 hours.
Transfer the chicken to a bowl and shred with two forks.
Toss with cooking liquid, to taste. I used about ¾ of the cooking liquid.
Cilantro Vinaigrette
Combine all ingredients in a blender, food processor, or cup of an immersion blender.
Blend until smooth.
Taco Salad
Toss the vegetables and chicken with the cilantro vinaigrette.
Serve with nachos, sour cream, guacamole and/or salsa.
Recipe Notes
Depending on the size of your chicken breasts, the slow cooker beer chicken recipe may actually serve more like 6-8 people.
Products used in this recipe:

Slow Cooker Beer Chicken adapted from Skinny Mom