36 healthy smoothies to give you a healthy boost! Loads of recipes filled with fruits and veggies for even the pickiest eater.
When I feel like I haven't eaten enough fruits or veggies in the day, I pull out my blender and whip up healthy smoothies for the whole family! I love that you can sneak so many healthy ingredients into a smoothie for a big nutrition boost.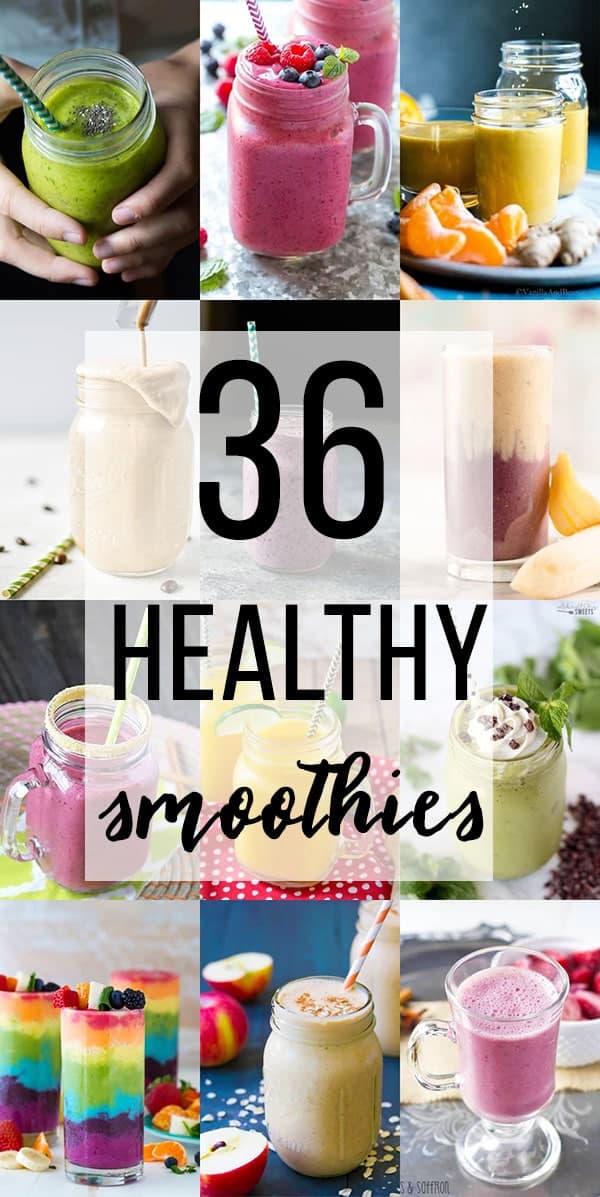 Today I am rounding up the BEST healthy smoothie recipes from around the web!
We have healthy breakfast smoothies with fruit and veggies.  We have green smoothies, rainbow smoothies and healthy fruit smoothies made with almost every type of fruit you can think of.
Before we jump in, I want to share my favorite nutrient-boosting smoothie add ins:
Want to turn a smoothie into a meal? Try adding one of the following:
OK you ready? Let's check out these 36 healthy smoothies!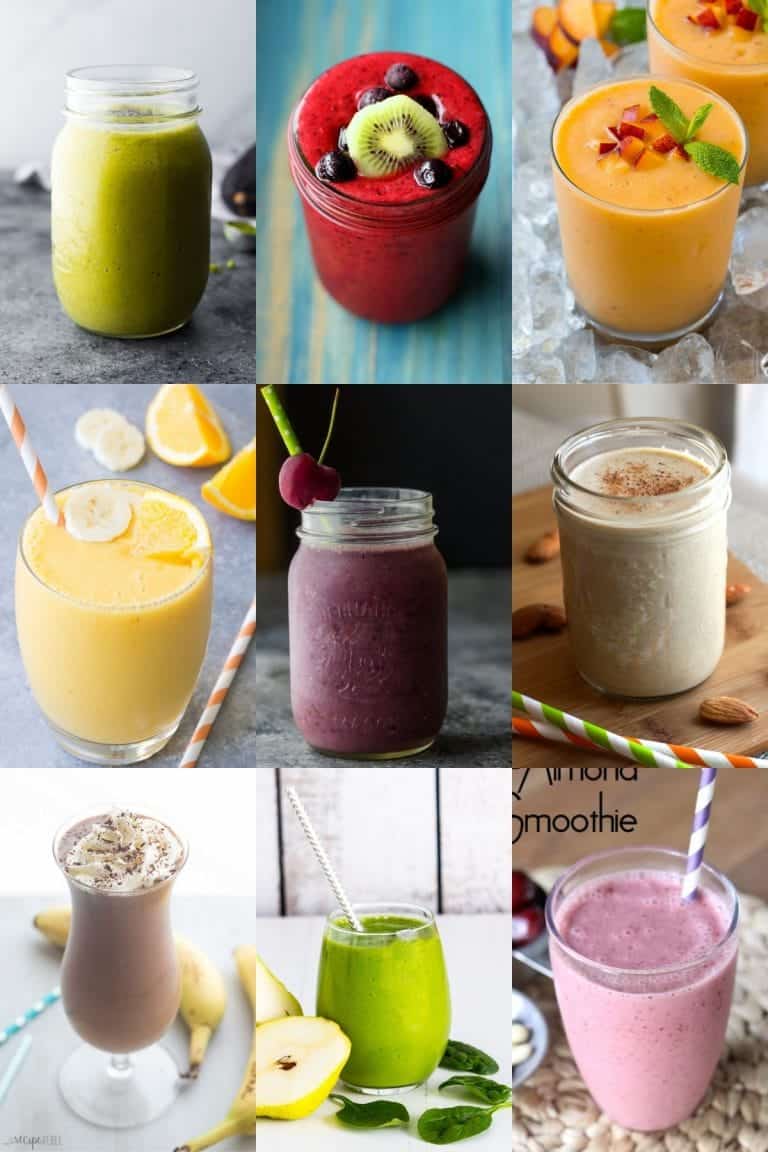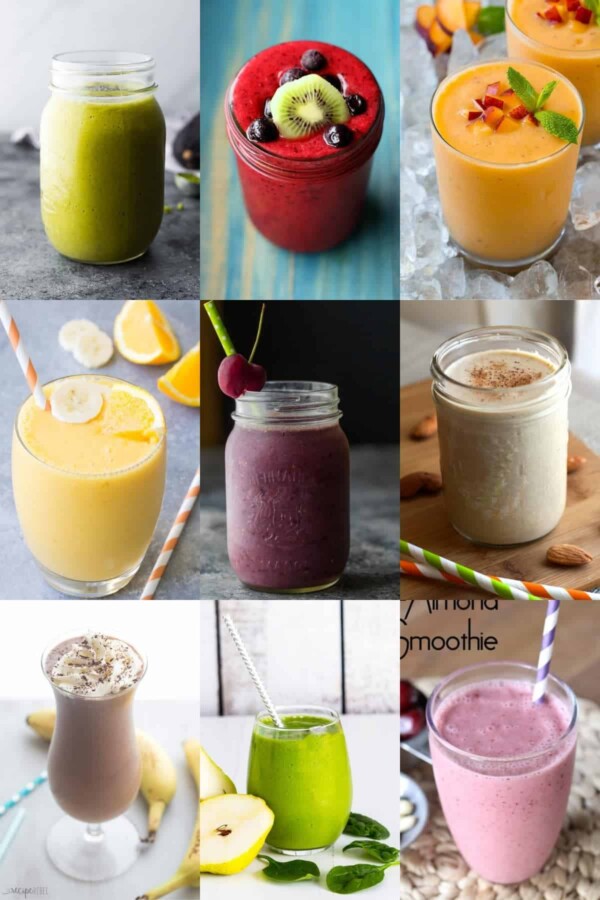 1. Matcha Avocado Smoothie by Sweet Peas and Saffron
2. Immunity Boosting Triple Berry Kiwi Smoothie by The Pretty Bee
3. Peach Smoothie by Dinner at the Zoo
4. Immunity Boosting Orange Smoothie by Kristine's Kitchen
5. Goji Peach Cherry Smoothie by Sweet Peas and Saffron
6. Apple Pie Protein Smoothie by Running with Spoons
7. Healthy Chocolate Peanut Butter Smoothie by The Recipe Rebel
8. Glorious Greens Pear Smoothie by Gather for Bread
9. Cherry-Almond Smoothie by Sweet Peas and Saffron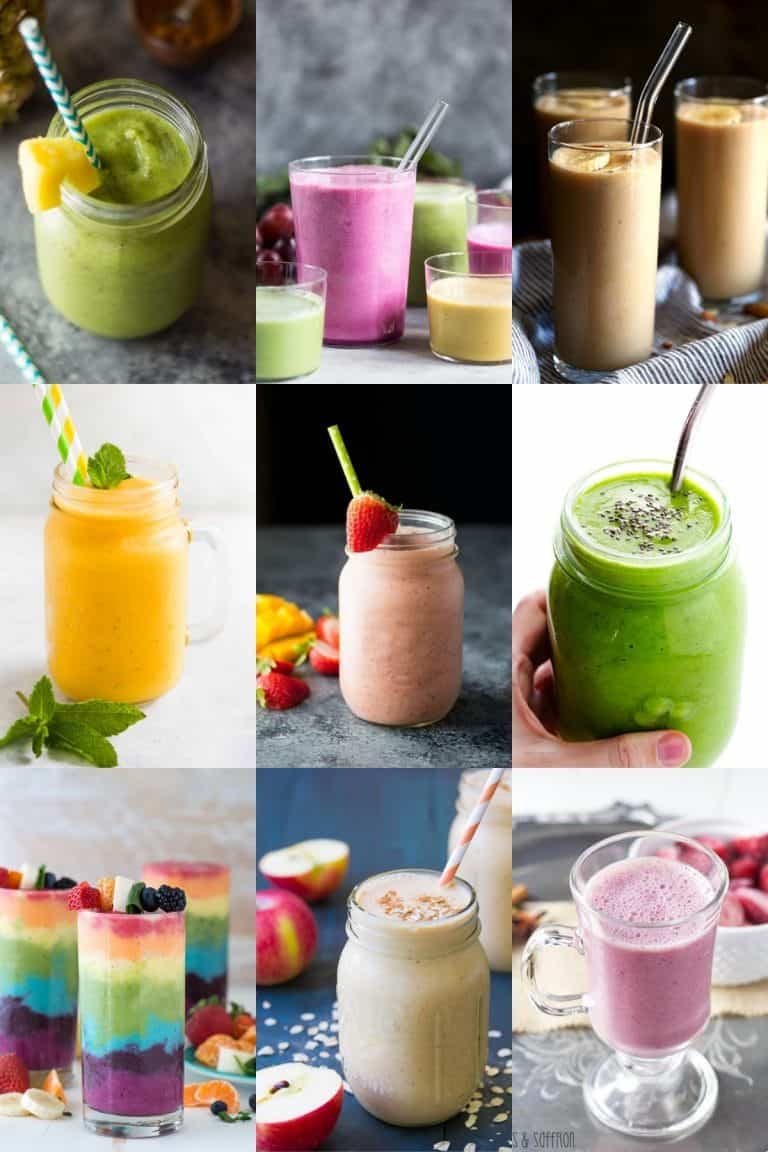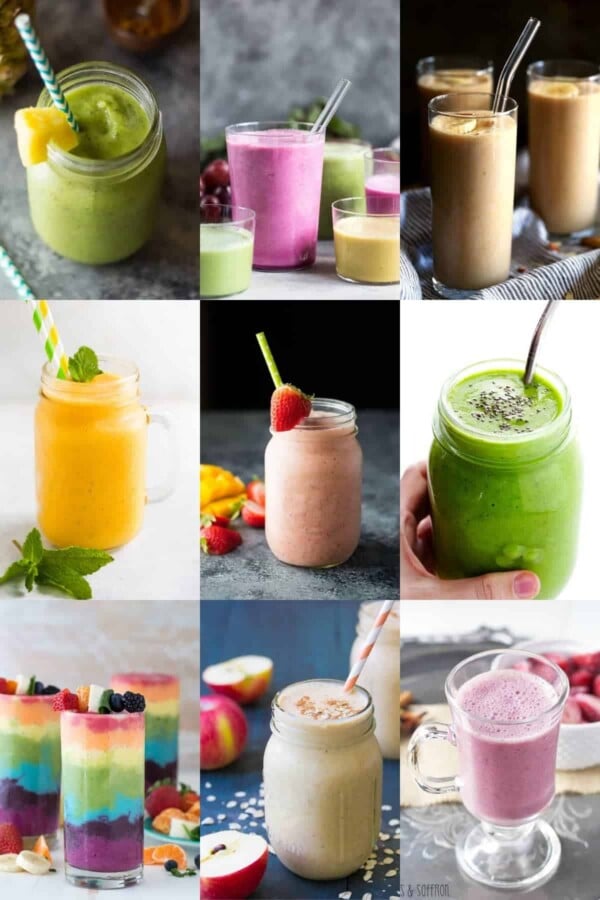 10. Anti-Inflammatory Turmeric Smoothie with Pineapple by Sweet Peas and Saffron
11. Immune Boosting Multi-Colored Beet Smoothies by Fool Proof Living
12. Almond Butter Banana Smoothie by Melanie Makes
13. Pineapple Mango Mint Smoothie by Primavera Kitchen
14. Strawberry Mango Chai Smoothie by Sweet Peas and Saffron
15.  Post Workout Green Smoothie by Gimme Some Oven
16. Rainbow Smoothie by The First Year Blog
17. Pumpkin Smoothie by Kristine's Kitchen
18. Strawberry-Vanilla Chai Smoothies by Sweet Peas and Saffron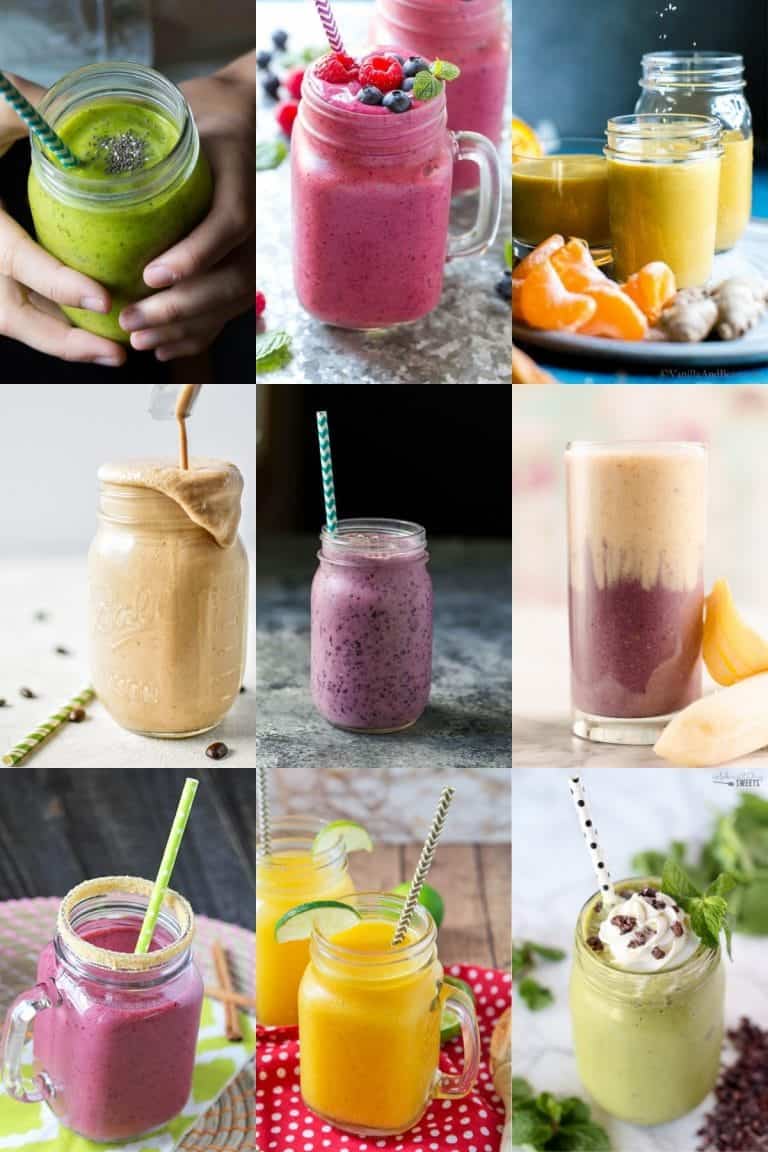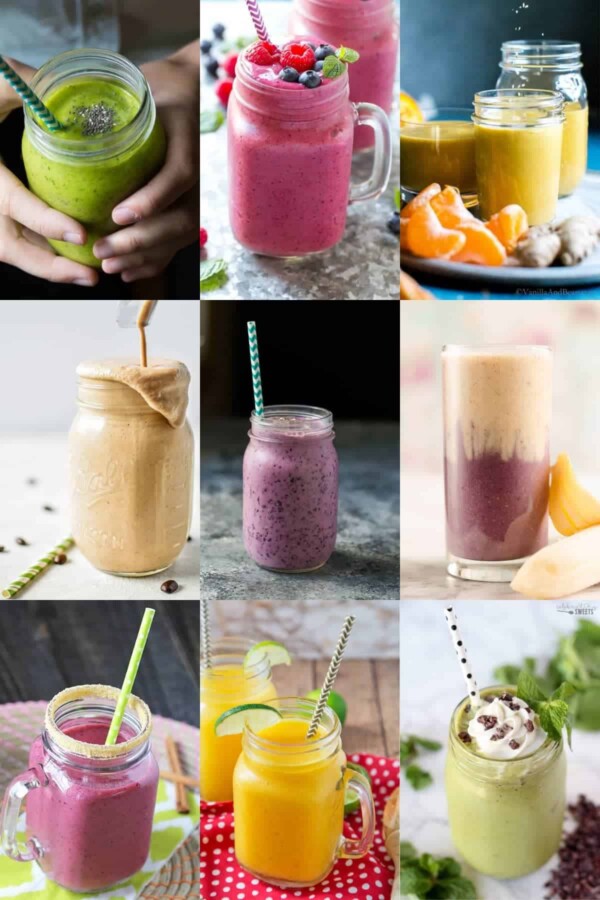 19. Green Mango Superfood Smoothie by Sweet Peas and Saffron
20. Mixed Berry Smoothie by Dinner at the Zoo
21. Carrot-Ginger Citrus Immune Boosting Smoothie by Vanilla and Bean
22. Prep Ahead Espresso Oat Breakfast Smoothie by Meal Plan Addict
23. Blueberry Coconut Water Smoothie by Sweet Peas and Saffron
24. Blackberry Banana Protein Smoothie by The Creative Bites
25. Triple Berry Pie Smoothie by Sweet Peas and Saffron
26. Mango Lime Smoothie by Annie's Noms
27. Healthy Mint Chocolate Chip Smoothie by Celebrating Sweets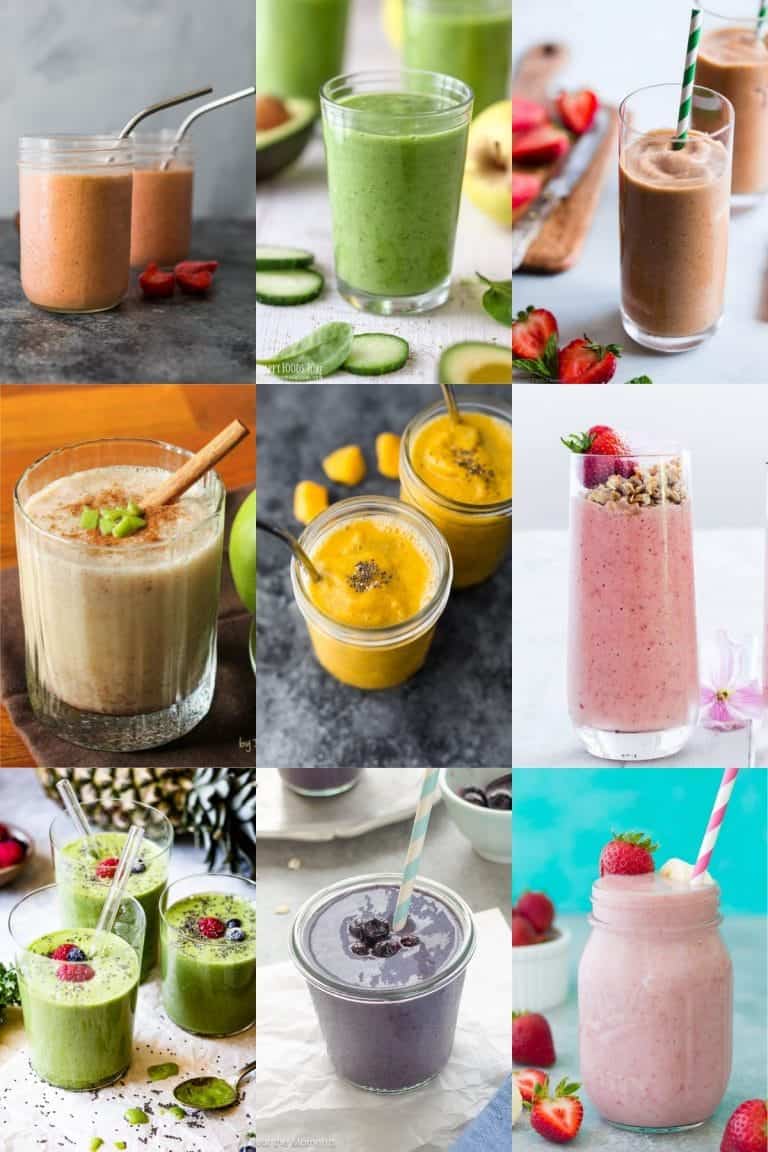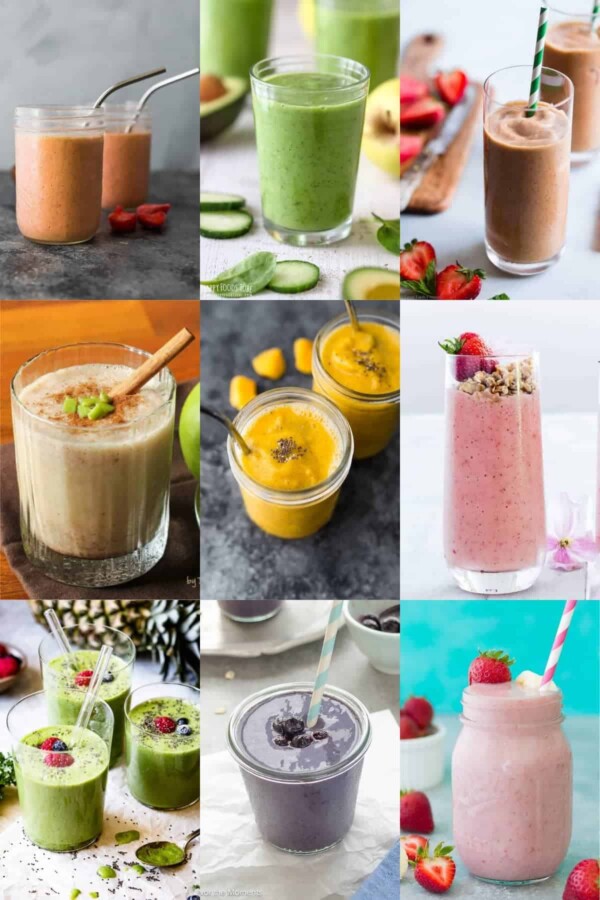 28. Strawberry Smoothie Recipe by Sweet Peas and Saffron
29. Spinach Cucumber Smoothie by Happy Food Tubes
30. Healthy Strawberry Watermelon Smoothie by Food Faith Fitness
31. Apple Cider Smoothie by Dizzy Busy, and Hungry
32. Mango Smoothie Recipe by Sweet Peas and Saffron
33. Kiwi, Mango And Pineapple Smoothie by Recipes from a Pantry
34. Kale Pineapple Smoothie by Fool Proof Living
35. Blueberry Banana Oat Smoothie by Flavor The Moments
36. Healthy Strawberry Banana Smoothie by Kristine's Kitchen