7 breakfast smoothie recipes with zero added sugar and no bananas! Sharing a formula to help you come up with your own smoothie recipes, and showing you how to make meal prep smoothie freezer packs.
They say breakfast is the most important meal of the day, and while I'm highly addicted to my standard Instant Pot steel cut oats, I also love to start the day off with a delicious, fruit-filled smoothie!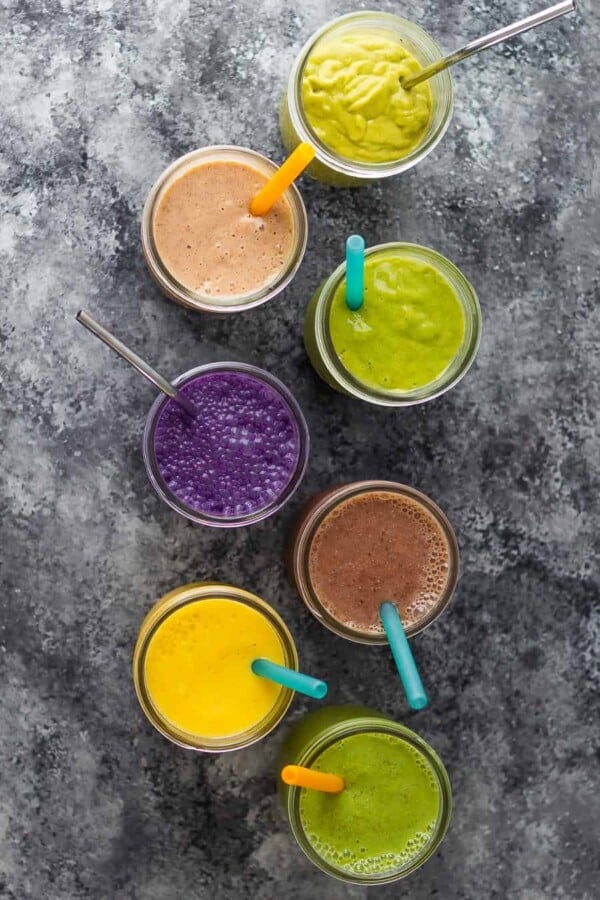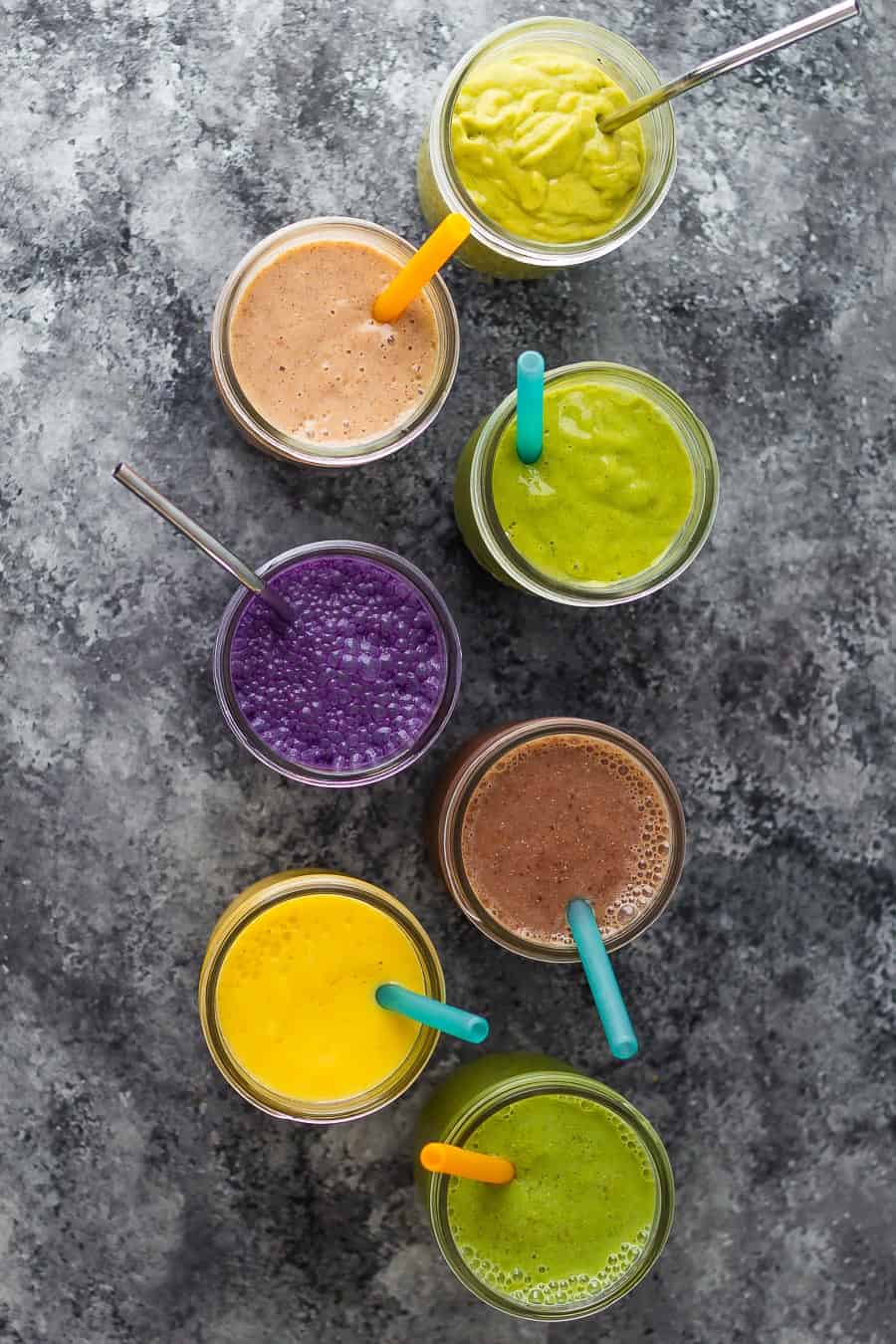 There are a million different ways to make smoothies, but I'm making it super simple for you today with my smoothie formula!
Breakfast smoothie formula (no bananas)
1 ½ cups frozen fruit (such as mango, pineapple and peaches)
1 ½ cups blending liquid (such as almond milk, oat milk, dairy milk or even water)
other add ins as you'd like (more on that below)
Don't forget to pin this post to save it for later
You might be wondering...wait, no bananas? Yes, that is correct, these rare unicorn breakfast smoothie recipes have no bananas, just as all smoothies should in my opinion 😆
In addition to having no bananas, they
have zero added sugar (just natural fruit sugars)
are mostly dairy-free/vegan
can be prepped ahead as frozen smoothie packs
are extremely flexible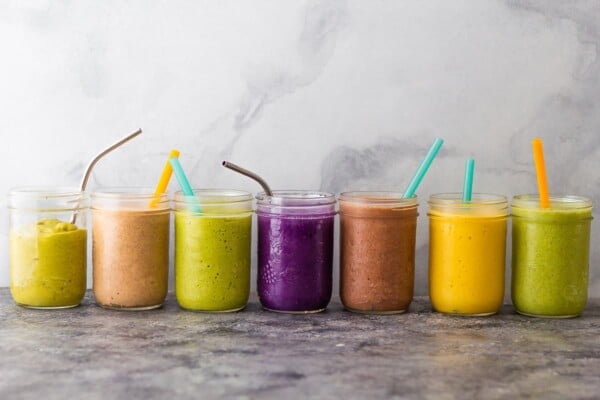 This post covers a LOT!
To skip directly to a section, click on the link below:
Recipe video
Watch the video below to see exactly how I prep these recipes ahead. This video is loaded with tips and tricks and I highly recommend watching it! You can find more of my recipe videos on my YouTube channel.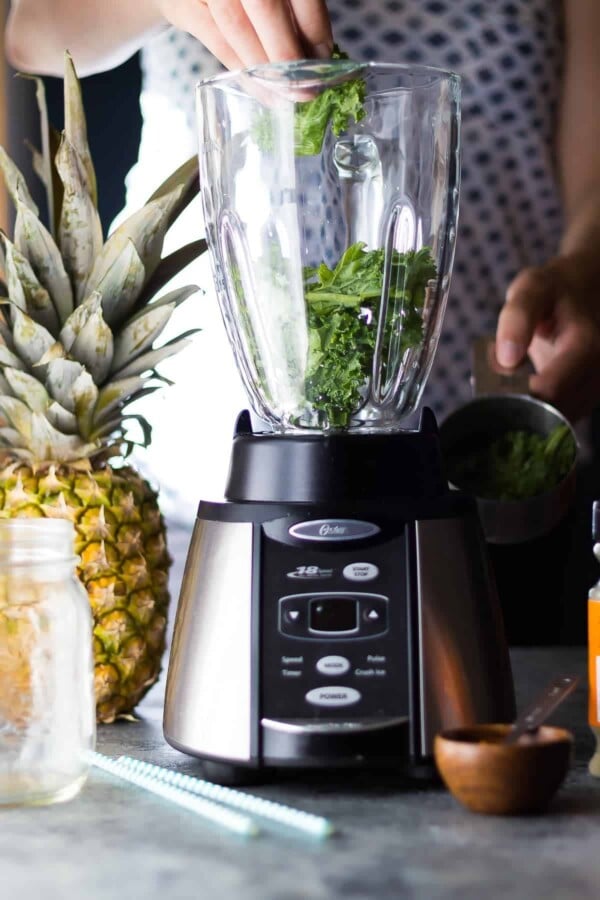 Blenders- cheap vs expensive
Guys, over the years I have tried several blenders from my dad's green Oster blender from the 1970's (not even kidding), to a cheap model to a Vitamix. Guess what? They all work for smoothie recipes.
Tips for blending perfectly smooth smoothies using cheaper blenders
add your greens and blending liquid first to get a nice, smooth texture (no one likes to drink chunks of spinach)
try blending for longer to get them silky smooth
cheap blenders may require more liquid to blend properly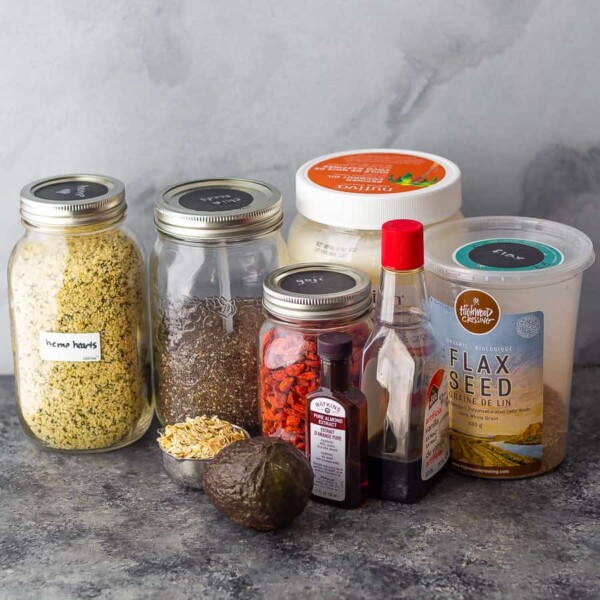 Smoothie add ins
Oh man, you can certainly go nuts on smoothie add ins and rack up a huge bill. Rather than share all the add ins on the market, I'm sharing some of my faves. These are ingredients you can add in addition to the ingredients in the base formula.
Nutrient Boosters
Nutrient boosters add healthy proteins, fats, and nutrients. Don't go nuts on these as they can add extra calories. I stick to 1-2 nutrient boosters per smoothie.  Here are some of my faves:
1 tablespoon hemp hearts
1 teaspoon ground flaxseed
¼ of an avocado (I promise you can't taste it!)
1 tablespoon goji berries
1 tablespoon of this coconut oil
1 teaspoon of this matcha powder
¼ cup plain greek yogurt
1 tablespoon nut butter
Want to turn your smoothie into a meal? Try adding one of the following:
¼ cup quick or rolled oats
½ scoop protein power (also gives it some staying power)- if using collagen do a full scoop
3 oz silken tofu
Flavor enhancers
vanilla, almond or coconut extract- this really helps mask the flavor of greens
spices like cinnamon, nutmeg, or chai spice blend
avoid fruit juices or flavored yogurt as they add unnecessary extra sugar to your smoothie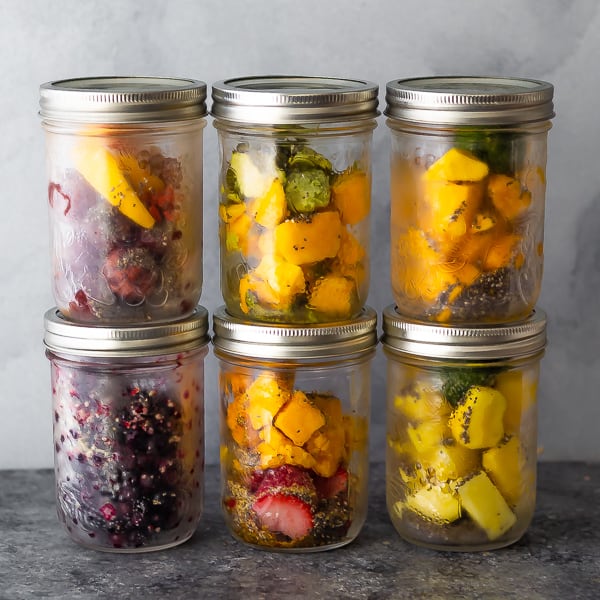 How to meal prep smoothies
If there is one single thing that helps me actually make and drink smoothies more regularly, it is definitely meal prepping them. Having the ingredients assembled in the freezer means making it is as simple as shaking it out into the blender, adding my blending liquid, and blending away.
To prepare your smoothie packs or smoothie jars
place frozen fruit in the bottom of the jar
place add-ins on top of fruit. Extracts, flax, chia seeds, spices etc are all totally fine to add in!
top the jars with any greens, then seal with the jar lids
these jars will keep for up to 3 months in the freezer!
notes-
to avoid any issues getting fruit out of jars: always use frozen fruit, and don't allow the fruit to thaw while preparing them
smoothie packs may appear frosted or freezer-burnt but you won't taste any difference
To blend
dump all ingredients out of the jar into the blender. It's ok if some fruit gets stuck in the jar.
add the almond milk (or coconut water as indicated) to the jar, put the lid on and give it a good shake, then dump it into the blender. This helps get anything left in the jar out.
blend away, then pour the smoothie back into your jar and enjoy!
7 Different Breakfast Smoothie Recipes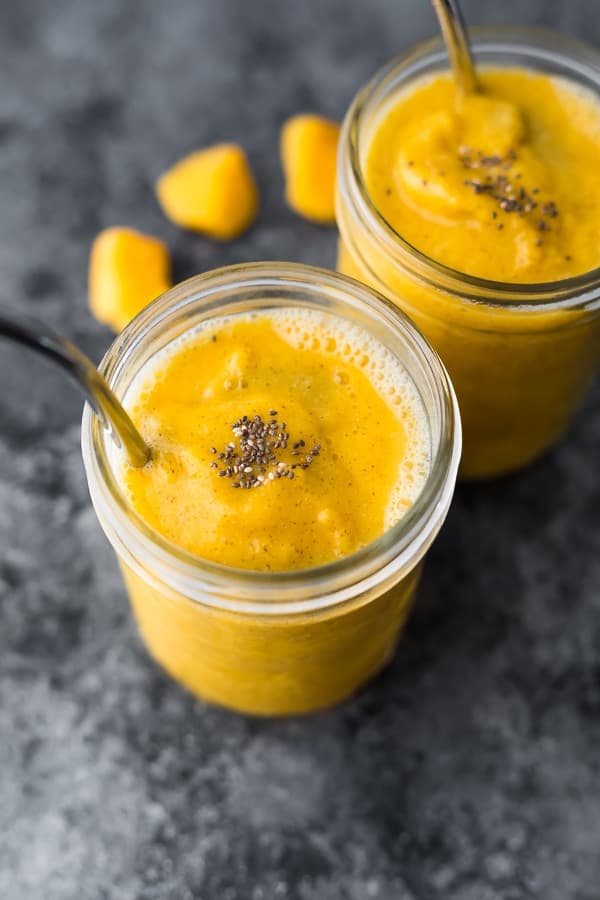 1. Base Mango Smoothie Recipe
Get the printable recipe here!
1 ½ cups mango
1 ½ cups blending liquid
1 tablespoon chia seeds (optional)
Sometimes simple is best, and this base mango smoothie is a perfect example of the formula. No need to prepare smoothie packs for this one, since there are just two simple ingredients!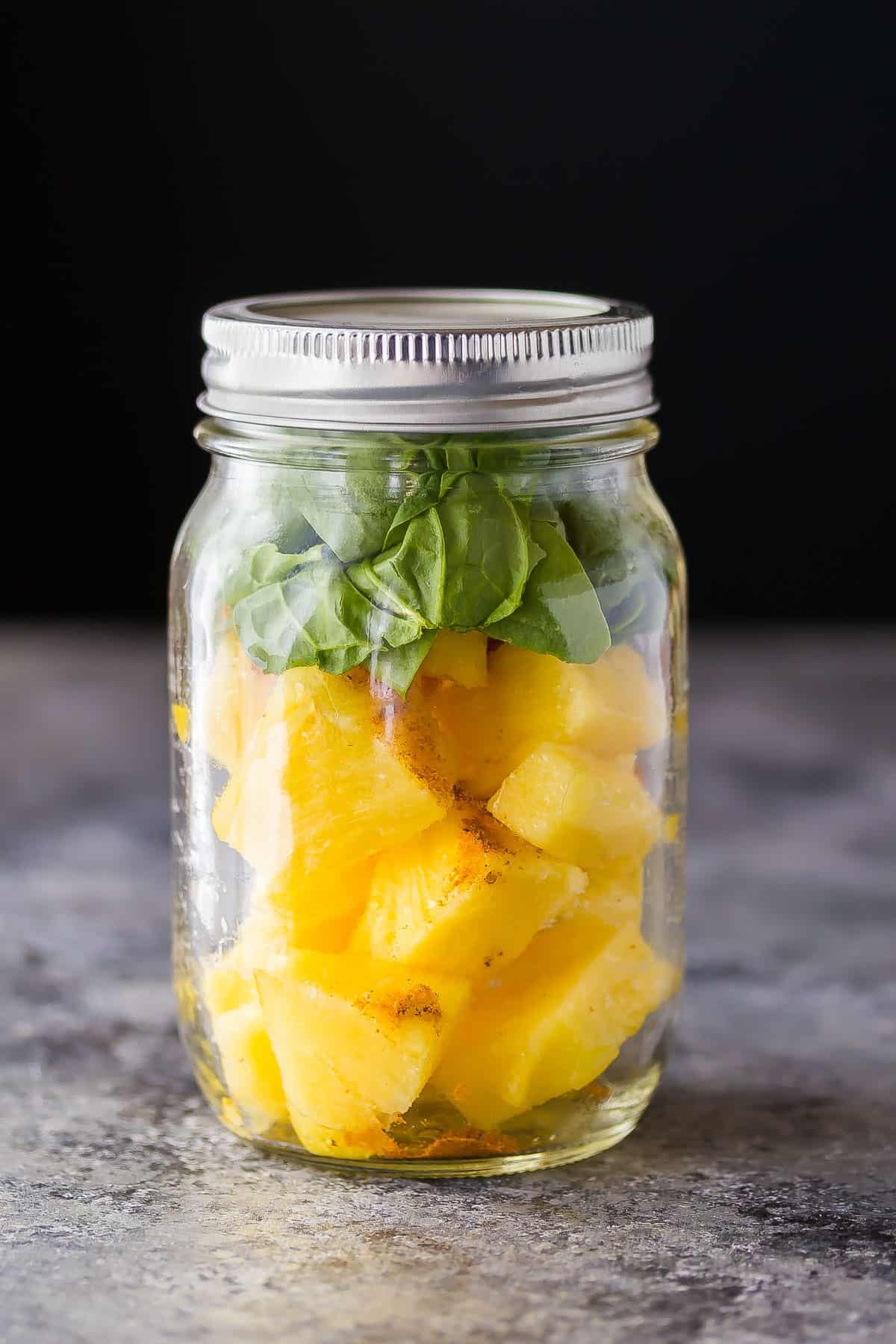 2. Anti-Inflammatory Turmeric Frozen Smoothie Packs
Get the printable recipe here.
1 ½ cups frozen pineapple chunks
¼ teaspoon of turmeric
1 pinch of black pepper
1 tablespoon of chia seeds
1 cup packed spinach or kale
1 ½ cups blending liquid
This one is PACKED full of anti-inflammatory promoting ingredients including the wonder-child turmeric, pineapple and leafy green spinach (or kale). You can't taste the turmeric or the leafy greens, just pure tropical bliss.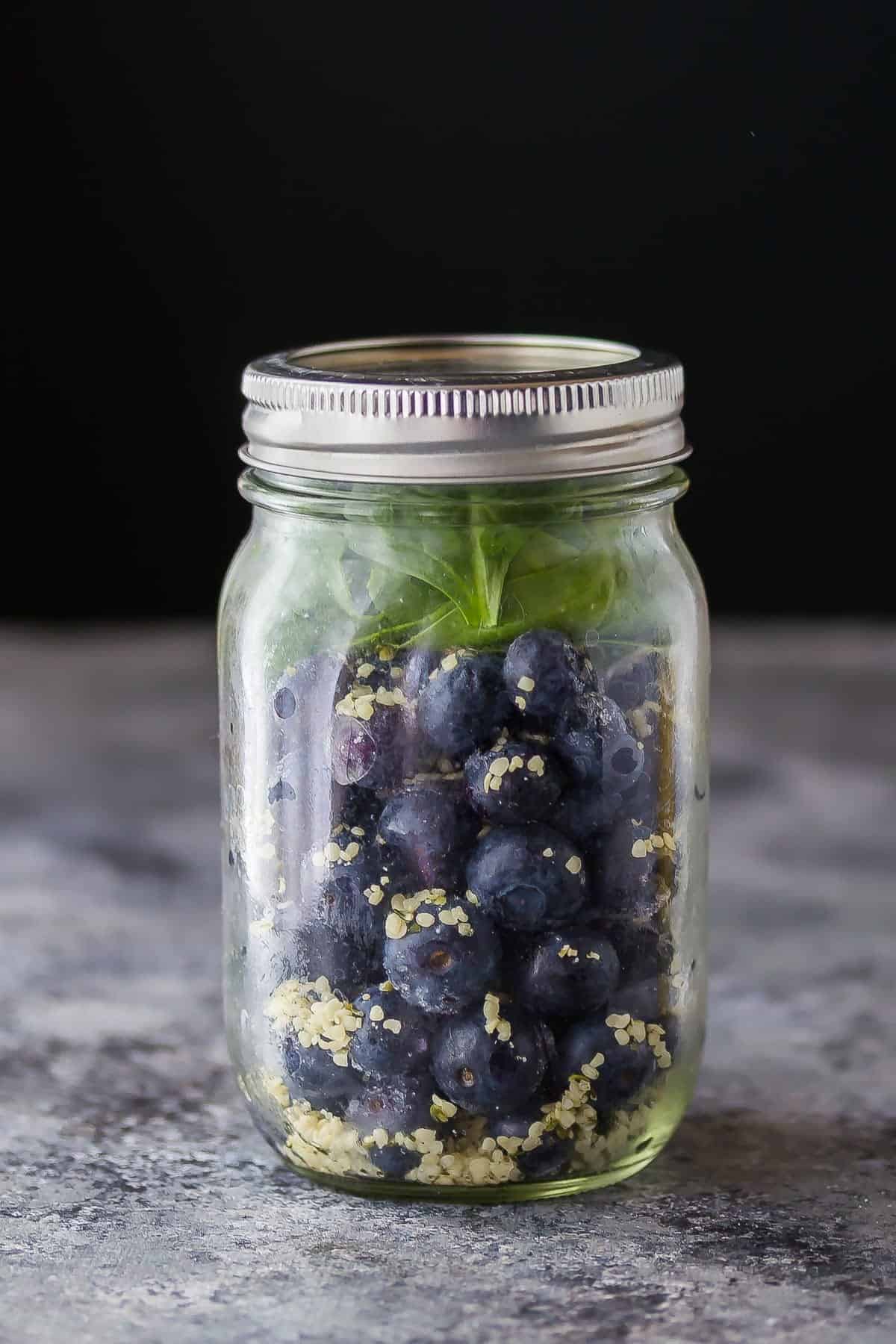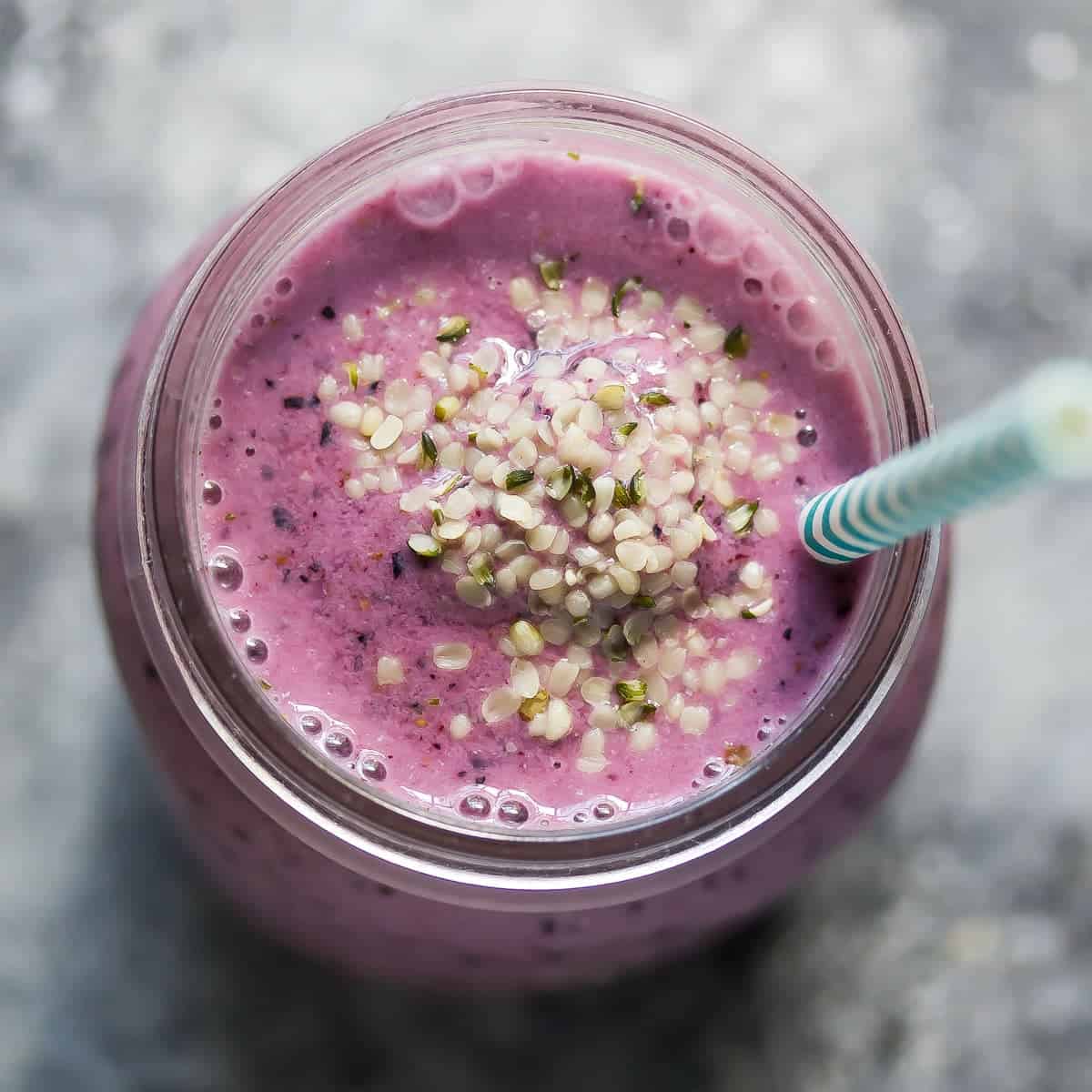 3. Blueberry Coconut Water Frozen Smoothie Packs:
Get the printable recipe here.
1 ½ cups frozen blueberries

½ cup yogurt full-fat plain or greek

¼ teaspoon coconut extract

1 tablespoon hemp hearts

1 cup coconut water
This one is packed full of anti-oxidant rich blueberries, hydrating coconut water, and gets a boost of protein thanks to a scoop of hemp hearts. The blueberries, coconut water, nutty hemp hearts and greek yogurt pair perfectly together!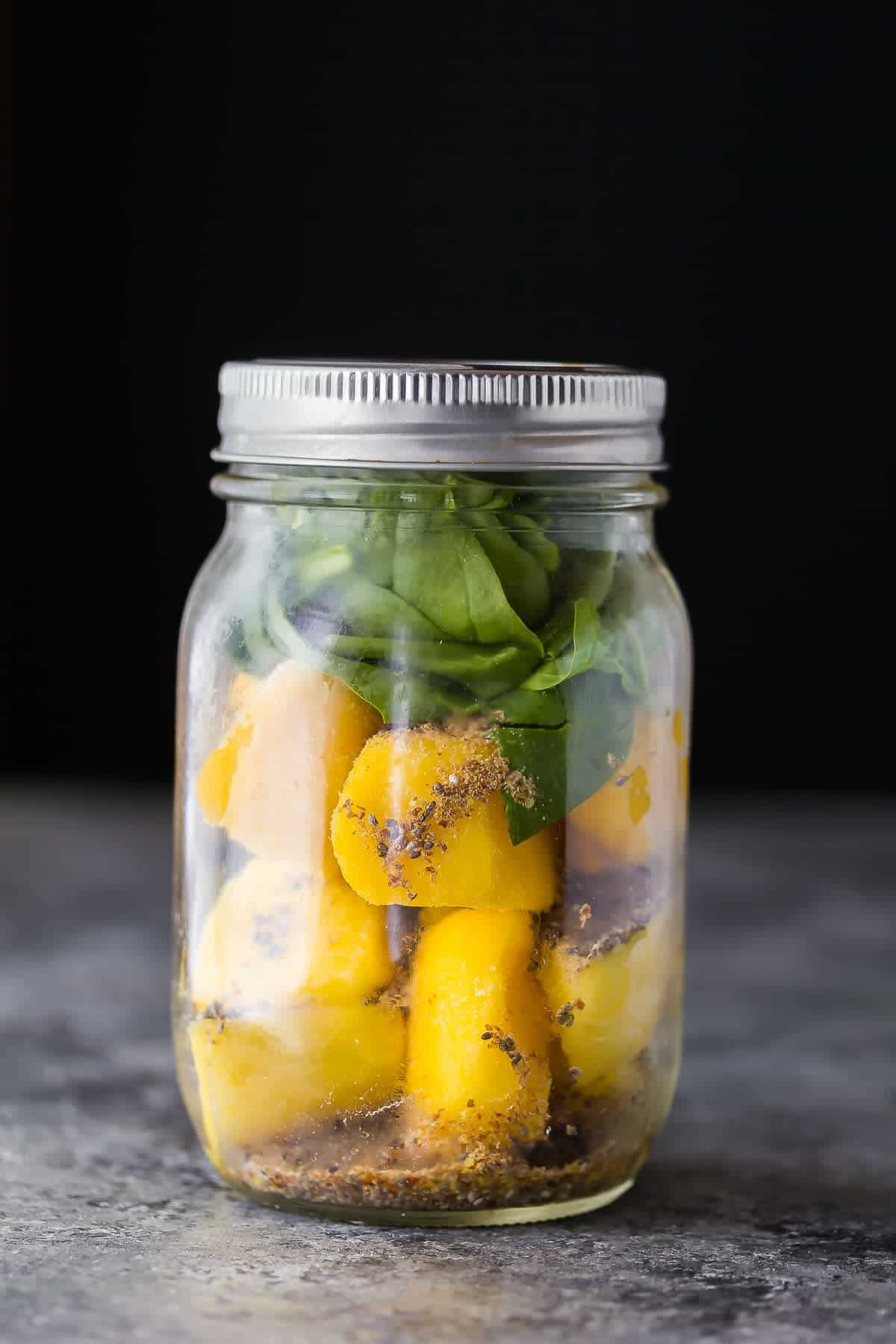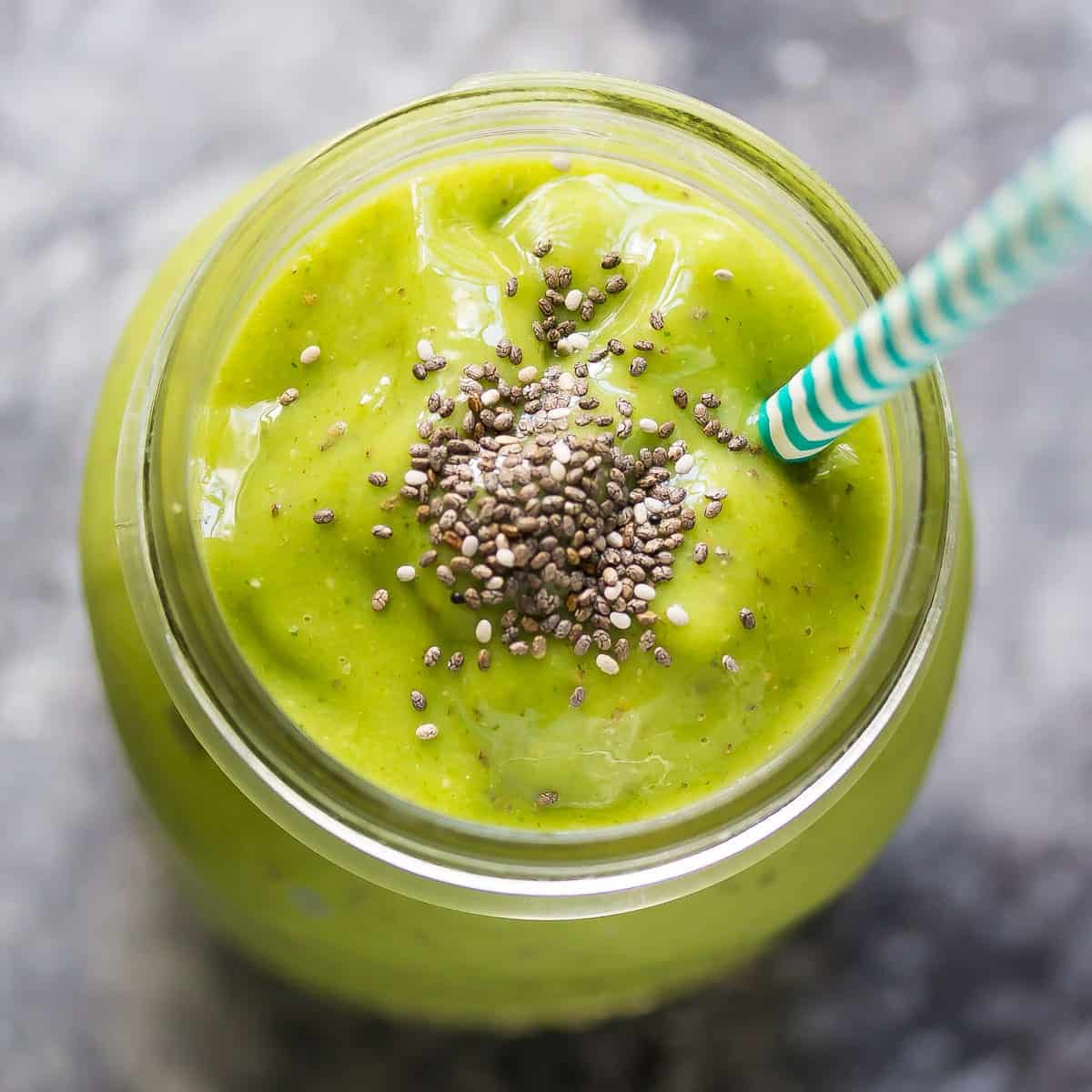 4. Green Mango Superfood Frozen Smoothie Packs:
Get the printable recipe here.
1 cup spinach packed

1.5 cups frozen ripe mango chunks

1 teaspoon ground flax

1 tablespoon chia seeds

⅛ teaspoon almond extract

1 ¼ cups almond milk
This one is PACKED with superfoods: mango, spinach, chia seeds, ground flax
...so much nutrition packed into one drink! A touch of almond extract pairs surprisingly well with the mango and really takes this smoothie up a notch.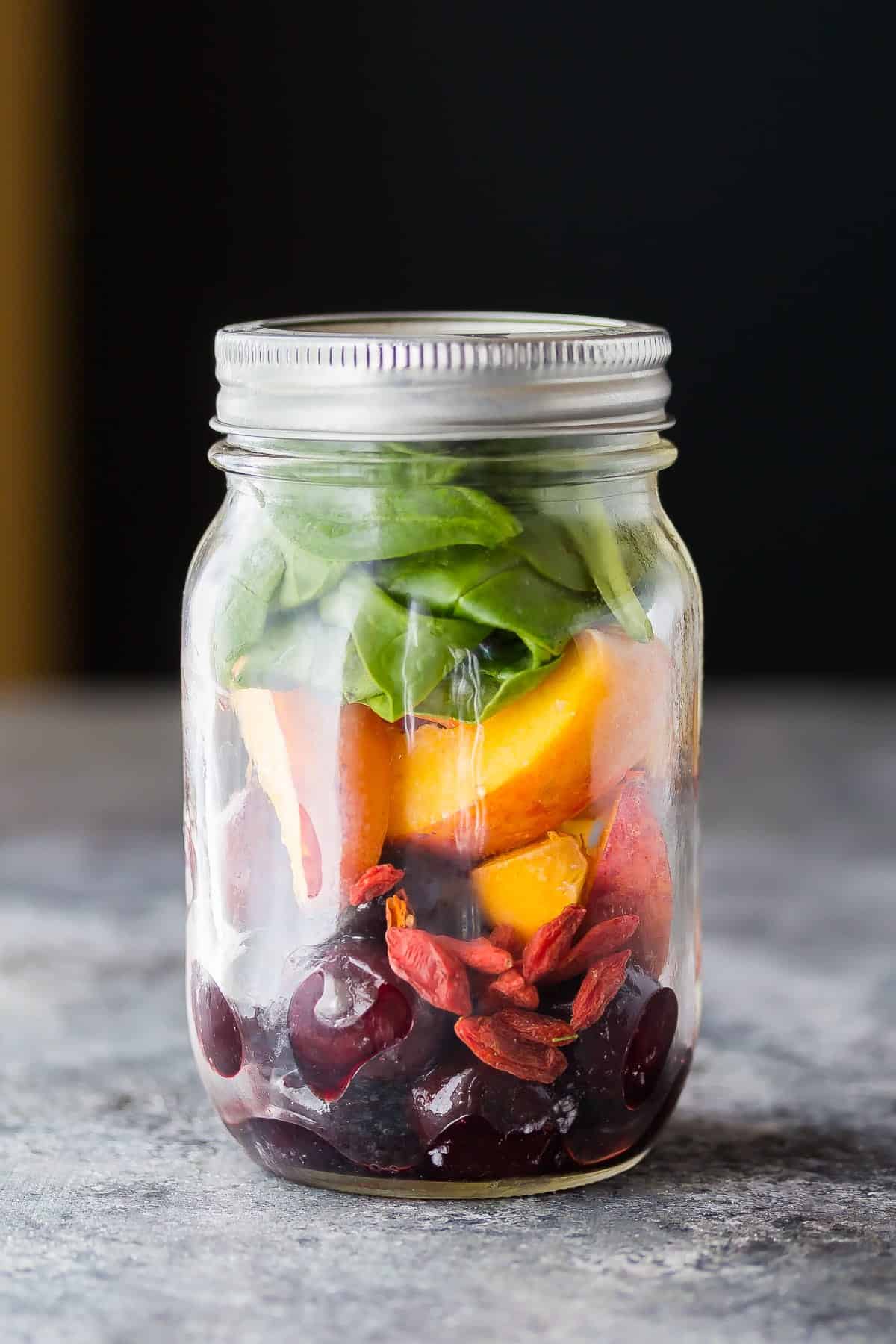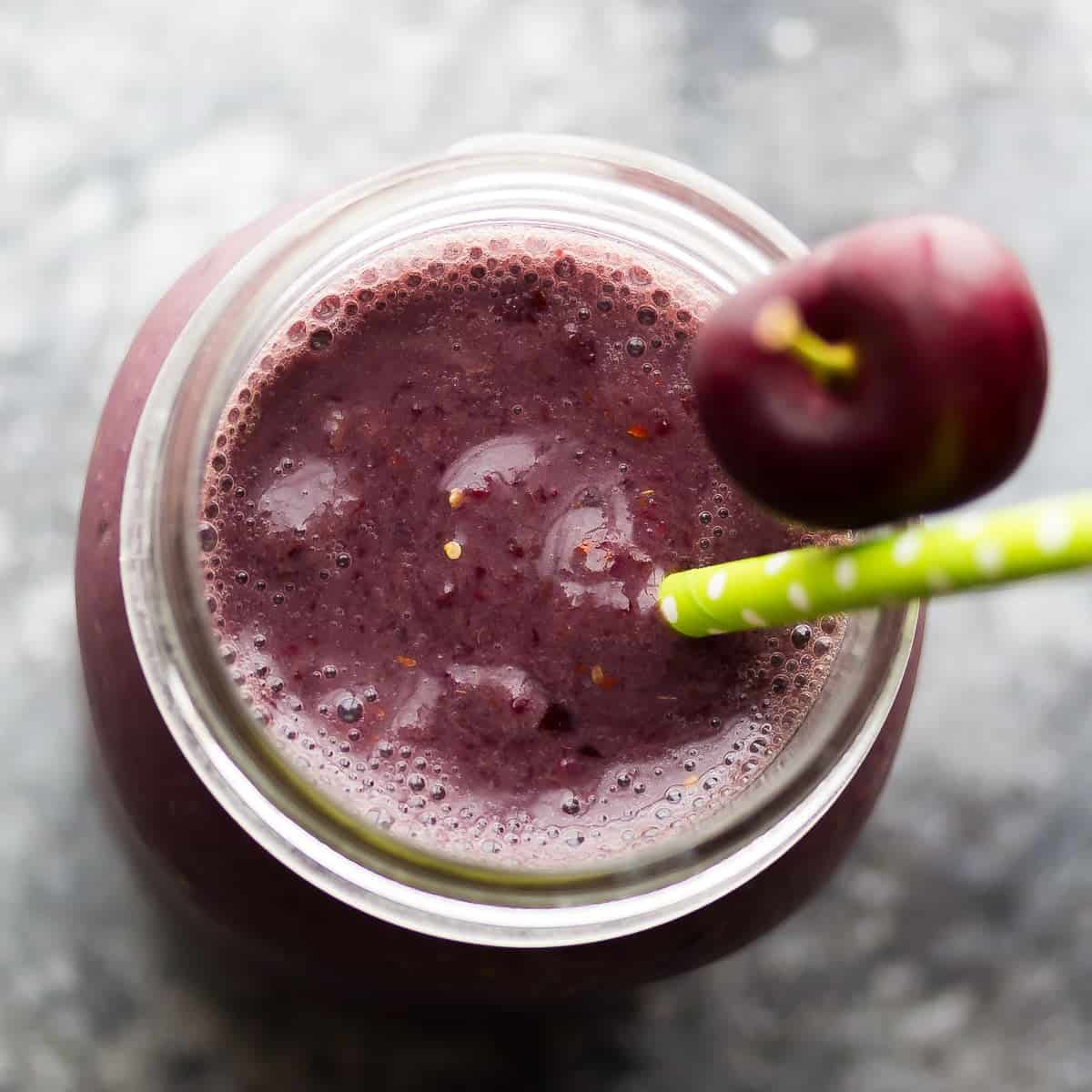 5. Goji Peach Cherry Frozen Smoothie Packs:
Get the printable recipe here.
1 cup frozen cherries

½ cup frozen peach slices

1 tablespoon goji berries

1 ¼ cup almond milk
Optional
1 tablespoon chia seeds

1 teaspoon ground flax
Goji berries are linked to a huge list of health benefits including longevity, calmness and improved sleep, and weight loss. Interestingly, cherries are a good source of melatonin and are linked to improved sleep as well. Maybe this smoothie should be re-named the Good Night Smoothie?
This goji peach cherry smoothie is so surprising, in that it tastes like...chocolate! Something about the combination of cherries and goji berries really brings out chocolate flavors, though there is no trace of cocoa powder to be seen in this smoothie. Absolutely delicious. Kai's favorite!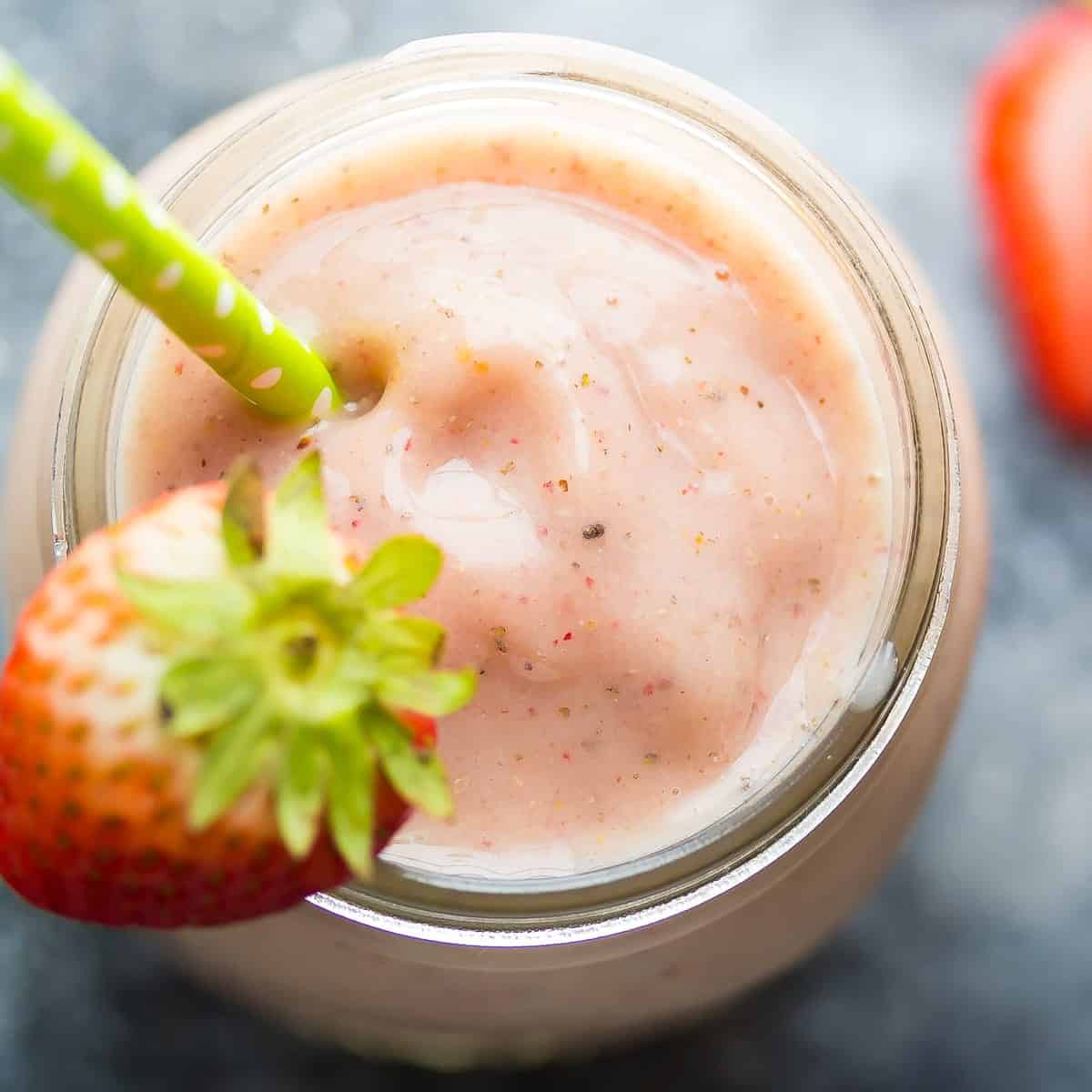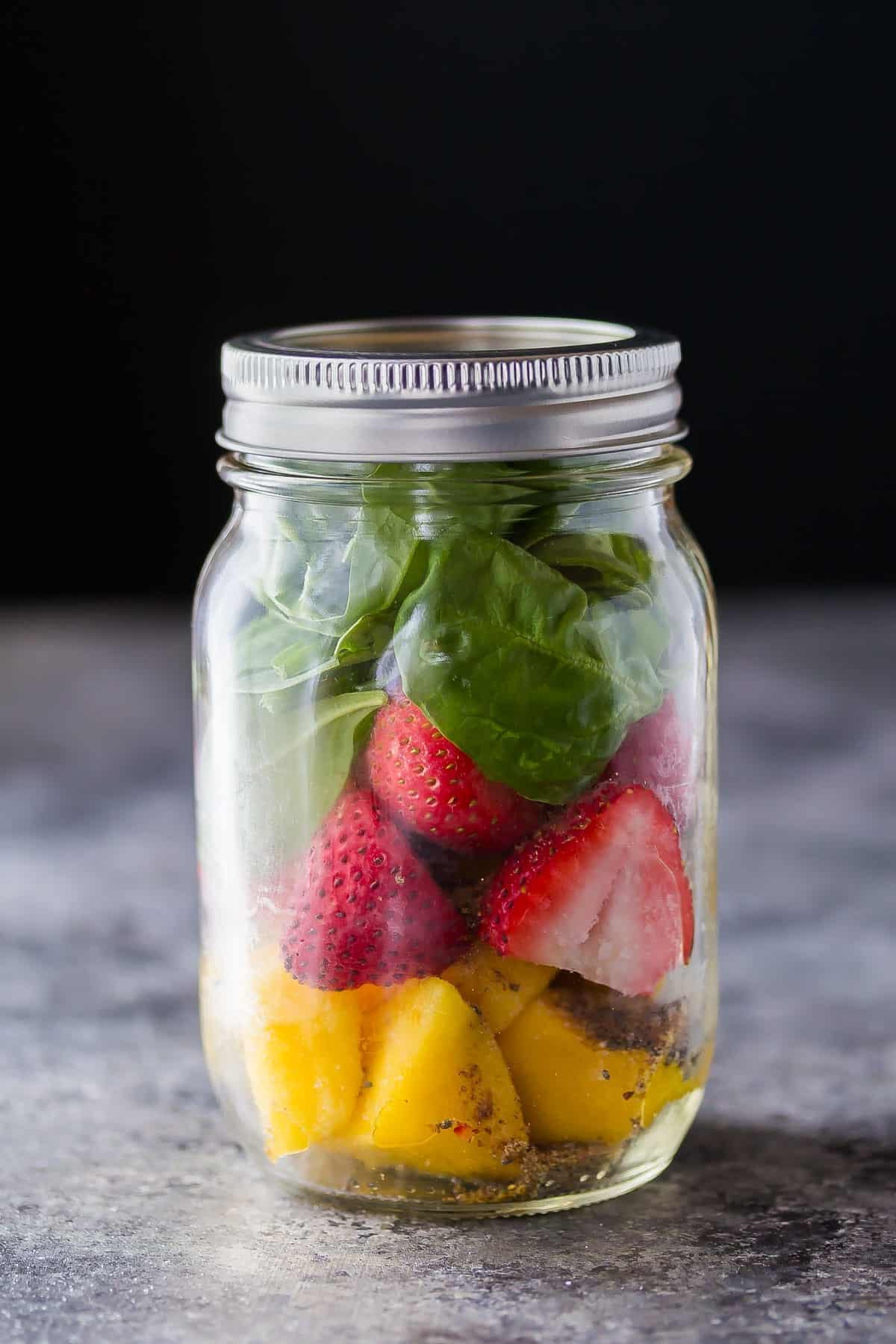 6. Strawberry Mango Chai Frozen Smoothie Packs
Get the printable recipe here.
¾ cup frozen mango chunks

¾ cup frozen strawberries

¼ teaspoon vanilla extract

1 ¼ cups almond milk or more as needed to blend
Optional
1 tablespoon chia seeds

1 teaspoon ground flax

1 cup spinach
This simple recipe is subtly sweet, and gets depth of flavor from a touch of chai spice mix and vanilla extract. Add ground flax, chia seeds, and a handful of spinach for an even healthier smoothie!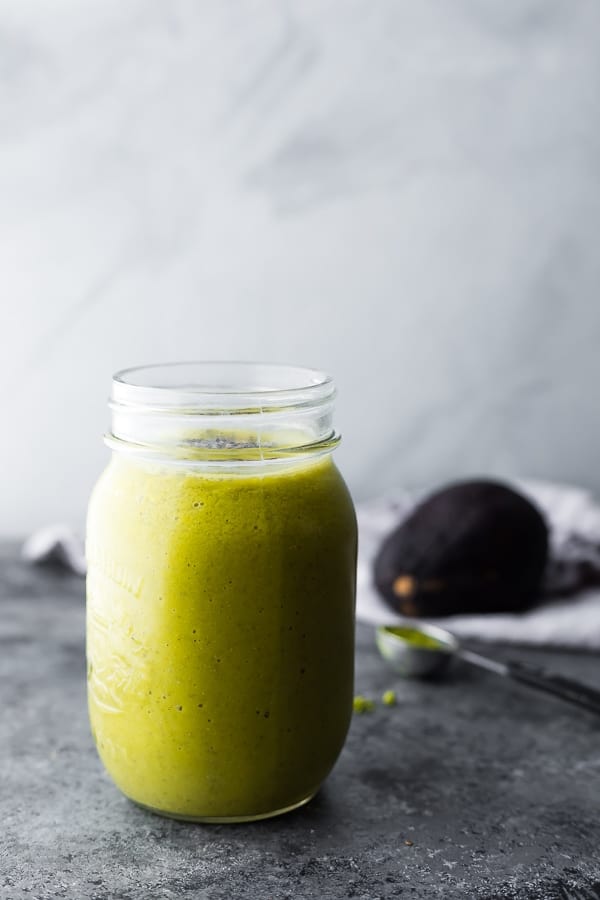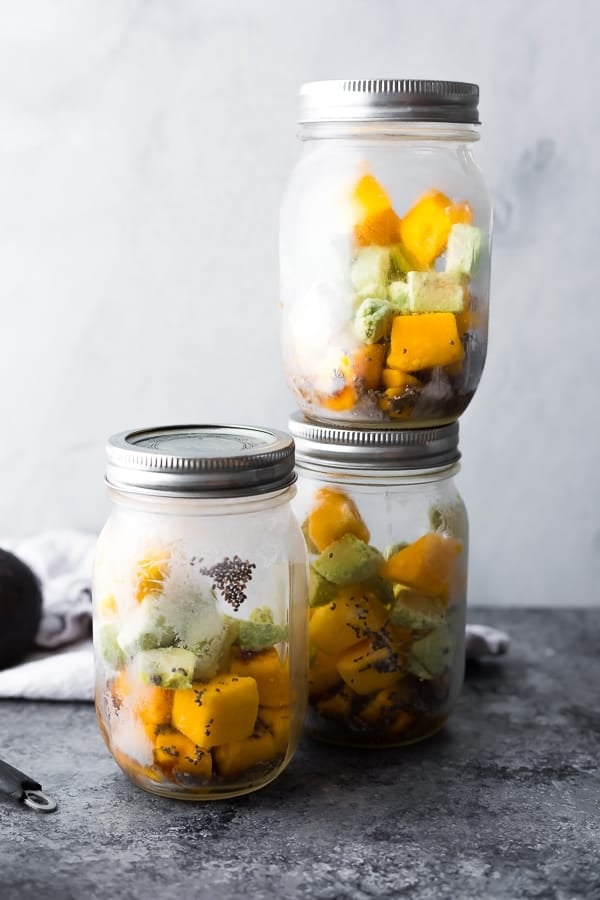 7. Matcha Avocado Smoothie
Get the printable recipe here!
¾ cup frozen mango chunks

¼ cup frozen avocado chunks

⅛ teaspoon vanilla extract

1 tablespoon chia seeds

1 teaspoon of this matcha powder

1 ½ cups almond milk
This is my favorite afternoon pick-me-up! The avocado makes it thick and creamy and gives a boost of healthy fats, and the matcha powder has a ton of anti-oxidants and a little boost of caffeine as well.


Those are our 7 smoothie flavors! I hope you got some great ideas. Let me know if you have any questions.
XO


This post was originally published in 2016. It has been rewritten and republished with new photos, 2 new recipes, and a new video!