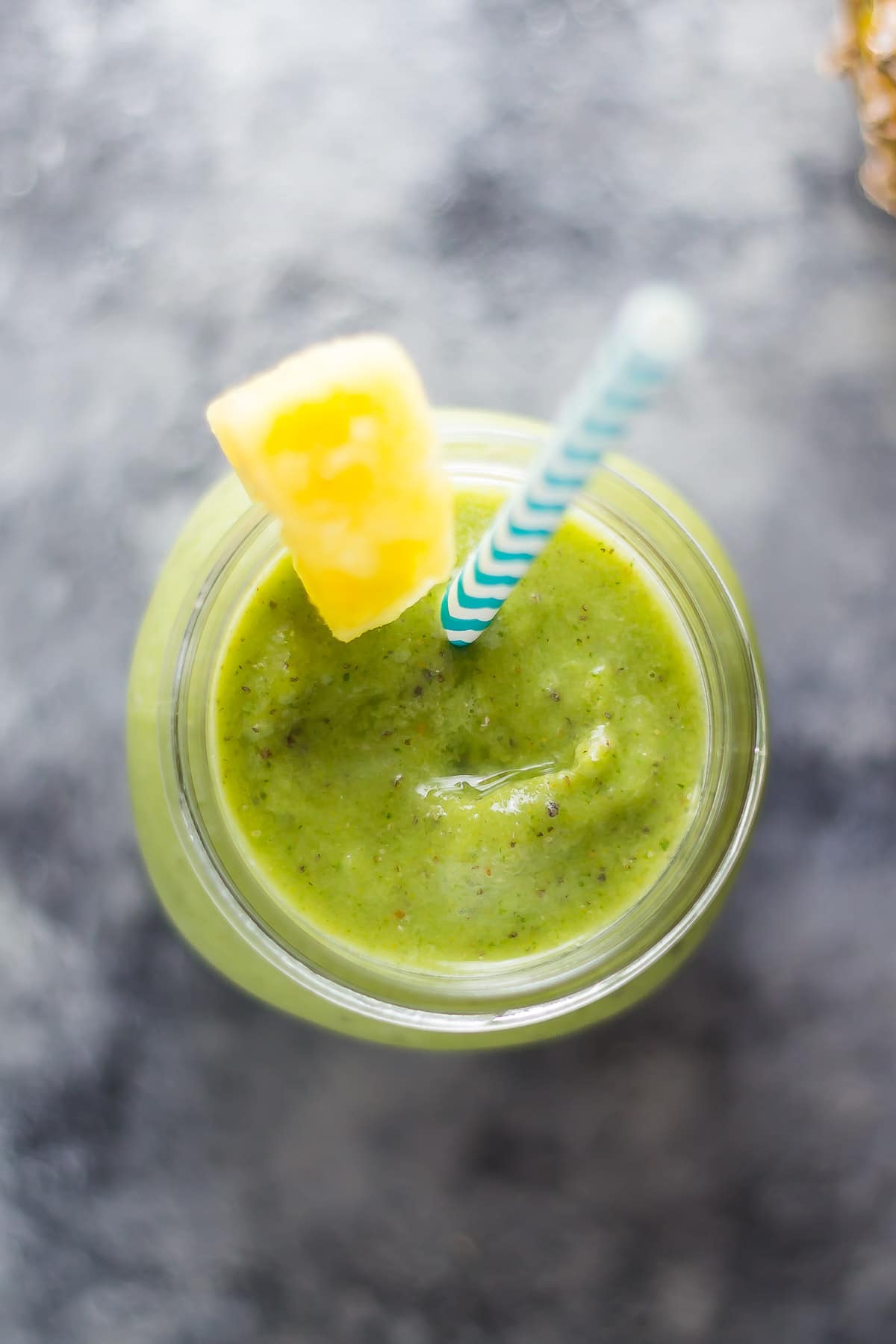 This anti-inflammatory turmeric smoothie has a taste of the tropics with pineapple, and is packed full of anti-inflammatory promoting ingredients.
Today is pretty much smoothie-palooza.  I am sharing my FIVE favorite healthy, sugar free, banana-free, anti-oxidant packed smoothie recipes with you, and I'm even showing you how to make them ahead of time!
I love love love my smoothies, but realized that I was adding a ton of sugar to them by using juice as a liquid.  So over the past few months, I've been on a mission to create some seriously delicious smoothie recipes that are naturally sweetened from the fruit, rather than using juice.
Also, you may notice they are all banana free.  I am a weirdo banana-hating nutcase.  I can't even stand the smell of them.  Sorry banana-lovers!
The first recipe I want to share with you is this anti-inflammatory turmeric smoothie.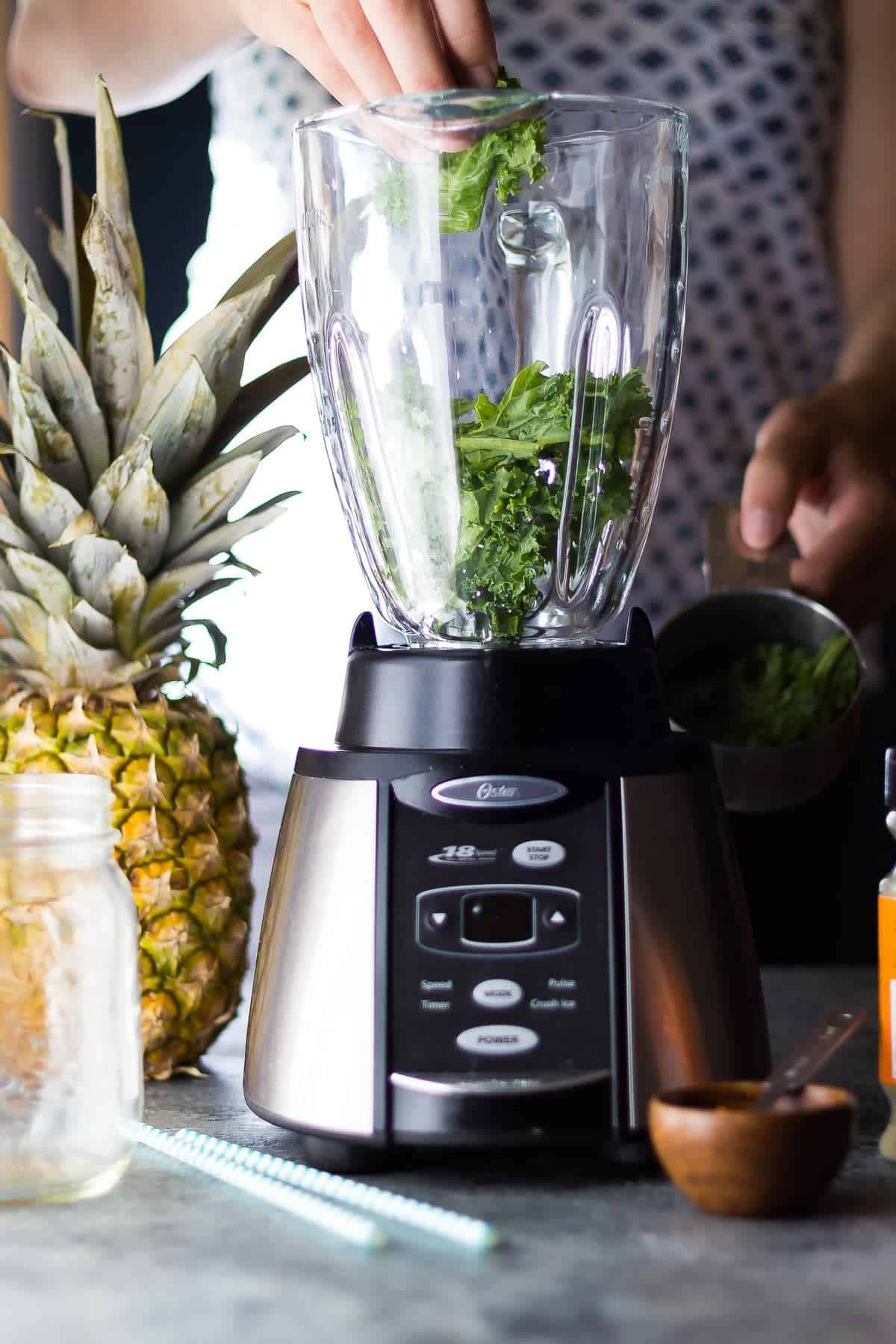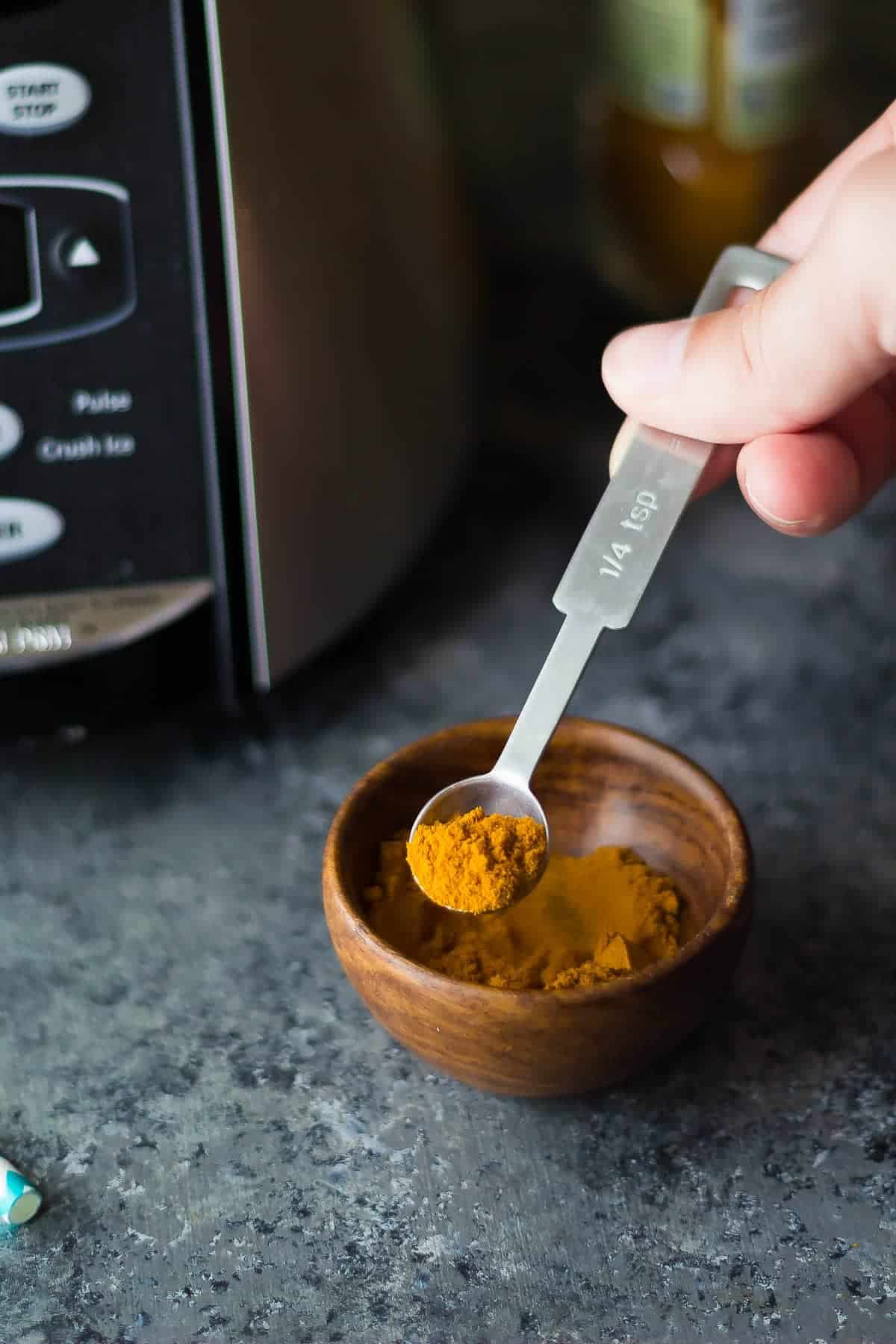 Turmeric is the new wonder-child of the health world, in case you haven't heard.  It has been shown to have anti-inflammatory properties, which is great news for anyone suffering from arthritis or Crohn's, or anyone who is recovering from surgery.  In order to activate the turmeric, I added a pinch of pepper, but I promise you can't taste it!
In addition, kale and pineapple both have anti-inflammatory properties.  So basically this smoothie is an anti-inflammatory powerhouse.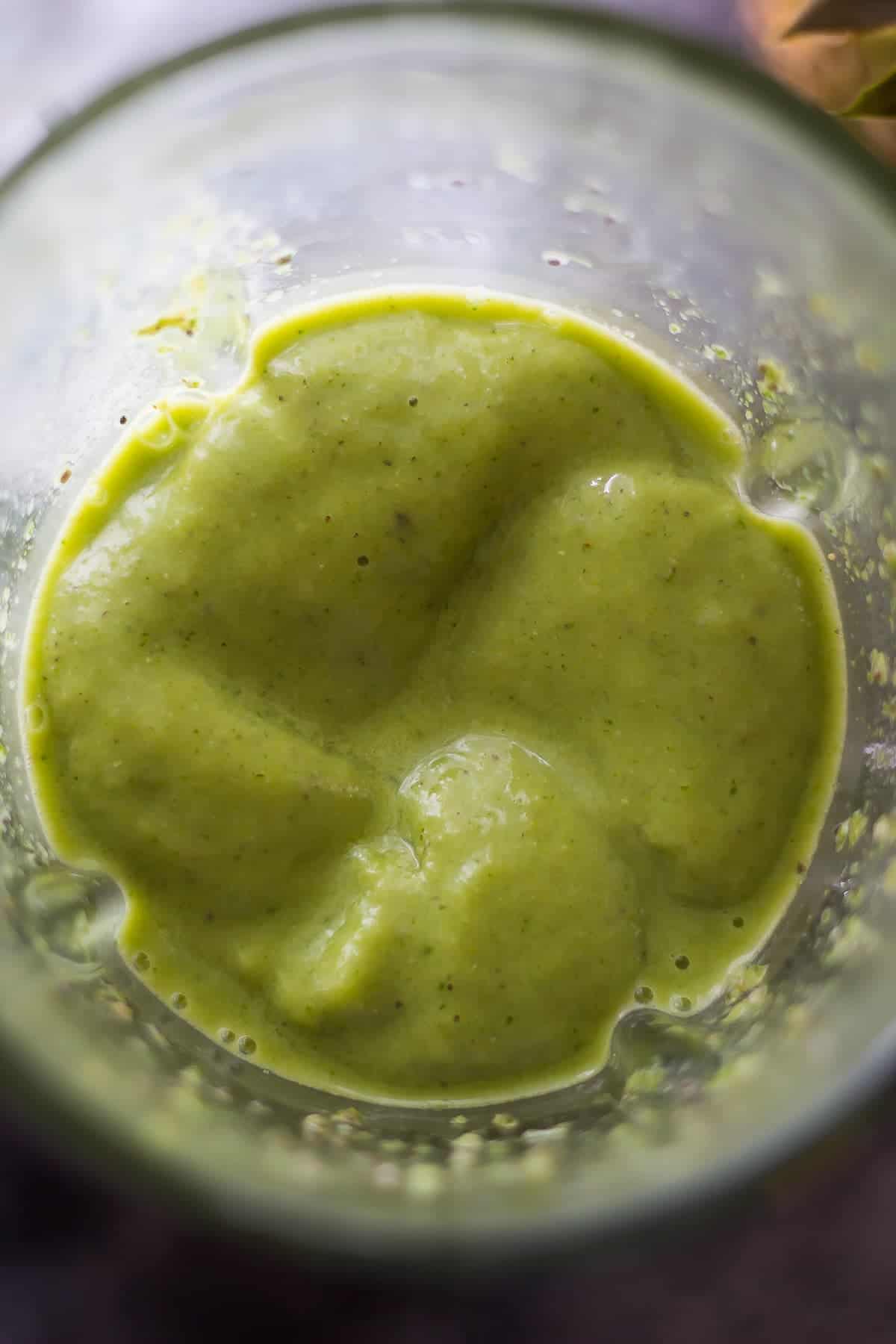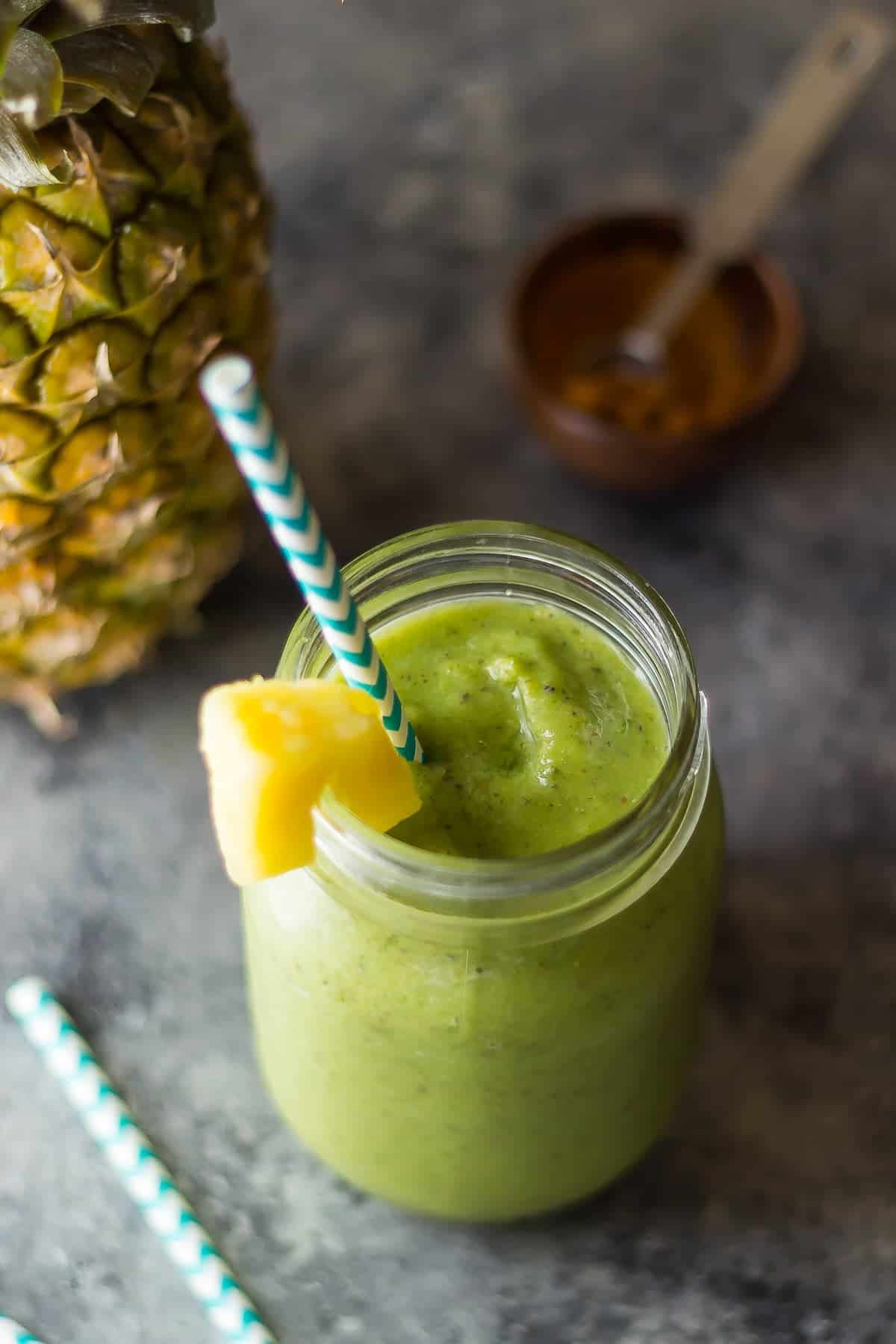 This anti-inflammatory turmeric smoothie is tropical and sweet but not too sweet.  You totally can't taste the kale, the turmeric or the pepper.  You're going to love it!
So many healthy ingredients packed into one drink.
Thirsty for more sugar free smoothie recipes?
Anti-inflammatory Turmeric Smoothie with Pineapple
1
adjust servings
Ingredients
1 1/4

cups almond milk

1

cup (packed) kale or spinach

1/4

teaspoon turmeric

pinch of black pepper

1

tablespoon chia seeds

1 1/2

cups frozen pineapple chunks
Instructions
Combine the first 5 ingredients in a blender and blend until smooth.
Add the pineapple chunks and blend again until completely smooth.
Recipe Notes
Nutritional Information:
Calories 305 // Fat 7 g // Saturated Fat 1 g // Cholesterol 0 mg // Sodium 456 mg // Carbohydrate 49 g // Fiber 14 g // Sugars 36 g // Protein 5 g
Products used in this recipe: