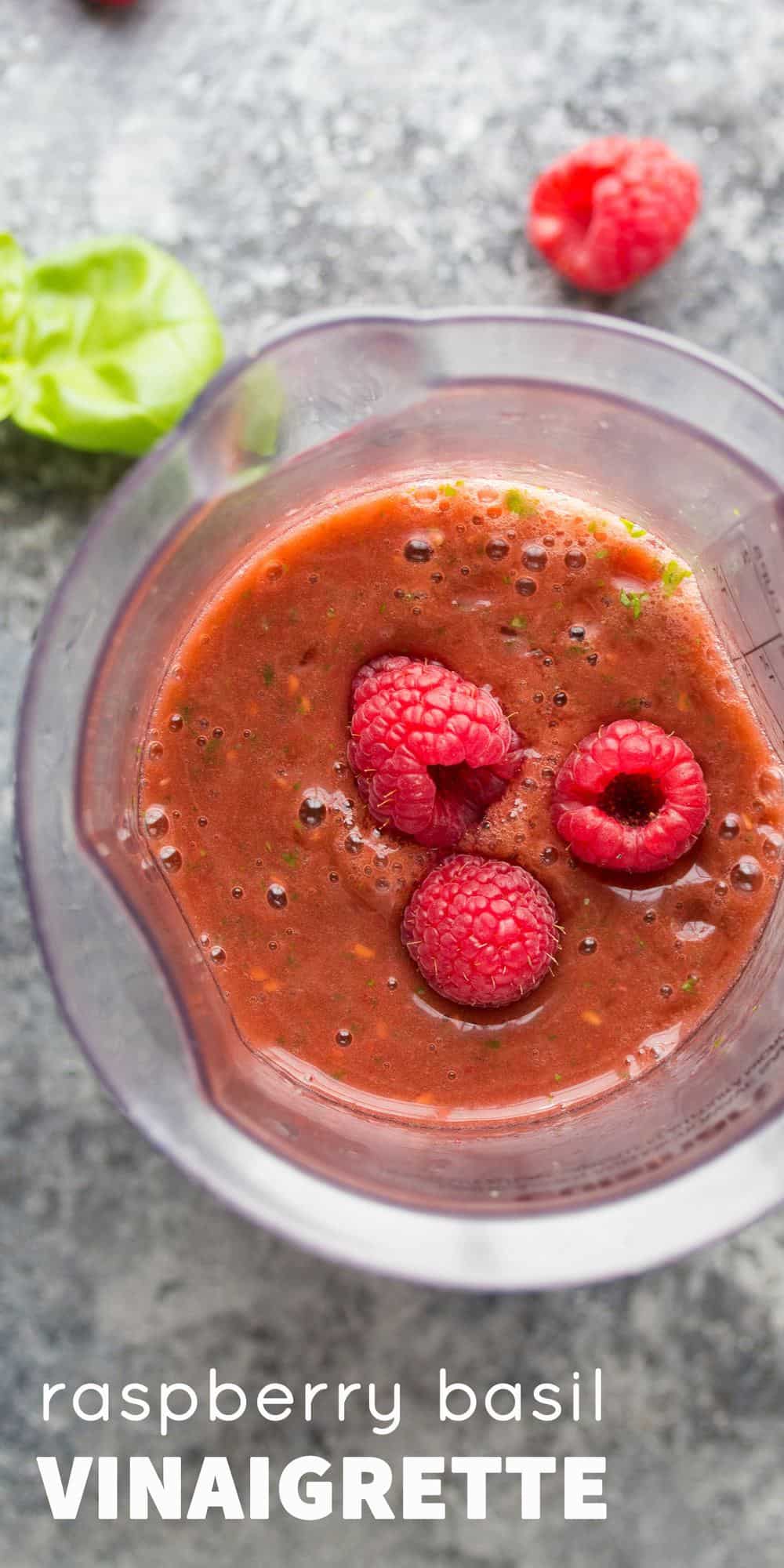 This raspberry basil vinaigrette is ready in 3 minutes, contains a full cup of raspberries, and no oil!  A delicious, healthier salad dressing option.
Some Mondays everything just feels a little harder…I feel a bit down and low-energy.  And some Mondays, I feel energized, pumped up, and ready to get to work!
And luckily, today is the second type of Monday.  We had an awesome week-end full of fun activities including flying kites, hiking, and playing in a waterfall.  It was also a productive weekend, but not in a draining way.
And today, I'm extra excited because I get to introduce you to my new favorite salad dressing: this raspberry basil vinaigrette!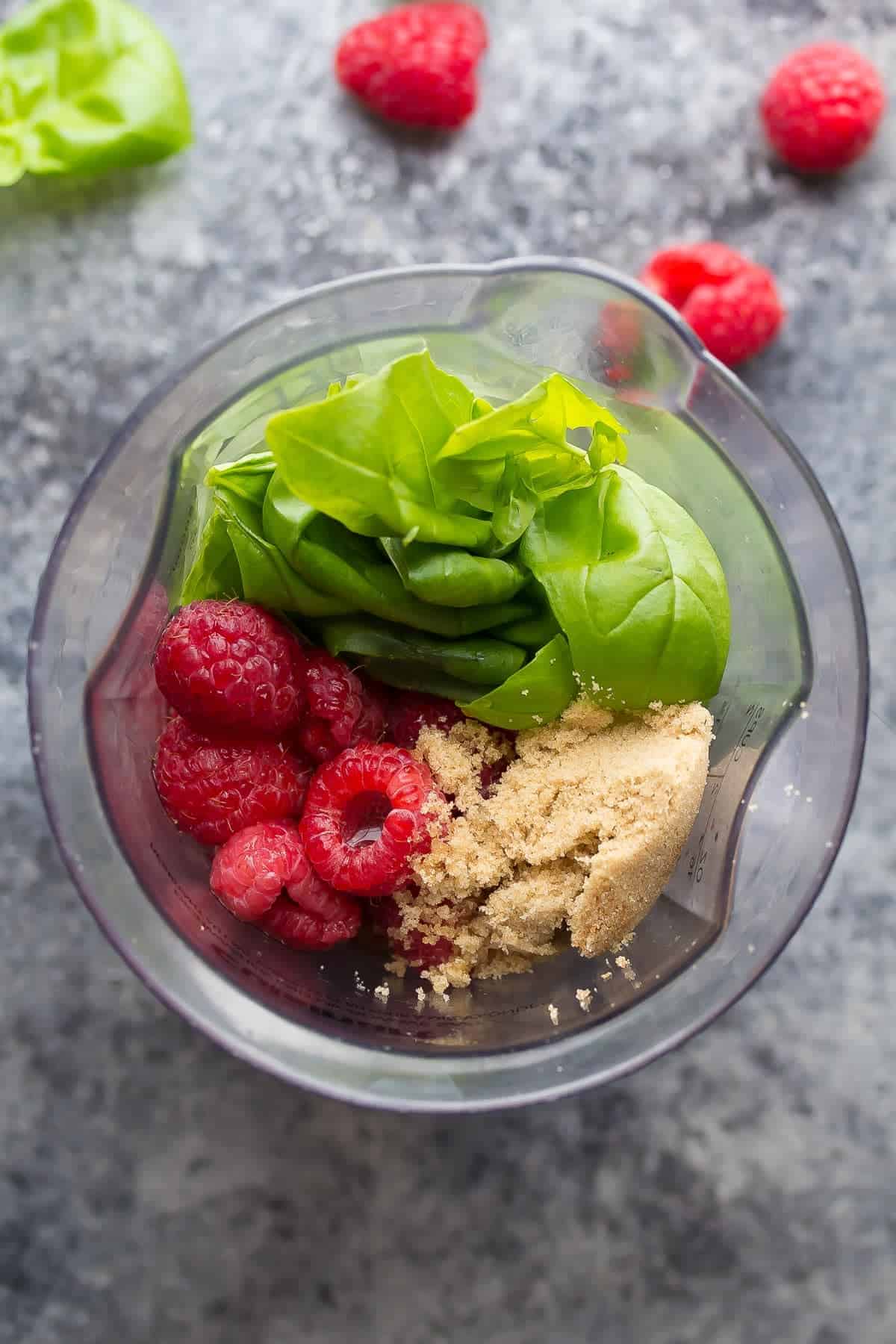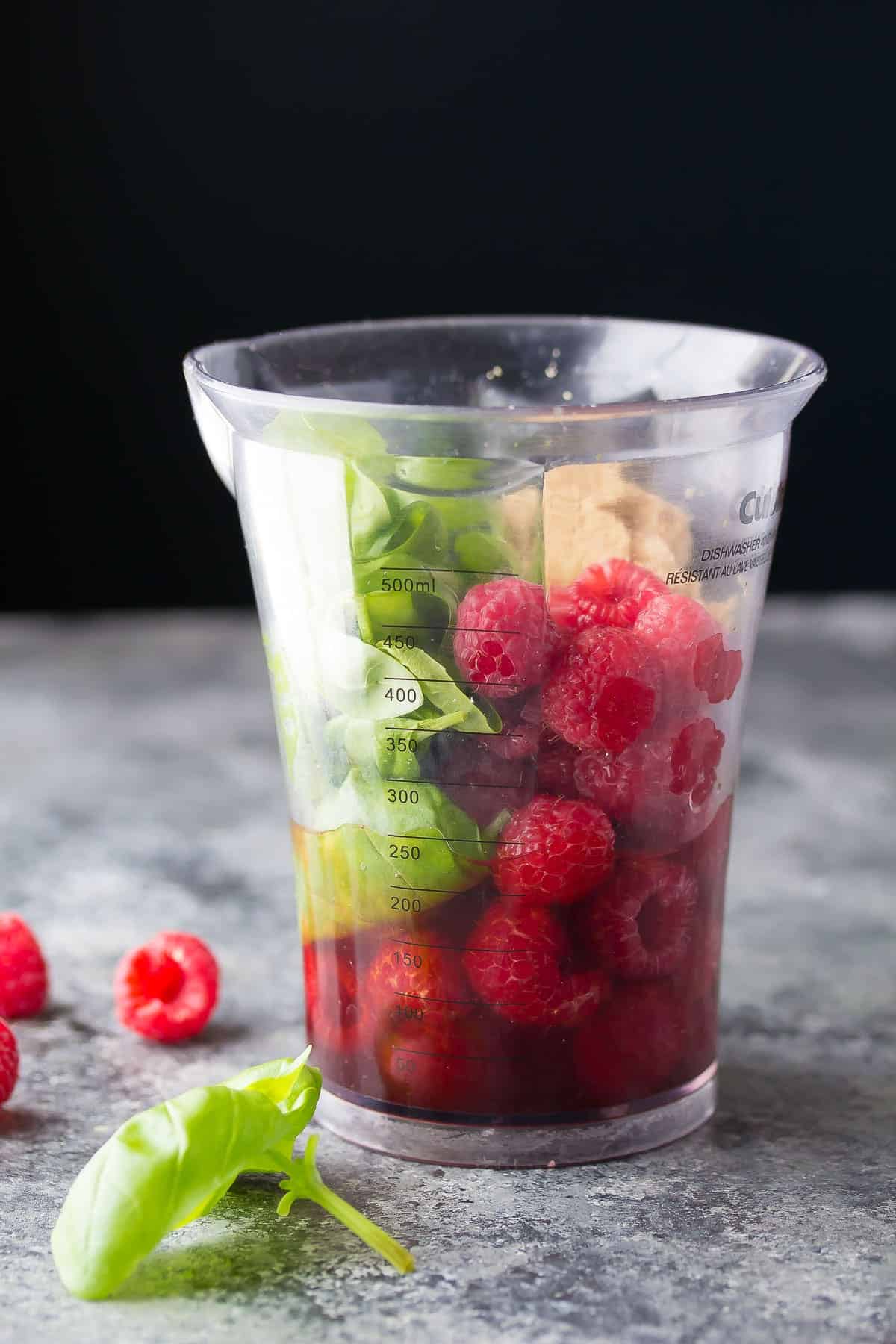 I'm pretty excited about today's recipe, because not only does it taste pretty fantastic, but it is SO easy to make, and is good for you!
This recipe was inspired by my Roasted Strawberry and Black Pepper Vinaigrette from waaaay back.  I used it on a spinach salad, and thought this raspberry basil vinaigrette would be great on a spinach salad as well (stay tuned for my Raspberry Spinach Panzanella Recipe coming on Thursday!).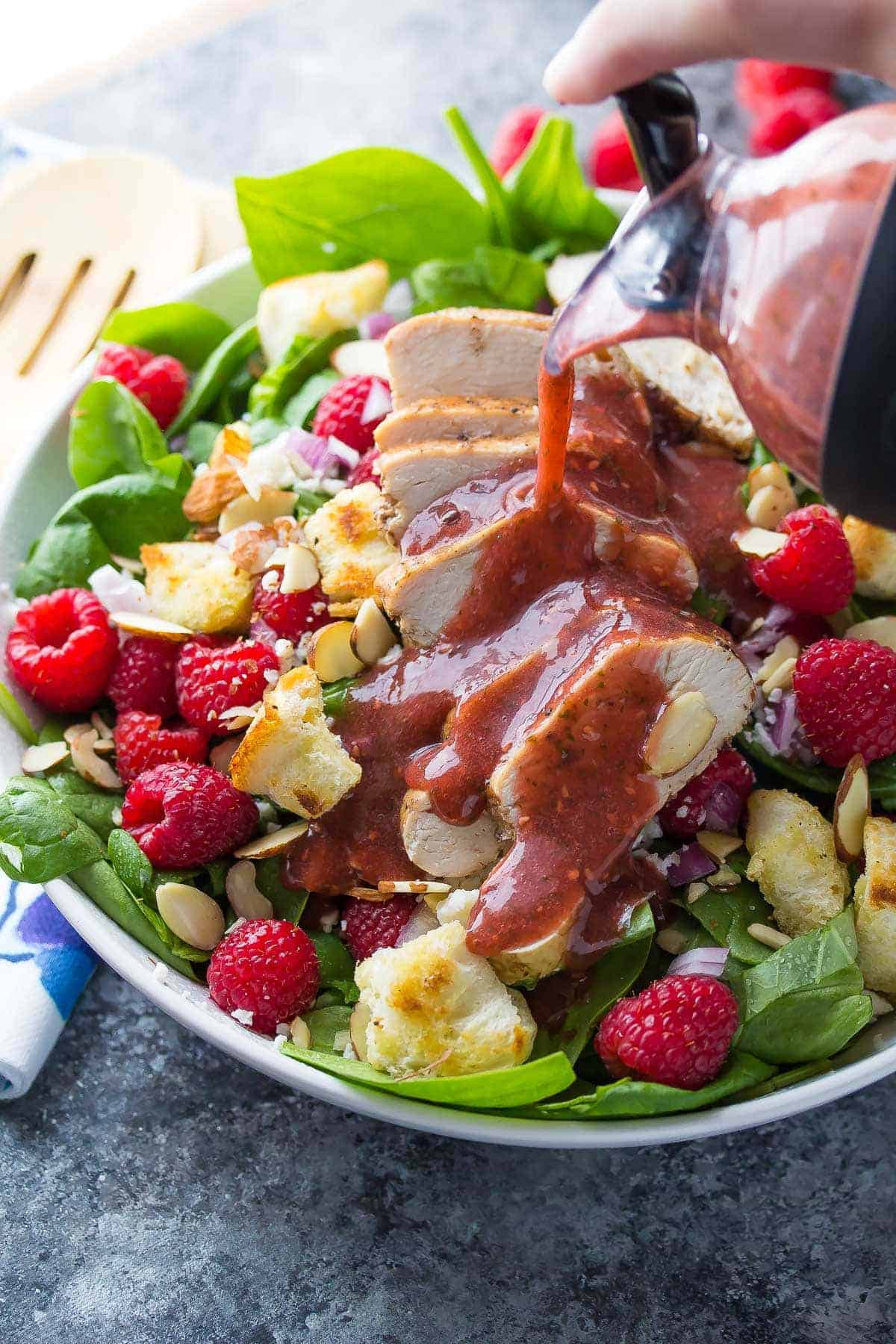 This raspberry basil vinaigrette contains a whole cup of raspberries, fresh basil leaves, a splash of red wine vinegar (you can also use balsamic vinegar), and some brown sugar to sweeten.  That's it!  (Well, other than some water to thin it out).
It is creamy, sweet and tangy, and the raspberry-basil combination is to. die. for!
It is SO simple, and trust me, you're going to want to put this stuff on everything…and you don't have to feel guilty,  just slather it on, because it's good for you!
Don't forget to check back in on Thursday for the Raspberry Spinach Panzanella Recipe that is the perfect salad to drizzle this dressing on!
Raspberry Basil Vinaigrette
Ingredients
1

cup

raspberries

1/4

cup

basil

loosely packed

1/4

cup

red wine vinegar

or balsamic vinegar

1/4

cup

water

2

tablespoons

brown sugar
Instructions
Combine all ingredients in a blender or small bowl.

Blend until smooth.

Taste and add additional sugar or vinegar if necessary.
Recipe Notes
Nutritional Information: ¼ batch
Calories 48 // Fat 0 g // Saturated Fat 0 g // Cholesterol 0 mg // Sodium 5 mg // Carbohydrate 11 g // Fiber 2 g // Sugars 8 g // Protein 0 g

Balsamic dressing tastes AWESOME in this dressing but won't give the same red color.
Nutrition Facts
Raspberry Basil Vinaigrette
Amount Per Serving
Calories 48
% Daily Value*
Sodium 5mg 0%
Total Carbohydrates 11g 4%
* Percent Daily Values are based on a 2000 calorie diet.
Products used in this recipe:
More delicious salad dressing recipes for us!