This raspberry spinach Panzanella recipe contains sourdough bread, almonds, chicken, and raspberries. Drizzled in a creamy raspberry basil vinaigrette, it is ready in under 30 minutes!
We live off of salads in the summer! They are refreshing, filling and so satisfying. If you are looking for more delicious salad recipes check out this Healthy Taco Salad and this Strawberry Steak Salad.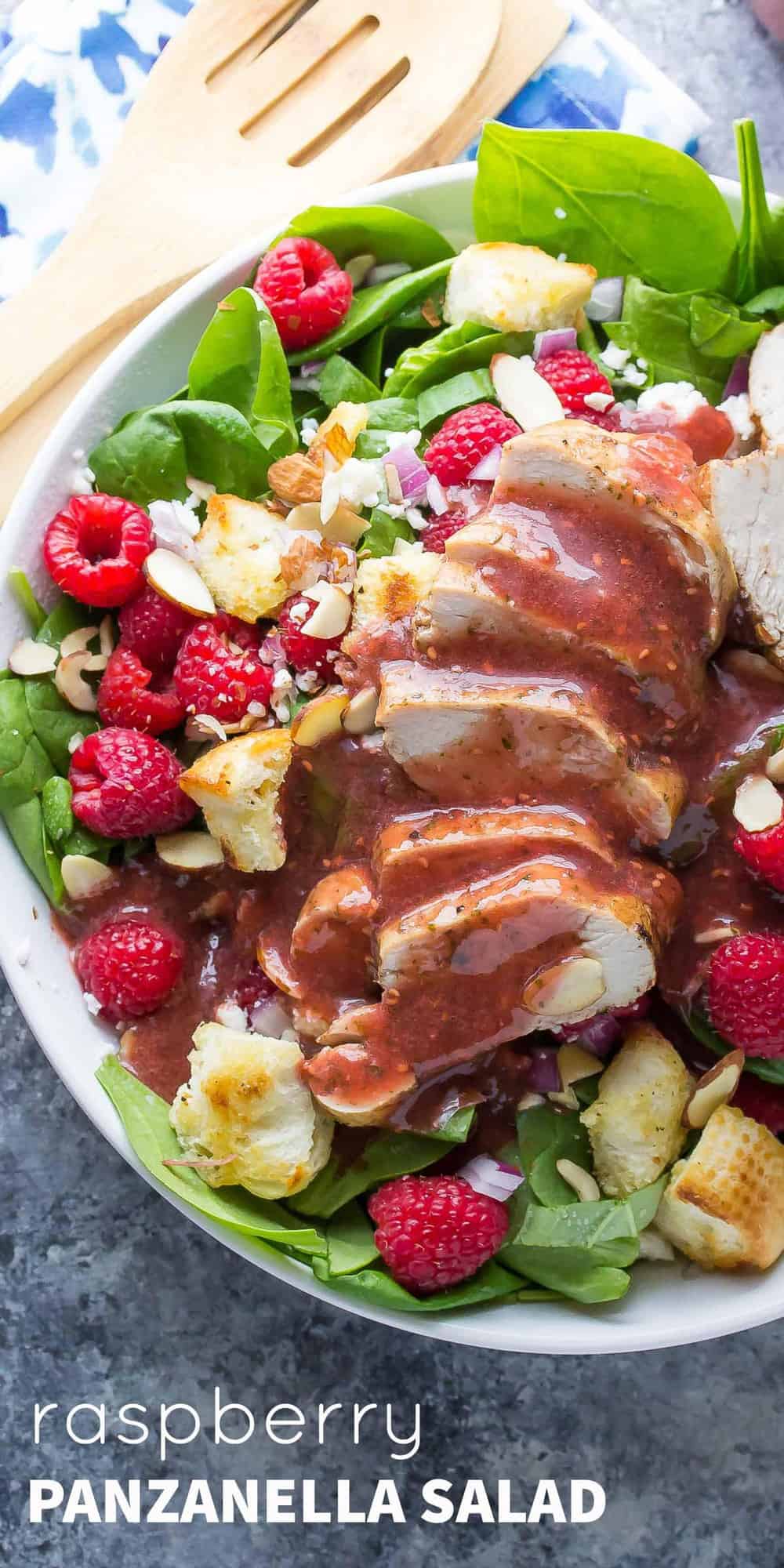 This raspberry spinach Panzanella recipe is an easy, light (but filling), fruity salad. It is super easy to prep, and perfect for eating outside. Today's recipe is the companion to Monday's Raspberry Basil Vinaigrette recipe. If you missed that one, you should check it out!! Here's the run-down on this salad: You're going to bake some chicken. Lightly pan-fry some sourdough bread. Toss together some feta, almonds, spinach, red onion and raspberries. And drizzle it all in raspberry basil vinaigrette.
That's it. So simple, so easy, so delicious! It has an awesome variety of textures: creamy, crunchy, bread-y, and flavors: sweet, savory, tangy. And it's good for you!
Reasons you'll ♡ this spinach Panzanella salad
it's ready in 30 minutes
it is a blend of soft and crunchy textures
it is the perfect veggie-loaded salad for summer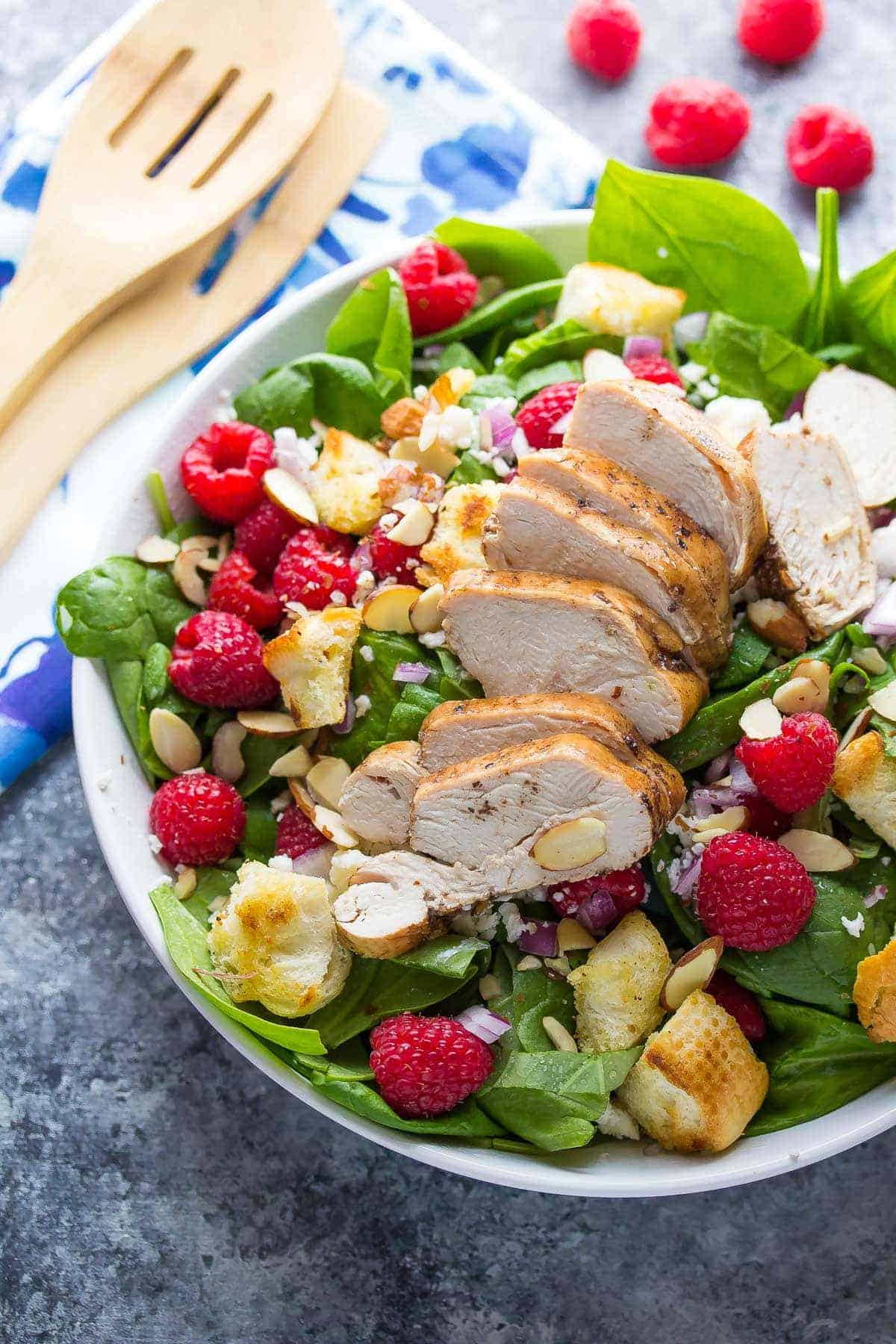 Ingredient Notes
Spinach- use fresh baby spinach, or swap for your favorite greens. Arugula, baby kale, or romaine lettuce would also work well.
Raspberry Basil Vinaigrette– is a delicious, oil-free dressing that blends fresh raspberries with basil, red wine vinegar, water, maple syrup, and dijon
Raspberries– so good in this salad! Can be swapped for your favorite in-season berry
Almonds– add a nutty flavor and crunch to the salad; swap for pecans, sunflower seeds or macadamia nuts
Sourdough bread– to be sauteed to make soft 'croutons'; swap for your favorite crusty bread
Chicken– adds some protein to this salad and makes it a complete meal; swap for boneless skinless chicken thighs or a can of chickpeas
What is Panzanella?
Panzanella is a traditional Tuscan bread salad that consists of stale soaked bread, tomatoes, and onions though many chefs will put their own spin on it, adding additional ingredients.
Typically the bread is not toasted, rather soaked overnight, either in water, oil, or tomatoes. Many North American interpretations of Panzanella do toast the bread, as they are often serving it immediately.
This Panzanella salad is a very loose adaptation of a Panzanella and is by no means traditional. We are swapping the tomatoes for berries and adding in other non-traditional ingredients such as feta cheese, spinach, chicken, and almonds.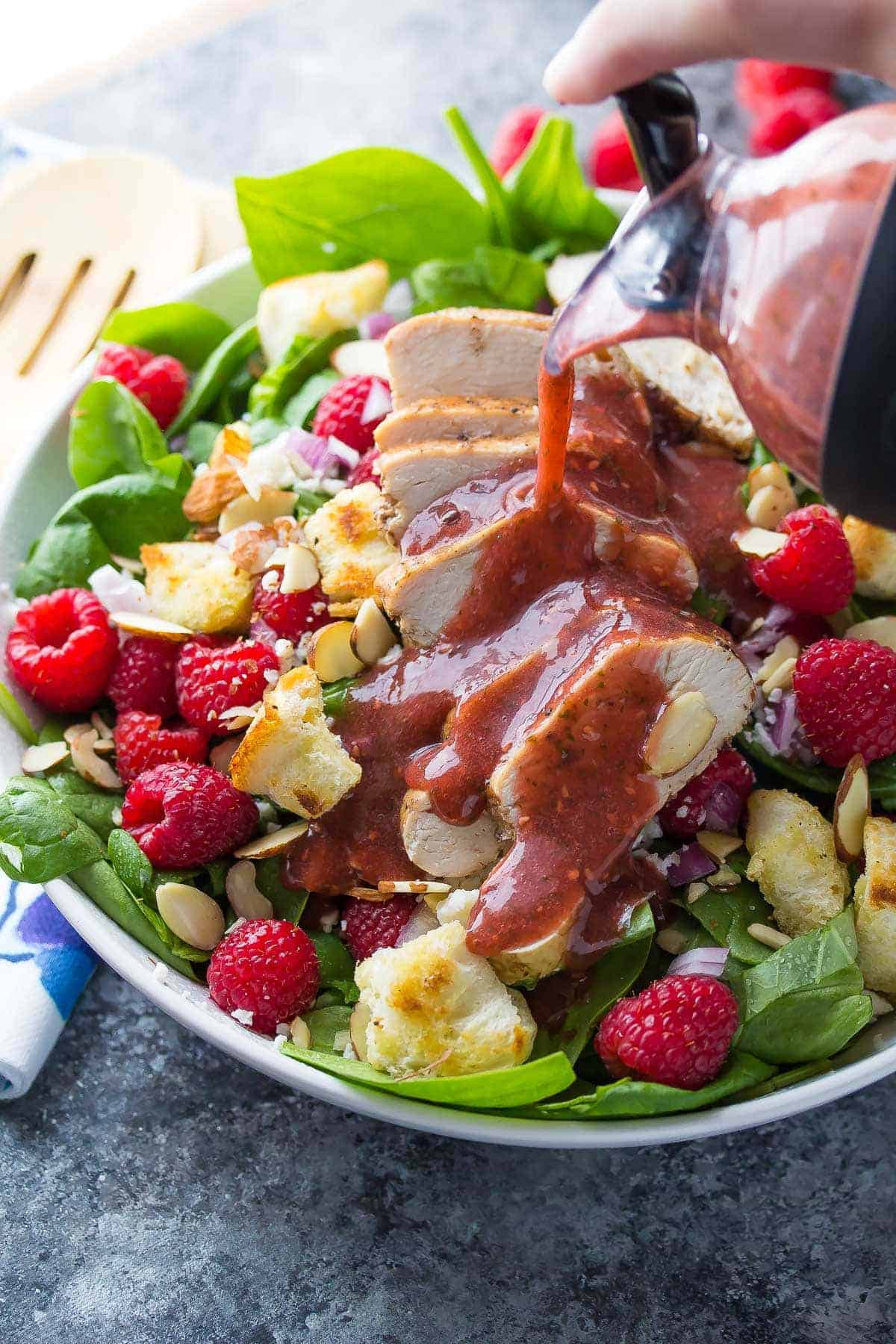 Recipe Tips
Start with the chicken
To get this Panzanella salad ready in under 30 minutes, you must get the chicken cooking ASAP. Heat the oven to 425°F and toss the chicken in olive oil and balsamic vinegar. Season with salt and pepper, then bake for 25 minutes.
The vinaigrette
Sweet, tangy, and completely oil-free, this raspberry basil vinaigrette is one of my favorites. Make sure you pick sweet, ripe raspberries for the dressing, and if you find that your raspberries are not sweet, increase the maple syrup until you get the sweetness that you need.
You will need either a stand or immersion blender. Combine the ingredients and blend until smooth.
The bread
While traditional Panzanella involves spending up to 24 hours preparing the bread, we are going to take a shortcut and make it right now. To prepare the bread, cut or tear into 1-inch cubes. Toss in olive oil, season with salt and pepper, and cook in a frying pan for 5 or so minutes. You want it to be golden and slightly crispy.
The salad
This is a meal-sized salad, so the portions are large! Place 2 cups of spinach in large bowls or bowl plates. Top with red onion, feta cheese, fresh raspberries, sliced almonds, toasted bread cubes, fresh basil leaves, and cooked and cooled chicken. Drizzle with the dressing and enjoy!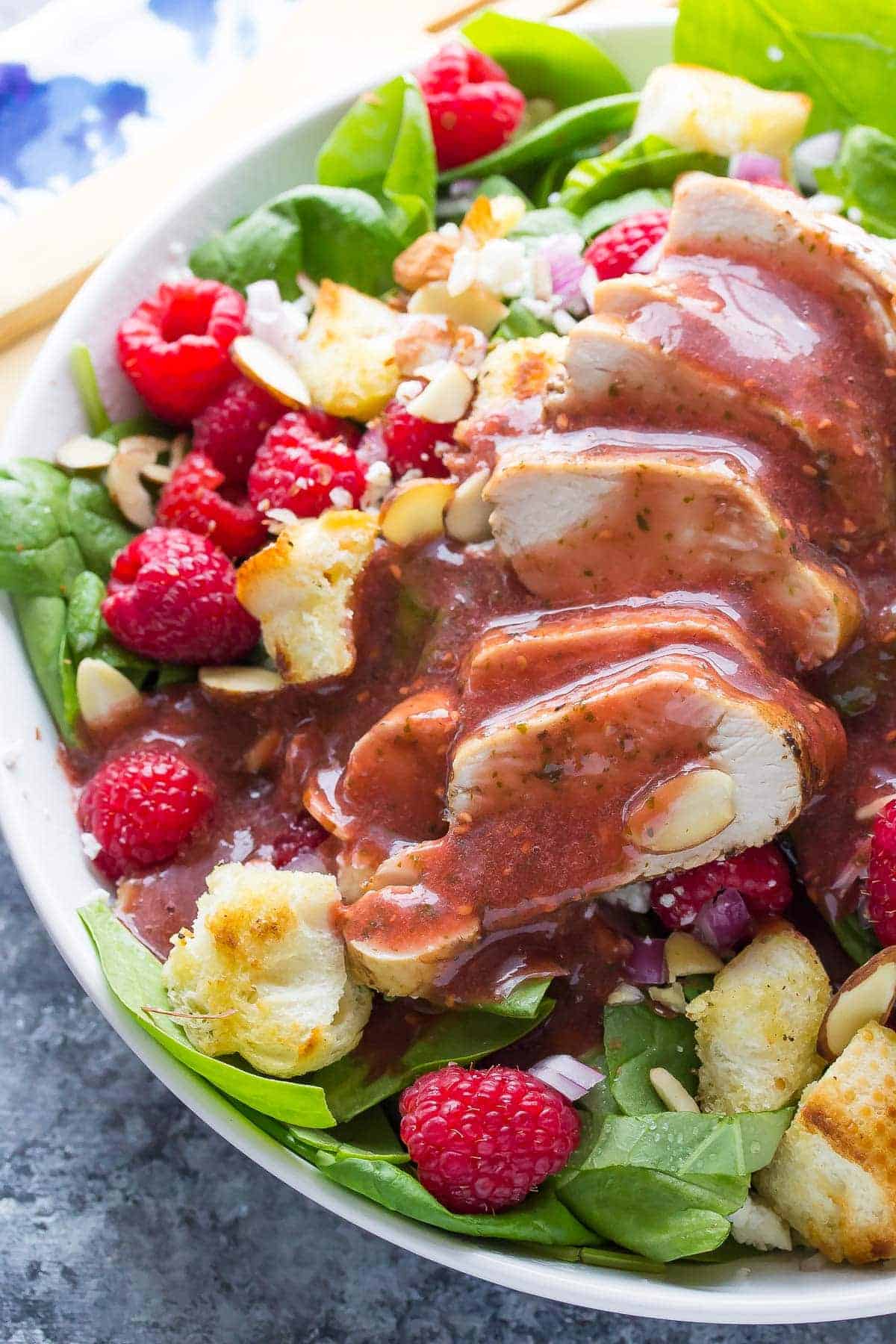 Variations
Classic– for a more traditional Panzanella, swap the berries for tomatoes, omit the feta and almonds and use a red wine vinaigrette
BLT- swap the chicken for bacon (see how to cook bacon in the oven); swap berries for tomatoes, swap feta for mozzarella, omit almonds, add lettuce and use a red wine vinaigrette
Greek- add in tomatoes, cucumber, olives, bell peppers, feta cheese and drizzle in a classic greek salad dressing
Meal Prep + Storage
Unfortunately, this salad does not keep well and should not be assembled until just before serving. If you want to get a head start on dinner, here are two options for you:
Chicken– cook the chicken up to 4 days ahead and store it in an airtight container in the fridge
Dressing– blend up to 1 week ahead, the flavor is the best when served within 24 hours, but it's still good after 1 week
More delicious salad recipe to try
Raspberry Spinach Panzanella Recipe with Chicken
This raspberry spinach panzanella recipe contains sourdough bread, almonds, chicken, and raspberries. Drizzled in a creamy raspberry basil vinaigrette, it is ready in under 30 minutes!
Ingredients
Balsamic Chicken
2

chicken breasts

1

tablespoon

balsamic vinegar

1

tablespoon

olive oil

salt and pepper
Fried bread
2-4

tablespoons

olive oil

4

cups

sourdough bread

cut into 1-inch cubes

salt and pepper
Salad
8

cups

spinach

1/4

cup

red onion

diced

1/2

cup

feta cheese

2

cups

fresh raspberries

1/4

cup

sliced almonds

1/3

cup

basil leaves

loosely packed
Instructions
Chicken:Preheat oven to 425°F.

Line a baking dish with foil. Place the balsamic vinegar, olive oil and chicken in the dish, turning to coat the chicken. Season with salt and pepper.

Bake the chicken for 10 minutes, then flip and bake for another 10 minutes (for small chicken breasts) or 15 minutes (for larger chicken breasts).

Allow chicken to rest for 5-10 minutes before slicing into strips.

Fried breadHeat olive oil in a large non-stick pan over medium heat.

Toss the bread to coat in the olive oil, adding more as needed. You want a light coating.

Season with salt and pepper, and cook over medium heat (stirring occasionally) for 5 minutes or until golden and slightly crunchy.

SaladToss all ingredients together with raspberry basil vinaigrette.
Notes
Nutritional Information does not include dressing
Nutrition
Serving:
1
/4 batch
|
Calories:
363
kcal
|
Carbohydrates:
12
g
|
Protein:
19
g
|
Fat:
16
g
|
Saturated Fat:
4
g
|
Cholesterol:
52
mg
|
Sodium:
402
mg
|
Fiber:
6
g
|
Sugar:
4
g