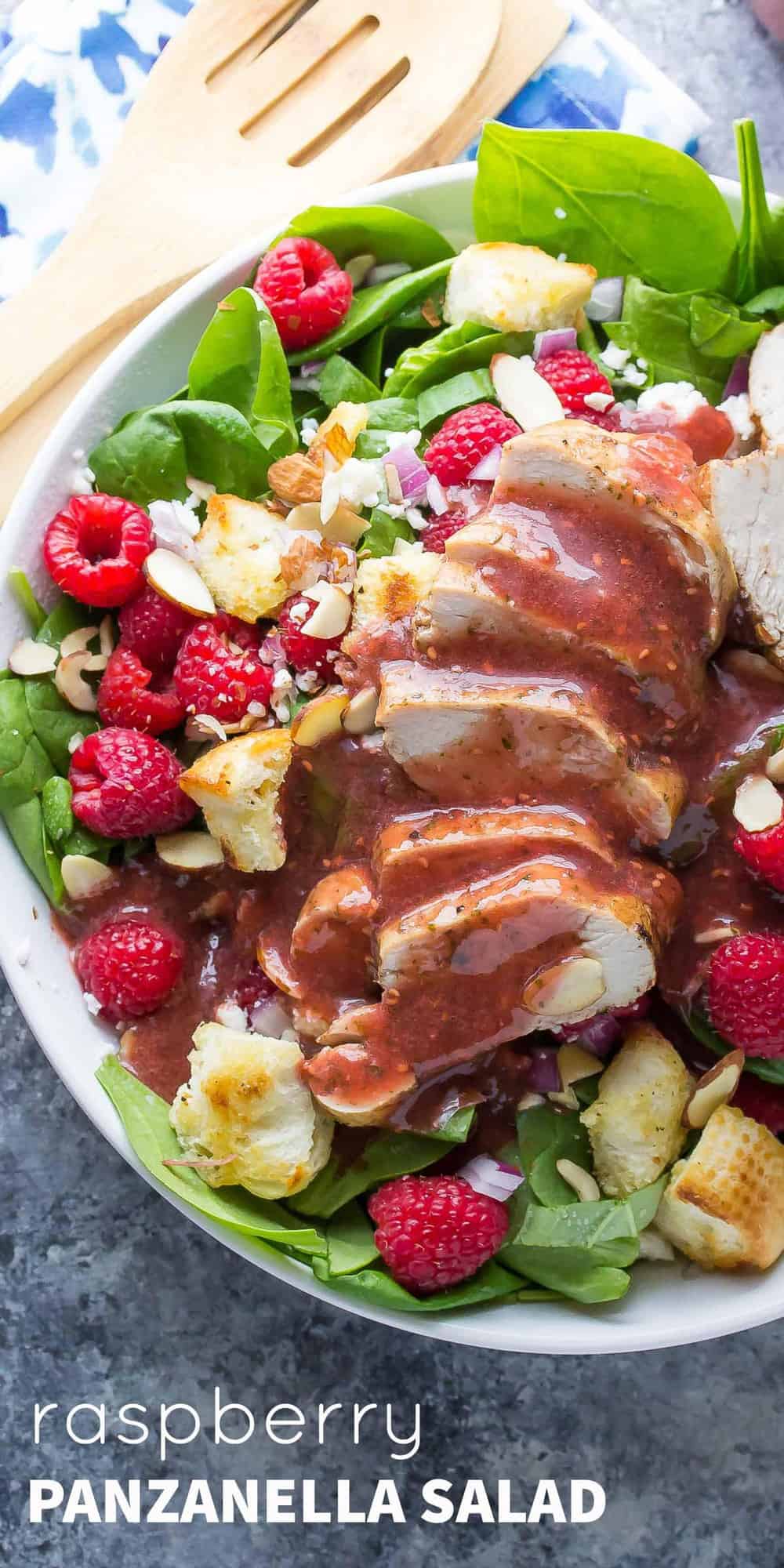 This raspberry spinach panzanella recipe contains sourdough bread, almonds, chicken, and raspberries.  Drizzled in a creamy raspberry basil vinaigrette, it is ready in under 30 minutes!
Technically it's not summer for another month yet, but lately, I've just had that summer state of mind.
We've eaten a ton of dinners outside, and spent a ton of time lounging on the deck.  My house looks like a disaster, which is also characteristic of summer…who wants to be inside cleaning when there's a deck lounger with my name on it and the sun is beaming down?!
When I think of that summery state of mind, for some reason my mind wanders to a panzanella salad (or Italian bread salad).  I made this Panzanella Salad Recipe with Sausage and Smoky Buttermilk Dressing last summer and couldn't wait to make another one!
So today's raspberry spinach panzanella recipe is inspired by that summery state of mind.  An easy, light (but filling), fruity salad.  Super easy to prep, and perfect for eating outside.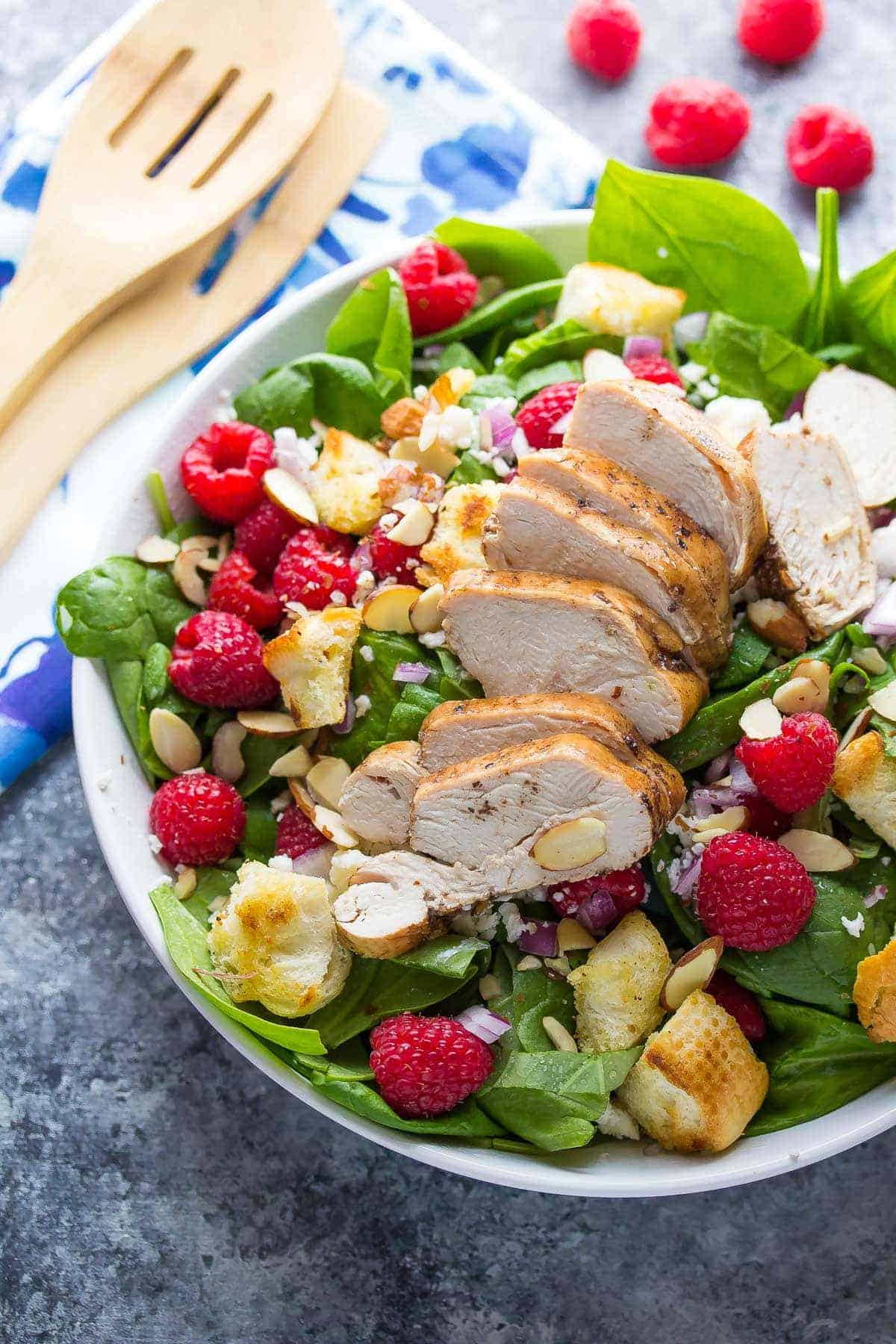 Also…the raspberry bonanza continues.
After I made these Swirled Raspberry Meringue Nests I just had raspberries on the brain, and now we have three raspberry recipes in a row!  I hope you're as OK with that as I am 😉
Today's recipe is the companion to Monday's Raspberry Basil Vinaigrette recipe.  If you missed that one, you should check it out!!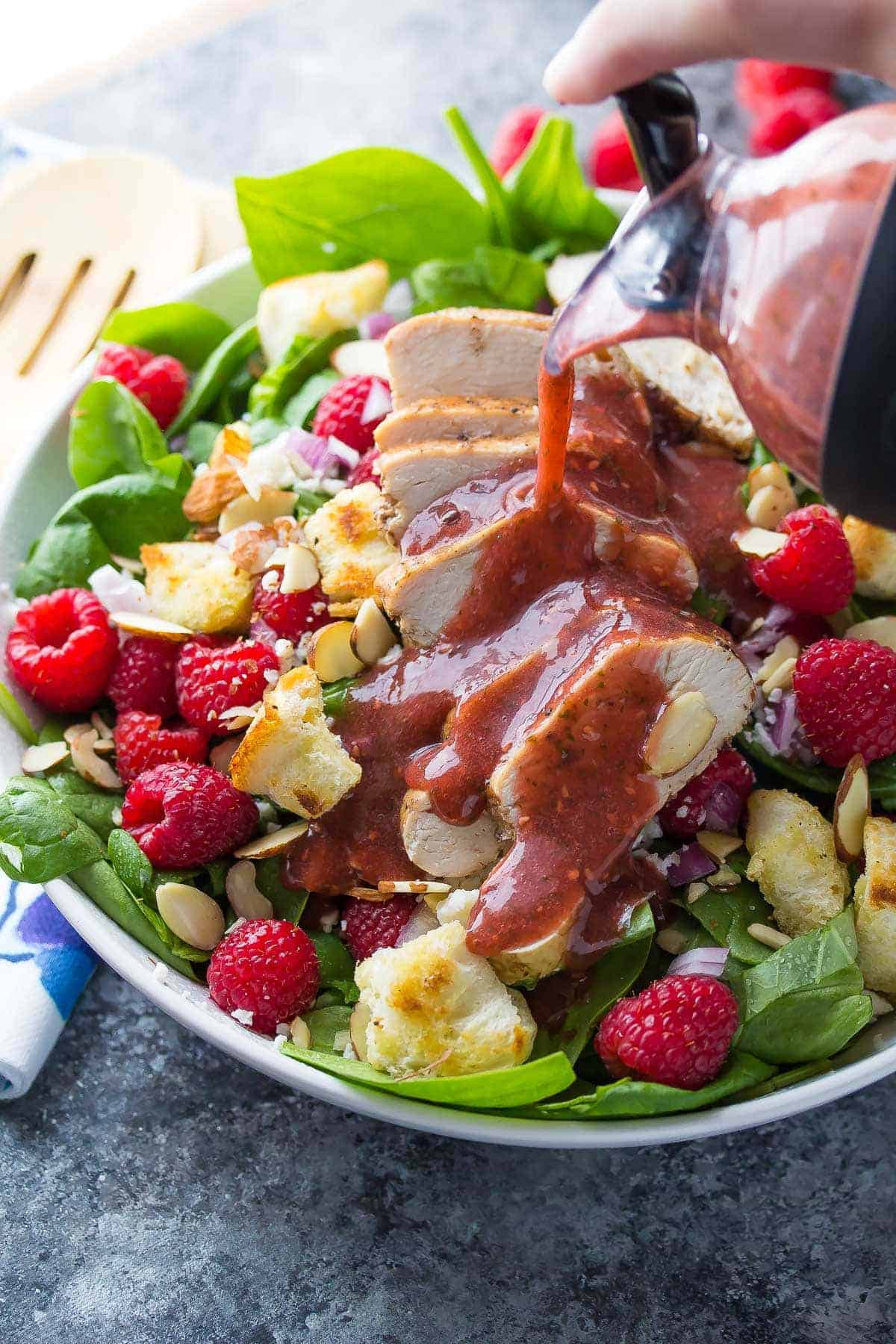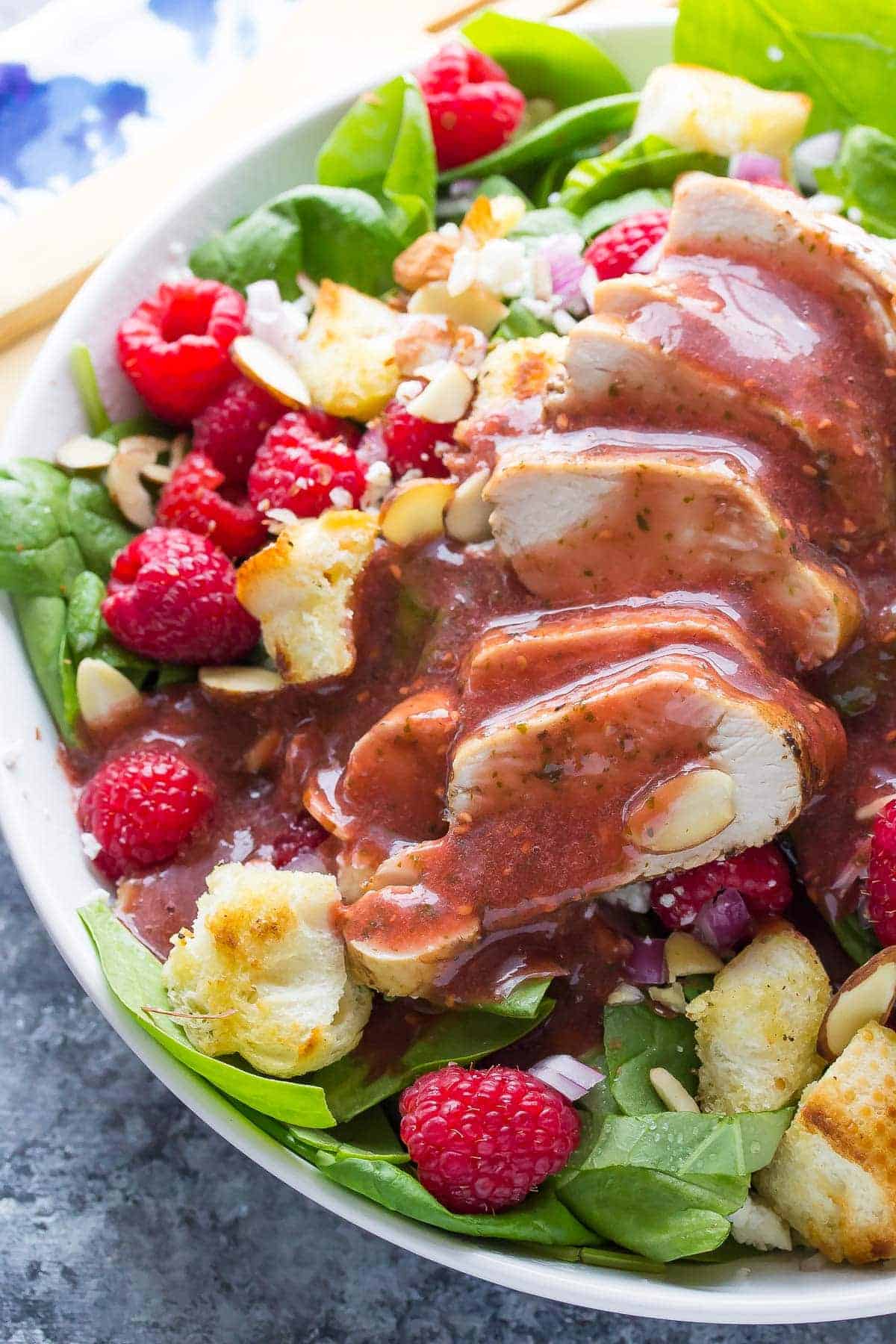 Here's the run-down on this salad: You're going to bake some chicken.  Lightly pan-fry some sourdough bread.  Toss together some feta, almonds, spinach, red onion and raspberries.  And drizzle it all in raspberry basil vinaigrette.
That's it.  So simple, so easy, so delicious!
It has an awesome variety of textures: creamy, crunchy, bread-y, and flavors: sweet, savory, tangy.  And it's good for you!
Happy Thursday!  What are your week-end plans?  I'll be in Salt Lake City at my first ever food blogging conference!  Follow along on snapchat to see all the food and fun!
Raspberry Spinach Panzanella Recipe with Chicken
Ingredients
Balsamic Chicken
2

chicken breasts

1

tablespoon

balsamic vinegar

1

tablespoon

olive oil

salt and pepper
Fried bread
2-4

tablespoons

olive oil

4

cups

sourdough bread

cut into 1-inch cubes

salt and pepper
Salad
8

cups

spinach

1/4

cup

red onion

diced

1/2

cup

feta cheese

2

cups

fresh raspberries

1/4

cup

sliced almonds

1/3

cup

basil leaves

loosely packed

1

batch of [url]raspberry basil vinaigrette∞http://wp.me/p3CvLa-2Ga[/url]
Instructions
Chicken:Preheat oven to 425°F.

Line a baking dish with foil. Place the balsamic vinegar, olive oil and chicken in the dish, turning to coat the chicken. Season with salt and pepper.

Bake the chicken for 10 minutes, then flip and bake for another 10 minutes (for small chicken breasts) or 15 minutes (for larger chicken breasts).

Allow chicken to rest for 5-10 minutes before slicing into strips.

Fried breadHeat olive oil in a large non-stick pan over medium heat.

Toss the bread to coat in the olive oil, adding more as needed. You want a light coating.

Season with salt and pepper, and cook over medium heat (stirring occasionally) for 5 minutes or until golden and slightly crunchy.

SaladToss all ingredients together with raspberry basil vinaigrette.
Recipe Notes
Nutritional Information: (without dressing)
Calories 363 // Fat 16 g // Saturated Fat 4 g // Cholesterol 52 mg // Sodium 402 mg // Carbohydrate 12 g // Fiber 6 g // Sugars 4 g // Protein 19 g
Nutrition Facts
Raspberry Spinach Panzanella Recipe with Chicken
Amount Per Serving
Calories 363
Calories from Fat 144
% Daily Value*
Total Fat 16g 25%
Cholesterol 52mg 17%
Sodium 402mg 17%
Total Carbohydrates 12g 4%
Protein 19g 38%
* Percent Daily Values are based on a 2000 calorie diet.