This 5 minute red wine vinaigrette is a staple in our house. Easy to prep with four simple pantry ingredients, ready in 5 minutes, and adds so much flavor to your salad!
Salad is just not salad without a good vinaigrette, and if you ask me, homemade is 1000 times better than store bought. From balsamic vinaigrette to cilantro lime vinaigrette to this red wine vinaigrette, you can add so many different flavors to your salad thanks to a few simple ingredients!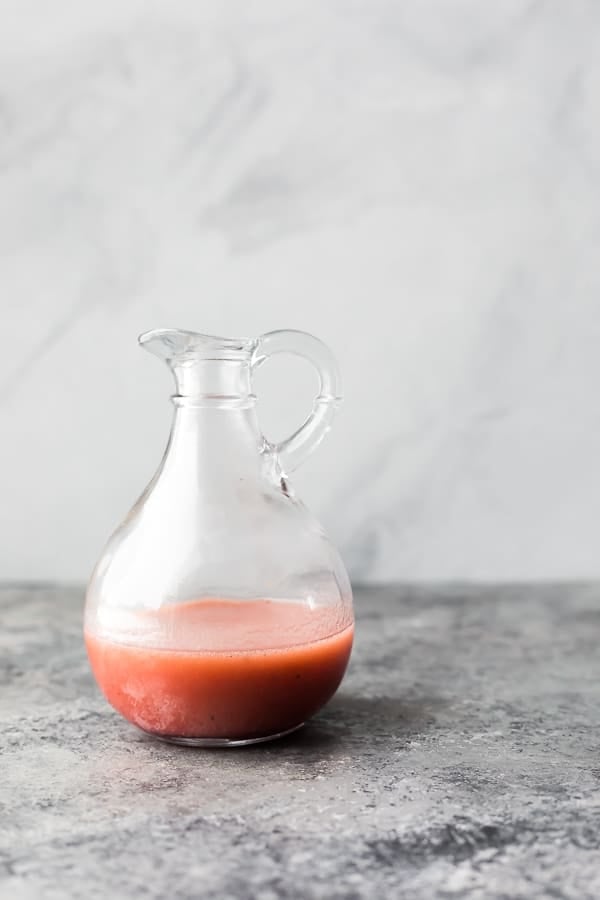 This classic red wine vinaigrette is my go to for pasta salad, but really, it's so versatile it works well on almost any salad!
Made with four simple ingredients that you probably have in your pantry right now, this vinaigrette is ready in just 5 minutes.
It also tastes so much better than store-bought dressing: it's tangy and a little bit sweet, and there are a variety of ways you can level it up with various spices and other add ins.
Why you'll ♡ this red wine vinaigrette
it's ready in 5 minutes or less using simple pantry ingredients
you can make it up to 2 weeks ahead
you can adjust the vinegar to make it more or less tangy
Don't forget to pin this recipe to save it for later!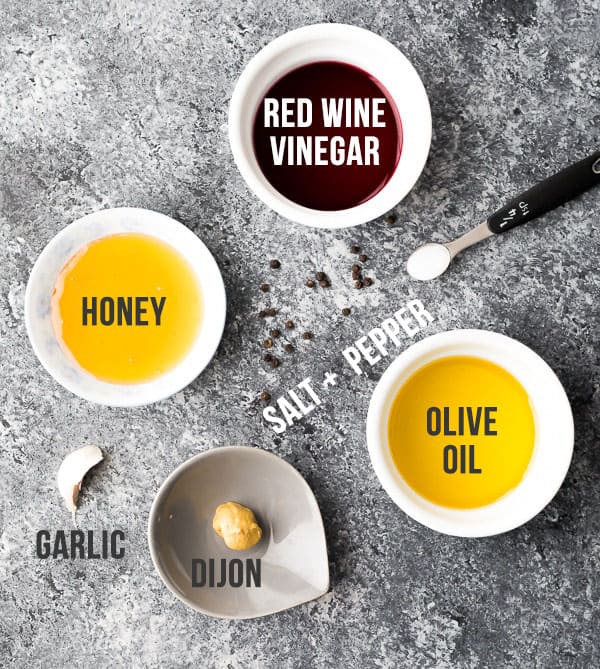 Four simple ingredients
Red wine vinegar- I have just opted for whatever is available in the grocery store aisle, but you can get a whole lot fancier than that. Here's a great review from Cook's Illustrated of the best red wine vinegars.
Olive oil- I go for a quality olive oil in my vinaigrettes by using extra virgin olive oil.
Dijon- while I'm not a fan of mustard, it is a key ingredient in my vinaigrettes. Not only does it add some depth of flavor, but it helps to keep the oil and vinegar from immediately separating (though they do over time).
Maple syrup or honey- I use these sweeteners interchangeably in my vinaigrettes without noticing a huge change in flavor. Adding a bit of sweetener helps tame the tanginess in this red wine vinaigrette and adds another layer of flavor. I don't recommend skipping it!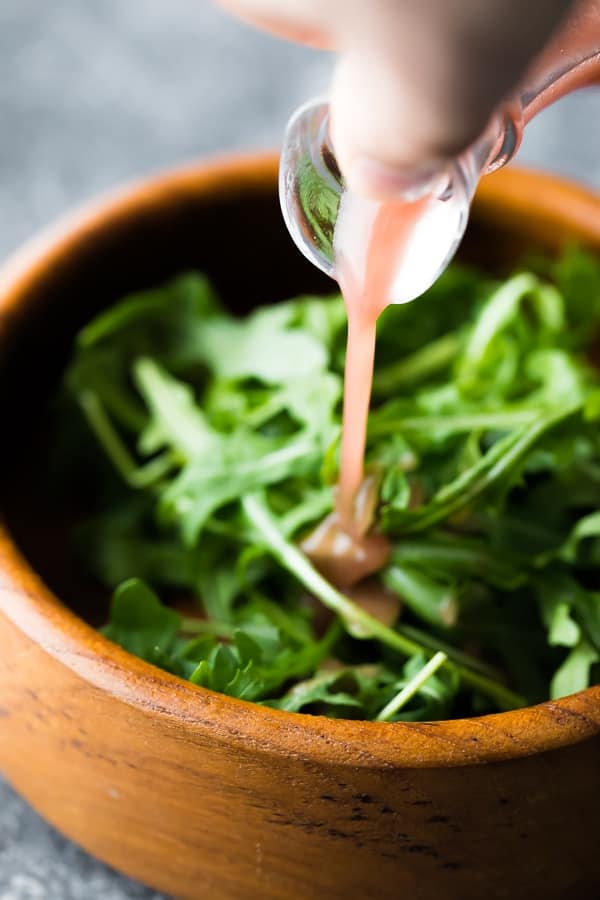 The ratio
Traditional red wine vinaigrette recipes use a 1:3 ratio of oil: vinegar. It comes down to taste preference, and I welcome you to play around with this ratio to get a tangier vinaigrette.
for pasta salad- I like to use a 1:1 ratio of oil: vinegar to really taste all the flavors on the pasta noodles
for leafy salads- I like to use a 1:2 ratio of oil: vinegar as it is too tangy at 1:1
It is easy to make a stronger vinaigrette at 1:1, taste it on the salad, and then add more oil if you find it too tangy.
Storage
Homemade vinaigrettes are easy to prep ahead. You can shake this recipe up ahead of time and store in the fridge for up to 2 weeks.
If you plan to add any fresh garlic or fresh herbs, you will want to use within 7 days.
Vinaigrette should be stored in the fridge, and will separate over time. Give it a quick shake up before serving and you are good to go!
The Salad
You can use red wine vinegar dressing on any salad. Here are my favorites:
Variations
Consider this to be a base recipe with endless possibilities. Here are some ways to level up your dressing:
garlic- adding a clove or two of minced garlic adds even more depth of flavor
Italian seasonings- like basil and oregano would be great for a greek salad. Start with ½ teaspoon.
dill- add 1-2 teaspoons of dried dill
feta cheese- the salty flavors go so well with the tangy flavors of this vinaigrette
parmesan cheese- try 2 tablespoons and add more as desired.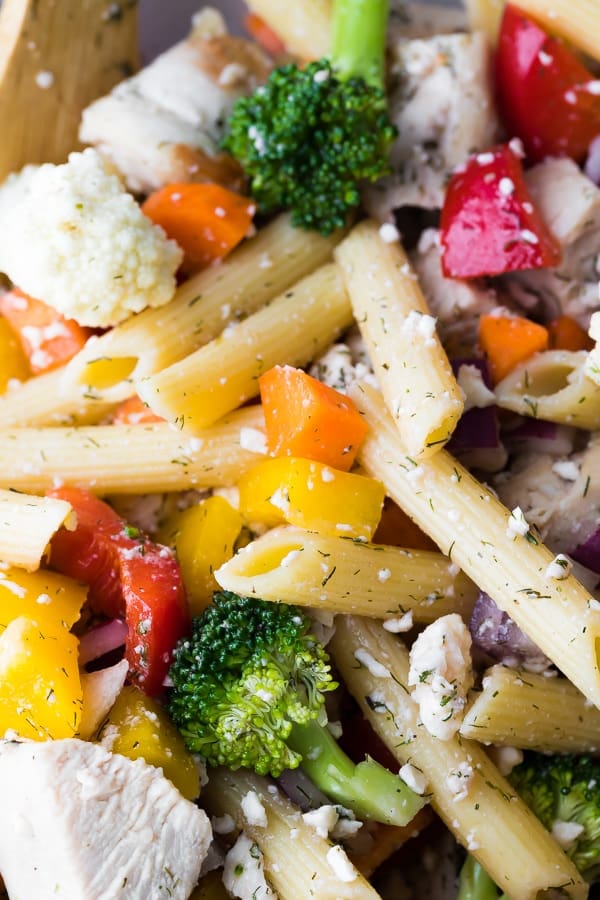 More Vinaigrettes