These swirled raspberry meringue nests are topped with whipped cream and fresh berries, and are only 120 calories each! The perfect lighter treat for the summer.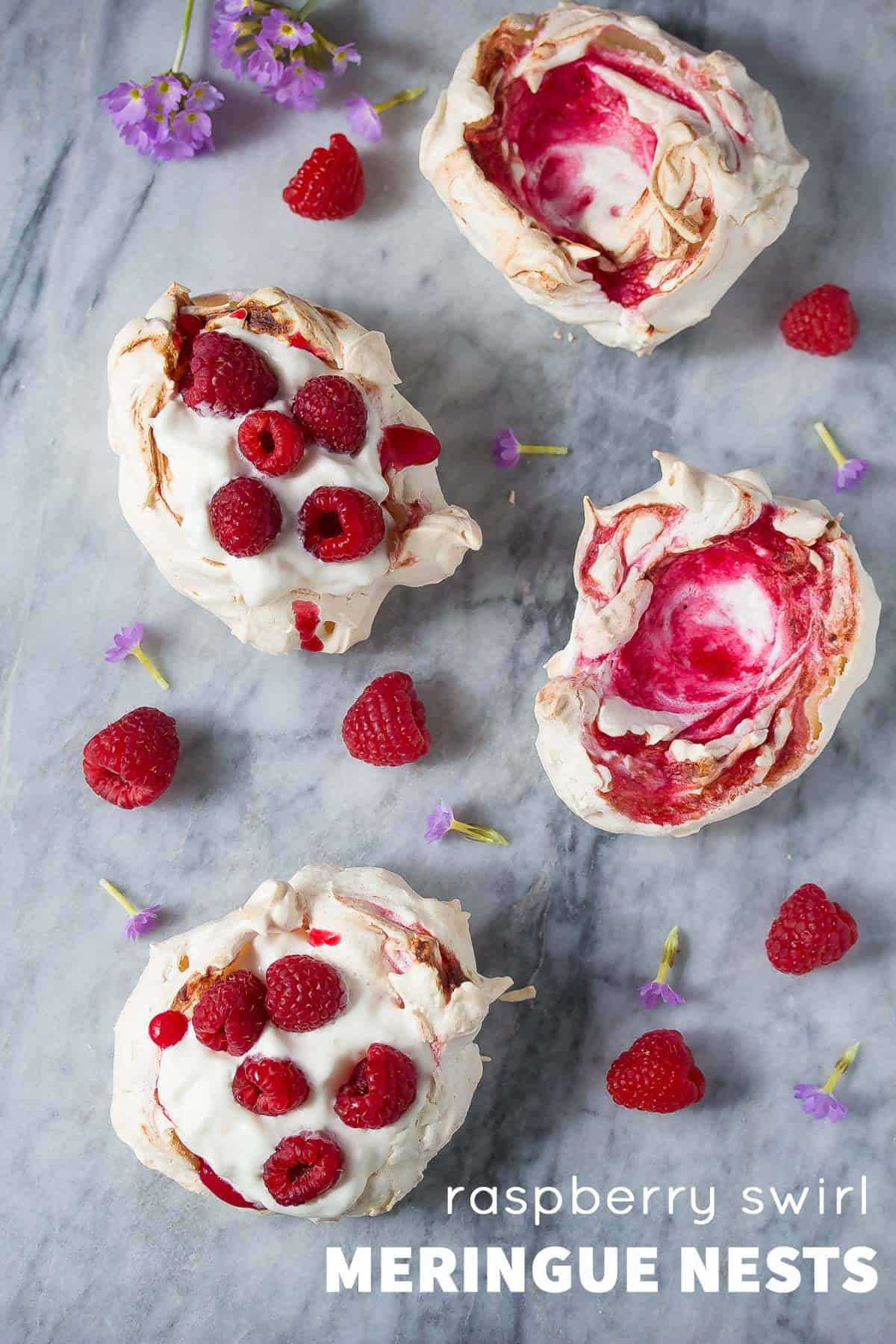 If there's one thing I look forward to every summer, it has to be raspberries!
There is just nothing that beats that tart-but-sweet raspberry flavor. As a kid, we grew raspberries in our backyard, and we'd just head on back and pop them into our mouths. I looked forward to it every summer!
Sadly we don't have any raspberry bushes in our current house, but that doesn't mean we have to miss out on raspberries. In fact, we buy raspberries year-round. They are one of Kai's favorite foods. When we need to get our picky eater to eat something healthy, we play 'finger hats' with raspberries. It's pretty self-explanatory. Raspberries on fingers= finger hats. Or raspberry berets? 😉
That's why I'm SUPER excited about today's post. Because A) raspberries, B) meringues, and C) they are secretly healthy!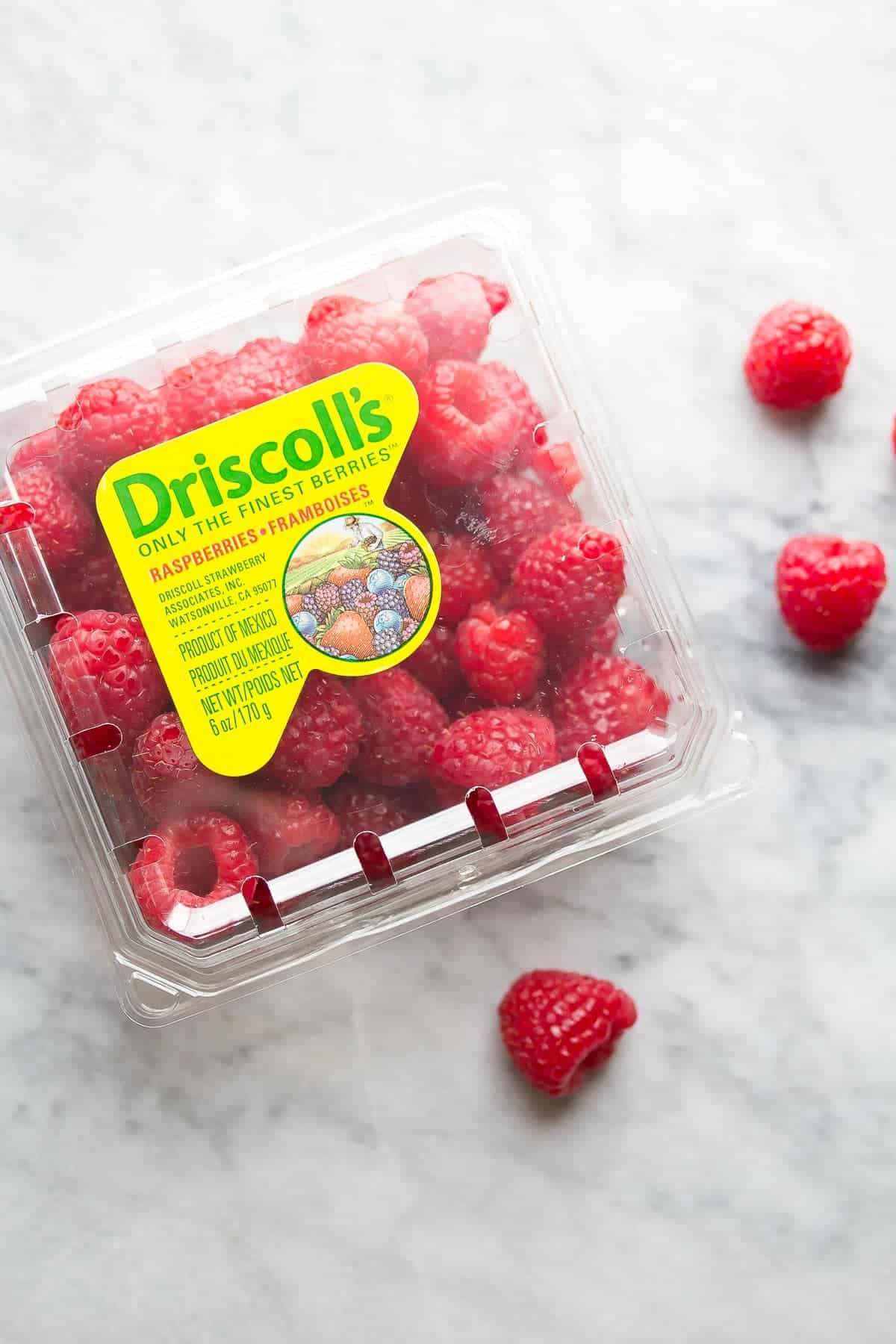 Today's post is in partnership with Driscoll's, whom I know I can always count on for perfect juicy berries with the best flavor. To learn the secrets behind Driscoll's ability to produce such beautiful raspberries for over 30 years, head on over here!
And guess what? Driscoll's is giving YOU the chance to win $100 in berries! Head over here to enter (US & Canada).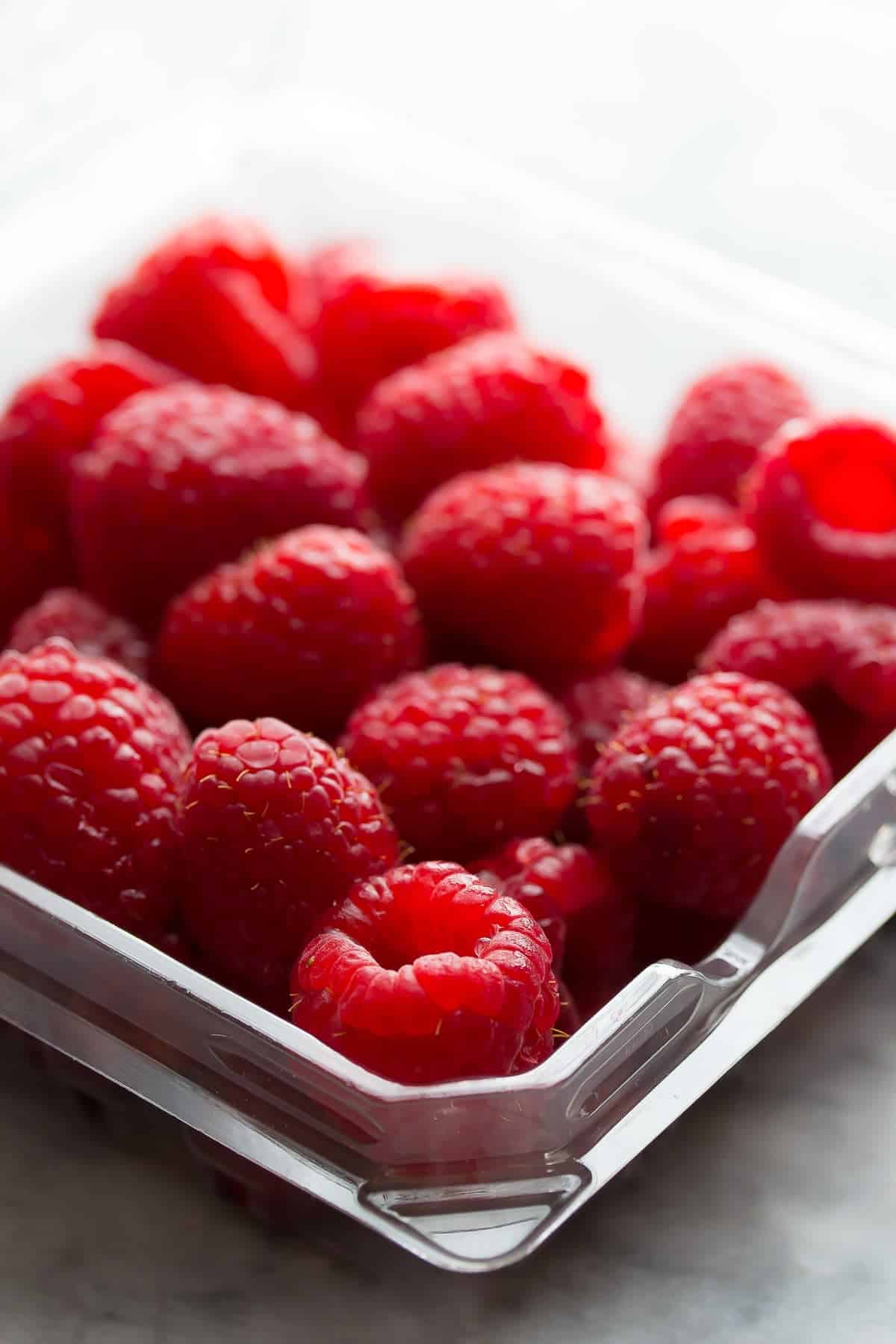 Just look at those raspberries! Don't you just want to pop one in your mouth?
For today's recipe I was partly inspired by a pavlova, and partly inspired by these Lemon Meringue Pie Bites. I wanted to create personal-sized meringues in the shape of a nest, and with a double-dose of raspberries: swirled into the meringues and served on top with whipped cream.
These raspberry meringue nests turned out even better (and prettier) than I'd imagined! You definitely get some tart raspberry flavor from the meringues alone, but when topped with the whipped cream and fresh raspberries, they are over-the-top-delicious!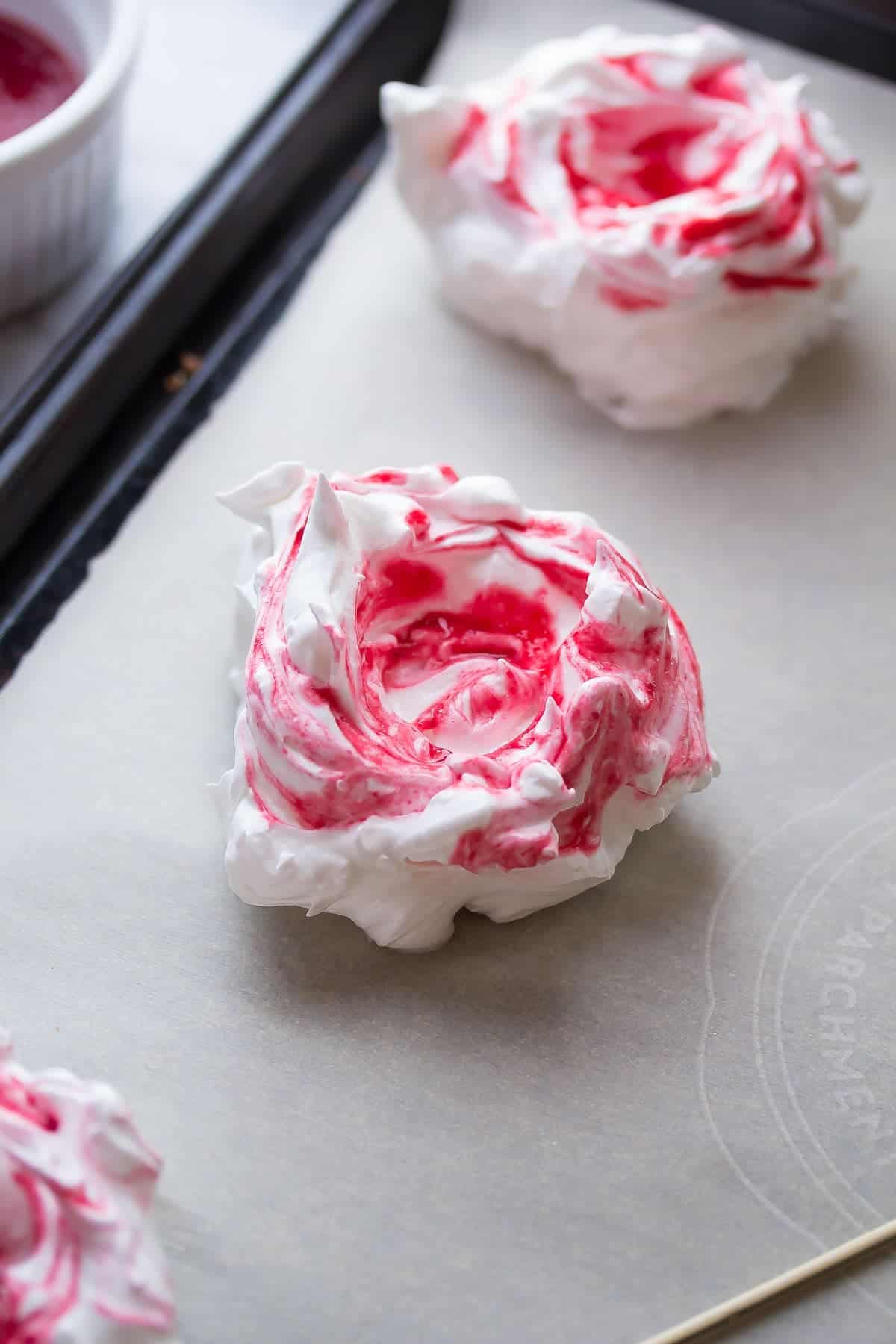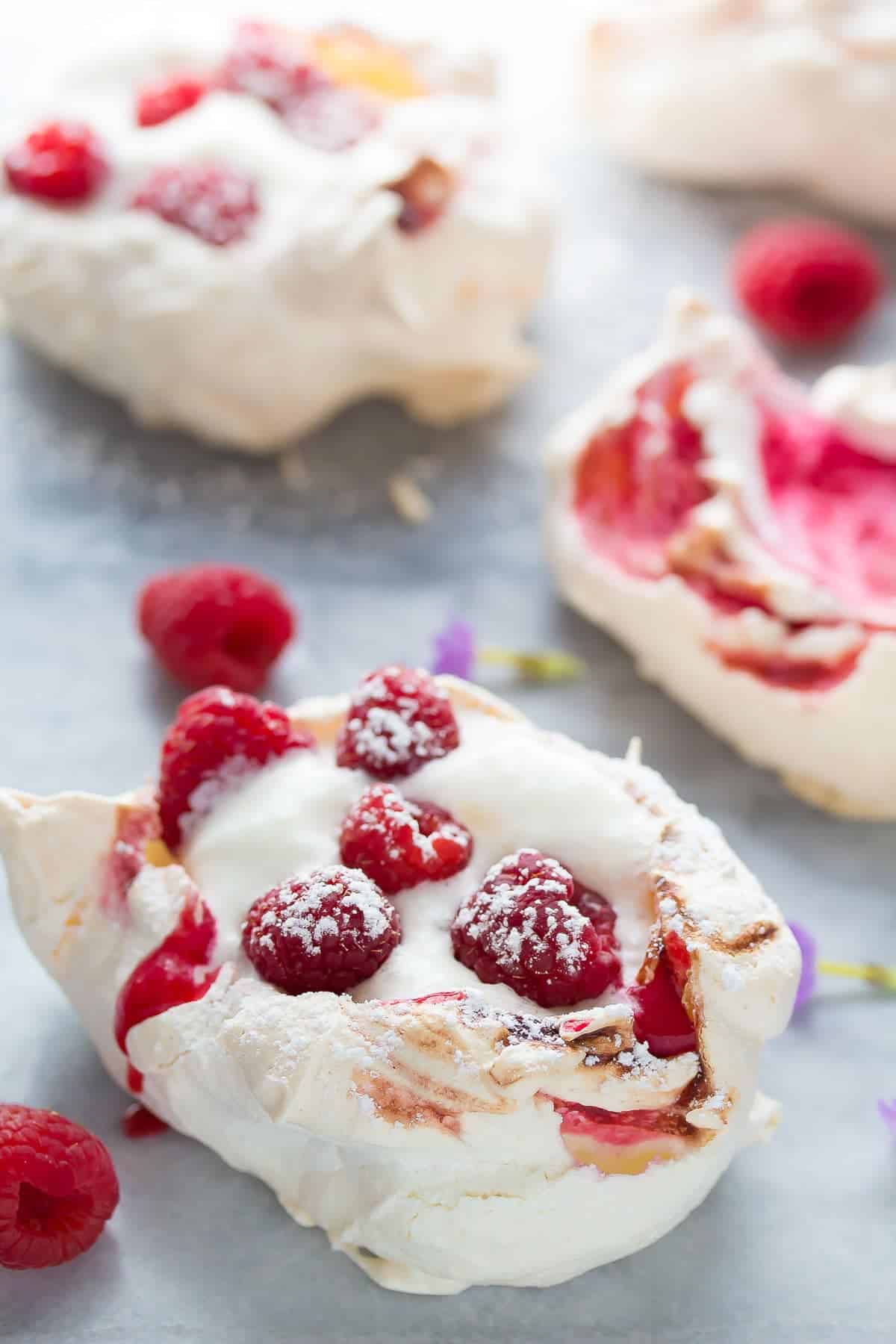 These raspberry swirl meringues have my favorite meringue texture (I'm such a texture eater!!)  They are crispy on the outside, yet soft on the inside.
Not only are they delicious, but they are actually a lighter dessert option. Each meringue nest, including whipped cream and fresh raspberries comes in at only 120 calories. That means you can truly enjoy every bite of this dessert, guilt-free!
And if the awesome flavor + light factor doesn't do it for you, maybe this will: they can be made ahead of time. So you don't have to scramble for the perfect party dessert. Just pre-bake your meringue nests, pull them out when you're ready to serve and top them with whipped cream and fresh berries….you are good to go!
Happy Thursday, friends! Come back and see me on Saturday, I've rounded up a whole bunch of easy vegetarian dinners for us!
For more delicious raspberry dessert recipes, check out Driscoll's website!
Disclaimer: thank-you to Driscoll's for sponsoring this post! And thank-you for supporting the brands that I love. As always, all opinions remain my own.
Swirled Raspberry Meringue Nests
These swirled raspberry meringue nests are topped with whipped cream and fresh berries, and are only 120 calories each! The perfect lighter treat for the summer.
Ingredients
Raspberry Swirl Meringues
4

large egg whites at room temperature

1/2

teaspoon

cream of tartar

1

cup

granulated sugar

1/2

cup

Driscoll's Raspberries
Toppings:
1

package

6 ounces or 1 1/4 cups Driscoll's Raspberries

Whipped cream

Powdered sugar
Instructions
Heat oven to 300°F.

Line two large baking sheets with parchment paper and set aside.

Beat the egg whites on high for 3-5 minutes, until soft peaks appear (peaks sink back into the bowl when lifted with a spoon).

Add the cream of tartar and beat for 3-5 more minutes, until stiff peaks appear (peaks do not sink back into the bowl).

Continue beating, and begin adding the sugar by the tablespoon, every minute or so. Scrape down the sides of the bowl with a spatula and beat until the sugar is dissolved and it is light and fluffy.

Press the raspberries agains a mesh sieve, collecting the juices in a bowl. You should get at least 2 tablespoons of raspberry juice. *Important* make sure the raspberries aren't wet when you do this, as they will be too watery for the next step.

Scoop spoonfuls of ½ cup or so and mound onto the parchment-lined baking sheets. Using the back of a spoon, swirl gently, then place the back of the spoon in the middle of the mound and press gently to make a 'nest'.

Drizzle a small spoonful (1/2 teaspoon or so) over the meringues. Using a skewer or long toothpick, gently swirl the raspberry juice (without mis-shaping the nest)

Bake for 10 minutes, then turn the oven down to 250°F and bake for another 40 minutes. Turn the oven off and leave the door ajar. Cool for one hour in the oven.

Top with whipped cream, fresh raspberries and powdered sugar just prior to serving.
Notes
Nutritional Information: 1 meringue nest + 2 tablespoons whipped cream and 1/10 package of raspberries
Meringue nests keep for up to 3 days in a sealed container.
Nutrition
Serving:
1
meringue
|
Calories:
119
kcal
|
Carbohydrates:
23
g
|
Protein:
5
g
|
Fat:
1
g
|
Saturated Fat:
1
g
|
Cholesterol:
5
mg
|
Sodium:
67
mg
|
Fiber:
1
g
|
Sugar:
22
g
More fresh raspberry dessert recipes for us!