A buttery and brown sugary blackberry coffee cake with a cream cheese swirl layer. A touch of lime zest gives this cake the perfect flavor!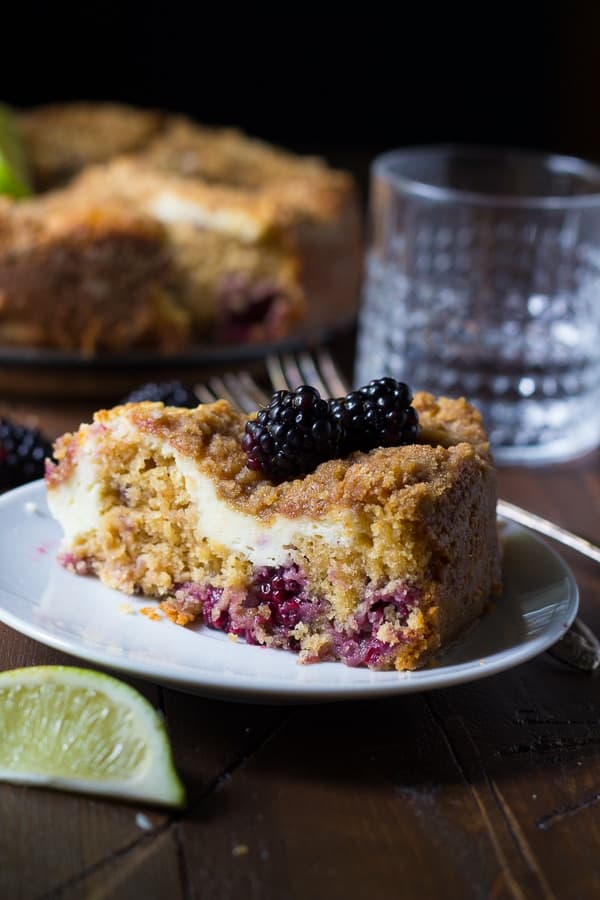 What a strange week…we had Wednesday off work for Canada Day, which makes Tuesday feel like Friday and Thursday feel like Monday…I'm so confused now!
Canada Day was pretty low key, Ben had to work, but when he arrived home there was a backyard feast waiting for him…tortilla chips and Smoky Sweet Potato Hummus (minus the spicy chipotle peppers for Mr. Kai), Tequila Turkey Sliders with Guacamole (minus the tequila for Kai), and this Grilled Corn & Barley Salad with Goat Cheese and Blueberries. Yum, yum yum! I just LOVE picnic food!
And now today is Friday…for real Friday (the best kind of Friday)! Unless you're American in which case you've already had your Thur-Friday and are enjoying your Fri-Saturday. OK I'm talking full-on gibberish now. I'll stop 😉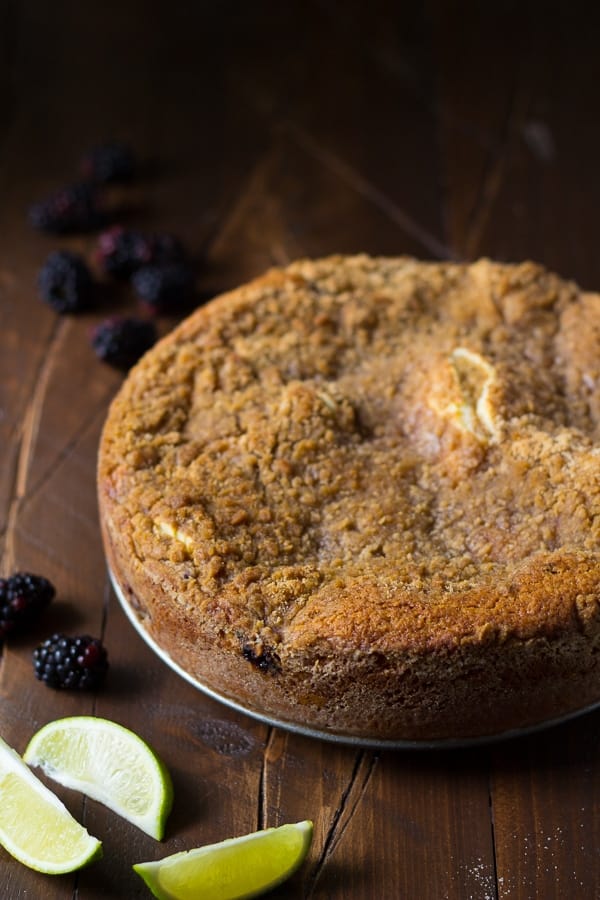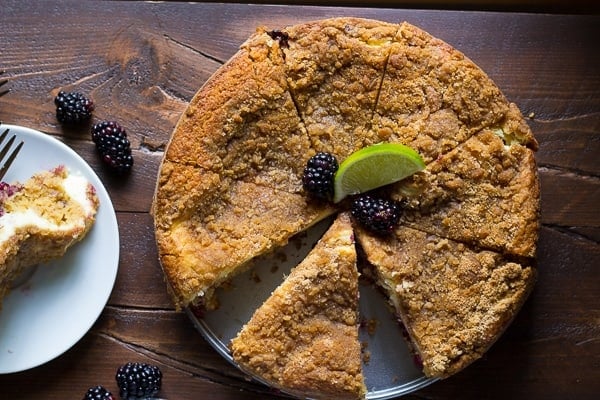 But maybe I should tell you about this blackberry coffee cake? I have a thing for coffee cake. An obsession.
Maybe I think it's more 'healthy' than those cakes with 1-inch of buttercream on top? So that means I can have just another sliver, and another, and another, until I notice:  half the cake has mysteriously vanished! What the…
Maybe it's the buttery, brown sugary flavors of the cake. It probably has something to do with the crumbly topping. And in this case, it definitely has to do with the perfect combination of fresh blackberries, a hint of lime zest, and a big old cream cheese swirl. Holy yum.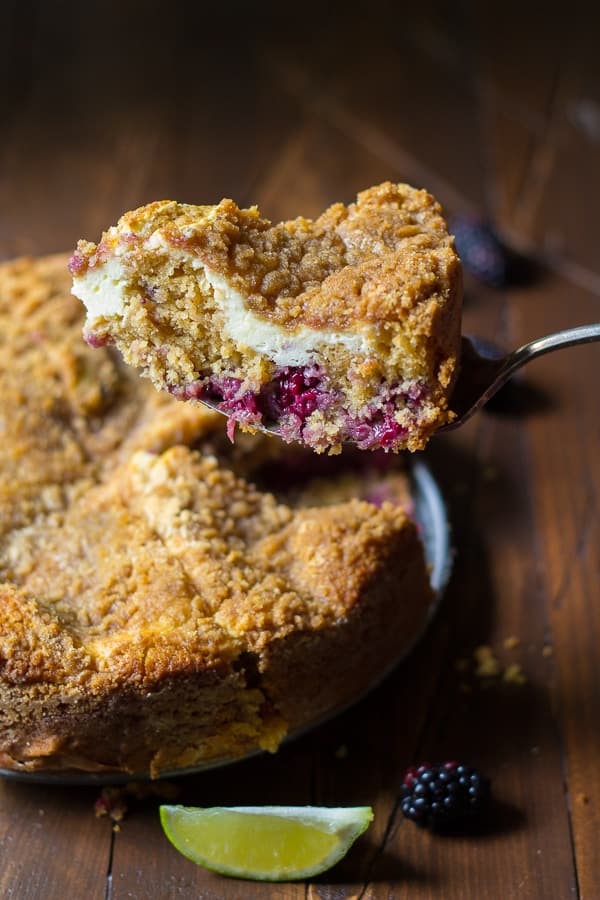 Maybe you haven't noticed, but I'm not really a fussy dessert kind of girl. I really need to get a good birthday cake recipe, because every time I attempt a layer cake, disaster! I get anxiety, can't get those layers lined up, the frosting doesn't stick, there are crumbs everywhere. Oh my goodness, Kai's first birthday cake was the ugliest thing, ever.
So I'll stick to my anxiety-free coffee cakes or loaf cakes, thank-you very much. This blackberry coffee cake was a super easy, stress-free cake for me to bake!
Wherever you may be, happy Fri-Saturday or Tues-Friday…or just Friday. How about Happy Friday. Fri-YAY!
Cream Cheese Swirl Blackberry Coffee Cake
A buttery and brown sugary blackberry coffee cake with a cream cheese swirl layer. A touch of lime zest gives this cake the perfect flavor!
Ingredients
1 1/2

cups

all purpose flour

188g plus 1/4 cup (31g) extra, for pan

1/2

teaspoon

salt

2 1/2

teaspoons

baking powder

3/4

cup

packed brown sugar

2

tablespoons

lime zest

1/3

cup

butter

melted (75g)

1

egg

1/2

cup

milk

1

teaspoon

vanilla

1

pint

blackberries

roughly 2 1/2 cups
Cream Cheese Layer
1

block 8oz cream cheese

at room temperature

1

egg

2

tablespoons

sugar
Crumble Topping
1/2

cup

flour

1/2

cup

brown sugar

1/2

teaspoon

cinnamon

1/4

cup

butter
Instructions
Pre-heat oven to 375°F.

Spray a 9-inch round springform pan, then add ¼ cup all purpose flour. Pat the pan to coat with flour. Discard excess flour and set pan aside.

In a large bowl, combine the flour, salt, baking powder, brown sugar and lime zest.

In a microwave-safe dish, melt the butter. Allow to cool 3-5 minutes, then mix in the egg, milk and vanilla. Mix the wet ingredients into the dry ingredients, until completely combined.

Gently fold in the blackberries.

Scrape the batter into the prepared cake pan.
Prepare the Cream Cheese Layer:
In a medium bowl, beat the cream cheese until smooth. Add the egg and sugar, and mix until completely incorporated. Spread the cream cheese layer evenly over the coffee cake.
Prepare the Crumble Topping:
In a medium bowl, mix together the flour, brown sugar and cinnamon.

Cut the butter in using a fork or a pastry tool, until crumbly.

Sprinkle the topping evenly over the cake.

Bake the cake for 35-45 minutes, until a toothpick comes out cleanly. 40 minutes was perfect in my oven.

Allow to cool 15-20 minutes before removing cake from the pan and serving.
Notes
The cake is best served the day it is prepared, however it will keep for up to 3 days.
Products used in this recipe: