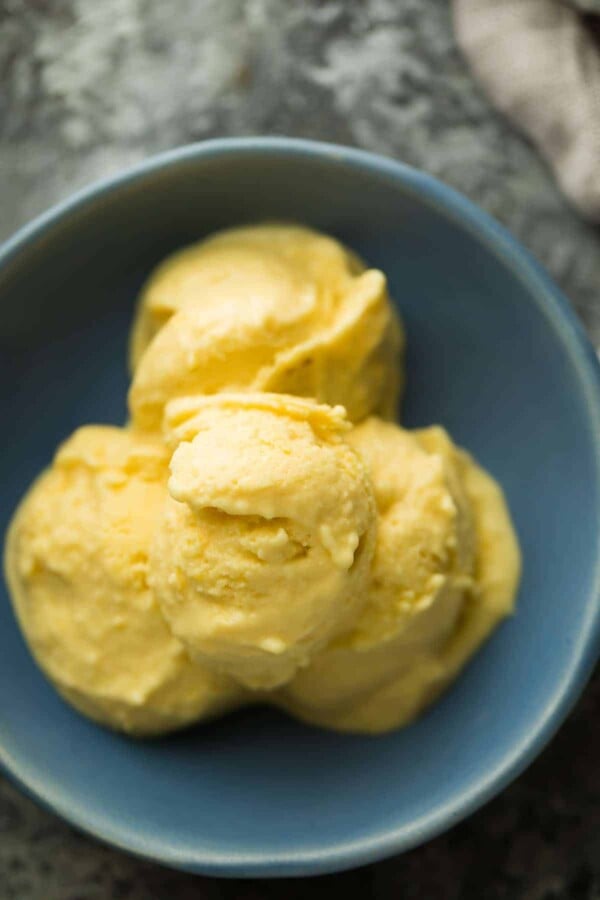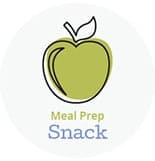 5 minute mango cheesecake frozen yogurt is a super fast treat to whip up with no refined sugars.  Store them in the freezer for an easy, healthy snack or dessert.
Summer is just around the corner and I have frozen treats on my mind.  Maybe because I'm pregnant and craving alllll the frozen desserts these days.
I'm trying to keep myself away from the Drumsticks and Blizzards and other ice cream treats and swap with healthier options instead.
Frozen yogurt is one of those 'healthier' treats, but sometimes, froyo is actually not so healthy.  Like when you go to Menchies and load it up with Skor and Crispy Crunch bits.  Oops.
So today, I thought it would be fun to make my own froyo, using real fruit and greek yogurt.  Tada!  Mango cheesecake frozen yogurt, ready in just 5 minutes and without an ice cream maker.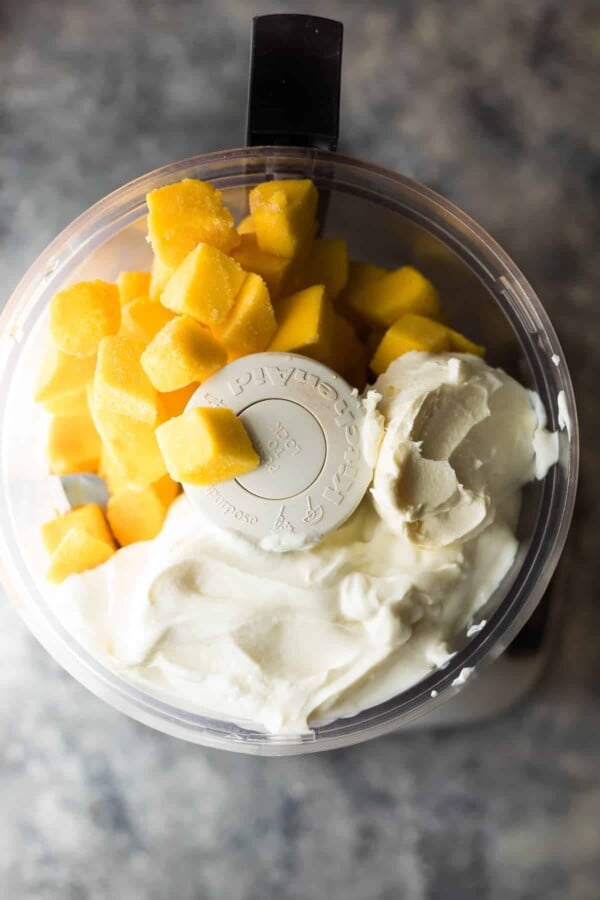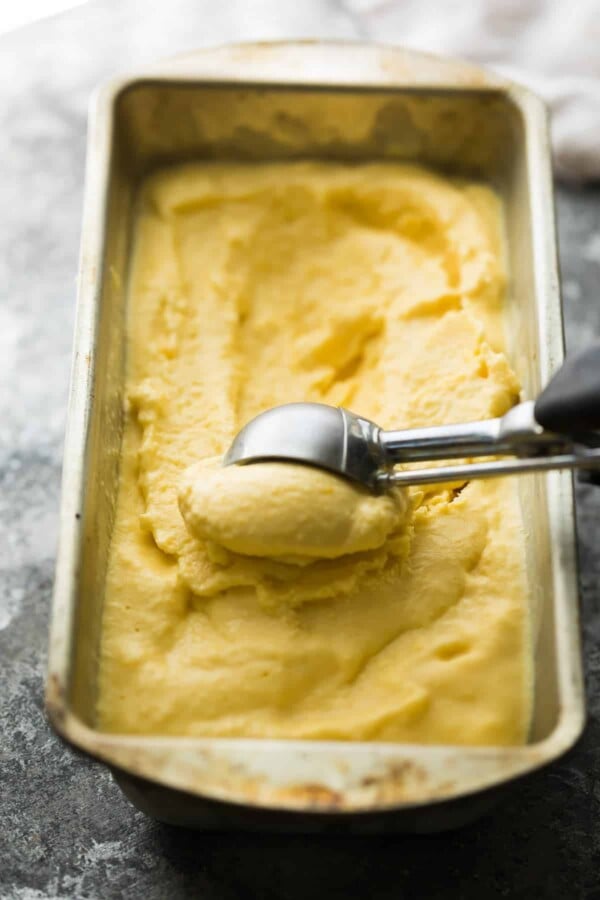 I was blown away with the flavor of this mango cheesecake frozen yogurt…sweet but not too sweet, and with a little tangy greek yogurt after-taste.
This frozen yogurt is amazing served right away, or even after a few hours in the freezer if you'd like it a bit firmer.
It's also great after a few days, however be warned that this frozen yogurt gets really firm in the freezer.  I found that thawing it on the counter for 15 minutes, followed by 15 seconds in the microwave does the trick for 3/4 cup jar portions.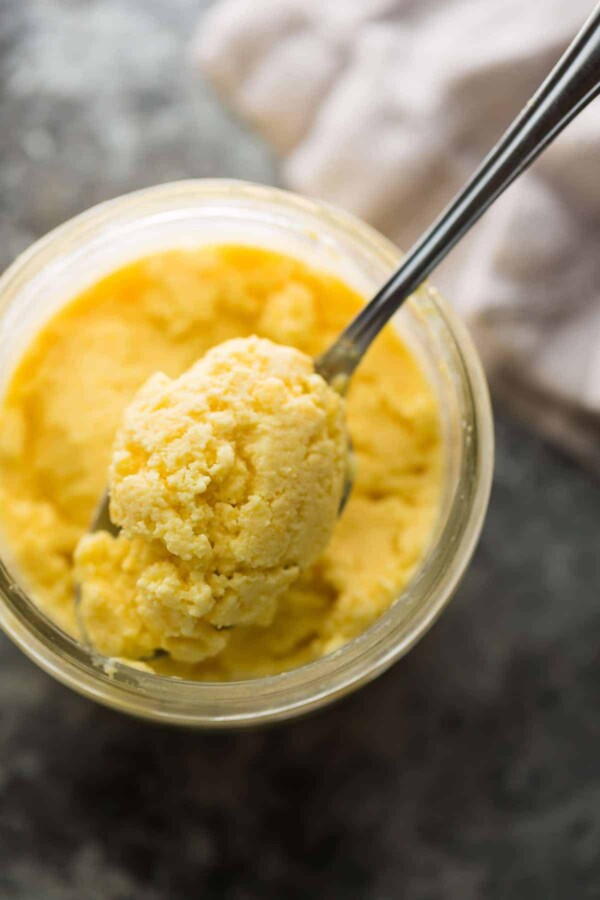 I definitely prefer keeping individual portions over a whole pan of this mango greek frozen yogurt, since it makes it faster and easier to soften back up, plus the portion control always helps too.
Tips for perfect mango cheesecake frozen yogurt:
you're going to need a food processor for this recipe, and I highly recommend this one
you can swap mango for any other frozen fruit, however I'd taste and add additional maple syrup if needed (because mango is a sweeter fruit)
looking for more healthy dessert ideas?  How about these Greek Yogurt Key Lime Cheesecakes or these Blueberry Mint Yogurt Pops
Mango Cheesecake Frozen Yogurt
6
adjust servings
Ingredients
3

cups frozen mango chunks

1 1/2

cups greek yogurt

1/2

cup light cream cheese

1 1/2

teaspoons vanilla

1 1/2

tablespoons maple syrup
Instructions
Combine all ingredients in a 7 cup food processor fitted with a steel blade and blend on high until smooth, 3-5 minutes.
Enjoy immediately, or portion out into 1 cup jars (3/4 cup per portion). Leave to freeze for several hours before putting on the lids.
Freeze for up to 3 months.
The frozen yogurt will be quite hard after removing from the freezer. Allow to sit at room temperature for 15-30 minutes, or warm in the microwave in 15 second increments, stirring in between, until softened.
Recipe Notes
Nutritional Information: (roughly ¾ cup; ⅙ of the batch)
Calories 141 // Fat 4 g // Saturated Fat 3 g // Cholesterol 16 mg // Sodium 122 mg // Carbohydrate 17 g // Fiber 1 g // Sugars 16 g // Protein 8 g