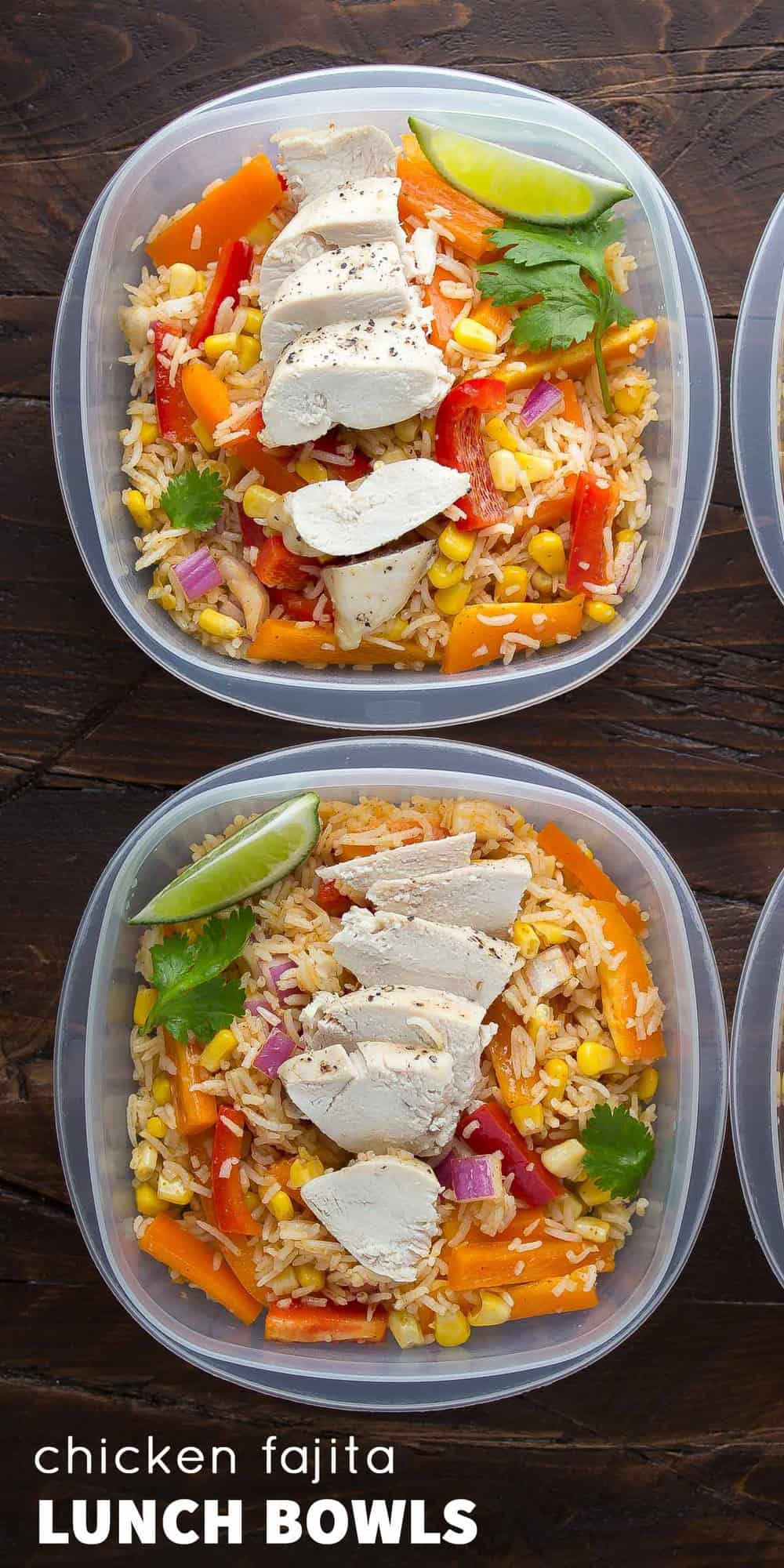 Make these meal prep chicken fajita lunch bowls and have your work lunches ready for a full week!  Packed with healthy vegetables and topped with baked chicken breast.
How are you doing?  How was your week-end?
I'm going to be completely honest here:  our week-end was FABULOUS.
It's not that anything particularly exciting happened, just that we pretty much spent the entire week-end outside!  Kai played in his new sandbox, I lounged on my deck chair, and Ben got the BBQ fired up.  FAB-U-LOUS.
I got more vitamin D and fresh air than I've had since last summer, and I feel so revitalized, and pumped up for more warm weather to come!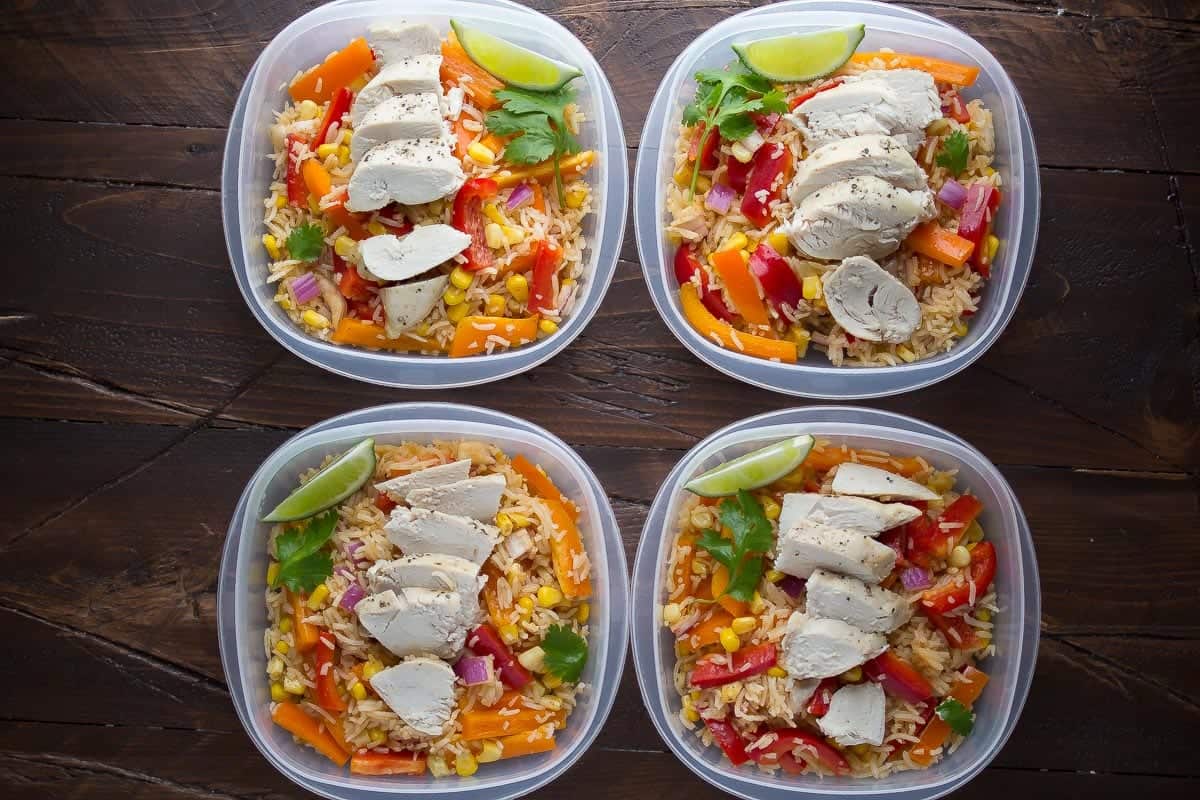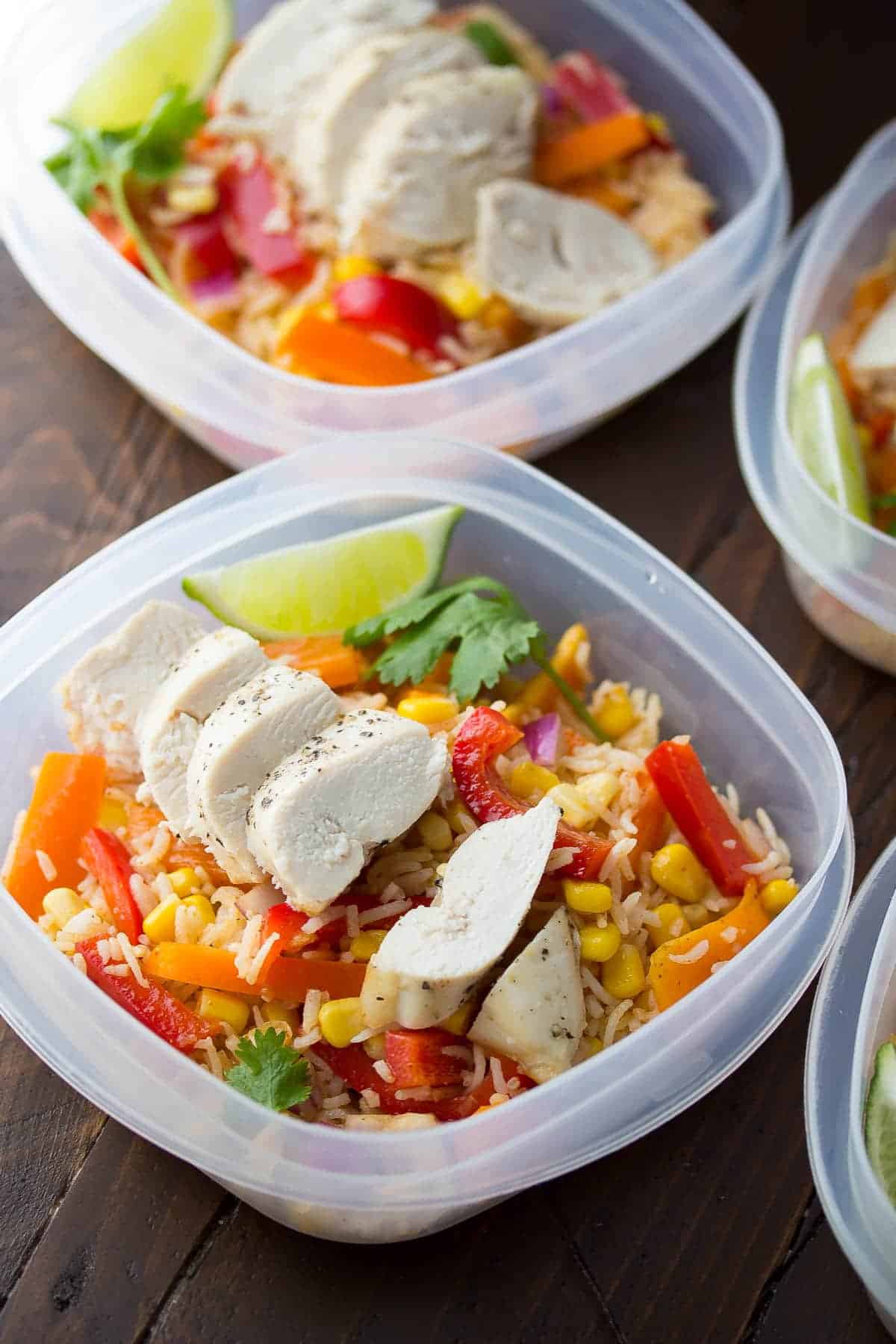 Fresh air and sunshine aside, I am also pretty pumped about these chicken fajita lunch bowls!
You guys know I am a huge fan of lunch bowls.  Evidence: this round-up, these Cauliflower Cashew Lunch Bowls, and these Peanut-Lime Chicken Lunch Bowls.
If you're like me in the morning (borderline useless), you just want to grab something and run out the door.  There is just something so nice about having your fridge stocked with lunches for the work week.
One less thing to worry about!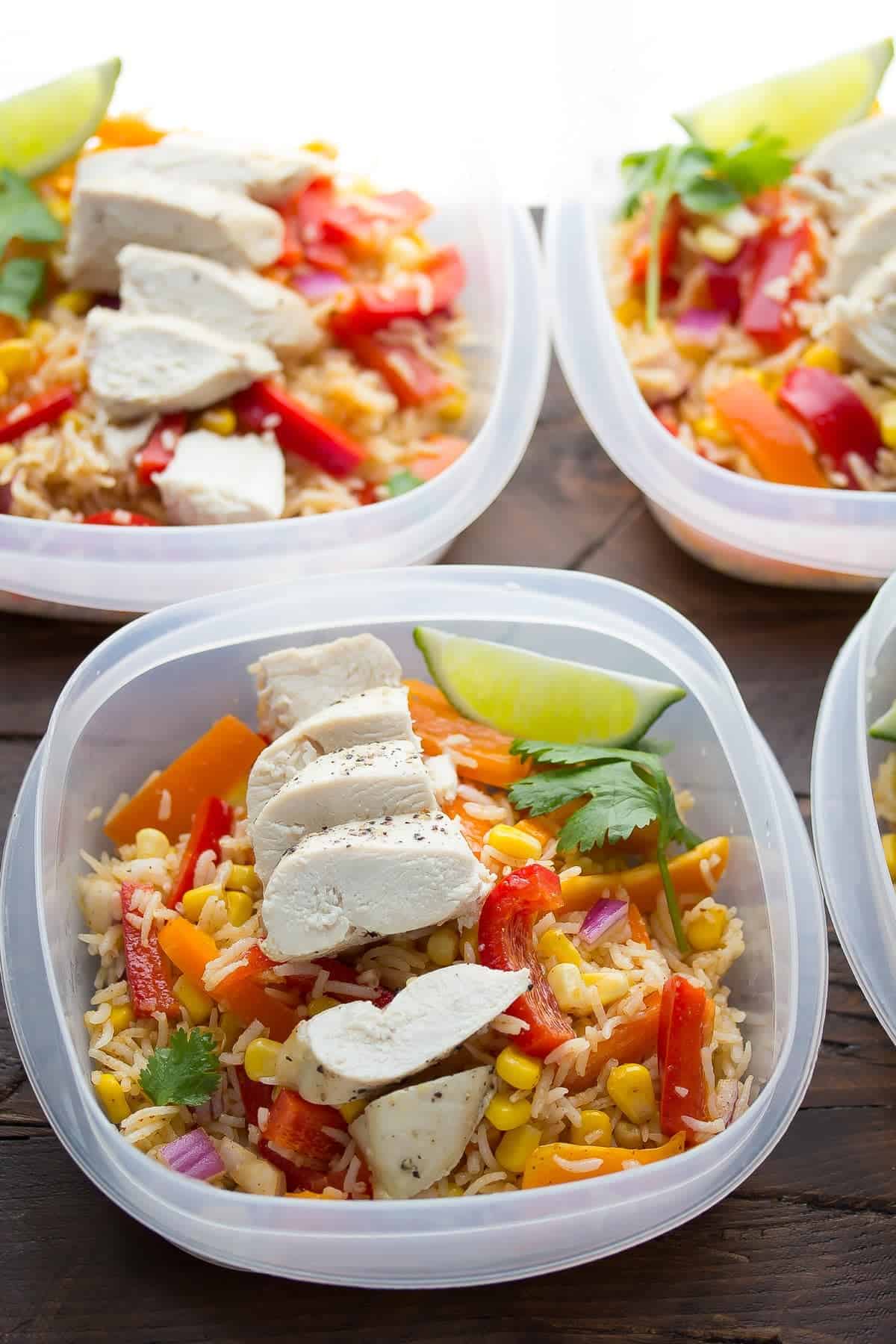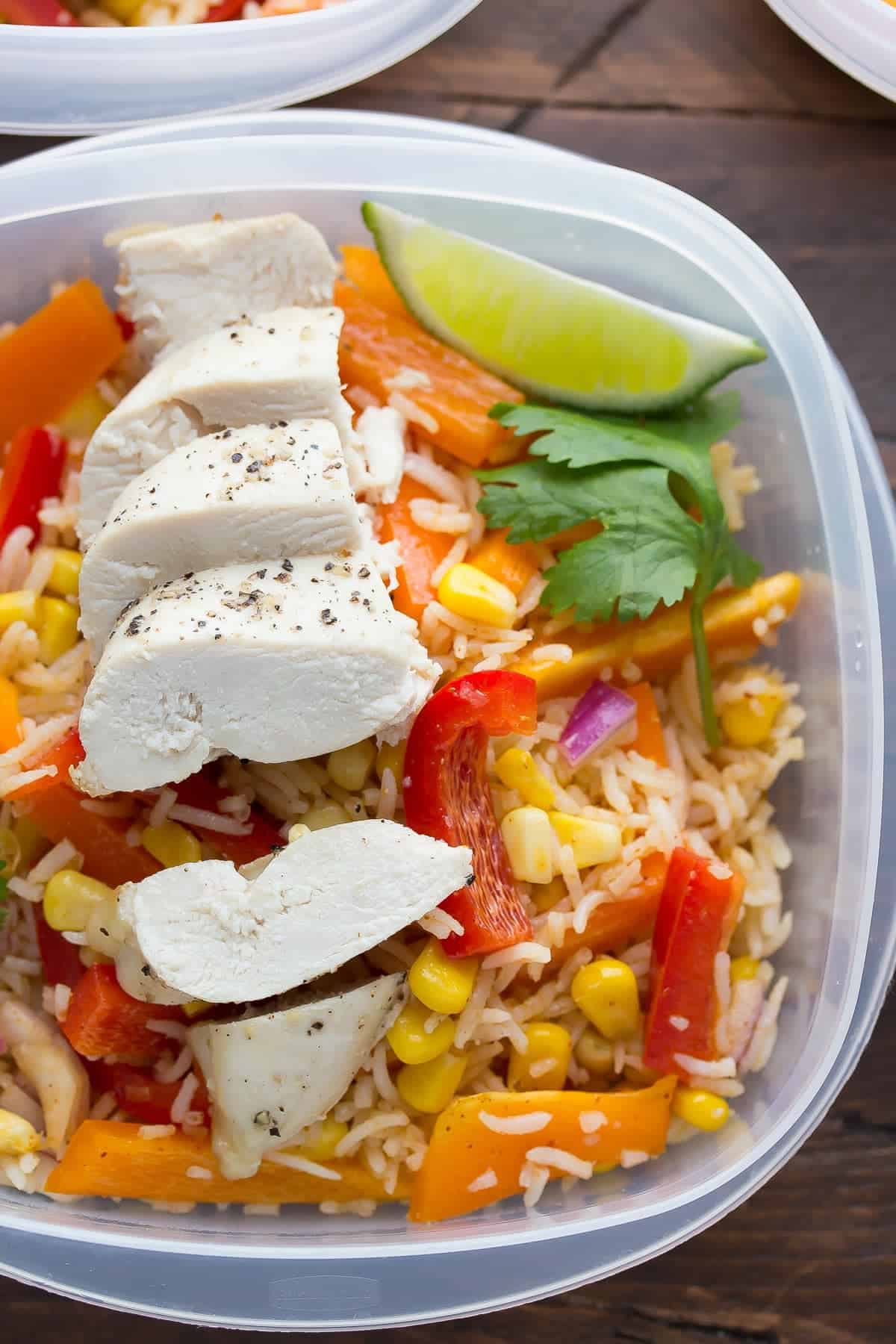 These chicken fajita lunch bowls are the same concept: prep them on the week-end, and they will keep for 4 days in the fridge.  5 days is kind of pushing it and plus if you bring your own lunch for 4 days, I think you deserve to buy yourself something on day 5 😉
This recipe combines basmati rice (feel free to sub your favorite rice) with lots of fresh bell peppers and corn kernels.  It is topped with baked chicken breast and tossed in a vinaigrette that is full of fajita flavor: chili powder, paprika and cumin.  And lime juice!
And the best part is that this salad will keep you full.  This is not a leafy, empty salad, it is packed with the good stuff 🙂
Happy Monday!  I'll be back on Thursday, which is 30 Minute Thursday for April!
(Make Ahead) Chicken Fajita Lunch Bowls
Make these lunch bowls ahead of time and have your work lunches ready for the week!
Ingredients
Chicken
2 chicken breasts
1 tablespoon olive oil
salt & pepper
Salad
3/4 cup basmati rice (uncooked)
2 bell peppers, sliced into strips
2 tablespoons red onion, diced
1 cup corn kernels
Vinaigrette
1 teaspoon chili powder
1/2 teaspoon paprika
1/2 teaspoon ground cumin
1 tablespoon sugar
1 tablespoon lime juice
1/4 teaspoon salt
3 tablespoons olive oil
3 tablespoons white wine vinegar
Directions
Chicken
Pre-heat oven to 425°F.
Place the chicken breasts in a small baking dish, sprinkle with salt and pepper, and drizzle with olive oil. Turn to coat.
Bake for 10 minutes, turn the chicken, then bake for another 10-15 minutes (depends on the size of your chicken breasts), until cooked through.
Allow to rest for 10 more minutes before slicing.
Lunch Bowls:
Cook the rice according to package directions. Allow to cool.
In a large bowl, combine the rice, bell peppers, red onion and corn.
Shake together the vinaigrette and add to the bowl. Toss to coat everything completely.
Divide amongst 4 lunch containers, topping with the chicken.
Refrigerate until you are ready to serve.
Recipe Notes
Nutritional Information:
Calories 479 // Fat 19 g // Saturated Fat 2 g // Cholesterol 0 mg // Sodium 180 mg // Carbohydrate 41 g // Fiber 2 g // Sugars 5 g // Protein 30 g
Dressing updated 09/16
Loading nutrition data...
Products used in this recipe:
More delicious work lunch ideas: