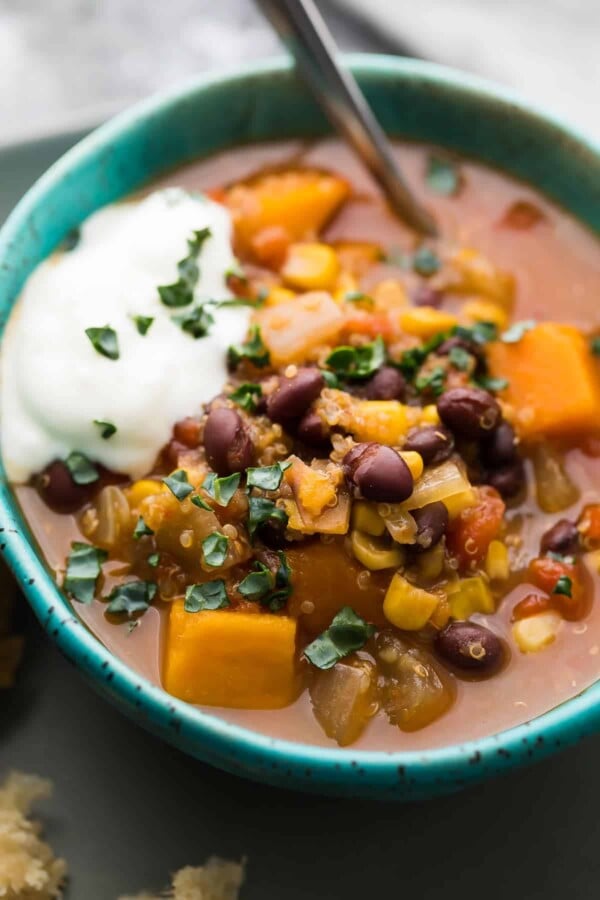 This hearty slow cooker black bean, quinoa and sweet potato stew can be assembled ahead and stashed in the freezer OR frozen after cooking it up. The perfect healthy and convenient weeknight dinner!
Freezer slow cooker meals have been an absolute lifesaver in this busy stage of life (aka: life with a newborn and a toddler!)
Not familiar with freezer slow cooker recipes? The concept is that you assemble all your ingredients ahead of time and freeze. When you're ready to cook? Thaw, dump in the slow cooker, push the button and walk away. No thinking required 😉
I've been adding more and more freezer slow cooker recipes to my site this year (and updating older recipes to have freezer instructions), and have found that though many recipes can be frozen ahead, the best ones are the no-cook ones…because then you can batch prep so much easier!
Today's slow cooker black bean, quinoa and sweet potato stew is a great no-cook recipe that has no weird ingredients, and more than likely uses pantry staples that you have on hand.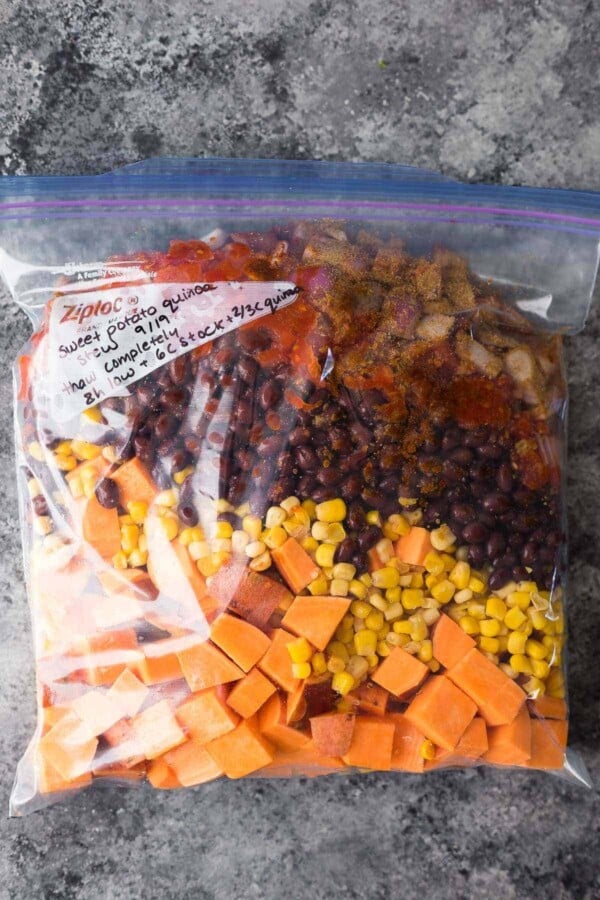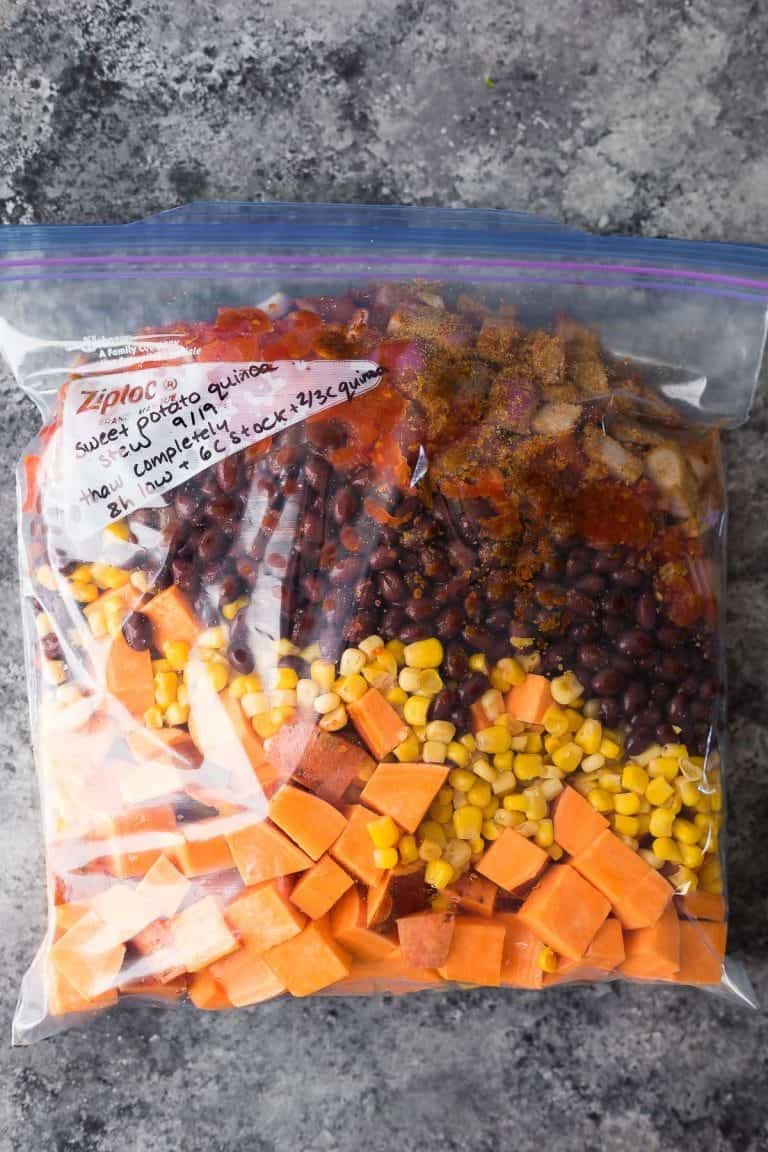 After spending some time stocking up on freezer slow cooker recipes, I have some useful tips for you.
#1: make sure you use good quality freezer bags. Nothing is more frustrating than having your bag leak. I use hese gallon-sized Ziplocs
and they work great.
#2: add your grains and cooking liquid on cook day. Notice how I left out the quinoa? I'll be adding that in on cook day so it doesn't end up mushy, along with the chicken stock. I do add things like diced tomatoes or tomato sauce prior to freezing but often adding stock will over-fill the bag.
#3: sweet potatoes may brown. I haven't found this to alter the taste or texture, though. If it bothers you, you can mash them into this stew after they are done cooking, or simply add them fresh on the day of cooking.
#4: LABEL. LOL! Put as much information as you can on the bags as you don't know who will be doing the actual cooking. For my recipes I always include the name, date, cook temp/time and how much liquid to add on cook day.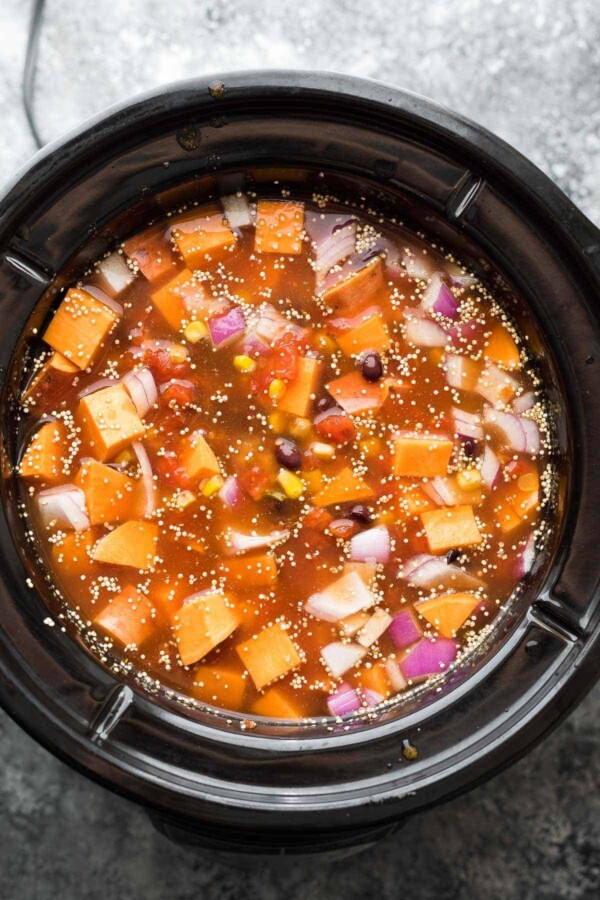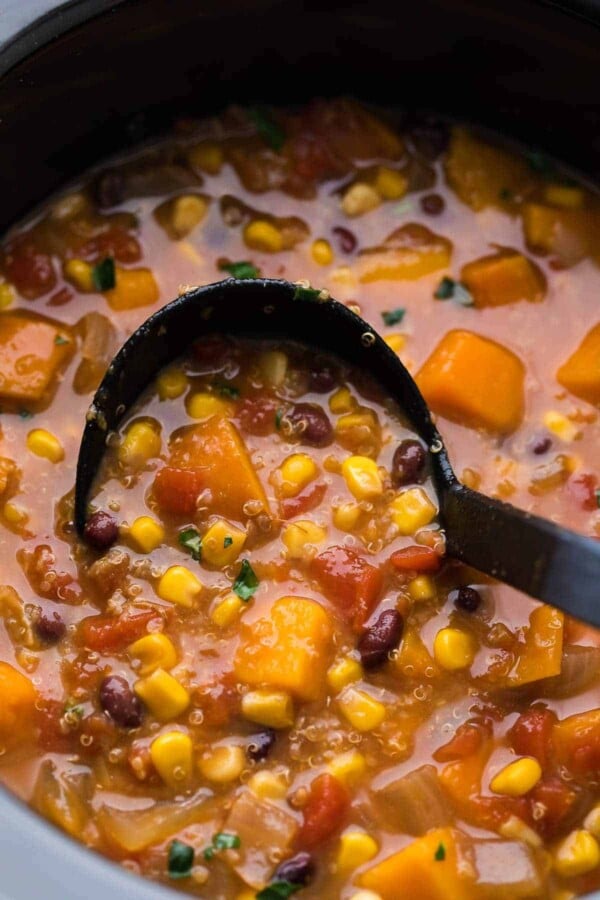 This slow cooker black bean, quinoa and sweet potato stew is a perfect option for a longer work day, as it cooks on low for 8 hours. In fact, I'm sure it would be fine for 10 hours, because even after 8 hours, our sweet potatoes were tender but not disintegrating.
As it cooks, the quinoa thickens the stew. If you don't want an ultra-thick stew like you see above, cut back on the quinoa.
Because quinoa contains protein as well as many nutrients, this stew is deceptively filling! It sneaks up on you, so be careful 😉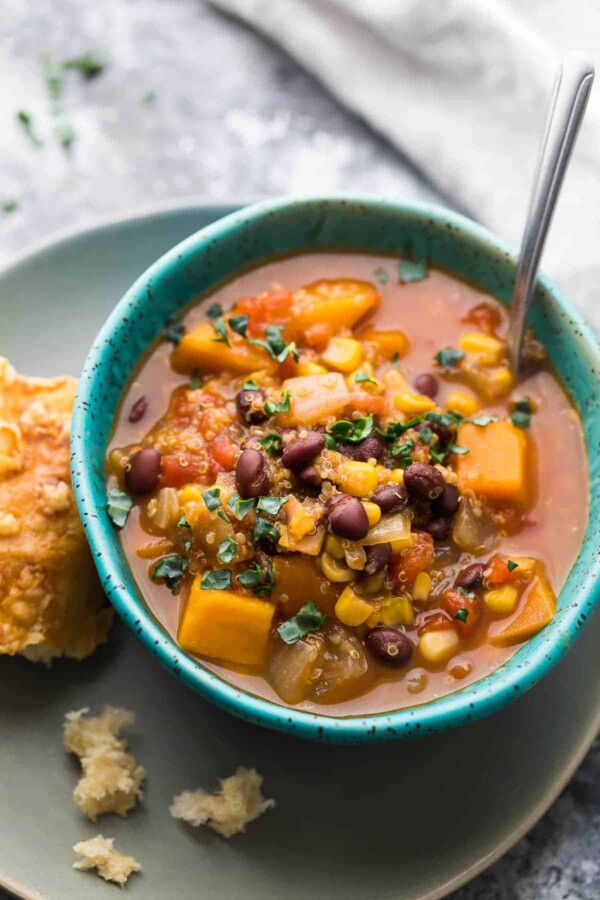 We served our slow cooker black bean, quinoa and sweet potato stew with bread (although it makes for a hearty meal without!), a dollop of yogurt, and cheese (not pictured).
This stew is one of those meals that is actually better on day 2. I think sitting in the fridge overnight helps the flavors develop even more.
Enjoy! Happy Monday, friends!
Tips for perfect slow cooker black bean, quinoa and sweet potato stew:
Slow Cooker Sweet Potato Quinoa Stew
Ingredients
4 cups sweet potatoes, cubed
11 oz/ 341 mL can of corn
19 oz/ 540mL can black beans, drained and rinsed
19 oz/ 540mL can diced tomatoes, including juices
1 cup red onion, diced
1 teaspoon salt
2 tablespoons cumin
1 tablespoon chili powder
4-5 cups stock
2/3 cup uncooked quinoa

After Cooking

2 tablespoons lime juice
Additional salt (I added 1/4 teaspoon extra)
Directions
Place all ingredients in the base of a 5 quart slow cooker. This makes a big batch and your slow cooker will be quite full!
Cook on low for 8 hours.
Add the lime juice and additional salt if necessary. Serve with bread, cheese or yogurt.

To assemble ahead & freeze

Place all ingredients except the stock and quinoa in a gallon-sized heavy duty freezer bag. Squeeze out as much air as possible, then freeze for up to 3 months.
Thaw completely before placing in a 5 quart slow cooker with the stock and quinoa, and cook on low for 8 hours.
Recipe Notes
Serving size 1/8 of batch
Loading nutrition data...