Crockpot Freezer Meals make for the most effortless weeknight dinners…just dump them into the slow cooker and set the timer! Here are some delicious and healthy freezer crockpot meals to stock up on!

Hi meal preppers! It's round-up time again, which means lots of tasty prep-ahead meal ideas are coming at you!
This time we're talking freezer slow cooker recipes, perfect for busy weeknight dinners, and extra perfect if you are expecting a new family member in your life.
New to crockpot freezer meals?
Basically, you prep, assemble, and freeze your slow cooker ingredients. When you're ready to serve, thaw completely (yes, you must thaw them!), dump in the slow cooker, and press start. No chopping, no cooking, just dump, press the button, and you're on your way to dinner.
Pre-baby, I prepped 5 crockpot freezer meals on Facebook Live, and you can see the whole thing go down here. So so simple, and these meals have been an absolute lifesaver.
Top tips for crockpot freezer meals
Prep meals with similar or overlapping ingredients, so you can chop/trim/measure your ingredients all at once.
Short on time? Opt for no-cook recipes.
Double or triple up on the recipes for maximum output for your efforts…they are good for up to 3 months in the freezer!
For soups & stews, I leave out stock/water/coconut milk until cook day, to prevent over-filling the bags.
Use these handy baggy holders to hold your bags open, and I recommend a good quality gallon freezer bag to reduce risk of leakage during the freeze/thaw process.
Potatoes may brown during the freeze/thaw process. If this bothers you, consider adding them on cook day.
That's it for now! Let's check out these easy and healthy crockpot freezer meals!
NEW: 7 Freezer Slow Cooker Chicken Recipes from Sweet Peas & Saffron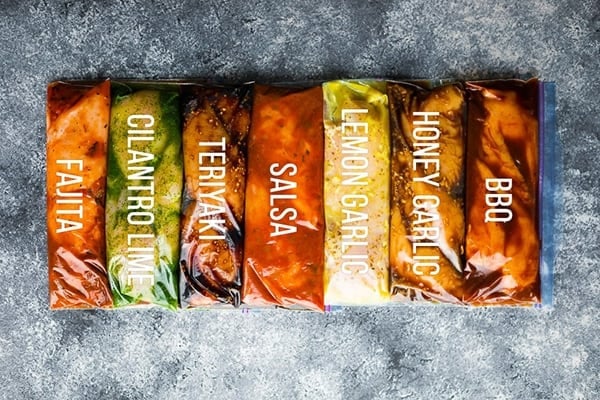 1. Freezer Asian Peanut Chicken // 2. Crockpot Salsa Chicken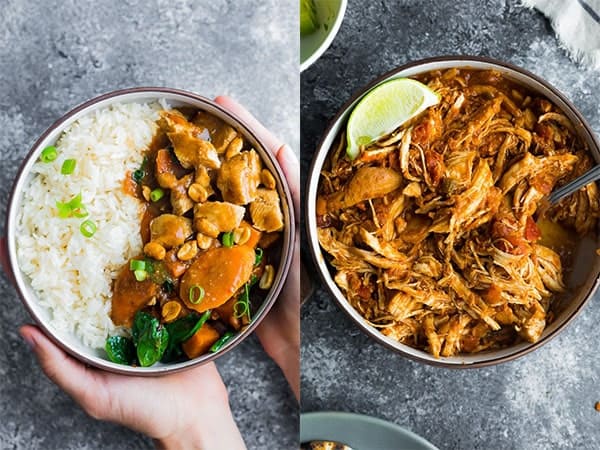 3. Crockpot Chicken Fajitas // 4. Easy Crockpot BBQ Chicken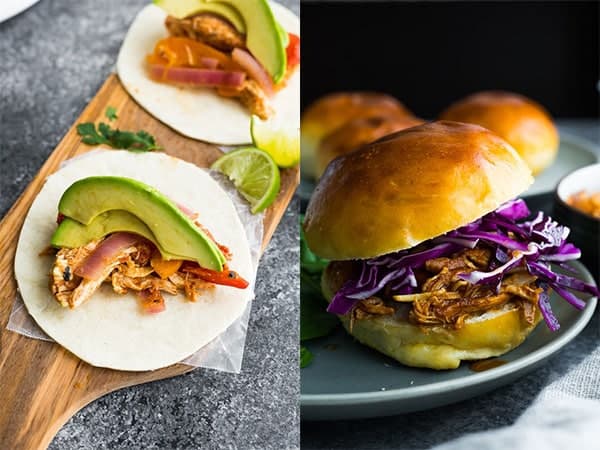 5. Crock Pot Pulled Pork // 6. Crock Pot Stuffed Peppers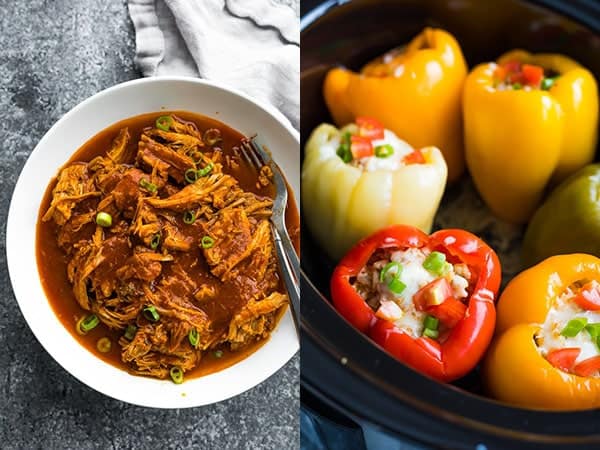 7. Sticky Slow Cooker Honey Garlic Chicken // 8. Crock Pot Teriyaki Chicken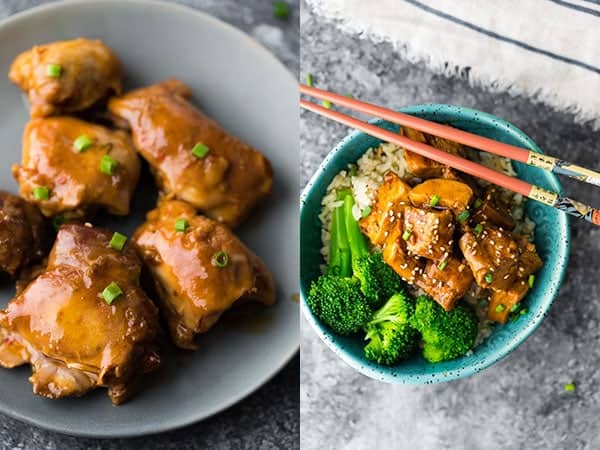 9. Slow Cooker Lemon Sesame Chicken Noodle Soup from Sweet Peas & Saffron // 10. Make Ahead Freezer Chicken Fajitas from New Leaf Wellness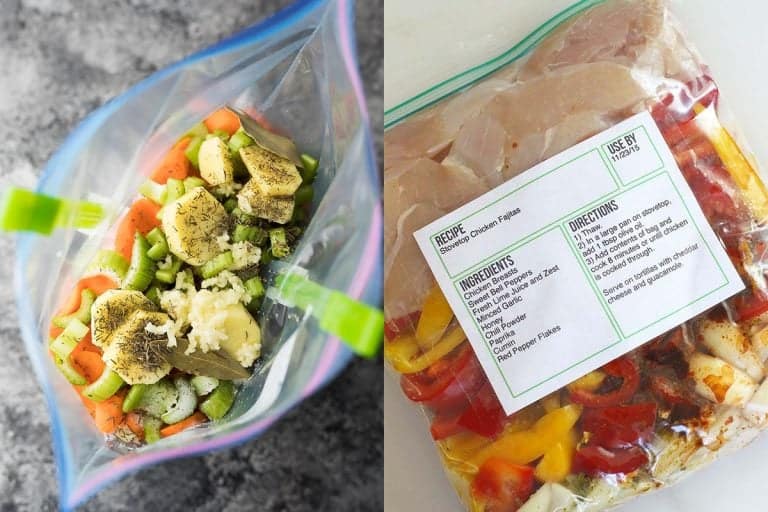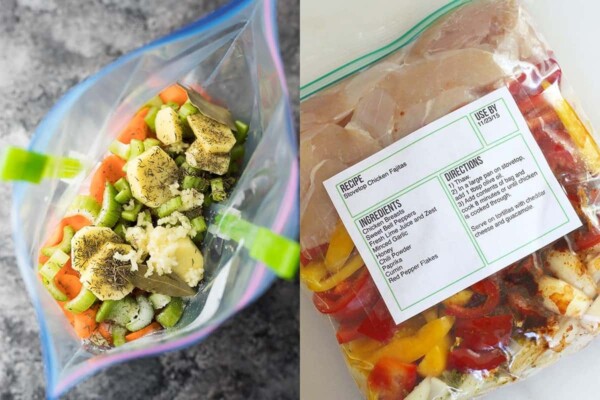 11. Slow Cooker Cilantro Lime Chicken from Sweet Peas & Saffron // 12. Freezer to Crock Pot Bacon Lentil Soup from Live Simply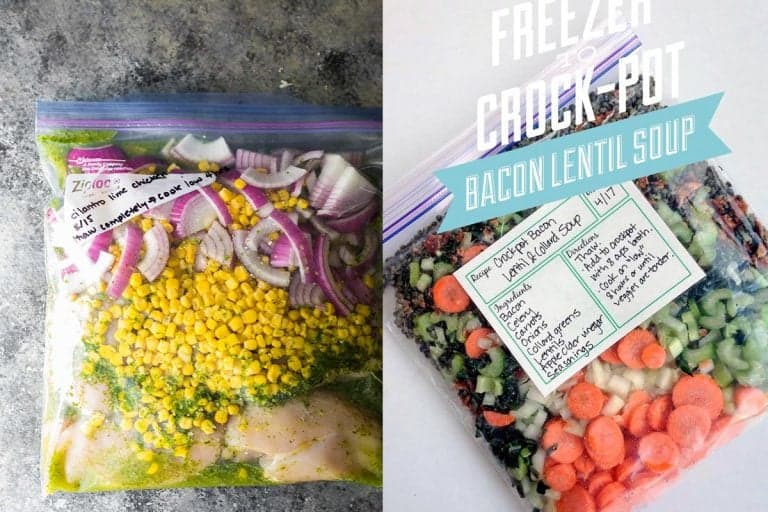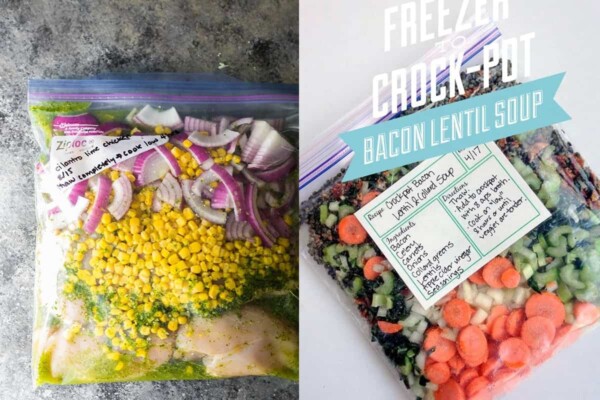 13. Slow Cooker Chickpea Tortilla Soup (Freezer to Crock Pot) from Sweet Peas & Saffron // 14. Slow Cooker Teriyaki Chicken Freezer Meal from Thriving Home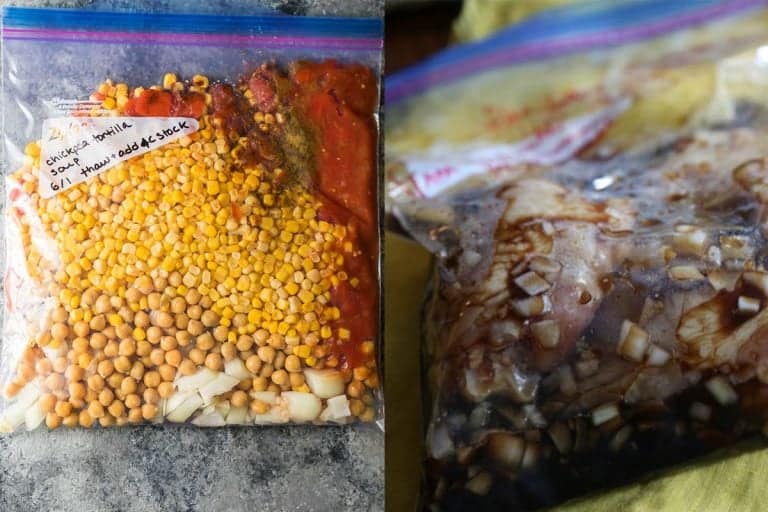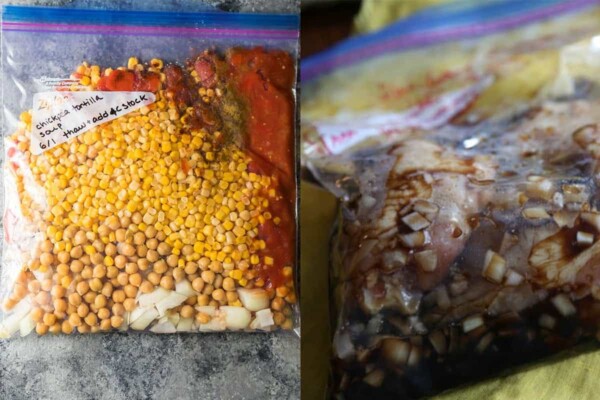 15. Slow Cooker Lemon Garlic Chicken Thighs (Freezer to Crock Pot) from Sweet Peas & Saffron // 16. Freezer Crock Pot Beef Stew from Live Simply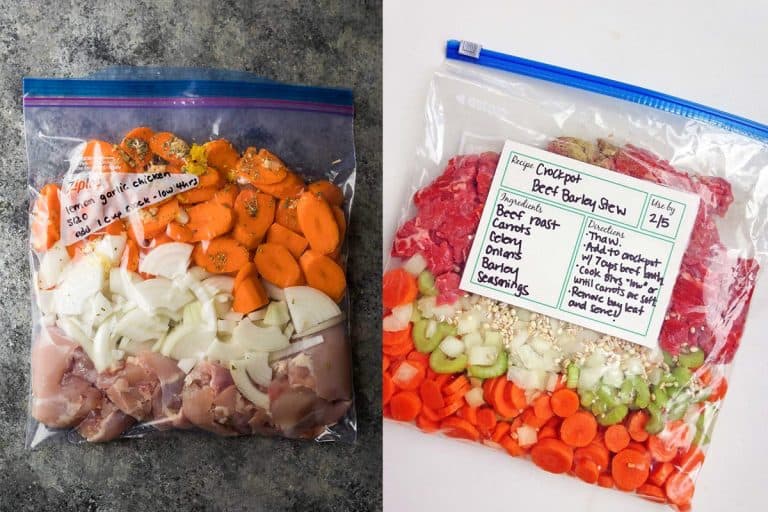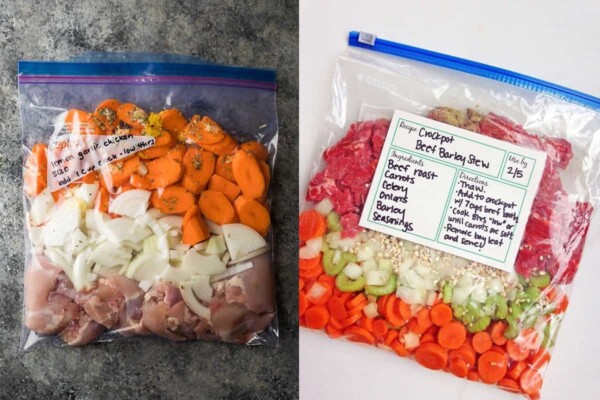 17. Slow Cooker Sweet Potato Chicken Curry (Freezer to Crock Pot) from Sweet Peas & Saffron // 18. Crockpot Curried Sweet Potato Soup from New Leaf Wellness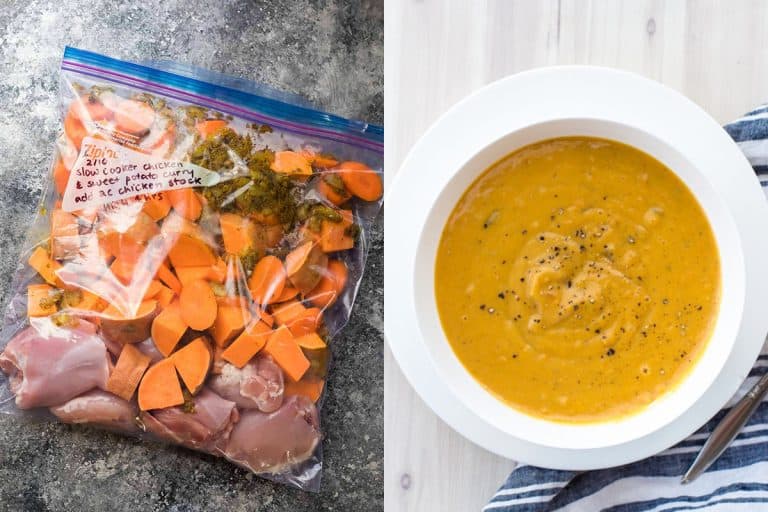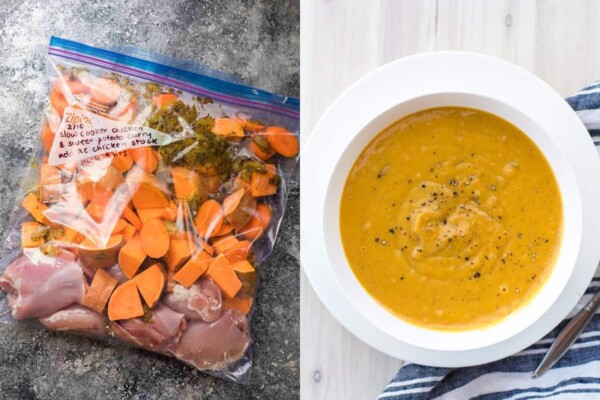 19. Healthy Slow Cooker White Chicken Chili (Freezer to Crock Pot) from Sweet Peas & Saffron // 20. Crockpot Bacon Balsamic Chicken and Veggies from New Leaf Wellness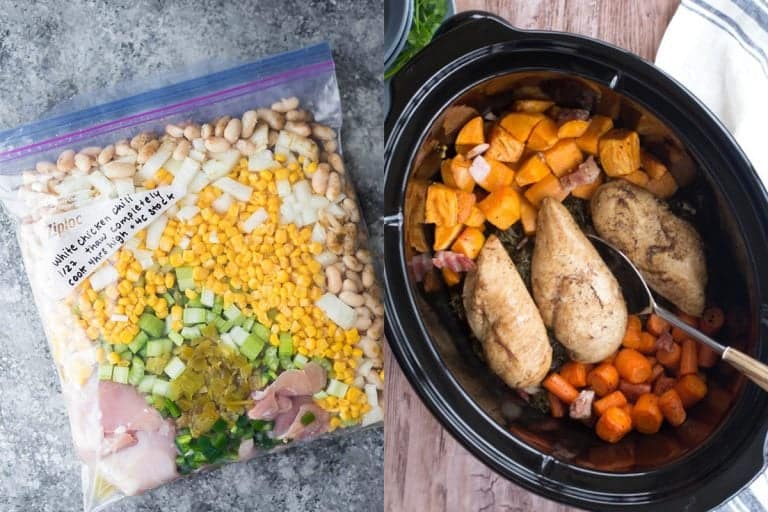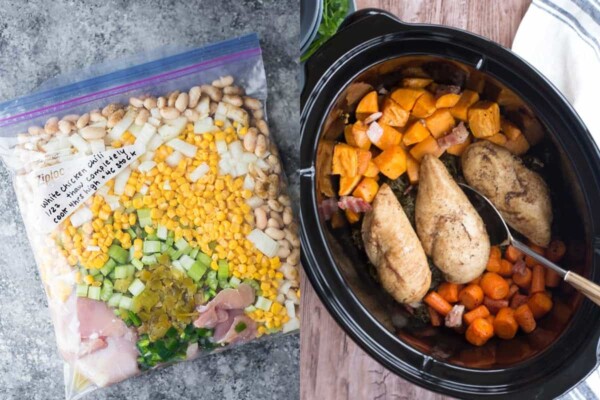 21. Slow Cooker Maple Pulled Pork from Sweet Peas & Saffron // 22. Slow Cooker Tuscan Chicken White Bean Soup from The Magical Slow Cooker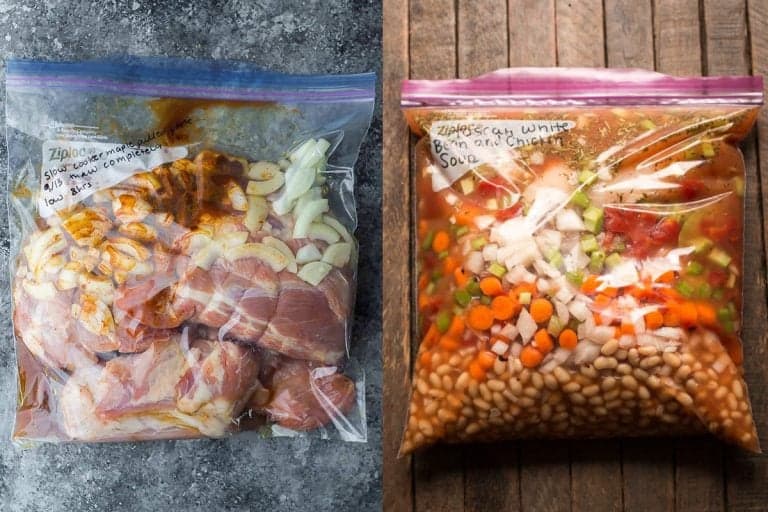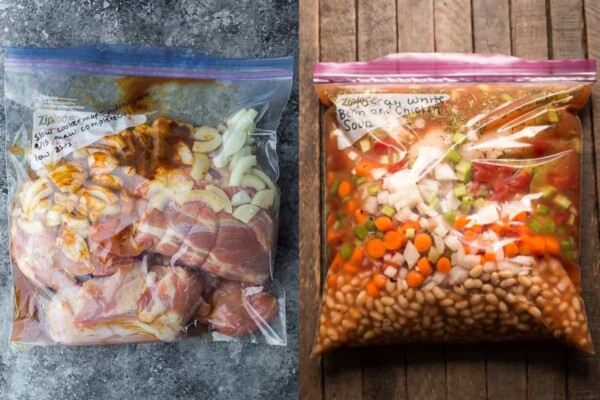 23. Thai Slow Cooker Chicken & Wild Rice Soup from Sweet Peas & Saffron // 24. Slow Cooker Chicken Enchilada Soup from The Magical Slow Cooker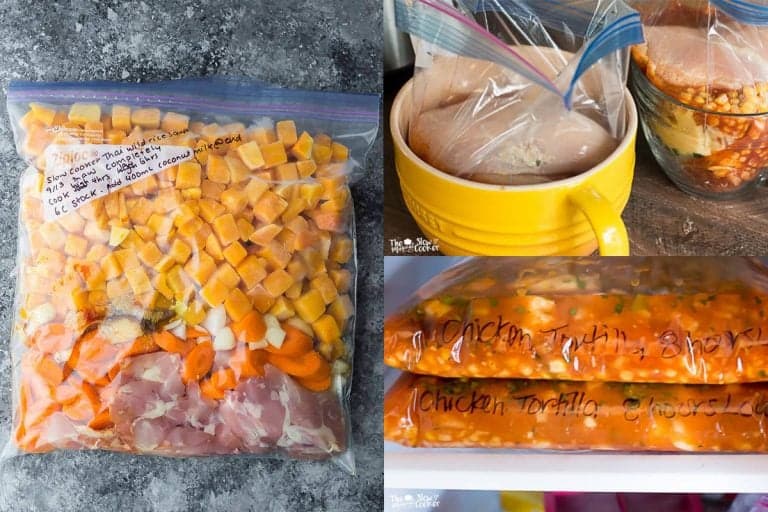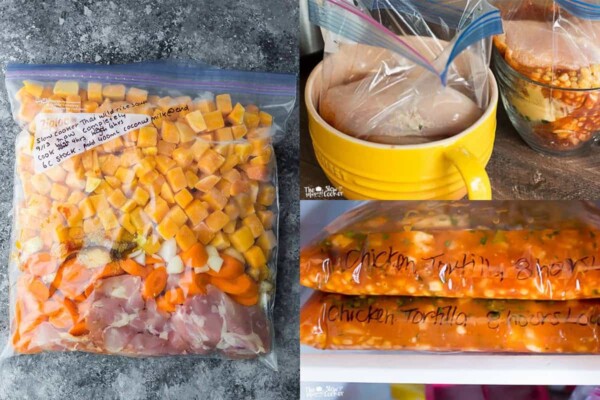 25. Slow Cooker Butternut Squash Lentil Curry from Sweet Peas & Saffron // 26. Slow Cooker Pork Chops with Apples and Sweet Potatoes from Stockpiling Moms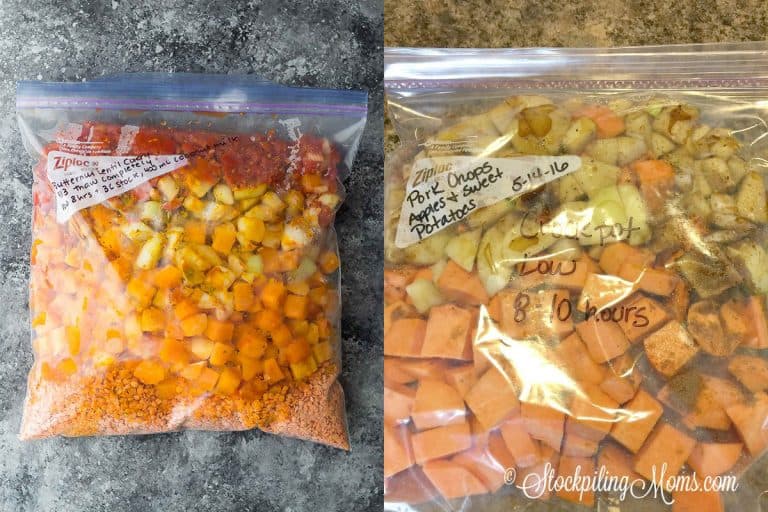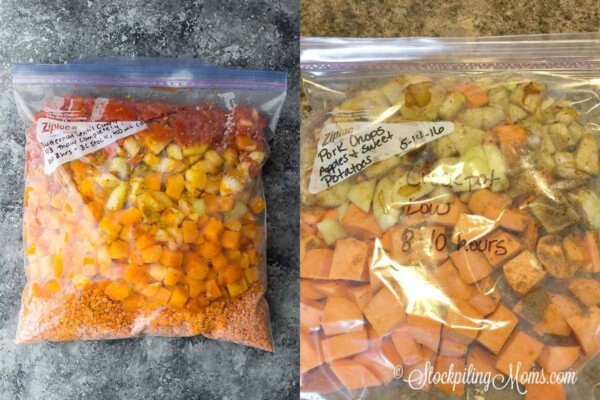 27. Slow Cooker Ethiopian Chicken & Lentil Stew from Sweet Peas & Saffron