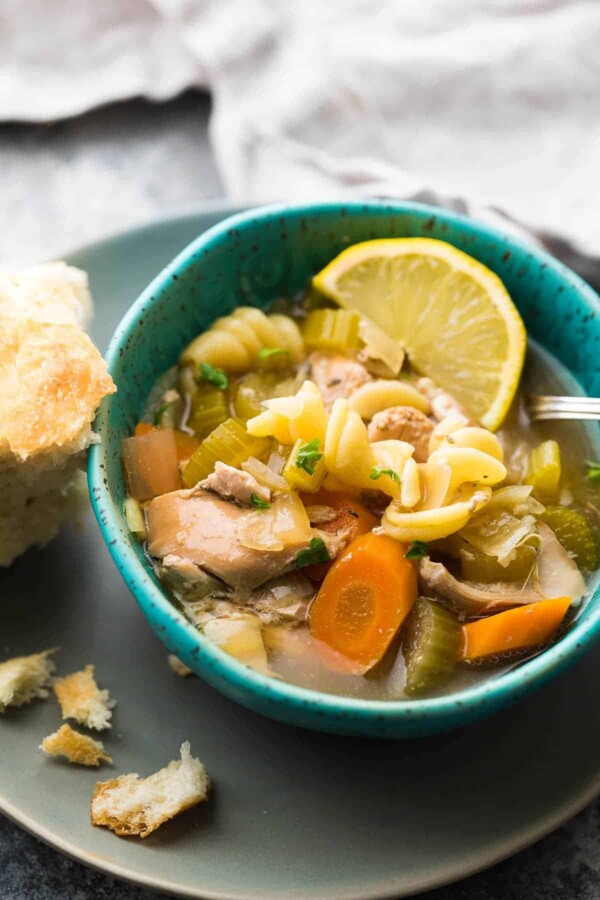 This slow cooker lemon sesame chicken noodle soup can be assembled ahead and stored in the fridge or freezer until you're ready to cook it up!  Perfect for cold and flu season: healthy, comforting and delicious.
October used to be a somewhat 'generic' month…meaning it blended in with all of the other fall months.  But these days?  Not so much.
October is now the birthday month of the three other members of my family.  It's also the month we celebrate Thanksgiving in Canada.  Oh.  And Halloween.
Soooo October is a month in which I am desperately in need of easy dinner recipes, because there is just a lot going on.  Enter freezer to slow cooker recipes, like this slow cooker lemon sesame chicken noodle soup.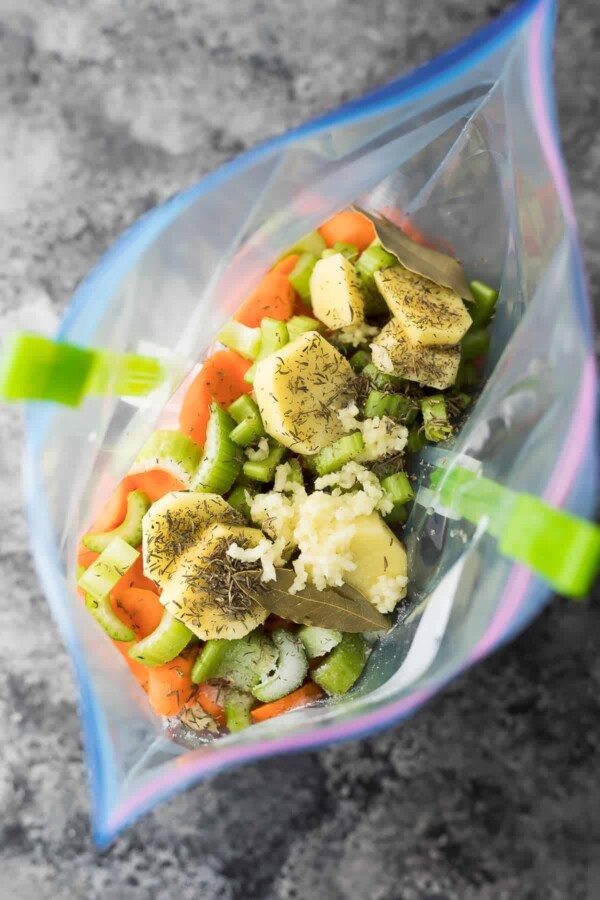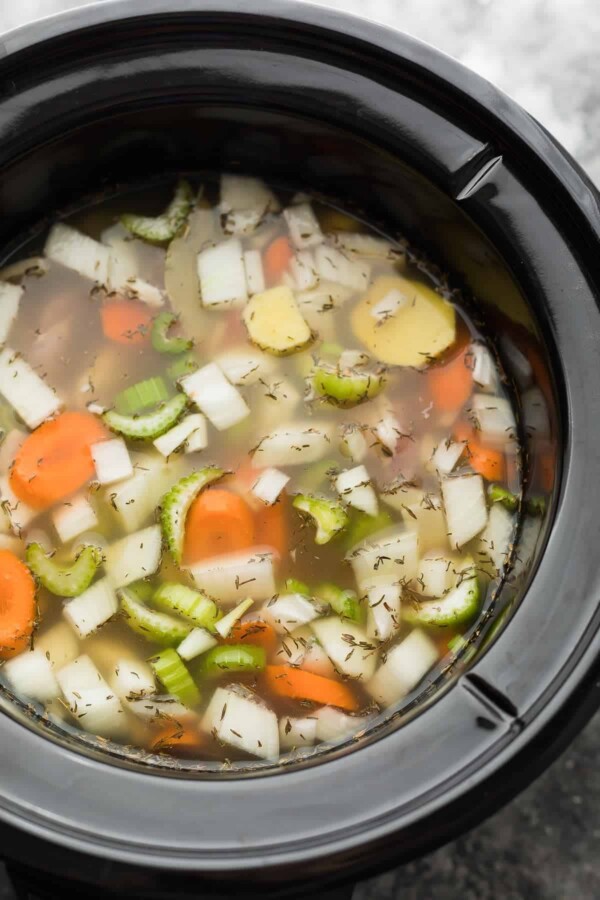 Actually, this recipe was conceptualized in the depths of morning sickness, waaaay back in February.  But I just didn't quite get around to making it.  So now that it's fall again, it's the perfect time to make it!
This lemon sesame chicken noodle soup is packed full of your usual chicken noodle soup ingredients: onions, carrots, celery, thyme, chicken, and noodles…but the flavor is twisted slightly from traditional soup, and includes ample amounts of ginger (although the flavor doesn't come across as very gingery), fresh lemon juice, and a touch of sesame oil.
I was actually aiming for 'lemon ginger' flavor but it definitely came across as more 'lemon sesame' tasting, and I wasn't mad about that.  I bet scattering some sesame seeds on top would be a great idea (in retrospect I wish I had done that!)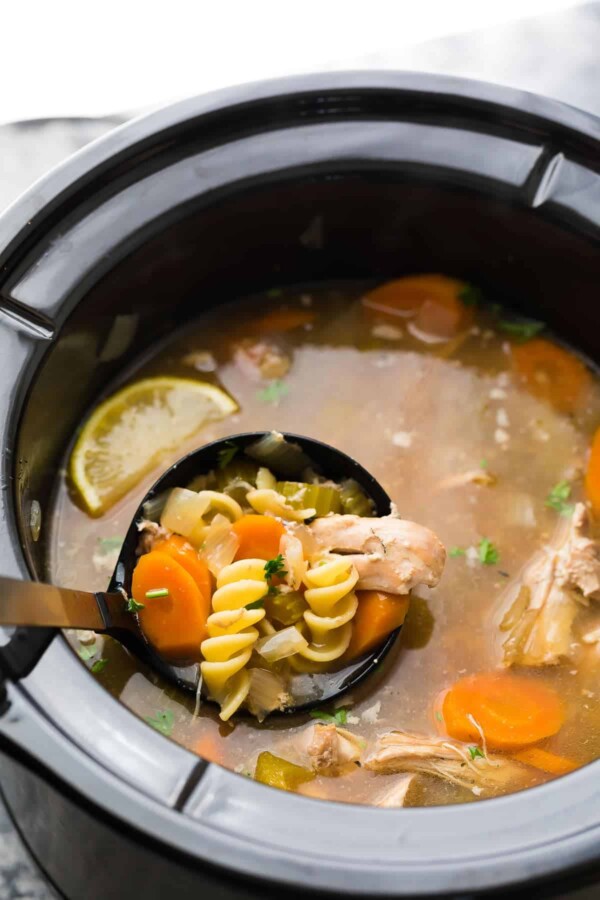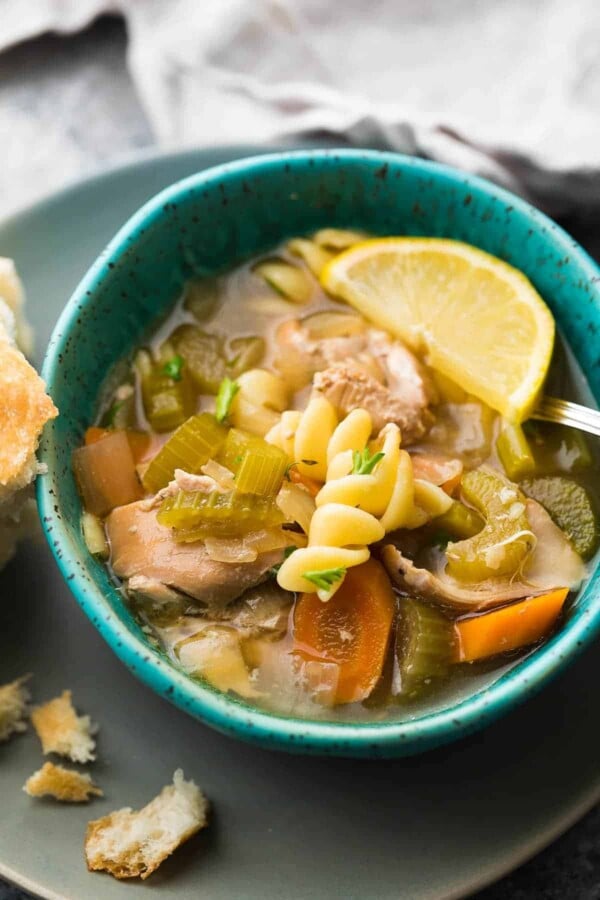 As you can tell from the photos, I do like a pretty chunky soup!  If you'd prefer a more 'brothy' soup, increase the chicken stock by all means, you'll also want to increase the seasoning.
To assemble this soup ahead, just toss the ingredients (minus the stock and noodles), in a gallon freezer bag
, and freeze for up to 3 months.  When you're ready to cook, thaw completely (as cooking completely frozen chicken is dangerous and we don't want anyone to get sick!), then add to the slow cooker with the stock.  30 minutes before serving, add the noodles and crank to high until they are cooked through.
We enjoyed our soup with a hefty chunk of bread for dunking.
Voila!  An easy weeknight dinner that leaves you free to focus on all the other things going on in your busy life.
Tips for perfect slow cooker lemon sesame chicken noodle soup:
Slow Cooker Lemon Sesame Chicken Noodle Soup
Ingredients
To Prep Ahead
6 boneless skinless chicken thighs
1 teaspoon salt
1 teaspoon thyme leaves
2 bay leaves
2 carrots, peeled and chopped
1 onion, chopped
2 stalks of celery, chopped
3 inches ginger, peeled and cut into 1/4 inch rounds
4 cloves garlic, minced
1 tablespoon sesame oil
Add to Slow Cooker
Minutes Before Serving
Right Before Serving
3 tablespoons lemon juice (or the juice of 1 lemon)
2 tablespoons soy sauce
parsley or green onions
Directions
To cook right away:
Combine all ingredients listed under "to prep ahead" as well as the chicken stock in the base of a 5 quart slow cooker.
Cook on low for 8 hours or high for 4 hours.
Add the rotini, turn up to high, and cook for 30 more minutes.
Stir in the lemon juice and soy sauce.
Remove the ginger slices before serving, and garnish with parsley or green onions.
To Assemble & Freeze Ahead:
Combine all ingredients listed under "To Prep Ahead" in a gallon-sized freezer bag. Label and freeze for up to 3 months.
Thaw completely before dumping bag contents into the slow cooker with the chicken stock and cooking as indicated above.
Recipe Notes
Loading nutrition data...