7 MORE Freezer Friendly Chicken Breast Marinades! Simple and tasty chicken marinade recipes that may be assembled ahead and frozen. Stock up the freezer for an easy dinner meal prep idea!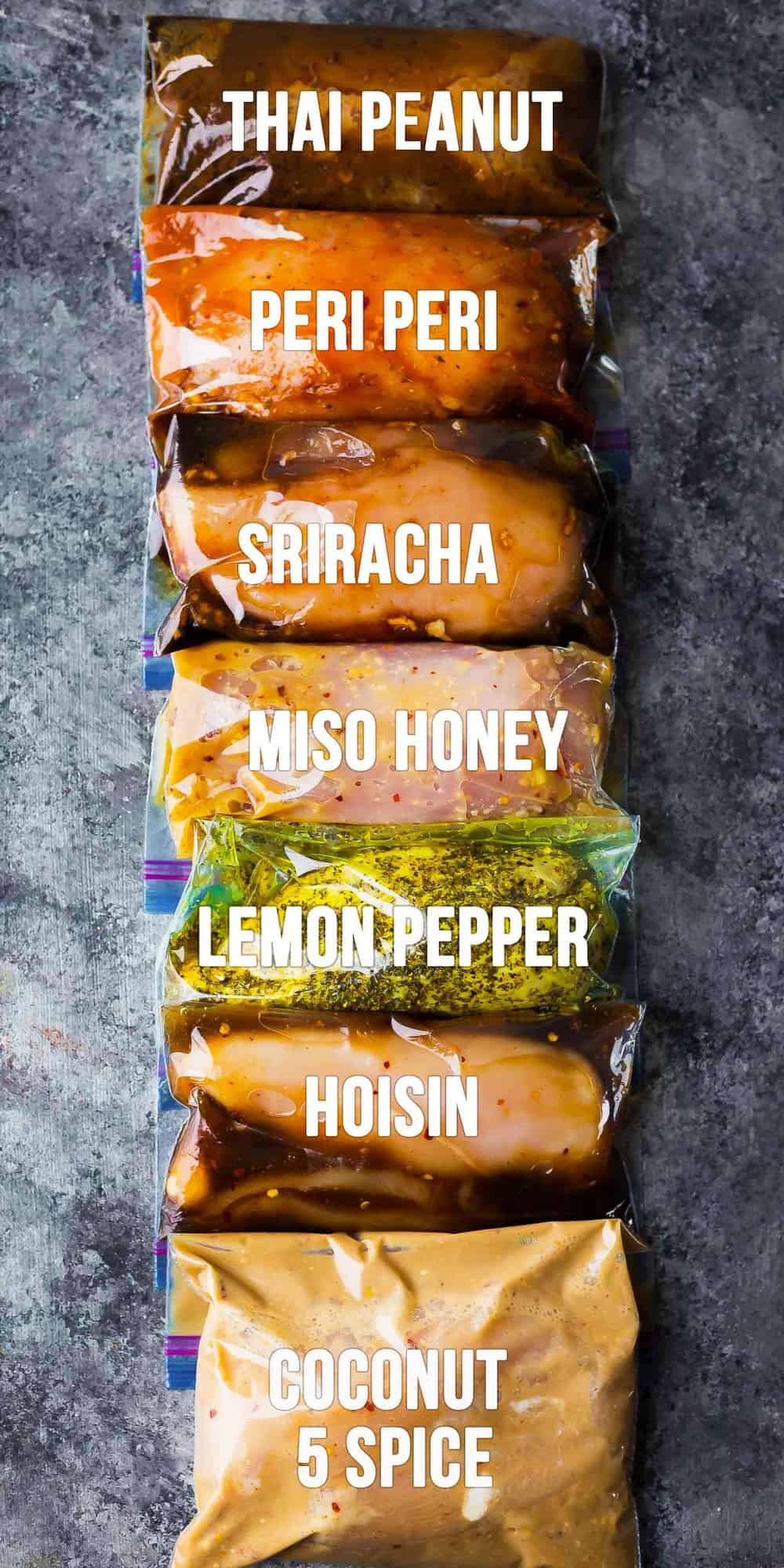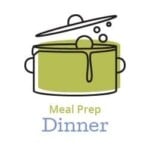 I am so SO excited to be kicking off 2018 with these 7 (MORE) freezer friendly chicken breast marinades!
If you have been around here before, you may have seen the hugely popular original post…well I have to say I was NOT expecting it to take off quite the way it did: over a million pageviews in 2017, and shared on Pinterest over 1 million times (pin it here!).
And clearly you can never have too many chicken marinades in your recipe book (as far as I'm concerned!), so here we are again, with 7 more marinades for chicken.
These chicken breast marinades have come in super handy this fall with a newborn in our house during the 5-pm scramble.  It's funny how having just one component of your dinner planned out can make the whole thing come together so quickly!
Like this post? Be sure to check out: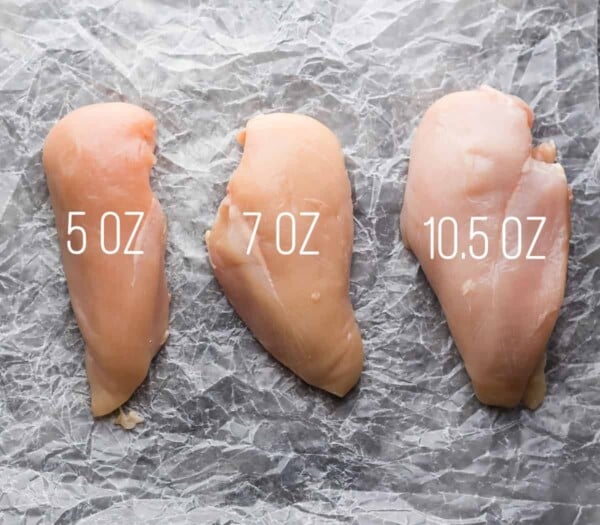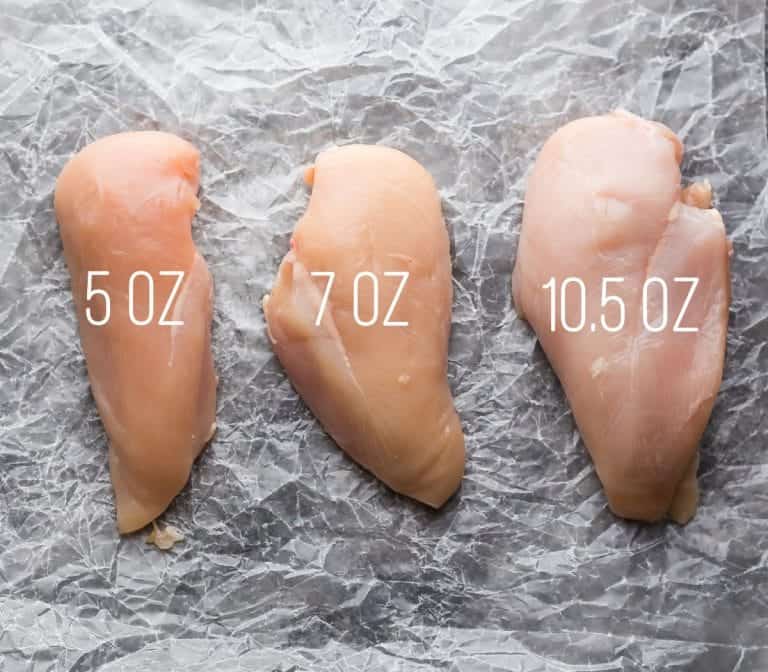 How to cook these chicken breast marinades
Not all chicken breasts are created equal! Make sure you use the cook time appropriate for the size of chicken breast you have purchased.
Roughly:
18-20 minutes at 425°F for a 5 oz boneless skinless chicken breast
25-28 minutes at 425°F for a 10.5 oz boneless skinless chicken breast
*Chicken should be cooked to an internal temperature of 74°C/165°F (source). When in doubt, use a thermometer to check.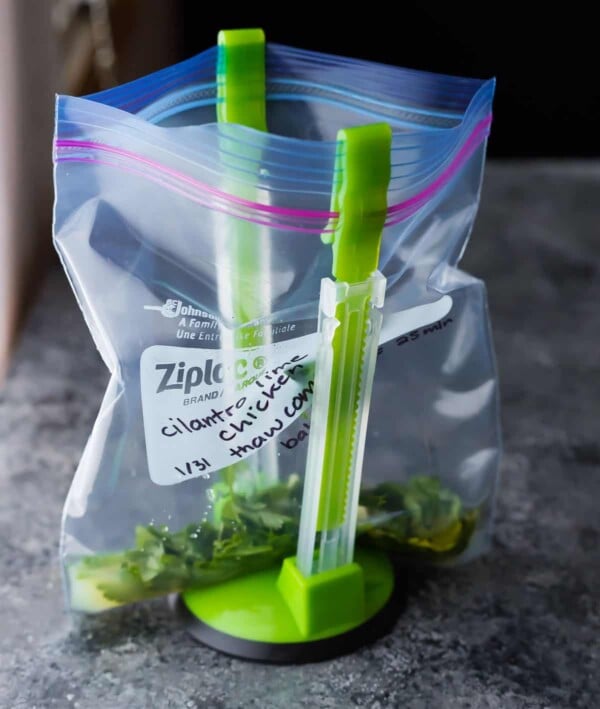 Equipment needed for these chicken breast marinades
Like last time, I recommend these handy baggie holders. They hold your bags open so you can easily place all your ingredients in the bag, and avoid getting raw chicken on the outside of the bag!
Also: a quart sized heavy-duty freezer bag and a sharpie, plus a container to hold your portions is handy for keeping your freezer organized.
One more thing: I use this 5 x 5 inch baking dish to bake up a single chicken breast. It's great for preventing the sauce from over-reducing! For 2 or more, I'd use an 8 x 8 inch baking dish.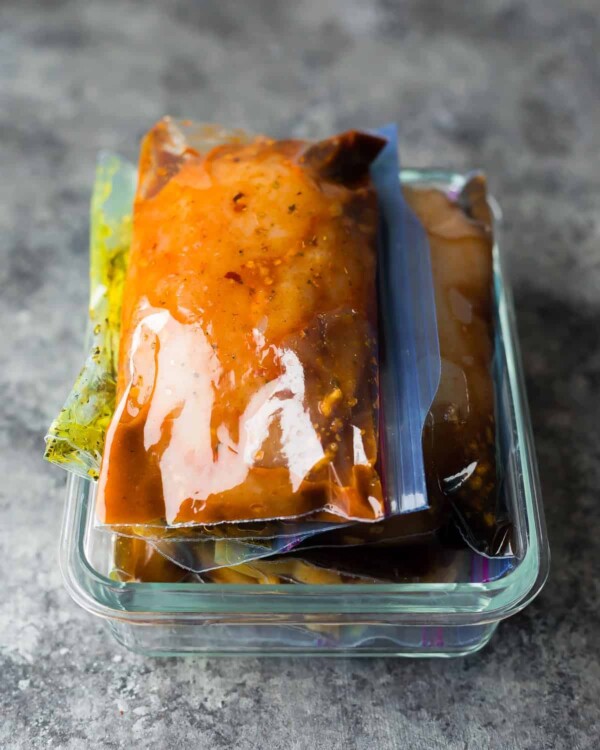 Freezer chicken breast marinade FAQ:
Can I use these marinades for chicken without freezing them?  Yes, absolutely.  Pop them in the fridge for 2 hours all the way up to 24 hours.  I don't recommend marinating longer than that without freezing.
How long can these be frozen?  Up to 3 months.  As everything freezes, the marinating process stops, and starts up again as the chicken thaws.
What if my chicken is already frozen?  Do not thaw your chicken if you are going to freeze again.  Add the marinades to already frozen chicken, and you will still get a ton of flavor from marinating while it thaws.
How to thaw the chicken?  The safest bet is in the fridge overnight, but you can do a rapid-thaw process in cold water for a few hours.  Just make sure your freezer bag is heavy duty so you don't have any leakage!
Can these marinades be used on other types of meat?  Probably but I've only tested with chicken.  I would not freeze fish in these marinades but they may be good for a quick 30 minute marinade.
Can I grill or pan-fry the chicken? I have only tested these recipes in the oven but they should be transferable to the grill and frying pan.  You may wish to shake off excess marinade prior to grilling to prevent flare-ups and/or brush more marinade on while grilling for extra flavor.
One more thing- don't forget to let your chicken rest after you bake it.  Resting 5-10 minutes at room temperature before slicing will help seal in the juices.
1. Thai Peanut Chicken Marinade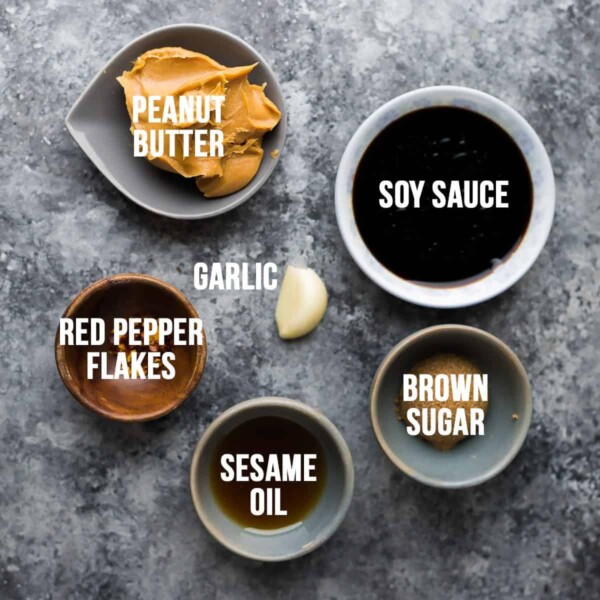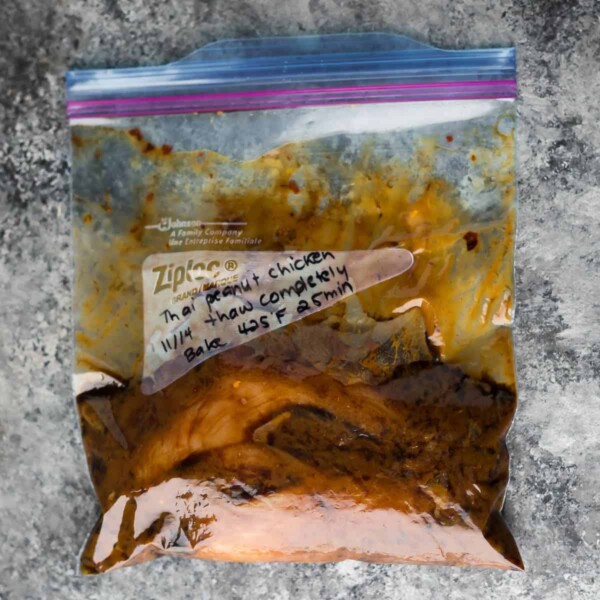 This simple marinade doubles as a sauce! When you're ready to cook it up, just add a couple of tablespoons of water. We sliced our chicken up, then tossed it in the sauce for the perfect amount of flavor!
Serve this Thai Peanut Chicken with:
2. Peri Peri Chicken Marinade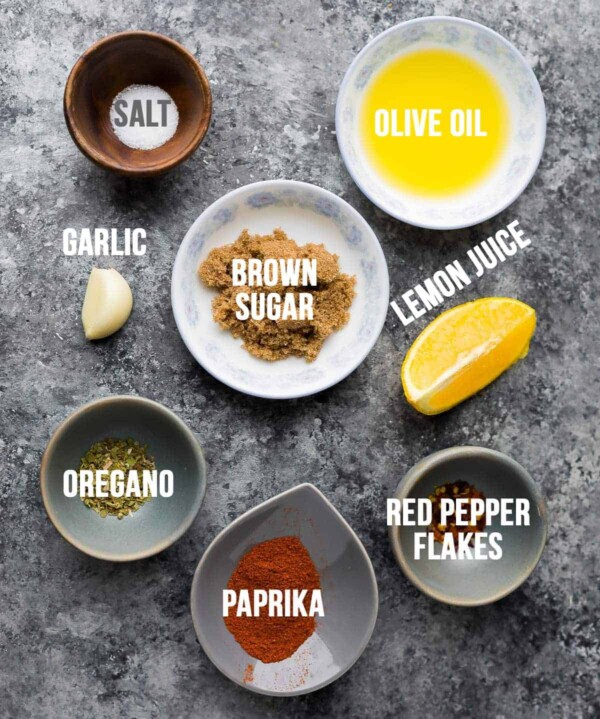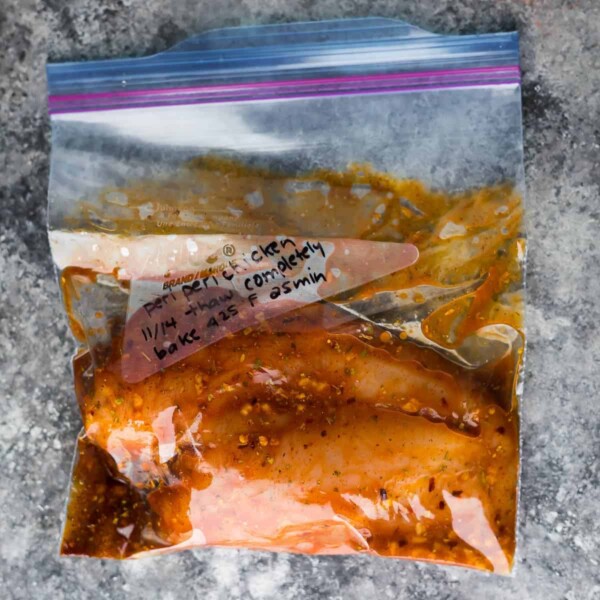 Well, I'm not claiming this to be the most authentic peri peri chicken recipe you will find, and it's not the same as the peri peri sauce, however, this marinade has a great punch of flavor and goes well with a number of different side dishes!
Serve this Peri Peri Chicken with:
roasted potatoes
corn on the cob
3. Sriracha Maple Chicken Marinade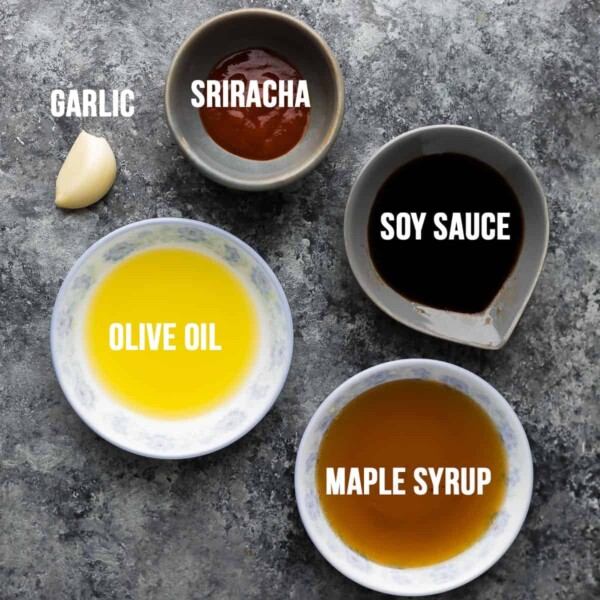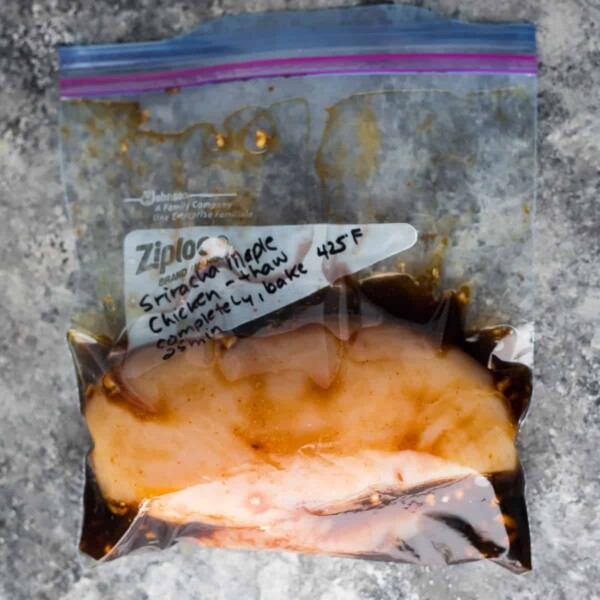 My perfect blend of flavors: sweet, savory and spicy. You can add as much or as little sriracha as you'd like; 1 tablespoon was definitely too spicy for me, and 1.5 teaspoons was more like it. Remember to add two tablespoons of water to this one before baking so the sauce doesn't over-reduce and burn!
Serve this Sriracha Maple Chicken with:
rice
roasted veggies: snap peas, carrots, bell peppers recommended
4. Miso Honey Chicken Marinade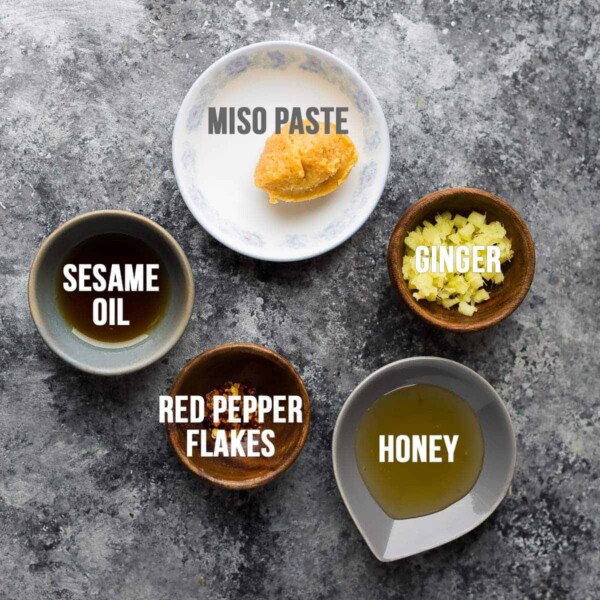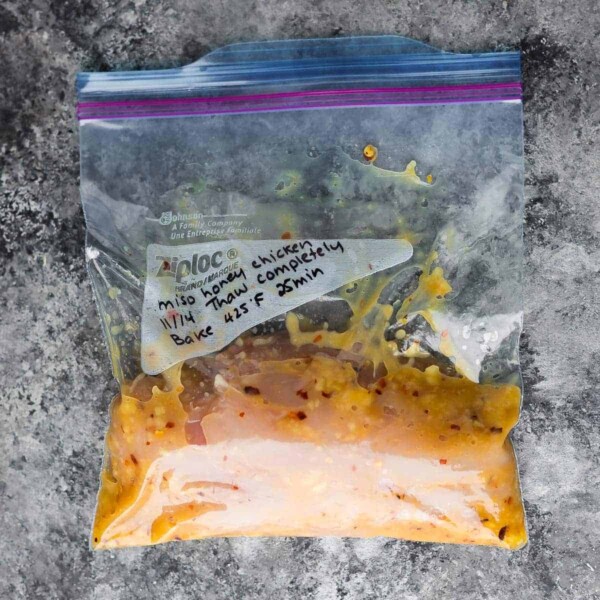 Another marinade with that sweet/savory/spicy thing going on! I love the flavor that this chicken absorbed…miso is such a flavor bomb.
Serve this Miso Honey Chicken with:
sauteed mushrooms and bok choy
rice or noodles
5. Lemon Pepper Chicken Marinade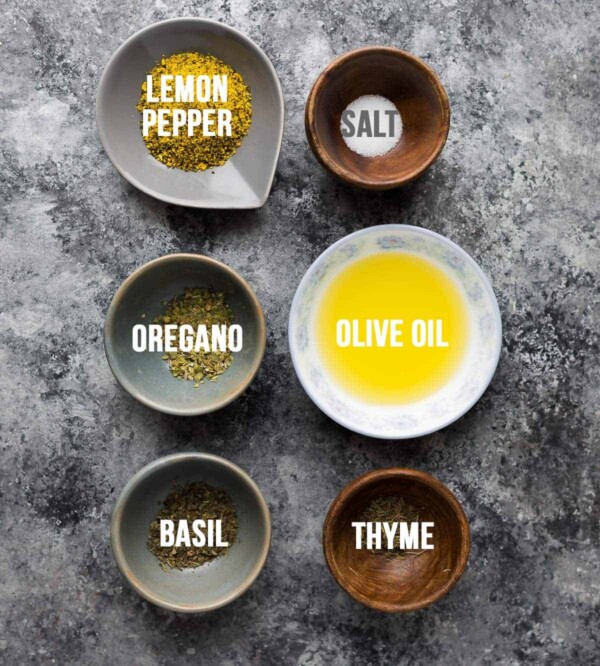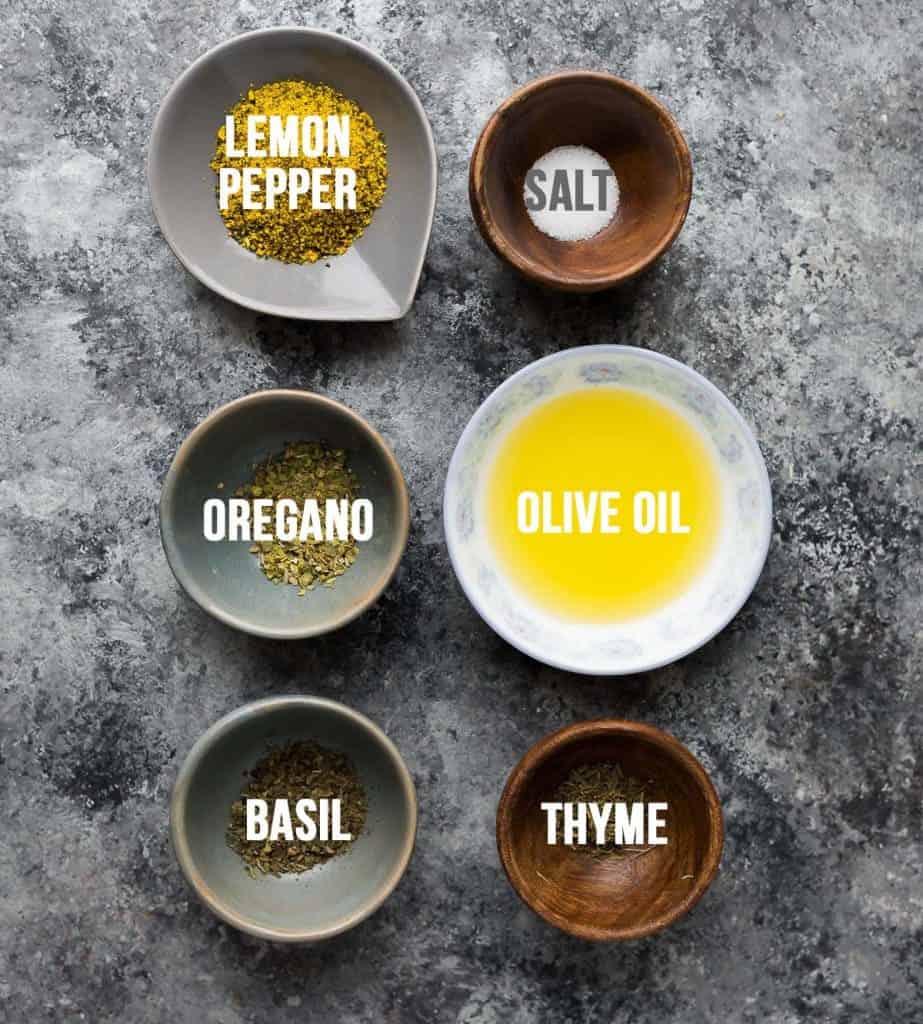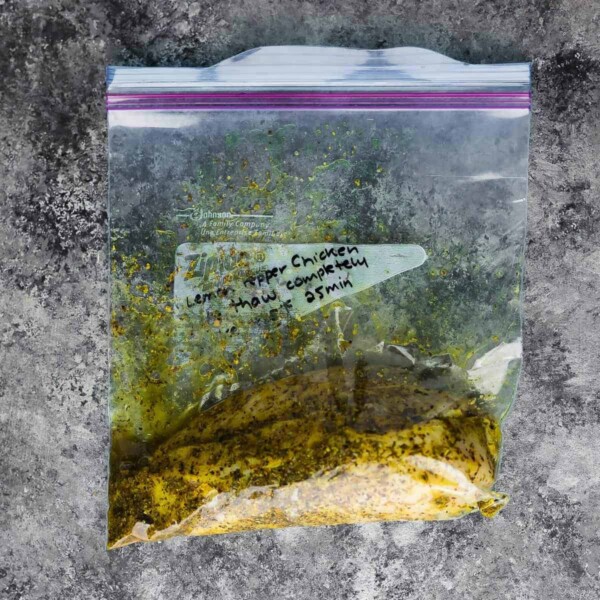 This marinade came across as the most 'boring' to me, but we were totally blown away by the flavor…even my four year old couldn't complain! Lemon pepper plus some basic dried herbs combine to make a simple but delicious chicken recipe.
Serve this Lemon Pepper Chicken Marinade with:
roasted potatoes
greek salad or roasted vegetables
6. Brown Sugar Hoisin Chicken Marinade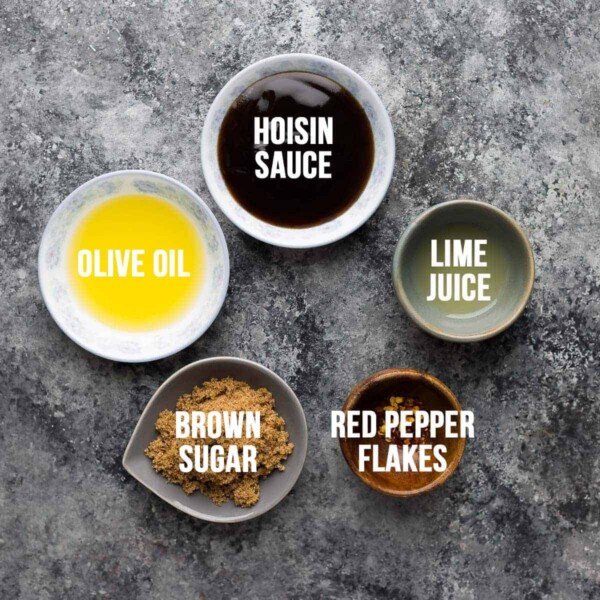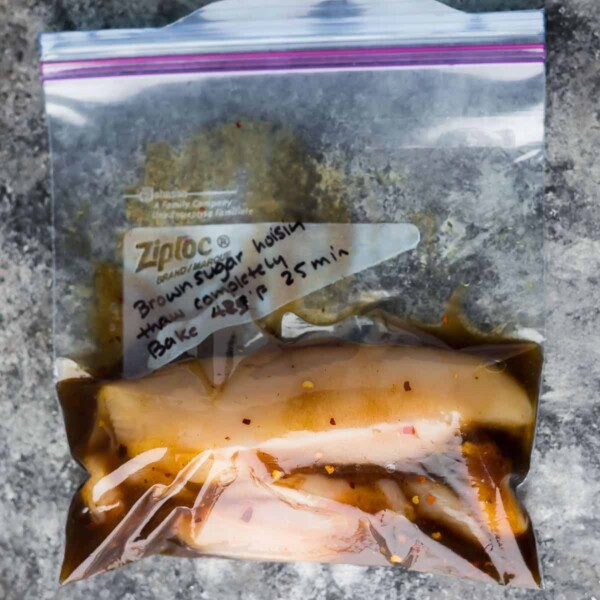 Hoisin sauce brings such a punch of flavor to a stir fry sauce, so naturally I thought it would be perfect in a chicken marinade as well! Don't forget to add two tablespoons of water to the marinade during baking, so it doesn't over-reduce and burn. This recipe ends up with a bit of sauce that you can toss the chicken slices back in before serving.
Serve this Brown Sugar Hoisin Chicken with:
rice
roasted green beans and brussels sprouts
7. Coconut 5-Spice Chicken Marinade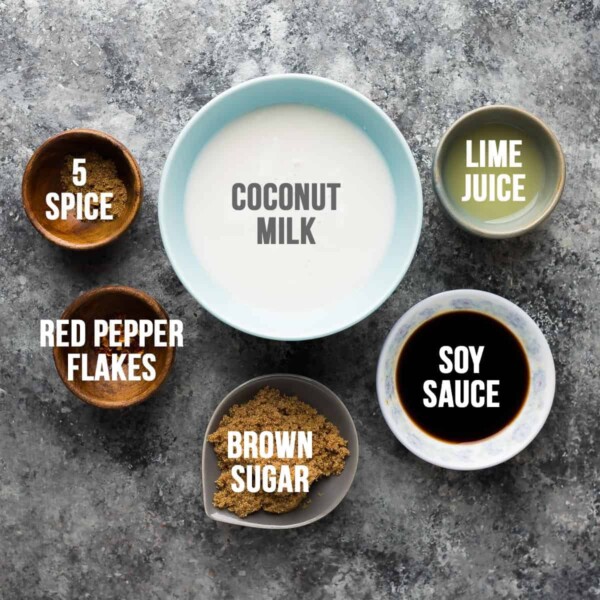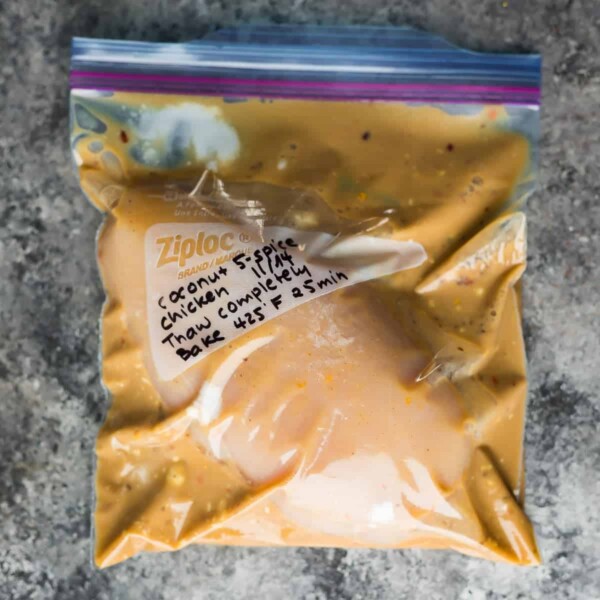 I think I've saved the best for last! This coconut five spice marinade is so unusual and SO tasty, and the sauce is perfect for spooning over rice and veggies.
Serve this Coconut Five Spice Chicken with:
rice for spooning the sauce over
sauteed veggies: carrot, zucchini, bell pepper would be great