Keep your oven off with these tasty summer slow cooker recipes. Skipping the comfort food for lighter, fresh and summery meals, many of which can be prepped ahead.
While you might think of your slow cooker as the perfect way to cook soups and stews, and traditionally 'wintery' foods, it's also a really hands off way to cook summery foods. BONUS-  keep your oven off and your house cool!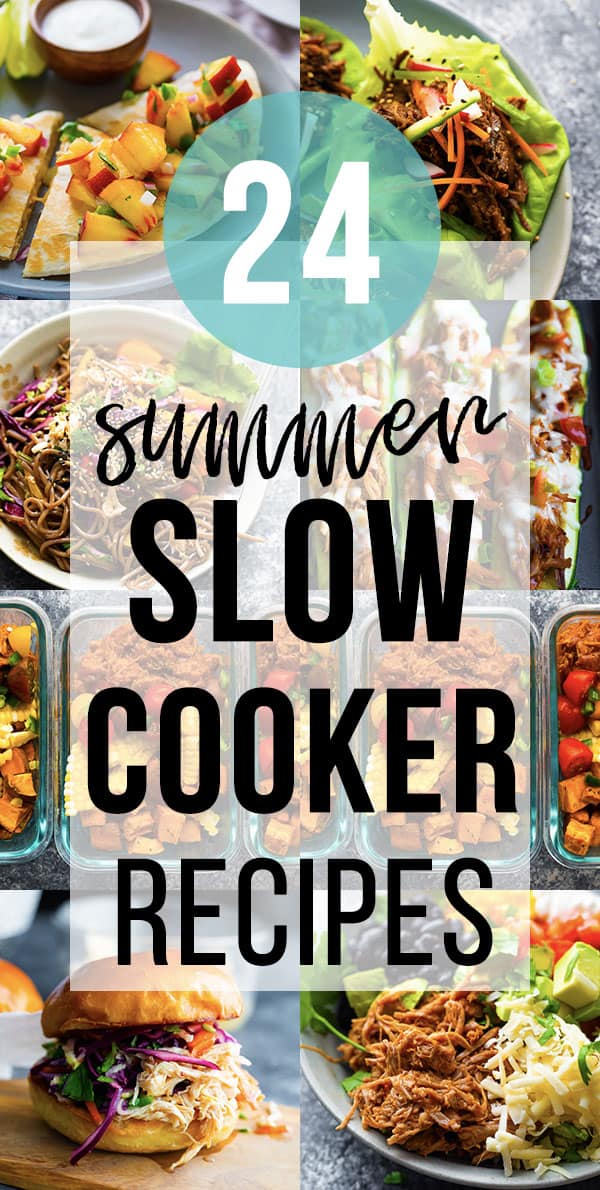 Summer slow cooker recipes
Winter or summer, the slow cooker is one of my favorite kitchen appliances because it makes dinner so dang hands off! Putting in the effort earlier in the day often means that dinner is as simple as serving it up or cooking a batch of rice.
One great way to get a lot of bang for your buck with summer slow cooker meals is to cook a big batch of protein and use it in multiple meals. This is perfect for days when you just can't turn the oven on, and busy weeks when you want a head start on dinner.
Several of the recipes in this post are based around pre-cooking a big portion of protein or sweet potatoes.
Click to jump to:
Don't forget to pin this post to save it for later!
1. Slow Cooker Chicken Recipes
Chicken is a staple in our diet in the summer, and the slow cooker is a great way to cook a big batch. Some of the recipes below are part of a meal prep plan, which includes cooking a batch of slow cooker chicken ahead and using it in multiple meals. You are also welcome to cook the chicken and use it immediately in the recipes.
See: 7 Ingredient Meal Prep Plan + Shopping List (Honey Lime Chicken)
2. Slow Cooker Sweet Potato Recipes
Cooking your sweet potatoes in the slow cooker is a genius way to keep your oven off in the summer. Slow cooker sweet potatoes are always perfectly creamy and tender on the inside. You can then use the sweet potato filling in various recipes, or stuff the sweet potatoes with your favorite fillings and finish them off in the oven (for a much shorter amount of time than you would otherwise have used).
3. Slow Cooker Pulled Pork
There is no better way to cook tough pork shoulder than in the slow cooker! A long, slow cook time ensures the tough collagen fibres in a pork shoulder melt into the meat resulting in tender, juicy pulled pork. Use your pulled pork in a variety of summery meals so that you never get bored.
See: Pulled Pork Meal Prep Plan + Shopping List
4. Slow Cooker Beef Recipes
Just like pork shoulder, the slow cooker is a great way to cook tough cuts of beef. Since this cooks a huge batch, we have a variety of recipe options for you to use them up through the week.
More Slow Cooker Recipe Ideas
Keep your oven off by cooking your breakfast casseroles and stuffed peppers in the slow cooker! This is a great option during the warm summer months.