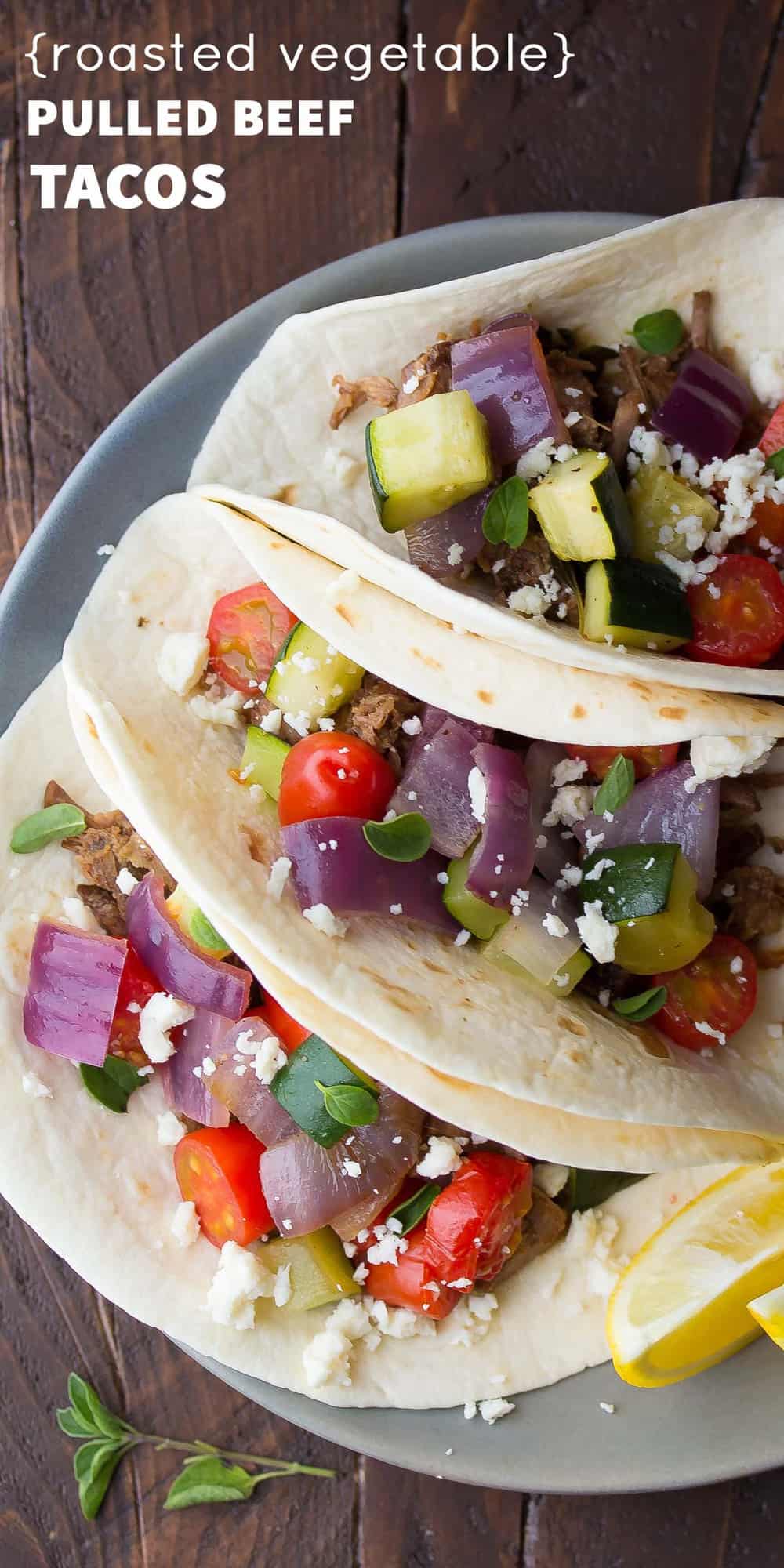 These slow cooker beef tacos are topped with roasted tomatoes, zucchini, onions are feta cheese.  Easy to make ahead and best served with tzatziki!
Note: this is part of a series where I provide a base slow cooker recipe and three ways to serve your leftovers.  For the base Slow Cooker Honey Garlic Beef recipe, head over here!
Alright!!!!  We are on the fourth honey garlic beef recipe this week.  Are you tired of it yet?  I'm not!
On Monday I provided the base Slow Cooker Honey Garlic Beef recipe.  Tuesday we ate Honey Garlic Beef Rice Bowls, and yesterday we feasted on these Pulled Beef Sandwiches with Sriracha Mayo.  So today, we are leaving the Asian flavor profiles behind and going to the Mediterranean!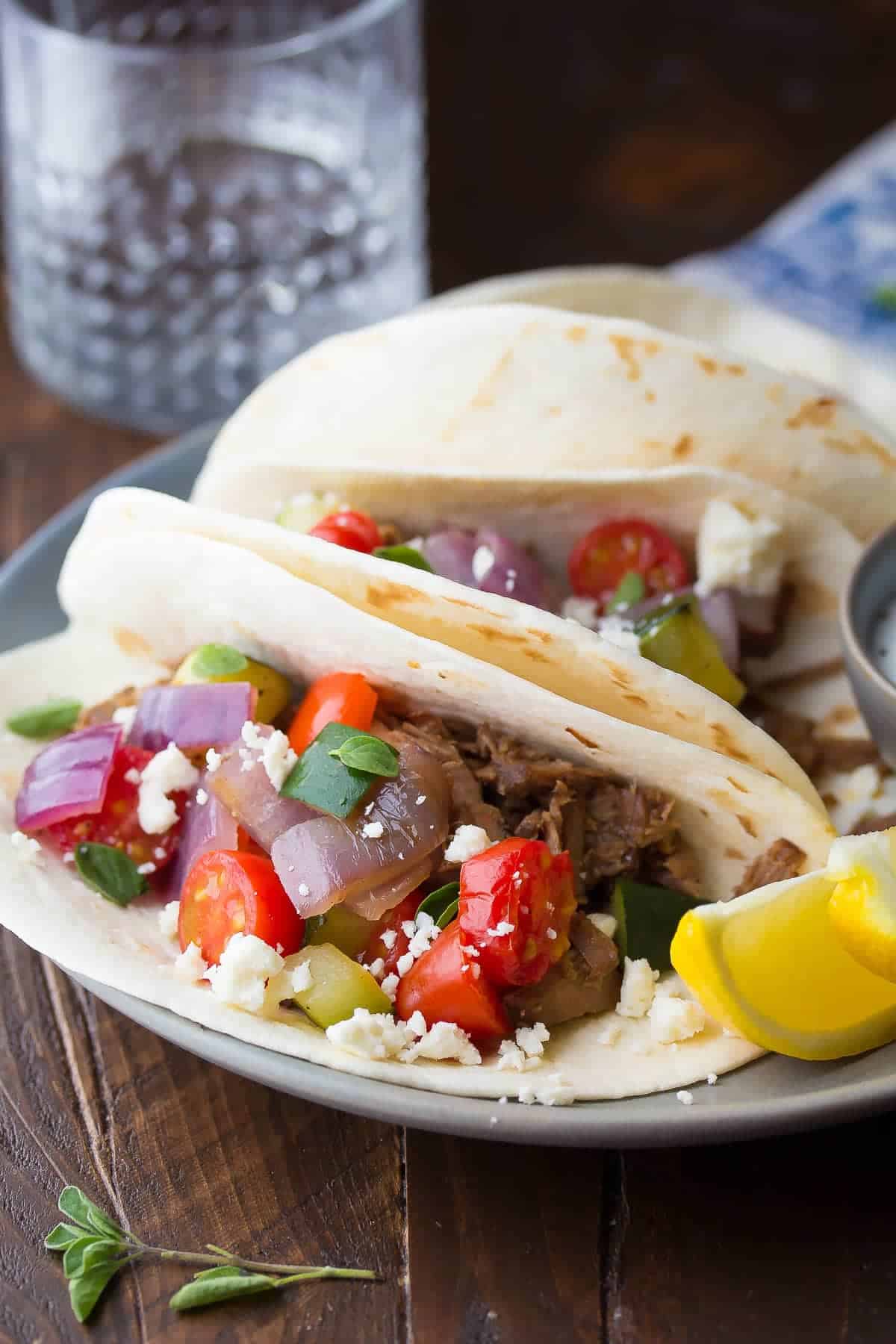 When I was thinking up flavors that pair well with slow cooker beef tacos, I just kept coming back to tomatoes.  Fresh bright tomatoes and rich beefy beef.  They just go together.
So I thought why not make some tomato + beef tacos.  And then I added some zucchini.  And then some red onion.  And before I knew it, it got all Greek up in here and some lemon, oregano and feta cheese came out to play!
And in case you are wondering, YES you should add some tzatziki too!!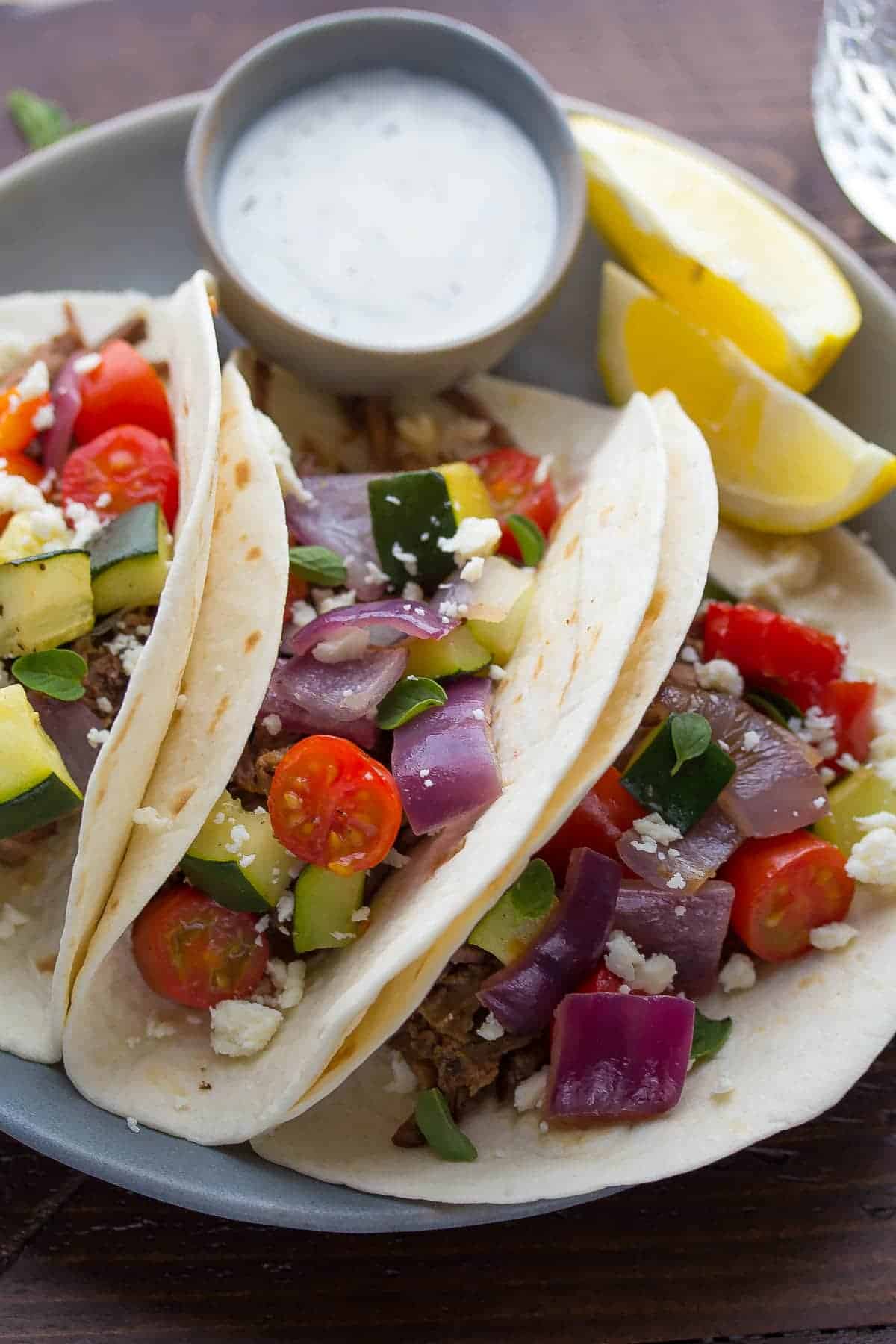 I love these slow cooker beef tacos because they are just so fresh and bright.  Roasted tomatoes have SO much extra flavor, plus the salty feta really adds some pizzazz to these guys.
The vegetables keep things a bit lighter so the tacos don't feel too heavy.
And they are ready in under 30 minutes.  That is pretty much a requirement for dinner in my house these days!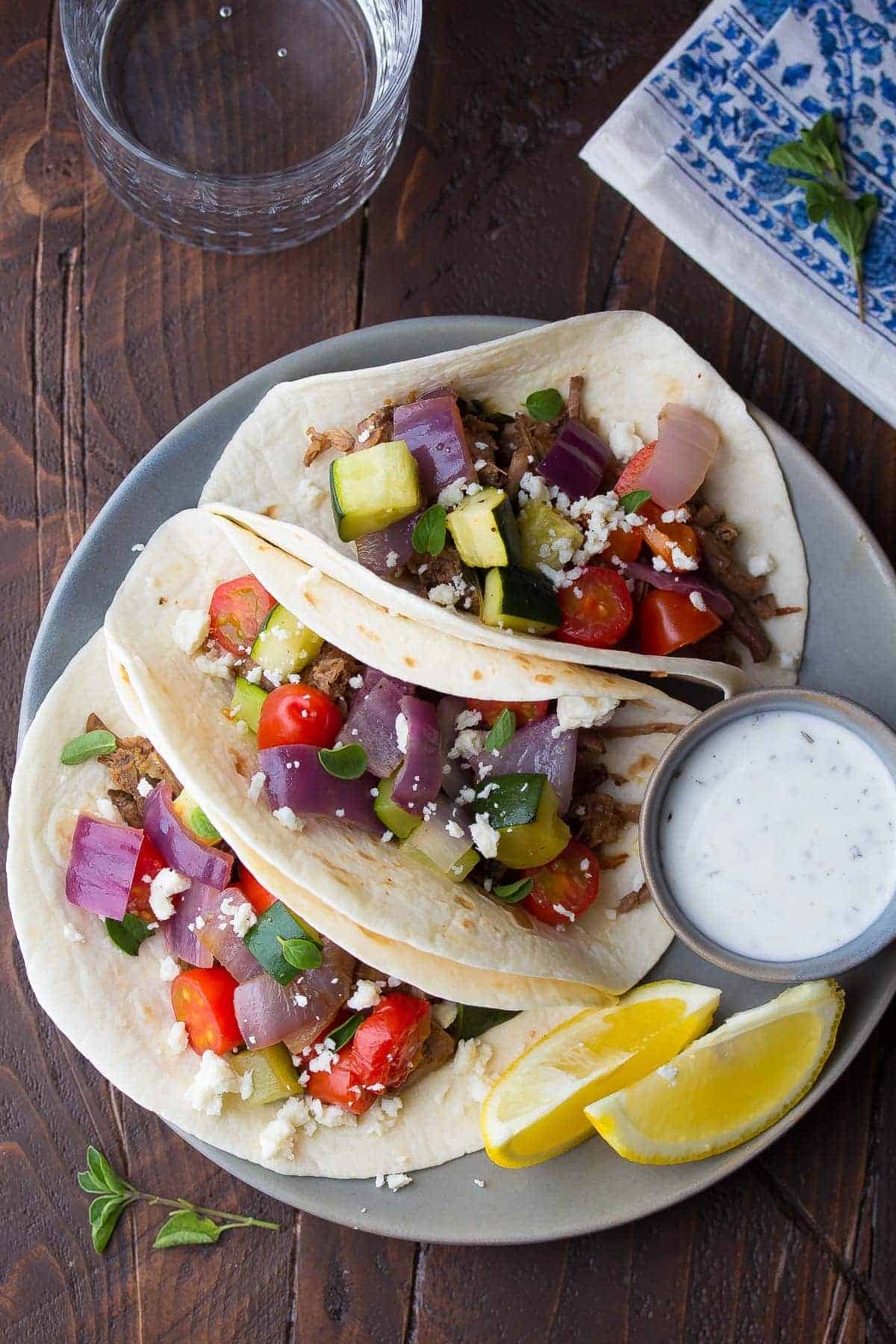 Alllllright.  We are done with Honey Garlic Beef recipes for a long while now.  I hope you had as much fun as me with this series!
Don't forget to check out the other recipes in this 3-in-1 slow cooker series!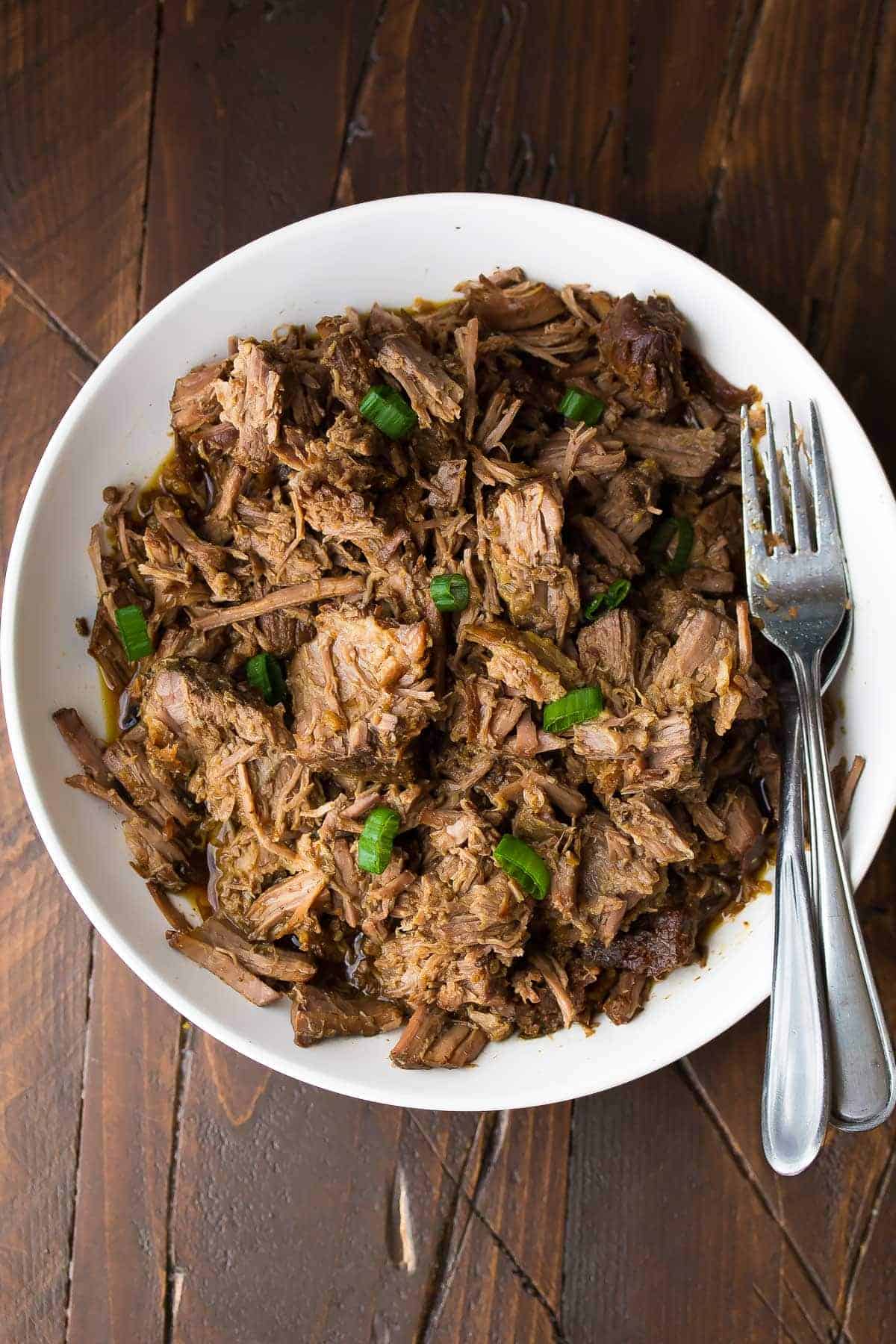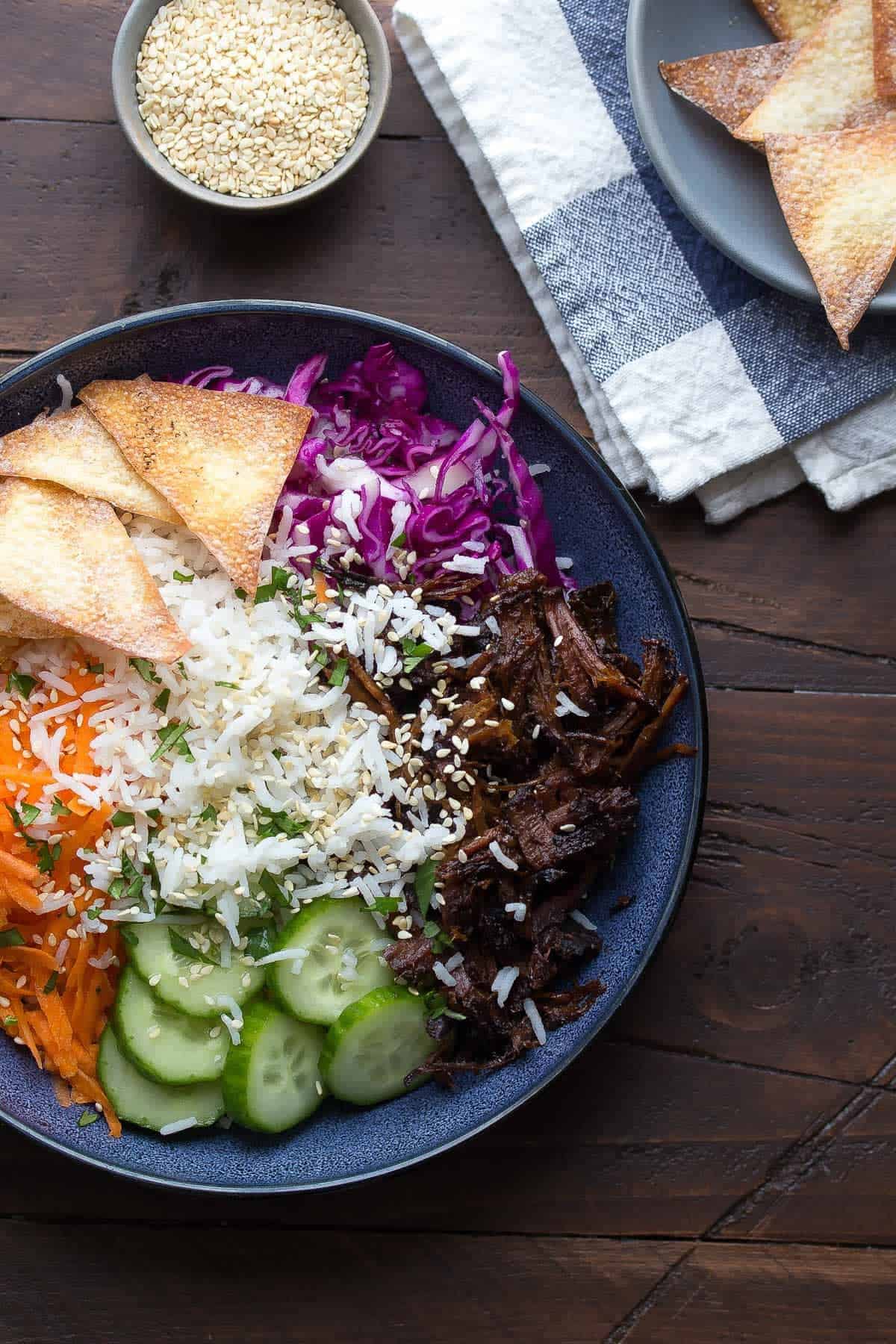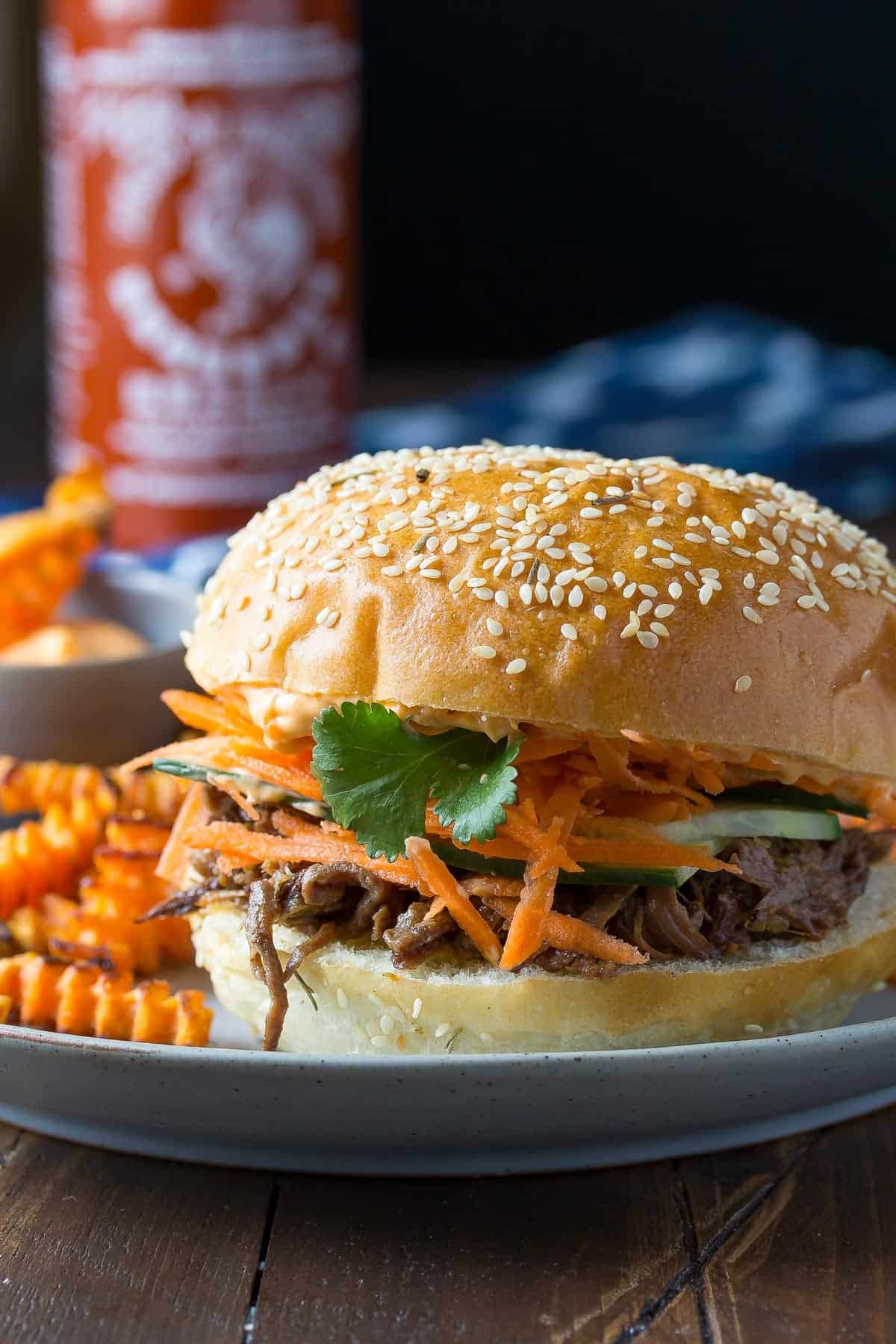 Slow cooker beef tacos with roasted vegetables and feta
4
adjust servings
Ingredients
Roasted Vegetables
2

cups zucchini, cubed

1

bell pepper, chopped into cubes

1/2

cup red onion, cut into chunks

1/2

tablespoon olive oil

1/2

tablespoon sherry

salt and pepper

1

cup cherry tomatoes, halved
Tacos
8 6-inch

flour tortillas

1/2

cup feta cheese, crumbled

1

lemon, cut into wedges

2

tablespoons fresh oregano leaves

yogurt or tzatziki
Instructions
Roasted Vegetables
Pre-heat oven to 400°F. Toss the zucchini, bell pepper and red onions in the sherry and olive oil. Place in a baking dish. Sprinkle with salt and pepper.
Roast for 15 minutes. Add the tomatoes to the dish and return to the oven for 5 more minutes.
To assemble a taco
Place ¼ cup of pulled beef on a 6-inch tortilla.
Top with roasted veggies.
Sprinkle with feta, squeeze lemon over, and top with yogurt/tzatziki if desired.
Recipe Notes
Nutritional Information: (2 tacos)
Calories 436 // Fat 23 g // Saturated Fat 9 g // Cholesterol 69 mg // Sodium 814 mg // Carbohydrate 34 g // Fiber 2 g // Sugars 4 g // Protein 23 g
Products used in this recipe: