Take one beef roast and turn it into three delicious meals: this meal prep plan shows you how to prep all the recipes in the shredded beef meal prep plan with a video demo and printable shopping list!
Cook once, eat three meals. Sound pretty good? I've already shared this 7 ingredient meal prep plan and this pulled pork meal prep plan, and today we are using a beef roast as the base of three healthy and delicious dinners!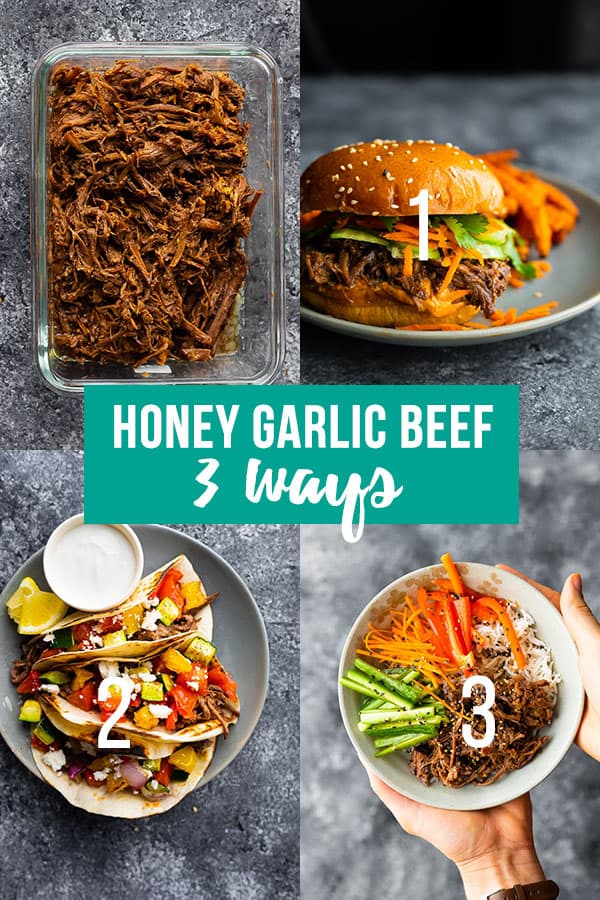 Cooking a big batch of protein is one of my favorite ways to meal prep- it's simple enough to do on meal prep day, and makes a huge difference through the week.
This time, we're cooking a big batch of slow cooker honey garlic beef, which is going to make it easy to put together three dinners later on in the week.
Wondering how this works? Watch the video prep demo below, then print off your printable shopping list, and you are going to be all set!
DOWNLOAD YOUR PRINTABLE SHOPPING LIST HERE
Shredded beef meal prep plan
Want to see how this all comes together? Watch the video below for a visual guide. You can find more videos on my YouTube channel!


Meal prep day
Cook Slow Cooker Honey Garlic Beef- get this going first as it requires a full 8 hours in the slow cooker.
Cook ¾ cup rice for rice bowls- roughly 2 cups cooked. Refrigerate within 2 hours of cooking.
Shake up sesame vinaigrette for the rice bowls. Refrigerate.
Slice vegetables-

tacos- 2 zucchinis, 2 bell peppers and ½ red onion chopped into ½ inch cubes
rice bowls- 2 carrots and 1 bell pepper, julienned
sandwiches- 1 carrot, shredded

Crumble ½ cup feta cheese for tacos. Refrigerate.
Don't forget to pin this post to save it for later!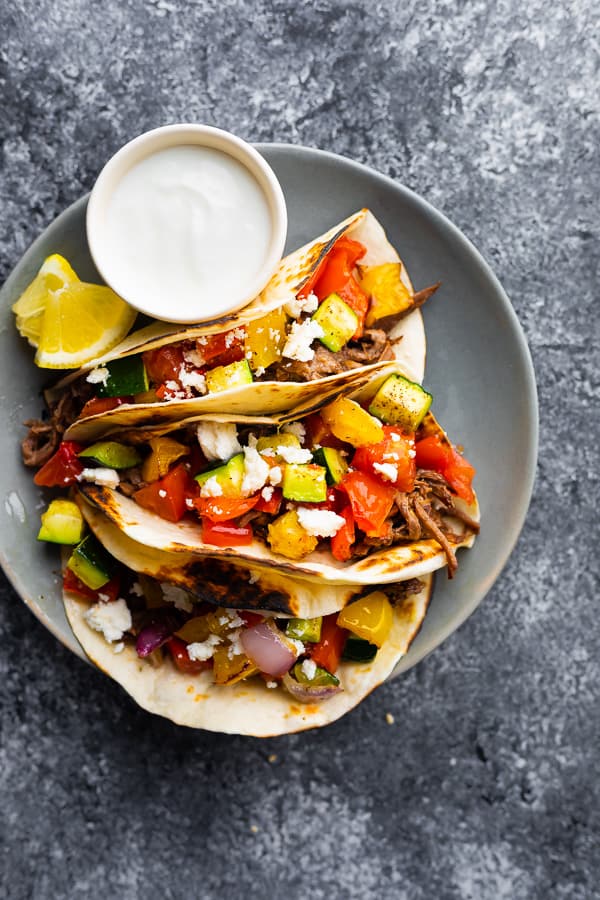 Dinner 1- shredded beef tacos with roasted veggies and feta cheese
This creative taco recipe has shredded honey garlic beef topped with roasted bell peppers, zucchini, onions and tomatoes. The finishing touch is a squeeze of lemon and some crumbled feta cheese. Serve with tzatziki for an optional but delicious condiment.
To cook this dinner
roast the vegetables at 400°F for 15-20 minutes
reheat the shredded beef in a frying pan
Grab the full directions + printable recipe here.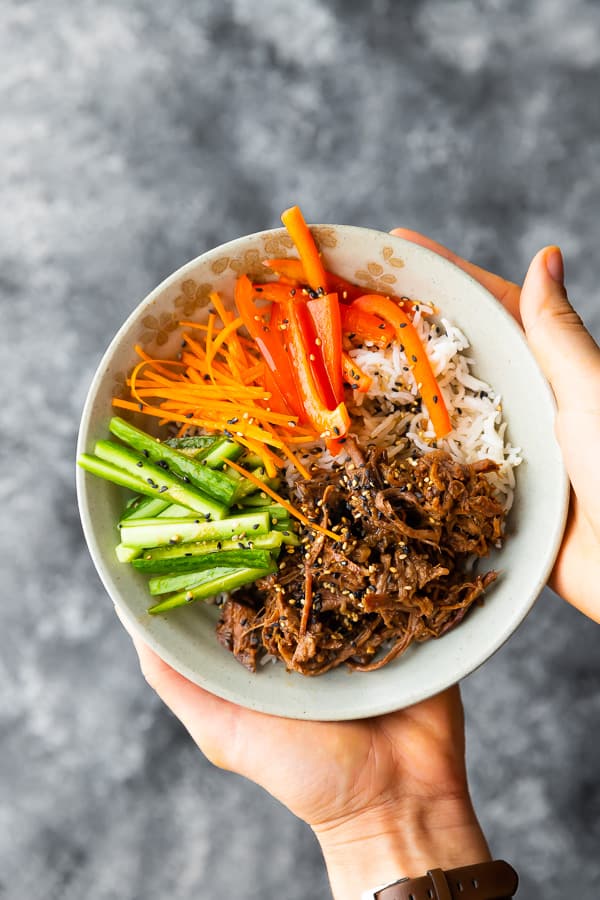 Dinner 2- honey garlic beef rice bowls
Inspired by the rice bowls you get at a Vietnamese restaurant, we are taking basmati rice and topping with honey garlic beef, julienned carrots, cucumber and bell pepper, and drizzling with a tangy sesame vinaigrette. The finishing touch is a sprinkle of toasted sesame seeds.
To cook this dinner
slice the cucumbers on cook day (other vegetables can be prepped ahead)
reheat the honey garlic beef in a frying pan (you can also reheat the rice or serve it cold)
drizzle everything with the dressing
Grab the full directions + printable recipe here.
Dinner 3- honey garlic shredded beef sandwiches
The juicy honey garlic beef is sandwiched with sriracha mayonnaise, cucumber strips, shredded carrots and cilantro in a gourmet bun. Flavorful and so simple to throw together for a weeknight dinner!
How to cook this dinner
Toast the buns in a little butter
Reheat the honey garlic beef in a frying pan
slice the cucumber and prep the cilantro (carrots can be pre-shredded)
Grab the full directions + printable recipe here.

That takes care of our shredded beef meal prep plan! I hope you enjoy.
Let me know if you have any questions!
Take care,
Denise