18 healthy lunch bowl recipes to keep your lunch exciting! Healthy lunch recipes to fuel you all afternoon long, including rice bowls, vegetarian, chicken and beef bowl options.
Stuck in a lunch rut? Let's get you out of it! You guys are loving these healthy meal prep lunch ideas, and today I'm rounding up some healthy make ahead lunch bowl ideas for us all that would make perrrfect work lunches!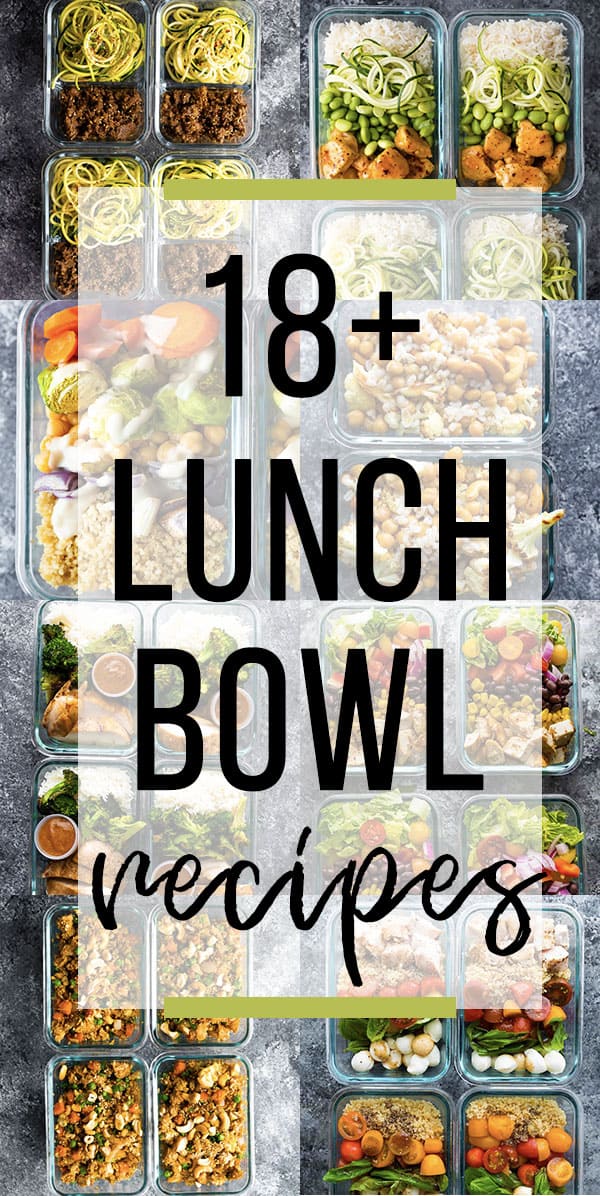 Lunch bowls are one of my favorite ways to meal prep. They are a full meal in one bowl, they are portable and convenient to eat at work, and they keep you full all afternoon long.
Making your own homemade lunch bowl is a great way to save money and stick to a healthy diet!
Healthy lunch recipes
This post has a huge variety of healthy lunch recipes in 'lunch bowl' form. There is something for everyone's diet including vegetarian bowl recipes, beef bowl recipes and chicken bowl recipes. There are also some low carb bowl recipes in there!
These healthy lunch recipes are heavy on the veggies. The biggest benefit to preparing your lunches ahead is that you are setting yourself up for eating healthy through the week and I think we can all agree that veggies = healthy!
Looking for more information on meal prep? Check out this post I wrote on How To Meal Prep.
Ready? Alright...let's go! It's make ahead lunch bowl time!
Don't forget to pin this post to save it for later!
Vegetarian bowls
These vegetarian bowl recipes have a few things in common: healthy, delicious, portable, and packed with all the good stuff! Keep the dressing separate until just before serving.
Chicken bowls
These chicken bowl recipe ideas are perfect for a balanced lunch, and check out all the delicious flavors! Isn't chicken so versatile?!
Beef bowls
Just like chicken, beef is an incredibly versatile protein. These beef bowl recipe ideas are diverse in flavor and would be incredible for lunch!