Healthy slow cooker soup recipes that are easy to prepare and make dinner a breeze! These slow cooker soups and stews will warm you up on a cold day while keeping things light.
One of my new years resolutions for 2015 is to rock that crockpot! I love throwing everything in the slow cooker and coming back to a delicious-smelling house and a crockpot full of a delicious meal.
Today I've scoured the internet and am sharing my favorite healthy slow cooker soups & stews. They are full of healthy ingredients that keep things light, free from large amounts of cream, cheese, and other heavy ingredients, but still hearty enough to fill you up.
I could see any one of these slow cooker soup recipes making a perfect weeknight dinner.
Tips for getting the most flavor out of your slow cooker soup recipes:
some herbs are best added at the start of cooking (ie: rosemary and dried herbs), but fresh herbs should almost always be reserved for just prior to serving to maximize flavor.
most soups can benefit from a boost of acid (lemon juice, lime juice, balsamic vinegar etc) at the end of cooking. It really brings out extra flavor!
chicken breast cannot handle over 5 hours (on low!) in the slow cooker. If you need to cook for longer than that, consider boneless, skinless chicken thighs. Bonus: brown the thighs first and they will hold together even better!
in my experience, light coconut milk curdles in the crockpot, whereas full-fat coconut milk can withstand cooking up to 8 hours on low.
1. Slow Cooker Buffalo Chicken Soup from A Spicy Perspective
2. Beef and Barley Soup from The Food Charlatan
3. Sweet Potato, Chicken & Quinoa Soup from Chelsea's Messy Apron
4. Slow Cooker Chicken & Sweet Potato Korma from Sweet Peas & Saffron
5. Slow Cooker White Bean Chili Chicken Verde from Maebells
6. Crockpot Spicy Chicken Soup from Crockpot Gourmet
7. Slow Cooker Harvest Beef Stew from Whole & Heavenly Oven
8. Slow Cooker Moroccan Lentil Soup from This Gal Cooks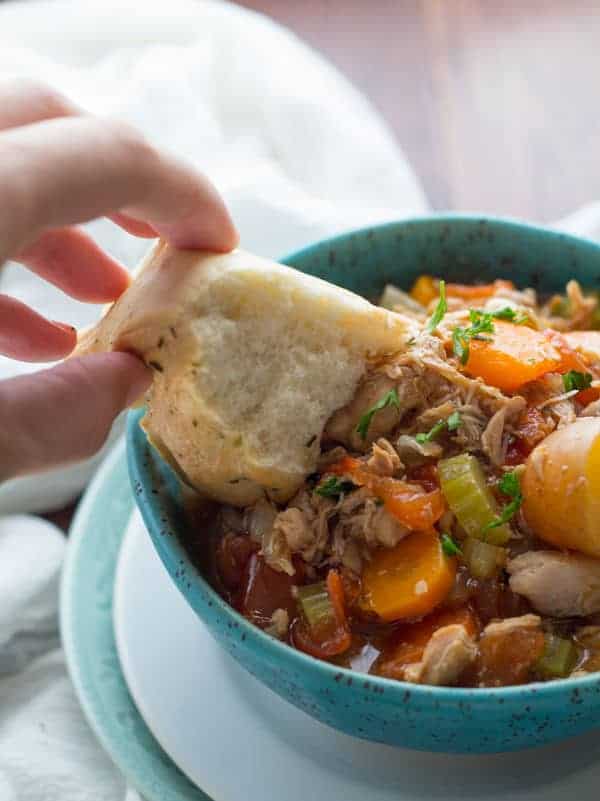 9. Slow Cooker Tuscan Chicken Stew from Sweet Peas & Saffron
10. Slow Cooker Butternut Squash and Quinoa Chili Soup from Kristine's Kitchen
11. Slow Cooker Thai Chicken Soup from Foodie Crush
12. Slow Cooker Taco Soup from iFOODreal
13. Healthy Slow Cooker Chili from Savory Nothings
14. Crockpot Turkey Chili from Live Well, Bake Often
15. Slow Cooker Mexican Chicken Stew from Sweet Peas & Saffron
16. Crock Pot Pork Posole Stew from Foodie Crush
17. Slow Cooker Creole Chicken and Sausage from Pinch of Yum
18. African Inspired Vegetarian Crock Pot Soup from Kalyn's Kitchen
19. Slow Cooker Chicken Parmesan Soup from Foxes Love Lemons