More than 32 delicious chicken breast meal prep recipes that will have you excited to eat your lunch! These recipes prove that boneless skinless chicken breasts are anything but boring.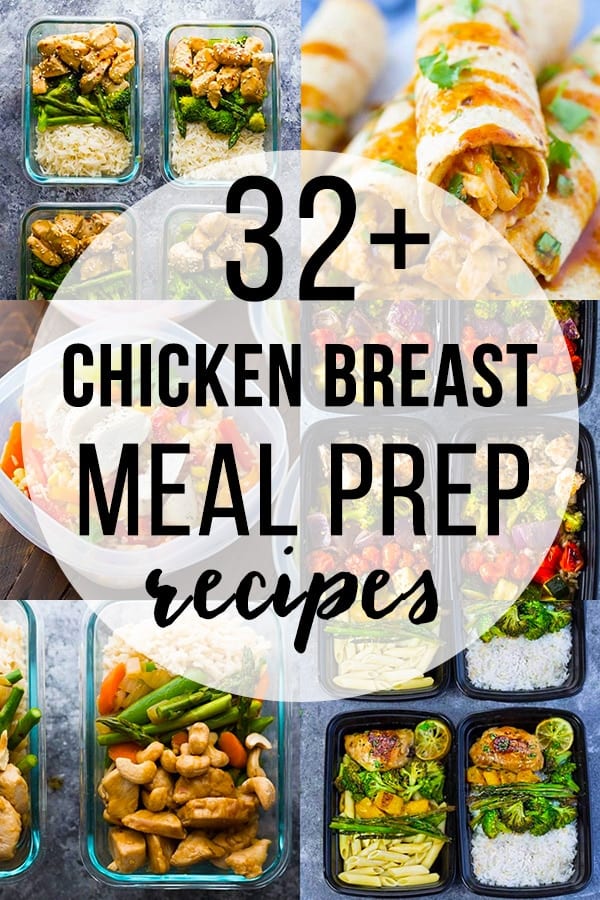 Chicken breasts are one of the most popular proteins for meal prep. Per pound, they contain fewer calories and grams of fat than chicken thighs, making them a smart choice for anyone who is trying to slim down.
Not only that, but chicken breasts are so versatile, they can go with just about anything...they really are a blank canvas!
I though it would be fun to round up some of my favorite chicken breast meal prep recipes from around the web, so you never have to get bored with your chicken breast routine!
But first, a few tips I've found to make sure that your meal prep chicken breasts stay moist and delicious:
Store them in a sauce/vinaigrette- Storing and re-heating your chicken breast in a sauce helps lock in extra moisture, and same goes for chicken breast stored in a salad vinaigrette.
Bake them whole, then slice- Baking your chicken breast whole, rather than cubed or pre-sliced helps retain more moisture. Make sure you let them rest for 5-10 minutes before slicing up, as this prevents juices from running out.
Cut against the grain- cutting with the grain results in stringy, chewy chicken breast. This goes for slicing it raw (pre-baking) or slicing it after it cooks. See this article for a good visual guide of slicing against the grain.
Don't overcook!- chicken breasts can be tricky...a minute or two of extra time in the oven can mean dry dry dry. Cook to an internal temperature of 165°F (75°C). Once you get a system down for cooking your chicken breasts, you don't have to worry about this. To cook whole chicken breasts, I recommend 425°F for 18 min (smaller 5 oz chicken breasts) to 28 min (larger 12 oz chicken breasts).
Alright, enough tips. Let's check out these 32+ chicken breast meal prep recipes!
Updated April 17 with new recipes! Scroll to the bottom to see them.
NEW: 7 Freezer Slow Cooker Chicken Recipes from Sweet Peas & Saffron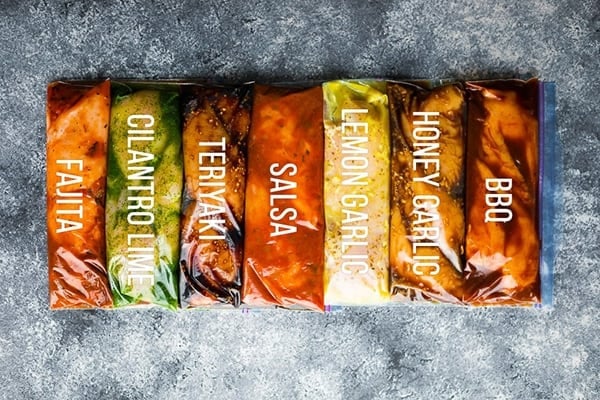 NEW: make these Instant Pot Chicken Breast Freezer Packs on meal prep Sunday! Check this post out!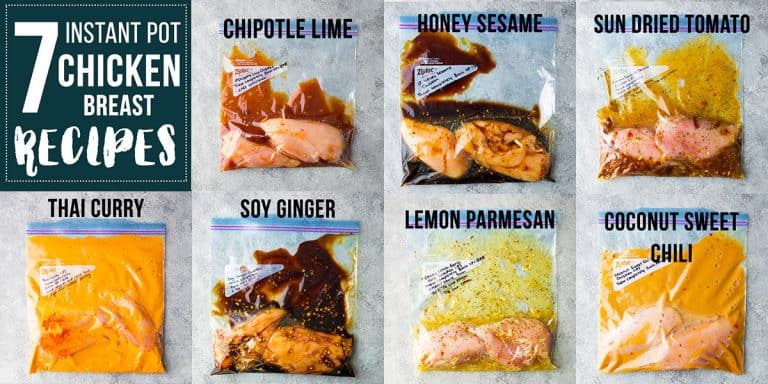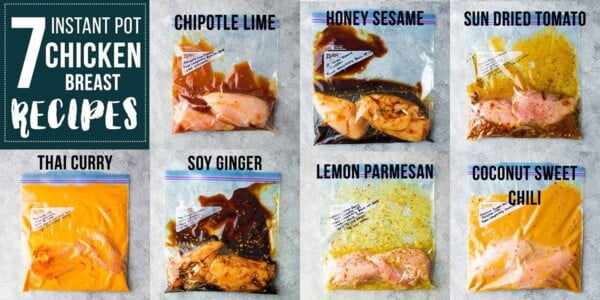 1. 7 Chicken Marinade Recipes You Can Freeze from Sweet Peas & Saffron // 2. Asian Chicken Mason Jar Salads from Joyful Healthy Eats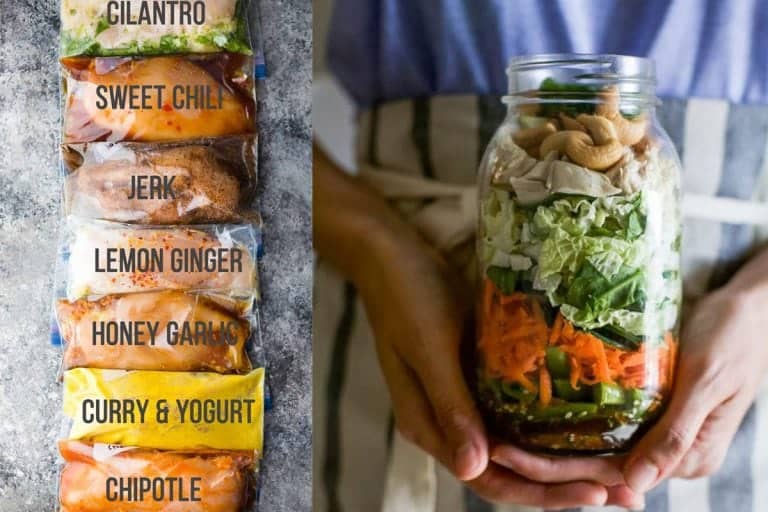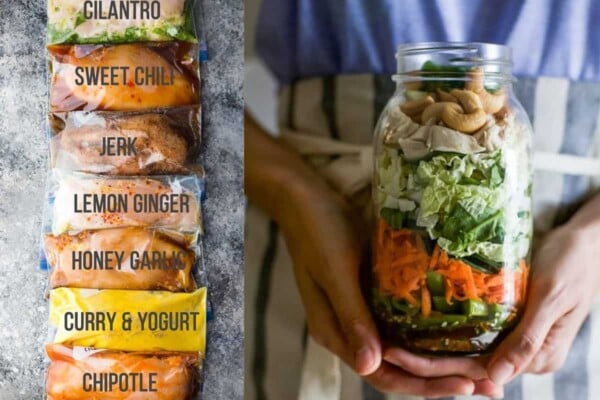 3. Honey Sesame Chicken Lunch Bowls from Sweet Peas & Saffron // 4. Honey BBQ Slow Cooker Taquitos from Kristine's Kitchen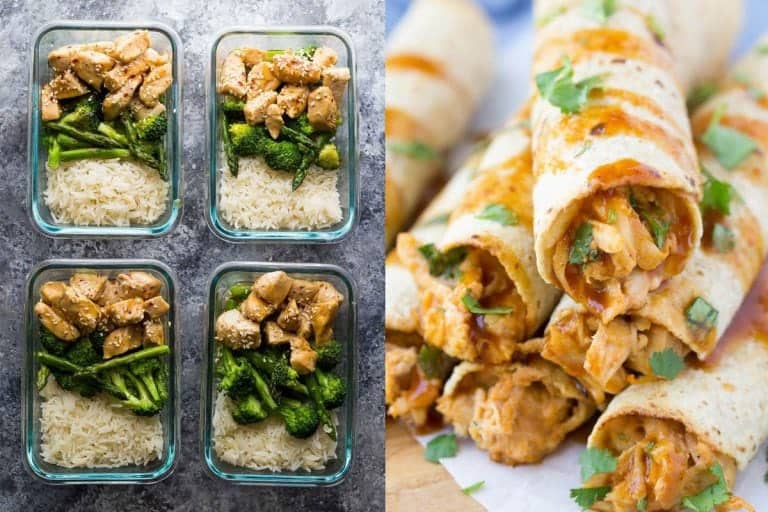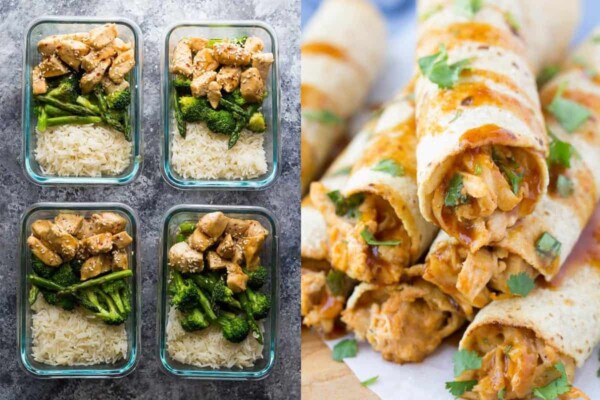 5. Make Ahead Lemon Chicken Sheet Pan Gnocchi from Sweet Peas & Saffron // 6. How To Add Variety To Meal Prep Chicken from Yummy Healthy Easy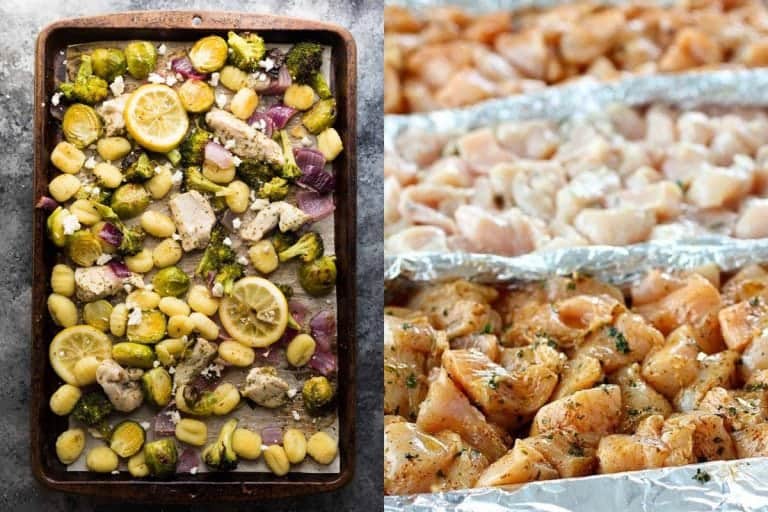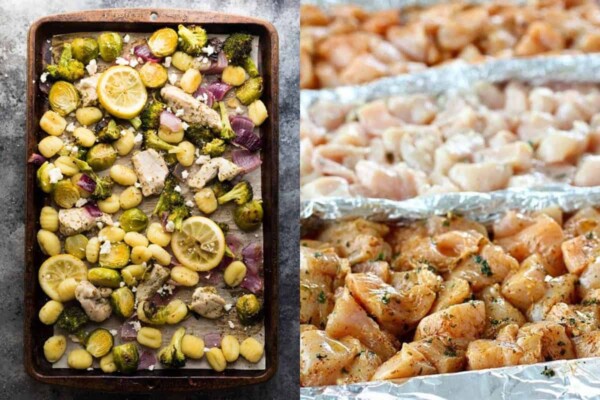 7. Mexican Chicken and Cauliflower Rice Meal Prep Bowls from Sweet Peas & Saffron // 8. Thai Peanut Chicken Meal Prep Bowls from From Valerie's Kitchen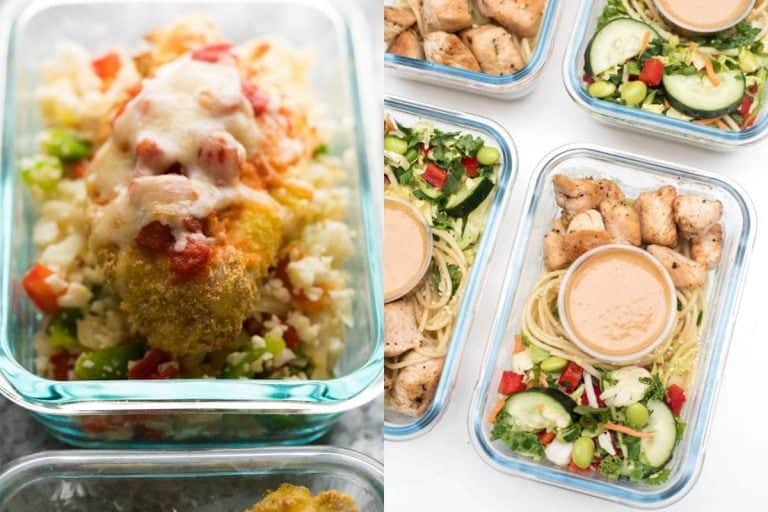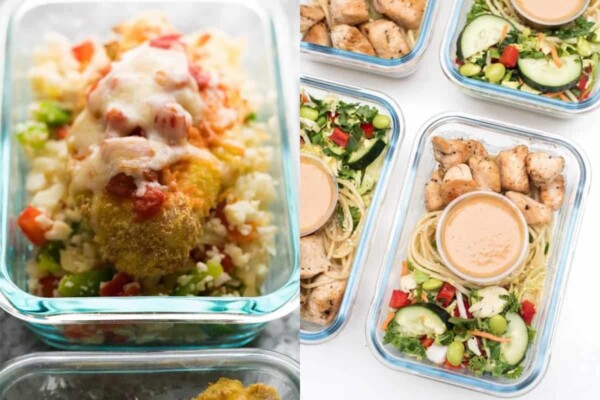 9. Meal Prep Pesto Chicken Pita Pockets from Sweet Peas & Saffron // 10. Greek Chicken Roasted Cauliflower Meal Prep Bowls from Food Faith Fitness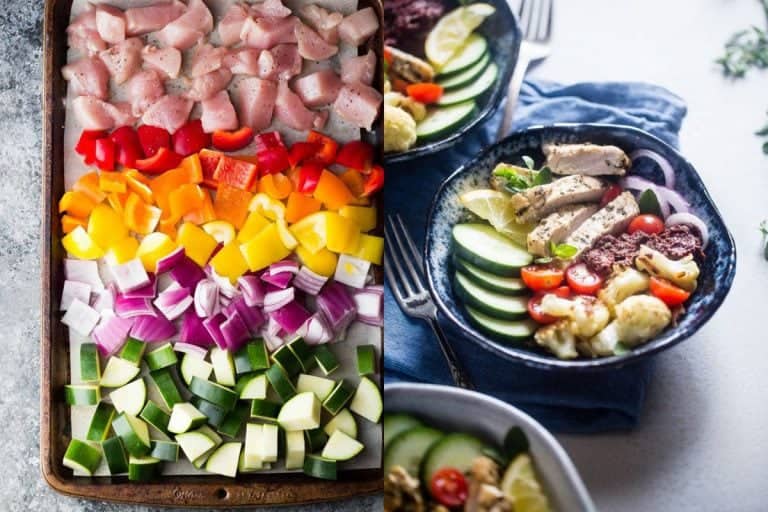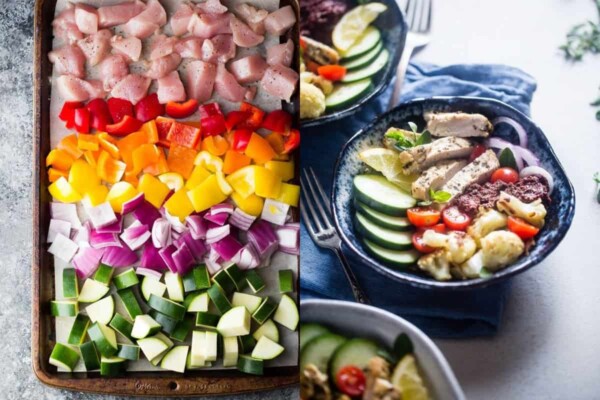 11. Slow Cooker Sweet Chili Chicken (3 Ways) from Sweet Peas & Saffron // 12. Meal Prep Cilantro Lime Chicken with Cauliflower Rice from Fit Foodie Finds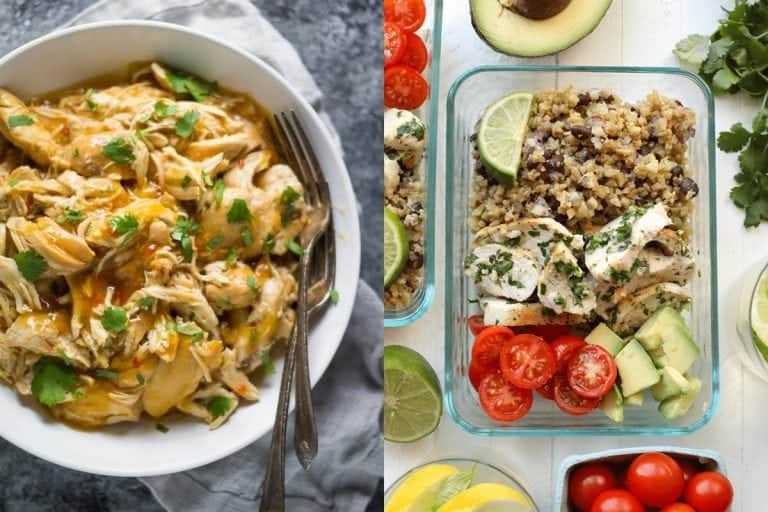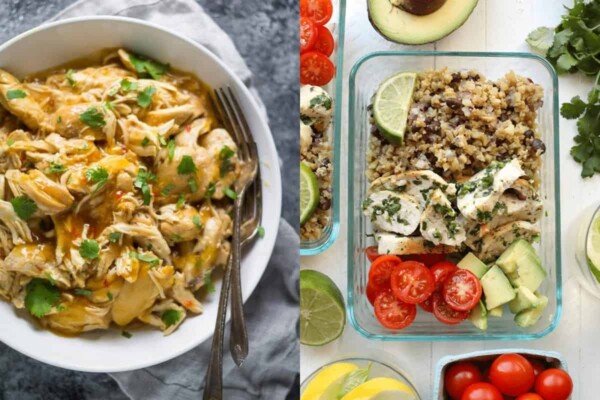 13. Chicken Fajita Lunch Bowls from Sweet Peas & Saffron // 14. Meal Prep Roasted Chicken and Veggies from Gimme Delicious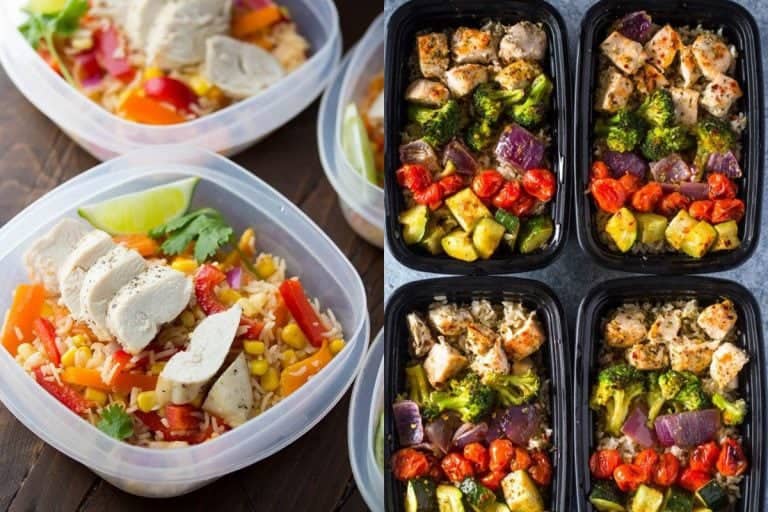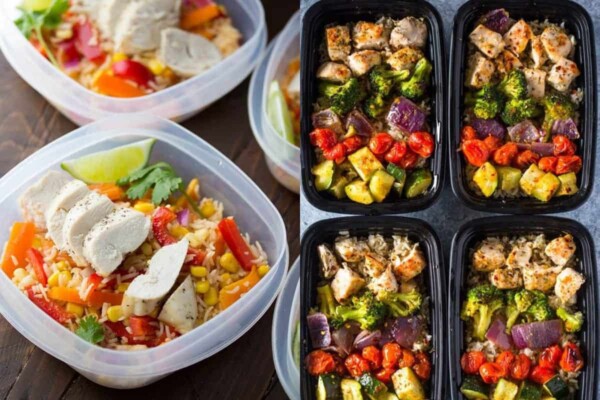 15. Maple Ginger Chicken Meal Prep Lunch Bowls from Sweet Peas & Saffron // 16. Honey Lime Chicken Sheet Pan from Life Made Sweeter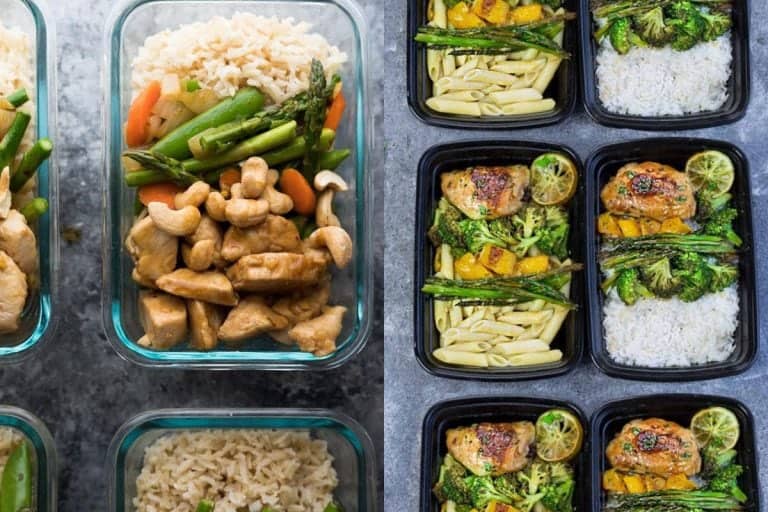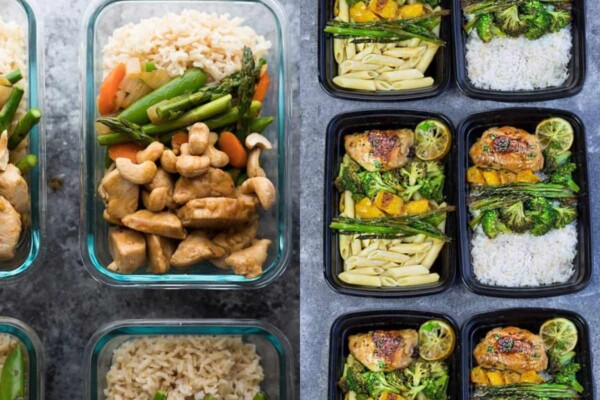 17. Meal Prep Chicken Fajitas (Sheet Pan) from Sweet Peas & Saffron // 18. Italian Chicken Meal Prep Bowls from Eazy Peazy Mealz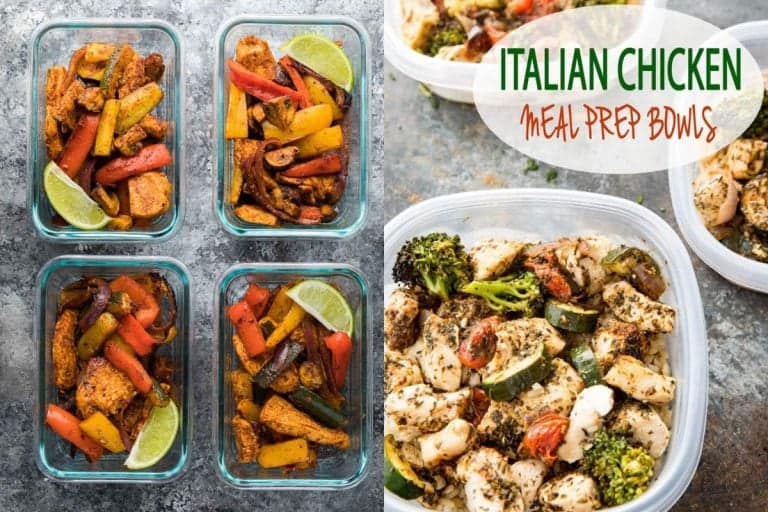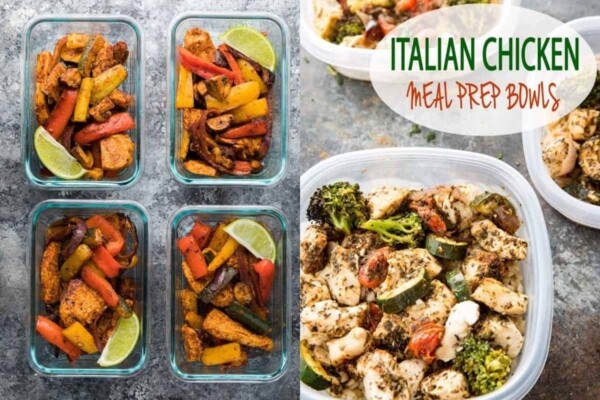 19. Jerk Chicken Meal Prep Bowls from Sweet Peas & Saffron // 20. Healthy Chicken Recipes in a Pressure Cooker or Crock Pot from The Creative Bite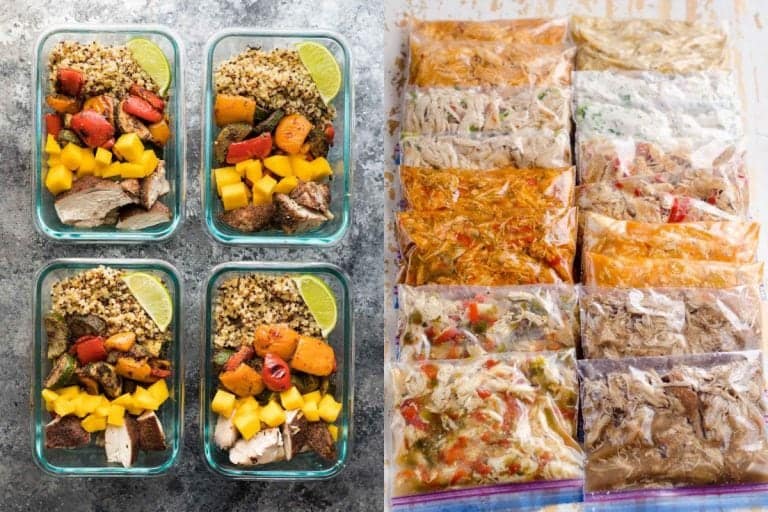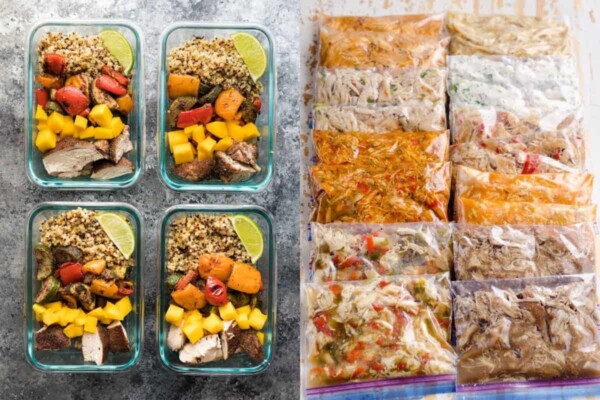 21. Spicy Chicken Meal Prep Bowls from Primavera Kitchen // 22. Slow Cooker Chipotle Honey Chicken Taco Salad Lunch Bowls from Sweet Peas & Saffron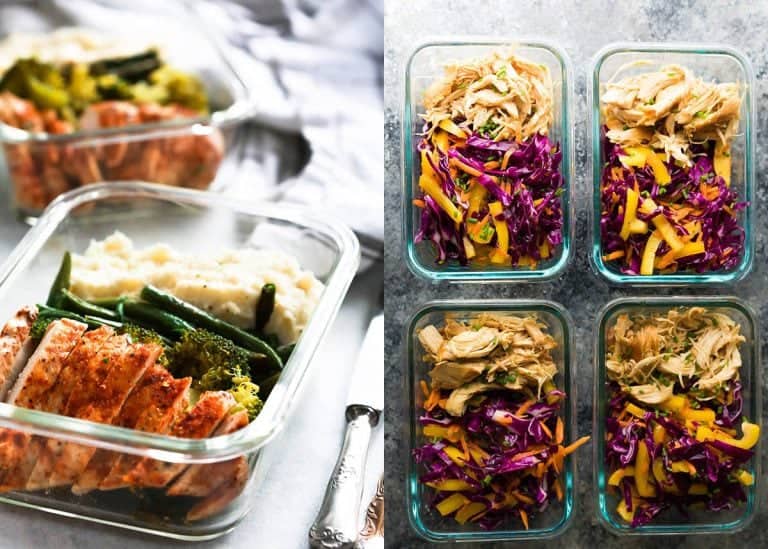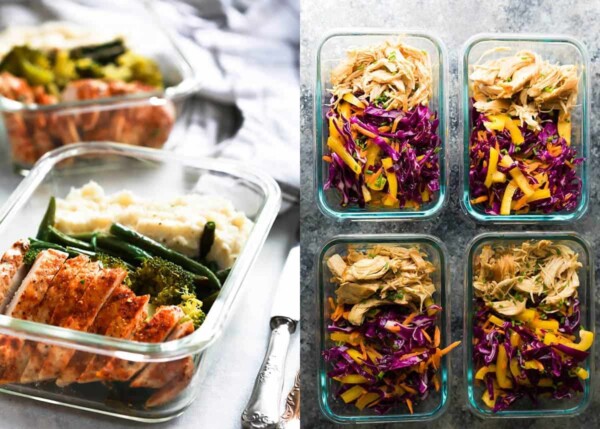 23. Southwestern Chopped Chicken Salad (Meal Prep) from Sweet Peas & Saffron // 24. Meal Prep Chicken Burrito Bowls from Gimme Delicious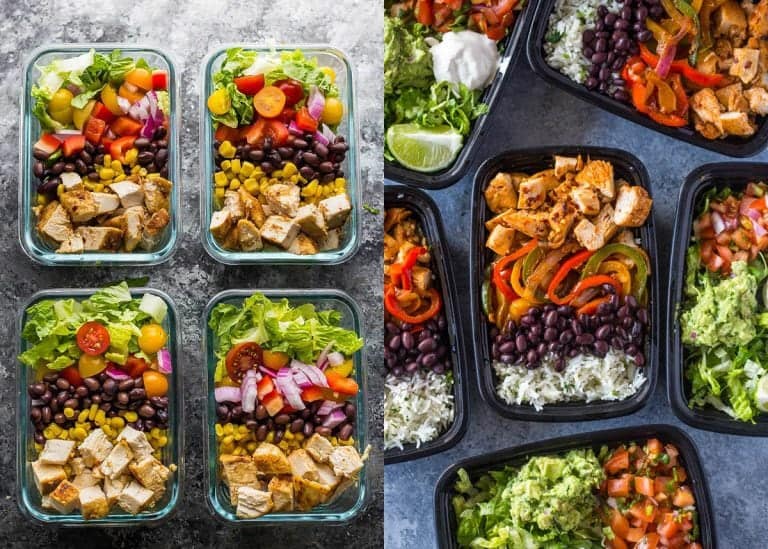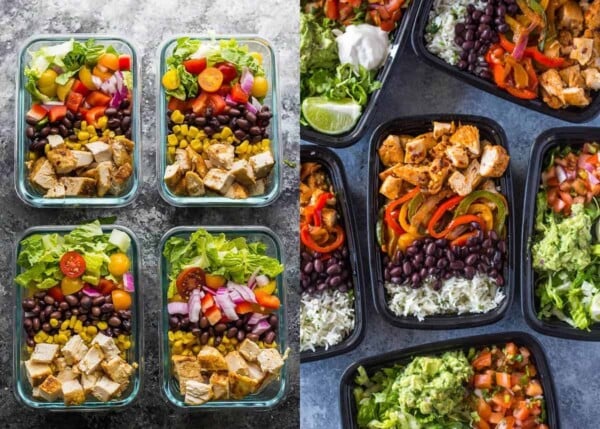 25. Garlic Parmesan Kale Pasta Meal Prep from Budget Bytes // 26. Meal Prep Honey Ginger Chicken Stir Fry from Fit Foodie Finds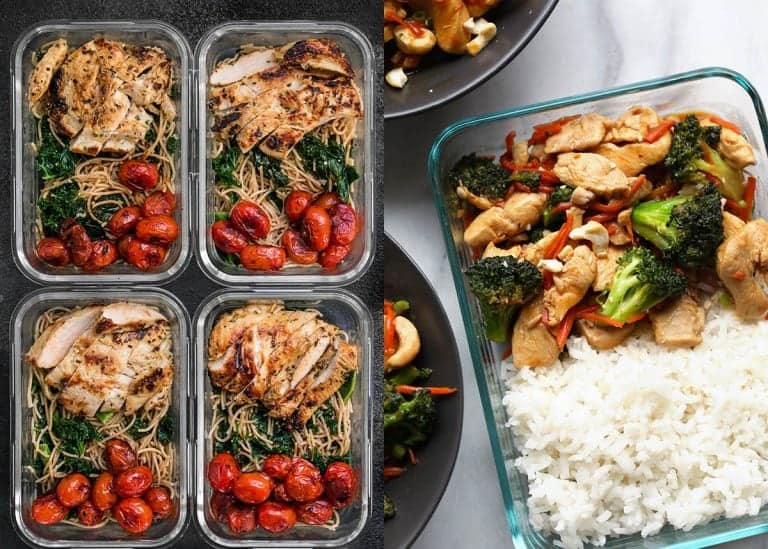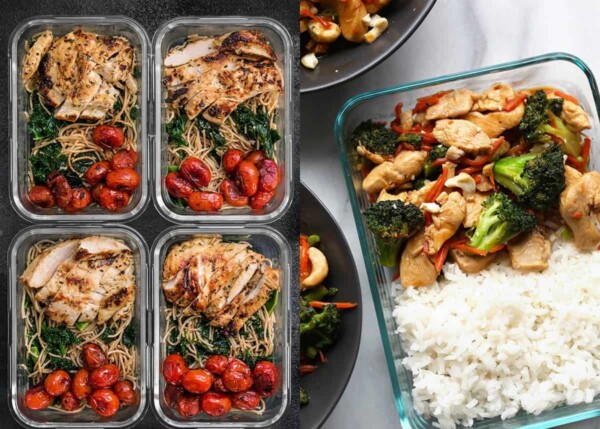 27. 20-Minute Meal Prep Chicken, Broccoli and Rice from Gimme Delicious // 28. Thai Chicken Lunch Bowls from Sweet Peas & Saffron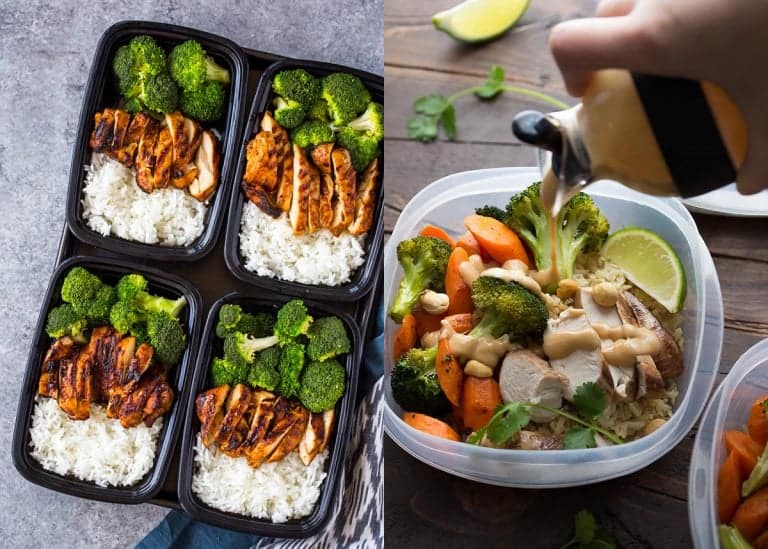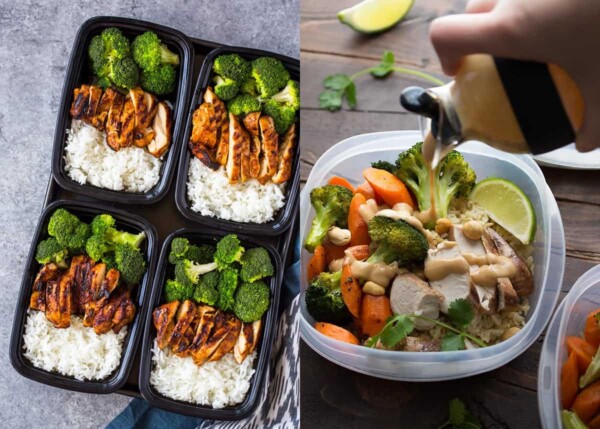 29. Hawaiian Chicken Meal Prep Bowls from Life In the Lofthouse // 30. One Pan Healthy Chicken and Veggies from Chelsea's Messy Apron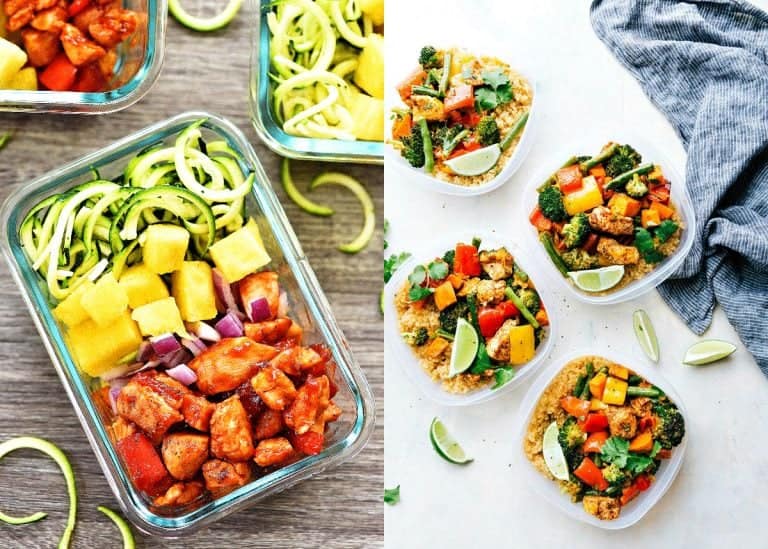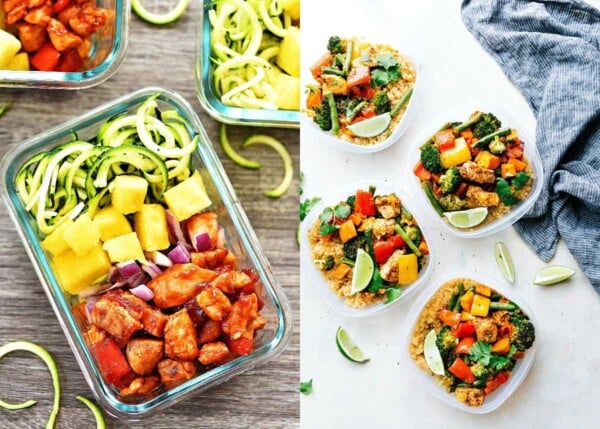 31. Cheesy Broccoli, Chicken and Rice Meal Prep Bowls from Gimme Some Oven // 32. Meal Prep Sesame Chicken Pasta Salad from Sweet Peas & Saffron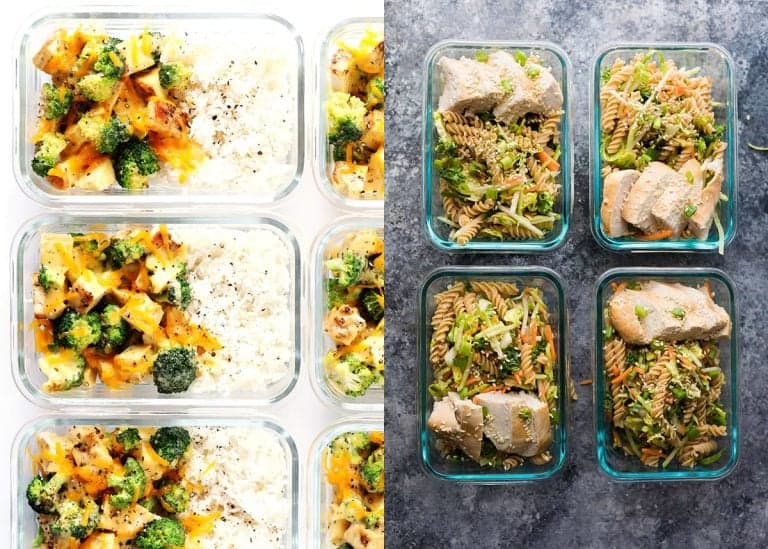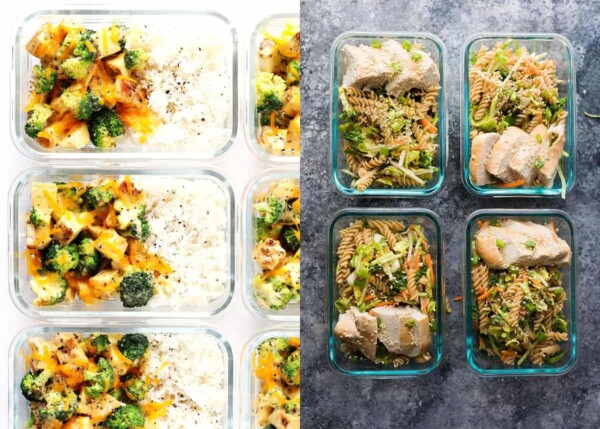 33. Meal Prep Lunch Bowls with Spicy Chicken from Ally's Cooking // 34. Healthier Firecracker Chicken Meal Prep Bowls from Sweet Peas & Saffron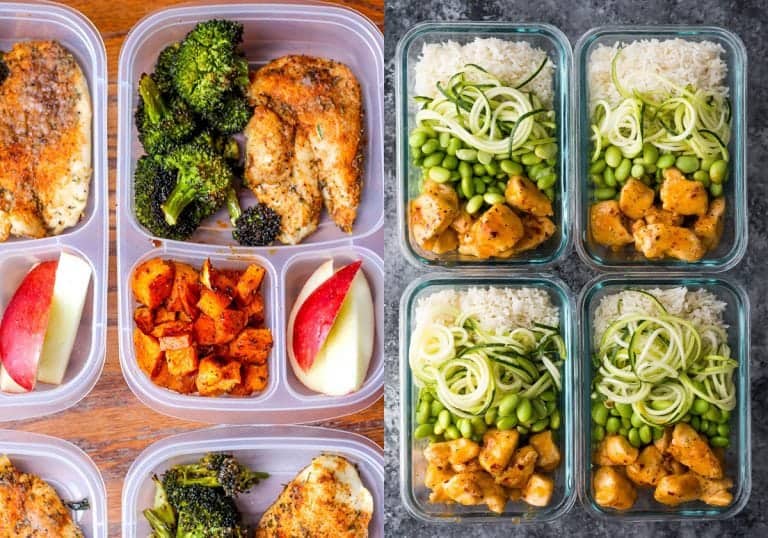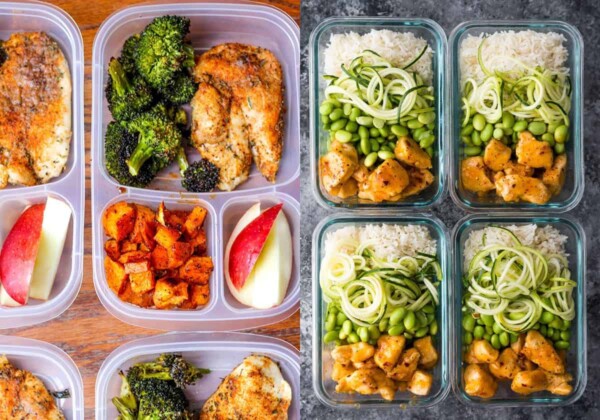 35. Buffalo Chicken Whole30 Meal Prep from 40 Aprons // 36. Caprese Chicken Salad Meal Prep Bowls from Sweet Peas & Saffron