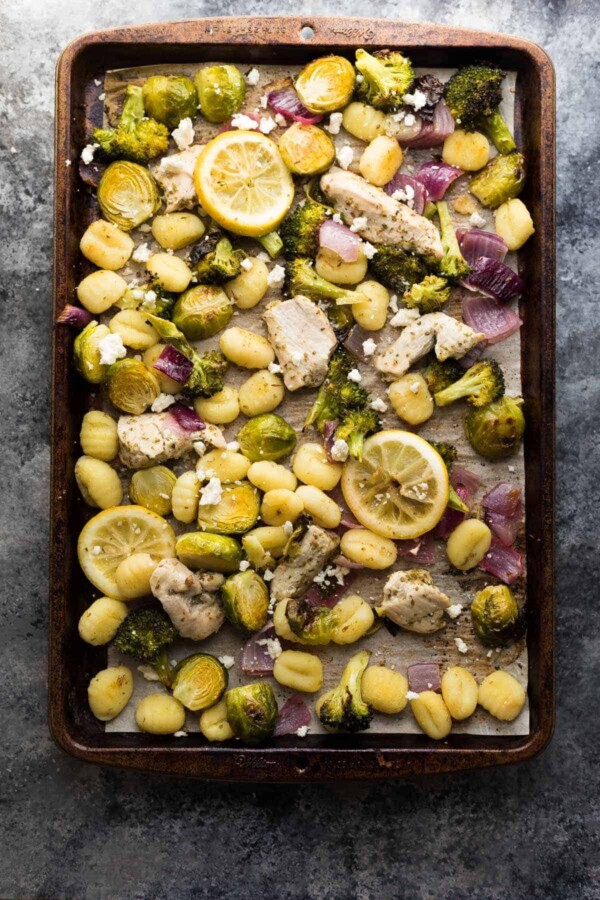 You can do half the prep work ahead for this lemon chicken sheet pan gnocchi, making for a ridiculously easy weeknight dinner.
Making my breakfasts and lunches ahead has been such a game changer for me that I have now set my focus on dinners.
When I went back to work full-time after having Kai, dinners were an absolute nightmare.  Often we wouldn't have anything thawed out, and we wouldn't even have a clue of what we would be eating for dinner…as of 5 pm.
I know I'm not alone, dinners can be so hard, especially when you're tired and hungy.
So make ahead dinners are my focus for 2017 on the blog.  And I have another one for us today: this make ahead lemon chicken sheet pan gnocchi!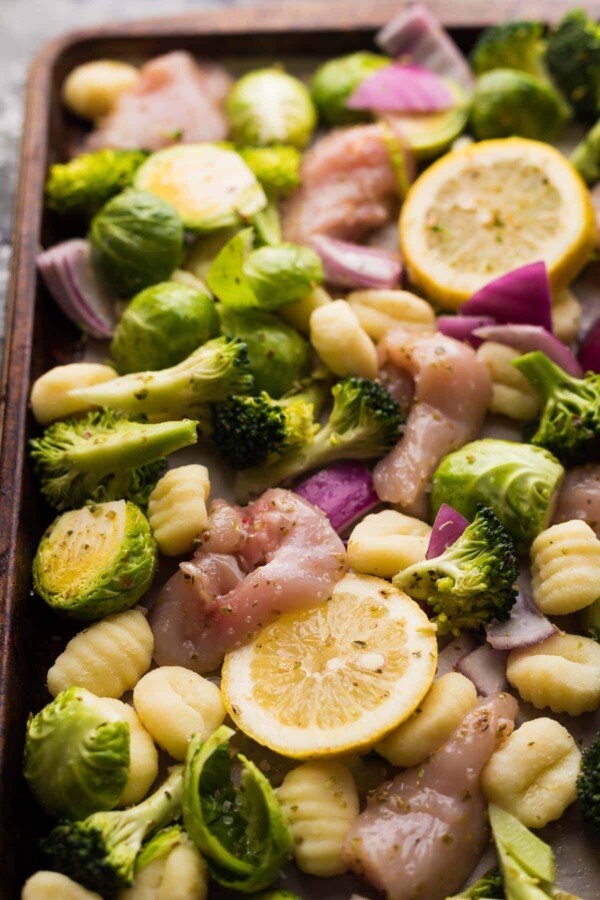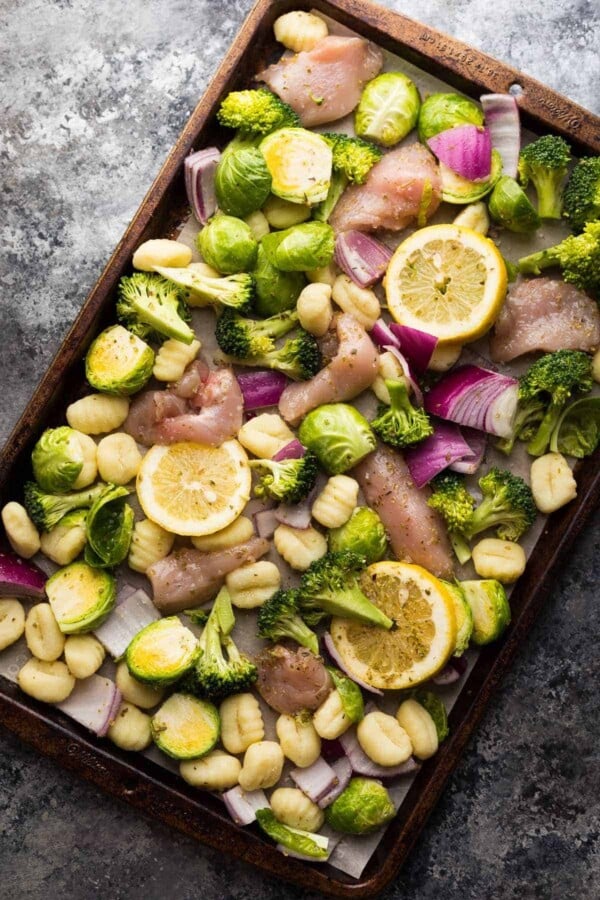 You guys know I love my gnocchi…pan-fried to crispy perfection.  Evidence: this One Pan Gnocchi with Sundried Tomatoes and White Beans, and this summery Caprese Chicken Gnocchi Skillet.
But when I saw that you can roast your gnocchi?  Mind blown.
I knew I wanted to prep as much of this lemon chicken sheet pan gnocchi as possible ahead so I picked hearty veggies: red onions, broccoli and brussels sprouts.  I tossed everything in olive oil with some oregano and lemon slices and stored it in the fridge for up to 3 days (these 8 cup storage containers
are perfect for this!).
You can also pre-chop the chicken, though I would store it in a separate container from the veggies.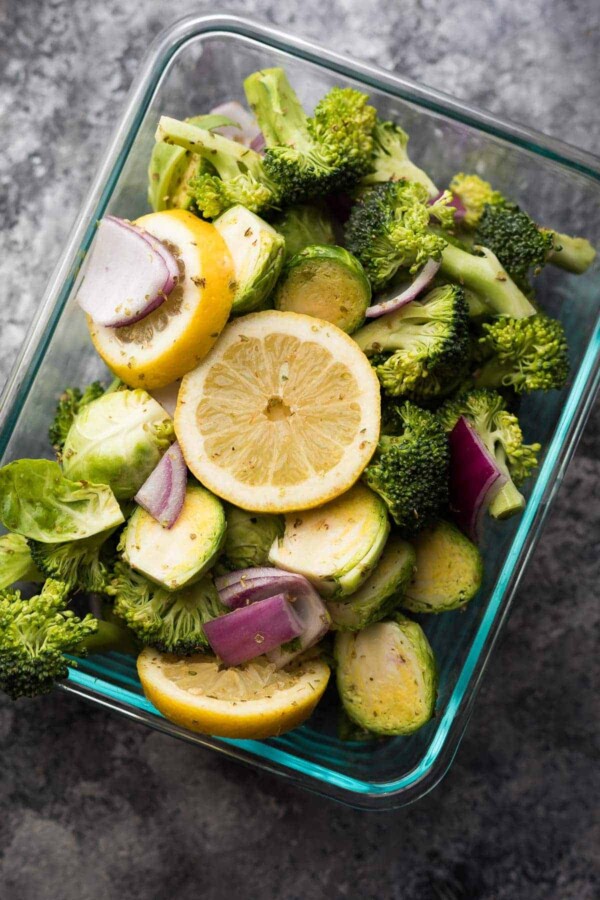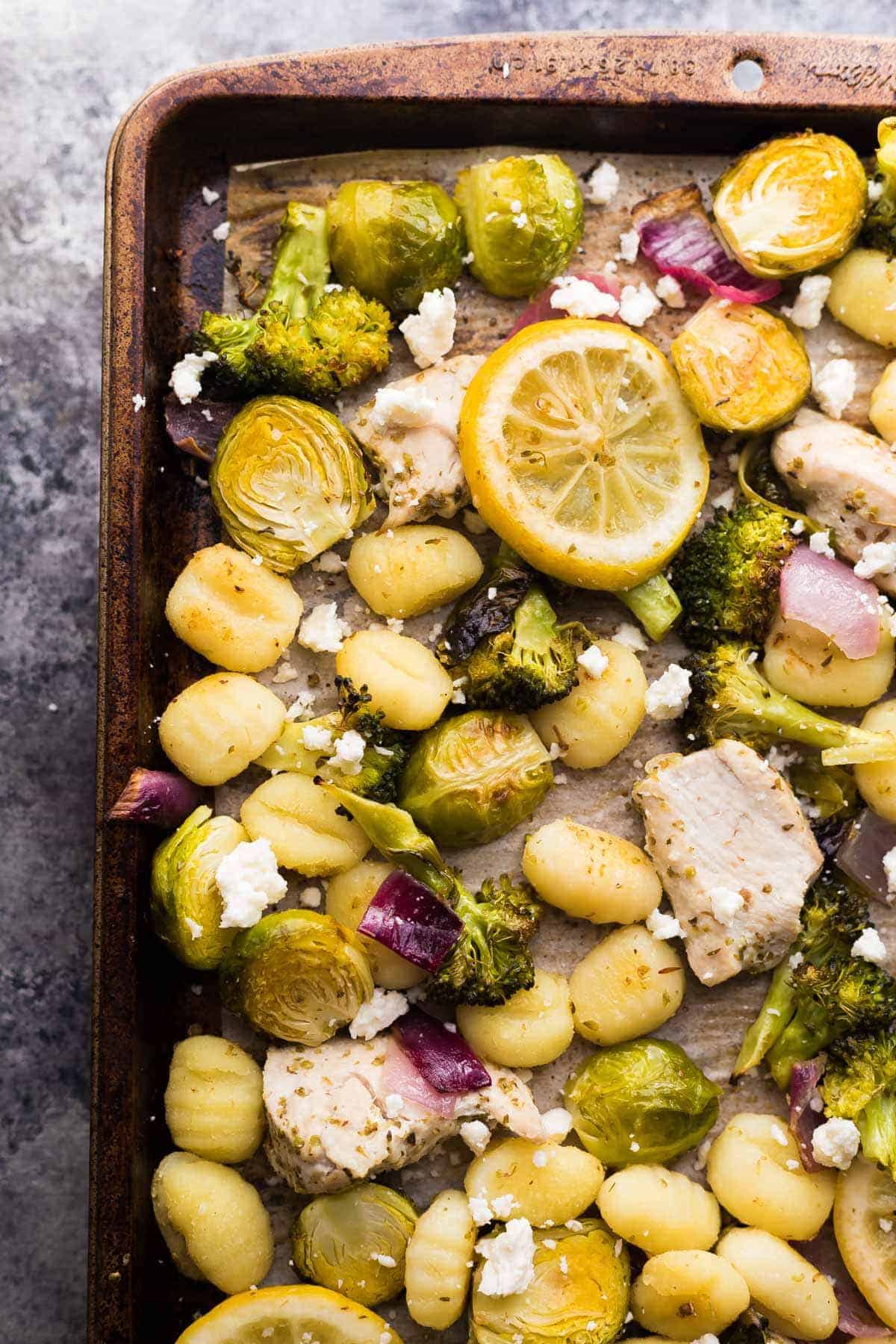 When you're ready to cook up this lemon chicken sheet pan gnocchi, simply toss the veggies and chicken together with a package of gnocchi (add some extra olive oil if needed), then spread out on a sheet pan.
Sprinkle with sea salt just before roasting, so that everything gets nice and seasoned.
And roast!  So basically, all you have to do is stir some stuff together and spread it on a sheet pan and put it in the oven.  Easy?  Check.  Tasty?  CHECK!
While the gnocchi does not get the crispy texture that the pan fried gnocchi gets, it does get a nice chew to it.  Sometimes gnocchi can end up too soft for my taste but this gnocchi is nice and firm, and gets a lot of nice flavor from the lemon slices and some feta cheese that we sprinkled over everything.
Another easy make ahead dinner that you can add to your meal prep routine!  Have a great weekend, friends!
More easy make ahead dinners for us:
Make Ahead Lemon Chicken Sheet Pan Gnocchi
Ingredients
1 red onion, cut into 1 inch chunks
2 cup broccoli florets
3 cups brussels sprouts, halved
1 lemon sliced
500g packaged gnocchi
2 teaspoons oregano
2-3 tablespoons olive oil
2 large chicken breasts, cut into 3 inch strips
1/4 teaspoon coarse sea salt
2-4 tablespoons feta cheese, crumbled
Directions
To bake right away
Heat oven to 425°F.
Toss the onion, broccoli, brussels sprouts, lemon, gnocchi, oregano and olive oil together. Spread out on a large baking sheet (you may want to use two baking sheets). Bake for 10 minutes.
Toss the chicken strips with 1 tablespoon of olive oil and add to the baking sheet.
Sprinkle evenly with the sea salt.
Bake for 15-20 more minutes, until chicken is baked through and veggies are soft.
Sprinkle with feta cheese and enjoy.
To assemble ahead:
Toss the onion, broccoli, brussels sprouts, lemon, oregano and olive oil together (leave the gnocchi in the package until you're ready to bake). Store in the fridge in a well sealed container for up to 3 days. The chicken can be pre-sliced and stored in a separate container.
When ready to bake, add the gnocchi to the veggies, chicken, toss evenly (add more olive oil if needed), and bake as indicated above.
Recipe Notes
Nutritional Information: ¼ batch
Calories 471 // Fat 13 g // Saturated Fat 2 g // Cholesterol 70 mg // Carbohydrate 87 g // Fiber 11 g // Sugars 5 g // Protein 40 g
Loading nutrition data...
Products used in this recipe: