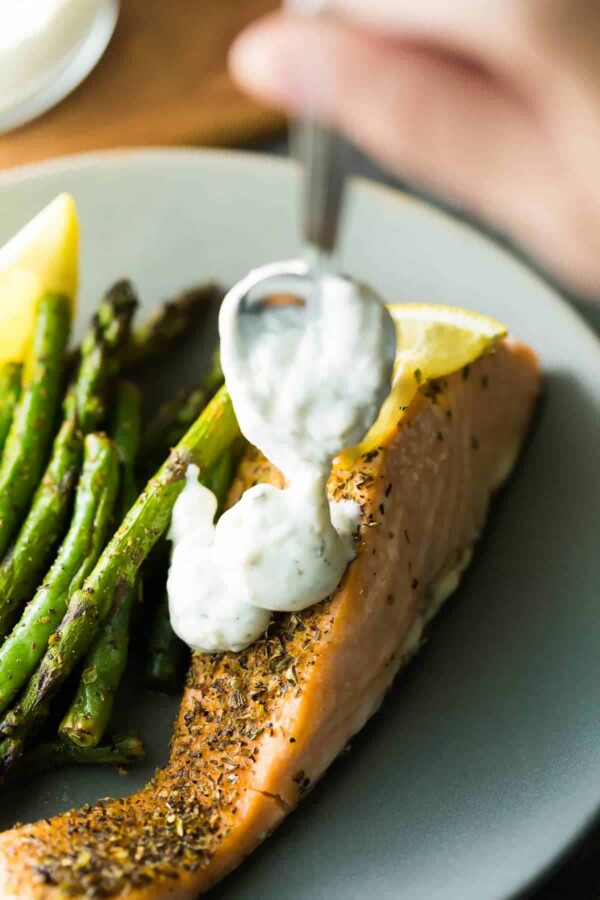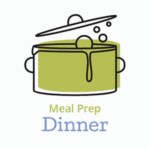 Lemon pepper sheet pan salmon with green beans, asparagus and lemon dill yogurt.  You can prep this dish ahead and keep it in the fridge for up to 3 days before baking it.
Summer time and the living is easy.  That's my motto this year, especially when it comes to cooking meals.
We have been living on sheet pan-type dinners made on the grill when the weather is too hot to turn on the oven, and the 7 Easy Dry Rubs for Meat or Veggies have been getting a lot of use!
After sharing these Moroccan Couscous Meal Prep Bowls with you using the Moroccan spice rub, today I'm using another one of my favorites: the lemon herb rub.
Only five simple ingredients: lemon pepper, basil, oregano, salt and thyme…and you get the perfect herby-lemony flavors that go so well with salmon and green beans.  And this lemon pepper sheet pan salmon is one seriously tasty meal!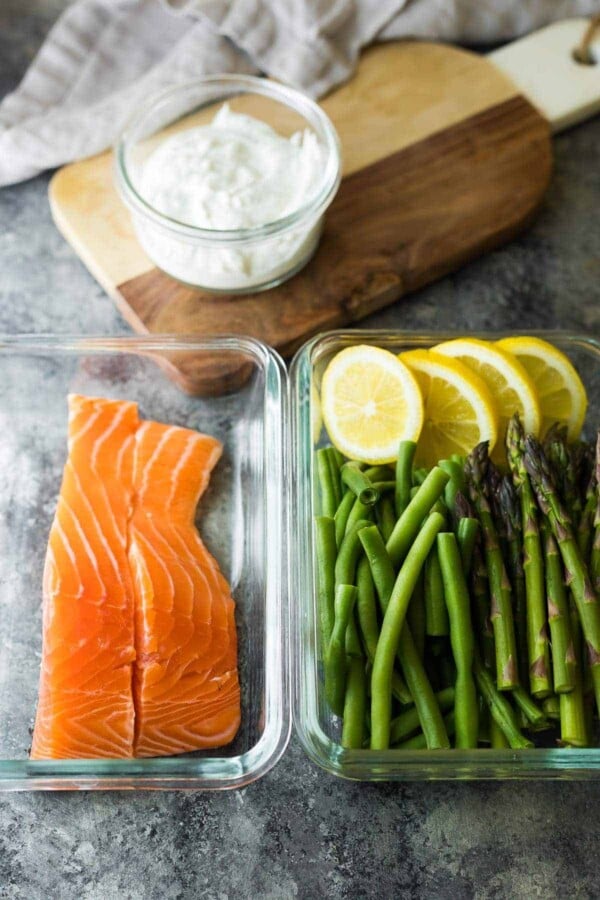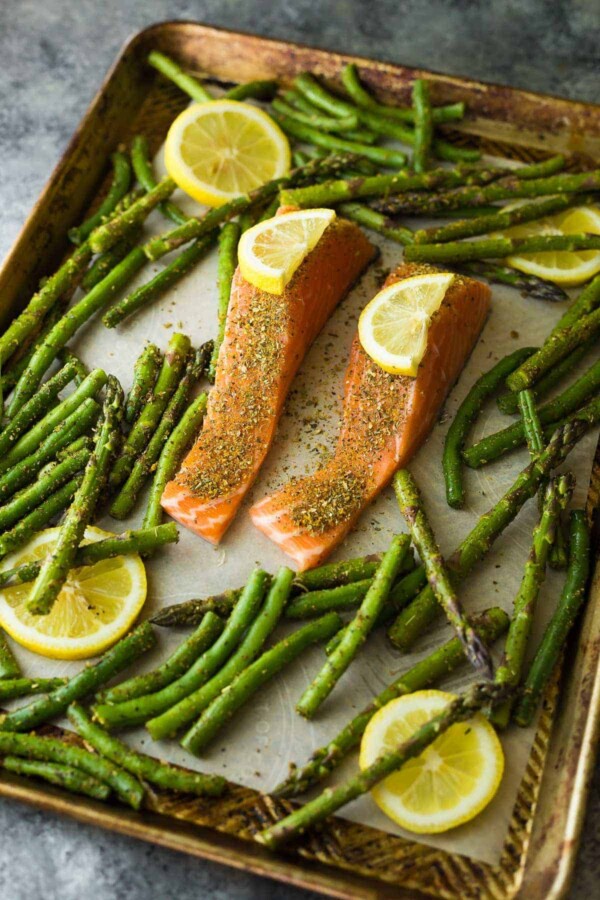 As you know, Sweet Peas & Saffron is officially 100% meal prep focussed as of 2017, and I've been working hard to build up the meal prep dinners section of the blog.
Meal prep dinners can mean a lot of things: meal a fully cooked dinner you just need to re-heat, a freezable slow cooker recipe, or it can just be the start of something tasty waiting for you in the fridge.  In the case of this lemon pepper sheet pan salmon, you prep your veggies ahead, slice up your salmon into portions (if necessary), and stir together your yogurt sauce, then store it all in the fridge for up to 3 days, when you're ready to bake (or grill) it all up.
Altogether, probably 15 minutes worth of prep effort but you will be thanking yourself later in the week when you are looking for an easy, tasty dinner recipe to cook up (it only takes 12-15 minutes in the oven!).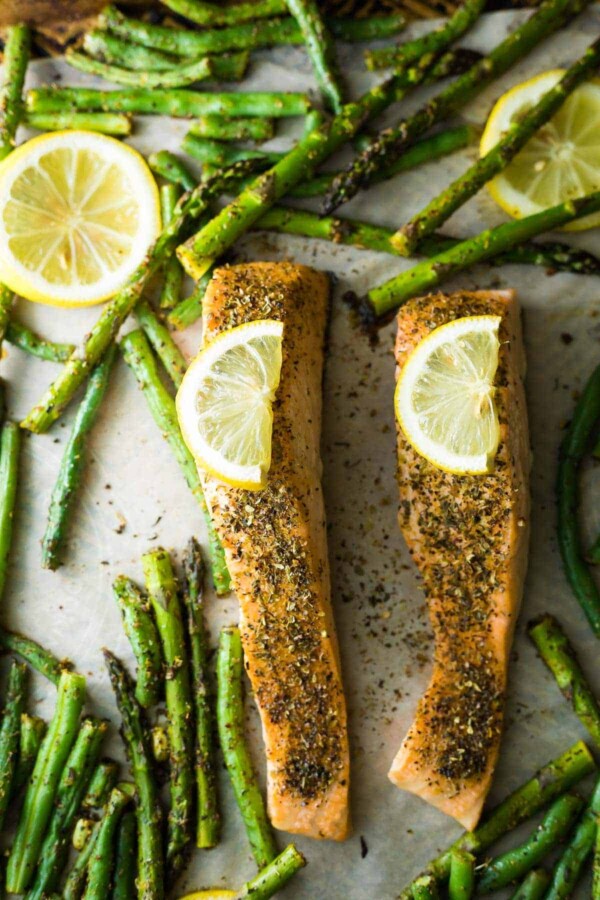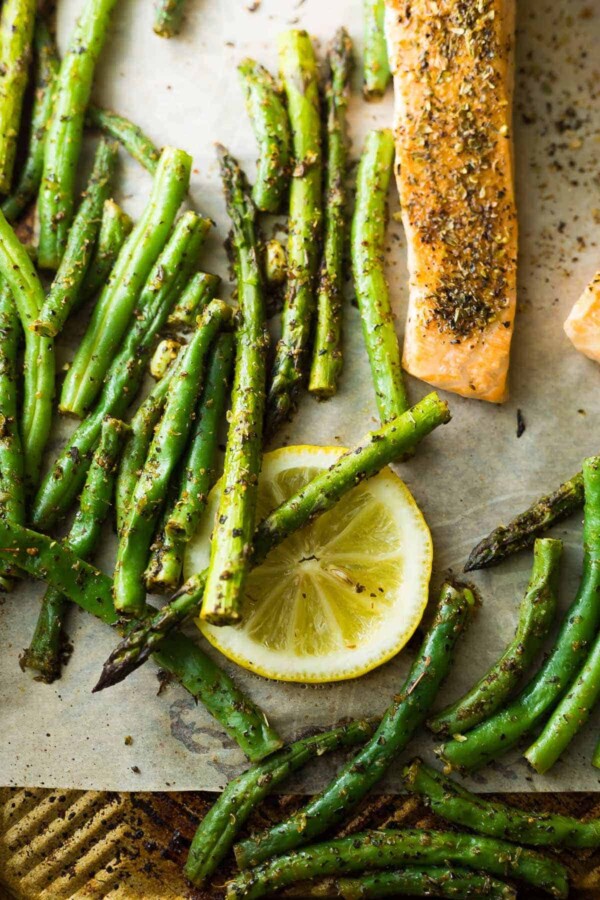 I tested this recipe both on the grill and in the oven, and they both work, however you will want to make sure you shake off any excess olive oil when grilling your veggies.  We had a bit of excitement when some oil got trapped between our veggie grilling plate and the grills and had…um…a fire.
Kai was definitely excited and I was having some flashbacks to when a neighbor's BBQ caught on fire (big time) when I was a kid and we all had to hide in the house in case it exploded.
So yes.  Make sure there is not extra oil 😉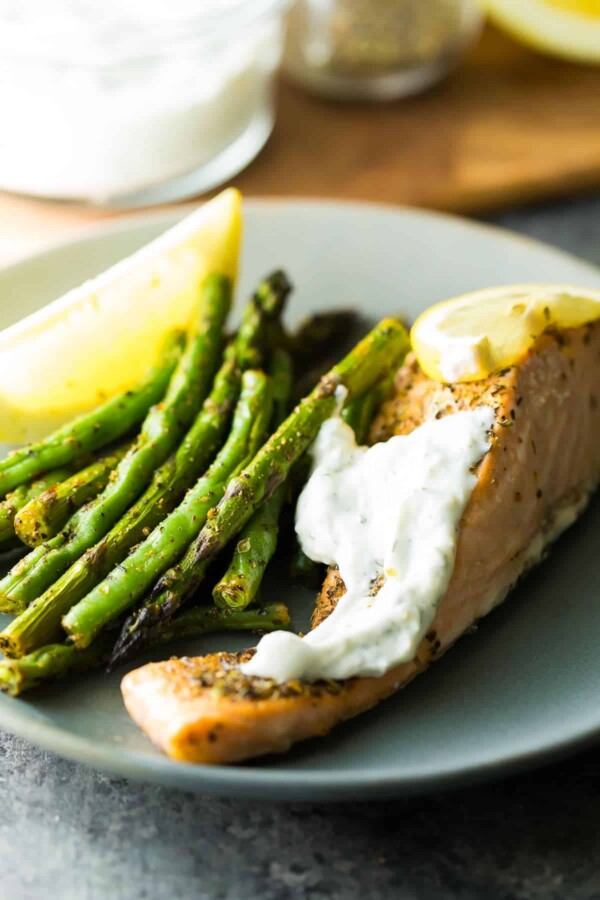 We enjoyed our lemon pepper sheet pan salmon with sweet potato fries, but it would be great over rice, or with some baby potatoes.
Enjoyed by all, including Kai, who apparently loves salmon!  I'm not complaining about that, not one bit 😉
Tips for perfect lemon pepper sheet pan salmon
Lemon Pepper Sheet Pan Salmon (Prep Ahead)
Ingredients
16 oz salmon, cut into four portions
12 oz green beans, ends trimmed
1 bunch asparagus, ends trimmed
1 lemon, sliced into rounds
1 tablespoon olive oil
1 1/2 tablespoons of lemon herb seasoning
Lemon Dill Yogurt
3/4 cup yogurt
1 clove garlic, minced
1/4 teaspoon salt
1/2 teaspoon dill
1 tablespoon lemon zest
Directions
Heat oven to 425°F.
Toss green beans and asparagus with olive oil and 1 tablespoon of lemon herb seasoning.
Arrange on a large sheet pan with lemon slices. You may need a second sheet pan.
Add the salmon fillet portions, and sprinkle with the remaining ½ tablespoon of lemon herb seasoning. Arrange a couple of lemon slices on top of salmon.
Bake for 12-15 minutes, until salmon is cooked through.
Stir together the lemon dill yogurt ingredients and spoon over salmon and veggies.
To prep ahead:
Chop the veggies and store in an airtight container with the lemon slices. You can toss them in the olive oil and herb seasoning up to 3 days ahead.
Salmon may also be stored in the fridge with the herb seasoning sprinkled on top for up to 3 days (check the best before date on your salmon before doing this though!).
Stir together the yogurt ingredients and store in the fridge for up to a week.
When you're ready to cook, spread everything out on the sheet pan and cook for 12-15 minutes at 425°F.
Recipe Notes
Loading nutrition data...