3 ingredient maple glazed salmon makes dinner oh-so-easy to prepare! You can have this on your table in 25 minutes or less. Easy to make gluten-free and paleo compliant.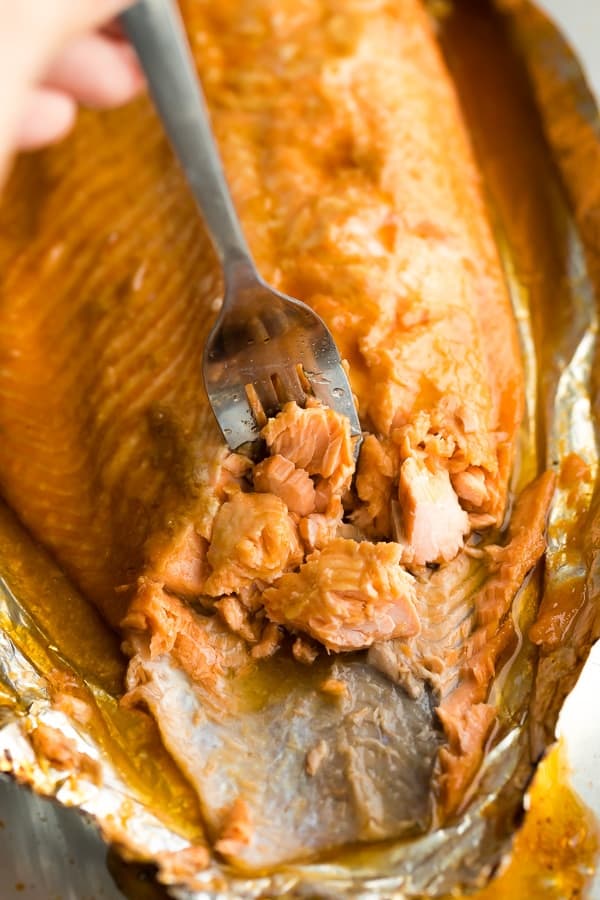 Sometimes I get so caught up in the fun, crazy, exotic recipes on this blog. I love trying out new recipes and they are so fun for me to share with you!
But when it comes down to it, the recipes that my family and I come back to time and time again also deserve some attention. So after 6+ years of blogging, I'm finally sharing this easy (ridiculously easy!) maple glazed salmon recipe with you.
This is the recipe I cook when I don't know what to cook for dinner. This is the recipe I turn to when I don't have time to make something fancy. This is the recipe I turn to when I want something my four year old will gobble up without complaining.
It is oven-friendly, grill-friendly, stove-top friendly. It can be made gluten-free and paleo with a simple swap. And best of all? This maple glazed salmon recipe only requires 3 simple ingredients!
Are you convinced yet?
Don't forget to pin this recipe to save it for later!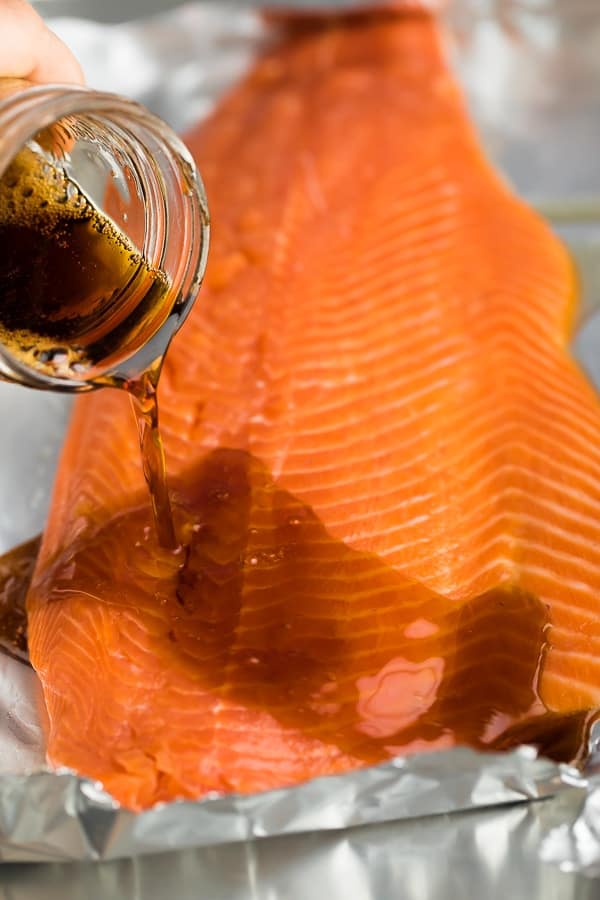 How to make maple glazed salmon
All you need for this recipe is three simple ingredients: salmon, maple syrup, and soy sauce. That's it!
Mix- combine the maple syrup and soy sauce, and pour over your salmon. You can have one big piece of salmon as pictured, or you can use filets.
Marinate- for filets, we use a 9 x 9 inch baking dish, but this large piece of salmon wouldn't fit, so I wrapped it in foil and poured the syrup into the foil, and baked it all up on a baking sheet. You can marinate for 20 min-2 hours…or you can totally skip that part. You are still getting a ton of flavor from the sauce without marinating it!
Bake- one of the best things about salmon is that it cooks so quickly, which makes it perfect for an easy weeknight dinner. For filets, we bake at 400°F for 12-15 minutes, and for this larger portion, we baked it for 20 minutes.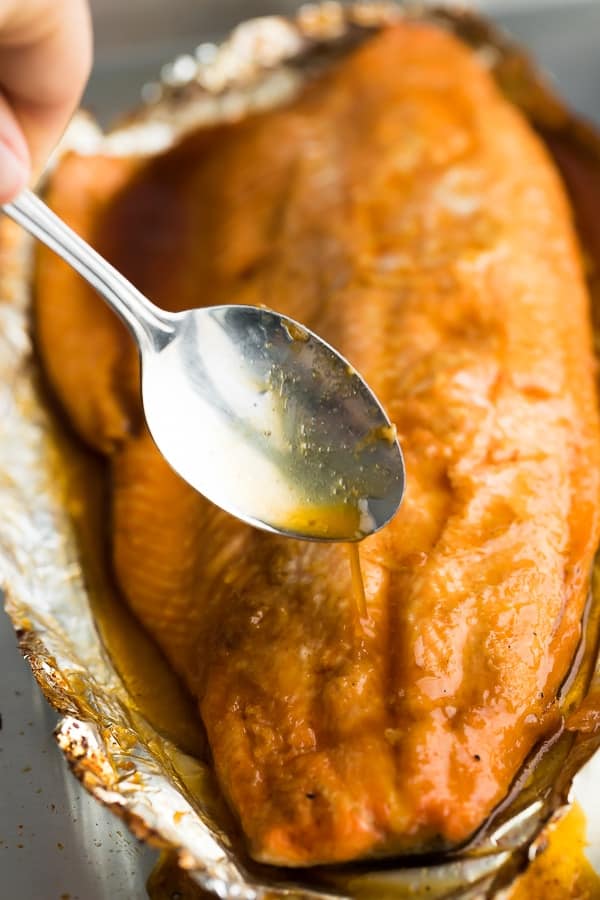 Can I prepare this maple salmon recipe on the grill?  YES. Absolutely. You could do a cedar plank on the grill for another level of flavor. You could grill it in the foil (great for camping!). For grilling, I would marinate the salmon in half the mixture, and reserve the other half for brushing on the fish during the last 5 minutes of grilling.
To grill this salmon, make sure you start with a clean and well greased grill heated to medium. Place the salmon skin side down. I know many people tell you to flip your salmon, but I would not worry about flipping the fish as it risks falling apart. Cook over medium heat for 8-10 minutes with the lid down, until it is cooked through and flakes with a fork.
Can I cook this maple salmon recipe on the stovetop? YES. However I am going to defer to Serious Eats on this one as we prefer the ease factor of cooking our salmon in the oven or on the grill. Check out this awesome tutorial that will ensure you get perfect salmon cooked in the pan.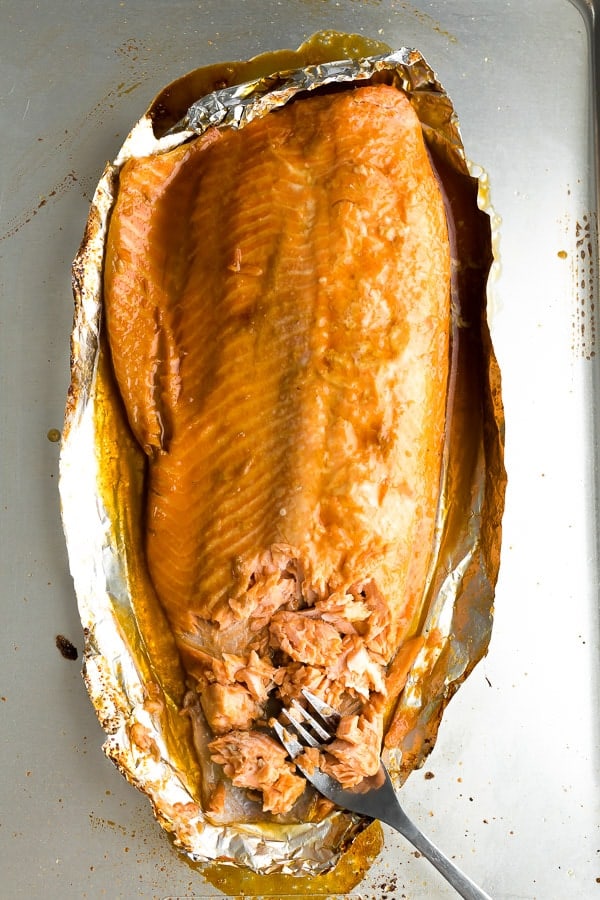 What to serve with maple glazed salmon?
Almost anything! We love serving it with rice as you can spoon the sauce over it. Roasted potatoes are great too. Mashed cauliflower would be a great low carb option.
For veggies, roasted veggies are a great choice, particularly broccoli, zucchini and snap peas. We keep the seasoning simple so we can spoon the maple soy sauce over the veggies as well.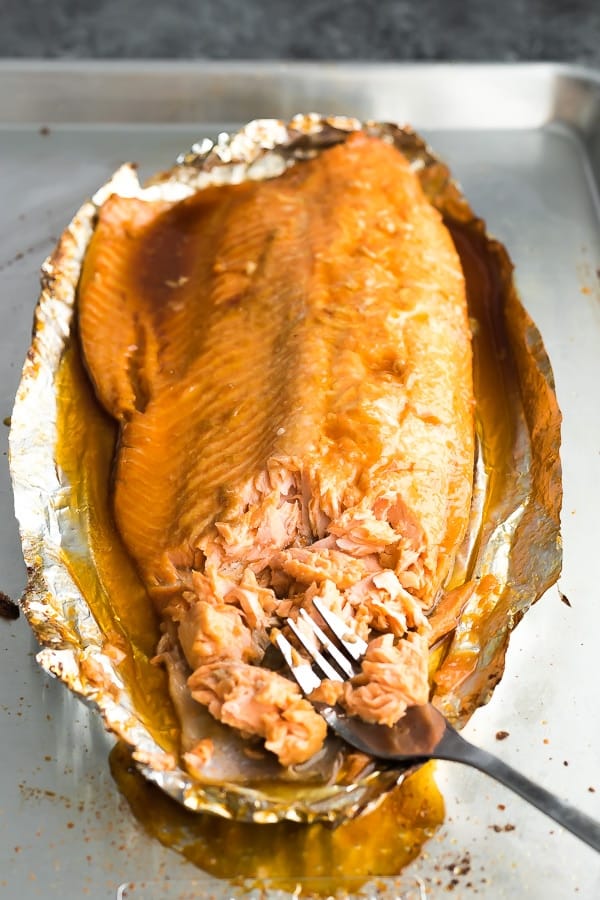 Looking for more salmon recipes? 
I hope you love this recipe as much as we do! Don't forget to leave a review if you give it a try.
Psst! You may be interested in How To Cook Salmon, a post where I share tips to avoid dry, overcooked salmon!
3 Ingredient Maple Glazed Salmon
3 ingredient maple glazed salmon makes dinner oh-so-easy to prepare! You can have this on your table in 25 minutes or less. Easy to make gluten-free and paleo compliant.
Ingredients
1

lb

salmon

1/3

cup

maple syrup

3

tablespoons

reduced sodium soy sauce

(coconut aminos for paleo/gf)

3

tablespoons

water

optional; see *
Instructions
Arrange salmon skin side down on a large piece of foil set on a sheet pan (make sure you have enough foil to completely wrap the salmon up). Fold the edges of the foil up slightly to keep the sauce from running out.

Shake together the maple syrup and soy sauce, then drizzle all over the salmon. Seal the foil so the sauce + salmon are enclosed. You can marinate the fish at this point for 30 min- 2hours, or put it directly into the oven.

Bake for 20 minutes, or until fish is baked through and flakes easily. If you have individual fillets, they may be done quicker, so be sure to check them earlier.
Notes
*if you'd like to make this without the foil, you can bake it up in a baking dish (make sure to use one that is not too big for the fish because sauce can over-reduce), but you'll need to add 3 tablespoons of water to prevent the sauce from over-reducing.
Nutrition
Serving:
1
/4 of batch
|
Calories:
239
kcal
|
Carbohydrates:
19
g
|
Protein:
23
g
|
Fat:
7
g
|
Saturated Fat:
1
g
|
Cholesterol:
62
mg
|
Sodium:
452
mg
|
Potassium:
637
mg
|
Sugar:
16
g
|
Vitamin A:
45
IU
|
Calcium:
43
mg
|
Iron:
1.2
mg