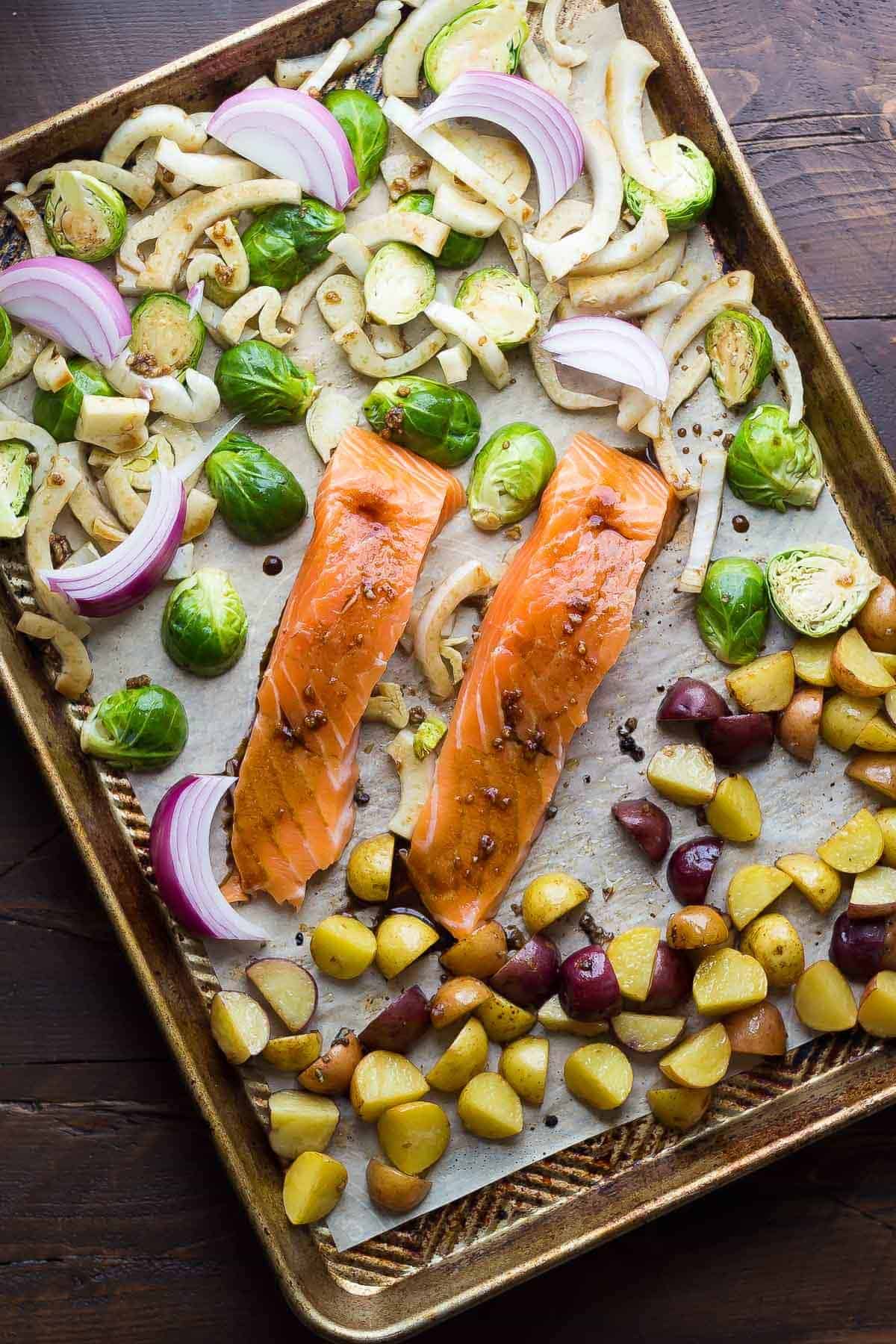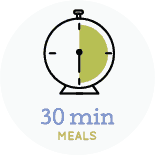 A simple, healthy Mediterranean salmon sheet pan dinner that is ready for in under 30 minutes!  Plus: Only one pan to wash up!
Today is a special day around here…Mr. Kai turns THREE!
It is so hard to believe little man is three.  He has grown from a cuddly little baby into an independent, strong-minded toddler.  I think those words might be used frequently when describing toddlers 😉
Tomorrow will be a fun day…Kai has been talking about birthday cake for MONTHS, and he practiced blowing out the candles with Nana on her birthday.  So I'm thinking the kid is ready.
Well, fun birthday plans aside, today is also a special day because it's 30 Minute Thursday and I get to share this delicious Mediterranean salmon sheet pan dinner with you!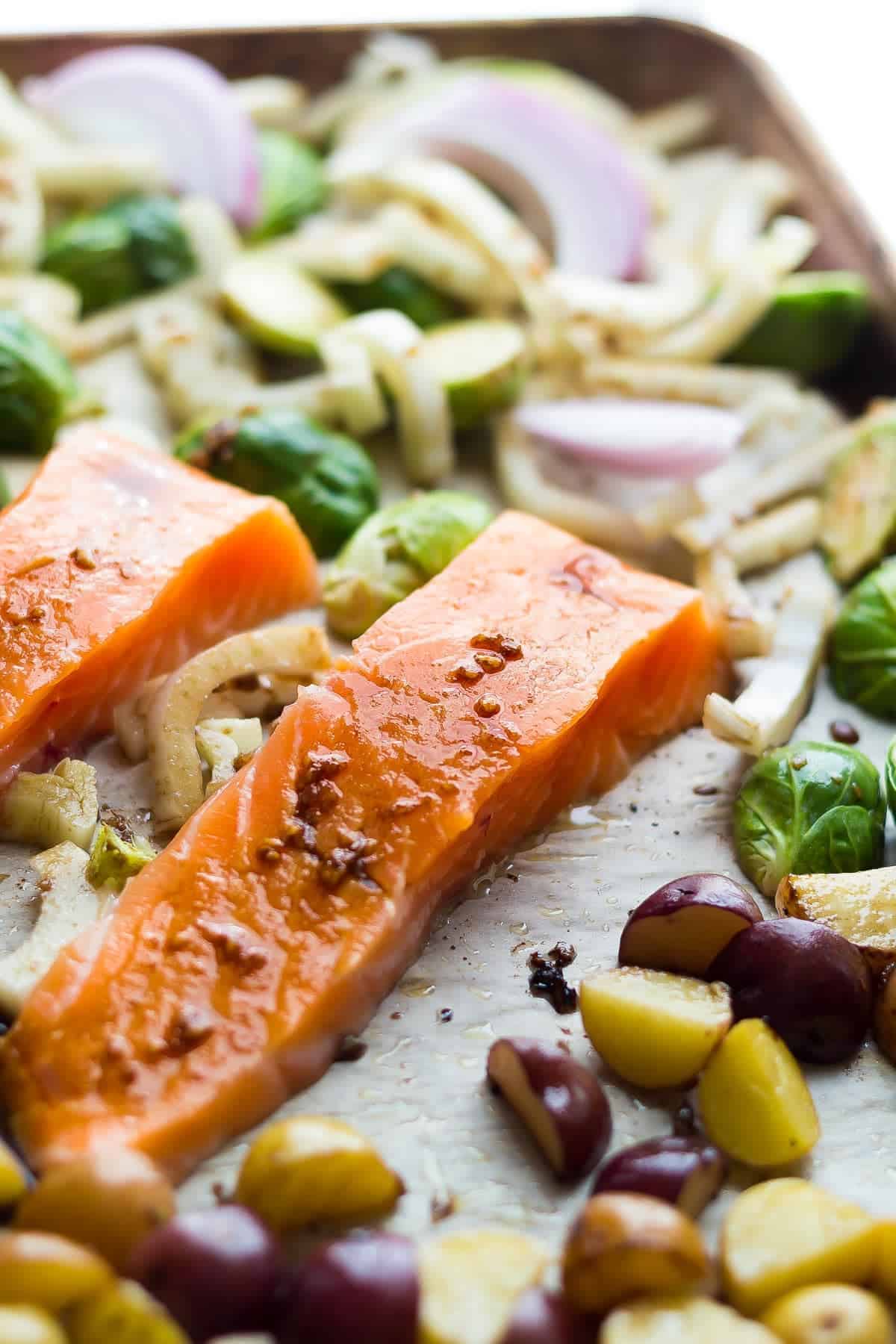 I've been feeling the sheet pan dinners lately.  Did you see this Paprika Chicken Sheet Pan Dinner?
Well today's salmon sheet pan dinner is pretty similar, except with completely different flavors.  And ingredients.  OK so it's not all that similar.  I went Mediterranean with this one, using balsamic vinegar, plenty of garlic, and fennel.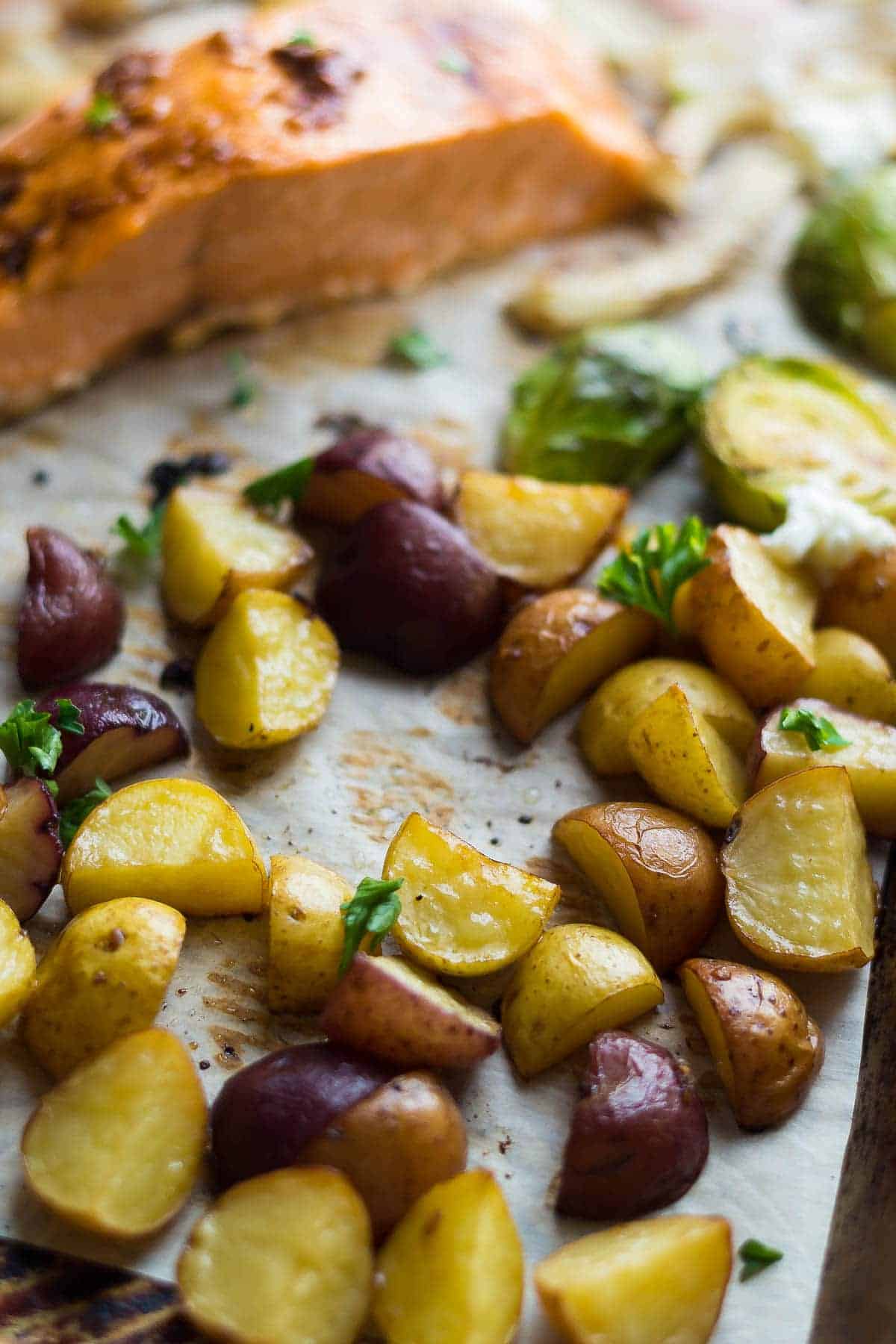 I feel like fennel is an under-utilized ingredient.  It's so good fresh (like this Fennel & Pomegranate Quinoa Salad), and it's SO good roasted!  It gets a completely different flavor profile when it roasts, going from fresh, crunchy, anisey to tender, slightly sweet, and far less anise/licorice flavor.
It's totally perfect paired with Brussels sprouts, salmon, potatoes, balsamic vinegar and feta cheese.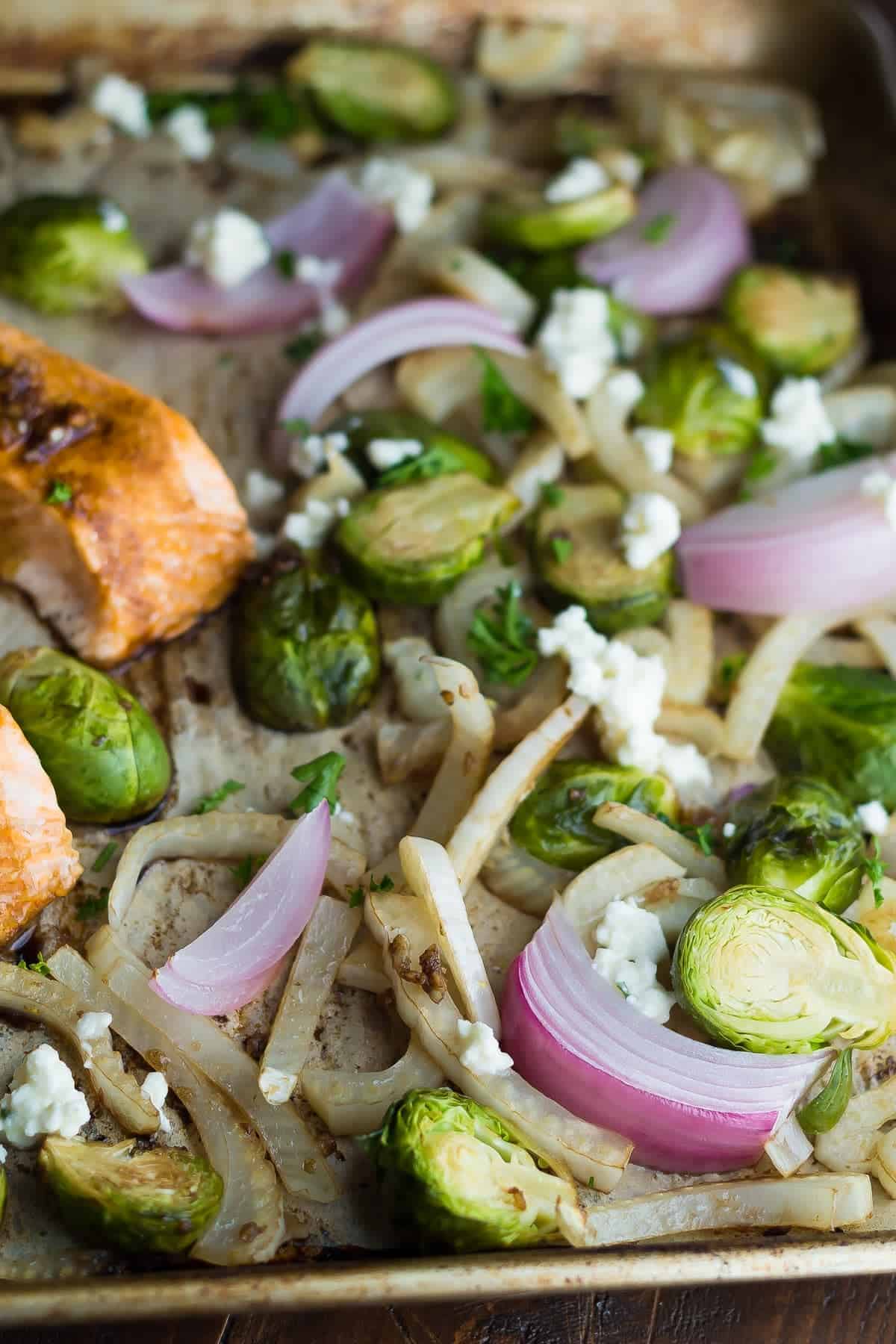 So here's how it goes: everything gets tossed in olive oil, balsamic vinegar and garlic.
First, you're going to roast up your potatoes for 15 minutes.  Then you add the salmon, Brussels, fennel and onion, and roast for another 12-15, until cooked through.
Sprinkle with feta cheese.
And enjoy!  It's really that simple.  Happy 30 Minute Thursday, friends!
Don't forget to check out these other amazing looking recipes from my blogging amigos:
Turkey, Apple & Brie Panini by Pumpkin 'N Spice
5 Ingredient One Pot Pasta with Chicken Sausage by Kristine's Kitchen
Kale and Quinoa Salad Stuffed Portobello Mushrooms with Apples and Pecans by Floating Kitchen
Cheeseburger Macaroni: 30 Minute Thursday by My Kitchen Craze
One Pot Turkey Mushroom Tortellini by Bake.Eat.Repeat
One Pot Teriyaki Chicken Zoodles by Life Made Sweeter
One-Pot Basil Sausage Caprese Pasta by Whole and Heavenly Oven
One Pot Sun-Dried Tomato Chicken Bacon Pasta by Savory Nothings
Mediterranean Salmon Sheet Pan Dinner
Ingredients
1/4 cup balsamic vinegar
1/4 cup olive oil
6 cloves garlic, minced
1/2 teaspoon salt
1 lb baby potatoes, cut into quarters (cut the larger ones into 6)
Four 4 oz salmon fillets
2.5 cups of fennel, thinly sliced
2.5 cups Brussels sprouts, halved
1 small red onion, cut into wedges
To Serve
1/2 cup feta cheese, crumbled
2 tablespoons parsley
Directions
Heat oven to 425°F. Line two baking sheets with parchment paper and set aside.
Shake together the balsamic vinegar, olive oil, garlic and salt.
Toss the potatoes in ⅓ of the mixture and arrange on one of the baking sheets.
Bake for 15 minutes, then stir them up and return to the oven.
Arrange the salmon on the second baking sheet, drizzle with ⅓ of the balsamic vinegar mixture.
Toss the veggies in the remaining balsamic mixture and arrange around the salmon. Bake for 12-15 minutes, until everything is cooked through.
Sprinkle with feta cheese and parsley and serve.
Recipe Notes
Nutritional Information:
Calories 454 // Fat 23 g // Saturated Fat 7 g // Cholesterol 72 mg // Sodium 741 mg // Carbohydrate 34 g // Fiber 6 g // Sugars 8 g // Protein 30 g
To prevent overcrowding the pan I recommend using two sheet pans.
Loading nutrition data...