Slow cooker chipotle honey chicken taco salad lunch bowls- a hands off meal prep lunch recipe. The sauce doubles as a dressing for the salad, and you don't even need to turn on your oven!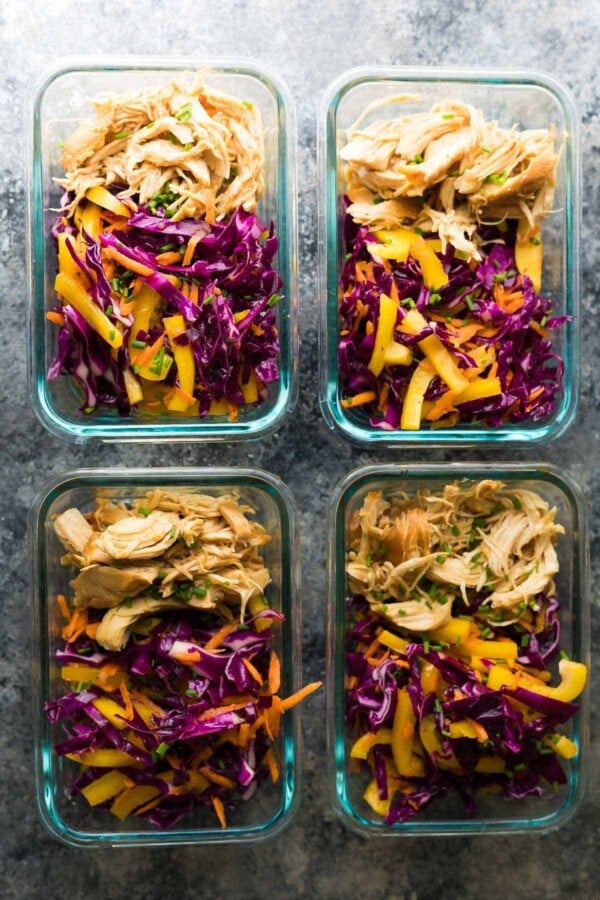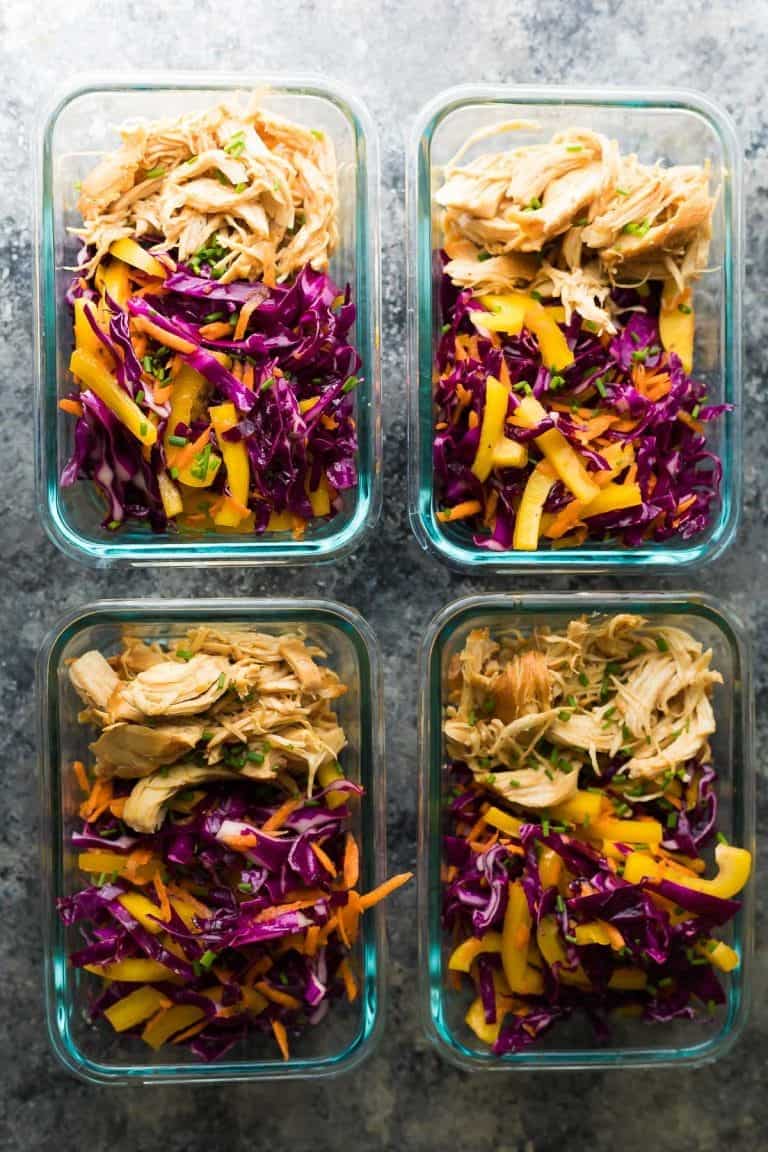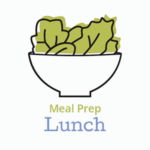 One year ago at this time, I started a fun little experiment called the Breakfast Prep Challenge. I was scared. I thought no one would join me and I'd be all alone, prepping breakfasts on Facebook Live with no one watching.
But you did join. There were over 200 of you that joined me in the first challenge, and we had such a fun time! I was totally energized and wanted to run another challenge almost right away. We had one more Breakfast Prep Challenge in November, and then decided to make the jump to lunches.
In January 2017, we launched the Lunch Prep Challenge, and to my complete and utter surprise, over 14,000 of you joined us! And now, here we are. One year in, launching our fifth challenge, and there are over 27,000 of you who have signed up. I am over the moon, and so excited to share my meal prep passion with you all! It just goes to show that sometimes the things that scare you are the things worth doing.
If you are interested in signing up, leave your e-mail below, and you will get access to free recipes, shopping lists, video prep tutorials and an awesome Facebook community where we cheer each other on!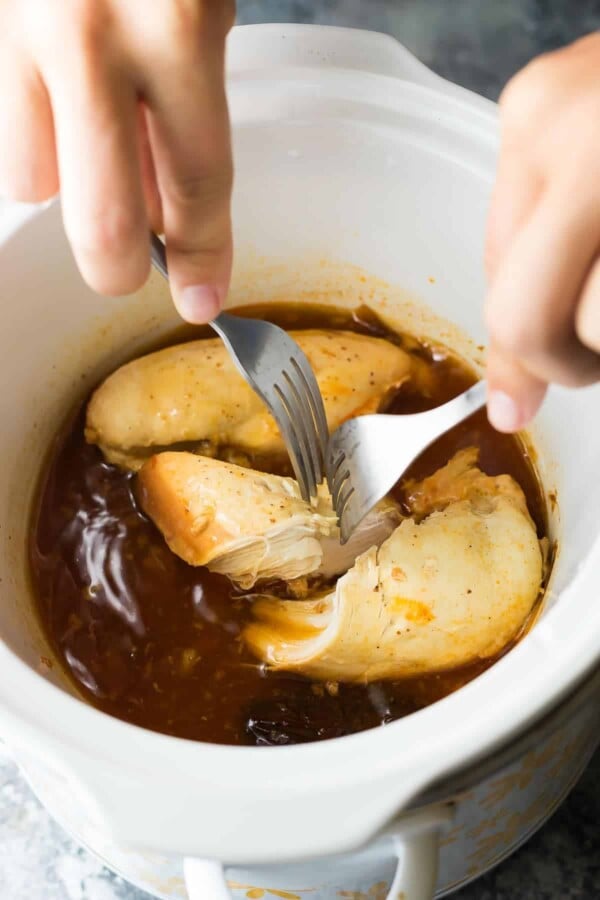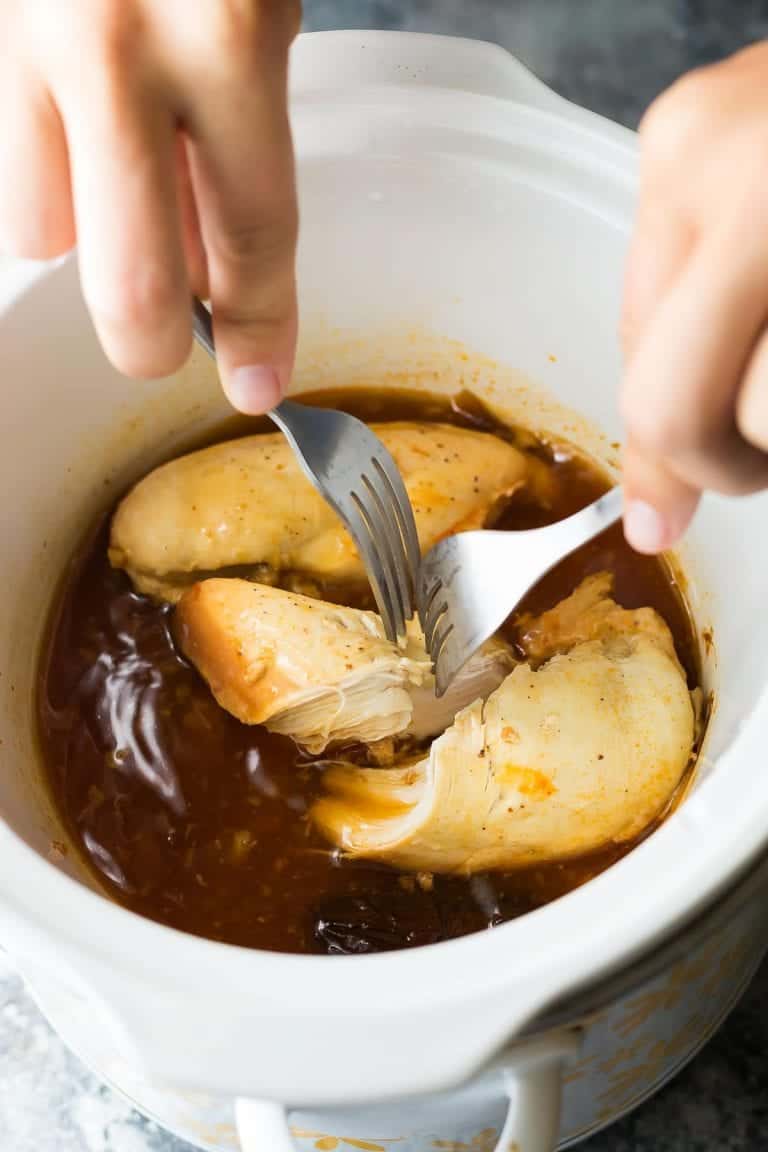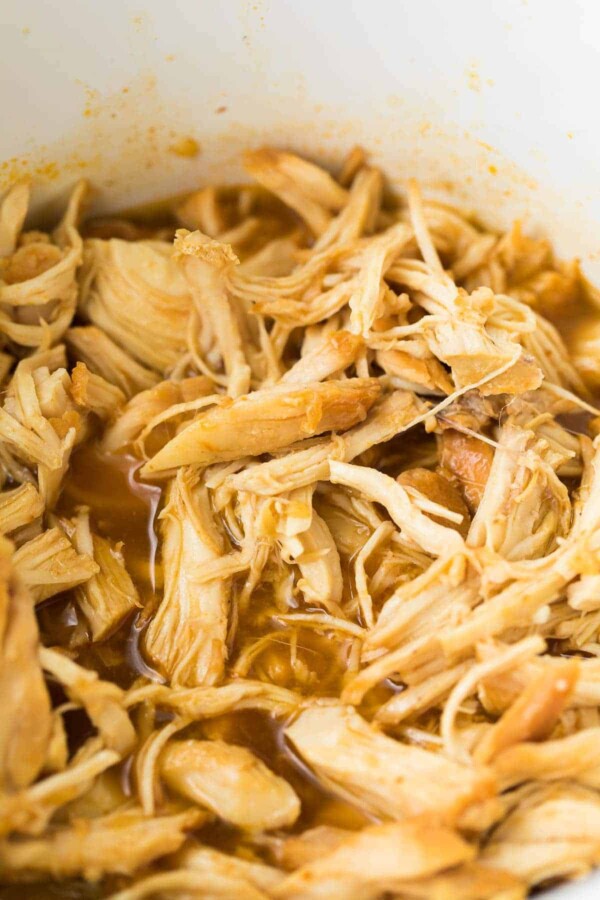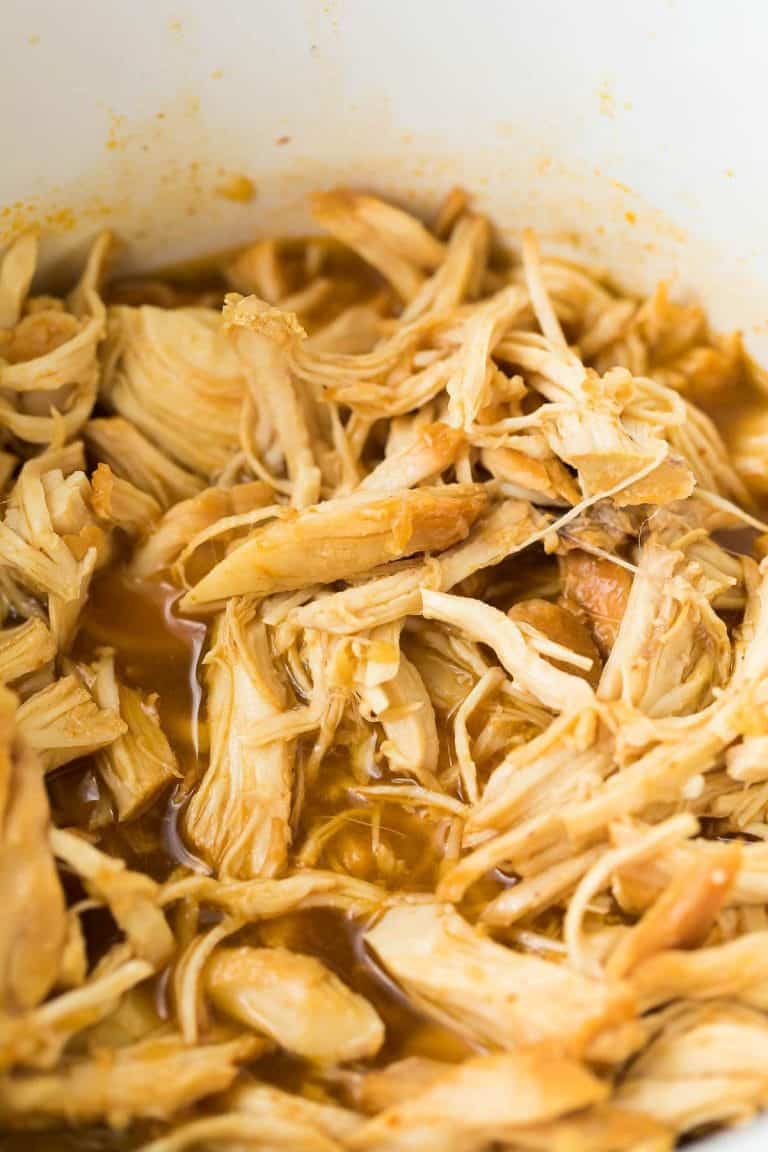 Today's slow cooker chipotle honey chicken taco salad lunch bowls (oh my gosh what a MOUTHFUL that title is!!), is not one of the recipes in our challenge, but it is definitely a good one to start with if you are new to meal prep!
(PS- this recipe is actually inspired by this Crock Pot Beer Chicken Taco Salad with Cilantro Vinaigrette (another mouthful of a title, ha ha!), which I made many years ago as a summery slow cooker recipe. It is not very meal prep friendly, however it is delicious and I highly recommend it for a weeknight dinner.)
Prepping the chicken in the slow cooker makes it such a hands off recipe, with the bonus being that you don't need to turn on the oven!
Maybe it's just that I'm a huge and over-heating pregnant lady, but keeping the oven off has been a very important task this summer 😉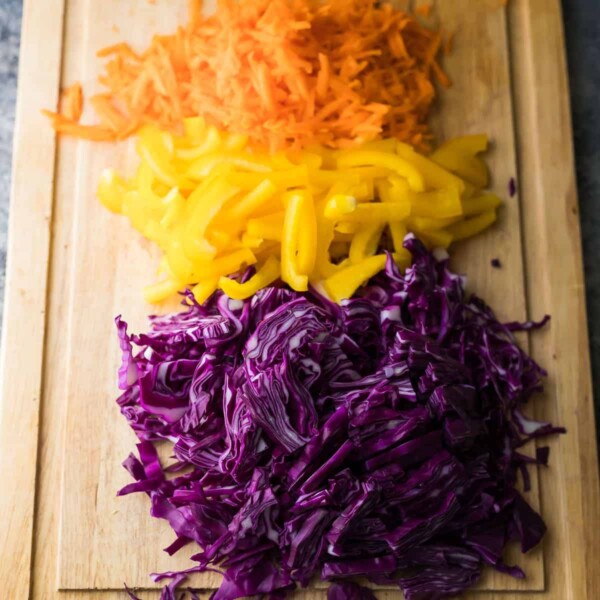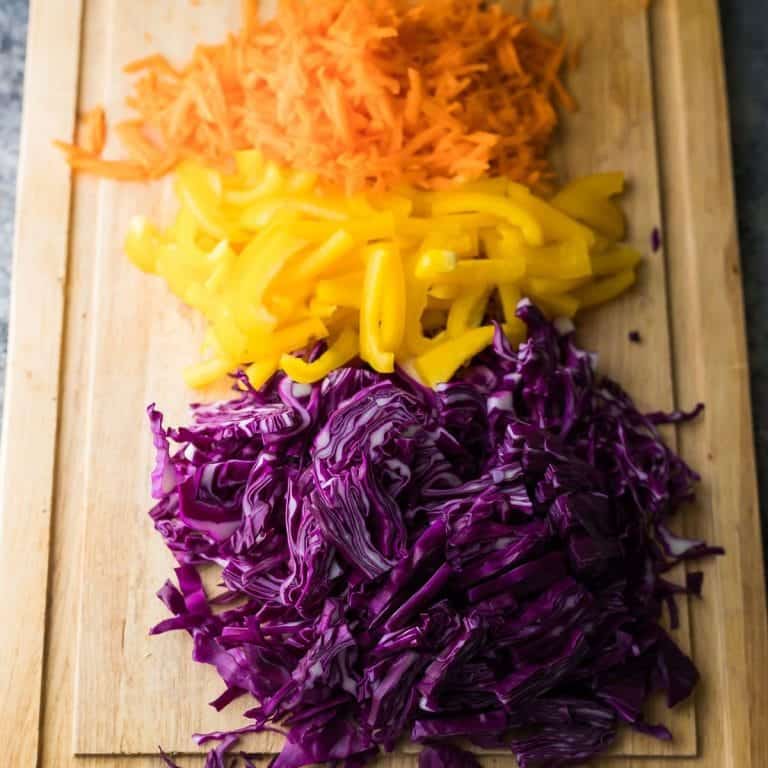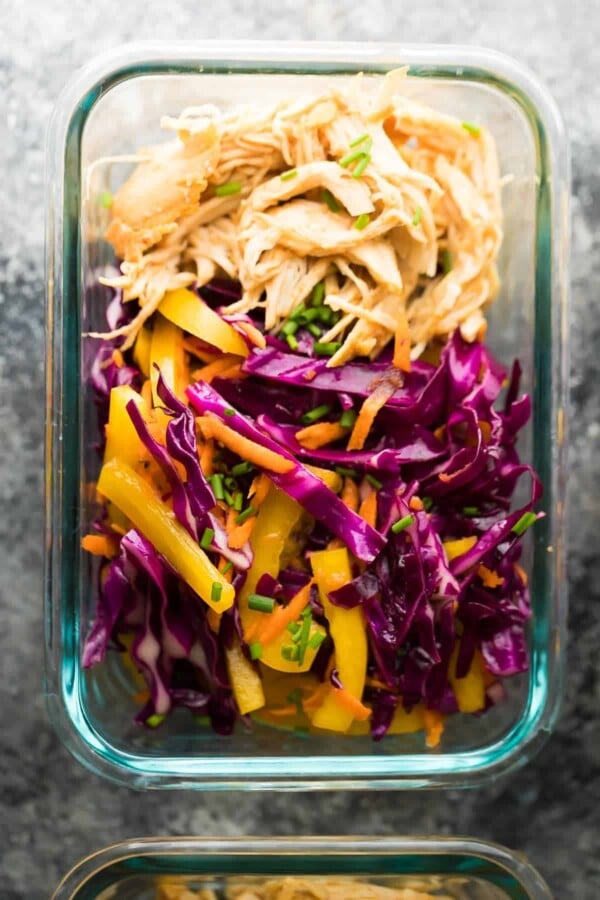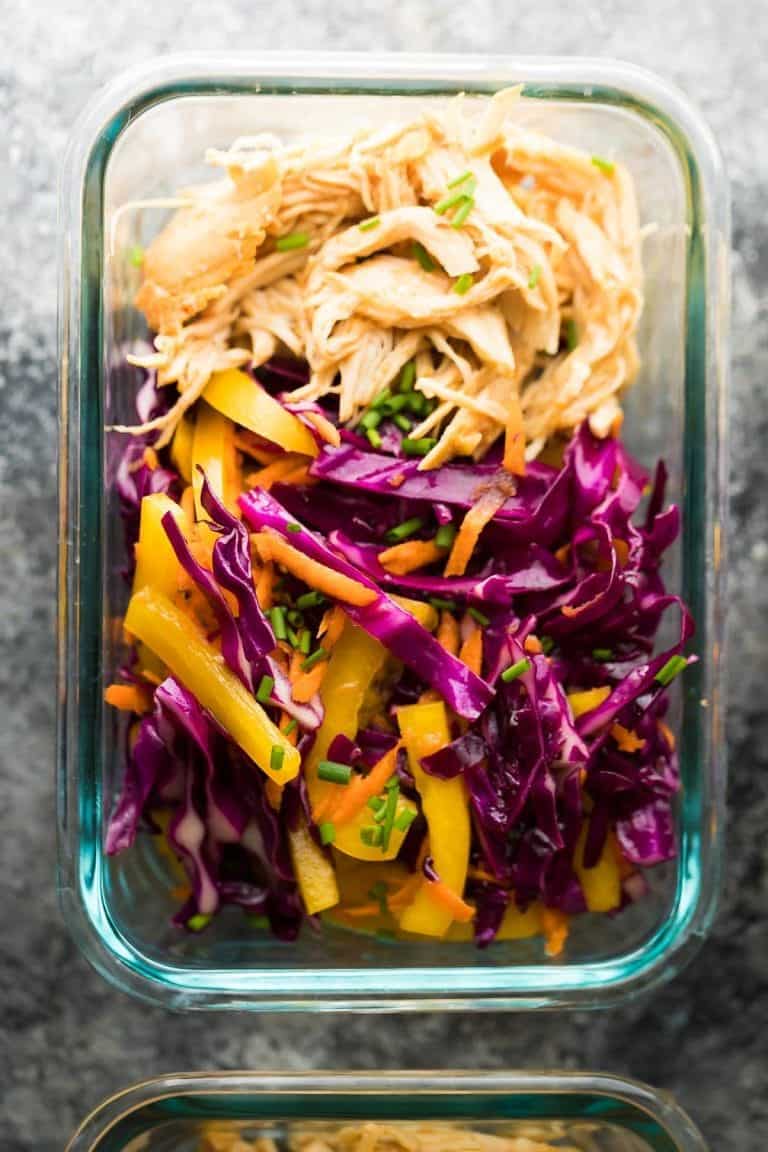 To prep the slow cooker chipotle honey chicken, you can use either boneless skinless chicken breasts or chicken thighs. The thighs will hold up better over the week but they are also a bit higher in fat.
Toss them in a super simple cooking sauce of stock, honey, adobo sauce (and a chipotle pepper if you're feeling adventurous!), salt, garlic and lime juice. Cook 'em up, shred 'em, and portion 'em out into 2 cup storage containers. Don't forget to spoon some of the sauce over the chicken because it doubles as the vinaigrette when you go to serve this salad!
Side note- this salad would be better stored in a 2-compartment container. Have you seen these cool ones on Amazon
?! They are RIDICULOUSLY expensive on Amazon.ca (4x more than in the US?!) but I'm eyeing them up and waiting for a price reduction. They would be perfect for this recipe to keep your cabbage nice and crunchy.
You're definitely going to want to keep your tortilla strips separate to keep them crunchy…bringing the bag to work is a good idea or you could portion them out into small containers.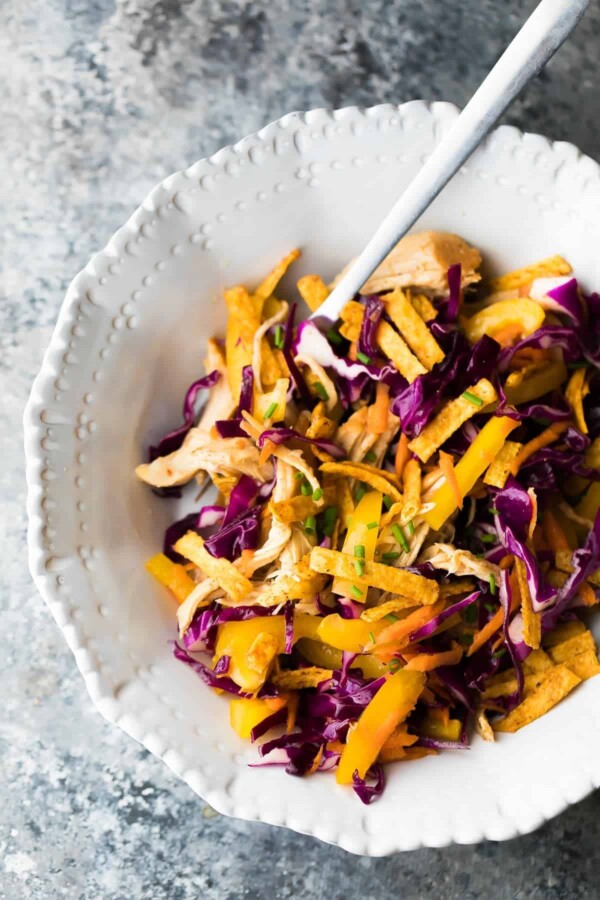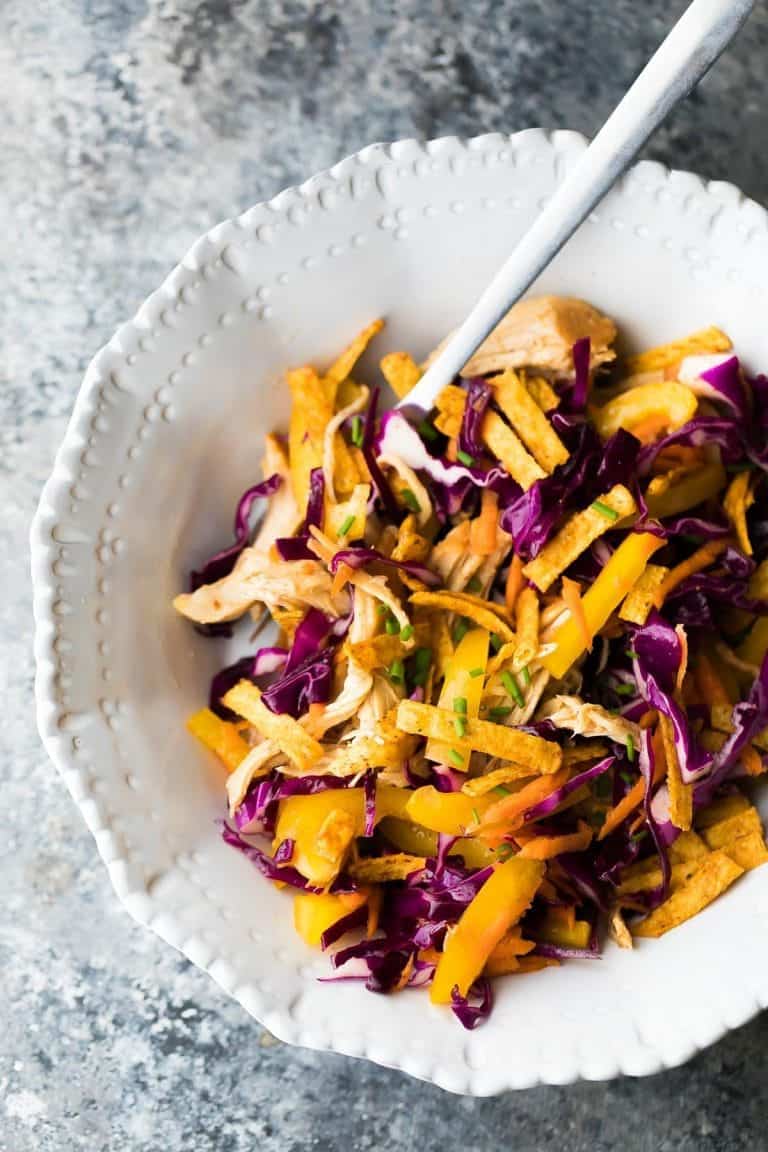 To serve this chicken taco salad: heat chicken. Or don't heat the chicken. It's up to you. Toss everything up, and if you can toss in some fresh crunchy tortilla strips, you certainly won't regret it.
Enjoy your sweet, smoky, spicy and crunchy lunch!
Tips for your perfect slow cooker chipotle honey taco salad lunch bowls:
Slow Cooker Chipotle Honey Chicken Taco Salad Lunch Bowls
Slow cooker chipotle honey chicken taco salad lunch bowls- a hands off meal prep lunch recipe. The sauce doubles as a dressing for the salad, and you don't even need to turn on your oven!

Ingredients
Slow Cooker Chipotle Honey Chicken
1/4

cup

honey

1/4

cup

stock

1/4

tsp

salt

1

clove

garlic

1

tablespoon

lime

2

tablespoons

adobo

1

chipotle pepper

whole; optional

2

chicken breasts
Salad
3

cups

cabbage

2

carrots

shredded

1

bell pepper

thinly sliced
Before serving
tortilla chips or strips

or small tortillas to serve as tacos
Instructions
Slow Cooker Chipotle Honey ChickenCombine the chicken, stock, honey, salt, garlic, lime juice, adobo sauce and chipotle pepper in the base of a 2.5 quart slow cooker (see note).

Cook on low 4-5 hrs or high 3-4 hours. Do not over-cook this recipe as the honey may cause it to burn.

Taco Salad Lunch BowlsPrep the veggies and divide between four 2-cup capacity storage containers (2-compartment containers recommended if you have them).

Portion out the chicken in the containers and spoon the sauce over.

Keep tortilla strips or tortillas separate until just before serving.

StorageSeal and store in the fridge for up to 4 days.

To serveHeat the chicken or serve cold. Mix everything up, tossing the sauce over the salad. Sprinkle with tortilla strips or serve in a tortilla (taco-style).
Notes
Recipe may be doubled and cooked in a 5 quart slow cooker; if you have too much chicken, it can be frozen for up to 3 months.
Nutrition
Serving:
1
lunch bowl
|
Calories:
253
kcal
|
Carbohydrates:
27
g
|
Protein:
24
g
|
Fat:
5
g
|
Saturated Fat:
1
g
|
Cholesterol:
65
mg
|
Sodium:
324
mg
|
Fiber:
4
g
|
Sugar:
13
g