Honey Chipotle Meatball Meal Prep Bowls are the tastiest way to kick start your new years resolutions! Healthy baked turkey meatballs are tossed in a smoky sweet and savory honey chipotle glaze, and served over cilantro lime cauliflower rice.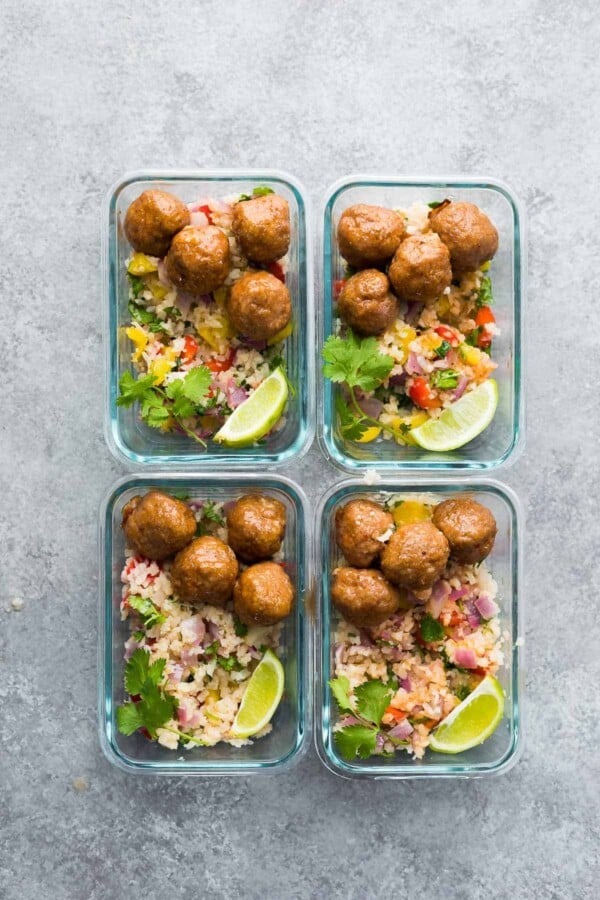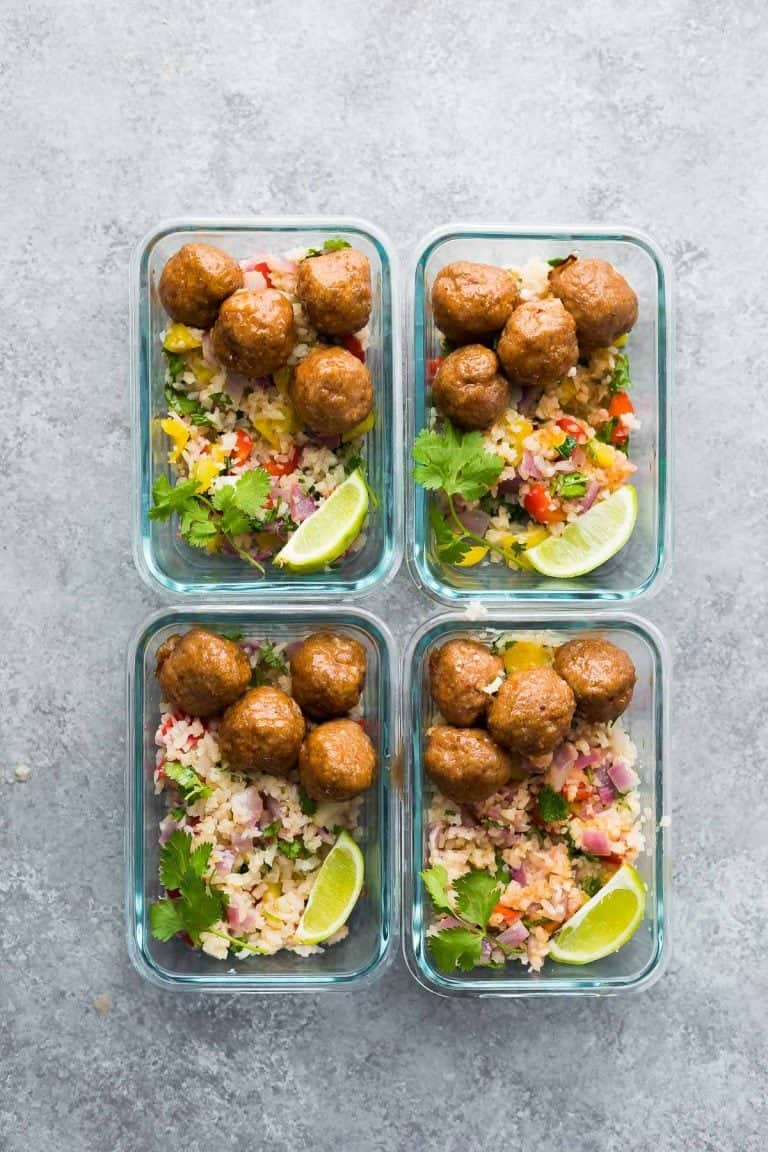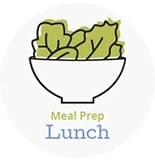 It's not 2018 yet, but I'm already thinking healthy eating and new years resolutions!
I give myself complete permission to enjoy all the delicious foods that the holidays have to offer and I don't feel guilty about it for one moment. But after Christmas passes, each year, I'm back to craving healthier food.
Are you thinking about starting to meal prep as one of your new years resolutions? Join our Lunch Prep Challenge! Read more here or sign up below.
This week, I was craving meatballs, and wanted something a little different than these Healthy Baked Turkey Meatballs 7 Ways. Sometimes you need a little glaze in your life, amiright?
So I came up with these honey chipotle meatballs, and to keep things light and lower in carbs, served them over a cilantro lime cauliflower rice.
Here's how I made these honey chipotle meatball meal prep bowls:
How to make honey chipotle meatballs
To get this recipe started, I used my favorite base turkey meatballs recipe with a few simple ingredients: lean ground turkey, egg, breadcrumbs, salt and worcestershire sauce.
Then I used my favorite 1.5 tablespoon cookie scoop
to make equal sized meatballs and baked them all up for 25 minutes.
While they are baking, whip up the sticky honey chipotle glaze. This is where the flavor bomb comes from! Broth, honey, lime, salt and adobo sauce in a pan, simmered, then thickened with a touch of cornstarch. Boom.
Want it SPICY? Add a whole chipotle pepper while simmering, then remove before tossing the meatballs.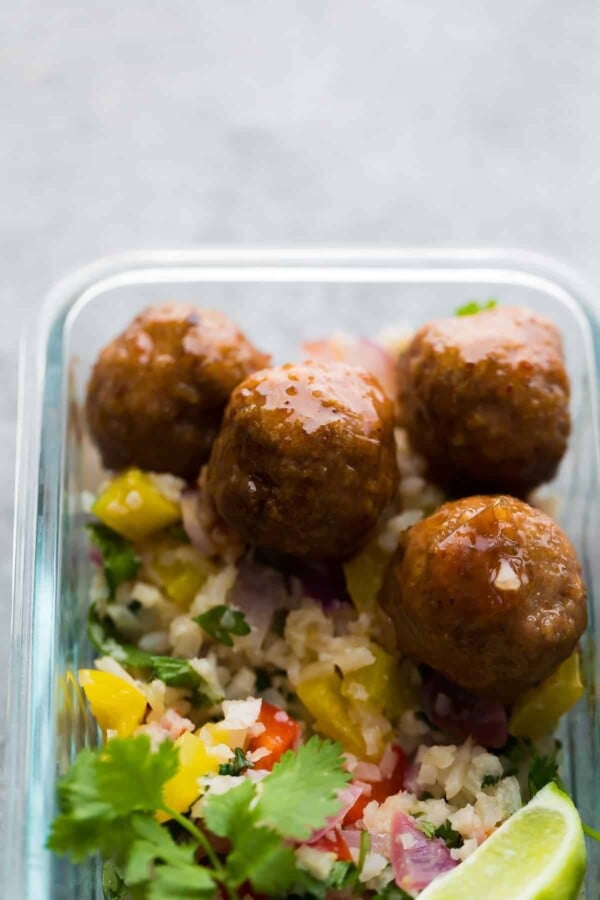 Now I served my honey chipotle meatballs over a cilantro lime cauliflower rice, however they would be great over basmati rice or zoodles.
I recommend using fresh cauliflower rice rather than frozen pre-riced cauliflower to prevent it from getting soggy as a meal prep lunch. If you eat it right away, shouldn't be an issue though 😀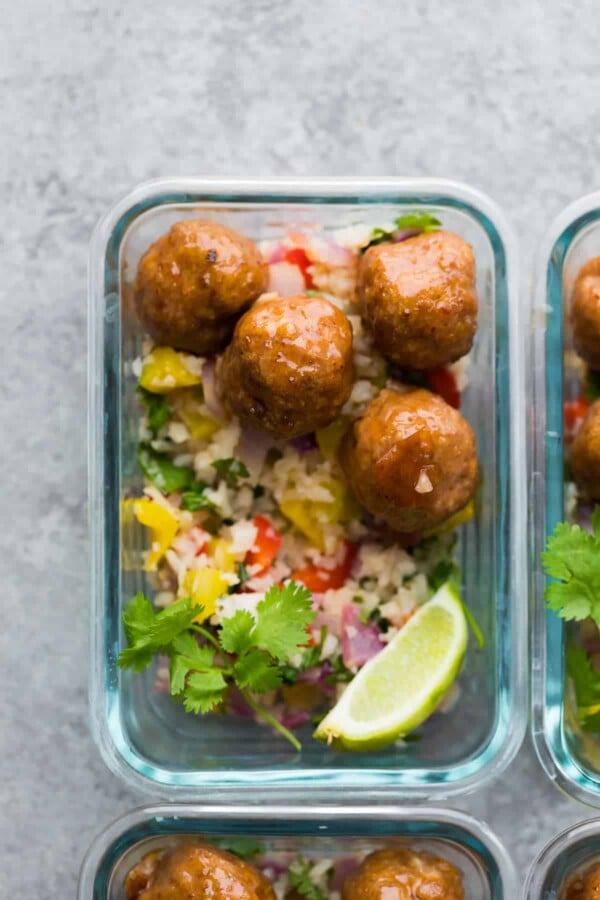 Tips to get perfect honey chipotle meatball meal prep bowls:
Honey Chipotle Meatball Meal Prep Bowls
Ingredients
Turkey Meatballs
1 lb/ 450 g lean ground turkey
1 large egg
1/2 cup breadcrumbs
1 teaspoon worcestershire sauce
1/2 teaspoon salt
Honey Chipotle Glaze
1/2 cup honey
1/2 cup chicken stock
1/2 teaspoon salt
2 tablespoons lime juice
4 tablespoons adobo sauce (from a can of chipotle peppers)
1 whole chipotle pepper (optional- spicy!)
1 teaspoon cornstarch
Cilantro Lime Cauliflower Rice
1 tablespoon olive oil
1 bell pepper, finely chopped
1/2 red onion, finely chopped
4 cups riced cauliflower
zest of 1 lime
1/4 teaspoon salt
juice from 1/2 a lime (1 tablespoon)
1/2 cup cilantro leaves
Directions
Turkey Meatballs
Heat oven to 375°F.
Line a baking sheet with parchment paper and set aside.
In a large bowl, mix together the ground turkey, egg, breadcrumbs, worcestershire sauce and salt.
Form into 1.5 tablespoon meatballs and arrange on the baking sheet.
Bake for 22-25 minutes, until cooked through. Remove from oven and allow to cool slightly.
Honey Chipotle Glaze
In a medium pan, combine the honey, stock, salt, lime juice, adobo sauce and optional chipotle pepper.
Stir together and cook until completely combined.
In a small bowl mix the cornstarch with a tablespoon of cold water until no lumps remain. Stir into the pan and continue stirring and simmering until slightly thickened.
Remove from heat and toss meatballs in the glaze, until coated.
Cilantro Lime Cauliflower Rice
In a large pan, heat the olive oil.
Add the bell pepper and onion, and cook for 3-4 minutes, until slightly softened.
Add the cauliflower rice, lime zest and salt. Cook for 2-3 more minutes, until cauliflower rice is slightly softened (but not mushy!).
Stir in the lime juice and cilantro leaves, then remove from the heat.
Assemble lunch bowls
Divide the cauliflower rice between four meal prep containers.
Divide the meatballs between four bowls.
Drizzle with extra glaze to taste.
Loading nutrition data...