Sharing 36 vegan crockpot recipes that would work perfectly for meal prep! The slow cooker makes meal prep so efficient.
I've found that searching for vegan crockpot recipes can be a bit disappointing sometimes...there's just a LOT of meat and cheese-filled crockpot recipes out there. So today, after scouring the internet, we are sharing our picks for delicious vegan (or vegan-friendly) slow cooker recipes.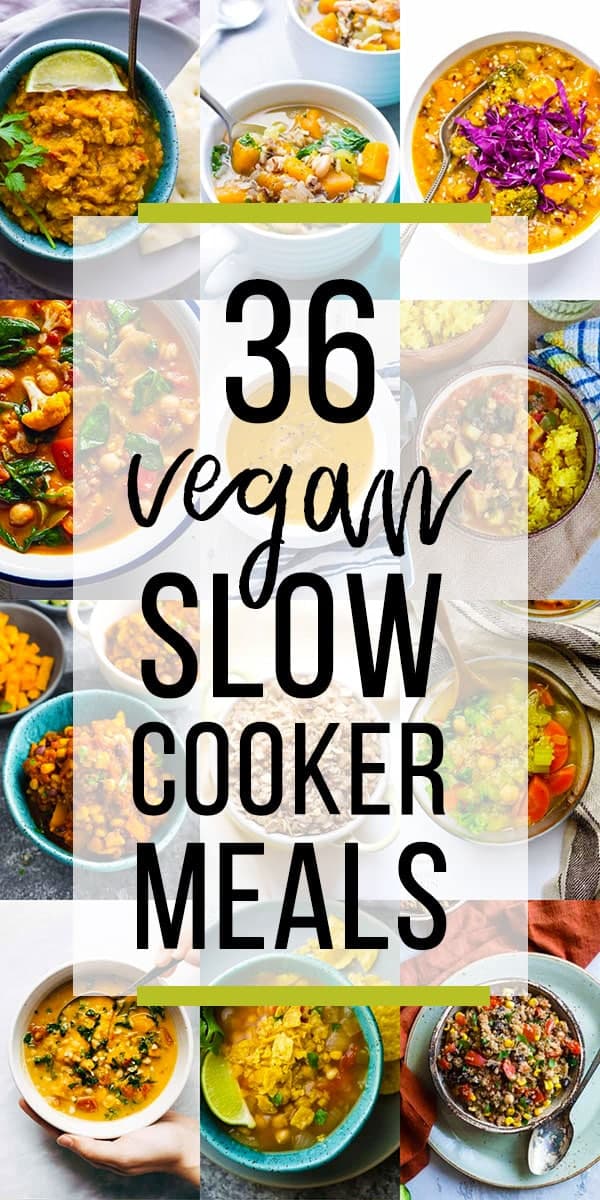 These vegan slow cooker recipes are delicious, hearty, and full of plant-based goodness. They are full of protein and are not going to leave you feeling hungry, that's for sure!
How can these vegan slow cooker recipes help you in the kitchen? The ease-factor! 99% of vegan crockpot recipes from Sweet Peas & Saffron do not require any pre-cooking, meaning you can dump everything in the slow cooker, press start, and go about your day.
Not only is the slow cooker great for easy meals, but it is my secret weapon when it comes to meal prep.
Don't forget to pin this post to save it for later!
How you can use these vegan slow crockpot recipes for meal prep
some of these recipes may be assembled ahead and frozen as crockpot freezer meals (read more about that here!)
cool vegan slow cooker leftovers, portion out with rice (when appropriate), and freeze in single serve portions. I recommend a good set of glass meal prep containers for this...see my favorite meal prep containers here!
OR- you can make a big batch and repurpose leftovers in multiples dishes. You can see how I did that in this Crockpot Sweet Potatoes post
Enough rambling, let's check out these amazing vegan slow cooker recipes!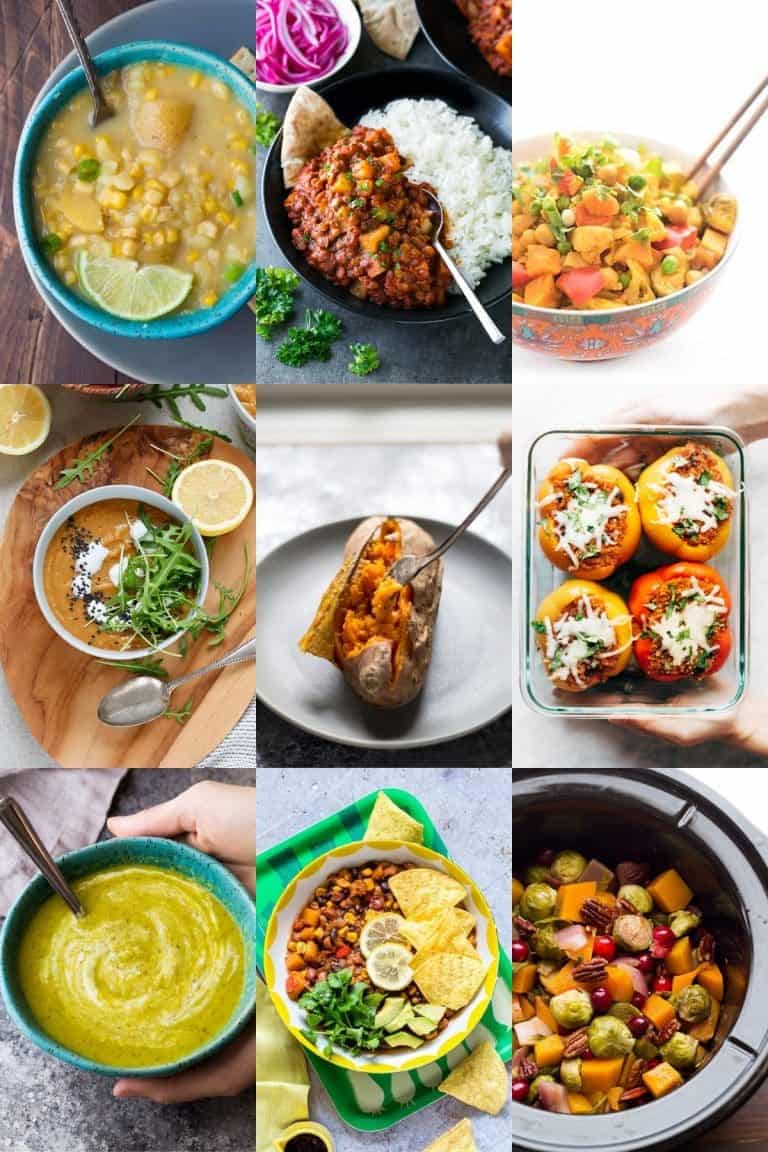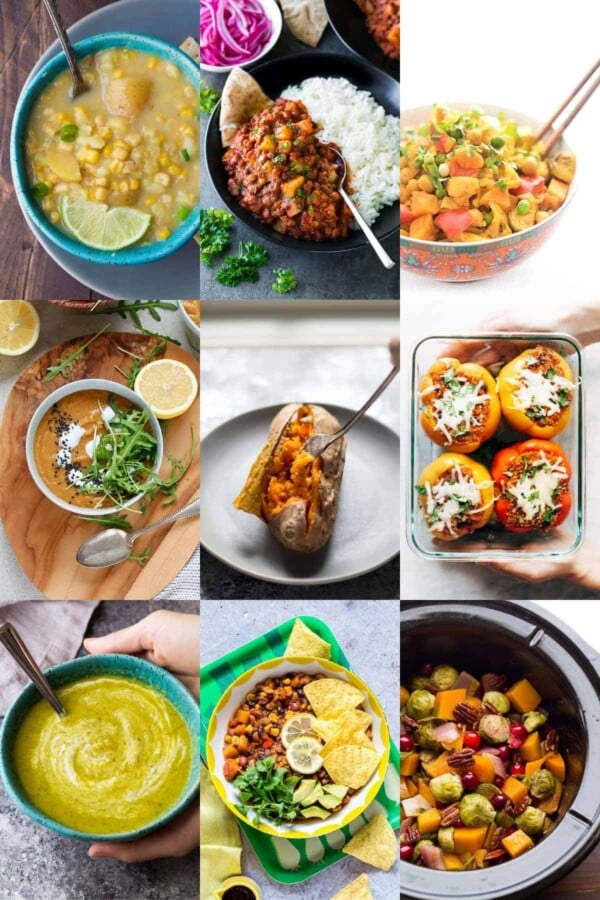 1. Slow Cooker Potato, Corn and Jalapeno Soup by Sweet Peas and Saffron
2. Crock-Pot Madras Lentils by Peas and Crayons
3. Slow cooker Vegetable Curry with Chickpeas by The Lemon Bowl
4. Vegan Carrot Ginger Soup with Red Lentils by Hey Nutrition Lady
5. Ultra Creamy Crock Pot Sweet Potatoes by Sweet Peas and Saffron
6. Freezer Meal Stuffed Quinoa Peppers by Pinch of Yum (replace cheese with vegan cheese)
7. Anti-Inflammatory Broccoli, Ginger and Turmeric Soup by Sweet Peas and Saffron
8. Slow Cooker Three-Bean Chili by Recipes from a Pantry
9. Slow Cooker Brussels Sprouts with Cranberries, Pecans, and Butternut by Sweet Peas and Saffron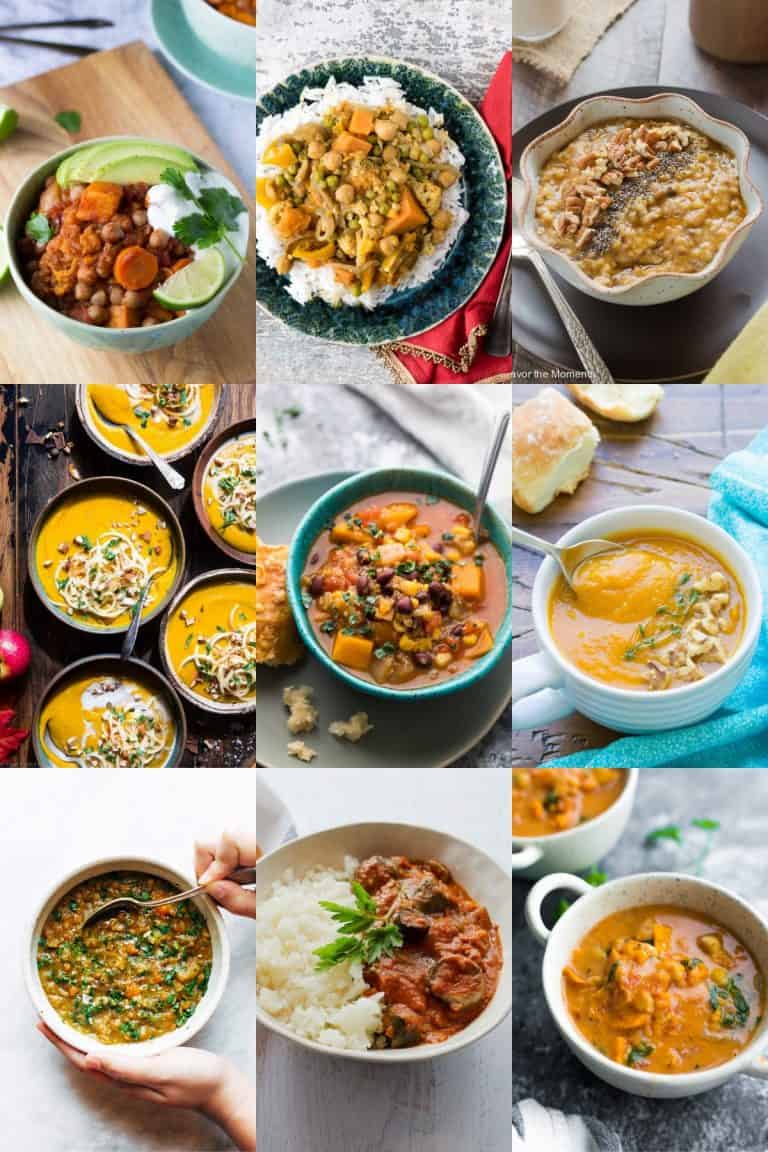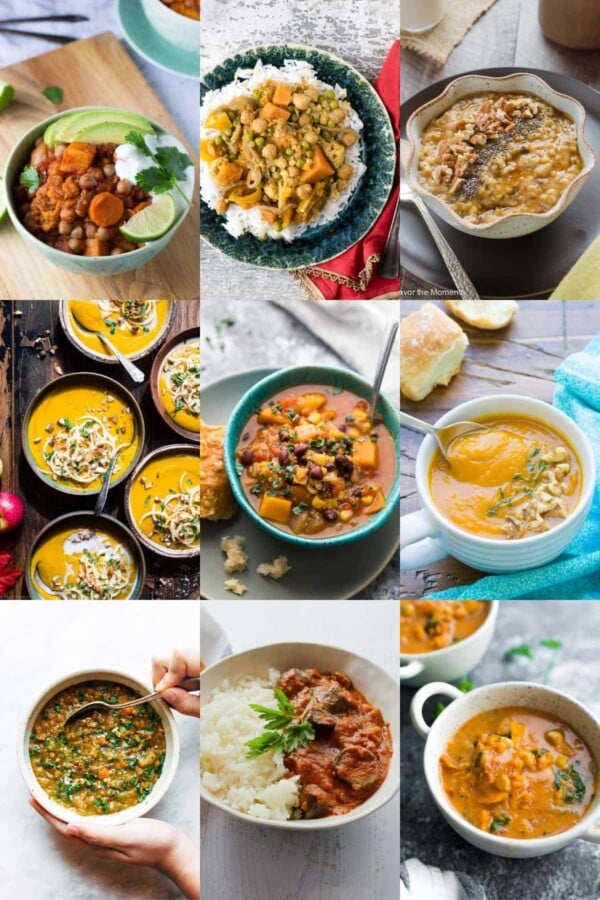 10. Slow Cooker Sweet Potato Chickpea Chili by Sweet Peas and Saffron
11. Slow Cooker Spicy Madras Vegetable Curry with Coconut Milk by Boulder Locavore
12. Slow Cooker Pumpkin Chia Steel Cut Oats by Flavor the Moments
13. Creamy Healthy Fall Vegan Sweet Potato Soup in the Slow Cooker by Food Faith Fitness
14. Slow Cooker Black Bean, Quinoa and Sweet Potato Stew by Sweet Peas and Saffron
15. Slow Cooker Butternut Squash and Sweet Potato Soup by Kristine's Kitchen Blog
16. Freezer Meal Detox Lentil Soup by Pinch of Yum
17. Slow Cooker Coconut Curried Eggplant by Eating Bird Food
18. Vegan African Peanut Stew (Slow Cooker) by Sweet Peas and Saffron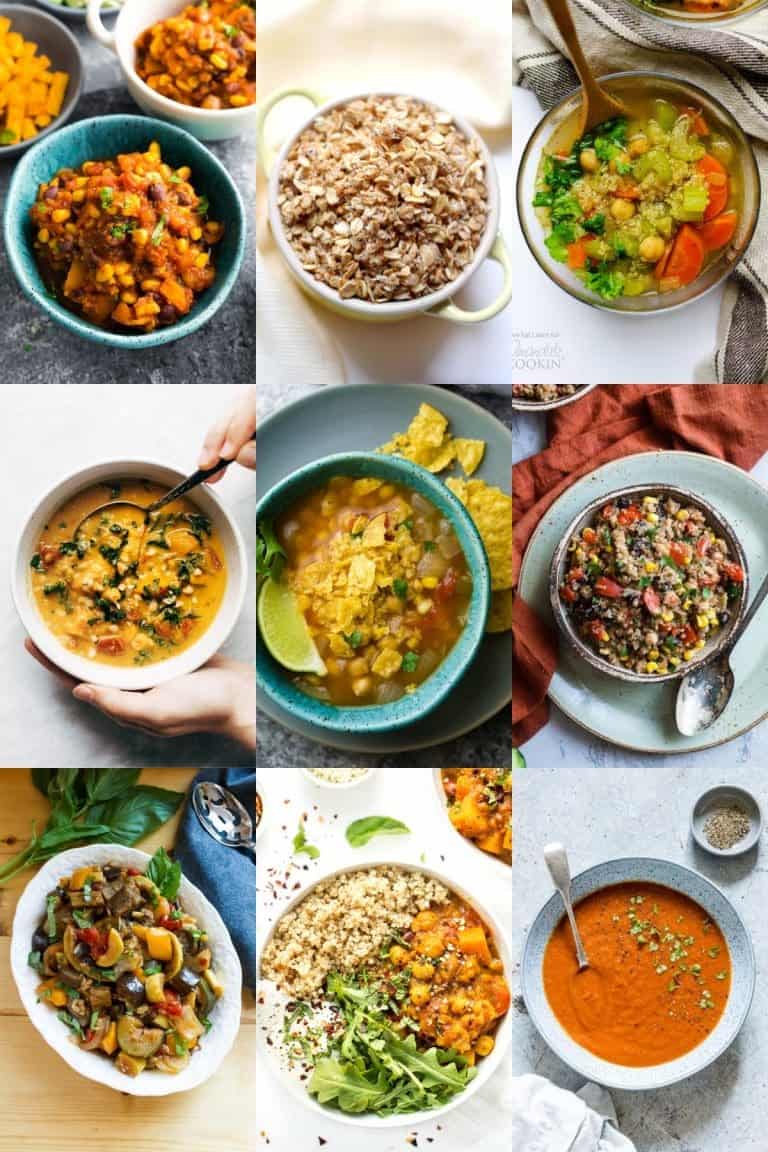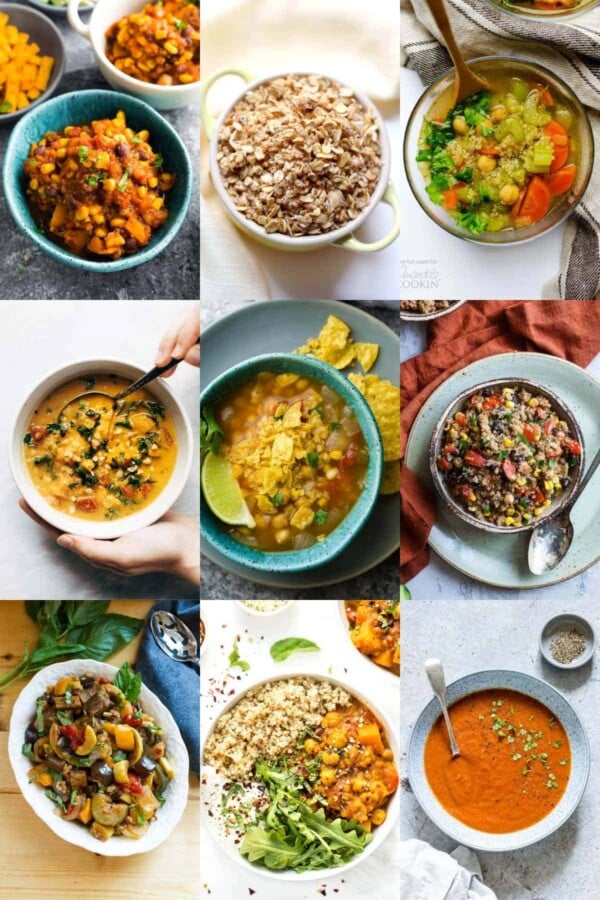 19. Vegan Crockpot Chili (Freezer) by Sweet Peas and Saffron
20. Slow Cooker Vanilla Coconut Granola by Strength & Sunshine
21. Healthy Vegetable Soup by Amanda's Cookin'
22. Freezer Meal Spicy Sweet Potato Peanut Stew by Pinch of Yum
23. Slow Cooker Chickpea Tortilla Soup (Freezer to Crock Pot) by Sweet Peas and Saffron
24. One Pan Mexican Quinoa Casserole in the Slow Cooker by Food Faith Fitness
25. Slow Cooker Ratatouille by Eating Bird Food
26. Slow Cooker Moroccan Chickpea Stew by Simply Quinoa
27. Slow Cooker Curried Tomato Soup by Recipes from a Pantry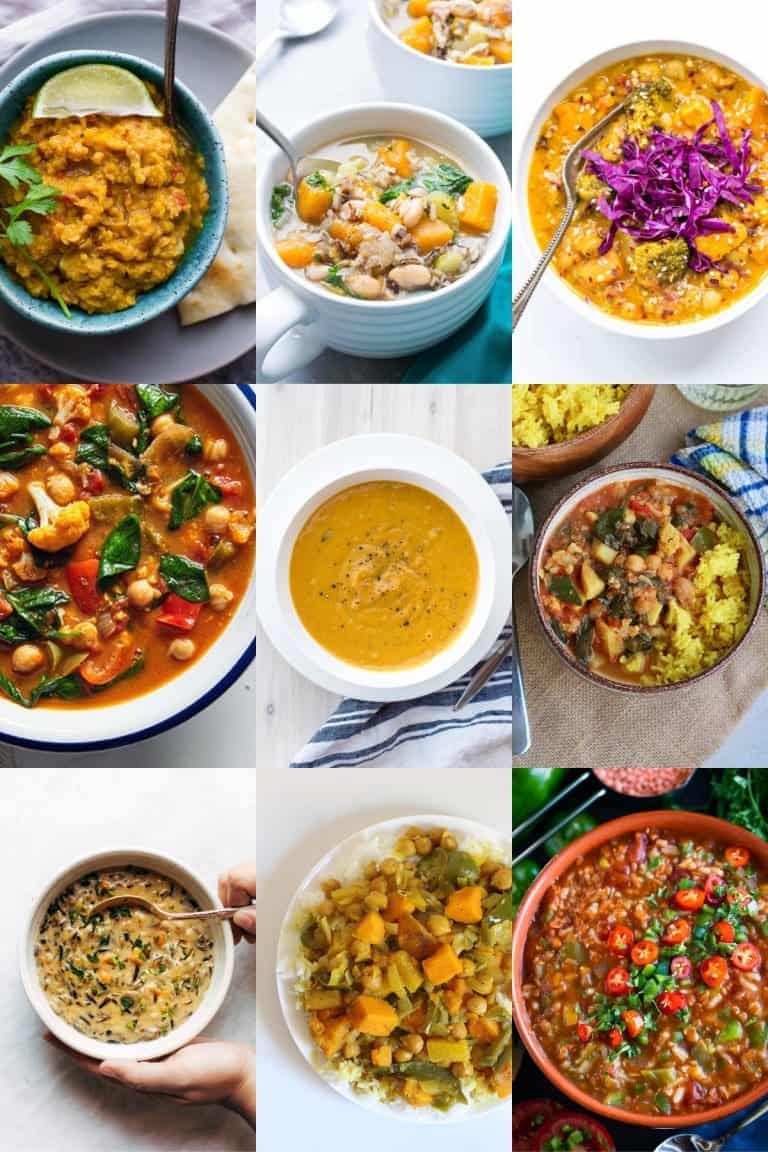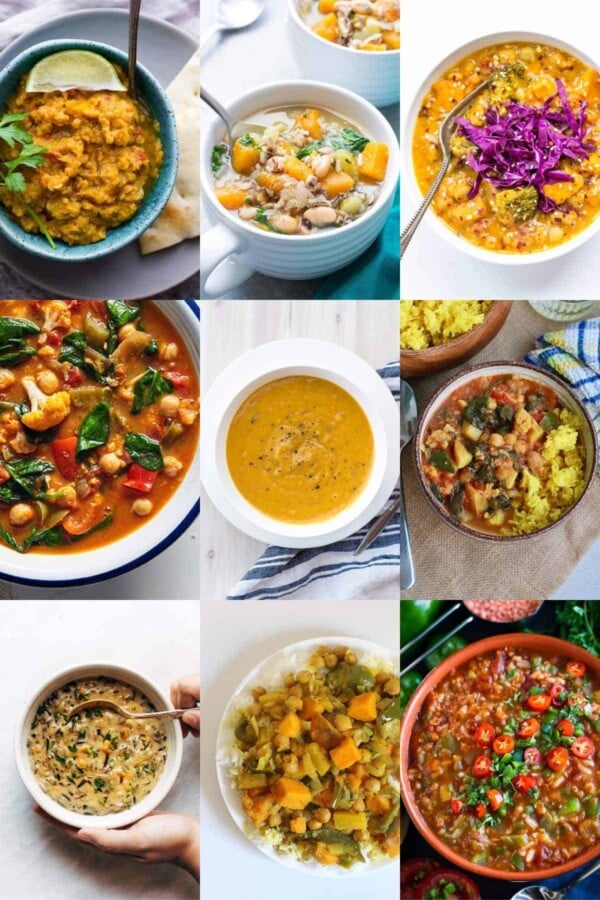 28. Slow Cooker Butternut Squash Lentil Curry by Sweet Peas and Saffron
29. Slow Cooker Wild Rice Vegetable Soup by Kristine's Kitchen Blog
30.  Slow Cooker Coconut Quinoa Curry by Simply Quinoa
31. Vegan Slow Cooker Stew With Chickpeas and Spinach by Beachbody on Demand
32. Crockpot Curried Sweet Potato Soup by The Family Freezer
33. Slow Cooker Chickpea Curry by Hey Nutrition Lady
34. Freezer Meal Wild Rice Soup by Pinch of Yum
35. Freezer to Slow Cooker Thai Pineapple Curry by The Family Freezer
36. Vegetarian Stuffed Pepper Soup by Peas and Crayons