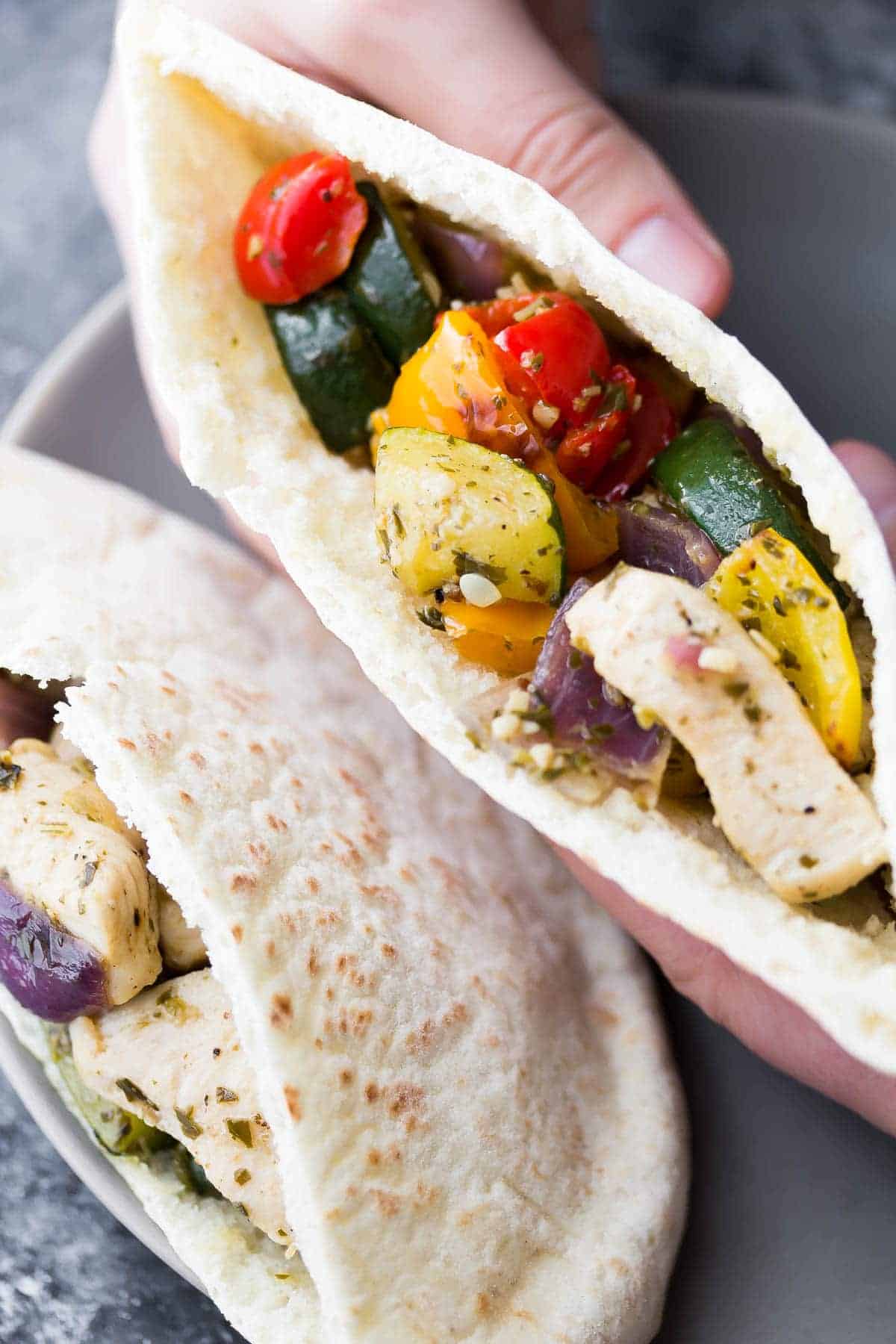 These meal prep pesto chicken pita pockets will be the envy of your office!  Plus instructions on serving them as grain bowls so you're never bored with your lunch.
Hiiii friends, I'm late here this week!
I've been super duper busy running our Lunch Prep Challenge (you can still join us!) and wrangling a cabin fever-ridden three year old (we're so done with this ridiculously cold weather, you hear Mother Nature?!)
But I'm here today, and I'm sharing an easy, tasty, easy, versatile, easy meal prep lunch recipe.  Pesto chicken pita pockets!  Did I mention it's eeeeasy?!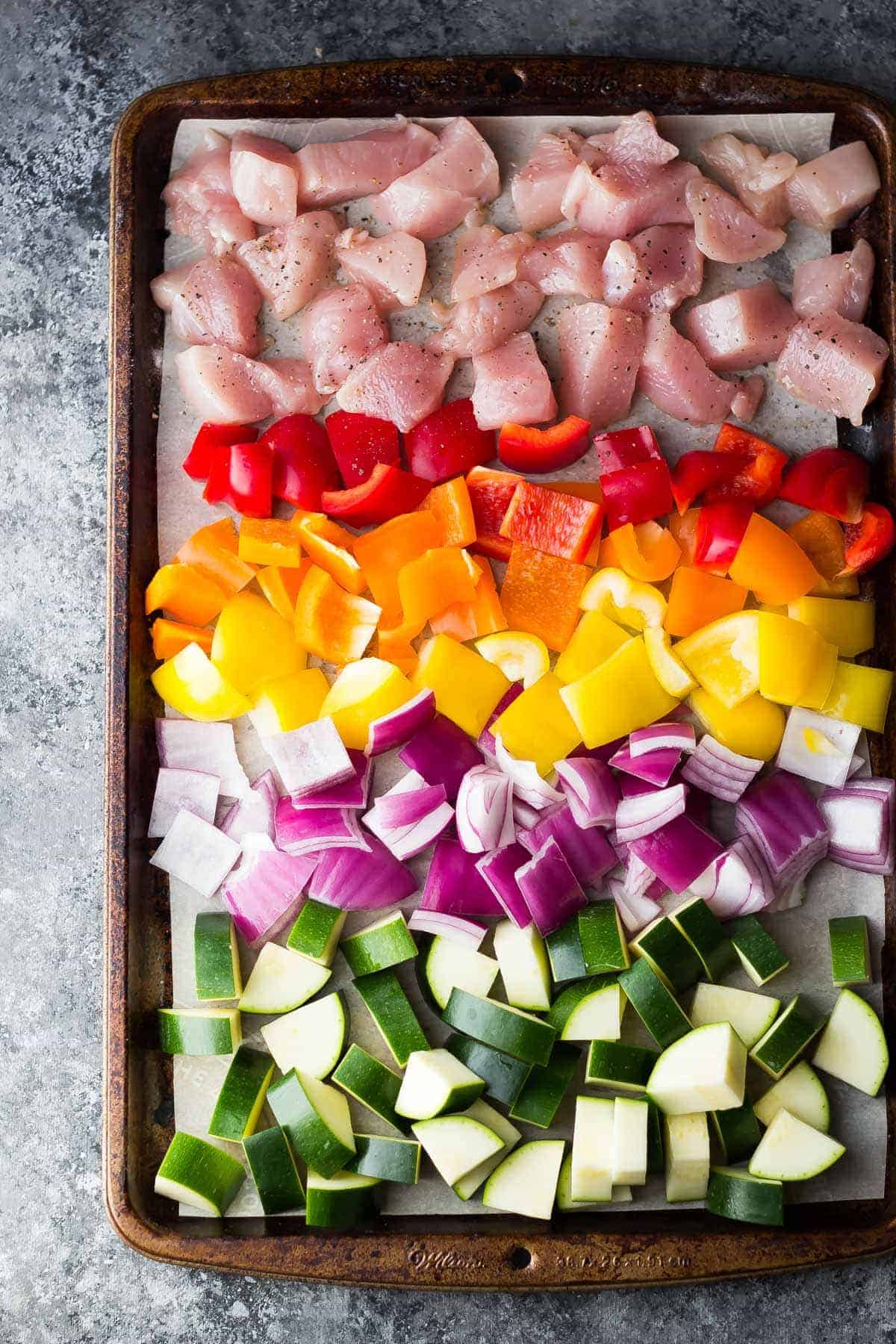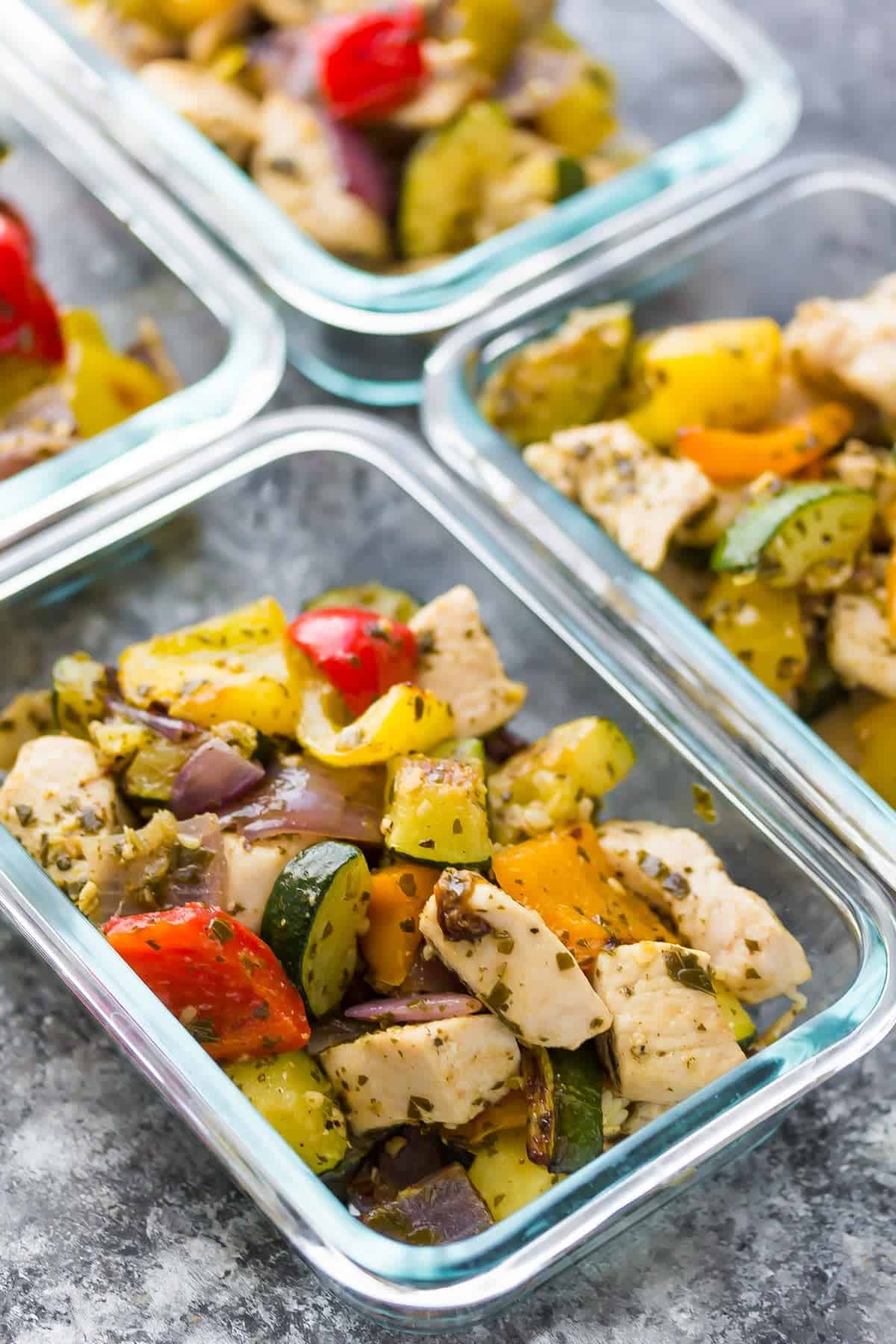 If you are participating in our Lunch Prep Challenge, these meal prep pesto chicken pita pockets will look awfully familiar to you, and that's because it was our recipe for week 1!
Now some people in the challenge wanted some variety in their lunches for the week, and I brainstormed some alternative ways to serve this recipe.
So today I actually have two lunch meal prep recipes, each centred off the same base of the recipe: chicken + roasted veggies.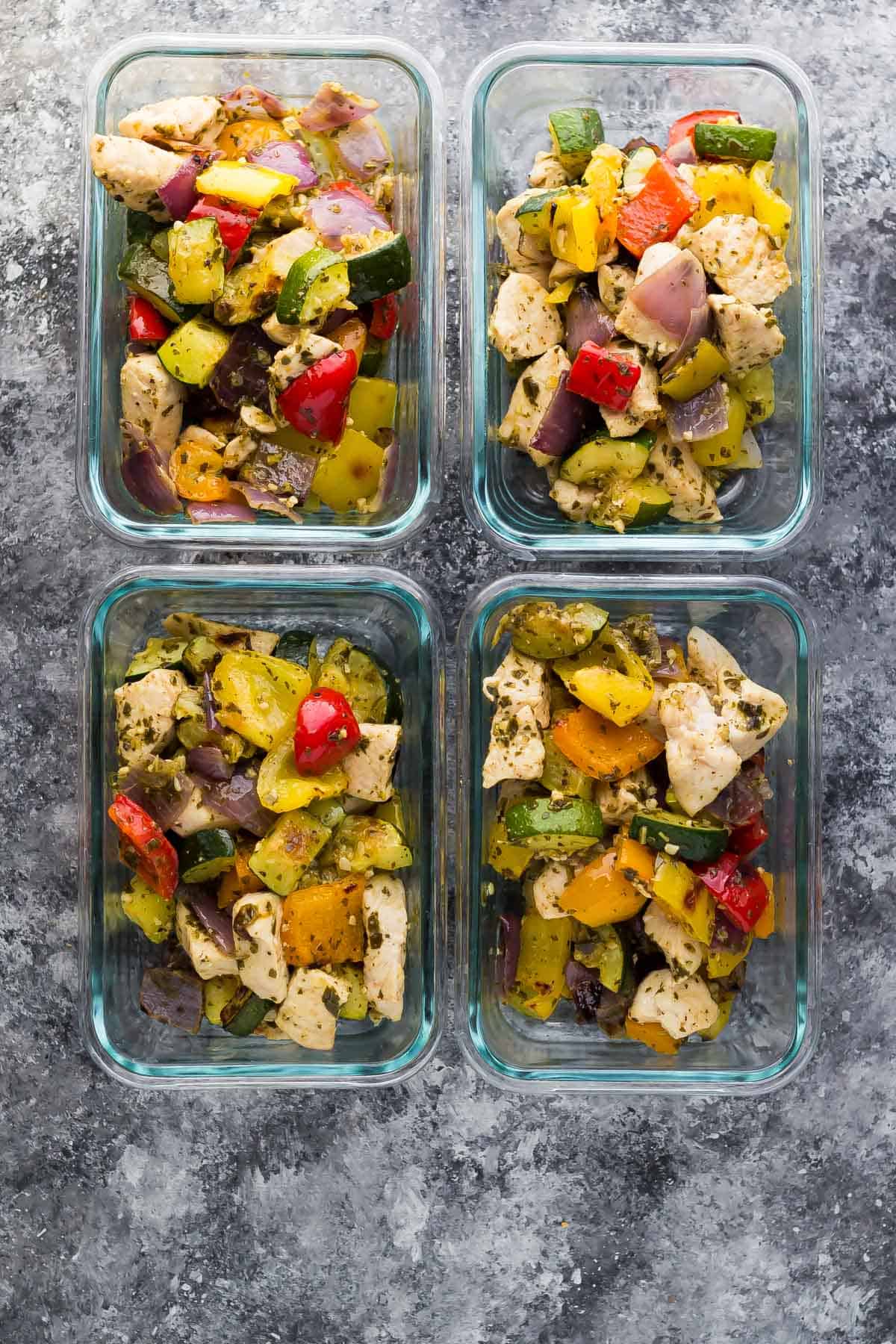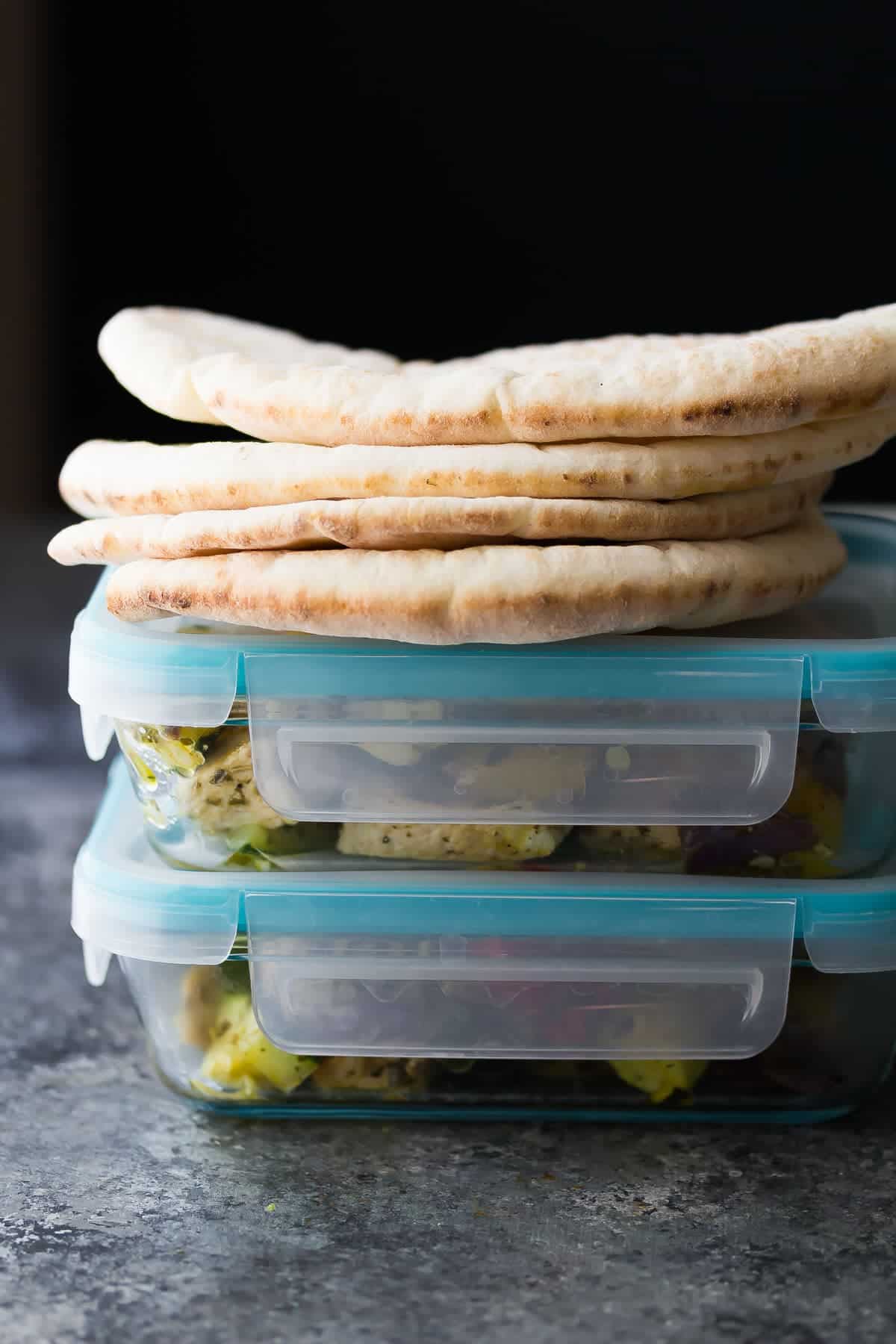 What's the deal with these meal prep pesto chicken pita pockets?  Well, they're easy.  Like ridiculously easy.
Roast up your chicken & veggies.  Cool.  Toss in some pesto.  And portion out for the week.  I told you they were easy ;).
NOTE: while the pictures above show chicken cut into chunks prior to baking, I recommend baking your chicken breasts whole, then slicing into strips.  
Don't cut or fill your pitas until just before you serve, that way they will be fresher on day 4.
If you don't want to eat the same thing all week?  Simple fix!  Serve the (pesto-free) chicken & veggies over 1/3-1/2 cup cooked grains with a sprinkling of feta and a drizzle of balsamic vinaigrette.  Voila.  4 lunches, 2 ways in under an hour.
Still need more proof?  I made a video for us!
Meal Prep Pesto Chicken Pita Pockets
4
adjust servings
Ingredients
Chicken
2

large chicken breasts

1

tablespoon olive oil

salt & pepper
Veggies
cups mixed vegetables, cut into chunks
red onion

bell pepper

zucchini

1

tablespoon olive oil

salt & pepper
Other
1/3

cup pesto

4

pita pockets
Instructions
Heat oven to 425°F.
Toss chicken breast with olive oil and salt & pepper and arrange on a baking pan.
Toss the veggies with olive oil and salt & pepper, and arrange on a second baking pan.
Roast for 10 minutes, flip everything and return to the oven.
Cook the veggies for 10-15 more minutes (20-25 min total), until cooked to your liking.
Cook chicken for another 15 minutes (25 min total), and allow to rest for at least 10 minutes before slicing into strips.
Place the chicken slices and vegetables in a large bowl with the pesto, stir to coat.
Divide amongst 4 storage containers, with pita separate.
Don't cut the pita in half until just prior to serving. Open the pocket and spoon filling into the pocket.
Recipe Notes
Nutritional Information:
2 pita pocket halves + ¼ of filling
Calories 449 // Fat 18 g // Saturated Fat 2 g // Cholesterol 64 mg // Sodium 609 mg // Carbohydrate 40 g // Fiber 4 g // Sugars 3 g // Protein 29 g
To make grain bowls (per portion): serve the roasted veggies & chicken (no pesto) over ⅓-1/2 cup cooked grains (farro, rice, barley or quinoa) with ½ tablespoon crumbled feta cheese and 1 teaspoon balsamic reduction.