12 ingredients that you may not know you could freeze! Plus more freezer tips from the Sweet Peas & Saffron community.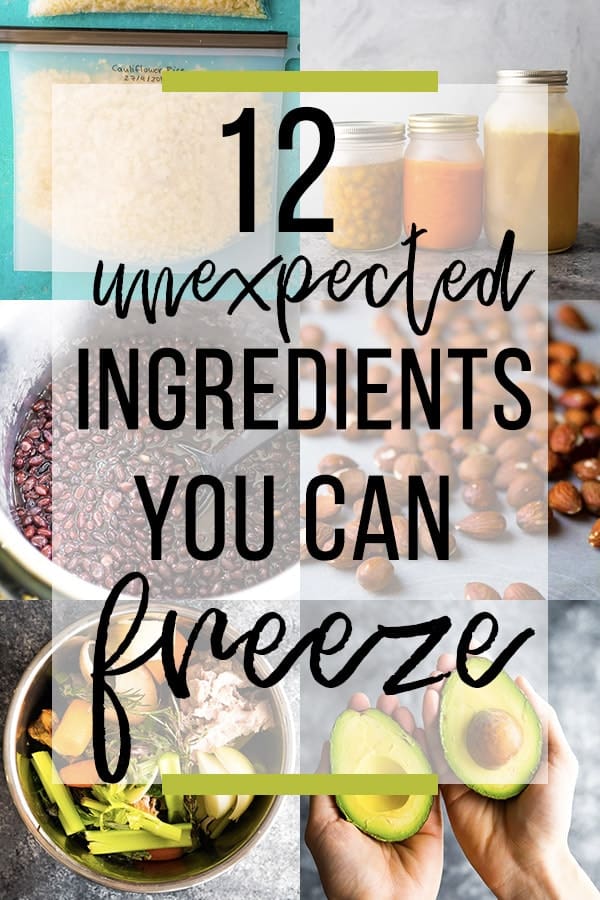 When it comes to eating healthy, your freezer is your BEST friend!
Your freezer can help you
eat healthy food from scratch
prevent food waste
with 5 pm dinner chaos
I freeze almost everything, and I do it without using a lot of plastic, too. See my post on Plastic-Free Freezer Storage Ideas!
There are definitely a few rules when it comes to freezing food, but I'm not going to get into that today because I've written a whole post on Freezer Meal Do's and Don'ts.
Today we are going to talk about some unexpected things that you might not know you could freeze!
1 minute video
Watch the video below for a walkthrough of each ingredient. Watch through to the end to see some of the SPS community submissions!
Don't forget to pin this post to save it for later!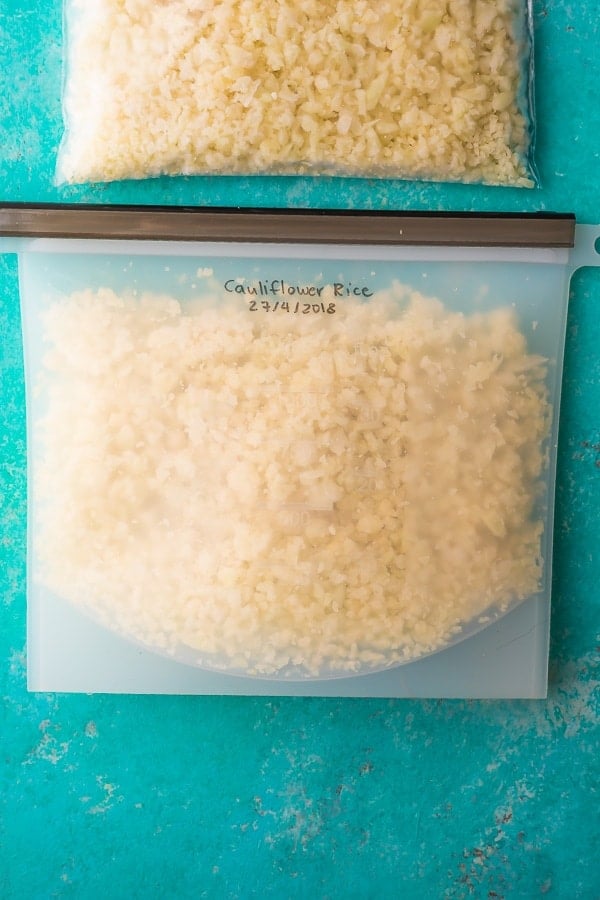 1. Cauliflower rice- yes, you can freeze cauliflower rice! It freezes great, and is the perfect way to store any leftovers you might have from a big head of cauliflower.
How to freeze and thaw cauliflower rice:
to freeze- cauliflower rice may be cooked before or after cooking- store in a reusable silicone bag or a sturdy freezer bag. Remove as much air as possible and freeze for up to 3 months.
to thaw- dump it straight into the pan and sautee until it is thawed and heated through. It will soften after thawing so be careful you don't overcook it.
Cauliflower rice resources: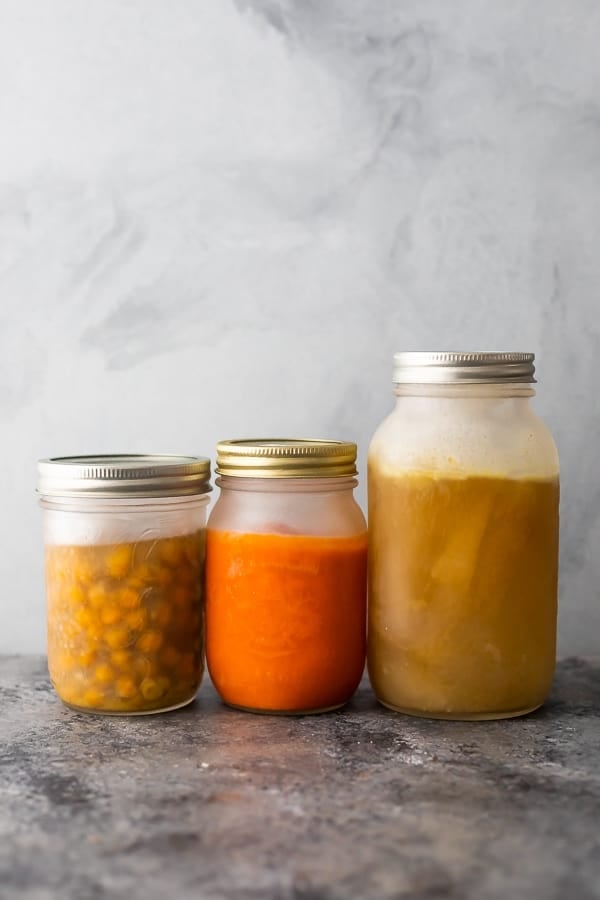 2. Hummus- If you live alone or have a family who is not super keen on hummus, you can end up with leftovers. Well fear not, because hummus freeze/thaws beautifully!
How to freeze hummus
to freeze- fill a mason jar or sturdy freezer bag with hummus and freeze for up to 3 months.
to thaw- thaw in the fridge overnight, give it a good stir and you are set!
Hummus resources
*the avocado hummus flavor does not freeze/thaw well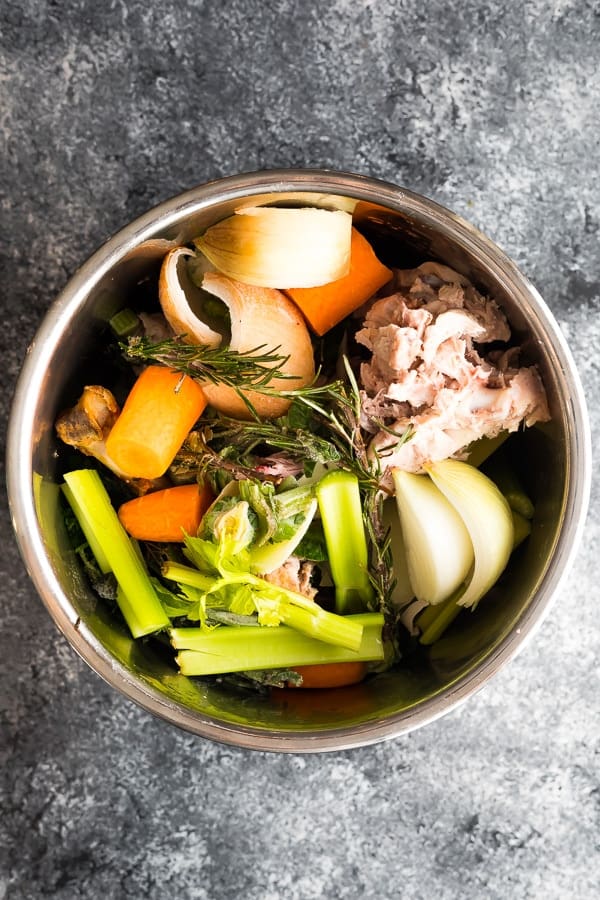 3. Food scraps- we save all the bones from a roast turkey or Instant Pot whole chicken to make bone broth and stash them in the freezer! When it gets close to the time to make the broth, we also start collecting herbs and food scraps which normally get composted.
How to freeze food scraps
to freeze- collect fresh herbs, veggie peels, chicken bones and more in a large freezer bag. Squeeze out as much air as possible and store until you're ready to make bone broth!
to thaw- I don't even bother! Just dump it into your Instant Pot or stock pot and get cooking!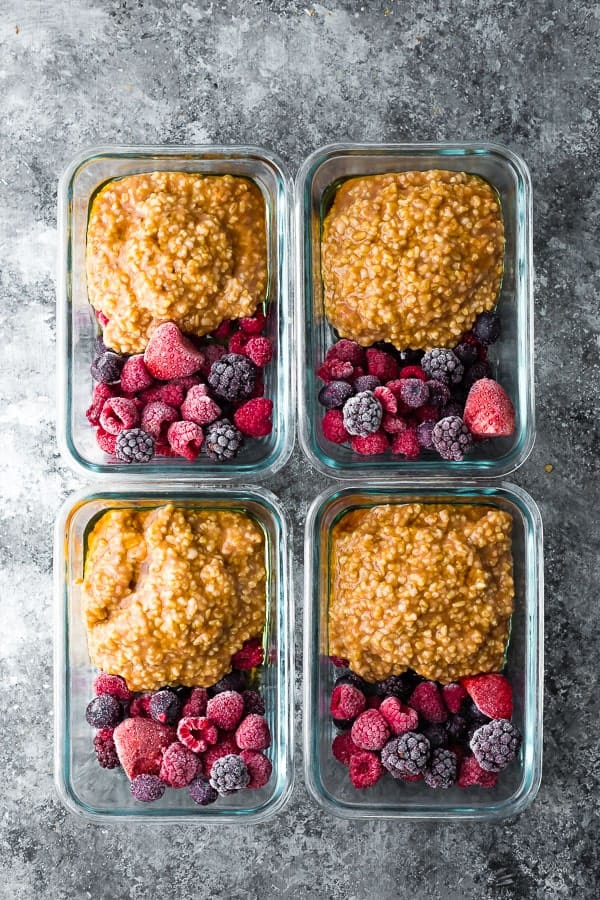 4. Steel Cut Oats- Steel cut oats freeze and thaw like a dream, you really can't tell they've ever been frozen. If you have a crazy week coming up, why not make a double batch of these Instant Pot Steel Cut Oats, cool and portion out with some frozen berries, then freeze!
How to freeze and thaw steel cut oats
to freeze- I freeze them in glass meal prep containers, but if you are short on containers, you can freeze in muffin tins, then pop them out and store in a freezer bag!
to thaw- thaw overnight in the fridge, then re-heat in the microwave. I like to stir in some almond milk and almond butter just before eating.
Steel cut oats resources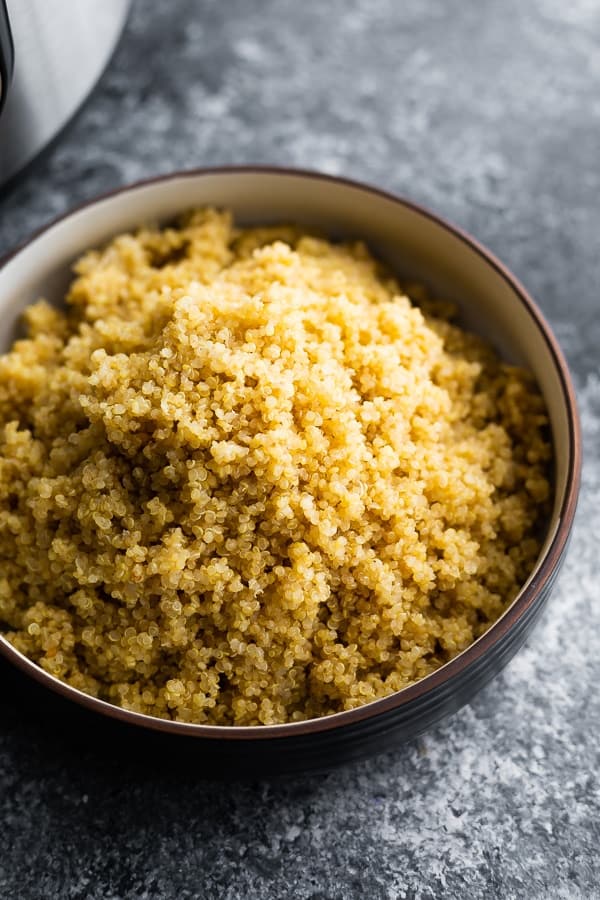 5. Quinoa & rice- I often freeze lunches with rice, but sometimes I mix things up and portion them out with quinoa instead. It also works great with Breakfast Quinoa! You can't even tell when quinoa has been frozen, it retains that perfect, chewy texture!
How to freeze and thaw quinoa (& rice)
to freeze- cool completely and portion out into glass meal prep containers or sturdy freezer bags. Squeeze out as much air as possible and freeze for up to 3 months.
to thaw- thaw overnight in the fridge before reheating till the quinoa is steaming hot.
Quinoa resources
Perfect, Fluffy Instant Pot Quinoa
Rice resources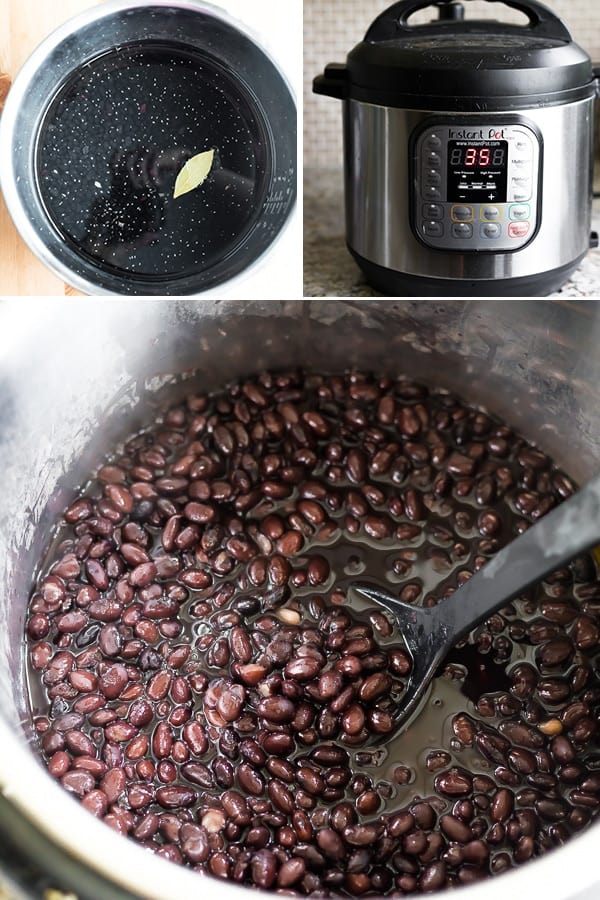 6. Beans
Our small family can't consume a full batch of Instant Pot Chickpeas or Instant Pot Black Beans, so what do we do with leftovers? We freeze them!
How to freeze and thaw cooked beans
to freeze- *start with completely cooled beans & cooking liquid* portion out with some of the cooking liquid into freezer bags or mason jars. JARS- Leave ¼ of the jar for expansion and the lid ajar until frozen solid. BAGS- squeeze out as much air as possible and freeze flat.
to thaw- thaw in the fridge overnight and use as you normally would!
Bean resources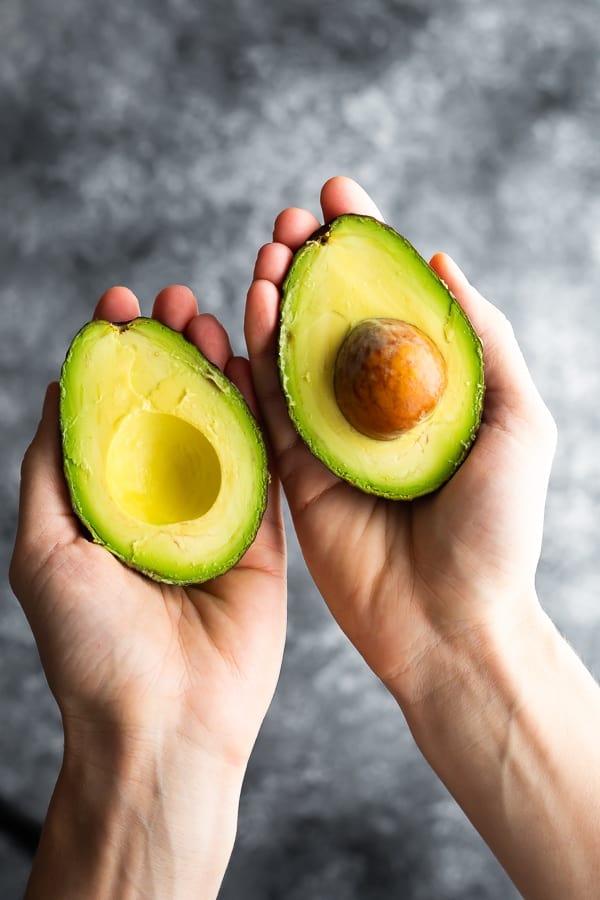 7. Avocados- I know you're doing a double take on this one! If you have some avocados that are getting a little too ripe and you can't keep up with them, you should try freezing them! They work great in smoothies for a boost of healthy fats.
How to freeze and thaw avocados
to freeze- cube the avocado and arrange on a baking sheet. Get it in the freezer ASAP! Once frozen, transfer to a freezer bag and keep for up to 3 months.
to thaw- I wouldn't thaw the frozen avocado. Throw it straight into the blender with your smoothie ingredients and you're good!
Avocado resources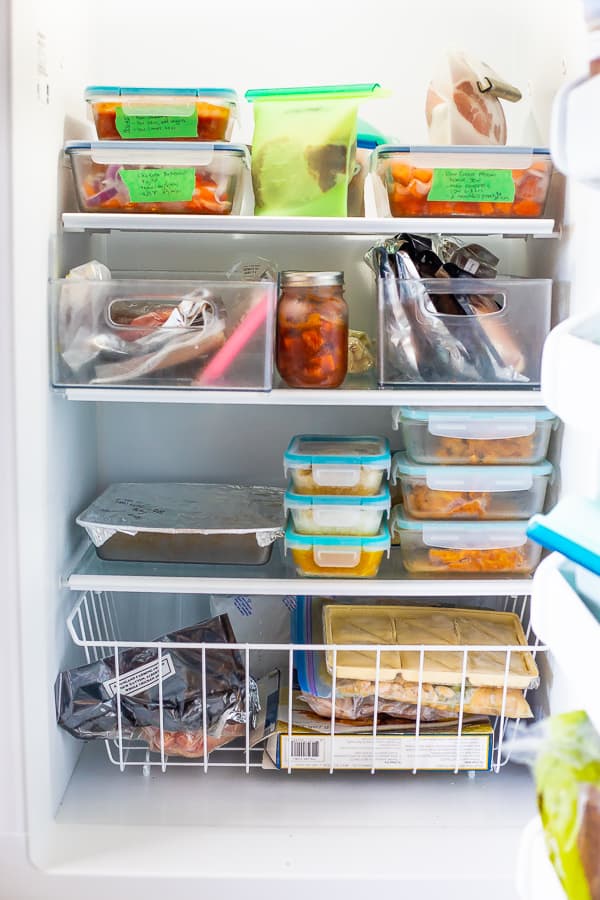 8. Cheese
We routinely freeze pecorino romano and parmesan cheese, but apparently you can freeze many other types of cheese as well!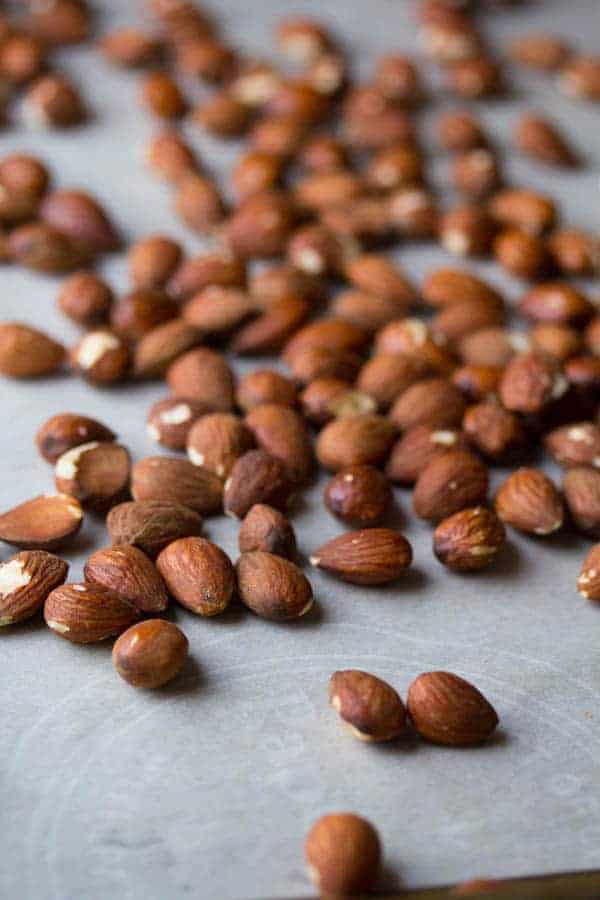 9. Nuts
This is not something I'm in the habit of doing, but you can freeze nuts and seeds to keep them fresh for longer! The same applies to nut flours.
10. Ginger
I learned this trick from my friend Natalie at Tastes Lovely. She stores her fresh ginger in the freezer and it makes it super easy to grate it for recipes!
11. Coconut milk
Ever have a recipe that does not require a full can of coconut milk? Freeze your extras in ice cube trays or straight in a freezer bag.
12. Chipotles
I never seem to use up a full can of chipotles, so I constantly have a freezer stash! Freeze them in freezer bags or small reusable containers.
Fun things that YOU freeze!
I asked on Instagram and in our Facebook Group what some unusual ingredients that YOU freeze and loved the list I compiled from you all! Here are some fun things that the Sweet Peas & Saffron community freezes:
roasted garlic
milk, cream
butter
wine
eggs
tomato paste or leftover tomato sauce
potato chips (a surprising number of people mentioned that frozen potato chips are amazing! 😂)
lemon zest
maple syrup
anchovies
coffee- in ice cube trays
curry leaves
rice
grapes- to eat them frozen
parmesan rinds
mango


Did I miss something awesome on this list? Let me know by leaving a comment below!
XO


Looking for more freezer posts?