Sharing 36 delicious rice bowl recipes that you can meal prep. These recipes are perfect for an office lunch or re-heatable dinner. Many of them are even freezer-friendly!
Rice bowls are a staple in my meal prep routine! They're great because they are a healthy, well-rounded meal that leaves me feeling full but not over-full.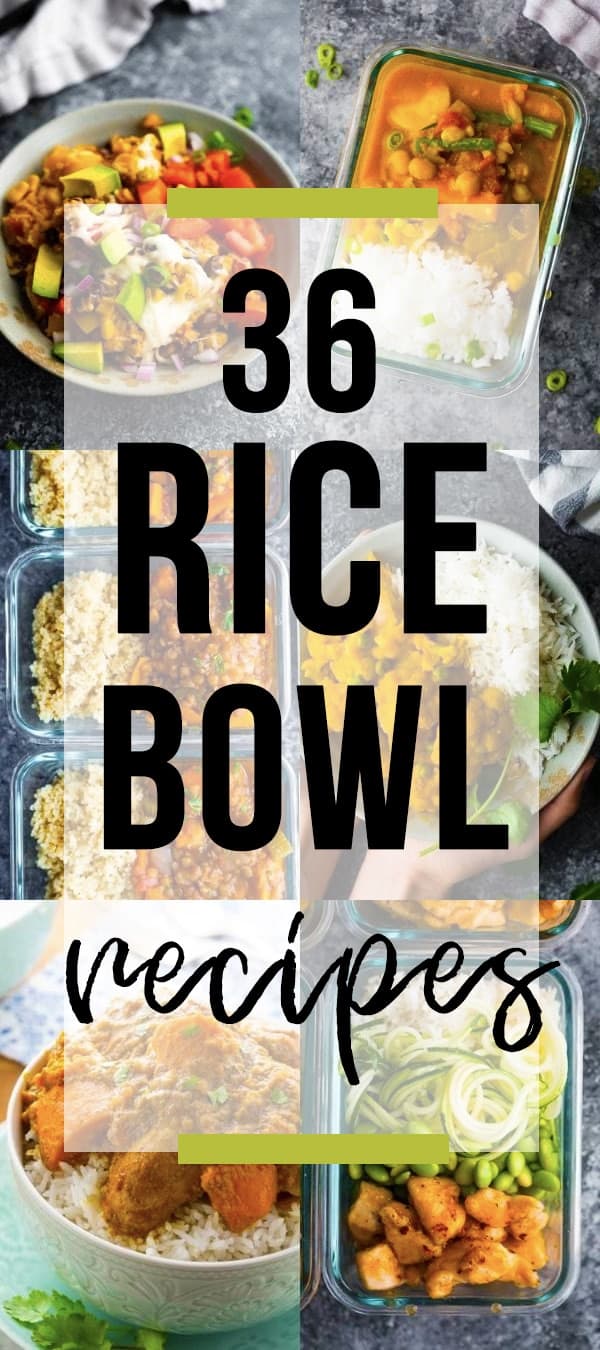 Not only that, but rice bowls are often freezer-friendly, meaning you can build up a good freezer stash and thaw as needed.
Types of rice
When it comes to the type of rice, I choose basmati. Why basmati? It is soft and fluffy like white rice, but has a low glycemic index, like brown rice. This means it breaks down more slowly and does not spike your blood sugars in the same way as instant rice.
Portion size
Even though basmati rice is on the lower end of the glycemic index, it is still important to keep an eye on your portion size. I aim for ½ cup of cooked rice per portion. Loaded up with veggies and protein, it's plenty filling.
Storage
Cooked rice has the worst rap when it comes to food safety. However, rice is perfectly safe to eat when cooked and stored properly:
cool and refrigerate quickly
store for 4-6 days (personally I have a 4 day rule for leftovers)
reheat until steaming hot, and only reheat once
Rice is also safe to freeze for up to 3 months. Thaw completely in the fridge and re-heat until steaming hot.
How to cook rice
I am a bit of a rice snob. If you want perfect, fluffy rice, I urge you to check out the following posts:
Turkey, pork & beef rice bowl recipes
These recipes have so much variety! From pulled pork to sausages to beef, there are too many delicious options to pick.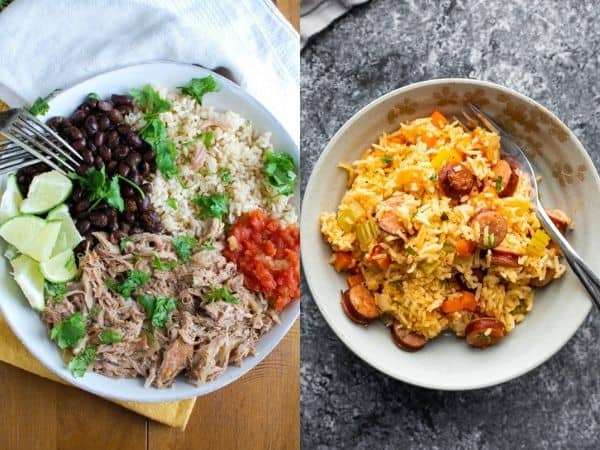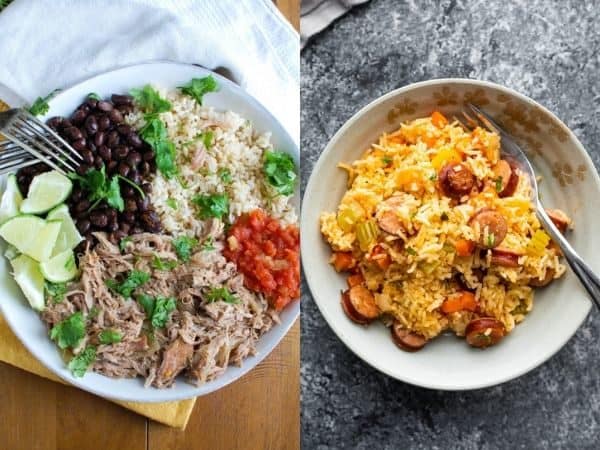 1. Slow Cooker Cuban Pork Rice Bowls from A Cedar Spoon // 2. Instant Pot Cajun Rice and Sausage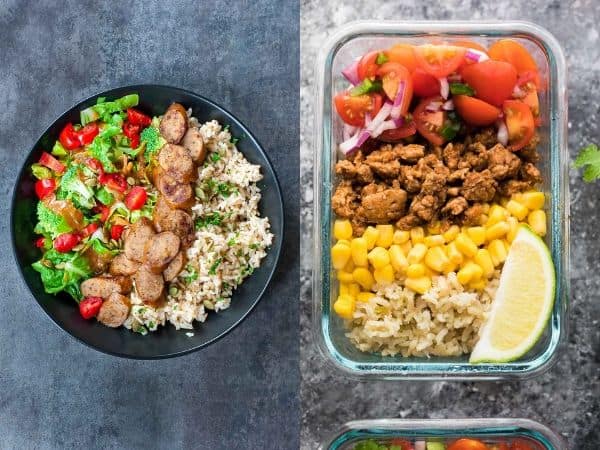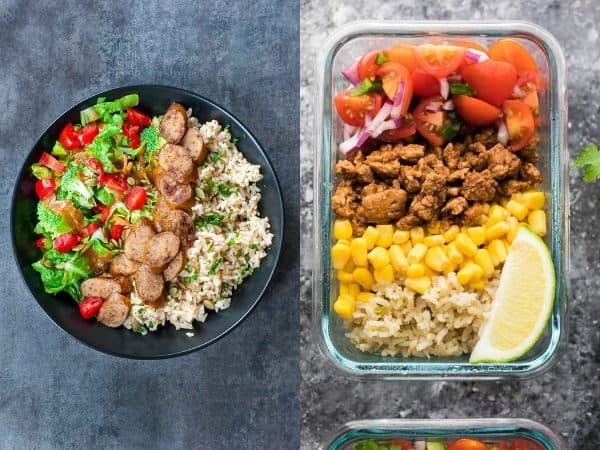 3. Sausage Veggie Rice Bowl from Peas and Crayons // 4. Turkey Taco Lunch Bowls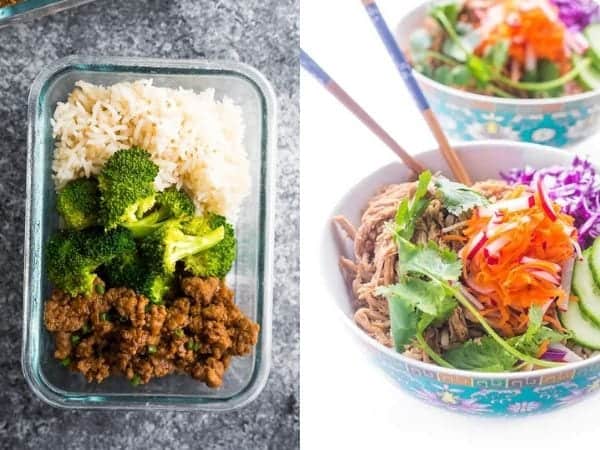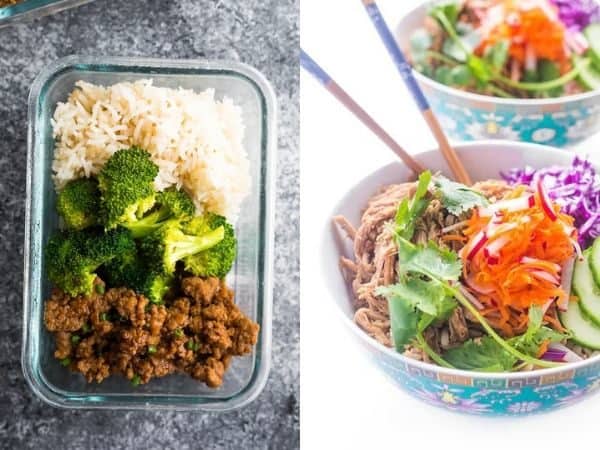 5. Korean Turkey Meal Prep // 6. Slow Cooker Banh Mi Rice Bowl from The Lemon Bowl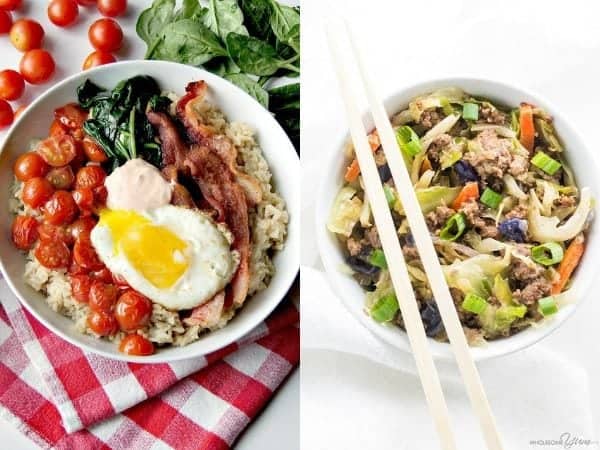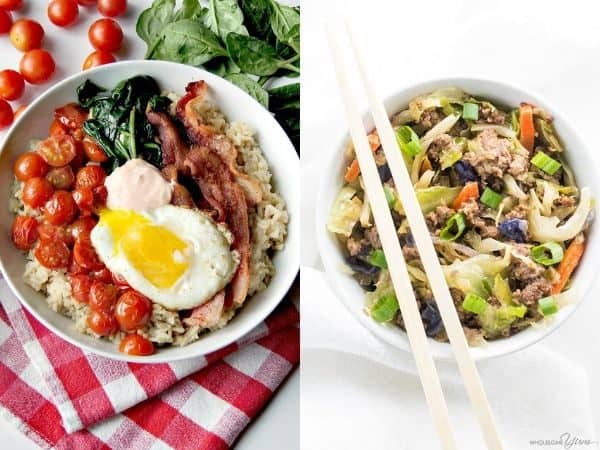 7. Brown Rice BLT Bowls from Bobbi's Kozy Kitchen // 8. Low Carb Crack Slaw Egg Roll in A Bowl from Wholesome Yum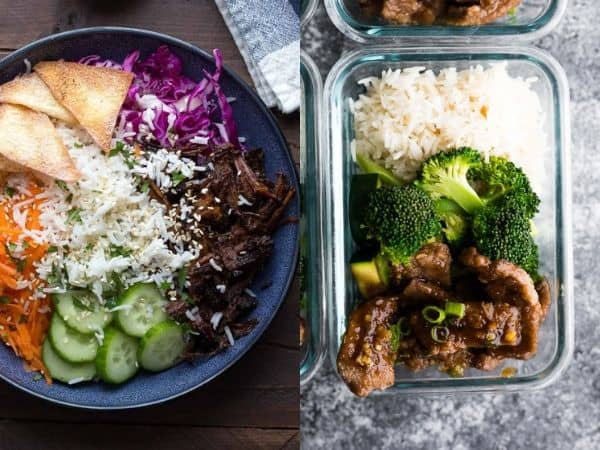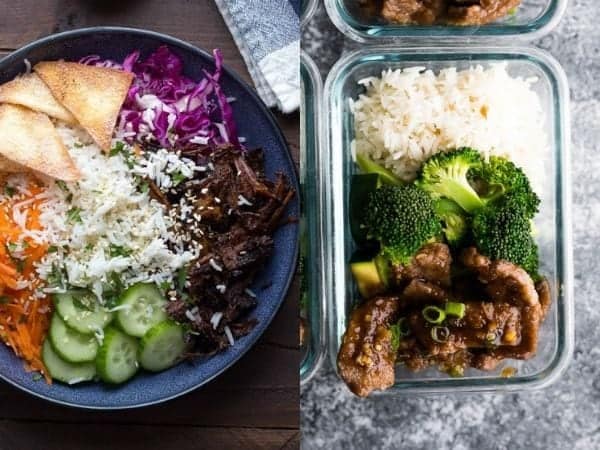 9. Honey Garlic Beef Rice Bowl // 10. Lighter Mongolian Beef Meal Prep
Meatless rice bowls
I love a good meatless lunch, and these rice bowl options all look delicious to me! Stir fries, Mexican, sushi and Instant Pot recipes that are perfect for lunch or dinner.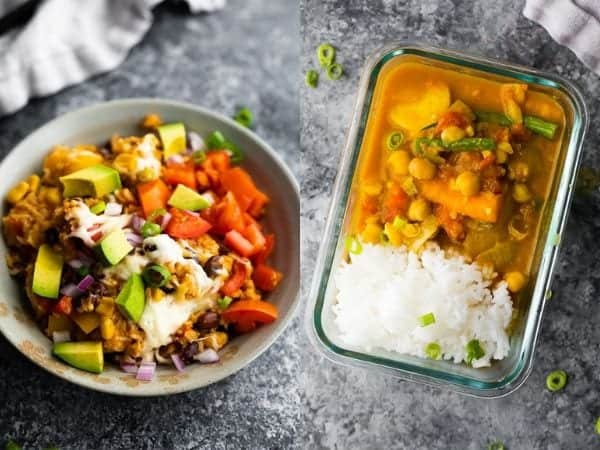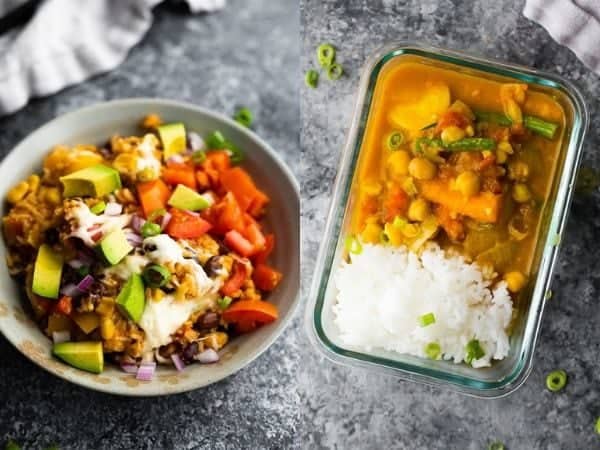 11. Instant Pot Fiesta Rice Bowls // 12. Instant Pot Chickpea Curry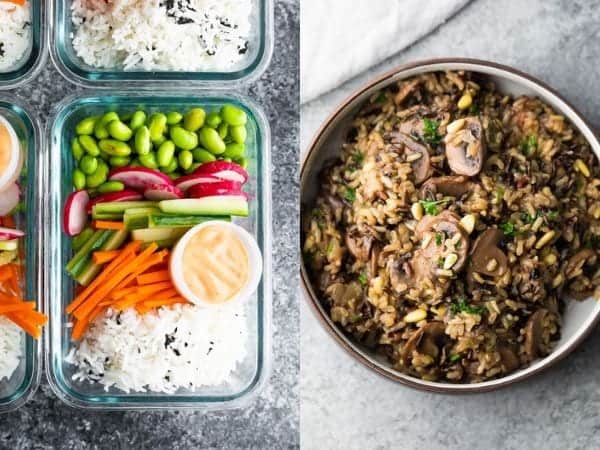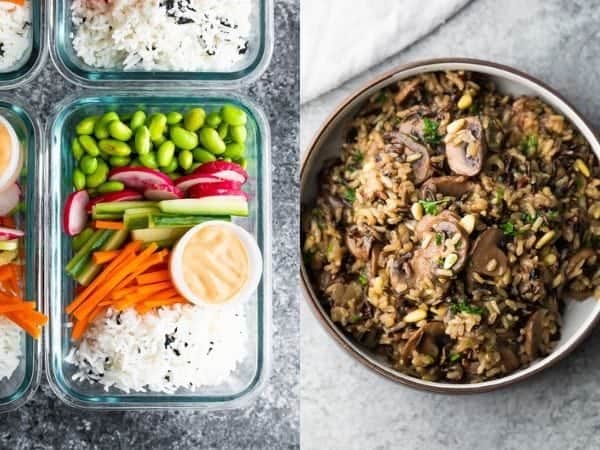 13. Vegan Sushi Bowl Meal Prep // 14. Instant Pot Wild Rice Pilaf with Mushrooms and Pine Nuts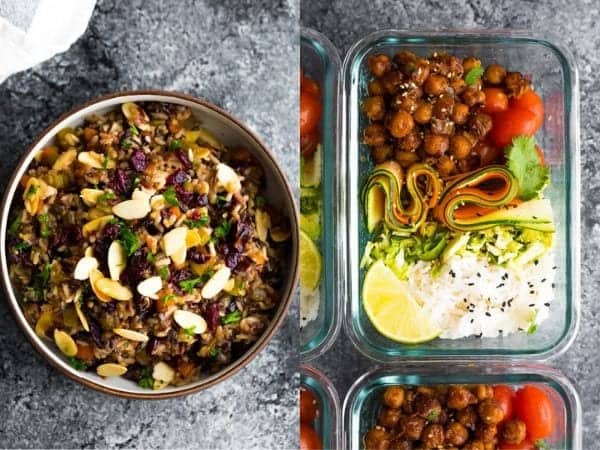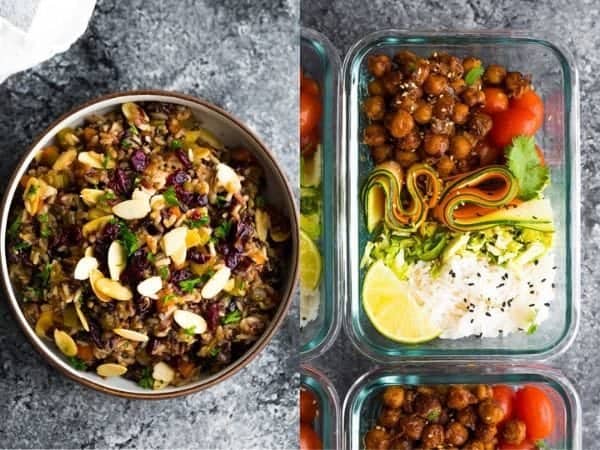 15. Cranberry Almond Rice Pilaf Recipe // 16. Korean BBQ Chickpea Bento Bowls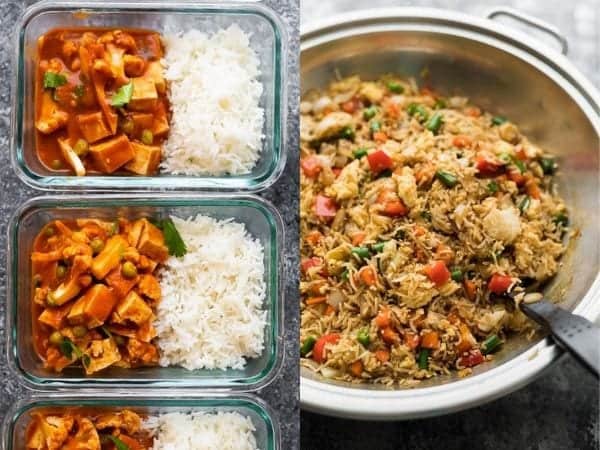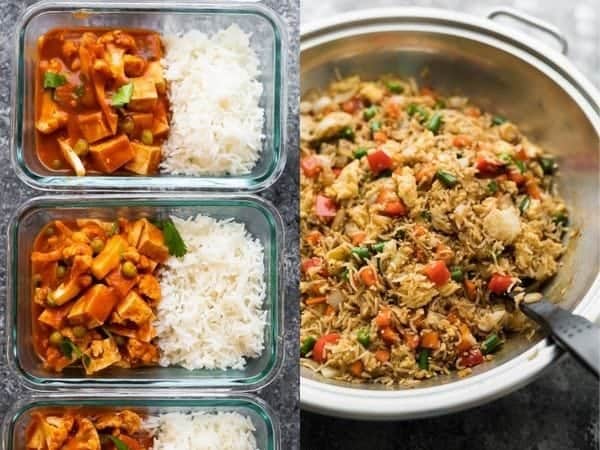 17. Vegan Slow Cooker Tikka Masala // 18. Meal Prep Vegetarian Fried Rice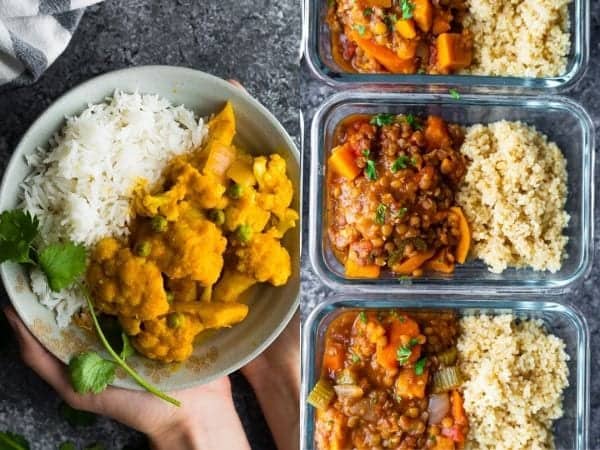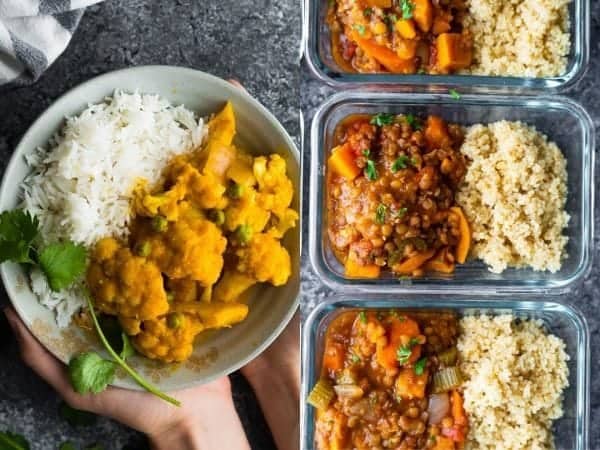 19. Instant Pot Cauliflower Korma // 20. Moroccan Instant Pot Lentils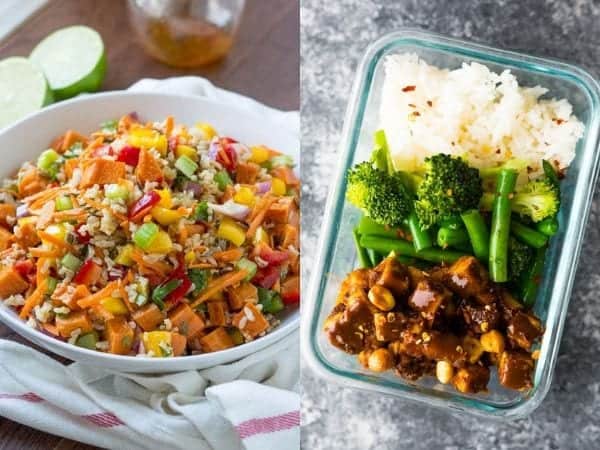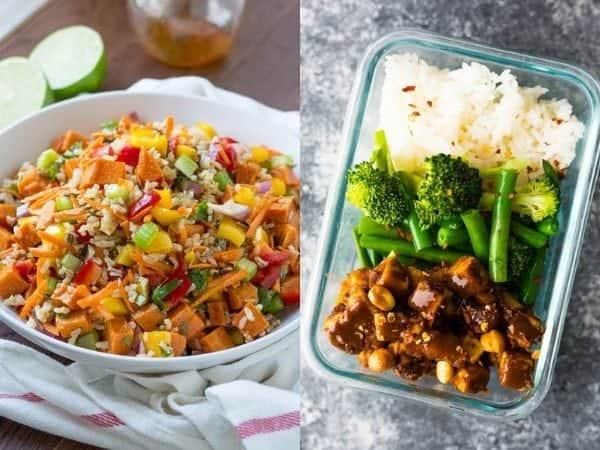 21. Wild Rice and Sweet Potato Salad // 22. Peanut Ginger Tofu Stir Fry
Chicken rice bowl ideas
Of course nothing goes with rice like chicken, right? These chicken options are versatile, healthy, and easy to prep. Stir fries, slow cooker, salads, curries and more.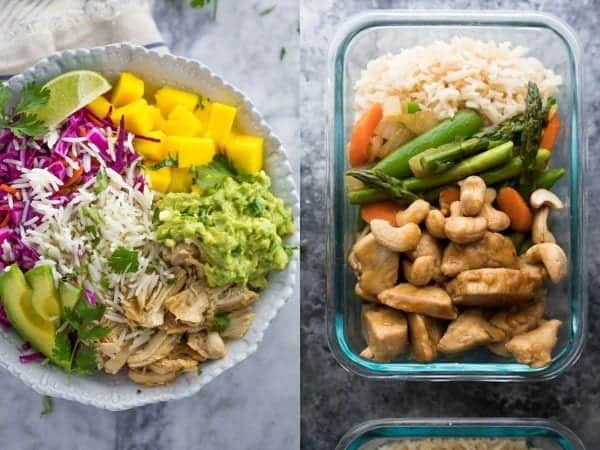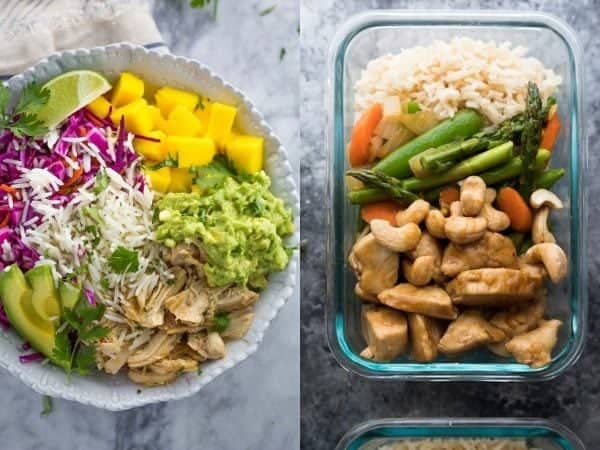 23. Sweet Chili Chicken Bowls With Mango & Cashews // 24. Maple Ginger Chicken Meal Prep Lunch Bowls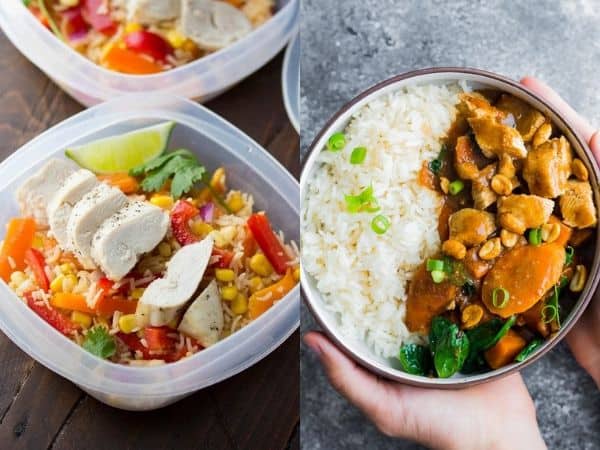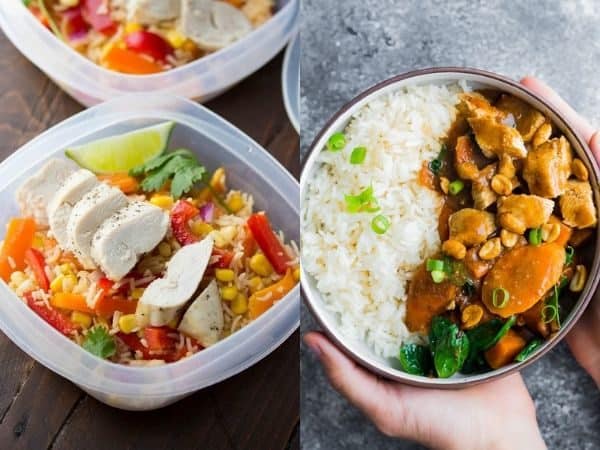 25. Chicken Fajita Lunch Bowls // 26. Freezer Asian Peanut Chicken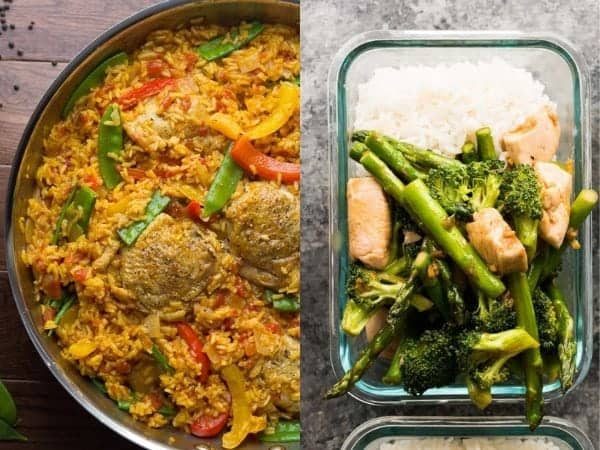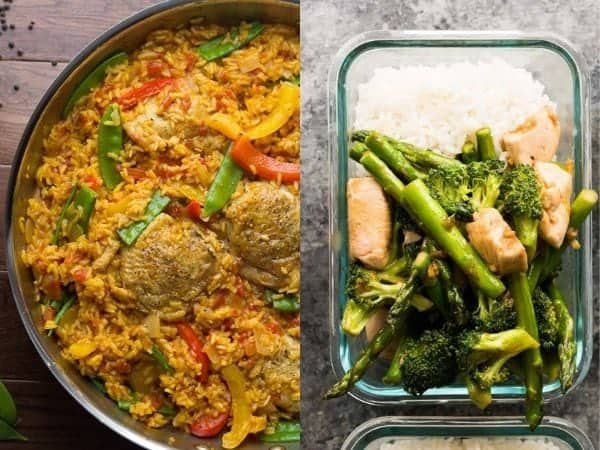 27. Spanish Chicken and Rice Skillet // 28. Honey Sesame Chicken Lunch Bowls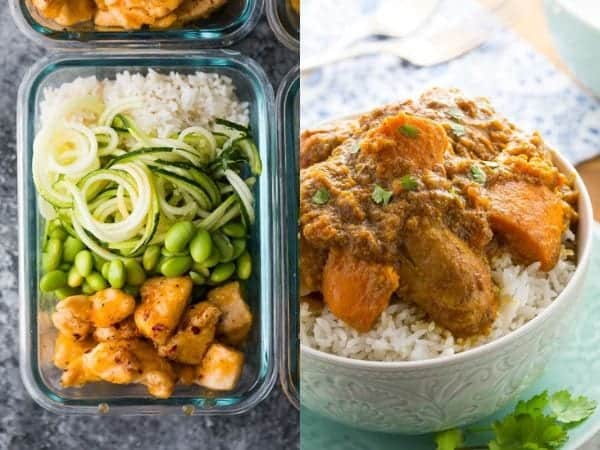 29. Healthier Firecracker Chicken Meal Prep Bowls // 30. Slow Cooker Chicken Korma with Sweet Potato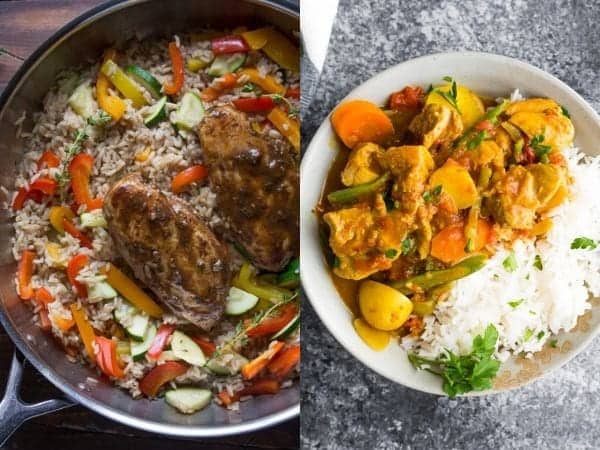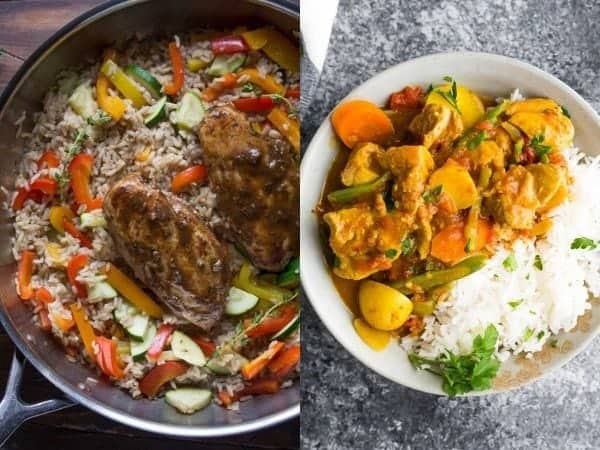 31. One Pot Caribbean Chicken and Rice // 32. Easy Chicken Curry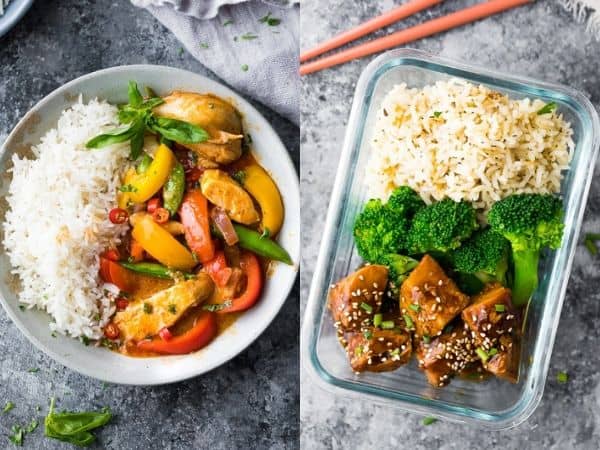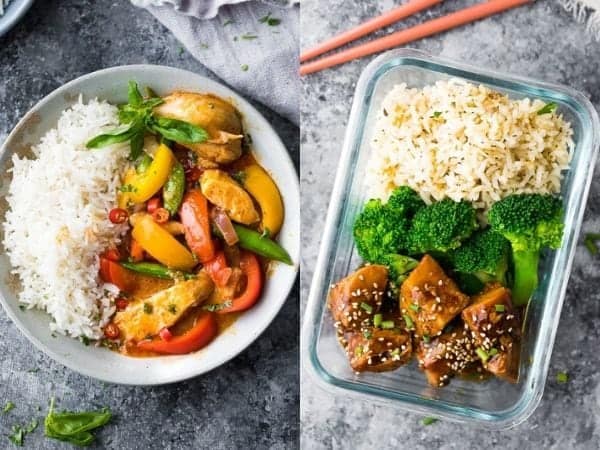 33. Spicy Instant Pot Thai Chicken Curry // 34. Crock Pot Teriyaki Chicken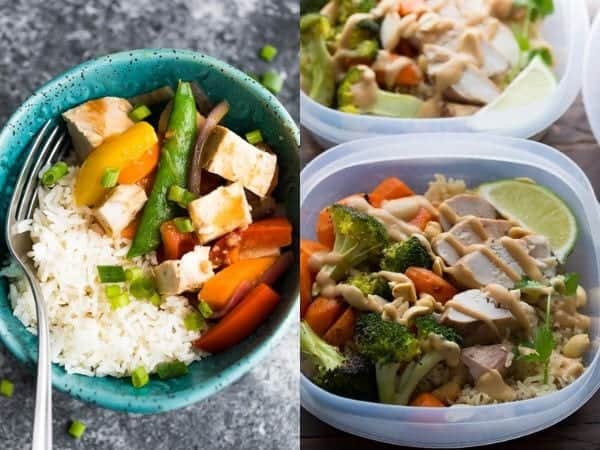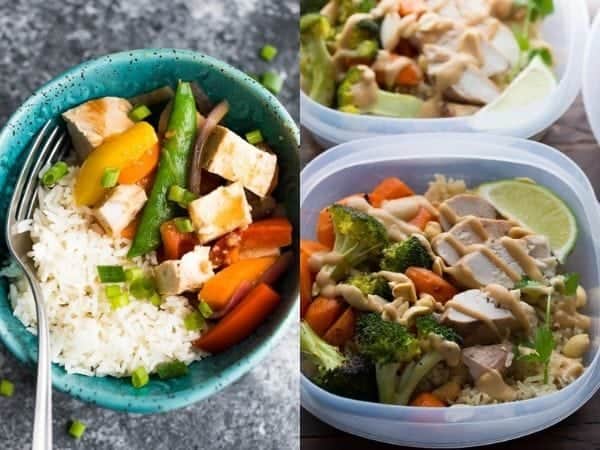 35. Instant Pot Coconut Sweet Chili Chicken Stir Fry // 36. Thai Chicken Lunch Bowls