These meal prep chicken fajitas are made on one (or two) sheet pans, making for a super easy prep and even easier clean up!  Serve them in tortilla bowls for a no-mess lunch.
It feels like things are finally happening!  After three months of de-cluttering, organizing, cleaning, and just plain packing up boxes and putting stuff into storage, our house is *almost* ready to put on the market.
I'm half excited and half dreading it, since we might not really be able to use the kitchen (boo…no recipe testing for me) or make any messes.  And we'll probably be hanging out at the mall/park/frozen yogurt place while the house shows.
We are so ready to get this house sold and then we can cross that off the list…only 2 more months until we are moving to our dream house!  I can't wait to share some photos of it with you.
While I'm buzzing with excitement to get this house on the market, I'm also buzzing with excitement over our latest Lunch Prep Challenge!  And these meal prep chicken fajitas were our very first recipe in the challenge this time.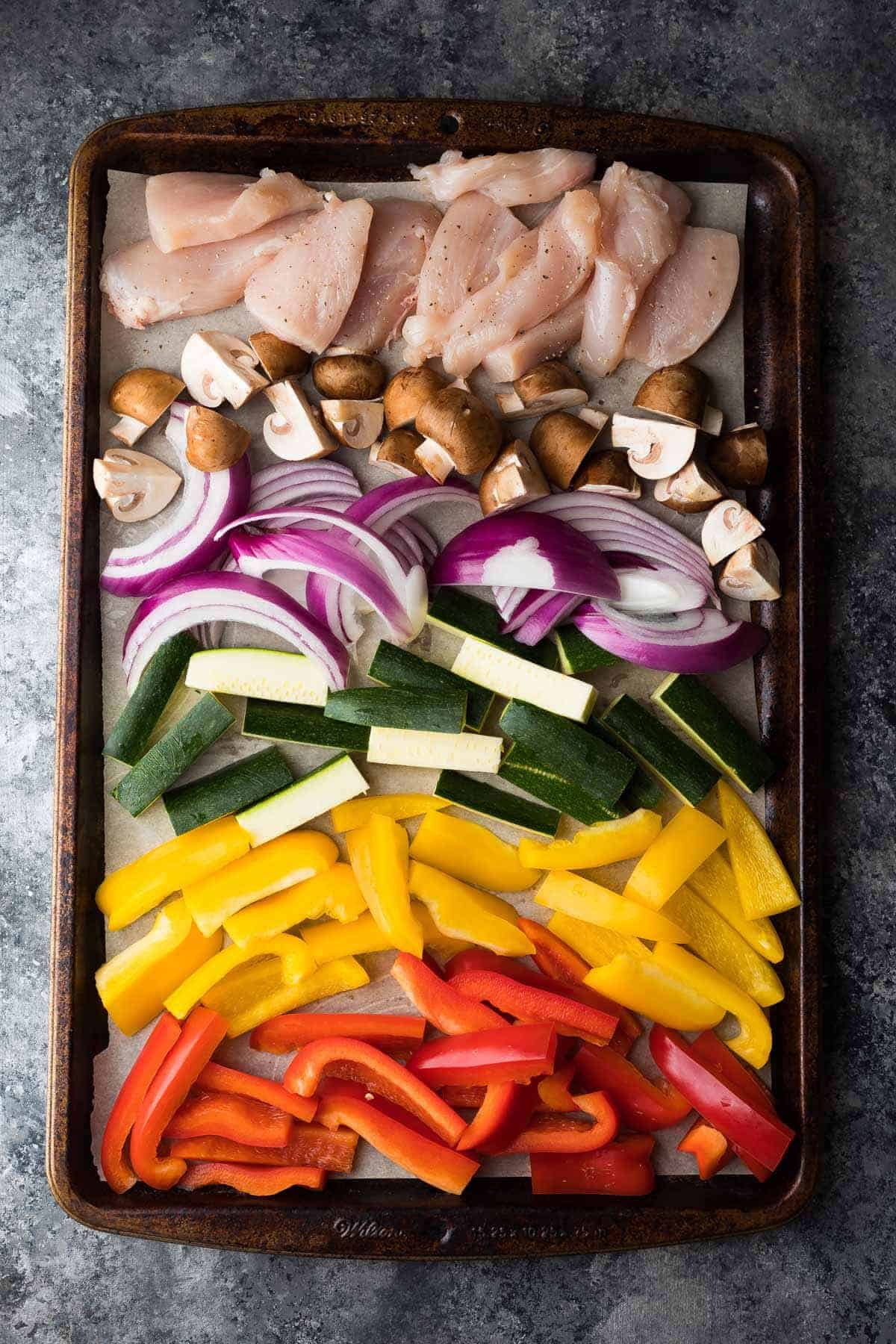 Some of my favorite meal prep recipes include the good old sheet pan.  (And I do mean old.  It might be time to invest in a new one.)
They are just so simple!  These meal prep chicken fajitas include a simple fajita seasoning that you rub all over the veggies and chicken  with some olive oil and lime juice, then spread out on a sheet pan and roast until cooked through.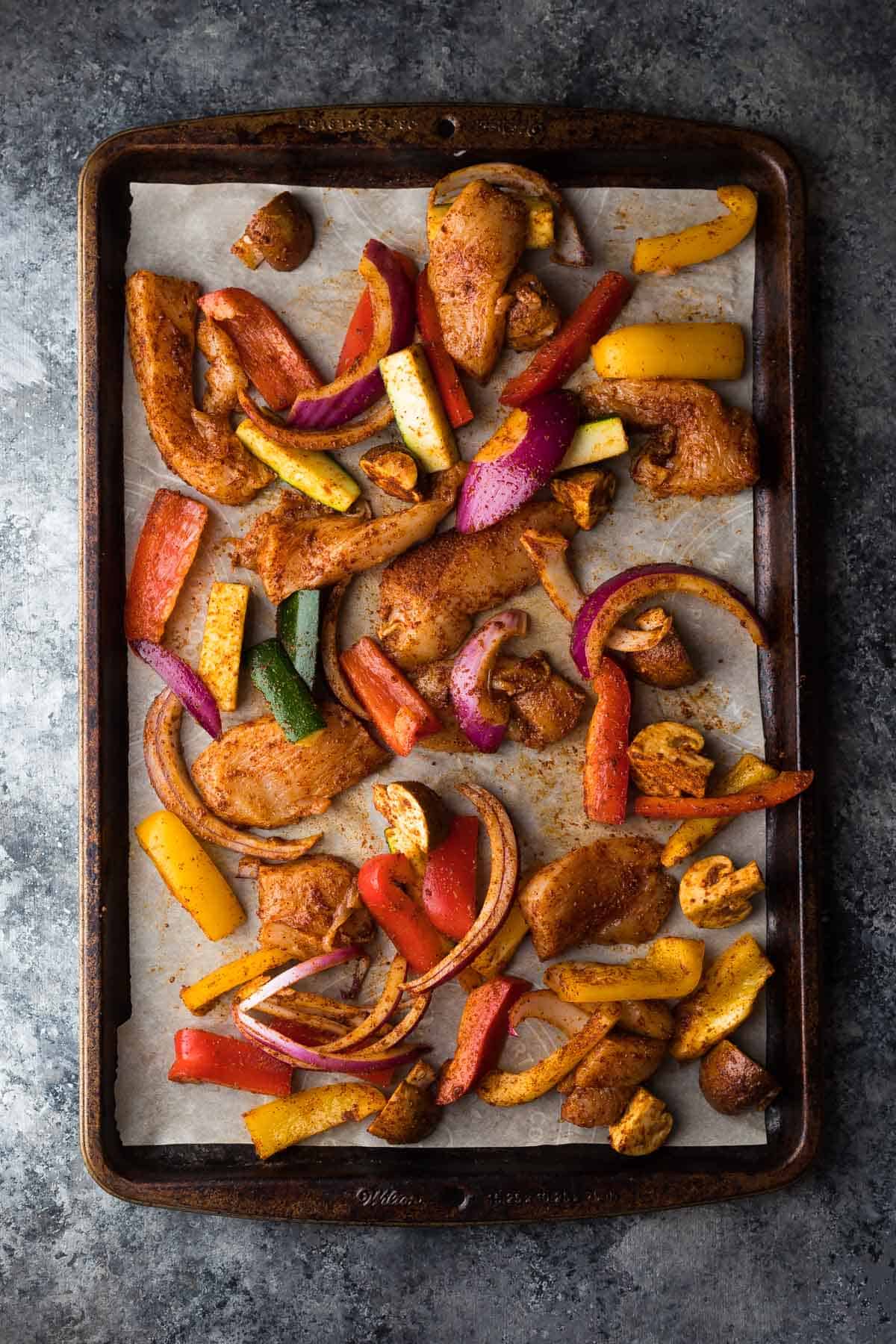 That's it.  Seriously.  No rice, no vinaigrette or sauce or anything else.  Just your roasted veggies and your chicken, in a container, which you then serve in tortillas, or as I recommend, tortilla bowls!  I am just in love with the tortilla bowls you can find these days, which make eating your fajitas so much cleaner than a normal tortilla.
We enjoyed ours with some greek yogurt, salsa, and guacamole.  So simple and so tasty!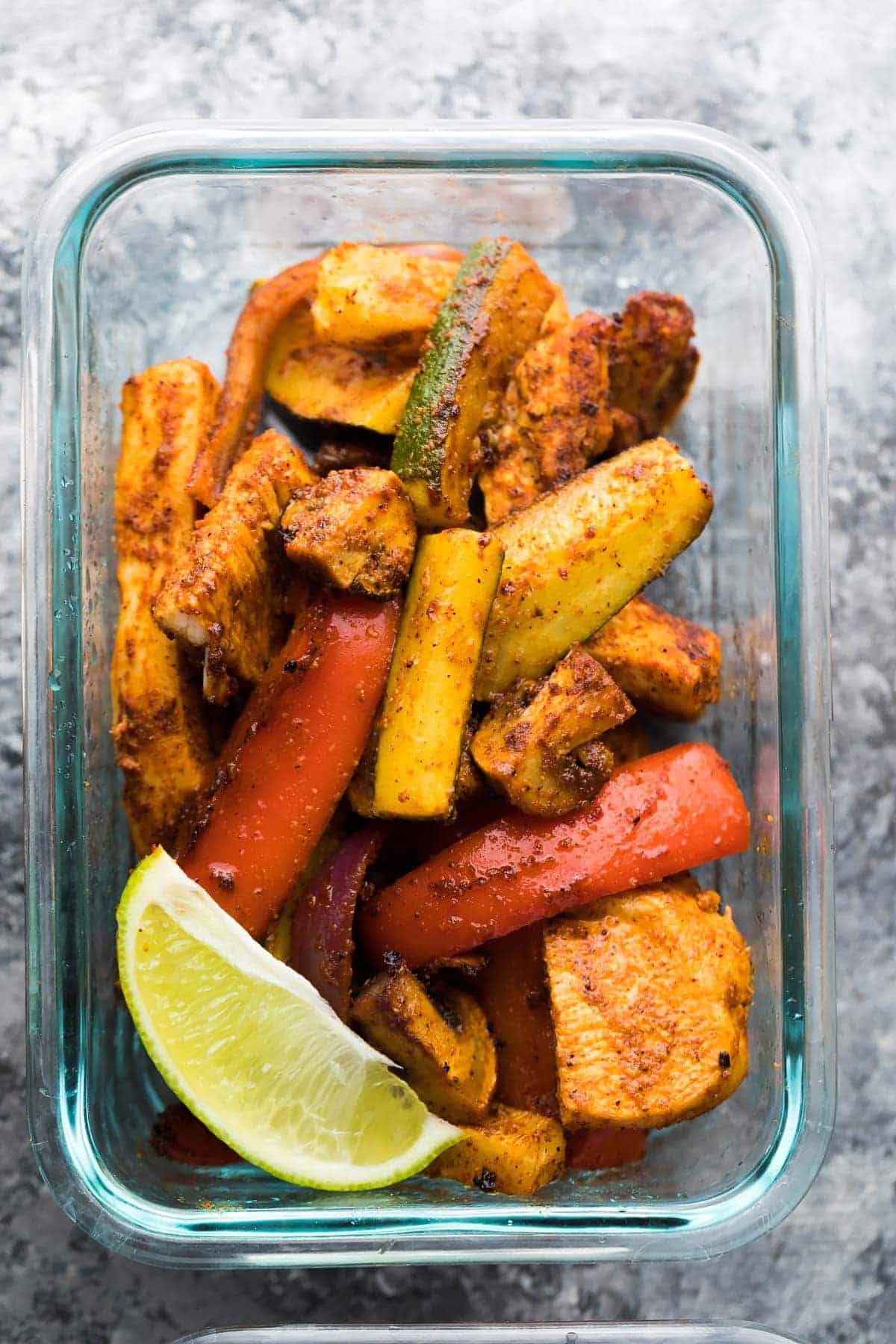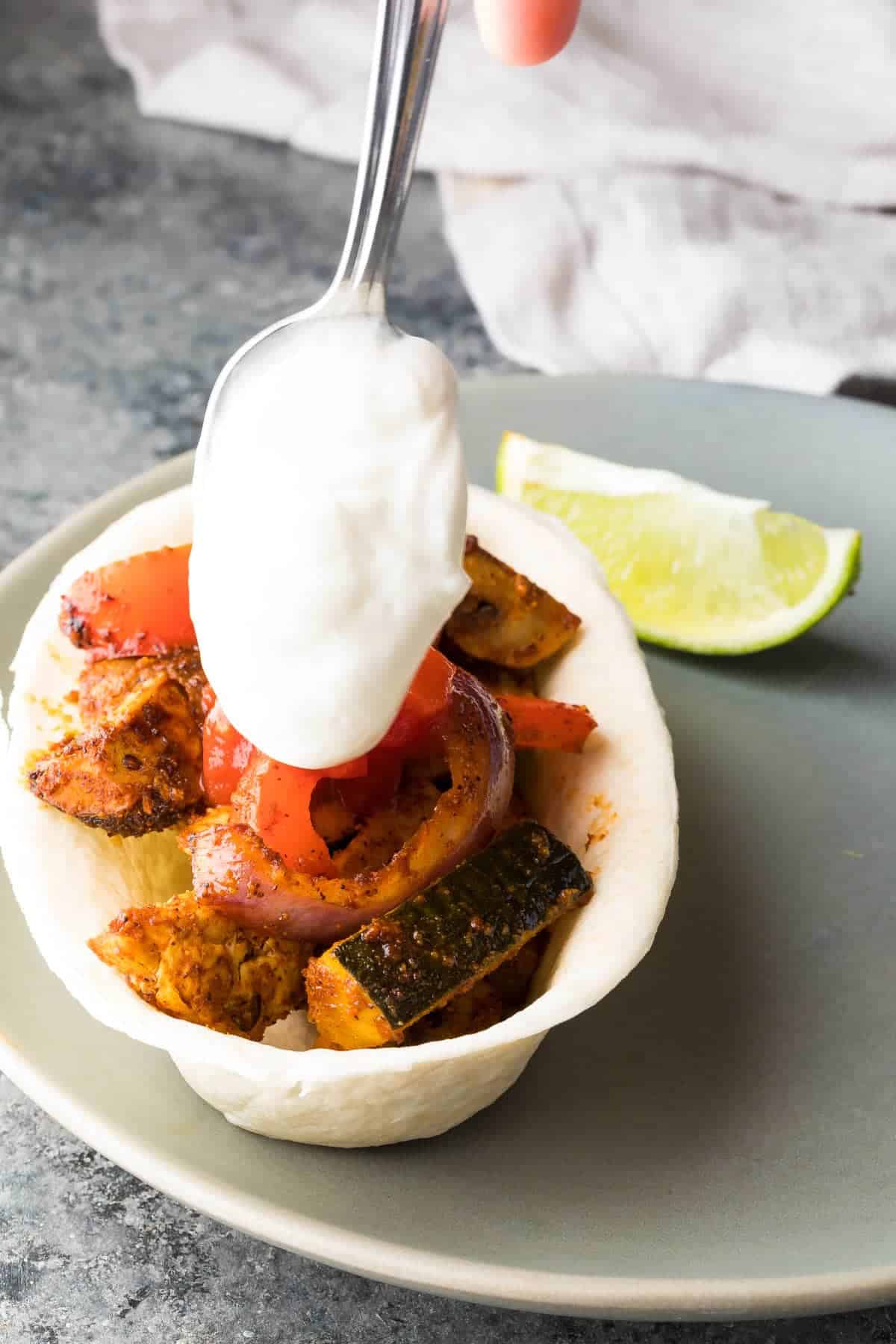 Come to think of it, meal prep recipes are probably going to be our best friend once our house is on the market and we have to keep a clean kitchen.  I definitely foresee these meal prep chicken fajitas on the menu again soon!
Get your perfect meal prep chicken fajitas:
Meal Prep Chicken Fajitas (Sheet Pan)
4
adjust servings
Ingredients
Rub
1

tablespoon sugar

3/4

teaspoon salt

1

tablespoon chili powder

1.5

teaspoon cumin

1.5

teaspoon paprika

1/2

teaspoon garlic powder

1/2

teaspoon onion powder

1/8-1/4

teaspoon cayenne (optional)
Fajitas
2

large chicken breasts, sliced into 1/2 inch thick strips
cups mixed veggies, sliced into strips
bell peppers

zucchini

red onion

mushrooms

juice from 1 lime

1

tablespoon olive oil
To Serve
Tortillas or tortilla bowls

Salsa & greek yogurt

Fresh avocado
Instructions
Pre-heat oven to 425°F.
Toss the chicken and veggies in a large bowl with the olive oil and lime juice.
Add the rub in 2-3 batches and stir to coat.
Arrange chicken and veggies on two large sheet pans.
Roast for 10 minutes, flip and roast for another 5-10 minutes, or until chicken is cooked through.
Cool and divide into 4 2-cup capacity storage containers.
Storage:
Store in the fridge for up to 4 days.
To serve:
Heat filling in the microwave, then spoon into tortilla bowls or regular tortillas and top with salsa and/or yogurt.
Recipe Notes
Nutritional Information: (1 serving includes filling, 2 Old El Paso Tortilla Bowls; excludes salsa, greek yogurt or other toppings)
Calories 372 // Fat 14 g // Saturated Fat 4 g // Cholesterol 70 mg // Sodium 870 mg // Carbohydrate 33 g // Fiber 4 g // Sugars 5 g // Protein 30 g