This cranberry balsamic sheet pan chicken has all the flavors of fall and is simple to throw together on a weeknight. You can also prep components ahead and store in the fridge for up to 5 days, making it even easier!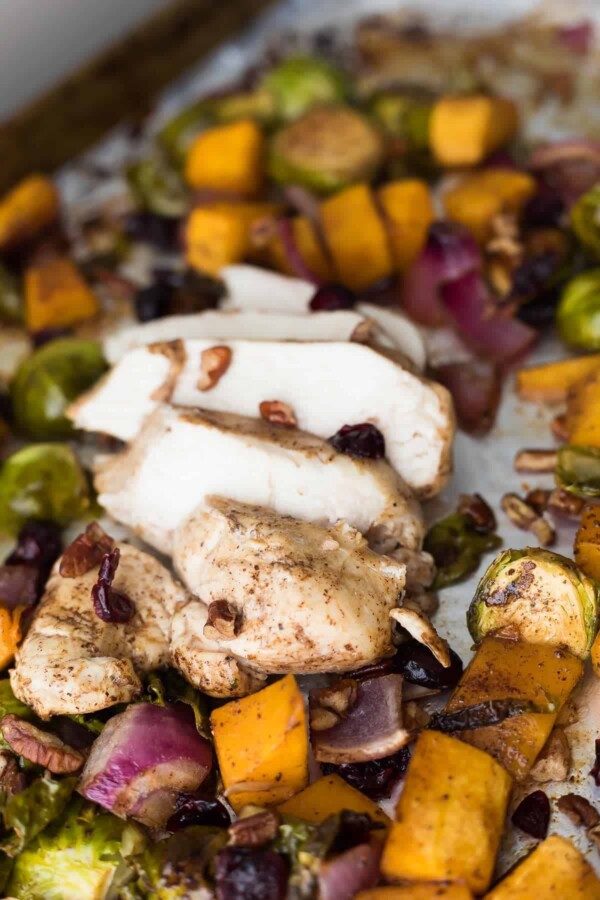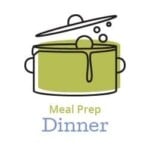 Sheet pan dinners are one of my all-time favorite dinner recipes. Easy prep, easy clean up, and so many different flavors that you can get out of it!
Today's cranberry balsamic sheet pan chicken is even easier than normal, because everything cooks for the exact same amount of time.  That means no adding things to the pan halfway through cooking.  How simple is that?!
The flavors for today's recipe are 100% inspired by last fall's Slow Cooker Brussels Sprouts with Cranberries, Pecans and Butternut. Even though I'm not supposed to play favorites, I did prefer today's recipe, because of the extra flavor that everything gets from roasting in the oven.
Oven roasted brussels sprouts >>>>> slow cooked brussels, there is just no way around this fact 😉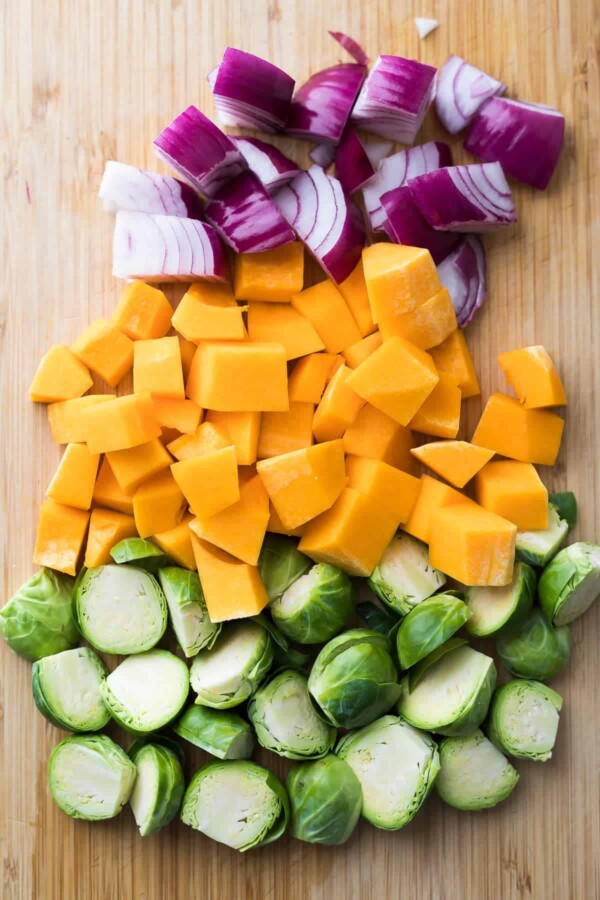 Now, I had conceptualized this as a freezer-friendly recipe where everything is assembled (sauce included), frozen, and thawed just before you're ready to bake up.
But…yuck. It was disgusting. Something terrible happened between freezing and thawing it…between bitter brussels sprouts and spongy (for lack of a better word?) butternut squash, I am sad to tell you that this is not a freezer-friendly recipe.
HOWEVER, it is very fridge friendly!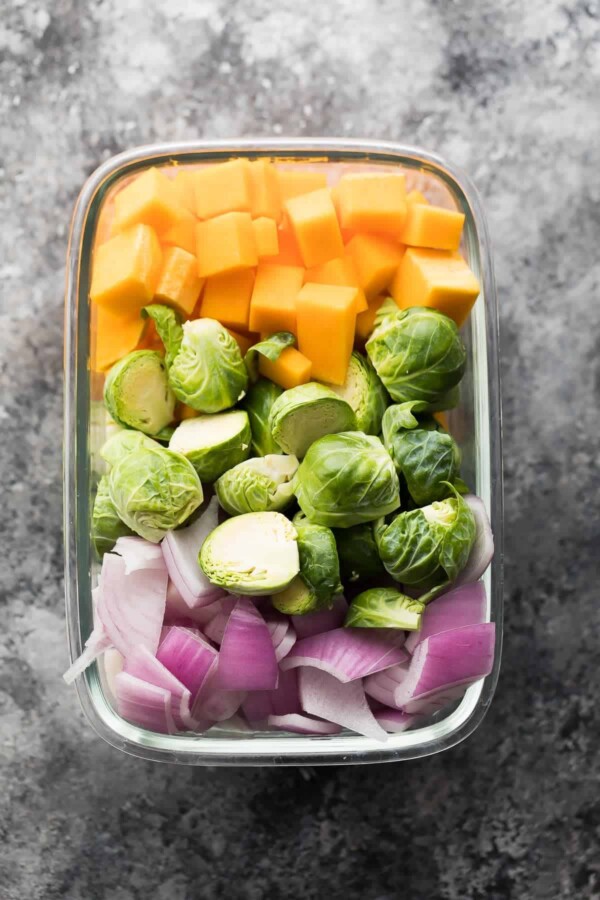 How to prep this cranberry balsamic sheet pan chicken ahead
To prep this ahead and store it in the fridge, I'd pre-chop the veggies and shake together the sauce. Both will be good stored in airtight containers in the fridge for up to 5 days.
When you're ready to bake it up, all you'll need to do is toss it all together with 2 chicken breasts, arrange on a couple of sheet pans, and bake away. #simple
You can also use this recipe as a meal prep lunch! Since it makes four portions, all you'd need to do would be to portion it out for the week!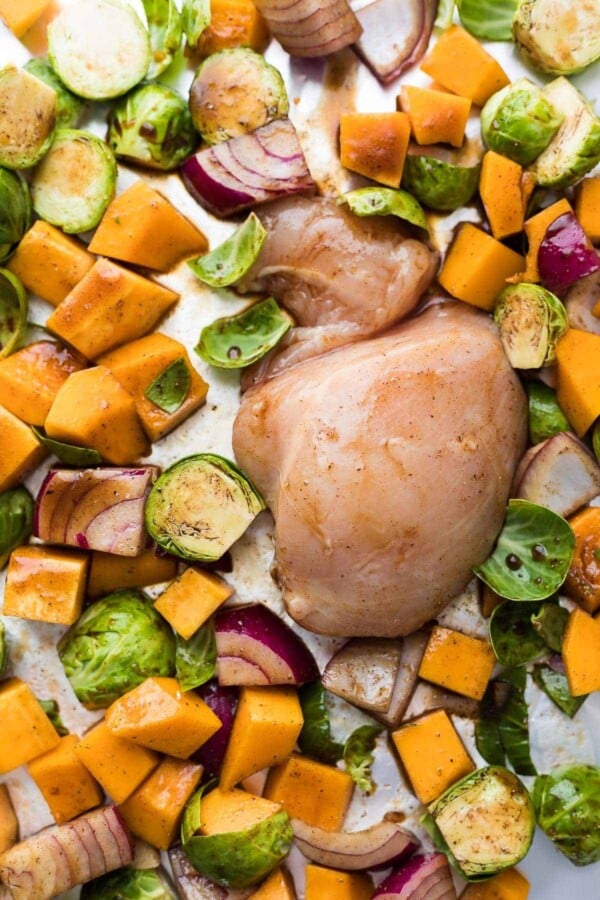 The sauce for this recipe is equal parts olive oil, balsamic vinegar and maple syrup.  Salt, pepper, and a bit of cinnamon round it out…so it ends up being savory and a bit sweet…I love that flavor combination!
Plus, after sprinkling with feta cheese (d'oh! I did not have feta on hand during these photos, so it's not pictured but is so good!), dried cranberries, and pecans, it also gets a bit of extra texture and flavors.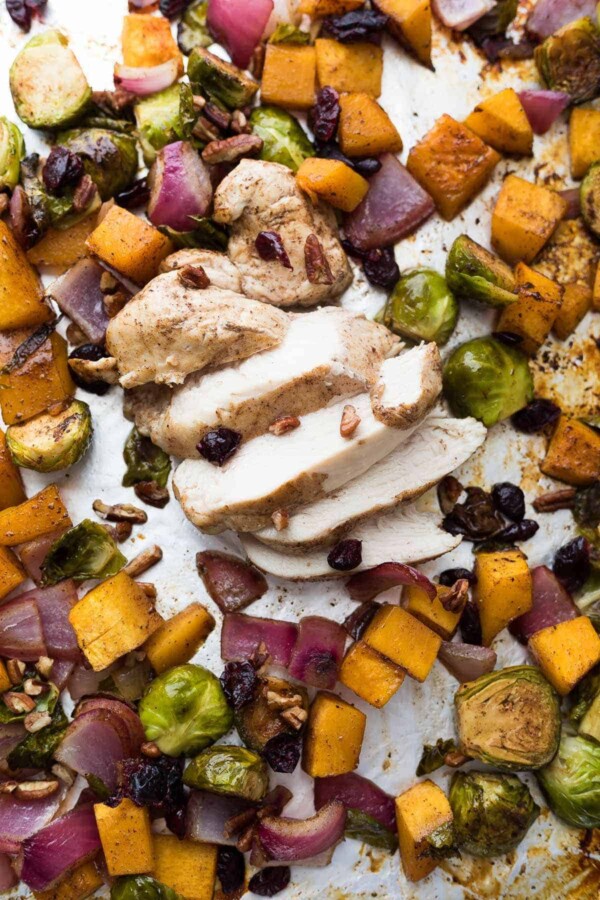 Tips for perfect cranberry balsamic sheet pan chicken:
Cranberry Balsamic Sheet Pan Chicken
4
adjust servings
Ingredients
2

large chicken breasts (14 oz)

1/2

butternut squash, peeled and cubed

6

cups brussels sprouts, halved

1

red onion, chopped into 1 inch pieces

1/4

cup dried cranberries

1/4

cup feta cheese, crumbled

1/4

cup pecans
Sauce
3

tablespoons olive oil

3

tablespoons balsamic vinegar

3

tablespoons maple syrup

1/4

teaspoon salt

1/4

teaspoon pepper

1/2

teaspoon cinnamon
Instructions
Heat oven to 425°F.
Shake together the sauce. Toss all ingredients in the sauce and arrange on two sheet pans.
Bake for 10 minutes, stir everything up, then return to the oven for another 10-15 minutes, until chicken and veggies are cooked through.
Sprinkle with dried cranberries, feta cheese and pecans.

To Prep Ahead
Vegetables may be chopped up to 5 days ahead and stored in an airtight storage container in the fridge. Sauce may also be pre-made up to 5 days ahead and stored in the fridge.