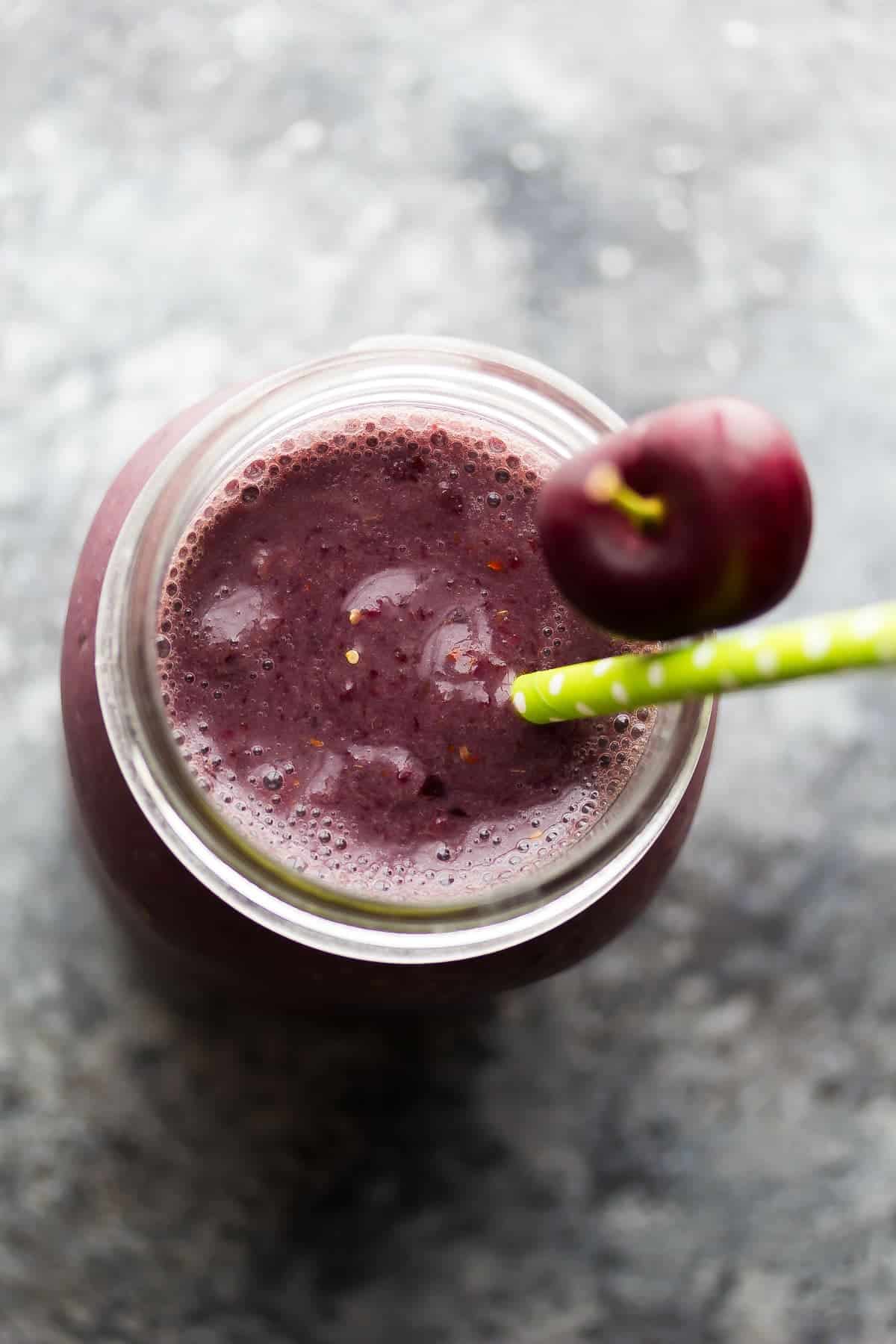 This goji peach cherry smoothie tastes just like chocolate!  This smoothie is packed with healthy ingredients that can reduce anxiety and promote better sleep.
Here we are on recipe number three of smoothie-palooza!  Today I am sharing four brand new smoothie recipes, and showing you how you can easily prepare them ahead of time so that morning smoothies are an absolute breeze.
Recipe number three has two of my absolute favorite fruits: peaches and cherries.  I have been freezing little bags of peaches away for easy use in smoothies all summer now, but I prefer to buy pitted cherries from the frozen fruit aisle of the grocery store.  I just don't have the patience for cherry pitting myself!
Like the other three smoothie recipes I'm sharing today, this goji peach cherry smoothie recipe does not have any extra sugar and relies completely on the natural sweetness of the fruit.
This one is Kai's favorite smoothie to date.  It tastes surprisingly like chocolate!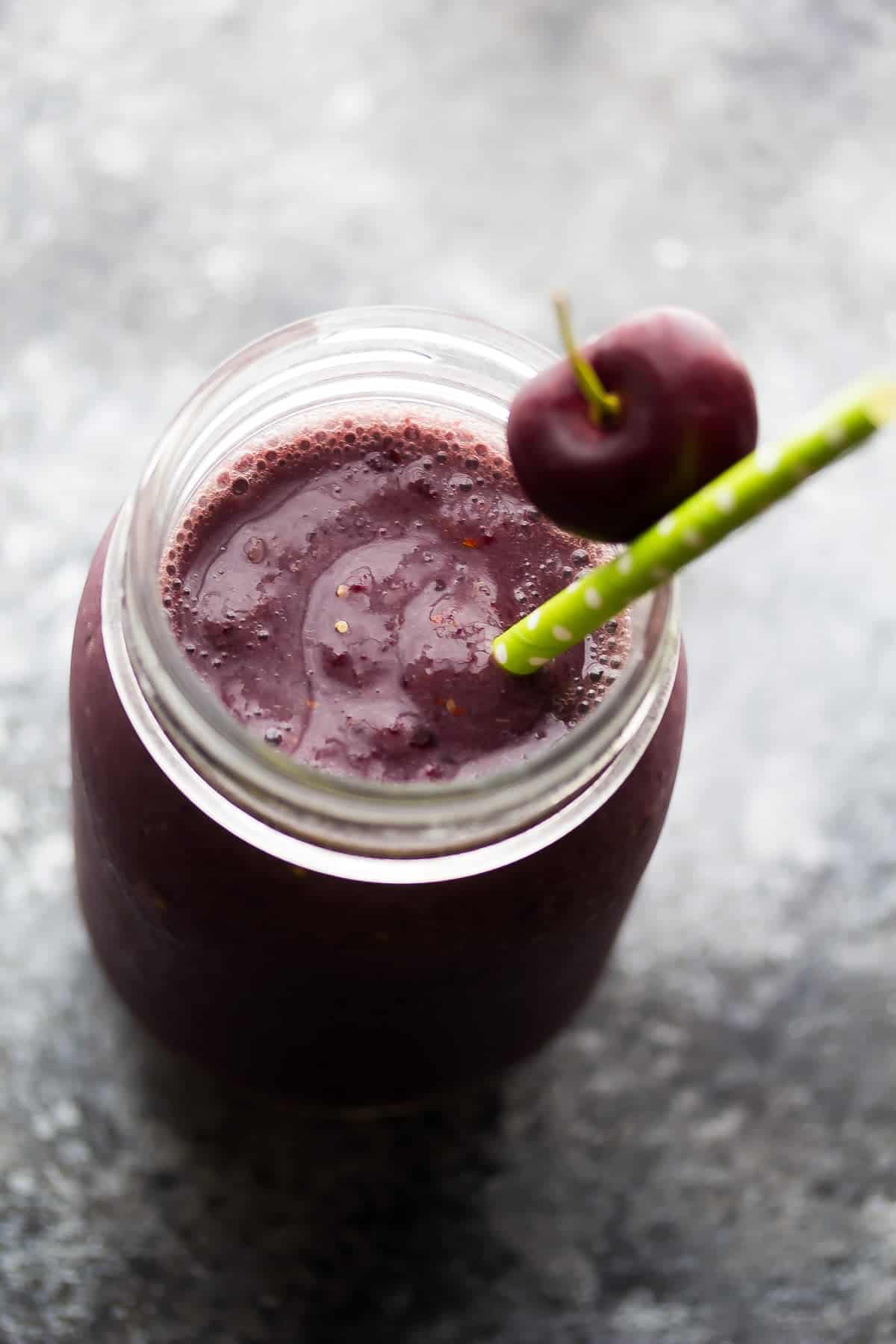 Have you heard of goji berries
?  They are supposed to be the fountain of youth.  While they do have anti-aging properties, they are also linked to a long list of other health benefits including calmness and improved sleep.
As someone who often struggles to sleep at night, I am definitely interested in anything that will help me with this issue!  And it turns out that cherries are actually a source of melatonin, which is also linked to improved sleep.
So maybe this smoothie should be renamed to Sleepy-Time Smoothie and only consumed after 8pm?  KIDDING!  I didn't feel sleepy at all after drinking it 🙂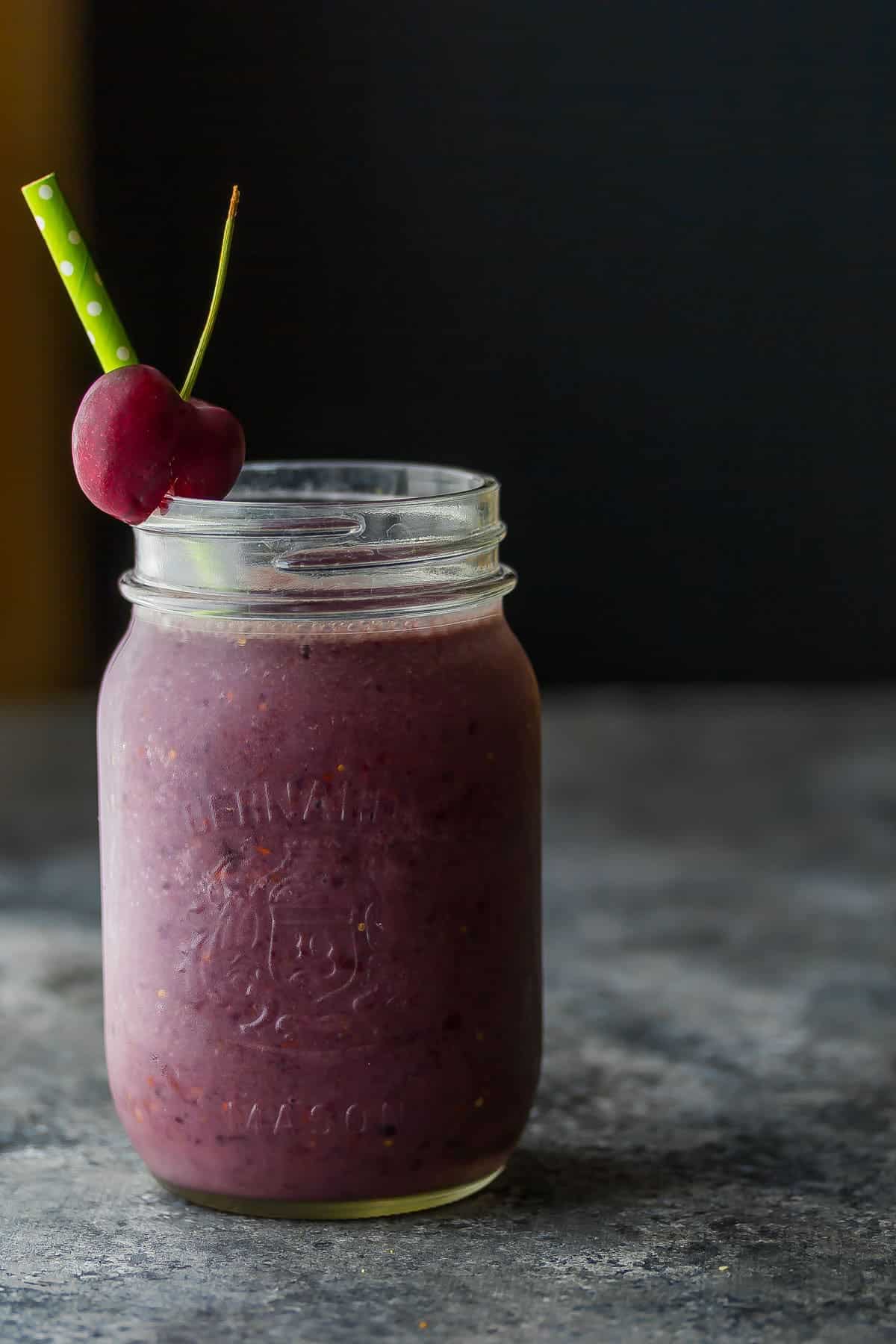 This smoothie is DELICIOUS.  So good, actually almost a little to sweet for me.  I had to add 1/2 cup of peaches to reduce the natural sweetness of the cherries and could honestly have gone back to 3/4 cup cherries 3/4 cup peaches.  You can certainly customize the ratio to your tastes.
This smoothie is photographed sans spinach, but I also absolutely LOVED it with a full cup of spinach, and could definitely not taste a trace of leafy green.
More healthy smoothies for us:
Goji Peach Cherry Smoothie
1
adjust servings
Ingredients
1

cup frozen cherries

1/2

cup frozen peach slices

1 1/4

cup almond milk

1

tablespoon goji berries
Optional
1

tablespoon chia seeds

1

teaspoon ground flax
Instructions
Place everything in the base of a blender and blend until smooth.
Recipe Notes
IMPORTANT: Goji berries can have some side effects, particularly with warfarin and diabetes drugs, and should be avoided if you're pregnant.
Optional: add one cup of (packed) leafy greens such as spinach or kale