Easy roasted garlic recipe- this post walks you through exactly how to roast garlic with step by step photos!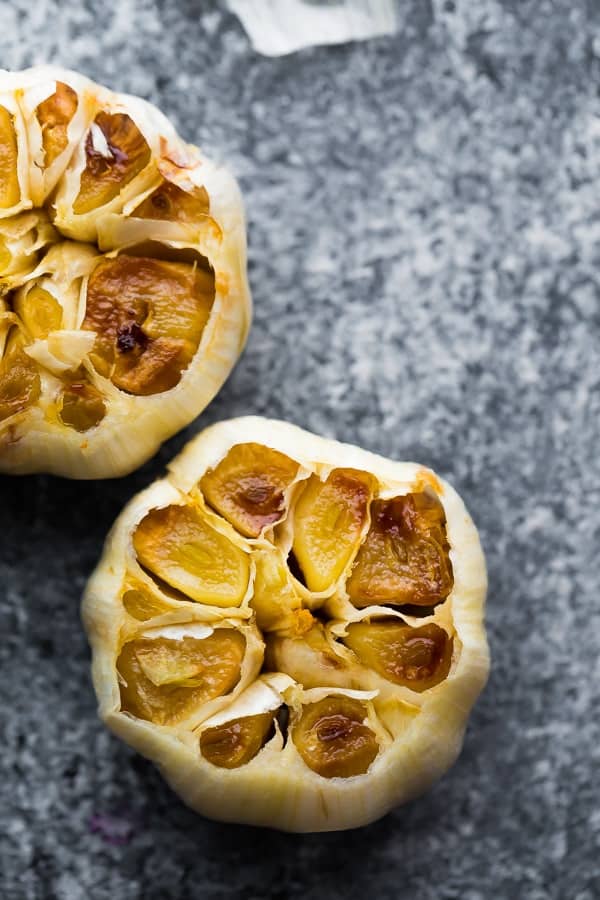 It's time for another 'how to' post! I love sharing my favorite cooking tips and tricks with you, and today, we're talking roasting garlic.
Roasting garlic brings out a whole new side to garlic: it caramelizes, mellowing out the harshness of raw garlic, and bringing out a slight sweetness you never knew garlic had!
PS- your house is going to smell amazing.
Don't forget to pin this post to save it for later!
Why you should be roasting garlic
it adds so much depth of flavor to so many dishes
it's so different from raw or sauteed garlic and gets kind of sweet
it's super versatile, and works in tons of recipes
it's cheap, easy, and so delicious!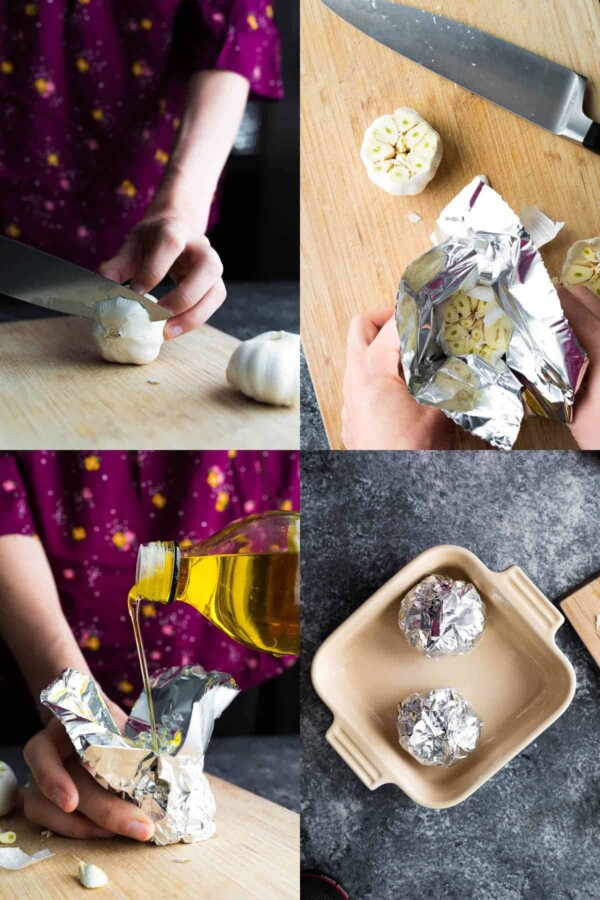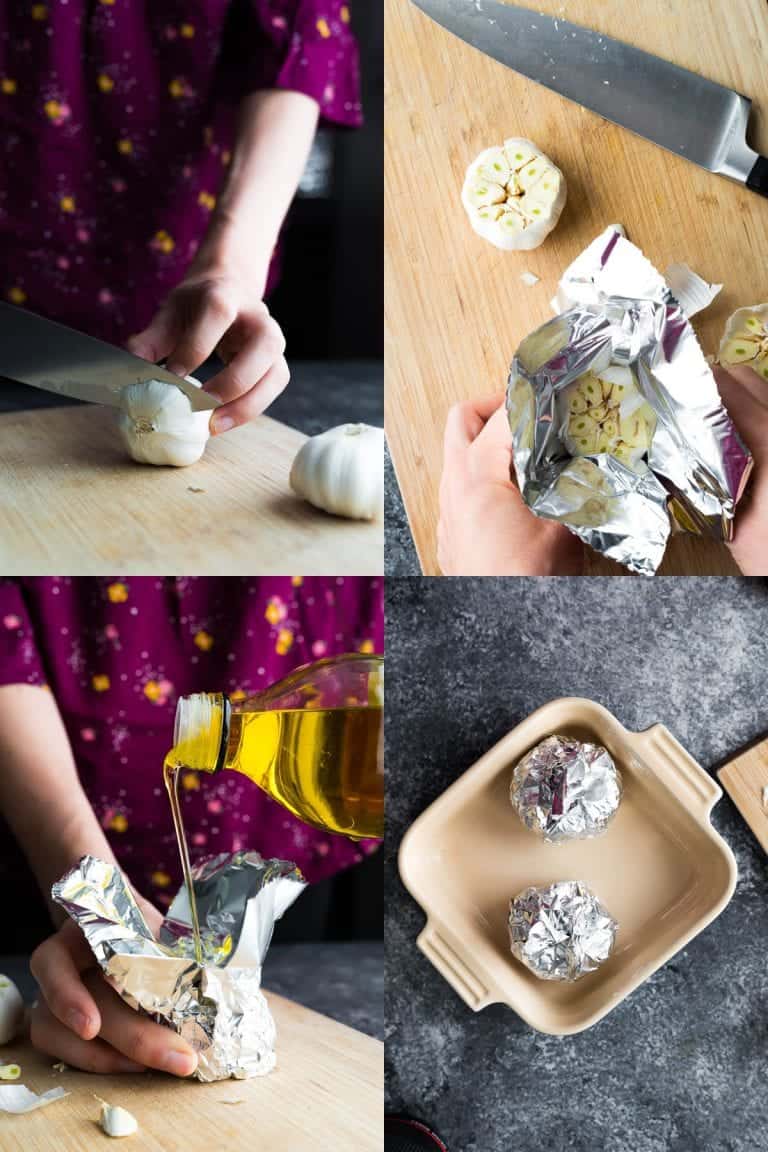 How to roast garlic
Roasting garlic is so easy! Here is my step by step process for how to roast garlic:
chop off the end of the head of garlic (enough so you open the ends of each clove; about 1/4 inch)
wrap each head of garlic in foil
drizzle with a little olive oil
seal the foil up
roast in the oven for 45 minutes
cool slightly
'squish' the garlic out and enjoy!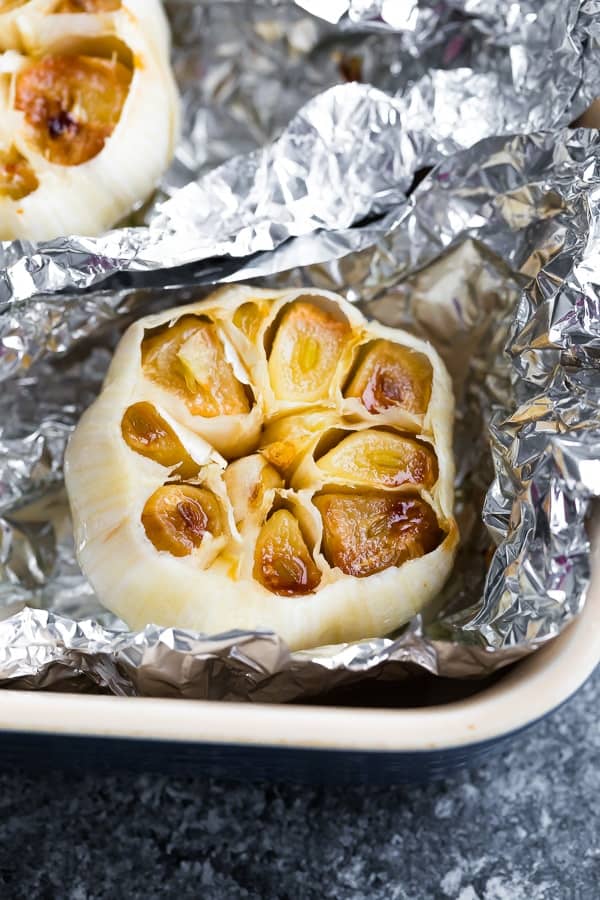 How to use this roasted garlic recipe?
There are a ton of ways you can use this roasted garlic recipe to add extra flavors to your recipes.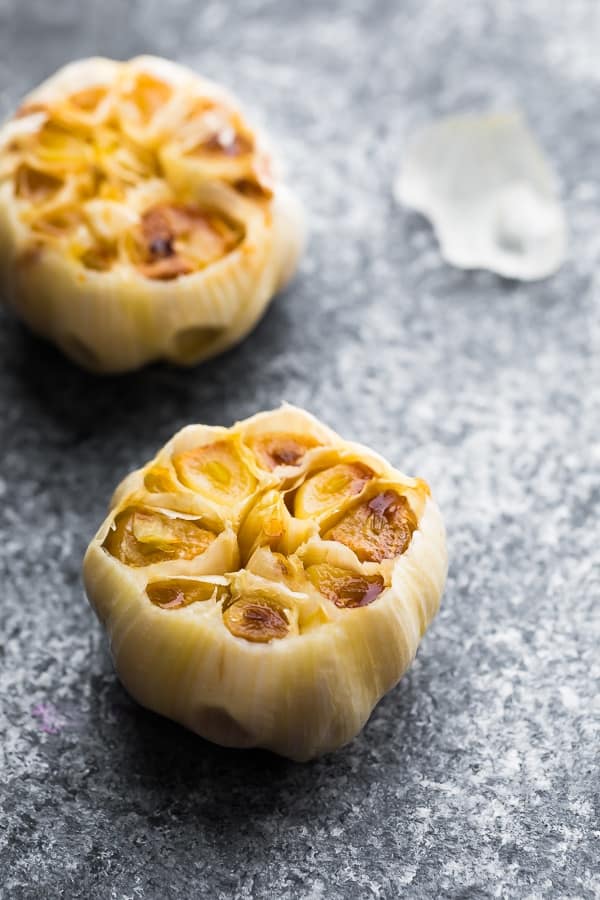 How do you store this roasted garlic recipe? Unlike raw garlic, roasted garlic must be stored in the fridge. If I am not using it right away, I don't pop the cloves out of the head and leave it wrapped in the roasting foil for 1-2 weeks or until I'm ready to use. You can also pop out the cloves and store in a jar with a glug of olive oil.
Can I freeze this roasted garlic recipe? Yes! I would freeze the individual cloves in ice cube trays with olive oil, then pop them out and store in a reusable freezer bag
.
Can I roast garlic in my Instant Pot? I have seen some people claim they have roasted garlic in the Instant Pot, but if you consider the fact that the Instant Pot cooks with steam, I'm thinking you'd end up with 'steamed garlic'. In order to get the brown caramelization you see in the photos, you would need to roast it. Translation: I have not tried and I am extremely skeptical.
Can I roast garlic without the foil? I rarely use foil, and roasted garlic is one of the few exceptions. It's important to cover your garlic while roasting so the cloves don't dry out, so if you're looking for a zero-waste garlic roasting method, you could try putting in a baking dish and covering with a reusable silicone lid
.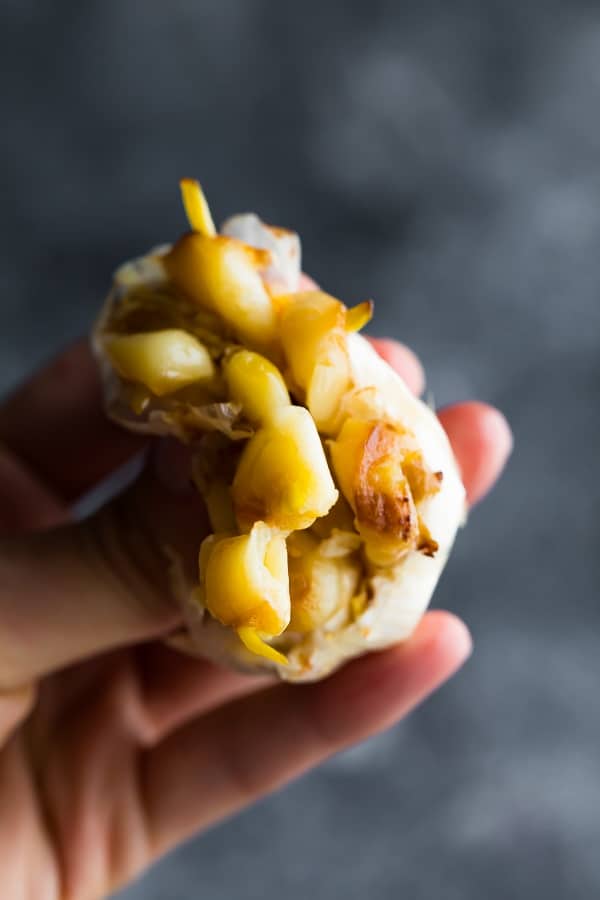 Tips & equipment for roasted garlic
Easy Roasted Garlic Recipe
Easy roasted garlic- this post walks you through exactly how to roast garlic with step by step photos!
Ingredients
1

head of garlic

extra virgin olive oil
Instructions
Chop the top off a head of garlic so that the top of each clove is exposed (roughly 1/4 inch).

Wrap the head of garlic in foil, leaving the top open.

Drizzle olive oil into the foil-wrapped garlic, making sure it covers each clove (you should need 1-2 teaspoons total).

Wrap foil up tightly and place head of garlic on a baking sheet or in a dish.

Roast for 45 minutes (*see note), or until the top of the garlic is golden and it is soft throughout.

Cool 10-15 minutes before squeezing the garlic cloves out.
Storage
Leave garlic cloves in the head of garlic and keep wrapped in foil in the fridge for 1-2 weeks.

Alternatively you can pop the cloves out and store in olive oil for 1-2 weeks.

To freeze: place cloves in an ice cube tray. Cover with olive oil. Freeze until solid, then transfer to a reusable freezer bag.
Notes
*start checking at 35 minutes for small heads of garlic
Nutrition
Serving:
1
head of garlic
|
Calories:
75
kcal
|
Carbohydrates:
0
g
|
Protein:
0
g
|
Fat:
8
g
|
Saturated Fat:
1
g
|
Cholesterol:
0
mg
|
Sodium:
0
mg
|
Sugar:
0
g
|
Vitamin C:
0.9
mg