How to eat a pomegranate- no fancy cutting techniques necessary, with this method, you can have your pomegranate seeded and ready to eat in under 5 minutes!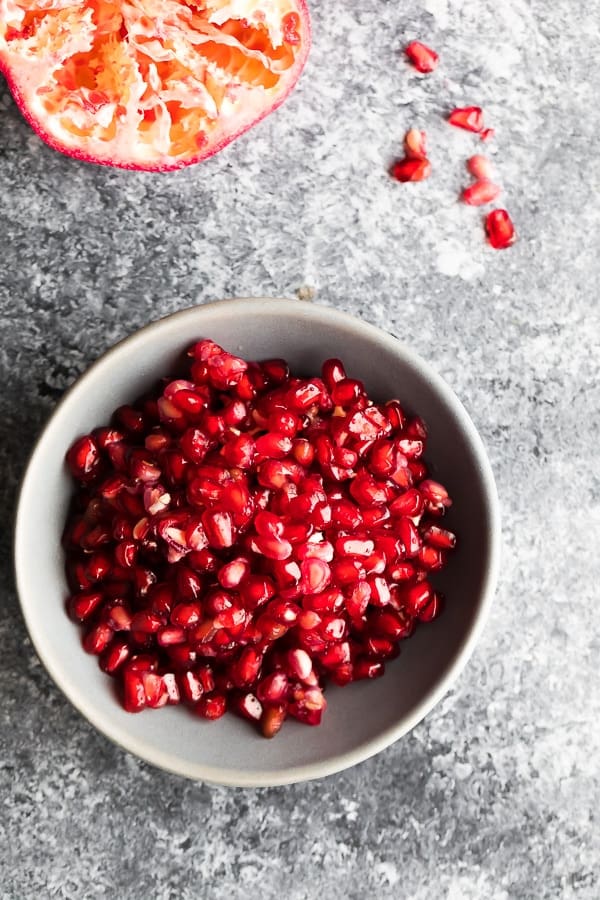 Pomegranates. Love: eating them. Hate: de-seeding them.
At least, I used to hate de-seeding them. So many guides on how to eat a pomegranate suggest complicated cutting and peeling techniques, and they never worked quite right.
Finally I stumbled across the technique I'm sharing with you today! I've got a step-by-step tutorial on exactly how to cut a pomegranate (hint, it's just ONE cut!), and how to open a pomegranate (it simply involves a good beating with a spoon)!
AND I even have a video tutorial so it's crystal clear to you exactly how to do this.
This is our favorite way to eat a pomegranate because
no fancy cutting and peeling technique is required
it's fast and efficient
you can have your pomegranate seeds in under 5 minutes
Watch this video to see my method for how to eat a pomegranate…it's so easy! You can find more of my recipe videos on my YouTube channel, or on Facebook.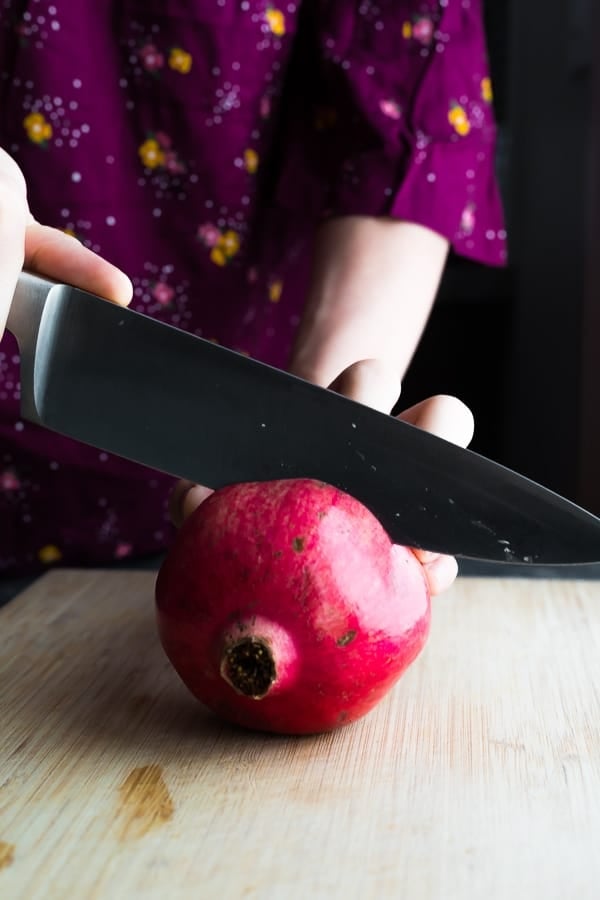 Step 1: How to cut a pomegranate
For this simple method, we are simply going to cut a pomegranate in half horizontally across the fruit (see the photo above for a good visual). This gives us two halves with the pomegranate seeds exposed and they will loosen out when we give it a good beating with a spoon (see below!)
See? I told you, you don't need any fancy technique to cut a pomegranate for this method!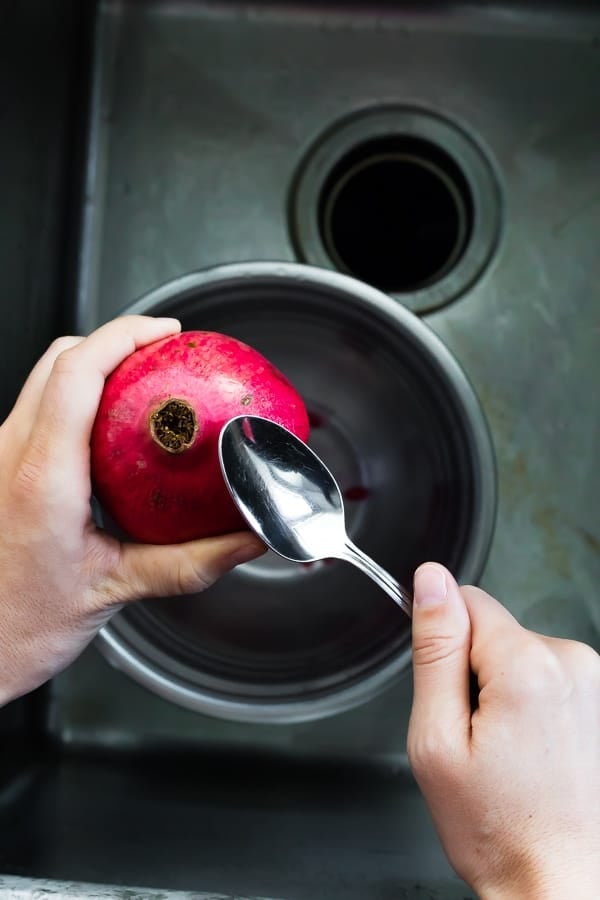 Step 2: How to open a pomegranate
AKA how to get those darn seeds out. Important: I highly recommend you do this step in a deep sink as it can get a little messy. 
fill a bowl with water
get a spoon
placing the pomegranate with the cut side down over the bowl of water, whack the top of the pomegranate (hard!) over and over. Collect the seeds in the bowl of water.
rotate the pomegranate as needed, and keep whacking until you have two empty pomegranate halves.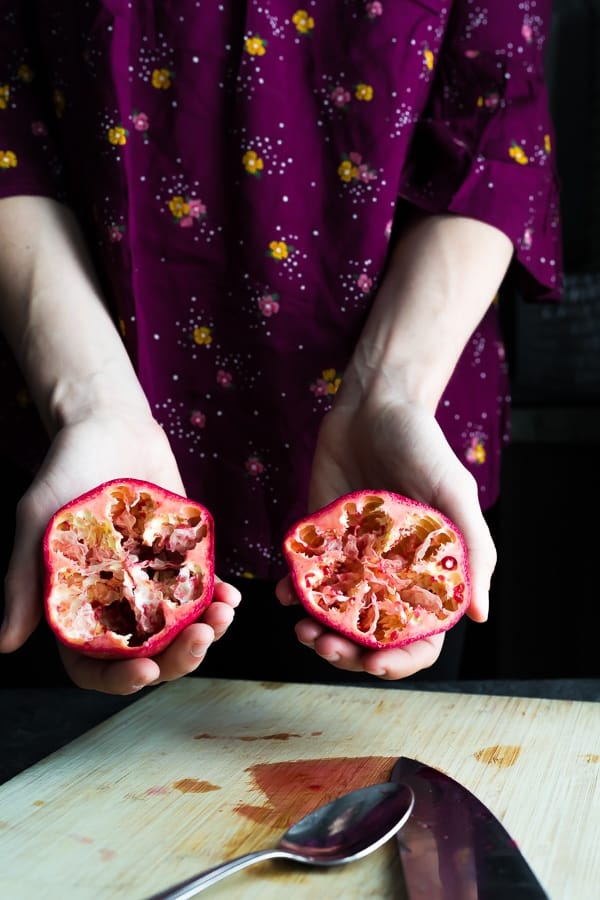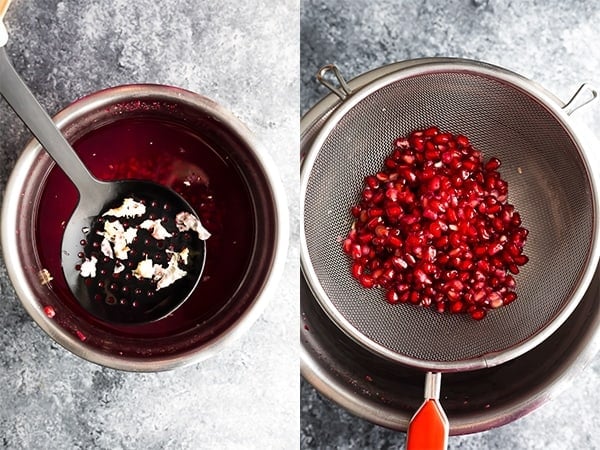 Next: scoop out any pieces of the white pomegranate flesh using a slotted spoon. Finally, collect the pomegranate seeds in a colander and enjoy!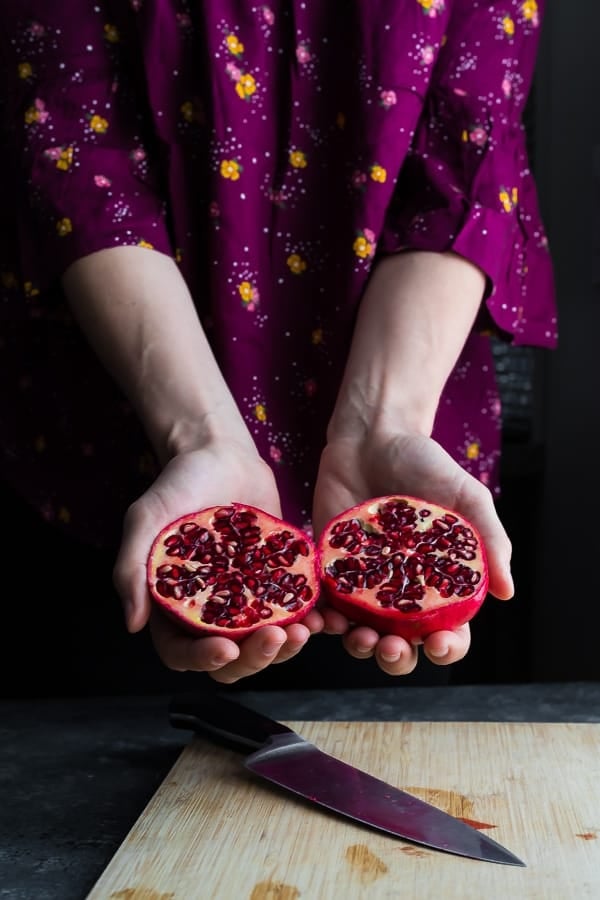 Looking for pomegranate recipes?
Here are some of my favorite pomegranate recipes on the blog, so you can enjoy the fruits of your (not so hard) labor.
Some other ways I love to eat pomegranates:
in salad
over yogurt
with ice cream