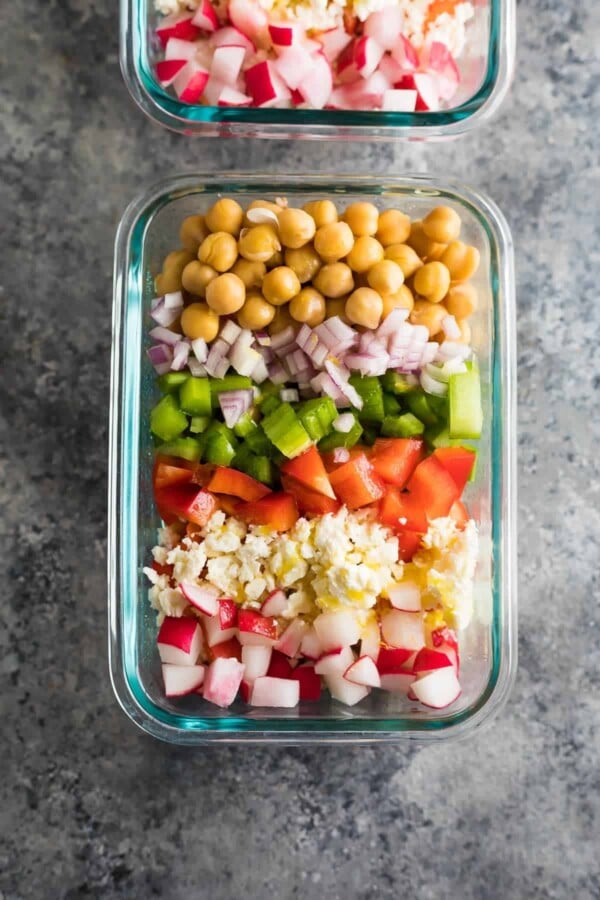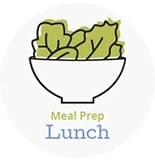 This meal prep chopped chickpea salad can be made on the weekend and enjoyed throughout the week!  Store them in meal prep containers, or as jar salads.
I just celebrated a birthday…it felt big.  It's my biggest yet.  34.  Whoa nelly.
I can't believe I'm actually in my mid-thirties.  Do I feel mid-thirty? Not really.  I swear I was just 28.  Then poof!  34.
But the weirdest feeling has come along with this age group.  It's a feeling of contentedness, finally feeling settled…of finding my place in the world.  My 20's was filled with anxiety to find 'the one', to get 'the career', and to check all those boxes you are supposed to check by a certain age.
I was constantly stressed out about my career in particular.  I spent 10-ish years going down one career path to find myself stressed out and completely miserable.  These days, I feel incredibly fortunate, and so much more relaxed, even though in this world of blogging, there is no certainty.  Everything is always changing, but I'm confident that if this career gets a shake-up, I will find a way to land on my feet.  Been there, done that.
And now that I've gotten all my sentimental I-just-turned-34-feelings out, let's talk about this meal prep chopped chickpea salad!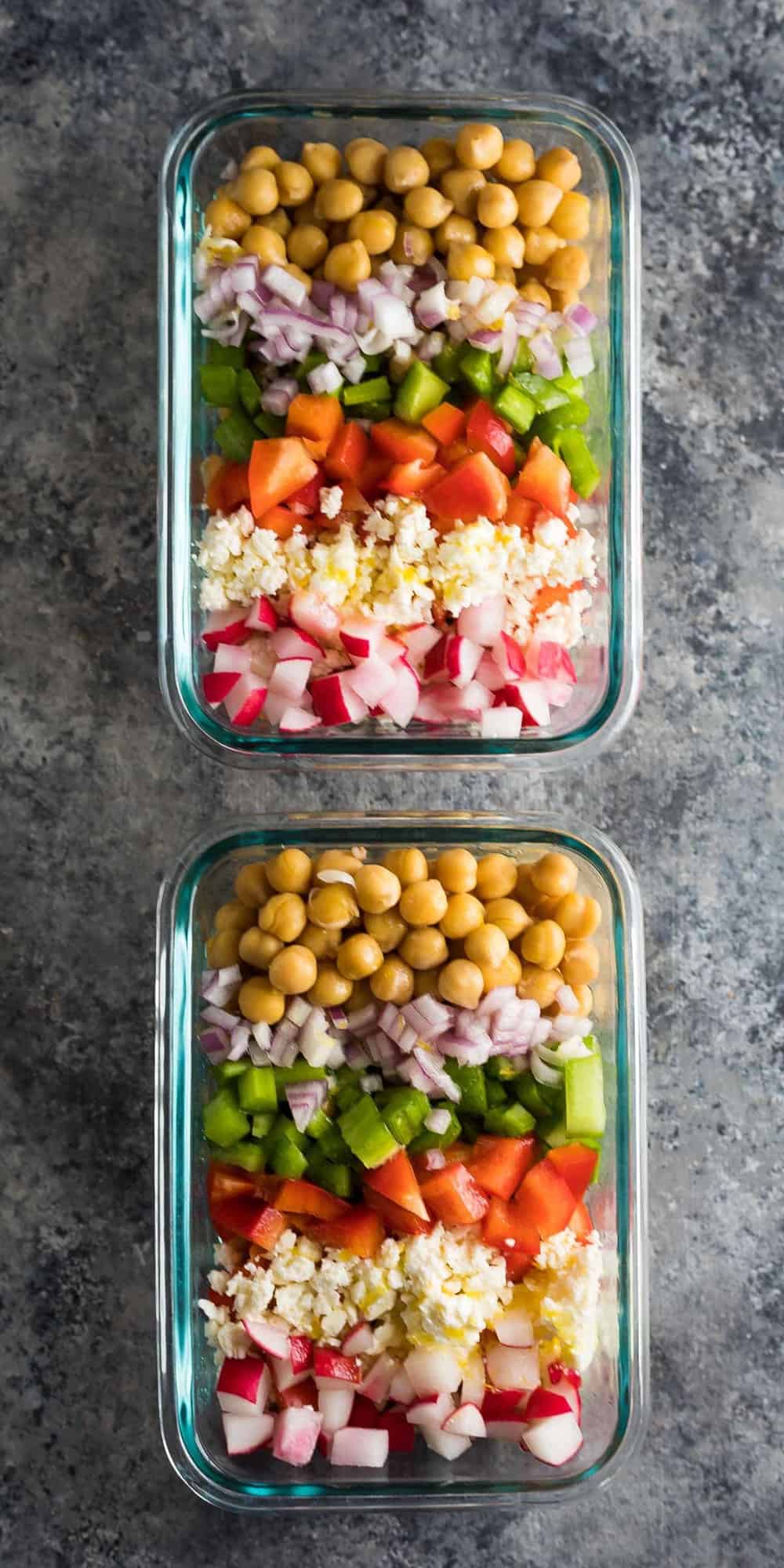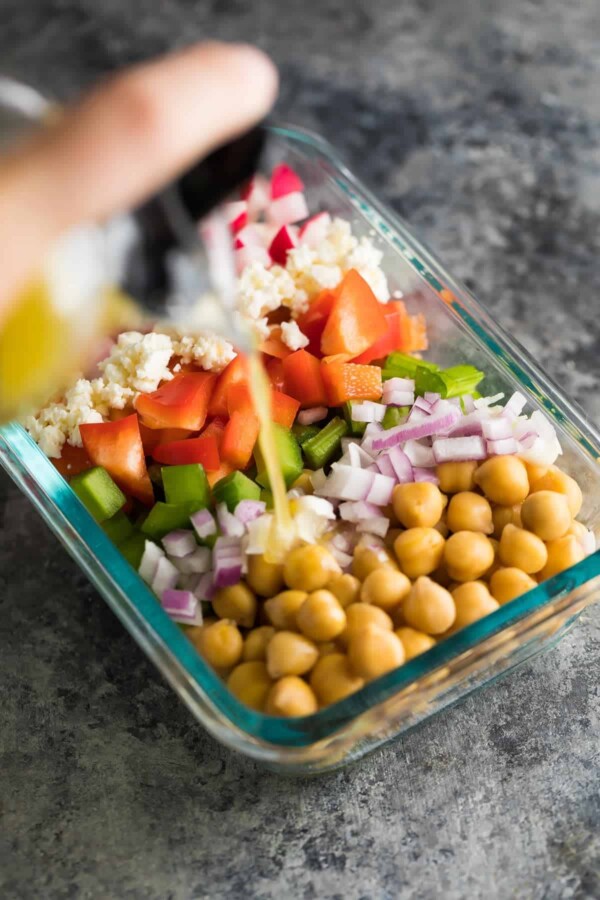 I did a poll on Facebook awhile back, asking which types of meal prep lunches you want to see, and was surprised by the number or people requesting vegetarian meal prep lunches.
So.  Here you go!  Meal prep chopped chickpea salad, which you can serve in a meal prep container or as a jar salad.
I was inspired by tabouli, and it has a bulgur base.  Bulgur.  What an unappetizing name.  It's tasty, I promise!  If you don't have bulgur, feel free to use rice, quinoa, barley, anything you'd like.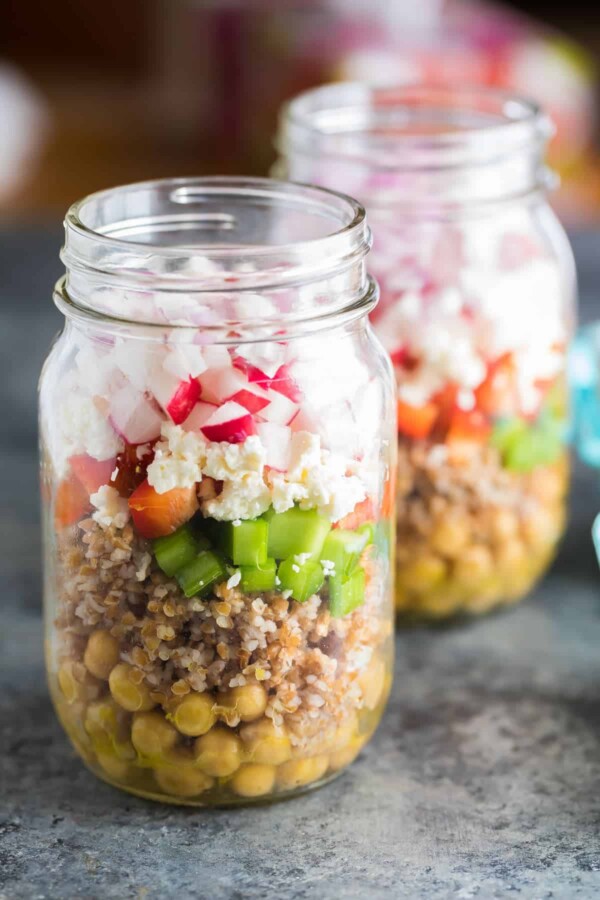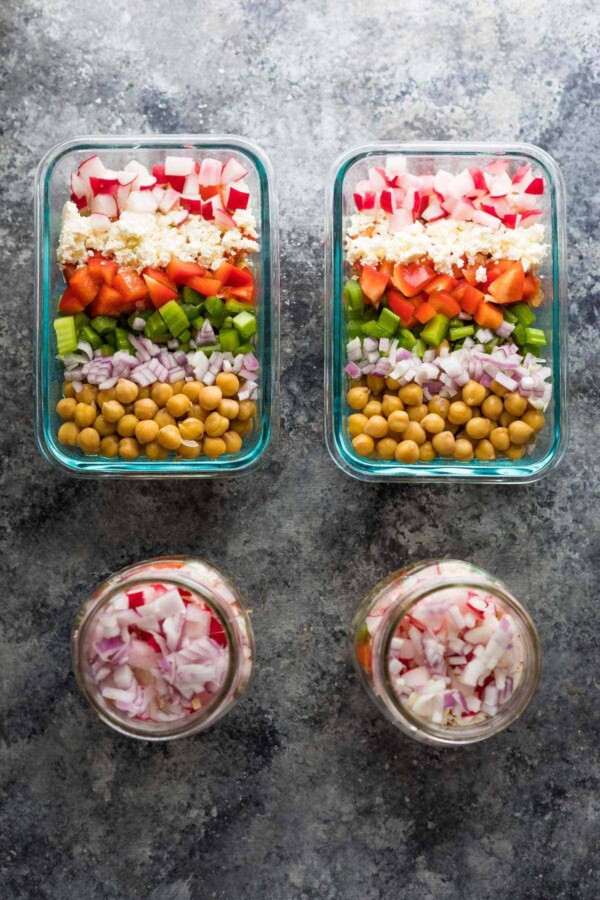 I topped the bulgur with chickpeas, and a whole lotta veggies to bring the crunch factor: celery, radishes, and bell pepper.  This meal prep chopped chickpea salad has a great variety of textures: creamy, crunchy and chewy.  I'm allll about the textures 😉
Not only that but this salad also brings the flavor.  Mostly thanks to the honey lemon vinaigrette, which I borrowed from one of my most popular recipes: this Kale, Barley Salad with Feta.
This meal prep chopped chickpea salad keeps great, in fact it may even taste better after marinating for a few days.  And bonus: chickpeas make for a pretty darn easy protein to prepare 😉 .
Tips for your perfect meal prep chopped chickpea salad:
Chopped Mediterranean Chickpea Power Salads
4
adjust servings
Ingredients
2/3

cup uncooked bulgur

19

oz can of chickpeas, drained and rinsed

1/2

cup feta cheese, crumbled

3

ribs celery, finely chopped

1

bell pepper, finely chopped

1/3

cup radish, finely chopped

1/4

of a red onion, minced
Honey Lemon Vinaigrette
3

tablespoons olive oil

3

tablespoons white wine vinegar

1

tablespoon honey

1

teaspoon fresh lemon juice

1/2

teaspoon lemon zest
Instructions
Cook bulgur according to package directions and allow to cool.
Shake together all vinaigrette ingredients.
For Meal Prep Containers:
Toss together all salad ingredients in the vinaigrette and divide amongst 4 2-cup capacity storage containers.
To Store In Jars:
Divide vinaigrette evenly amongst four 1-pint/2-cup glass jars.
Add the chickpeas to the bottom of each jar, and top with bulgur, celery, bell pepper, feta cheese, radish and red onion.
To serve, shake the salad out into a large bowl and stir up to distribute the vinaigrette.
Recipe Notes
Nutritional Information: 1 lunch bowl
Calories 431 // Fat 17 g // Saturated Fat 4 g // Cholesterol 17 mg // Sodium 500 mg // Carbohydrate 57 g // Fiber 14 g // Sugars 7 g // Protein 16 g