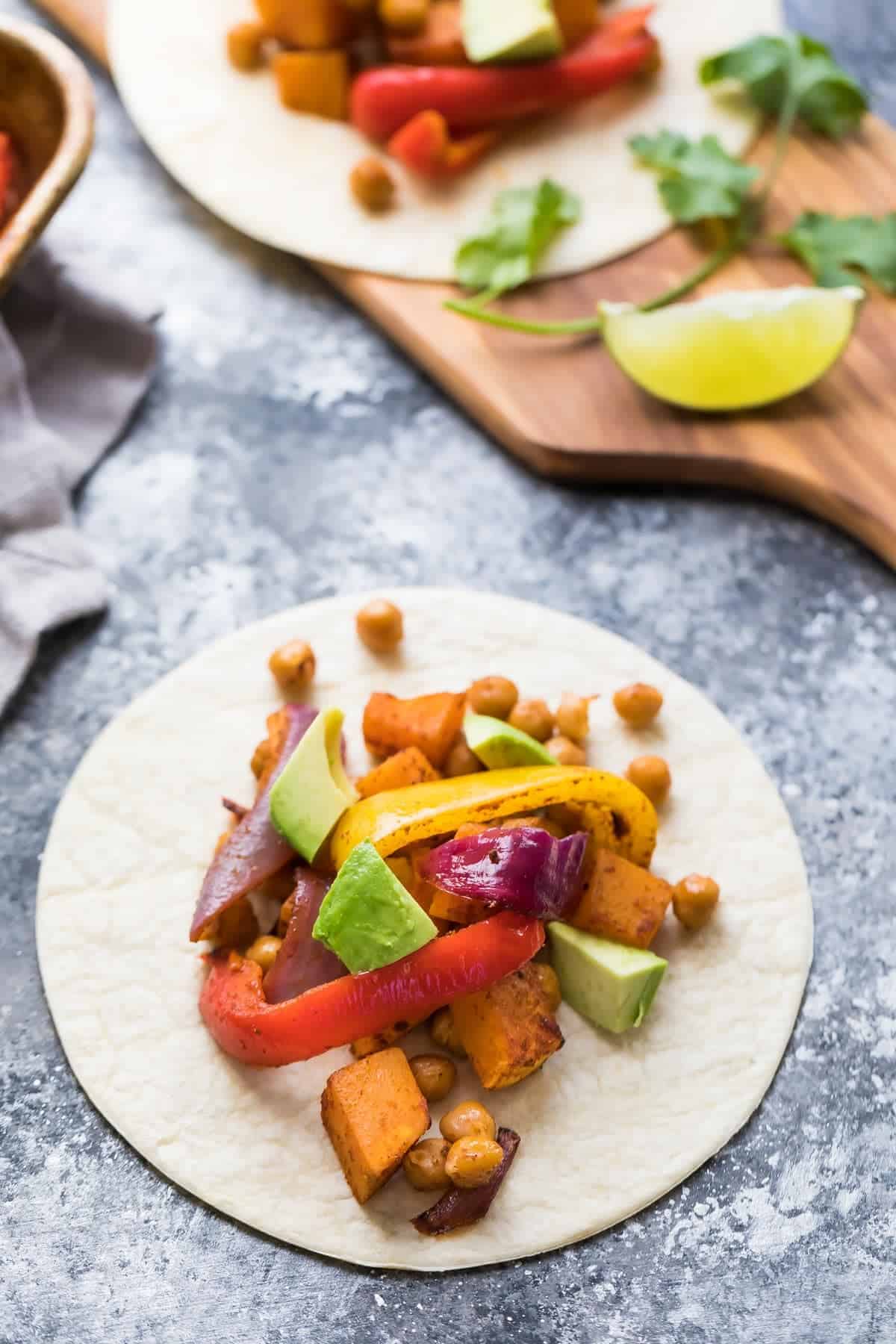 These chickpea butternut squash fajitas can be assembled ahead and stored in the fridge or freezer for the easiest dinner you can possibly find!
2017 is off to a seriously amazing start.
The Lunch Prep Challenge that I dreamed up last summer has nearly 14,000 participants.  Pinch me!!
We booked our first vacation since before Kai was born.  Maui, here we come!
And now I've discovered a seriously amazing fact: butternut squash is freezer friendly.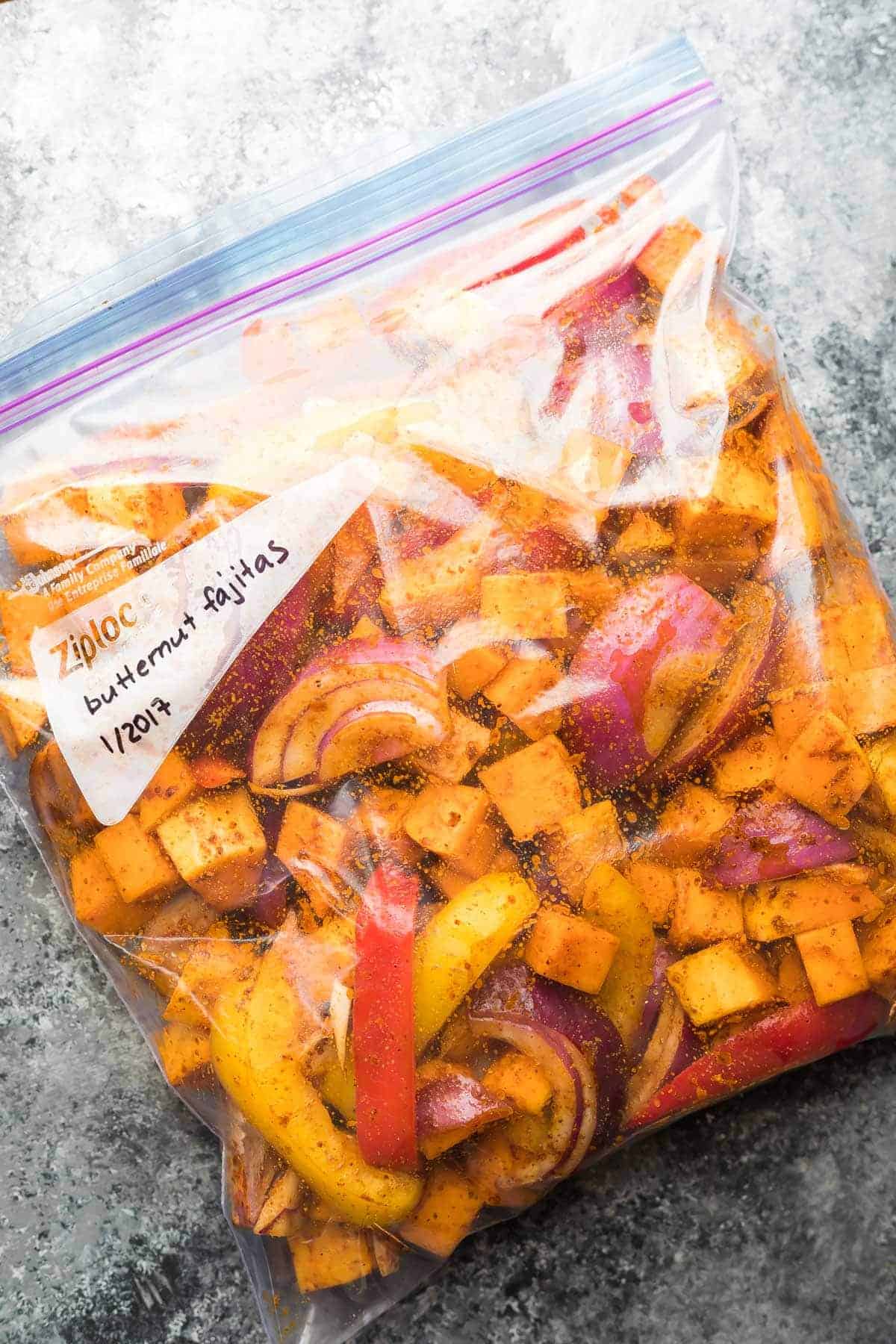 OK, so one of those things is not quite like the other, but still, discovering that you can assemble these butternut squash fajitas ahead of time and freeze them was pretty darn exciting.
Even though they are not pictured here, I also froze them with the chickpeas and everything tasted great.  In fact you would never in a million years guess that anything had been frozen!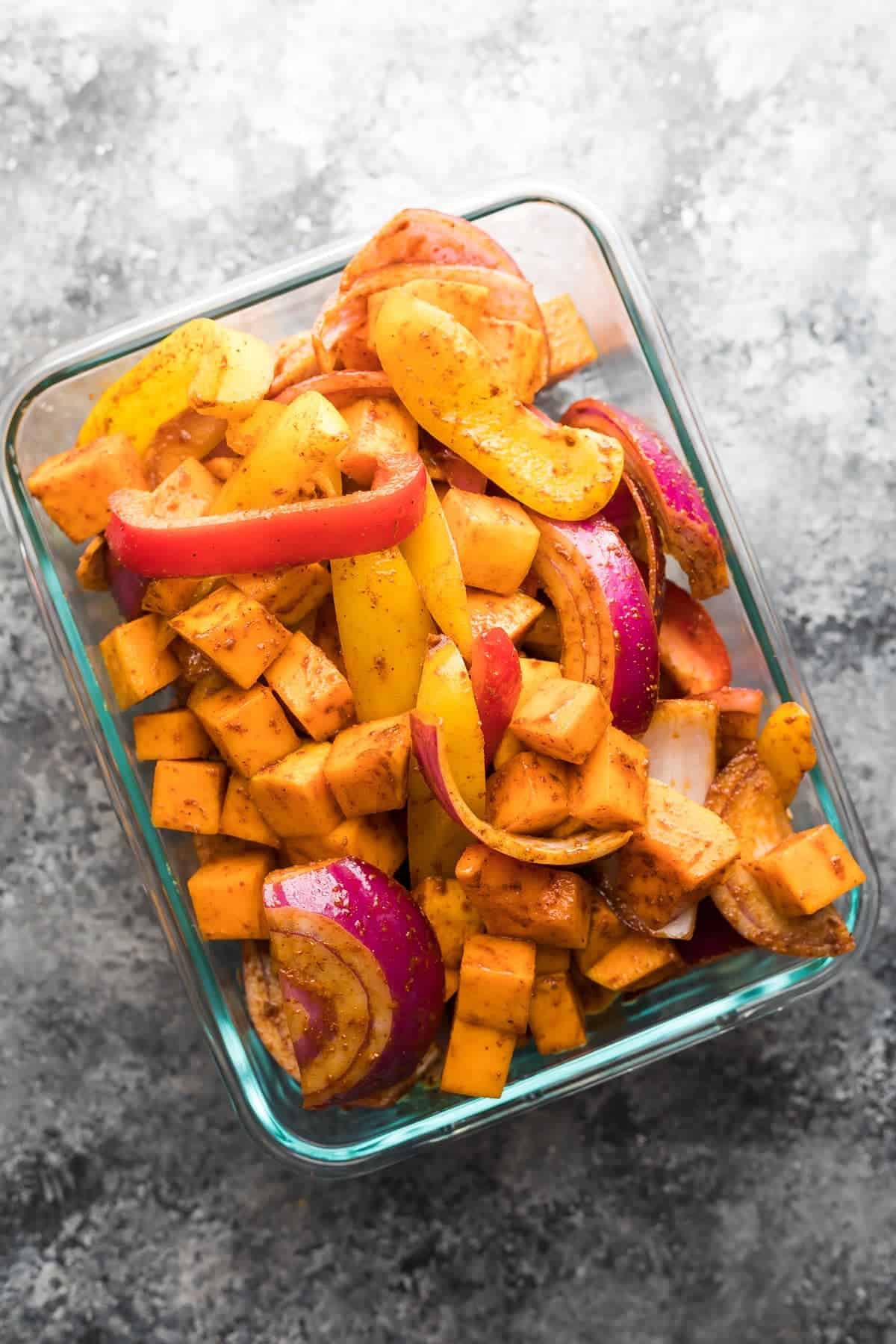 Friends, I'm on a mission.  2017 is going to be packed with make ahead meals.  I've already got lots of breakfast, snack and lunch options on the site, but the dinners category is somewhat void.
Make ahead dinners are tricky.  You want something nice for dinner…something freshly cooked.  You want something that you can put in the oven with as little effort as possible, like these chickpea butternut squash fajitas!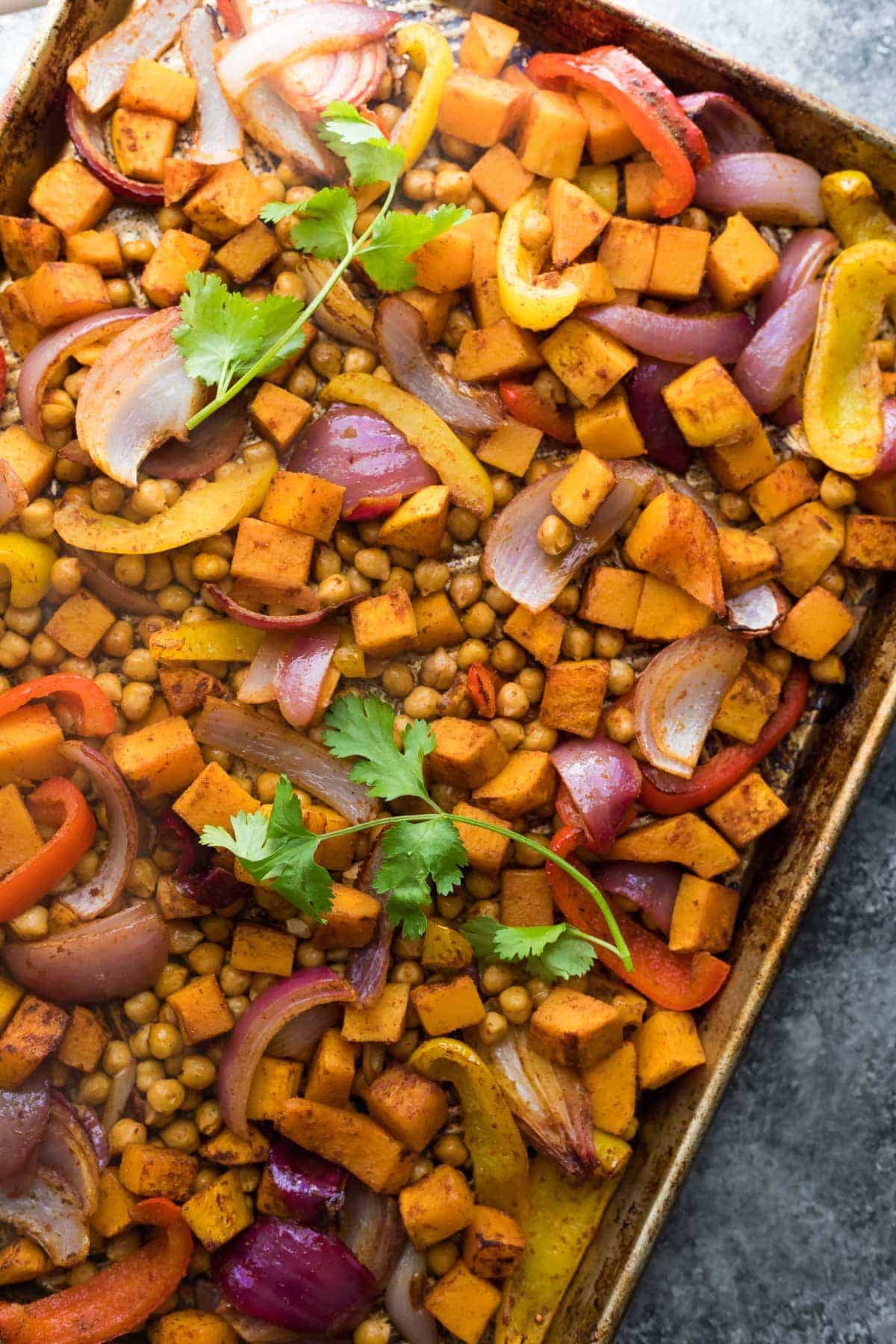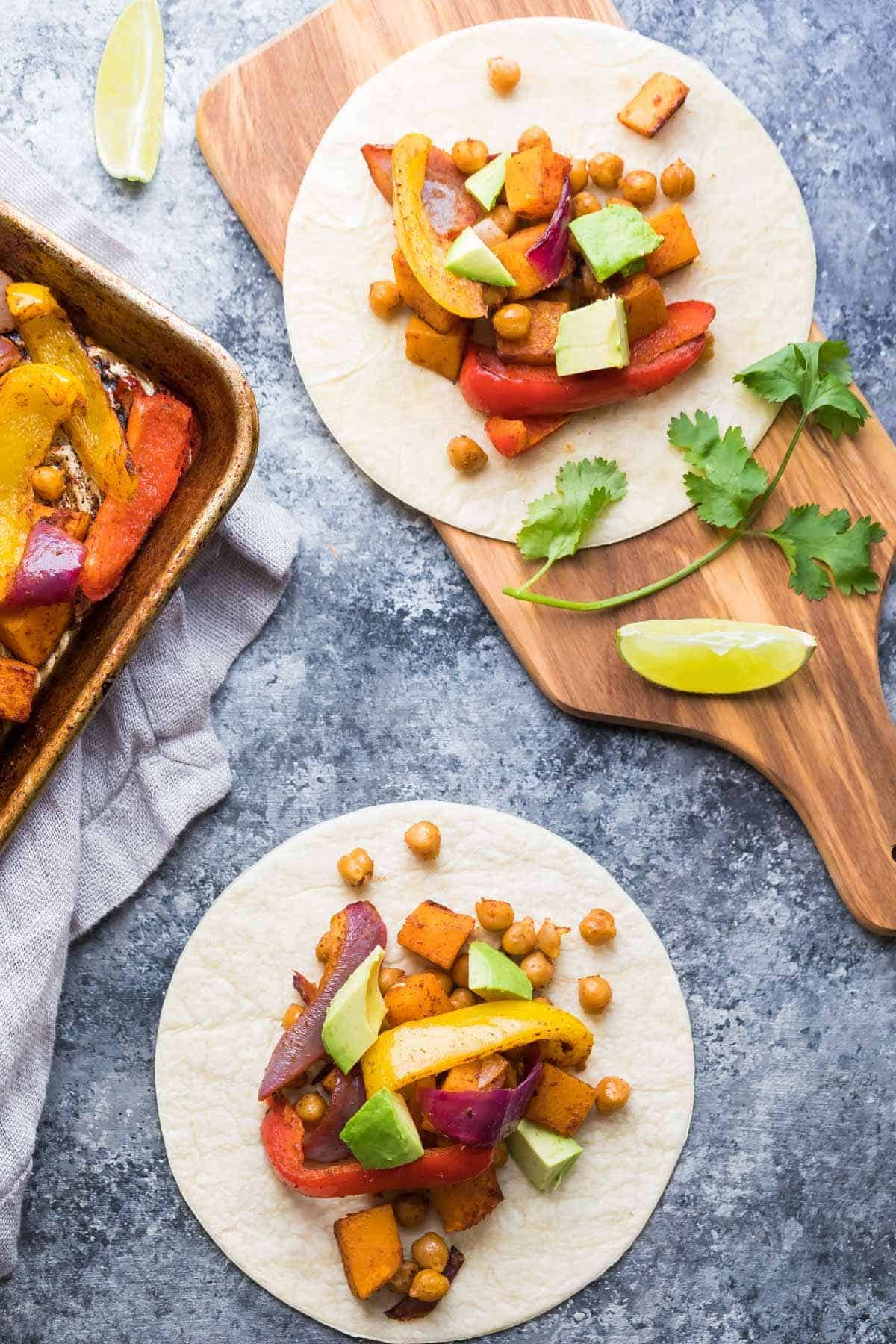 These bad boys are actually suuuper healthy, which is not something you often see with freezer food.  I think casseroles, lasagna, CHEESE.
Not these fajitas…they are packed full of veggies and flavor.
And the best part is that they only take 20 minutes to prep, at which point you can stash them in the fridge or the freezer until you are ready to bake them up.
When you get home from work at 5:30 pm, you just toss them in the oven and roast them up.  It's really that simple.
I hope you're excited for more prep ahead dinner recipes like this!
More make ahead dinners for us!
Make Ahead Chickpea Butternut Squash Fajitas
4-6
adjust servings
Ingredients
4

cups butternut squash in 1/2 inch cubes

1 19

oz can chickpeas, drained and rinsed

1

red onion sliced into 1/2 inch strips

2

bell peppers, sliced

1

tablespoon sugar

1/2

teaspoon salt

1

tablespoon chili powder

1.5

teaspoon cumin

1.5

teaspoon paprika

1/2

teaspoon garlic powder

2

tablespoons olive oil

juice from 1 lime
To Serve
8-12

six inch tortillas

Greek yogurt

Avocado

Cilantro

Salsa
Instructions
Combine all ingredients in a heavy duty freezer bag.
Shake until everything is evenly combined.
Freeze for up to 1 month.
To Bake:
Thaw completely before baking.
Heat oven to 425°F. Spread all fajita ingredients out evenly on a large baking pan.
Bake for 25 minutes, flipping everything halfway through.
Recipe Notes
Nutritional Information: 2 small fajitas, includes tortillas but not additional toppings
Calories 352 // Fat 11 g // Saturated Fat 2 g // Cholesterol 0 mg // Sodium 761 mg // Carbohydrate 55 g // Fiber 9 g // Sugars 4 g // Protein 11 g