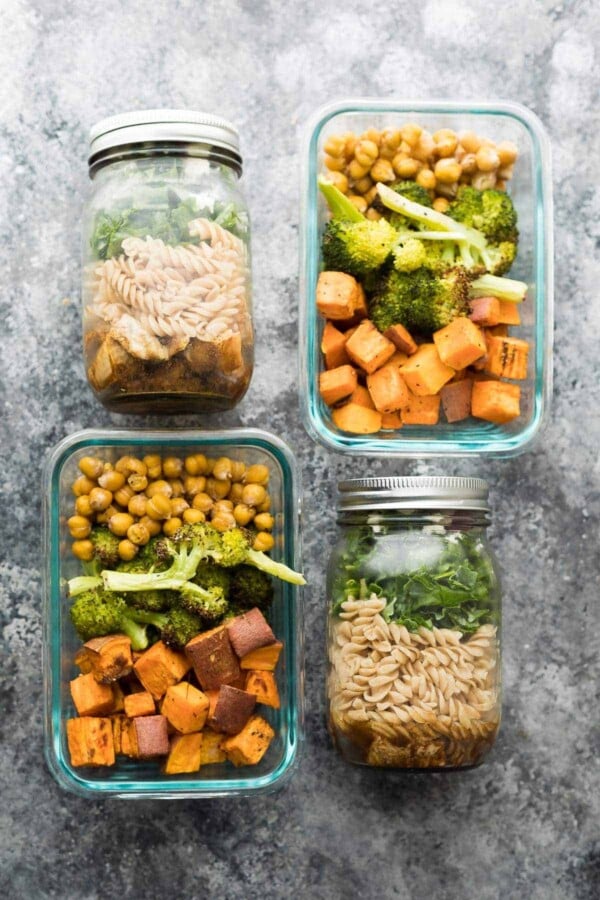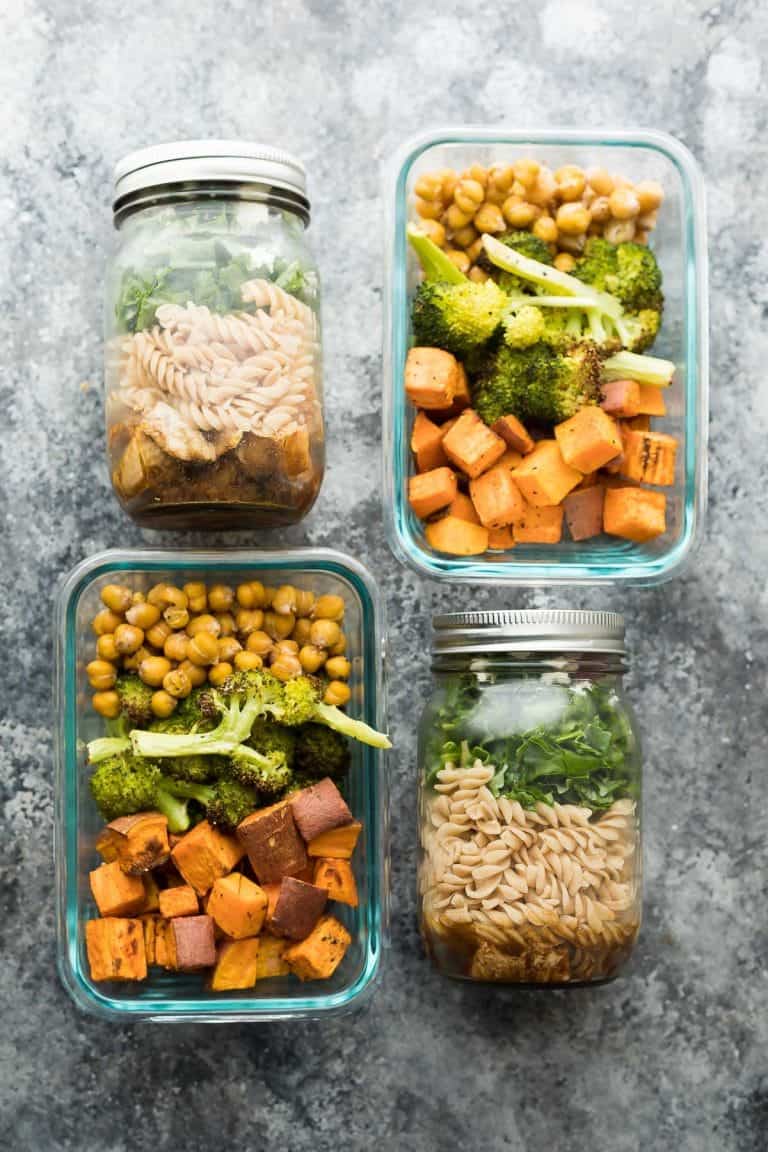 Prep these balsamic pasta jar salads and sweet potato, chickpea, broccoli bowls at the same time and you will have two different lunches to enjoy through the week!  Both recipes are ready in under 45 minutes.
I'm back with another 2-for-1 meal prep post…where I provide you with two recipes that you can prep at the same time, giving you a some extra variety in your lunches for the week.  If you missed our last 2-for-1 meal prep recipe set, here they are!
I've been thinking about variety and meal prep, and how do we introduce more of it into our routine.
One idea is to have more freezer-friendly lunches on rotation…because you can swap them in and out as you'd like and are less likely to get bored.  Stay tuned for more freezer-friendly lunches!
Unfortunately there are just some foods that don't really freeze well, and I'm not willing to let them go from my diet!  Salads are one obvious non-freezable recipe, and roasted sweet potatoes are another one of my faves.  So today's 2-for-1 meal prep is perfect to keep these recipes in your meal prep routine!  Let's check out these balsamic pasta jar salads and sweet potato, chickpea, broccoli bowls, shall we?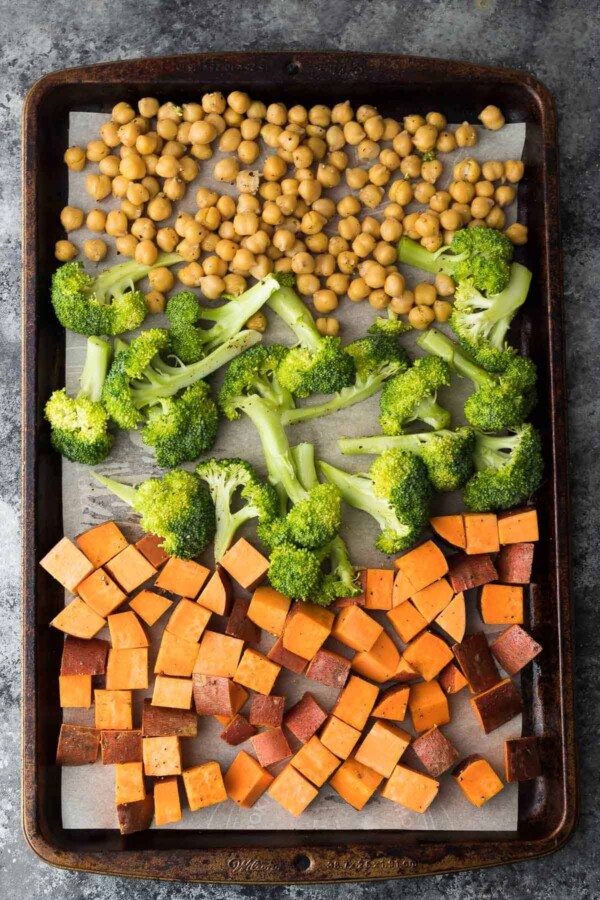 If you participated in our September Lunch Prep Challenge, then these recipes will look awfully familiar to you!  They were our week 2 recipes.
Want in on our next challenge?  Sign up below for free recipes, shopping lists and video prep tutorials!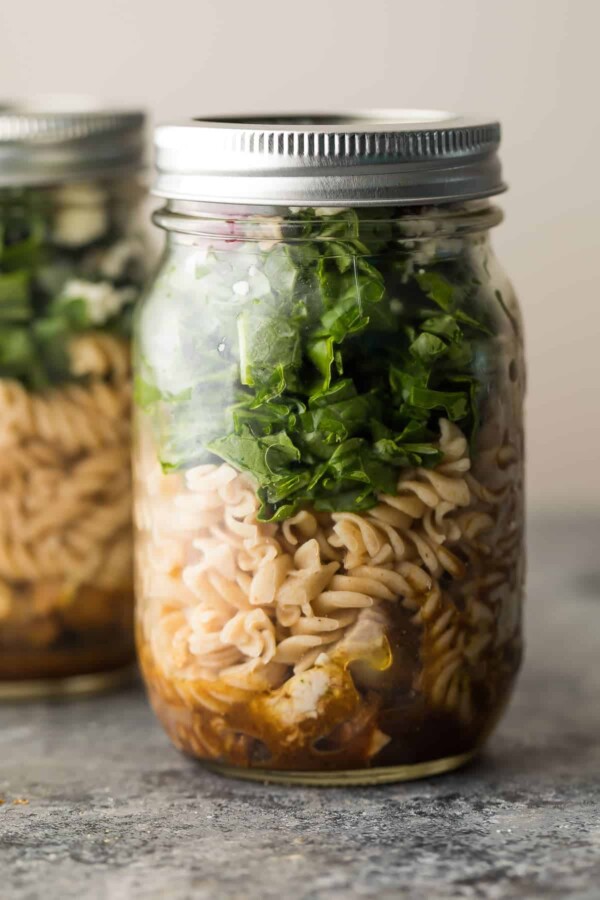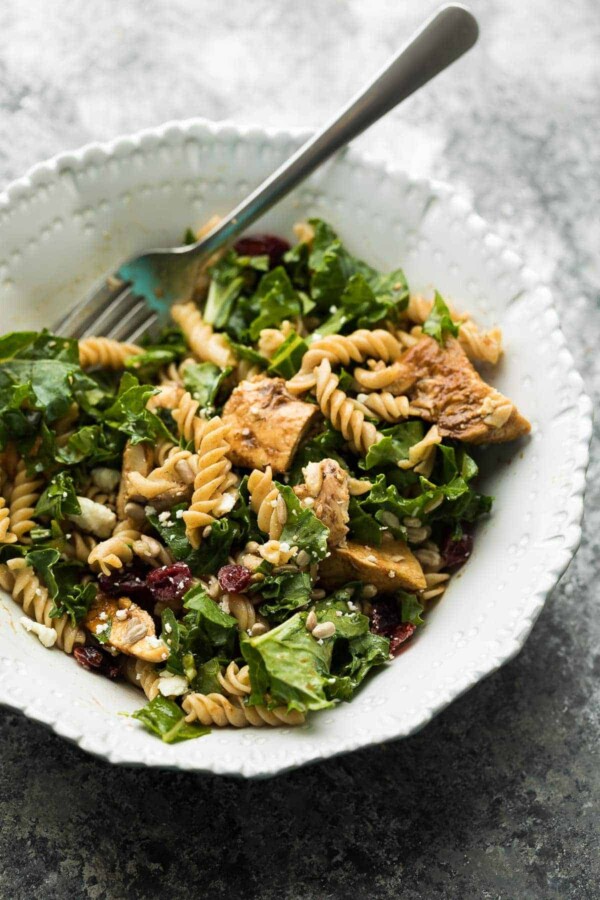 Our first recipe is the balsamic pasta jar salads, which I think might just be my favorite recipe in the entire lunch prep challenge!
It's no secret that I have a soft spot in my heart for salad recipes, and this balsamic pasta jar salad has all of my favorite elements: a tangy vinaigrette, something salty (feta), something crunchy (sesame seeds), something sweet (dried cranberries).  Pair all of this with chicken breast, whole wheat pasta and plenty of leafy greens, and you are in for one delicious (and filling!) salad.
Layering this salad in a jar means that the leafy greens and pasta stay far away from the vinaigrette, keeping them both from getting soggy or mushy…and storing the chicken in the vinaigrette keeps it nice and moist.  Win win!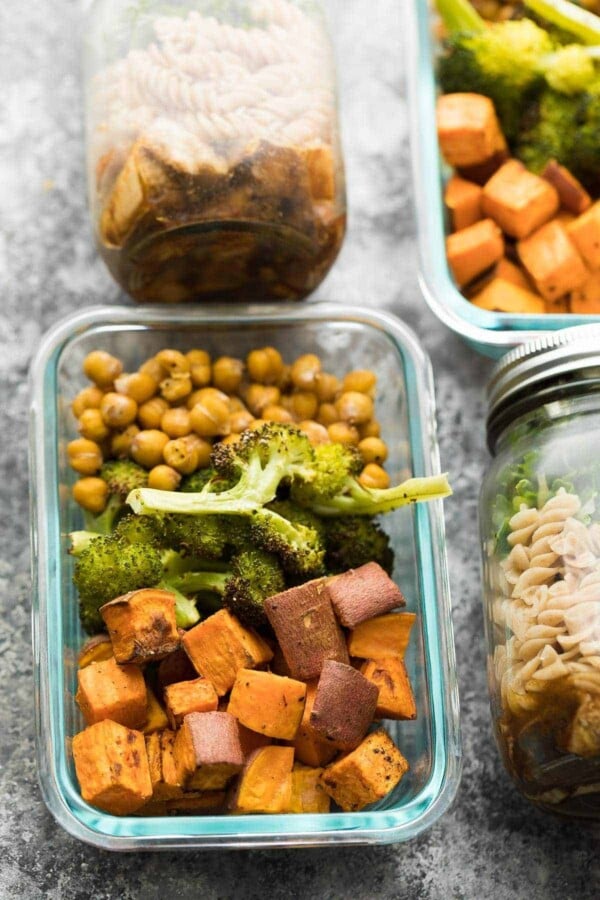 Behind door number two are these sweet potato, chickpea, broccoli bowls…which looks kind of boring because I didn't take any photos of the tasty yogurt sauce that you toss it all in before enjoying.  D'oh!
But trust me, the yogurt sauce brings a ton of flavor and creaminess to this lunch bowl, making it anything but boring.  It also happens to be ridiculously easy to throw together.  Woo woo!
How to prep these balsamic pasta jar salads and sweet potato, chickpea, broccoli bowls at the same time?  It's all about time management.
get your pasta cooked, then cool it.
get your chicken and sweet potatoes in the oven
prep your broccoli and chickpeas and add them to the pan with the sweet potatoes
shake together your balsamic vinaigrette and stir together your yogurt sauce
cool veggies & chicken, portion everything out, and voila!  done.
do a happy dance because you have four portions of two delicious lunches waiting for you in the fridge
Tips for your perfect balsamic pasta jar salads and sweet potato, chickpea, broccoli bowls: