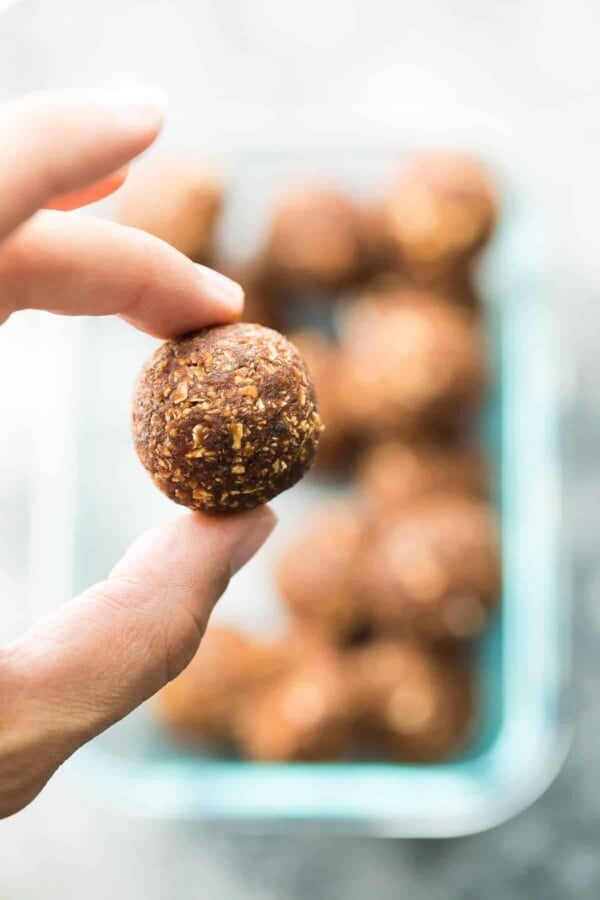 These nut free energy bites can also be made seed-free and coconut-free, perfect for those with allergies, as well as teachers and kids from nut-free schools.
I have to admit, sometimes I feel a little behind on the times when it comes to newer rules and regulations in schools.
My kiddo is four (sob! How is he already FOUR?!), and is now attending pre-school.  Next year will be the big jump to kindergarten and I'm sure I have a lot to learn.
I hadn't realized how many schools are nut-free, until I had many Lunch Prep Challenge participants ask me for nut free alternatives to my No Bake Energy Bites 7 Ways.  And I was surprised at how challenging it is to find nut free energy bite recipes!
So today I'm excited to share with you my nut free energy bites, a few different ways.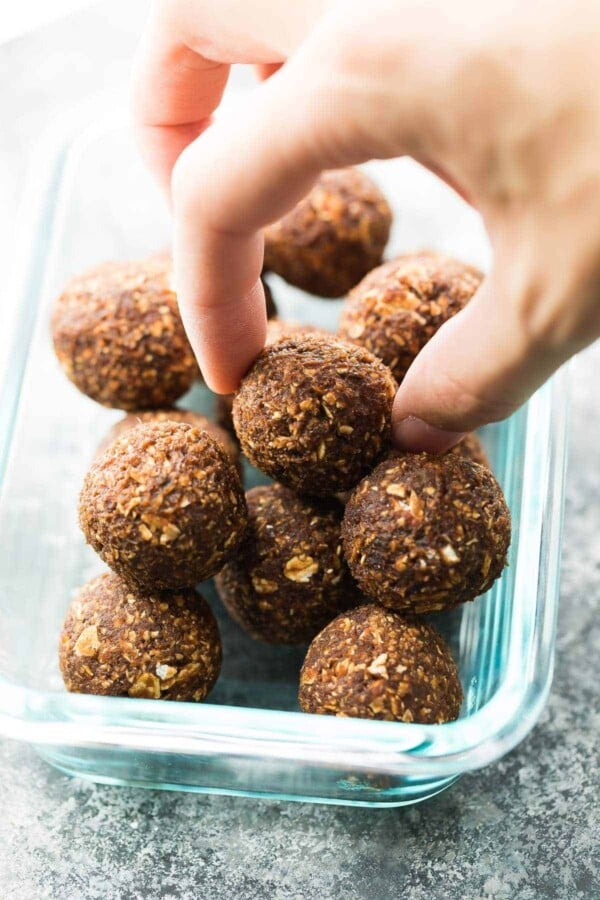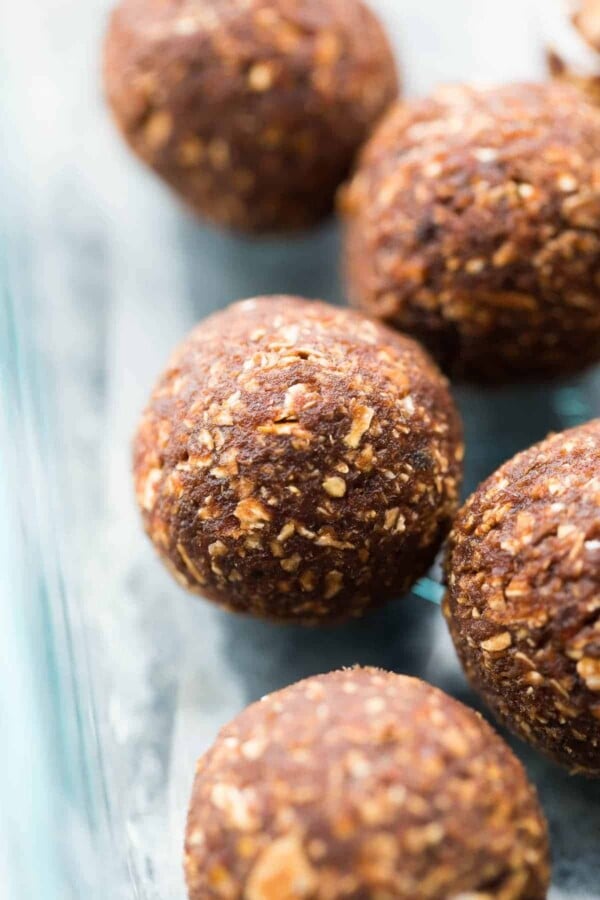 The base version of these nut free energy bites is super duper simple, and has just four ingredients: medjool dates, maple syrup, cocoa powder and rolled oats.
I soaked my dates in boiling water for 10 minutes to get them nice and moist before blending everything together.
The resulting energy bites are chocolatey, sweet, and delicious.  I recommend that you use this base recipe to get creative and toss in 1/4-1/2 cup of add-ins!
You can get creative with add-ins for this base recipe:
mini chocolate chips
dried cranberries, cherries or blueberries
a touch of peppermint extract for a 'thin mint' version
citrus zest, orange or lime may go particularly well with the chocolatey flavors of the base recipe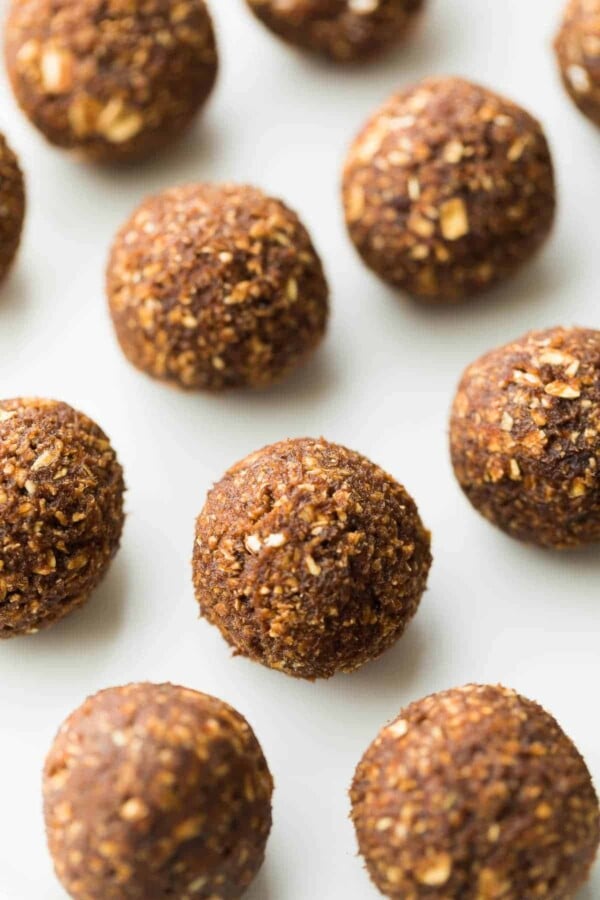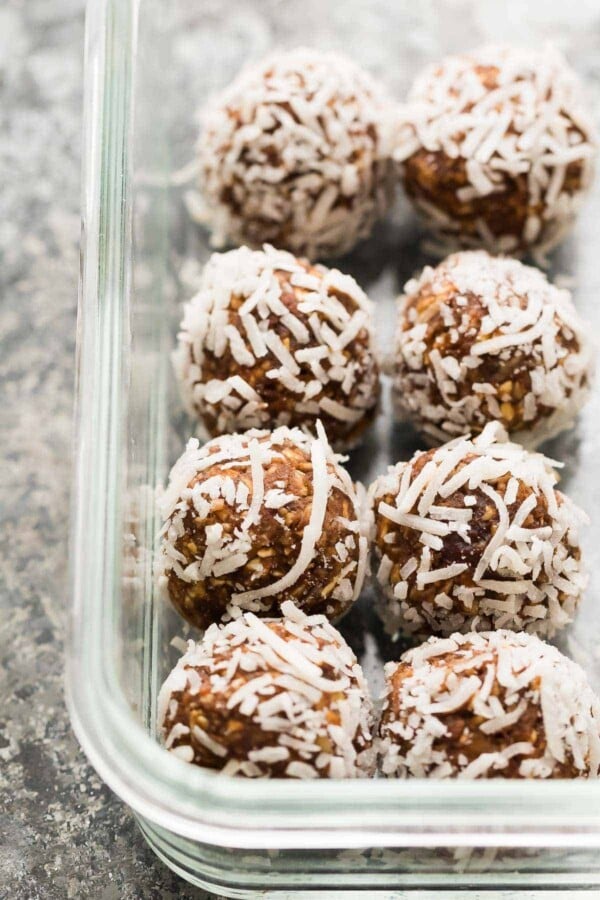 Even though the 4-ingredient version of these nut free energy bites were darn good, I was missing a little texture that you get by adding nuts.  So for round 2 of these energy bites, I added a bit of shredded coconut into the food processor, then rolled them in a bit more.
I know that some people who are sensitive to nuts are also sensitive to coconut, so if you are, then stick to the base recipe.  But if you can tolerate coconut, then I say definitely go for this version!
These coconut energy bites are seriously amazing.  You get a bit more texture in the energy bites from the shredded coconut, and another dimension of flavor.  Ben says they taste just like a lammington, which is an Aussie coconut-chocolate treat.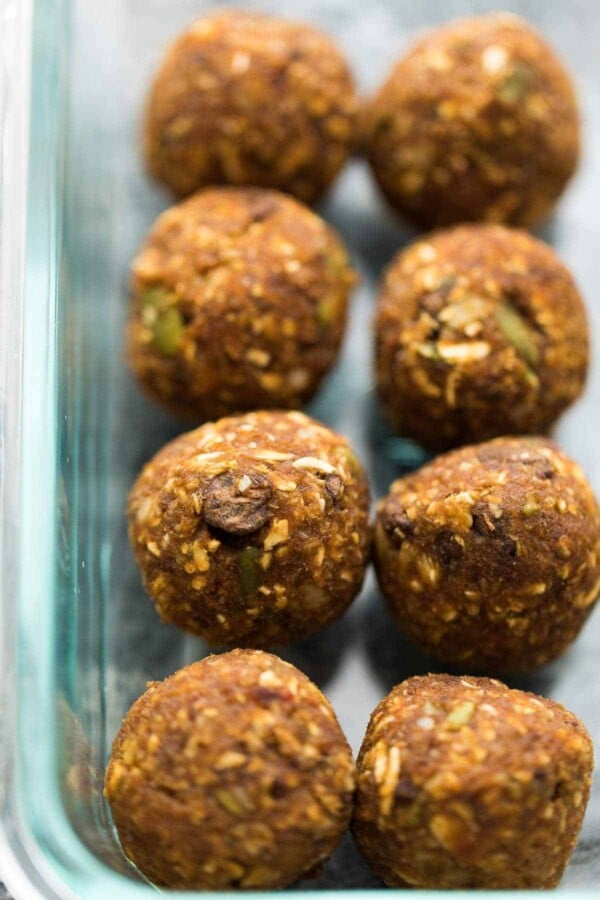 And for our third version, I was craving pumpkin…so I made these nut-free pumpkin energy bites.
I added some pumpkin seeds to the food processor, which helps give these energy bites a bit more texture, and also tossed in some chocolate chips towards the end. They absolutely make these energy bites! Highly recommend them.
Again, some people still have seed intolerances, in which case, stick to the original (base) recipe. But if you can tolerate seeds, these nut-free pumpkin energy bites are a great alternative!
Tips for perfect nut free energy bites