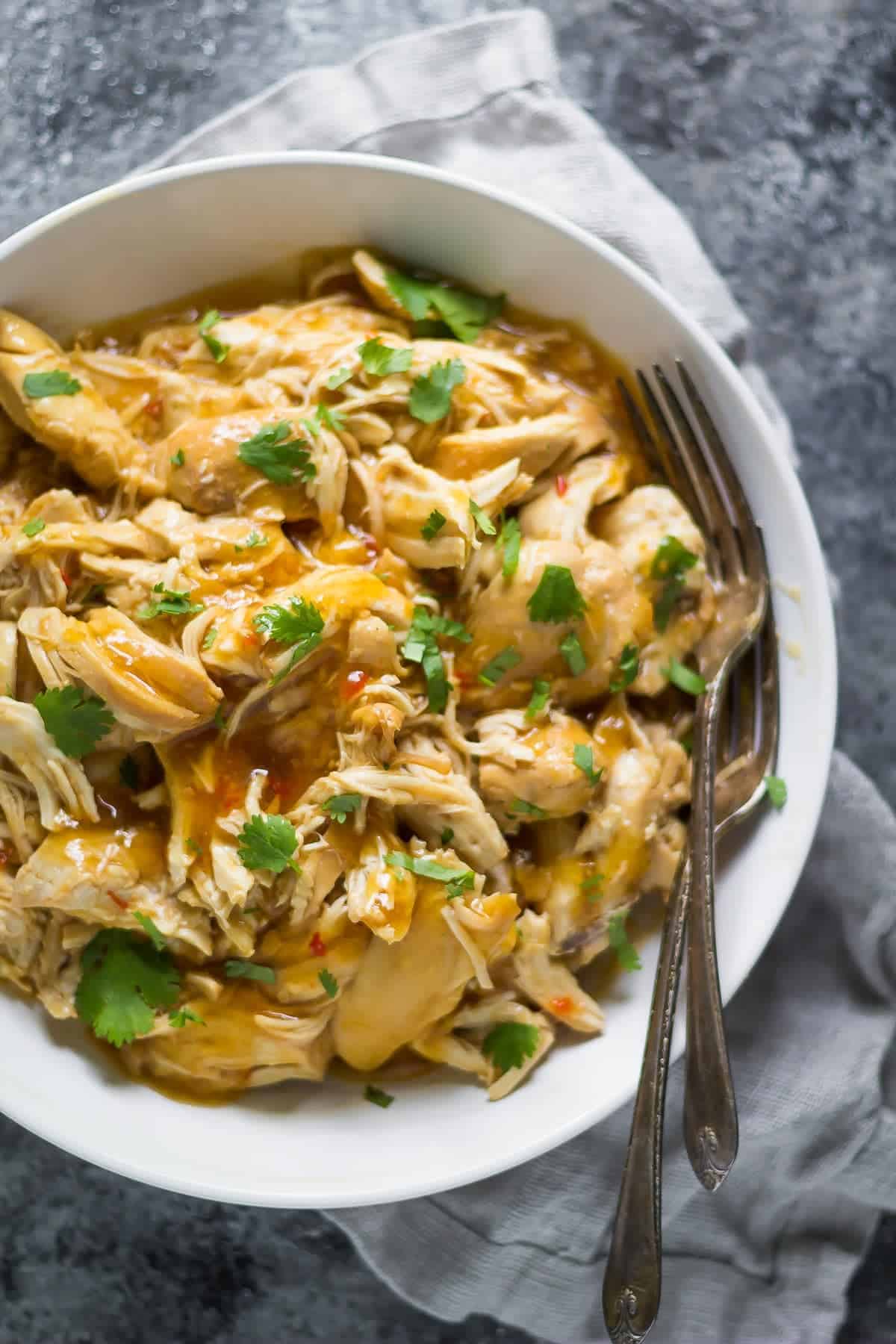 This SUPER simple slow cooker sweet chili chicken has just 6 ingredients!  And this chicken makes a perfect base for so many recipes, including quesadillas, rice bowls and tacos.
It has been so long since I last did a slow cooker 3-in-1 week!  March to be exact!
I am so happy to be sharing another one with you.  I thought it was time to share another chicken recipe (after sharing this slow cooker honey lime chicken way back last summer)…obviously chicken is SO versatile, and this slow cooker sweet chili chicken can be used in SO many other recipes.
This week I'll be sharing three recipes that you can use this sweet chili chicken in: quesadillas (with a can't-be-missed peach salsa), tacos (with slaw and yogurt sauce), and in bowl form (with mangos, cashews and guacamole!).  I'm just a little excited 🙂
So let's get started!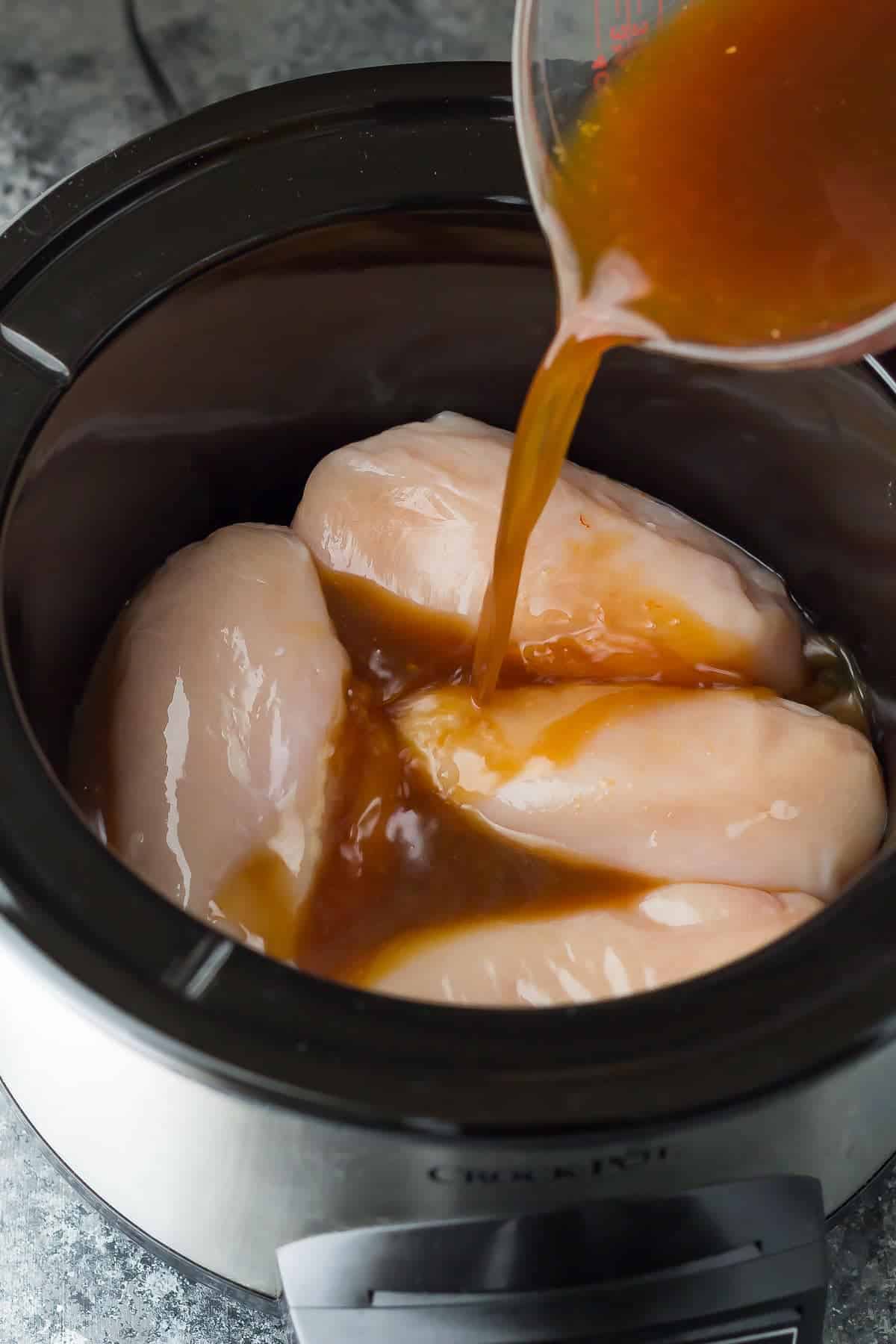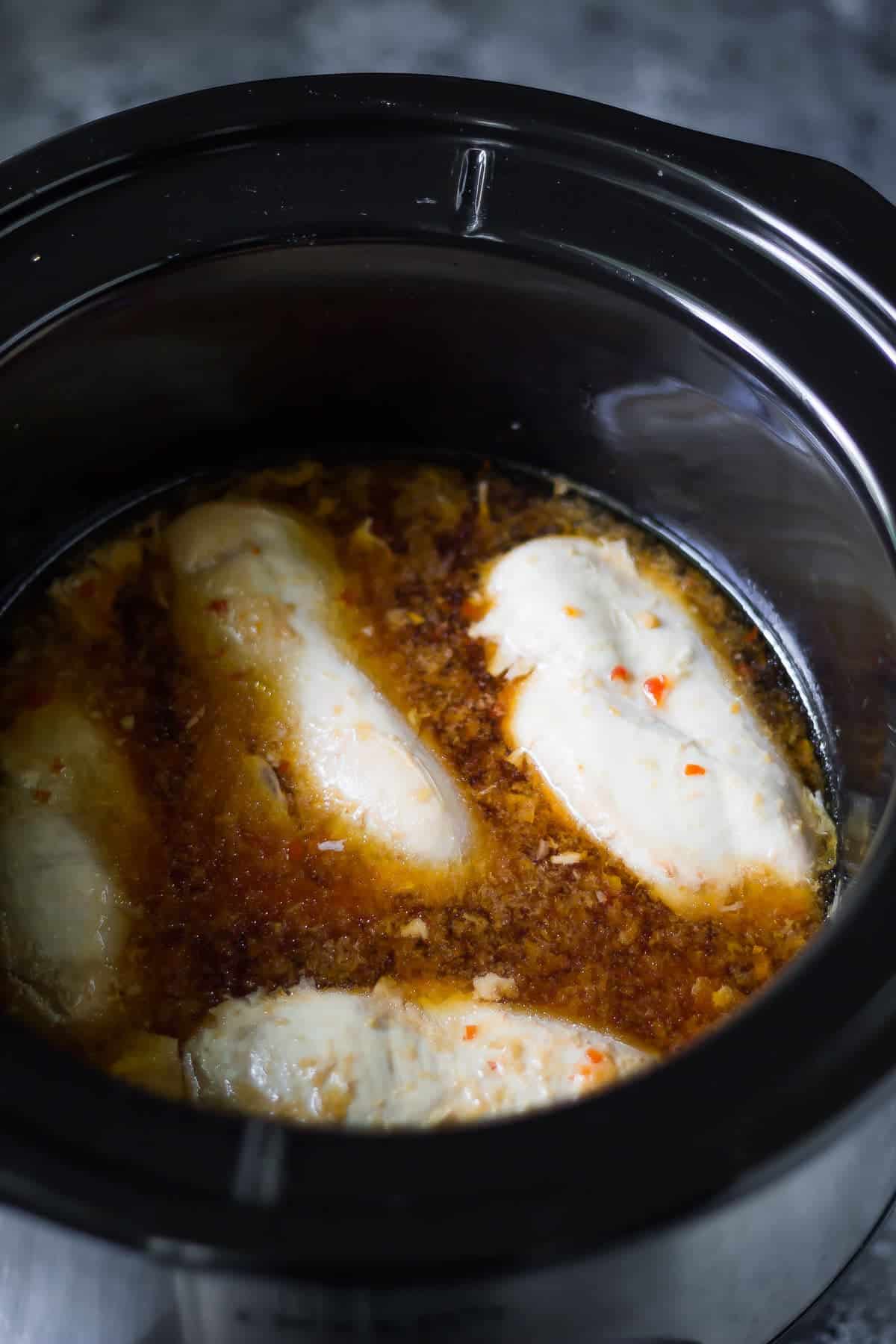 This chicken recipe couldn't be any simpler!  You just need FOUR ingredients to dump in the crockpot, set the timer and you're good to go.  There is a teeny tiny bit of extra work at the end for this slow cooker sweet chili chicken recipe.
I've mentioned before that I'm not really a fan of heavy sauce on my pulled pork, and the same applies to chicken and beef.  But for this recipe I did want the sauce to be a little thicker, just so we get an extra dose of sweet chili flavor, so at the end, I brought the sauce to a boil with a little bit of cornstarch.  Totally did the trick!
More flavor, a bit saucier but not too saucy.  If that makes any sense!!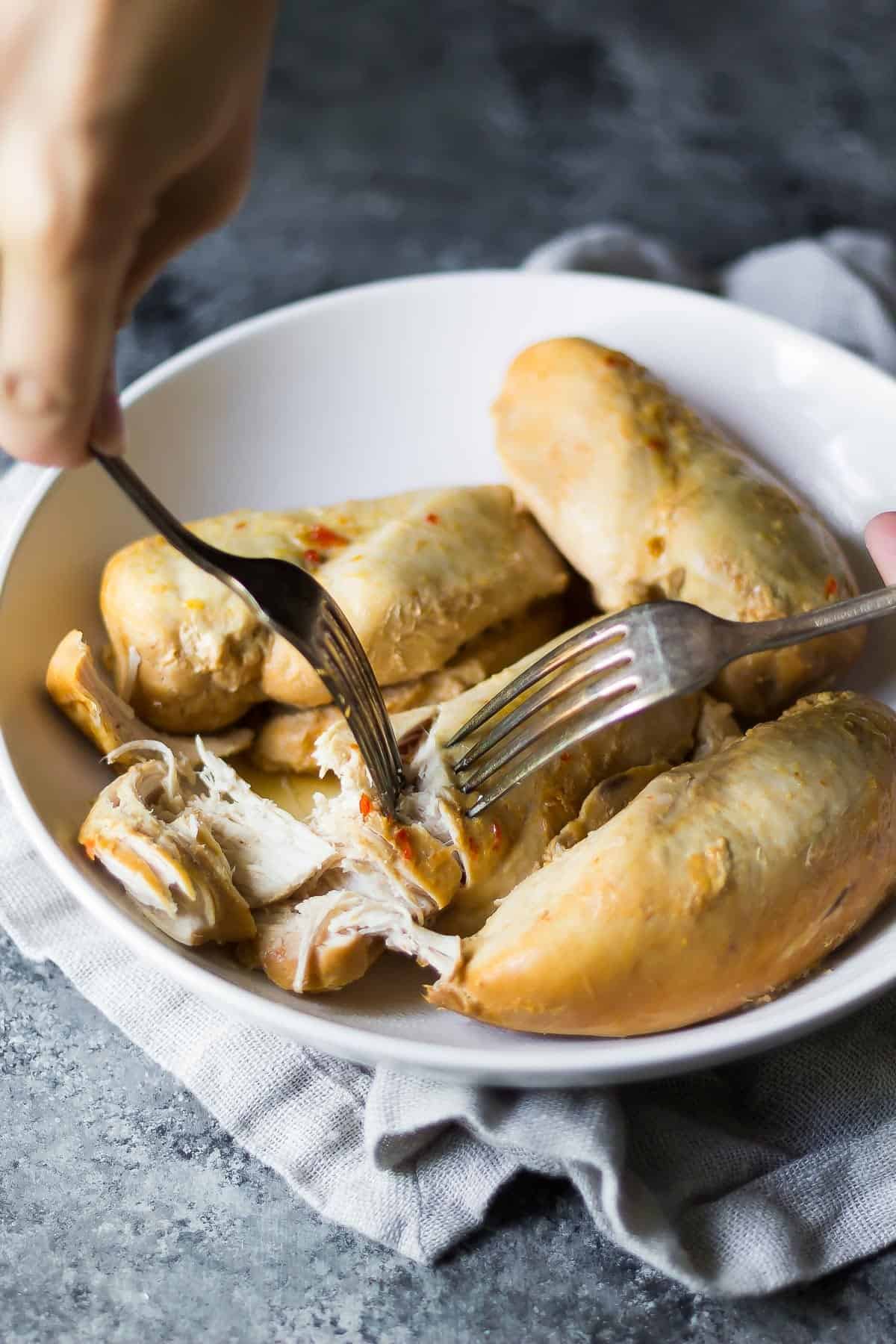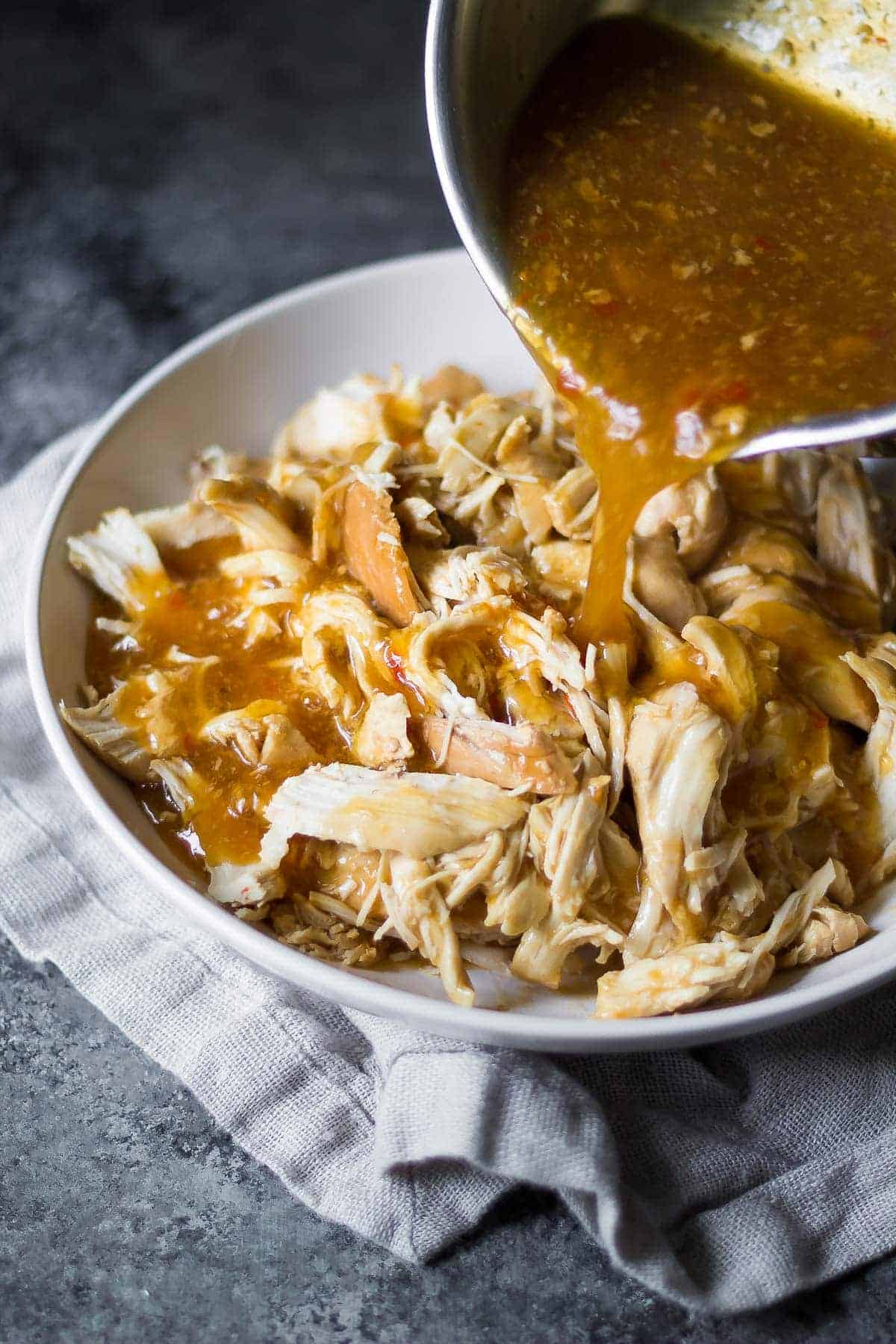 This pulled chicken is a bit sweet from the sweet chili sauce, and a bit salty from the soy sauce.  Actually it's very similar to my Sweet Chili Salmon recipe!
It is great eaten as is, but even better in the recipes I'll be sharing with you later this week!
By taking the time to whip up this slow cooker sweet chili chicken on the weekend, you will set yourself up for weeknight dinner success: each of the recipes I am sharing this week are ready in under 30 minutes.
And trust me: you're NOT going to get bored of these recipes!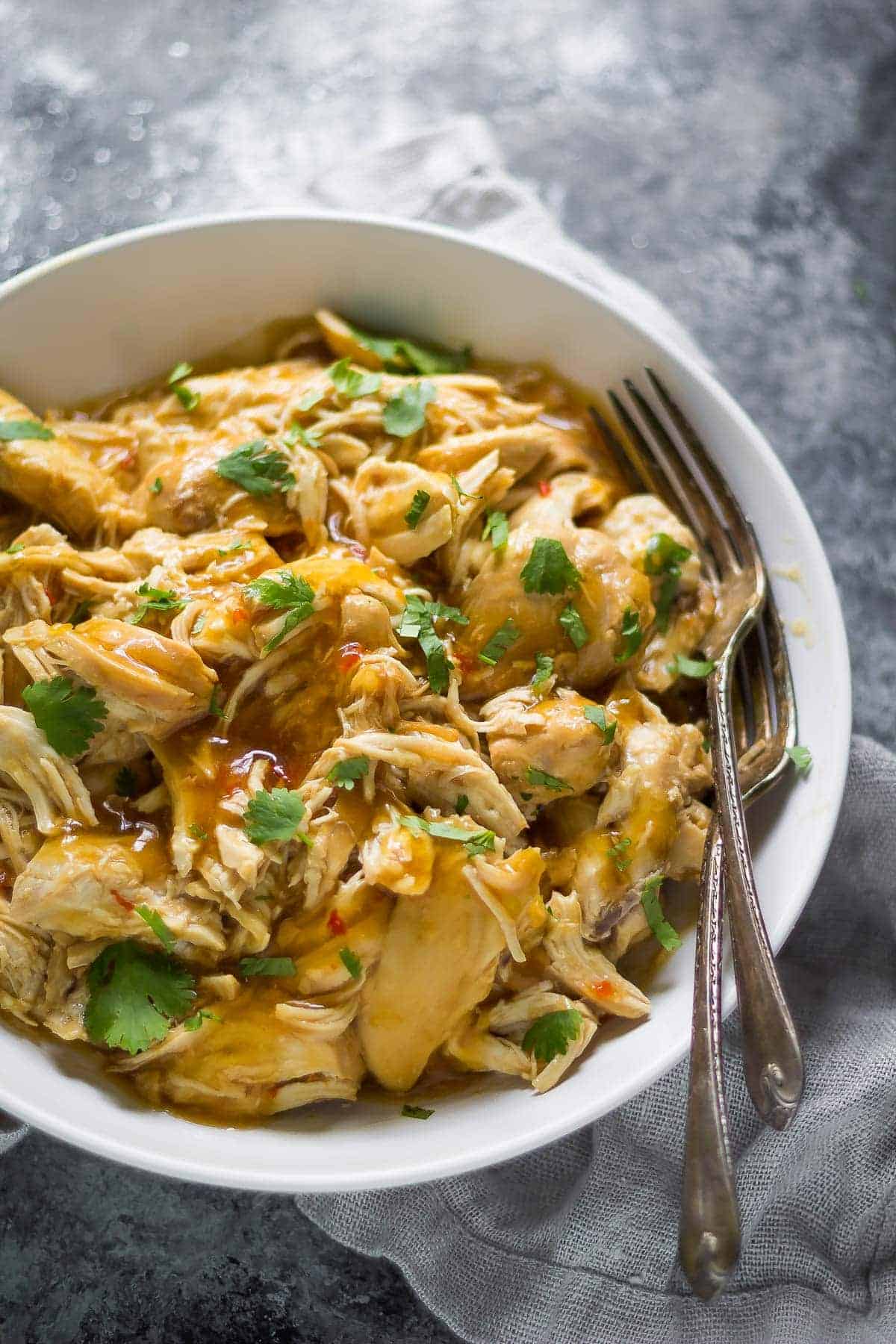 Stay tuned for these recipes to use up your slow cooker sweet chili chicken: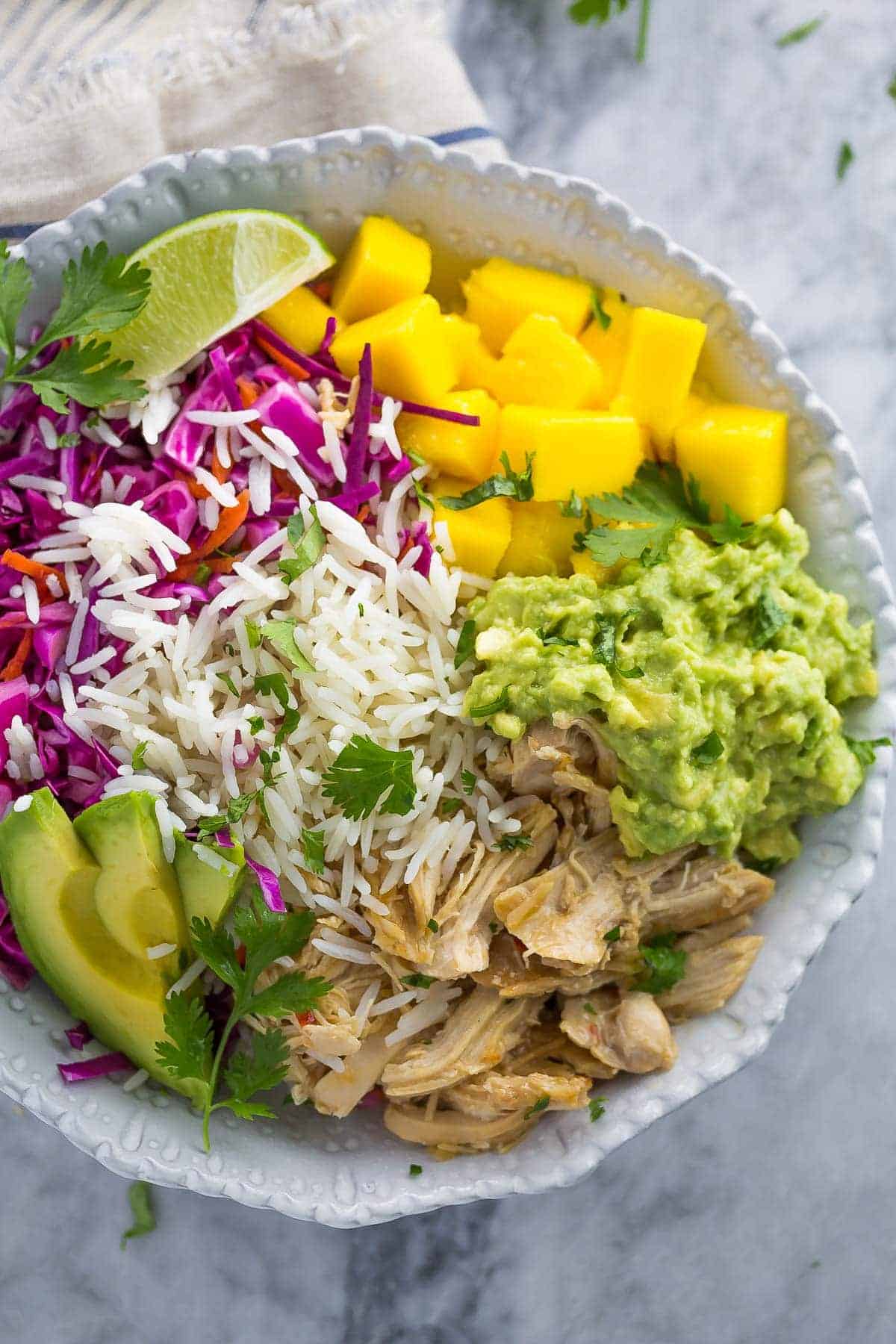 Slow Cooker Sweet Chili Chicken
12
adjust servings
Ingredients
After Cooking
1/4

cup water

2

tablespoons cornstarch
Garnish
Instructions
Stir together the sweet chili sauce, chicken stock, salt and soy sauce in the base of a slow cooker.
Add the chicken and cook on low for 2-3 hours.
After 3 hours, stir together the water & cornstarch. Add to the slow cooker and stir.
Turn the slow cooker to high and cook for 20-30 minutes until slightly thickened (keep an eye on it so it doesn't burn).
Pull the chicken out of the slow cooker and shred using two forks.
Pour as much sauce as you'd like over the shredded chicken (I used just over half), and stir to coat.
Garnish with cilantro.
Recipe Notes
Nutritional Information:
1 serving = ½ cup shredded chicken
Calories 113 // Fat 2 g // Saturated Fat 1 g // Cholesterol 47 mg // Sodium 569 mg // Carbohydrate 4 g // Fiber 0 g // Sugars 2 g // Protein 18 g
If you are using full sodium soy sauce, omit the salt, or taste and add if necessary before serving.
This recipe makes 6 cups of shredded chicken.
Products used in this recipe: