With so many air fryer options available, it can be completely overwhelming to pick the right one. This post cuts through the noise: we share the three different types of air fryers, important things to consider with each type, and the most popular models according to the Sweet Peas & Saffron community.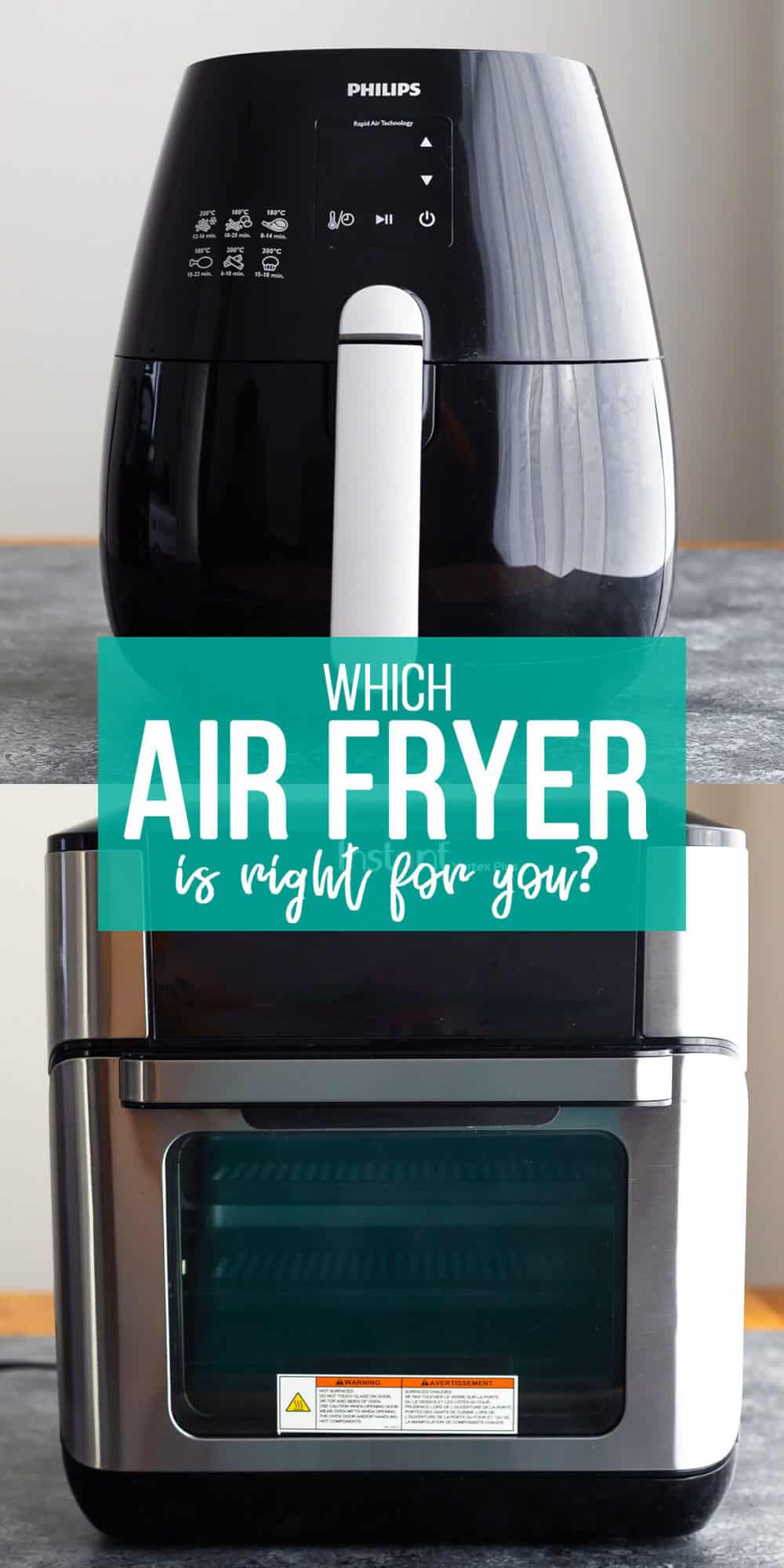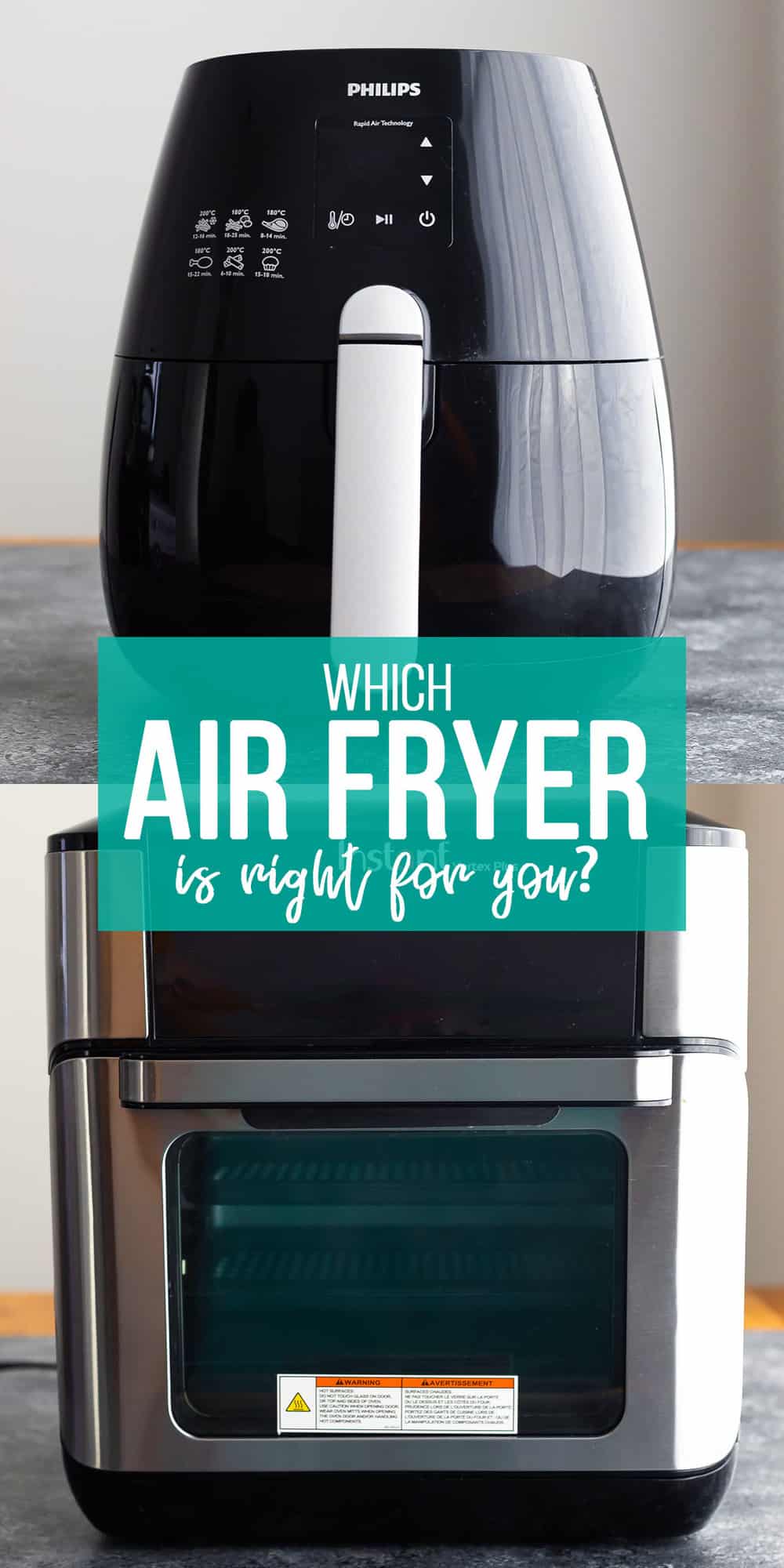 The air fryer is taking the world by storm, and with this popularity has come a slew of different brands, models and features, which also makes it really confusing to choose the right model.
Whether you choose a basket-style, oven-style or multi-cooker, there are important considerations for each.
I hope to cut through all of the noise and confusion out there with a review of each type of air fryer model, including pros and cons to consider for each. I will also share the thoughts of some Sweet Peas & Saffron community members who own these models.
Things to consider when purchasing an air fryer
size and weight- will your air fryer be living permanently on the counter, or will you be tucking it back away in the cupboard after each use? These are things to consider when purchasing an air fryer because even the basket-style models have a large footprint and can be heavy.
noise- due to the fan that propels air through the air fryer, they can be noisy. Some models are noisier than others, so you might want to consider researching the noise of the model you are considering if this is something that bothers you.
cleanup- depending on the model, cleanup can be easier or more challenging. Our basket-style air fryer requires a good soak and scrub after cooking greasy foods, while our oven-style air fryer has trays that can go in the dishwasher.
capacity- this is the big one: the main limitation of air fryers can be the amount of food you can cook in them. Depending on the size of your family, a basket-style air fryer might be too small, requiring you to cook your meals in multiple batches.
Basket style air fryers
The classic type of air fryer, this model includes a basket with a handle that sits under an upper heating element, and over a base that is designed to return the air back up through the basket.
Some air fryer baskets contain thin wires, allowing air to circulate easily, while others are more of a continuous non-stick surface with holes to allow air circulation.
Pros:
smaller, lighter (but still between 15-19 lbs)
heats up quickly
even air circulation
Cons:
you will have to cook certain recipes in multiple batches
noisy
clean up can be more involved
Popular basket-style air fryers:
Philips Air Fryer XXL- I have owned the smaller version of this one for over 3 years, and like it, but wish I had purchased the larger one. Has a wire basket, and is a higher end basket-style air fryer.
COSORI Air Fryer Max XL- with over 33,000 Amazon reviews and an average of 4.6 stars, it's one of the most popular basket-style air fryers. Cheaper than the Philips and has a non-stick basket versus a wire one.
Power Air Fryer XL- another affordable and popular model, the Power XL is large (5.3 quarts), with a nonstick basket. Can be found at Costco.
Oven style air fryers
If you are cooking for a family, you might want to invest in an oven-style air fryer, as the capacity is much larger, making it easier to cook full meals in it. In addition to air frying, many of these ovens do other things including broiling, dehydrating, baking and rotisserie.
Some air fryer ovens contain 1 tray, while others contain 2-3 trays. As the capacity increases, so does the price.
Pros:
can fit entire meals- no more batch cooking
depending on the model, they can be quieter
can perform other functions such as baking, broiling, dehydrating or rotisserie
clean up can be simpler (when a drip tray is used)
you can cook foods with different cook times on multiple trays at the same time, pulling out one set if they are ready sooner
Cons:
larger and heavier
more expensive than basket style air fryers
Popular oven-style air fryers
Cuisinart Convection Toaster Oven Air Fryer- with nearly 12,000 reviews with an average of 4.5 stars, this is one of the most popular oven-style air fryers. This model is reported to be one of the more quiet models, and though it has a single tray, it can fit a 4 lb chicken, 12 inch pizza or 3 lbs of chicken wings!
Instant Vortex Plus Air Fryer Oven- this is the one I own, and am a huge fan! This air fryer has many functions including bake, dehydrate, broil and (of course) air fryer. It comes with a rotating basket for cooking wings and a hook to cook rotisserie-style chicken. With three trays (2 for air frying, 1 drip tray), the capacity is great, and clean up is easy, as the trays fit easily in a dishwasher. It's not overly heavy (19 lbs), and I find it easy to put back in the cupboard when we're done using it.
Multi-cookers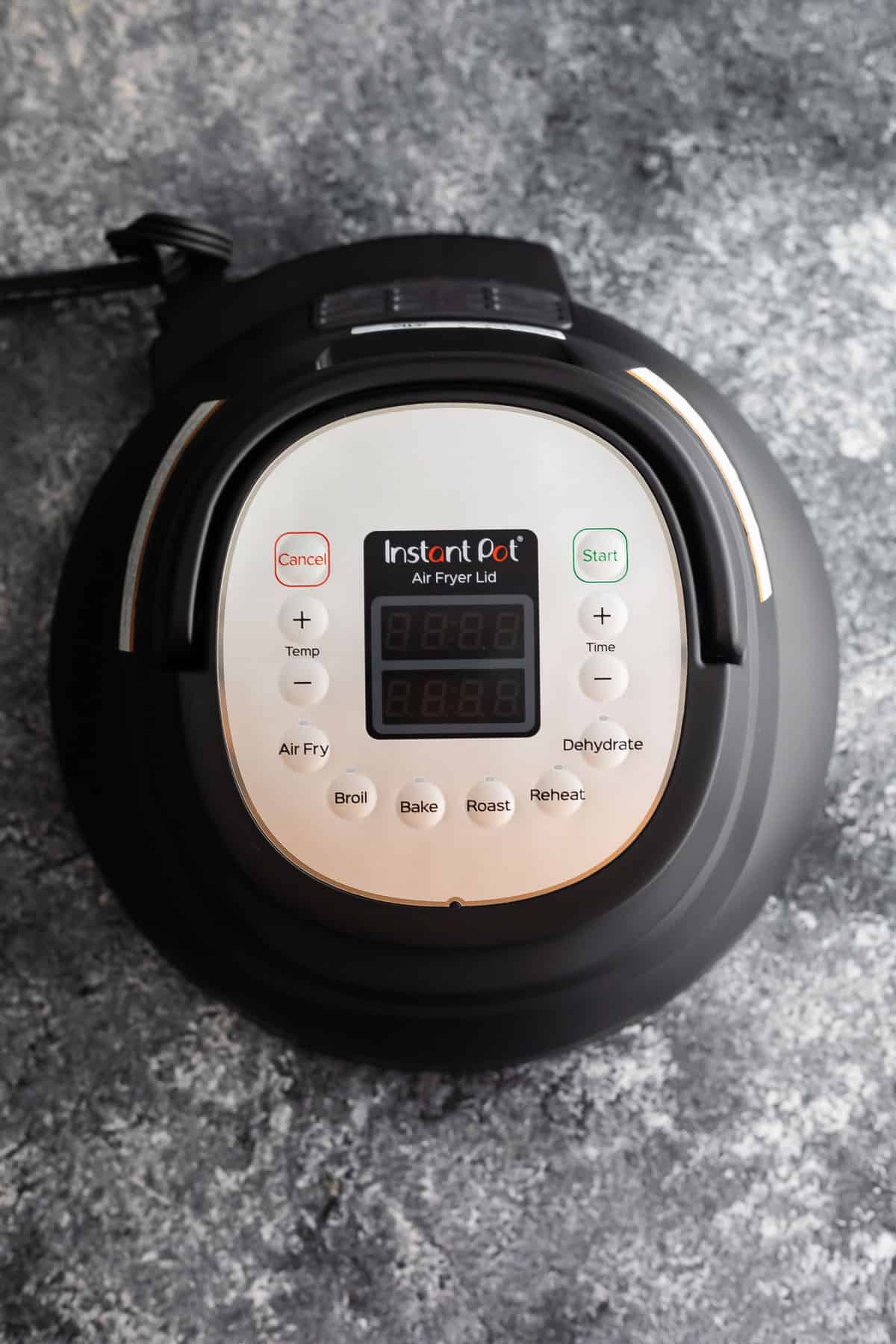 A multi-cooker refers to an appliance that has multiple cooking functions; the most well-known would be the Ninja Foodi. By far the most popular air fryer in the Sweet Peas & Saffron community, it also has slow cooker, pressure cooker, baking and broiling functions. This is a great option for those who don't want to own multiple appliances!
Another option in this category is the Instant Pot air fryer lid. This does not come with the Instant Pot, but instead transforms your Instant Pot into an air fryer.
Pros:
minimizes the number of kitchen appliances you need
can be more cost effective than owning a slow cooker, Instant Pot and air fryer
the Ninja Foodi has a non-stick insert and is reportedly really easy to clean
you can cook food through using the pressure cooker function, then switch to the air fryer option to finish it off, eliminating the need to transfer food to a sheet pan to finish under the broiler
Cons:
the Instant Pot air fryer lid costs almost as much as the Instant Pot itself
the Ninja Foodi is reportedly on the heavier side (26 lbs), so it would be better to leave it on your counter
they cook in a similar fashion to basket-style air fryers, which means capacity could be a limitation
Popular multi-cookers
Ninja Foodi 9-in-1 - combines your pressure cooker, slow cooker and air fryer into one convenient device! With over 23,000 Amazon reviews with 4.8 average star rating, it is popular and loved by the Sweet Peas & Saffron community.
Instant Pot Duo Crisp Lid- 8 quart- (find the 6 quart lid here)- transform your Instant Pot into an air fryer by simply switching the lid! This is great for meals that need to be finished under the broiler, such as a roast chicken, or potatoes. Well reviewed and loved by many!


Do you have a favorite air fryer model that you love? Leave me a comment below with the model and reasons you love it!
Take care,
Denise